This title took me so long to type that I might need to eat one of these guys for re-fuel-age.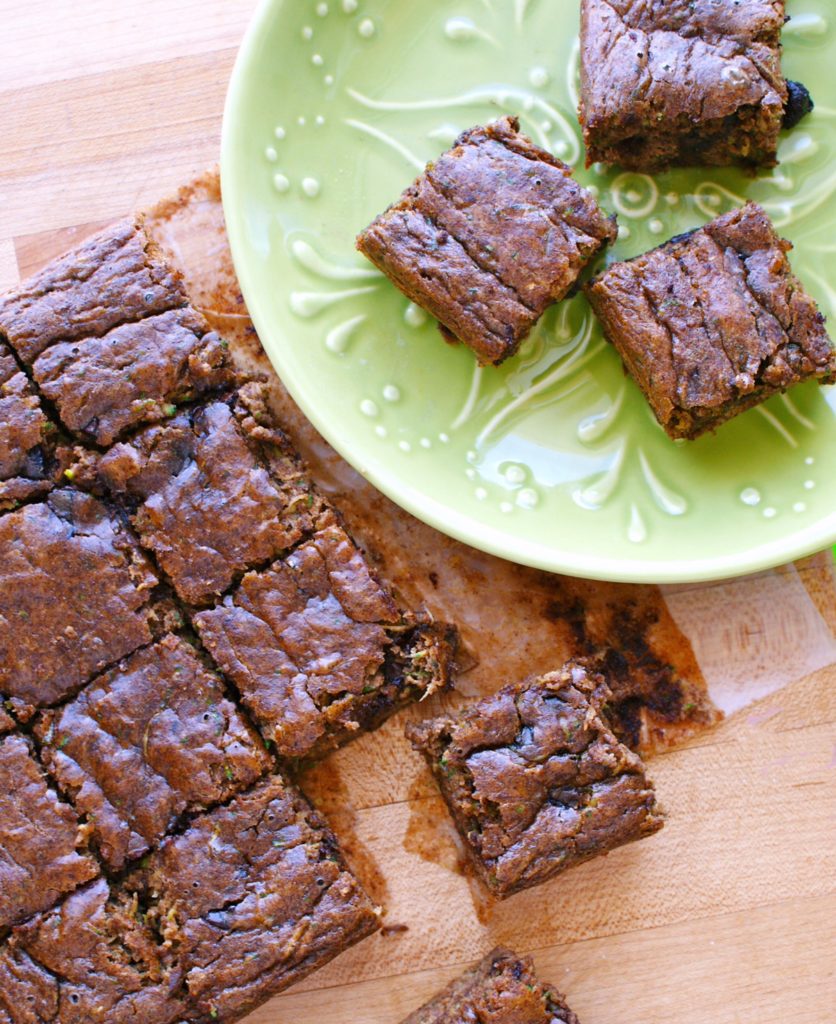 Okay, so maybe it wasn't that long but any excuse is a good reason to whip up a batch of these. With absolutely no refined white flour (or any sort of flour for that matter), very low sugar (about 6 grams per square; compare that to your basic store-bought cookie at an average of 15 grams per cookie….that's ONE cookie, people) vitamins, minerals, fiber and protein to boot, these super moist chocolate chip studded squares of gooey goodness will trick your sweet tooth into thinking you've been bad when in fact you've been very, very good.
Think of it as zucchini/banana bread gone wild. So incredibly yummy you will not believe how good for you a "treat" can be! And that's just crazy-ness.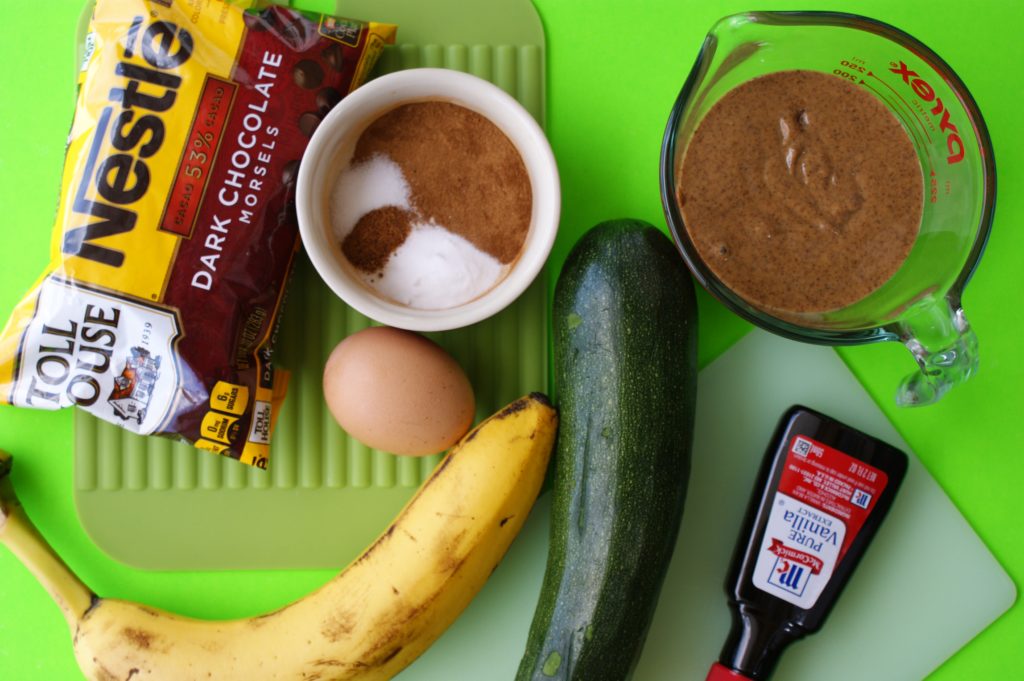 Look at this innocent spread of vegetable virtue! Well, mostly virtuous. The banana's job is to replace the processed sugar, the zucchini adds moisture, the almond butter and egg give this its ooey gooey structure. A few spices and some vanilla extract bring extra flavors to the table and the chocolate chips? Well, they just add some extra happy to the whole she-bang.
So have you got 10 minutes?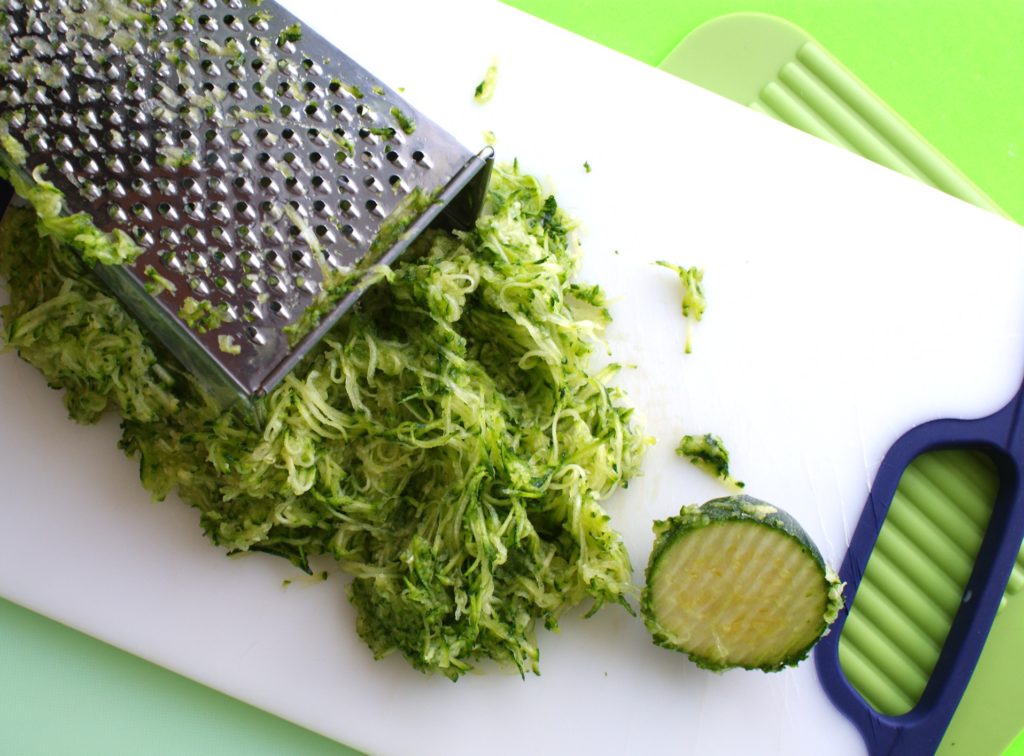 This is about as tricky as it's going to get right here; shredding that zucchini without shaving down a knuckle along with it. Make sure to use the finest side of your grater, it will squish that squash right down to size so that it melds into the batter, avoiding any alarmingly huge vegetable "chunks" in the finished product.
SIdenote: If you want to be REALLY sneaky, go ahead and peel the zucchini, and you won't see any specks of green at all. No one has to be the wiser, AMIRITE? Obviously I left the skin on.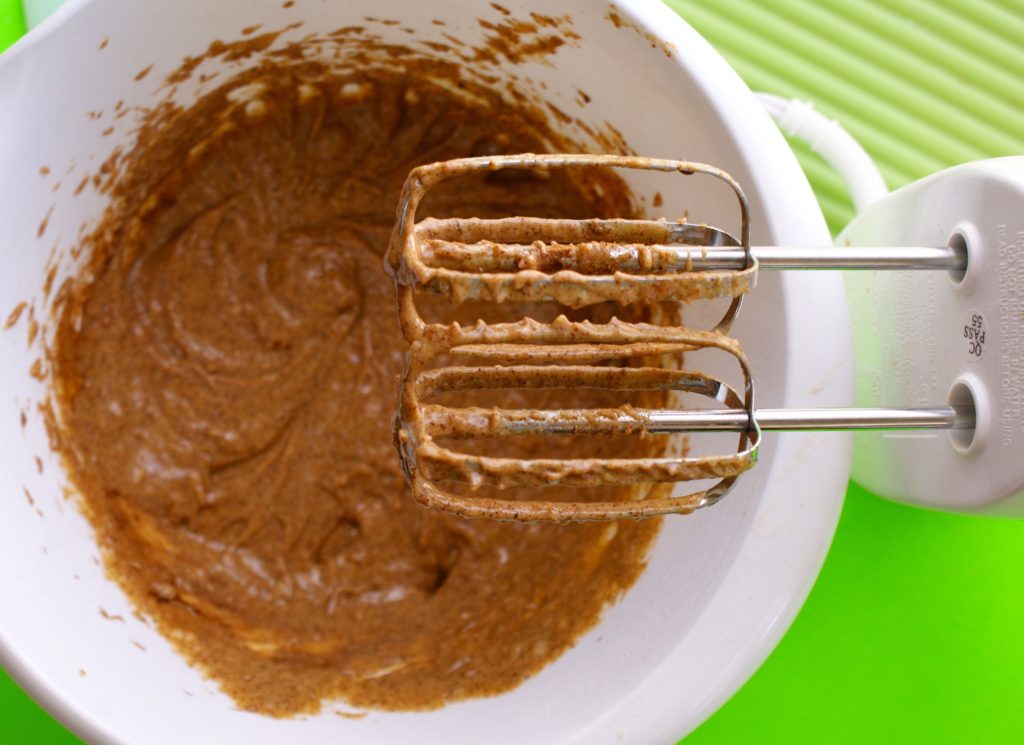 Now it's just a matter of whipping that banana down to a smooth consistency, and then beating in the rest of the ingredients. But save those chocolate chips for last……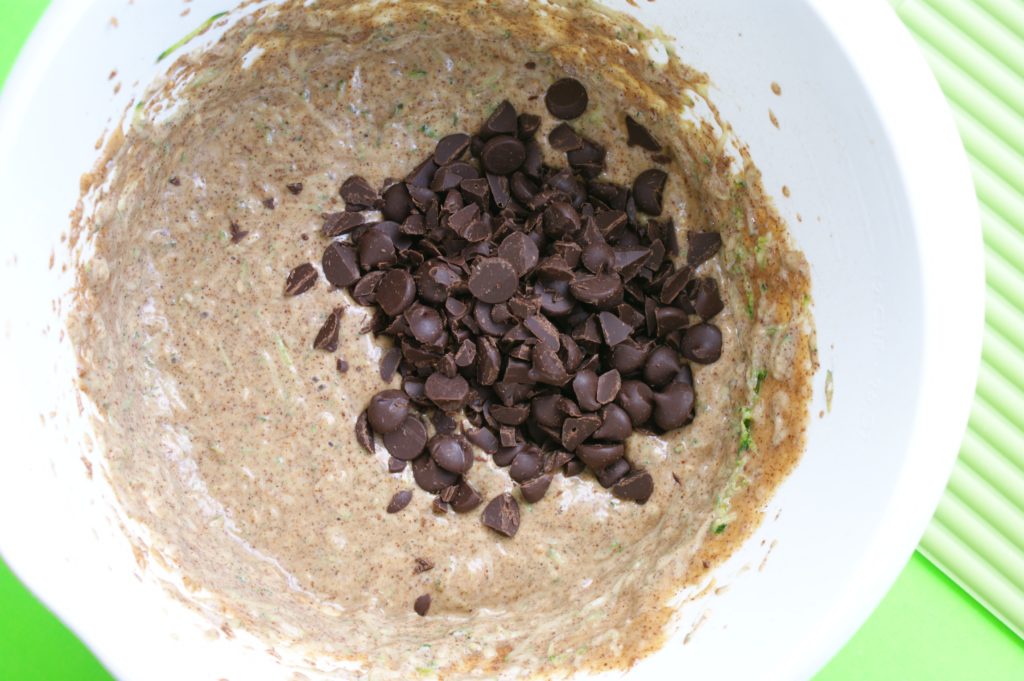 and then put away the beaters and just stir them in. Oh yeah, bay-bee.
I used about a quarter cup of the dark chocolate morsels, and I gave them a rough little chop before I added them to the batter…..that way I used less actual chocolate but had more disbursement of gooey pleasure to bite into! The things I do to fool myself……..
Into a greased and wax paper lined baking pan (always leave a bit hanging over each side for easy snackin' extraction) then into the oven they go for 30 minutes.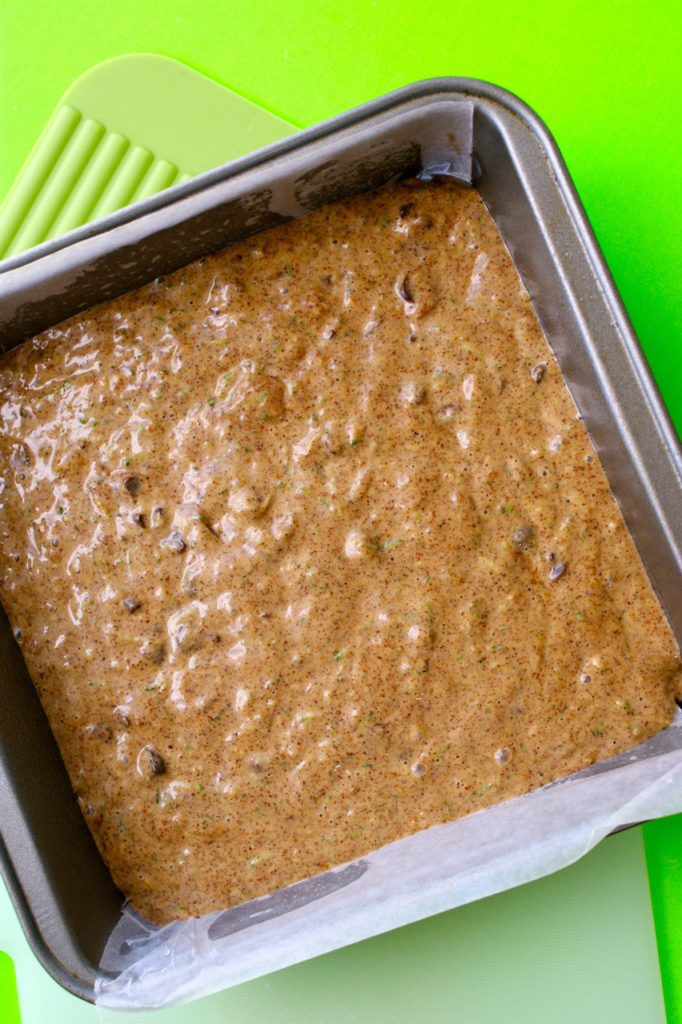 Let them cool, cut them up and you are sure to be the most popular person in your household…….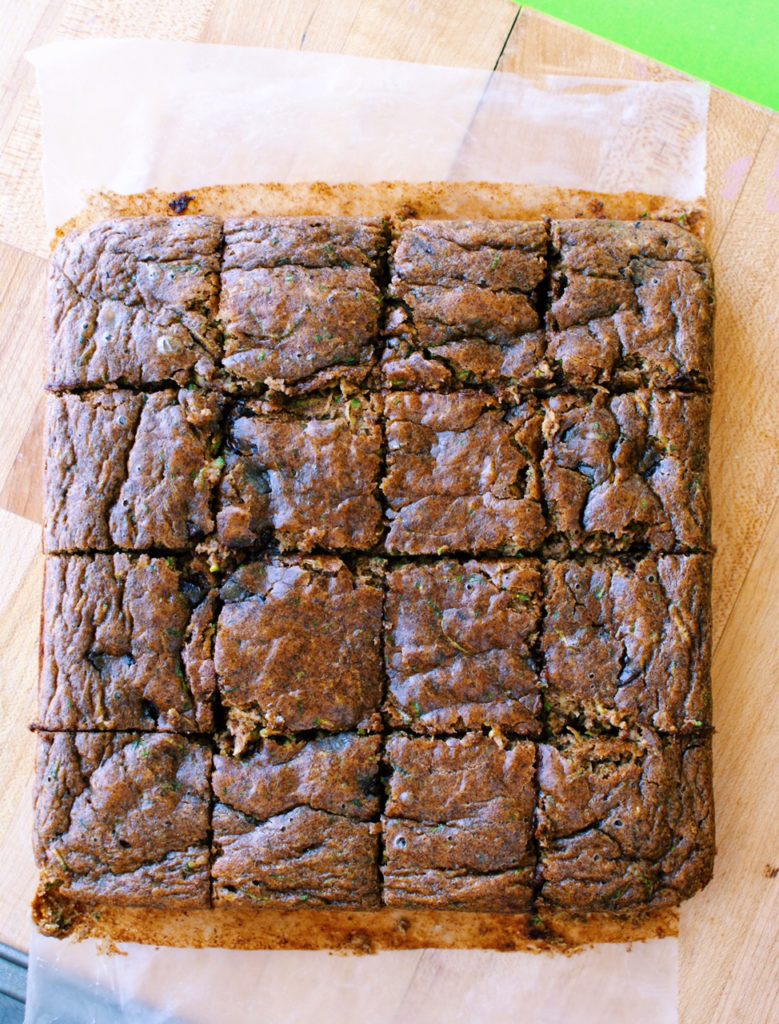 that is, as long as you share!
Recipe Below:
Thanks to hummusapien.com for the inspiration for this one. Lots of great stuff on her blog!
Almond Butter Chocolate Chip Zucchini Banana Bars
2016-05-03 14:33:16
Ingredients
1 medium ripe (but not over-ripe) banana
1 teaspoon vanilla extract
3/4 cup creamy almond butter
1 medium zucchini, finely grated
1 egg
3/4 teaspoon baking soda
2 teaspoons cinnamon
1/2 teaspoon nutmeg
1/4 teaspoon salt
1/4-1/2 cup of semi-sweet chocolate chips, coursely chopped
Instructions
Pre-heat your oven to 350°. Spray an 8x8 inch baking pan with cooking spray and line with a sheet of wax paper. Make sure the wax paper goes over the sides about an inch. Give that a slight spray as well.
In a medium sized bowl, blend the banana with the vanilla until smooth and creamy.
Add the almond butter, zucchini and egg and beat together until well incorporated.
Add in the rest of the ingredients except for the chocolate chips, and combine well.
Fold in the chocolate chips.
Pour batter into the prepared pan and bake at 350° for thirty minutes.
Let cool for five minutes and then remove from the pan using the overhanging sides of the wax paper to lift the whole thing out onto a board.
Cut into squares and devour!
Notes
You can have these hot, straight out of the oven, but I like them chilled in the refrigerator, where they should last a few days.
Unless they are in MY refrigerator, of course.
Yum!
Adapted from http://www.hummusapien.com
Adapted from http://www.hummusapien.com
Kick and Dinner http://kickanddinner.com/