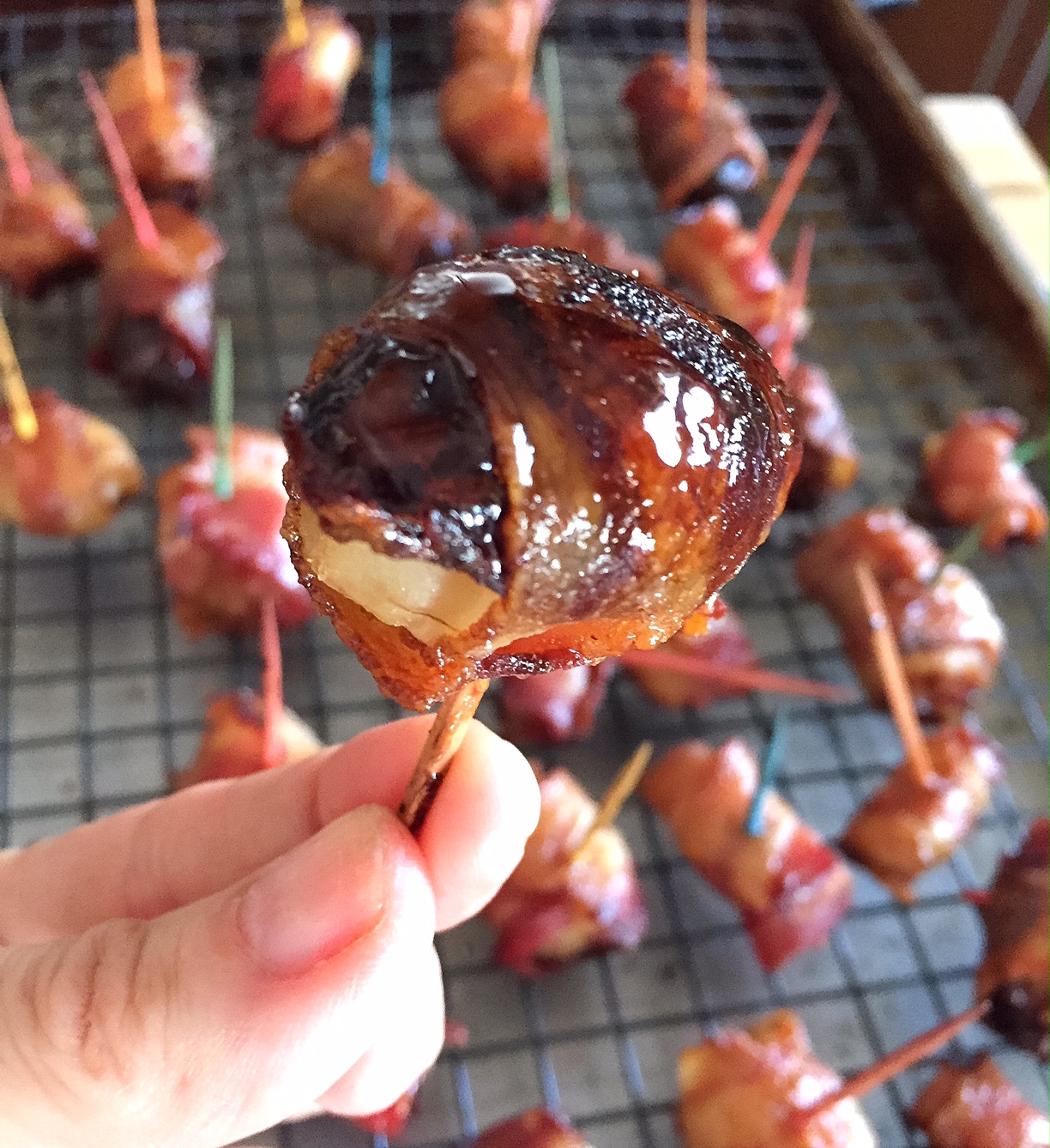 Take a crunchy water chestnut, nestle it into the sweet stickiness of a delectable date, and wrap that all up in a blanket of beatific bacon.
Boom.
You have got a super quick, super kitschy (think Mad Men, 60's style cocktail parties), super irresistible (I mean, bacon, right?) party popper.
As in: POP IT IN YO MOUTH!
This is a great little nibble to serve when you are having friends over, and just as easy to take along if you happen to be the gallivanting guest. Four ingredients! Less than fifteen minutes of actual kitchen drudgery! Lots of applause.
But wait………
What exactly IS a water chestnut, anyway?
As far from a "nut" as it could possible be the water chestnut is actually a vegetable that grows under water in marshes indigenous to Southeast Asia. Naturally popular in that regions' style of cooking, if you're a fan of Chinese food, there is a very good chance that you like water chestnuts. A stand out for its crunchy texture, these bland, slight sweet tubers are rich in potassium, copper and manganese…..not to mention vitamin B, riboflavin and fiber. Good to keep in the back of your mind…..
Since we're smothering them in bacon. 😈
Now go find the can opener.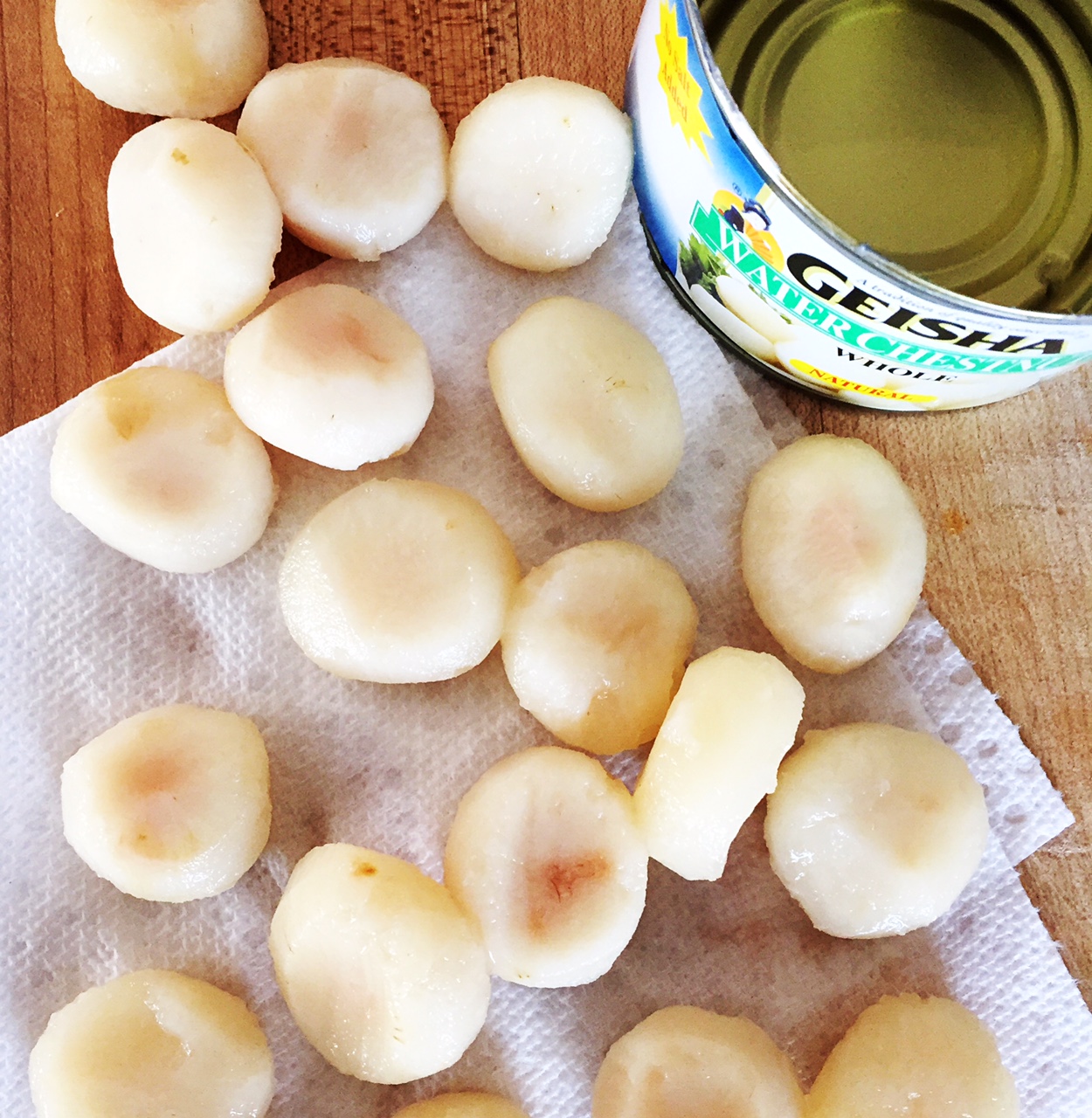 Because that's how these guys come. You'll find them in the International foods aisle, more than likely, along with the soy sauce and other goodies like that. Be sure to get the WHOLE water chestnuts! Those goofy little cans all look very similar, and you don't want to end up with chopped or sliced (who knew there would be so many choices? Gotta love it!). Drain out the water and let these guys dry on some paper towels. You will get approximately 24 "nuts" per can.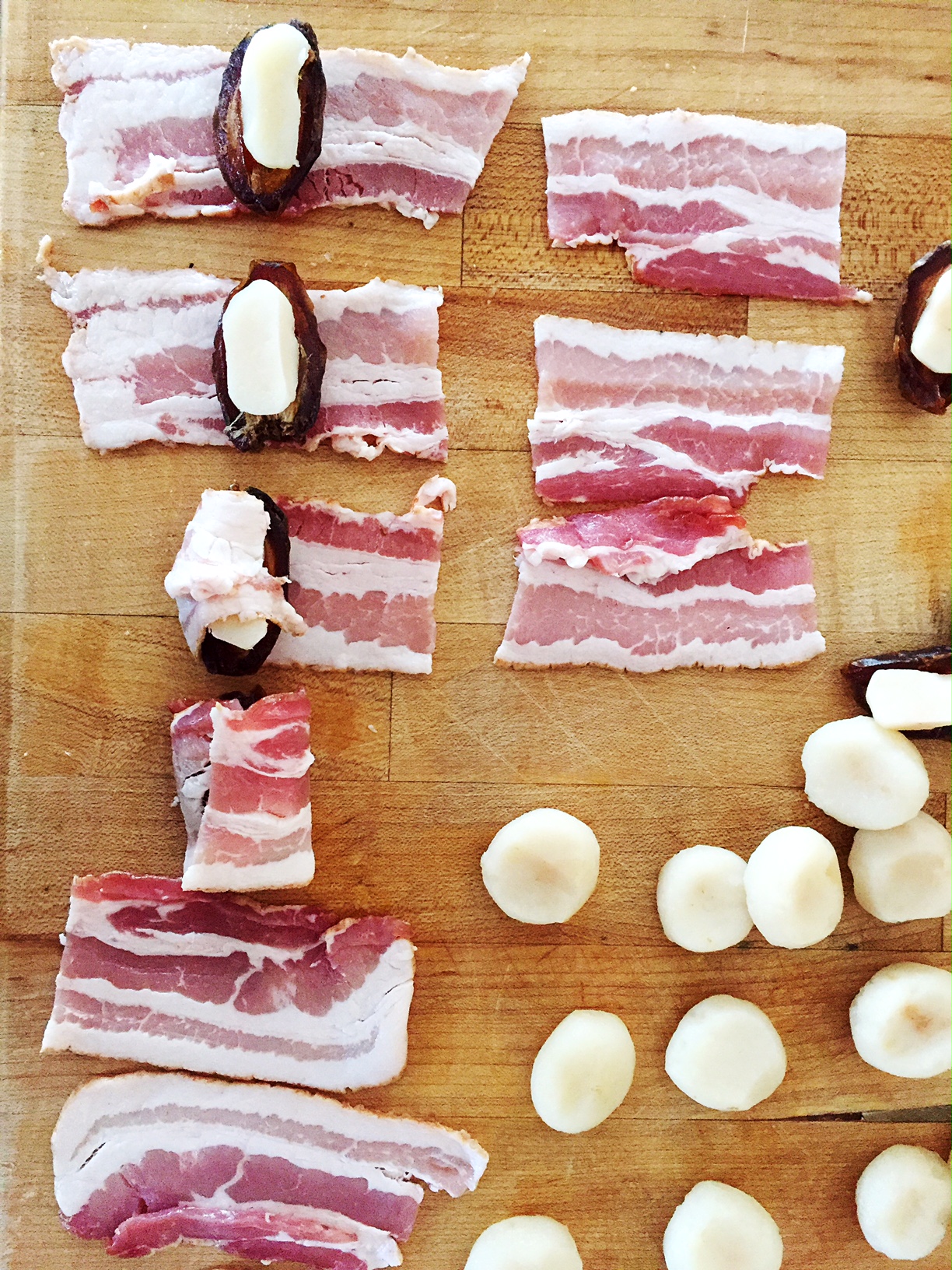 Slice a portion of those chestnuts in half and nestle one into a half of a date. Get out some thinly sliced bacon (now is NOT the time to use that honky thick cut deliciousness, save that for breakfast) and cut it into thirds.
Wrap a piece of the bacon around the date filled water chestnut, and secure with a toothpick. I kept a few of the chestnuts "naked" (minus the date) and gave them the bacon treatment as well…..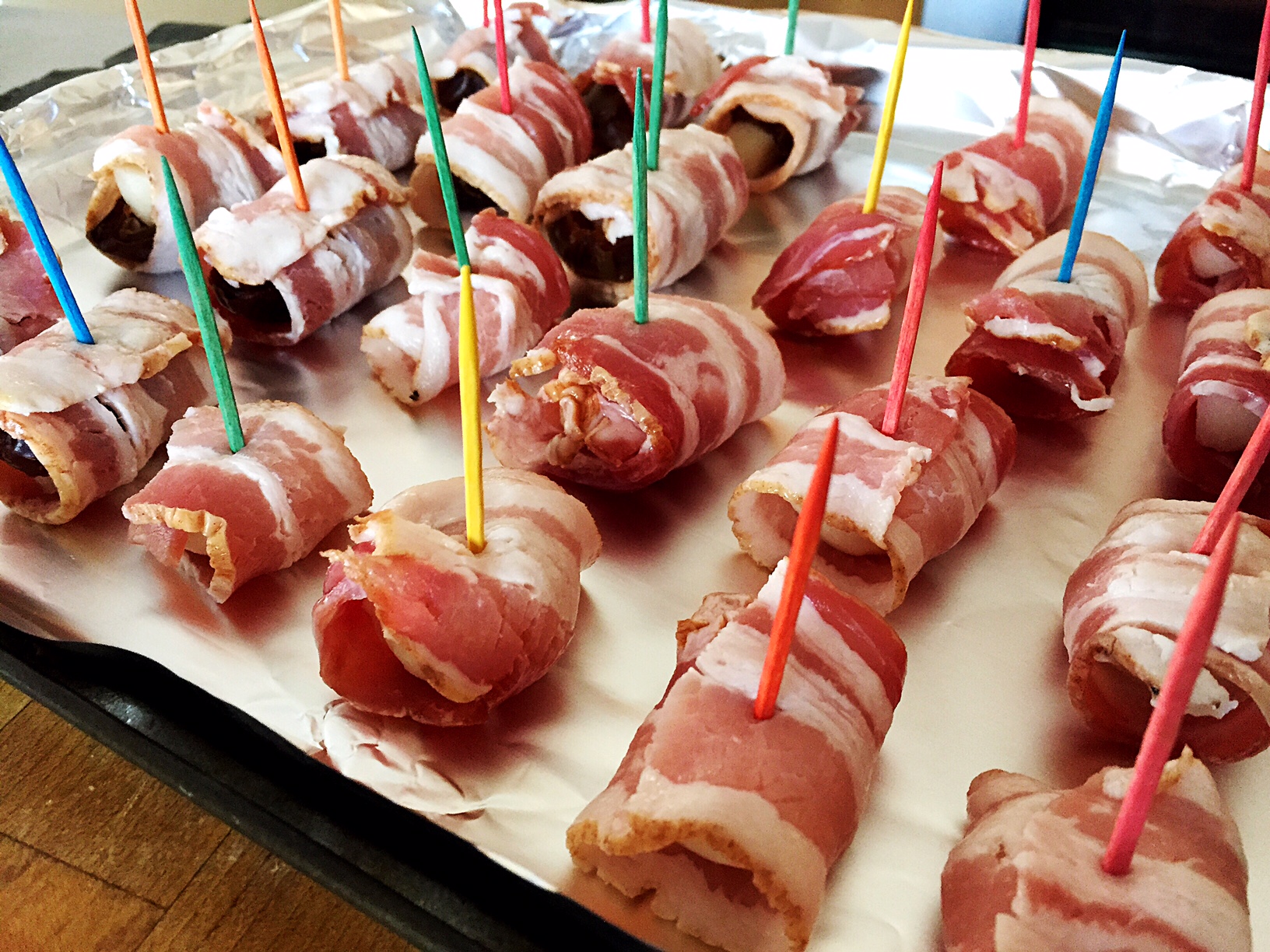 and onto a foil lined sheet pan they go. Super snappy simple. Into a 375° oven for 15 minutes. Now you have all the time you need to make a sweet little glaze……..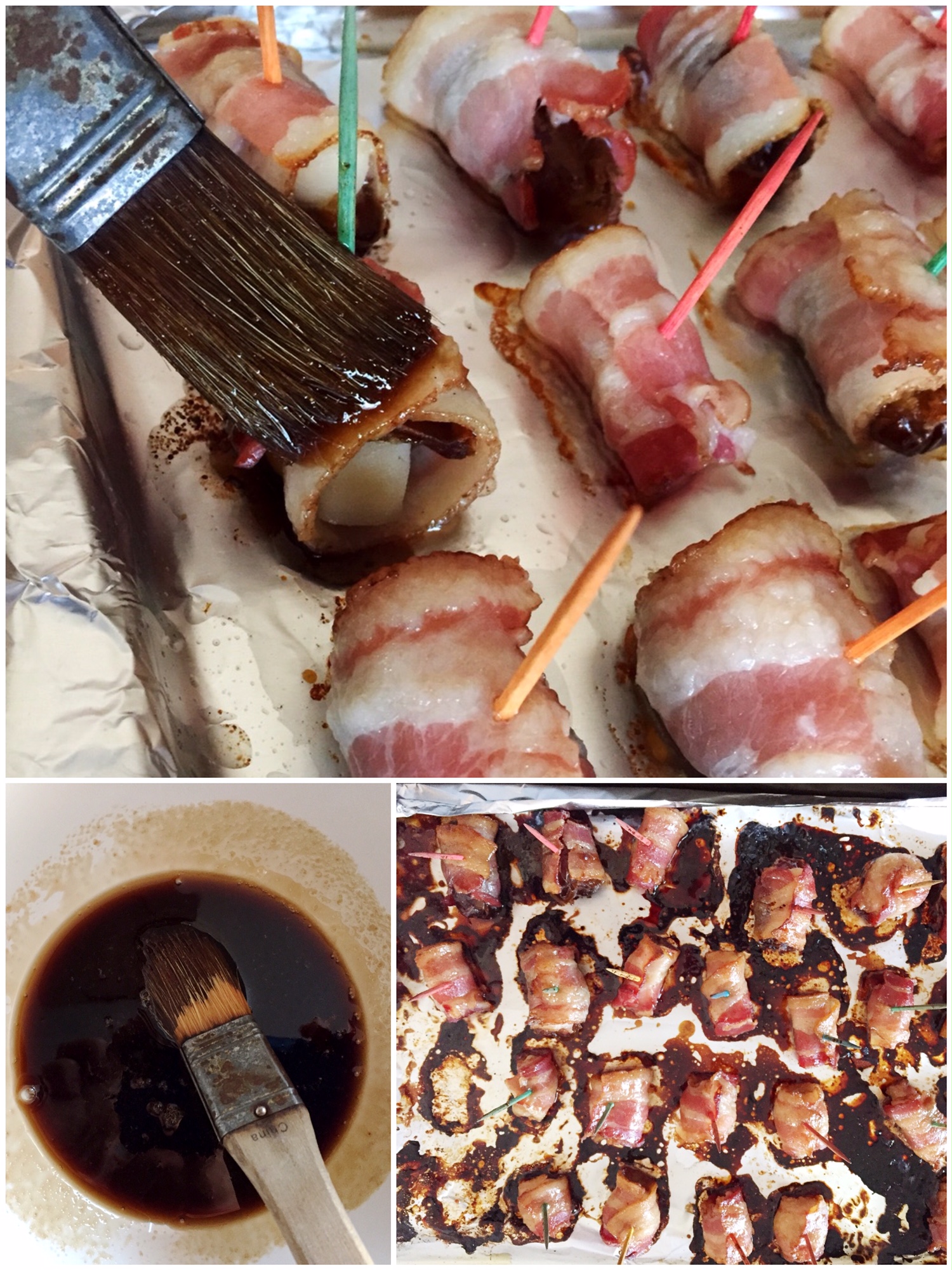 In a small bowl, combine a very generously packed 1/4 cup of brown sugar with about a tablespoon of water and a pinch of salt (a pinch of cayenne is awesome here too if you like a little kick). You want a nice syrupy mixture, so if you need to add a little more water go right ahead, just take it easy and do it a very teensy bit at a time. At the 15 minute mark, pull those porky pieces out of the oven and give 'em each a generous brush-down of the brown sugar syrup. Back in the oven they go for another ten minutes, then be sure to get them off of that foil (the sugar will burn) and onto a rack or a clean piece of foil for the last few minutes.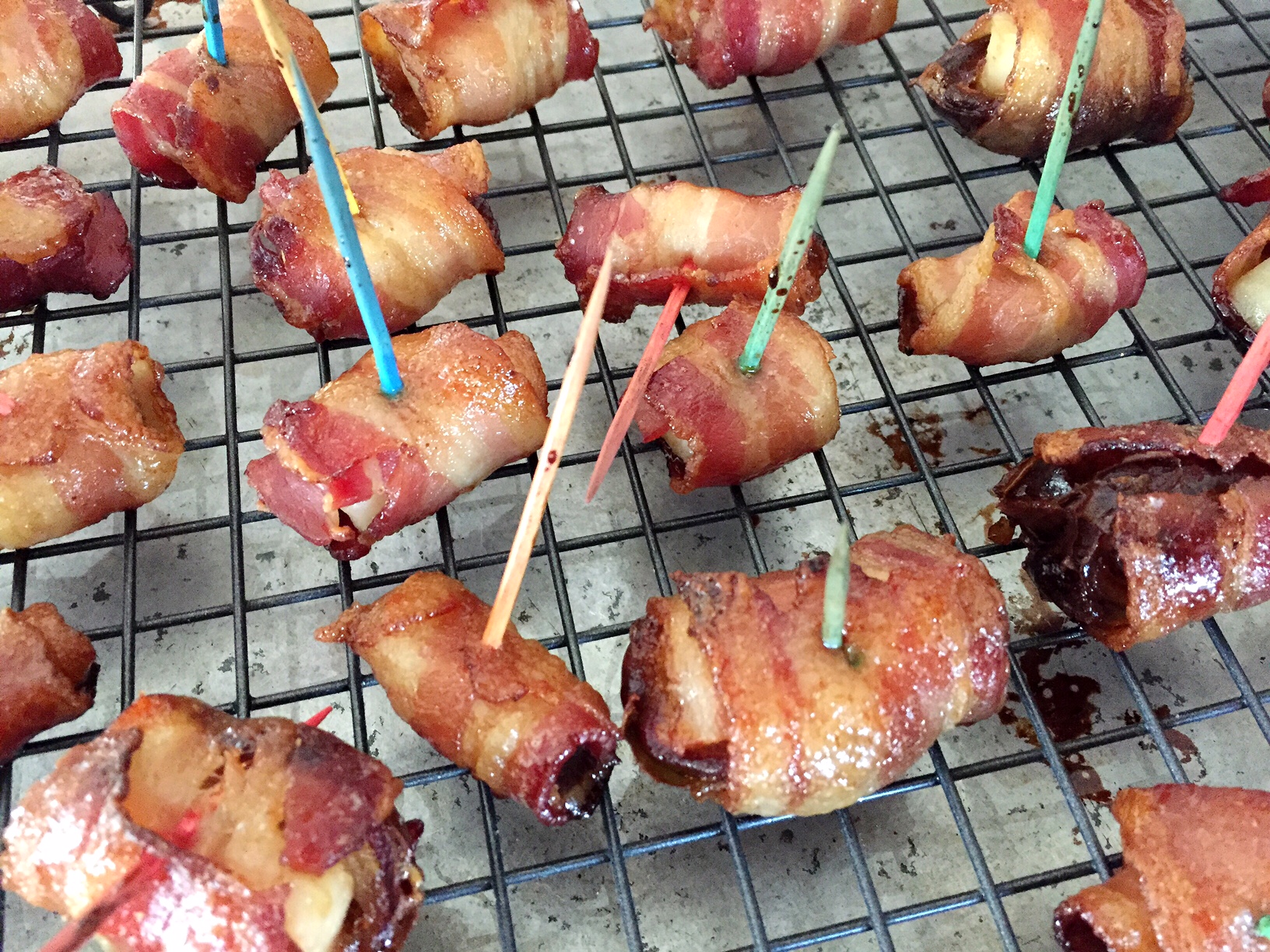 Oh YUM! Pop them onto a plate and pass 'em around. It will be the mystery hit of the party, since nobody can ever figure out what's in there with the bacon. (I wouldn't mention it's a water tuber grown in mud and wrapped in a drupe. We'll keep that to ourselves 😜)
Happy New Year! 🎉🎉🎉
RECIPE BELOW: One can of water chestnuts can yield up to double the actual units per can, depending on weather you slice them in half or not. Depends on if you want to squeeze them all into dates or, like me, leave some whole to wrap in the bacon on their own. They are so good either way! A word of caution……..THEY ARE SCREAMING HOT RIGHT OUT OF THE OVEN……so beeee careful! They are worth the cool down wait, I promise.
Bacon Wrapped Water Chestnuts
2016-12-30 13:14:26
Ingredients
1 can WHOLE water chestnuts, drained and set onto paper towels to dry
5-10 medjool dates, sliced in half
1 - 12 oz package of thinly sliced bacon, each piece cut into thirds
1/4 cup packed brown sugar
pinch of salt
pinch of cayenne pepper (OPTIONAL)
Dab of water
AND YOU WILL NEED TOOTHPICKS!
Instructions
Preheat oven to 375°
Half as many of the water chestnuts as you would like to use to stuff into your date halves. You don't have to use dates at all but it's nice to have both!
Wrap the water chestnut stuffed date or just the plain whole water chestnut in a piece of the bacon and secure with a toothpick.
Place onto a foil lined cookie sheet and into the preheated oven for 15 minutes.
DURING THAT TIME MAKE THE GLAZE
In a small bowl combine the brown sugar with a tablespoon of water, stirring until the sugar dissolves and become like a syrup. You may need to add a tiny bit more water to get to this consistency. Just add it a little bit at a time. Add a pinch of salt and if you like a little spice, a pinch of cayenne pepper.
REMOVE THE WATER CHESTNUTS FROM THE OVEN
And brush liberally as best as you can (around that pesky toothpick) the brown sugar glaze. Place them back into the oven for another ten minutes.
Then remove the water chestnuts from the foil, and place onto a rack (or a clean piece of foil, just to get them off of the sugar that has pooled and will probably burn) place them back into the oven for an additional 3 - 5 minutes or until the bacon is fully cooked.
Let them cool just a bit before digging in!!!!
Kick and Dinner http://kickanddinner.com/