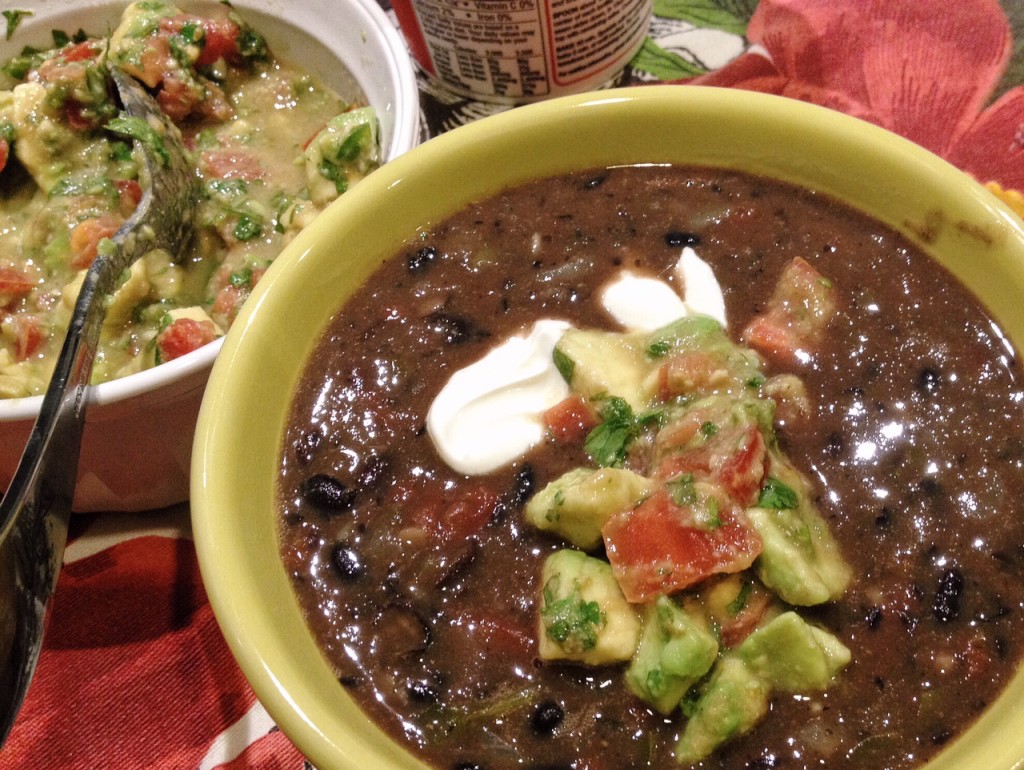 I know, I know…..black bean brownies last week and now this? You think there was a close out on black beans at my grocery store or what?
Well, yeah, I know it looks suspect but the truth of the matter is simply, holy goose bumps, is it ever cold out. So what do we do about it? We eat soup, THAT is what we do. At least that is what I do. And this is really just a bowl full of good stuff. Healthy, beautiful to look at, a snap to make, and as far as ingredients go….cheap and easy! And let's face it…….I had an extra can of black beans on hand! Ha! So there. Busted. But in a good way. On a very cold winter day, it's all about the soup.
So easy and yum all on its own…. this soup goes straight over the top when you TOP it (pardon the cheesy pun…..hey, wait! cheese would be perfect on this too come to think of it) with an extra dollop of delicious. Hit this with a super simple avocado salsa if you're feelin south of the border or get your beachy vibe going on with some succulent shrimp (brilliant idea thanks to my daughter Madison). Today I give you both. Let's start with that amazing soup.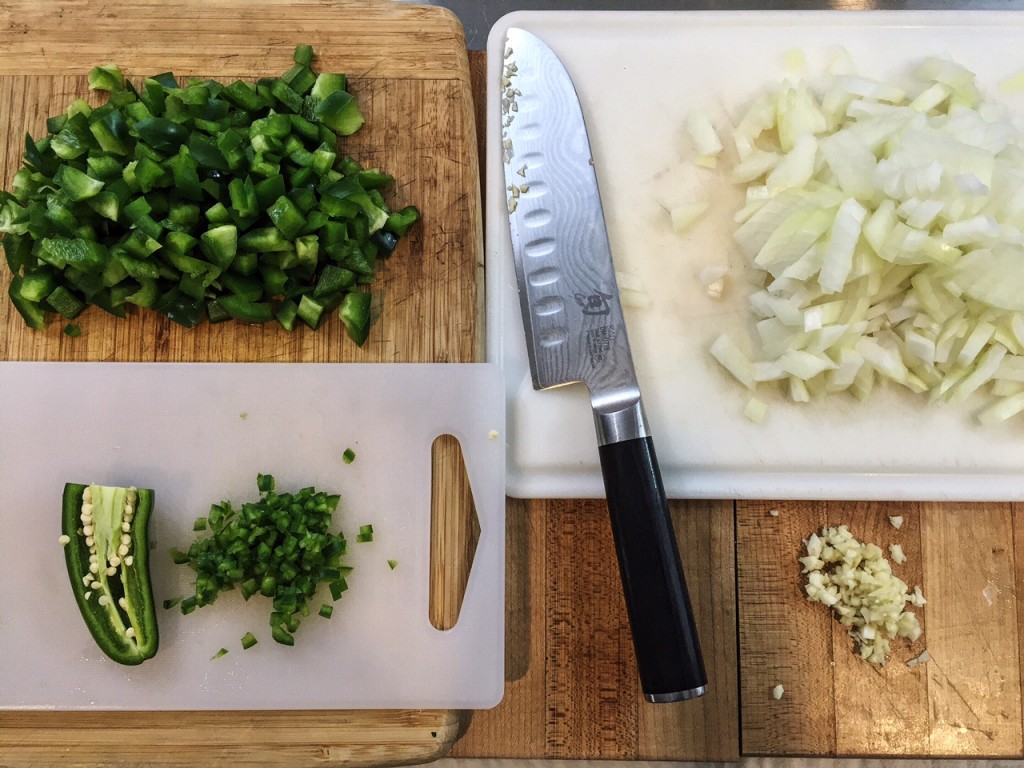 Begin with your aromatics, which in this case are your onion, peppers (green bell pepper and jalapeno) and garlic. Take that big yellow onion and give it a small dice. Same thing with your green bell pepper….get rid of the seeds and core….and chop that as close to the same size as you diced your onion. It helps everything cook up evenly. Finely dice your garlic. Now take that jalapeno pepper, slice it down the middle, and carefully cut away the seeds and membrane. Give it a super fine dice.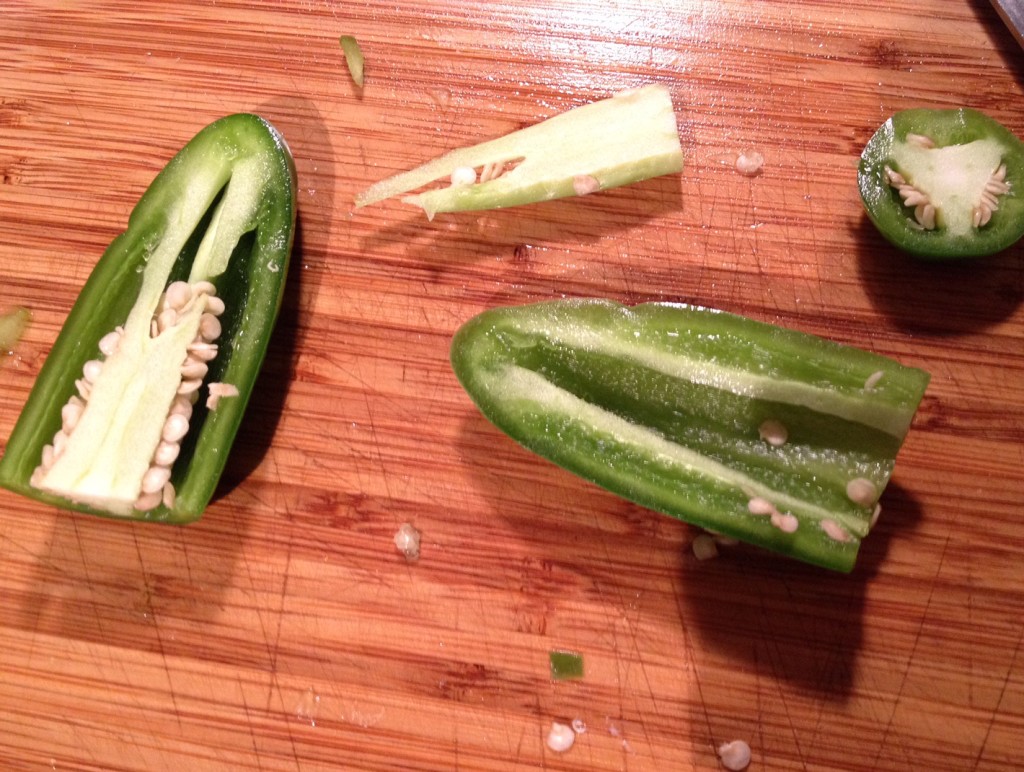 I don't have to remind you NOT to rub your eyes, or put your fingers on (or in – hey, no judgement here, just due diligence) any other sensitive areas until after you've washed them really well after handling a chile pepper…right? Just checkin.
Be sure to give it a little taste before you decide how much of that jalapeno you want to use. For some reason the one I had here was crazy hot so I just used half. Know what you are working with and let your taste buds be your guide.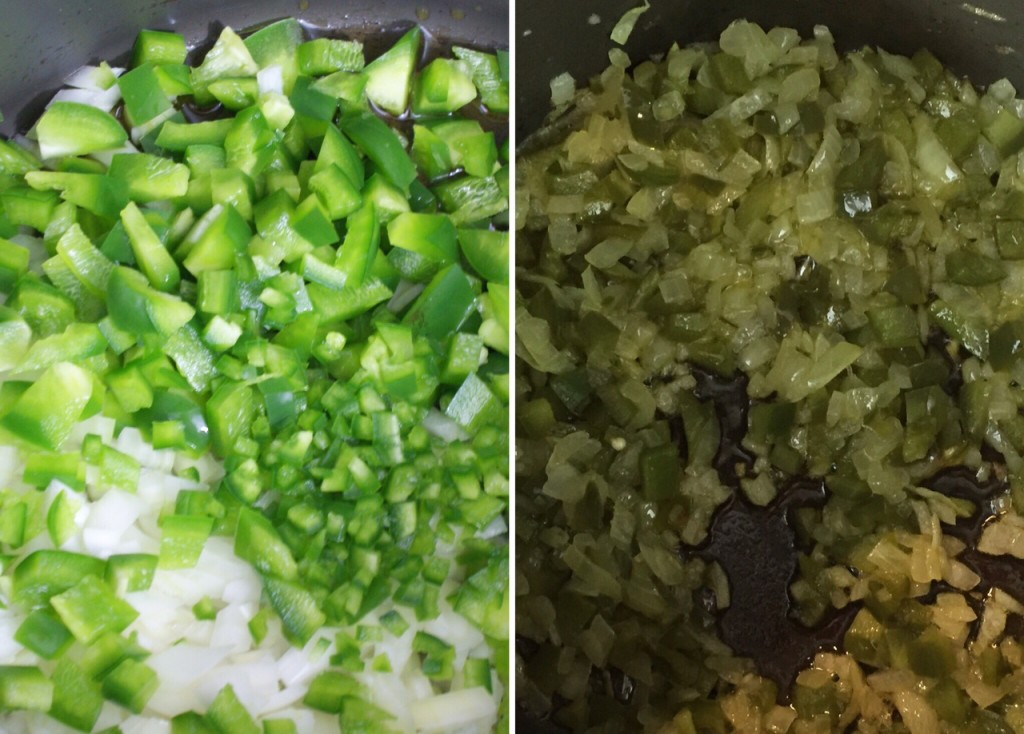 Okay then, you are ready to splash a glug or two of olive oil into a nice big soup pot and get the onion and peppers up on into that over a medium heat. Give this a little time to cook and soften down and get nice and golden and sweet. After about twenty minutes stir in the garlic, which you want to add later rather than sooner because garlic is finicky that way and if you saute it too long it likes to burn. Give this a stir and add a teaspoon of ground cumin and a pinch of cayenne pepper. As always when it comes to cayenne, start with a little, you can always add more if you want to. Give this a spin and get your spices all toasty for about a minute before you add your liquids.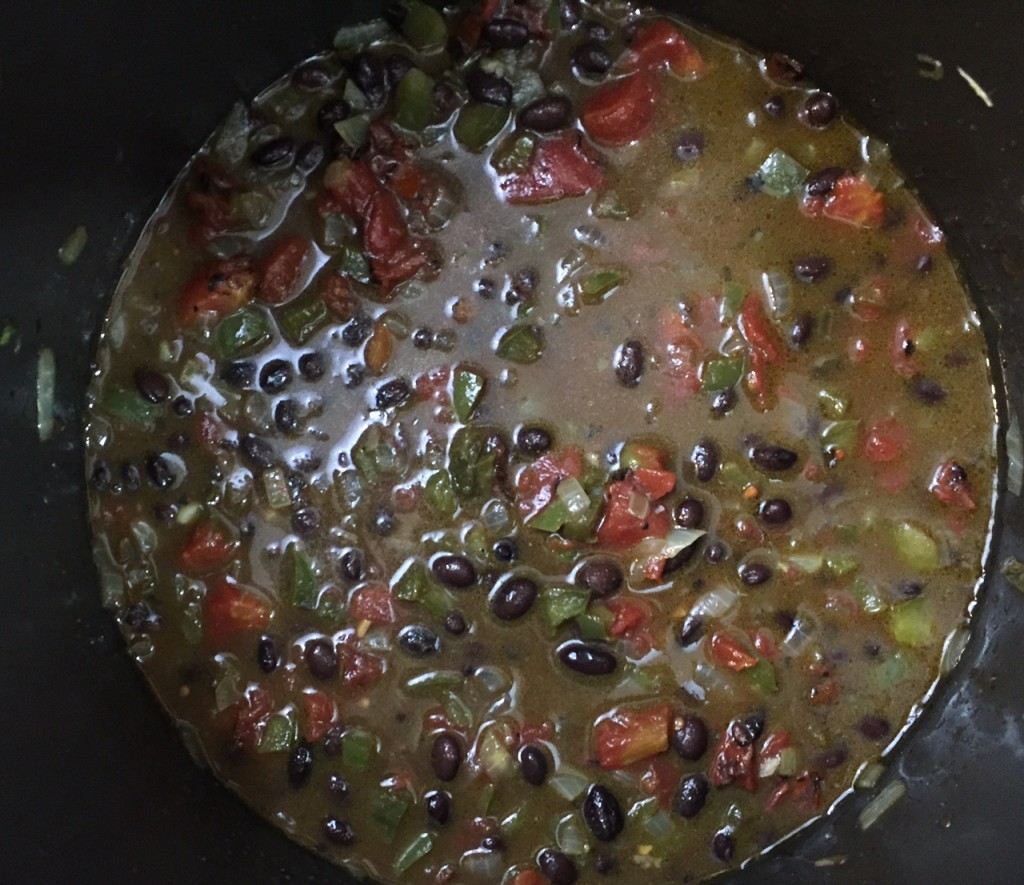 I used one large (26.5 ounce) can of black beans and although I drained the liquid from the top, that was about it. I did not rinse them or anything too persnickity, just dumped em on in. Next goes in about a cup of chicken broth (or beef broth if that's your preference, or keep it 100% vegetarian and use vegetable stock). I topped it off with a 16 ounce can of diced tomatoes, juice and all. I love the Hunts fire roasted tomatoes for this, but use whatever you like/or happen to have on hand. Salt…pepper…..give it a taste and BOOM! – you are almost done.
Get on in there and semi-smoosh up those beans with an immersion blender or hand held potato masher. Squish it up until you are liking the consistency, but don't get too crazy pulverizing this, you want to keep a large portion of your beans whole. Now cover the pot, and let it cook for another 10 minutes or so on a low heat.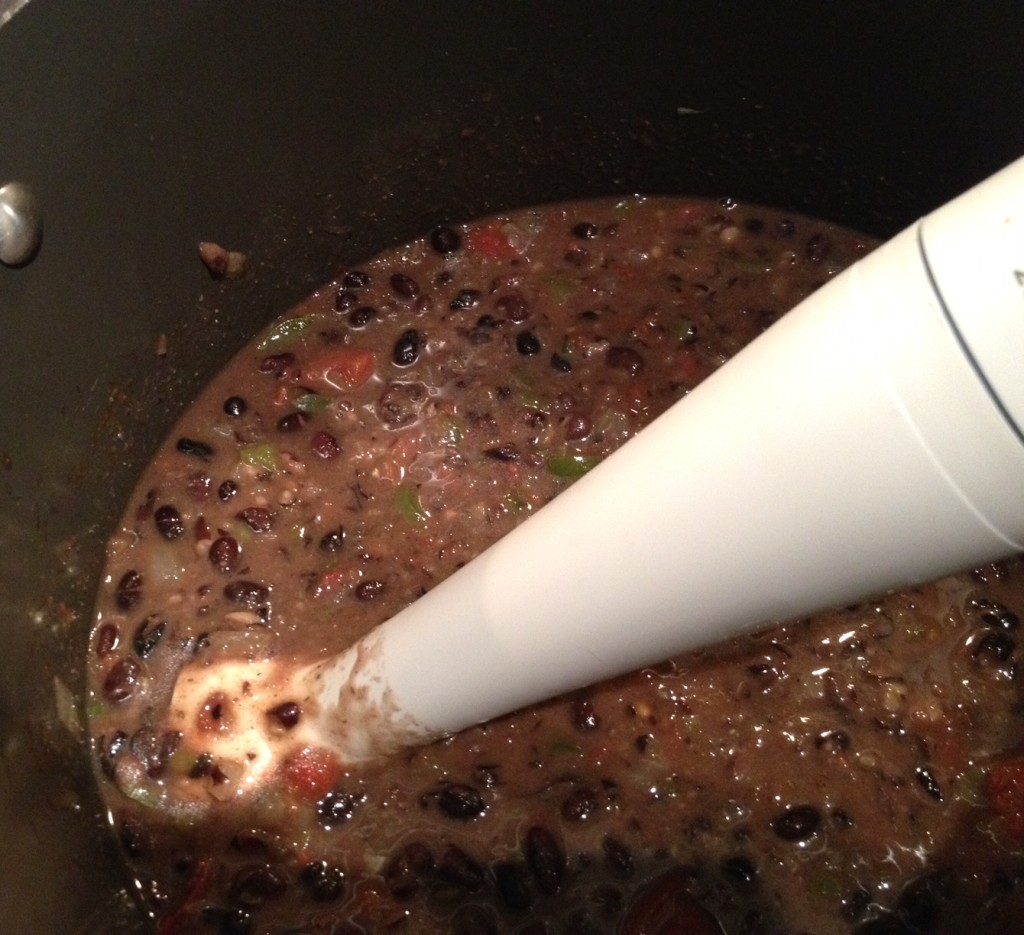 That's it! Soup is ON! You can stop right here and tuck into this as is and be very, very happy.
I would. And I do.
But let's say you have an extra, I don't know….five minutes…and a couple of ripe avocados. DIce em up along with a couple of tomatoes, a bit of the diced jalapeno you saved from the soup, some chopped cilantro and a squeeeeeze of lime juice. Give it a drizzle of olive oil and salt and pepper to taste. Yeh….you can totally just eat this stuff with a spoon, no chip needed!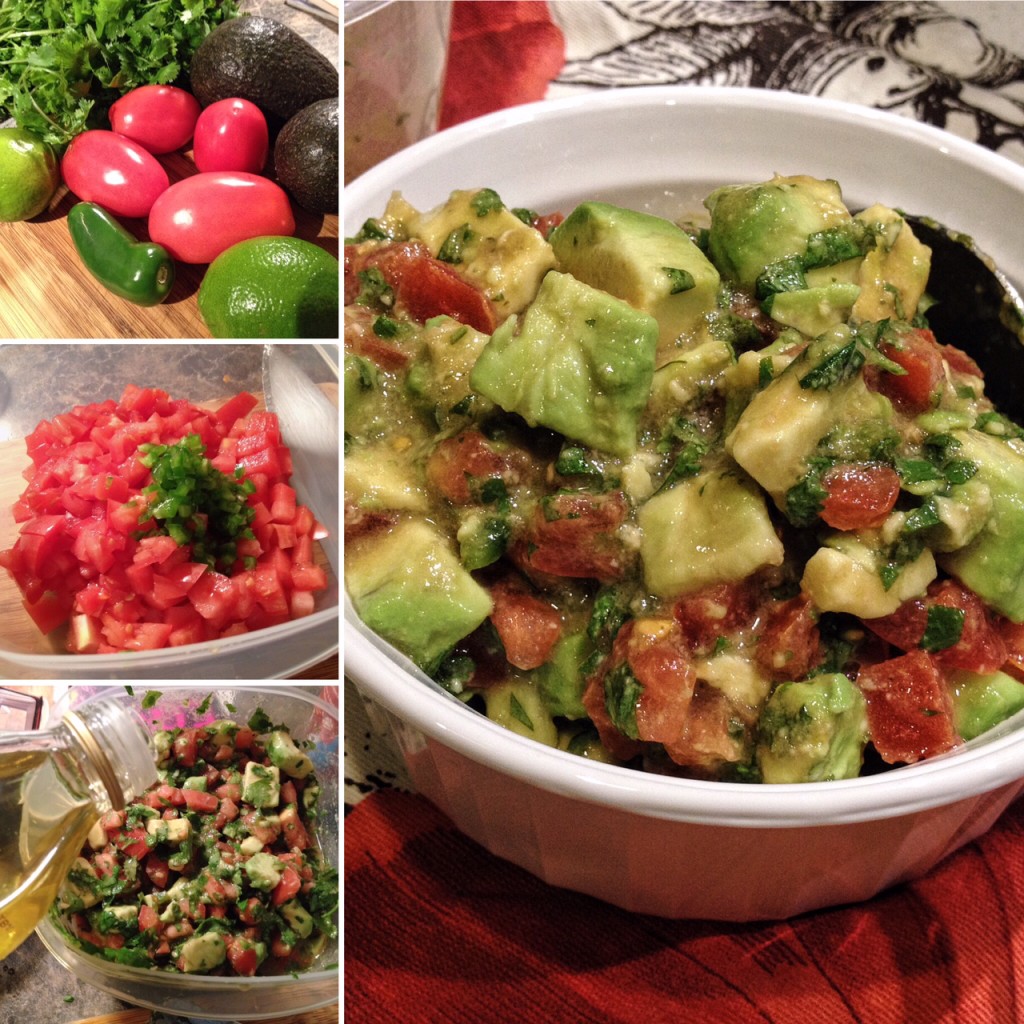 But your soup is ready! Now ladle some of that steaming black bean gorgeousness into a bowl and top it with a dab of sour cream and a perfect pile of avocado relish. Can it get any better than this?
Okay, maybe not better but here's another amazing option …….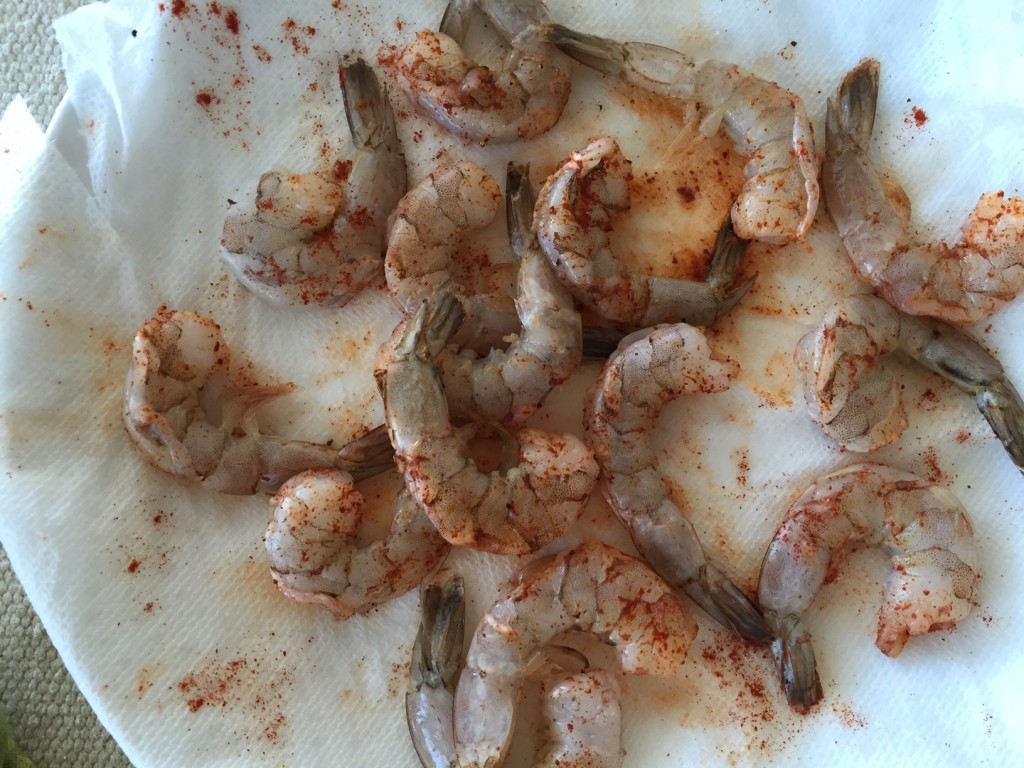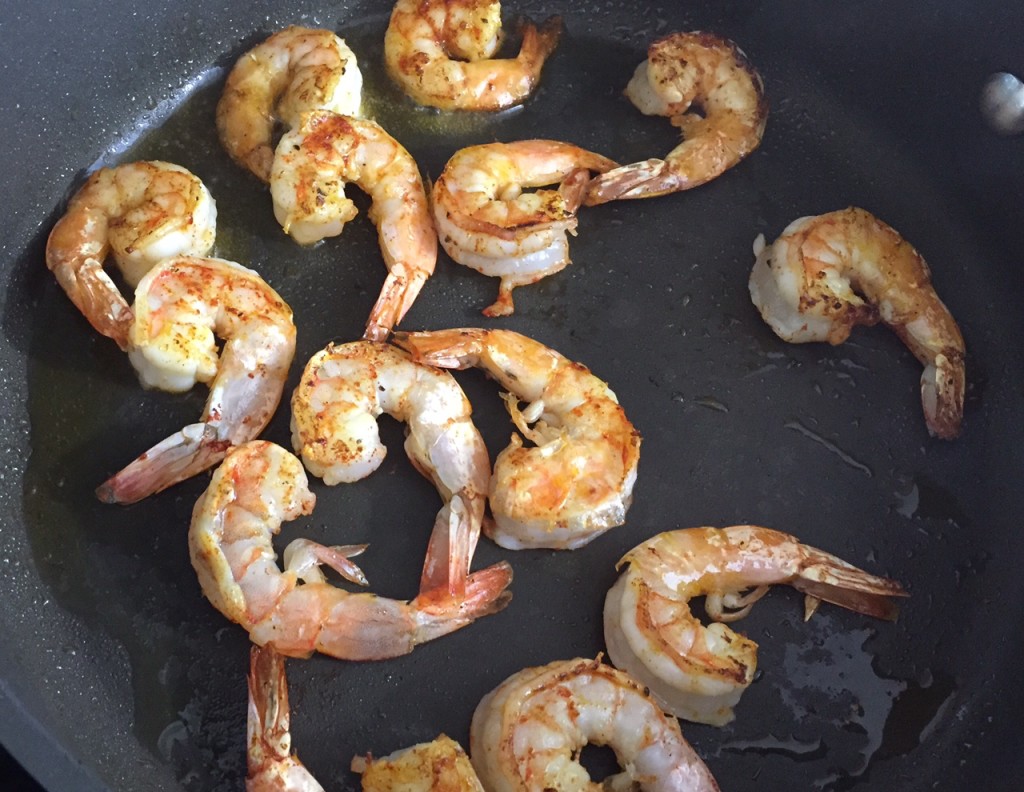 After thawing out ( I use frozen) and shelling a few large shrimp (I aim for 3-4 per serving) pat them nice and dry and season em up with salt and pepper and some smoked paprika. Sear them quickly in a medium hot pan that you've slipped a bit of olive oil into….three minutes total, and you have a fantastic garnish with some serious heft. The added chop of avocado is almost just too much!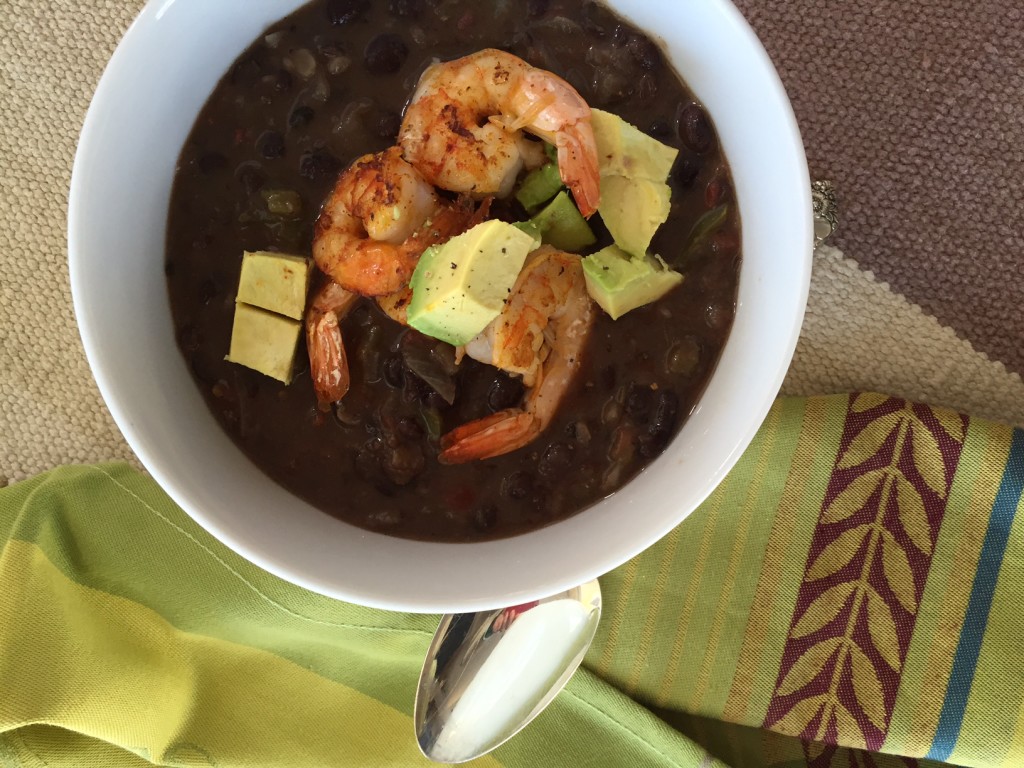 But I'm good with excess like that.
The benevolent black bean…..from ooey gooey chocolate brownies to stick to your ribs soup and lots of everything in between… (like this). Stay tuned cos you never know…..next week I just may bring you the Black Bean Smoothie.
Just kidding. (let's hope)
Recipe below:
Beautific Black Bean Soup
2016-01-27 17:54:06
Ingredients
FOR THE SOUP!
1- 26.5 ounce can of black beans / or three smaller 16 ounce cans, drained
1-16 ounce can of diced tomatoes juice and all
1 medium onion, diced
1 green bell pepper, seeded and diced
1 jalapeno pepper, seeds and membrane removed, finely diced* divided
1 clove of garlic, finely diced
1 teaspoon ground cumin
1/4 -1 teaspoon ceyenne pepper, to your taste
1 cup stock (your choice, beef, vegetable - I use chicken stock)**
Olive oil, kosher salt and fresh cracked black pepper to taste
FOR THE AVOCADO RELISH!
2 avocados, peeled and diced
2-3 tomatoes, diced (roma tomatoes are great in the winter when decent tomatoes are tough to find
1-2 limes (for the juice, and some limes give off more of it than others)
Handful of fresh cilantro, roughly chopped
Olive oil, kosher salt and fresh cracked black pepper to taste
FOR THE SHRIMP (you'll want 3 - 4 per serving)
1 dozen large shrimp, shelled, deveined and pat very dry (I use frozen shrimp, obviously, make sure to thaw em)
1/2 teaspoon smoked paprika
Olive oil, kosher salt and black pepper to taste
OPTIONAL 1 avocado, diced
Instructions
Start with the soup...
Add some olive oil to a large soup pot, enough to coat the bottom, toss in the diced onion, diced bell pepper, and diced jalapeno. Bring the heat up to medium high
Continue stirring and gently cooking, until the veggies are soft and carmelized, about twenty minutes. Add the garlic and the ground cumin and cayenne pepper. Spin this around the pot (stir it) for about a minute
Add the beans, 1 cup of (chicken beef or veg) stock and the tomatoes and stir
Gently blend with an immersion blender or smoosh with a potato masher, making sure to keep a large majority of the beans whole
Add salt and pepper to taste, cover and turn to a low simmer while you make your toppings!
Now for the avocado relish...
Gently combine the avocado, tomatoes, and cilantro
Squeeze in the lime juice and add some salt and pepper, make sure to taste for seasonings, add more salt, or lime juice, etc.
As a finishing touch, add a drizzle of olive oil
Serve atop the black bean soup with a dollop of sour cream and a slice of lime
Or, if you're liking the shrimp option...
Pat the shrimp dry and sprinkle liberally with the salt, pepper and paprika
Get a medium pan hot and add a glug of olive oil
Add the shrimp in one layer and turn over after a quick minute. Give them another minute on the other side and viola! Done!
Arrange three to four shrimp over the black bean soup, add some chopped avocado if desired
Notes
This will serve up to six very generously unless of course you hang out with football players or sumo wrestlers, then consider it for four. Leftovers as with most soups are Ah-May-ZING!
* you will use as much or as little of this as the heat (spice factor) and your taste buds dictate
** You may need a little more to thin out your soup if it's too thick
Kick and Dinner http://kickanddinner.com/