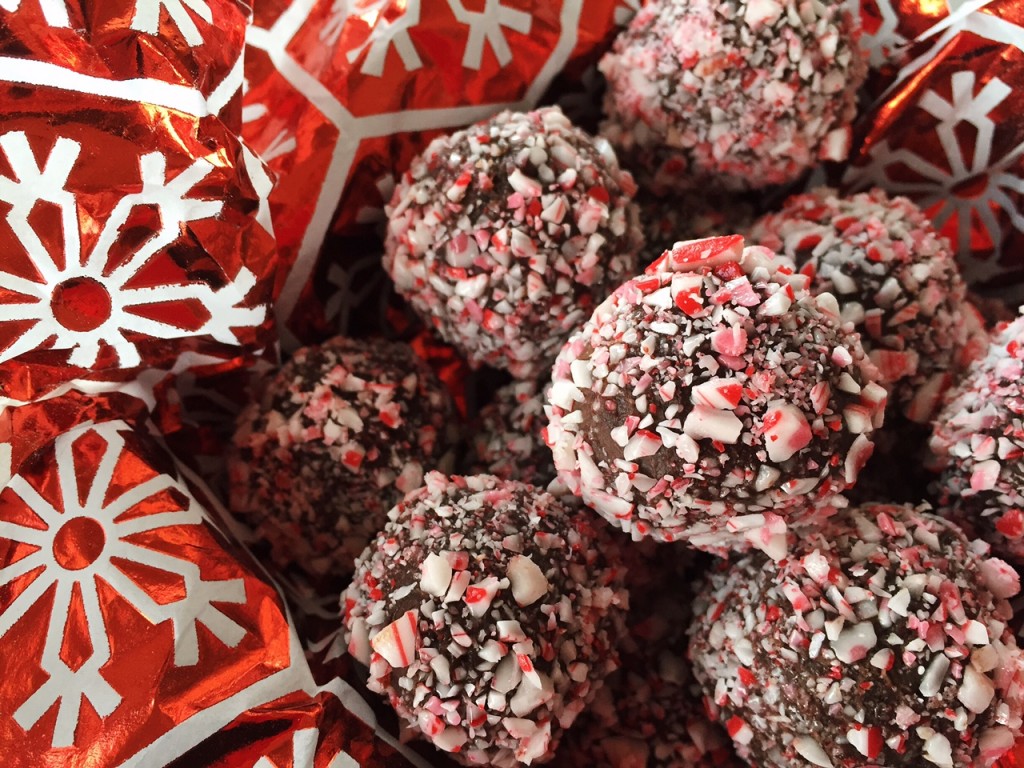 Can you roll a ball out of play dough? Then you can make these beauties. Can you bash up stuff with a hammer? Then you can be a master chocolatier for at least this moment. Need a quickie hostess gift? Running out of ideas? Got some leftover candy canes? Then I got you covered.
Show up anywhere with these and you will never be without friends. All you need are four ingredients and a little time.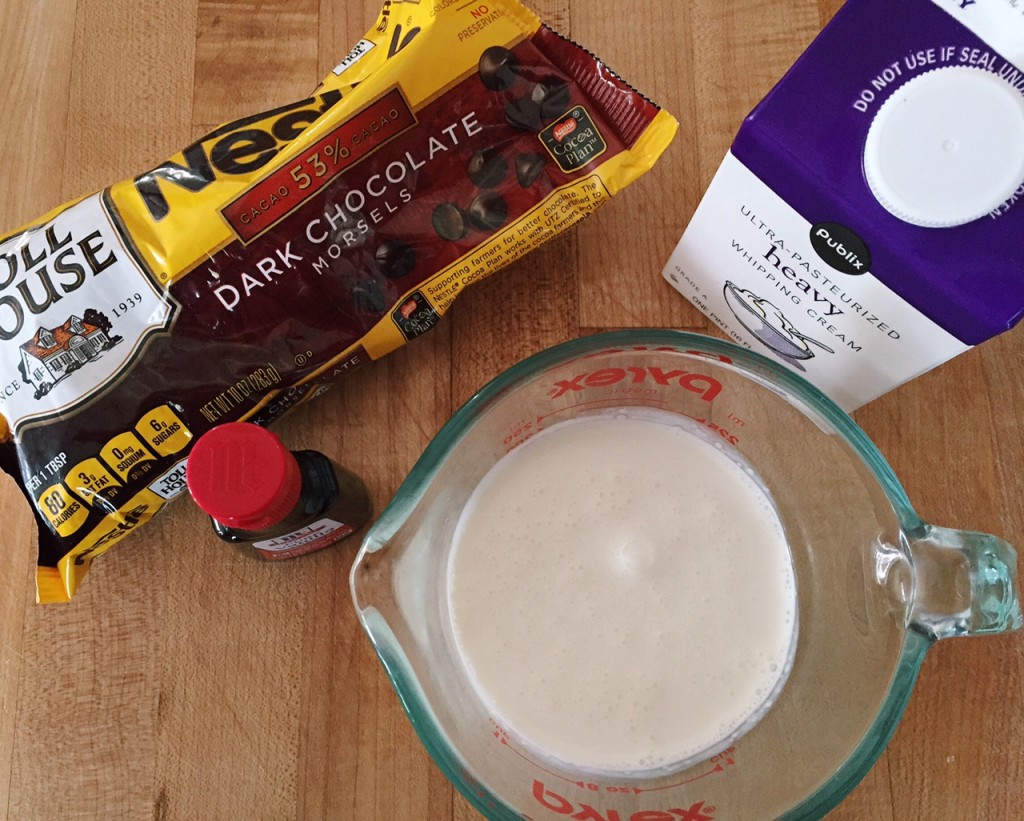 And here you go. This is pretty much it! A refrigerator comes in very handy as well since most of what you'll be doing is chillin. And I mean that…..
Literally.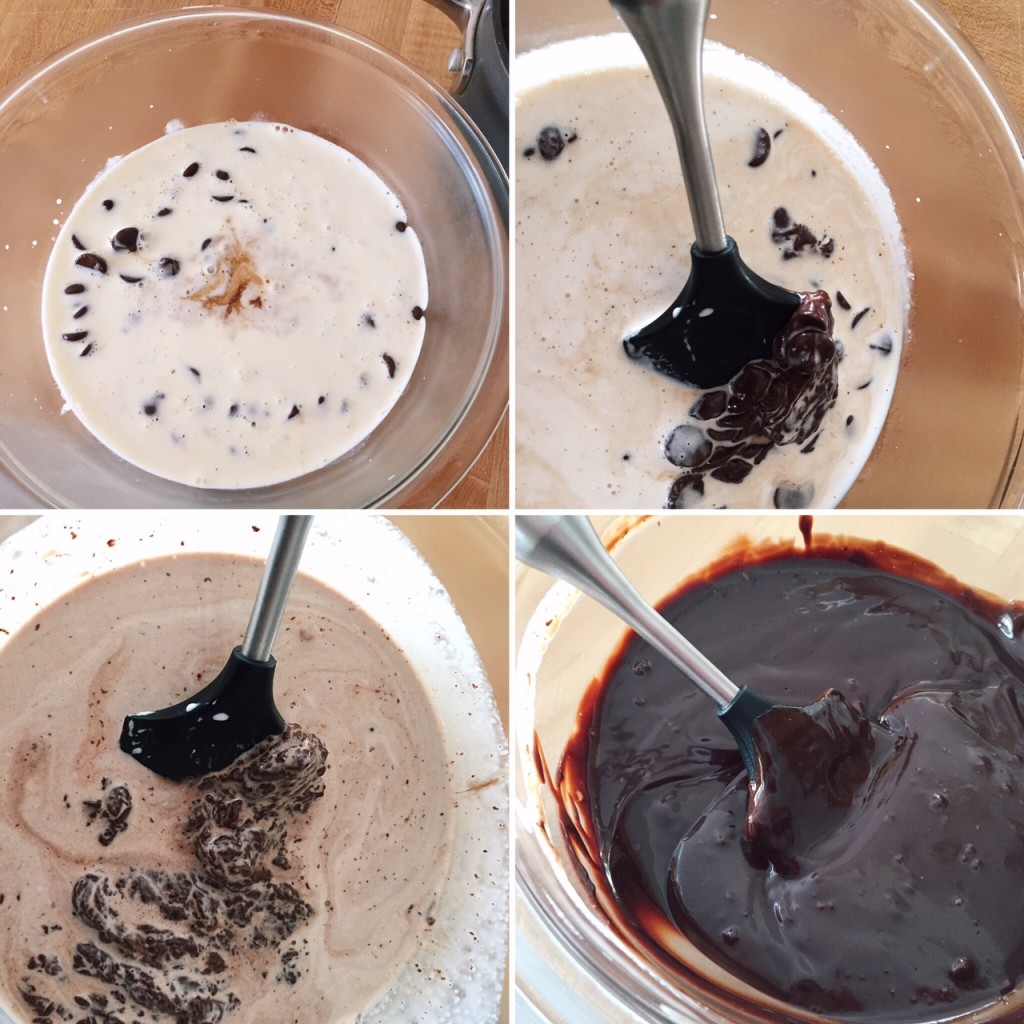 But first you have to heat up some heavy cream. Just in a regular old saucepan. Go ahead and put it over a medium high heat, and get it to the point where you see tiny little bubbles forming up the sides. Don't let it actually boil, just get it good and hot. Should take four to five minutes. Pop that bag o' chocolate chips into a bowl and pour that steamin cream over. Add some vanilla. Wait a minute or two for the heat to melt the chips, and then go in gently and stir it up. It will fight you at first but sooner or later you will end up with a beautifully smooth and silky chocolate ganache.
SA-WOOON!
Yep……that's about as hard as THAT gets. Once this cools cover it with plastic wrap and whack it into the fridge to set up. This is going to take a couple of hours….so go find something constructive to do!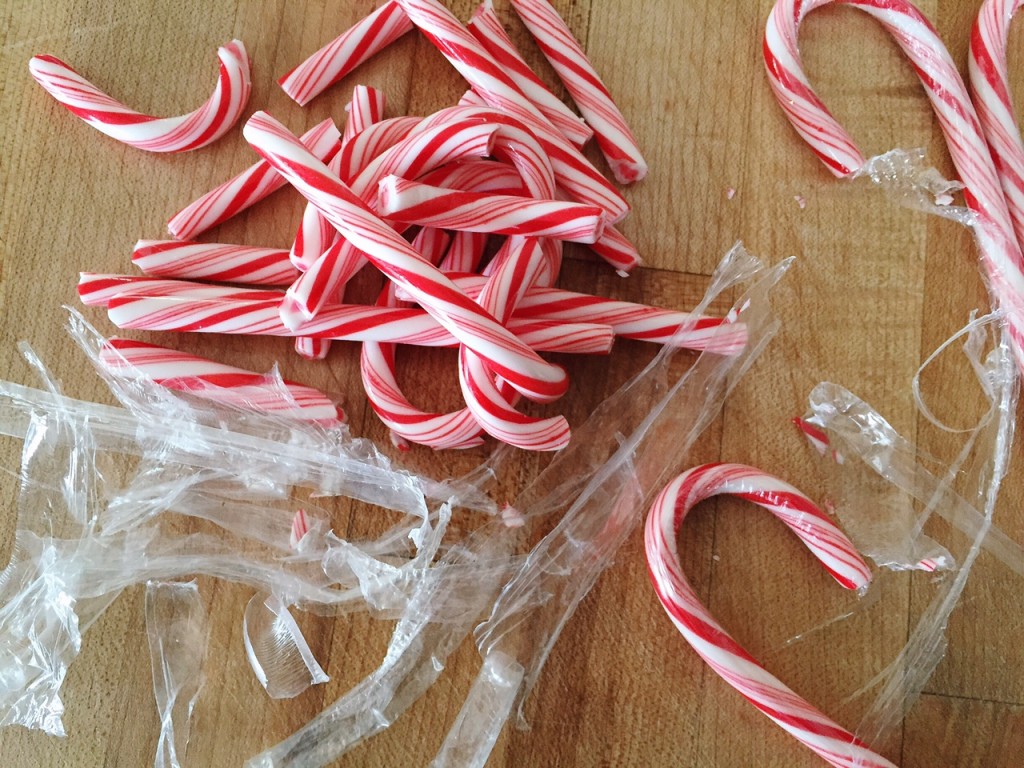 It actually took me about two hours (kidding – sorta) just to get the shrink wrapped, thin as a baby's fingernails cellophane off of these candy canes! Holy smokes! Good thing the next step was to bash them into dust, because I was about ready to bash my own head against the wall! Ah, sweet stress relief.
Break up the candy a bit and toss it all into a large zip-lock bag. Close it most of the way (so it doesn't explode while you're wolloping away) and cover it with a kitchen towel. Now get out a rolling pin, or better yet use the bottom of a big heavy frying pan and proceed to whomp the heck out of it. You want to pulverize those peppermint candy canes into dust. The finer the better. Sure, you could do this with a food processor but……why? Cheap kitchen therapy, I say. Once your candy is appropriately crushed, transfer it to a shallow container.
We're still chillin……..
but after two or more hours your ganache should be firm enough to roll into balls. This is messy mess messy so you want to work pretty fast because the chocolate softens up quickly upon contact with your hot little mitts. Use a melon-baller if you have one to scoop out fairly even portions, and with your perfectly clean hands (for the moment, at least) roll yourself some chocolate truffles! Place them on a wax paper lined rimmed sheet pan. Get them back in to chill and then go wash up! Messy as promised.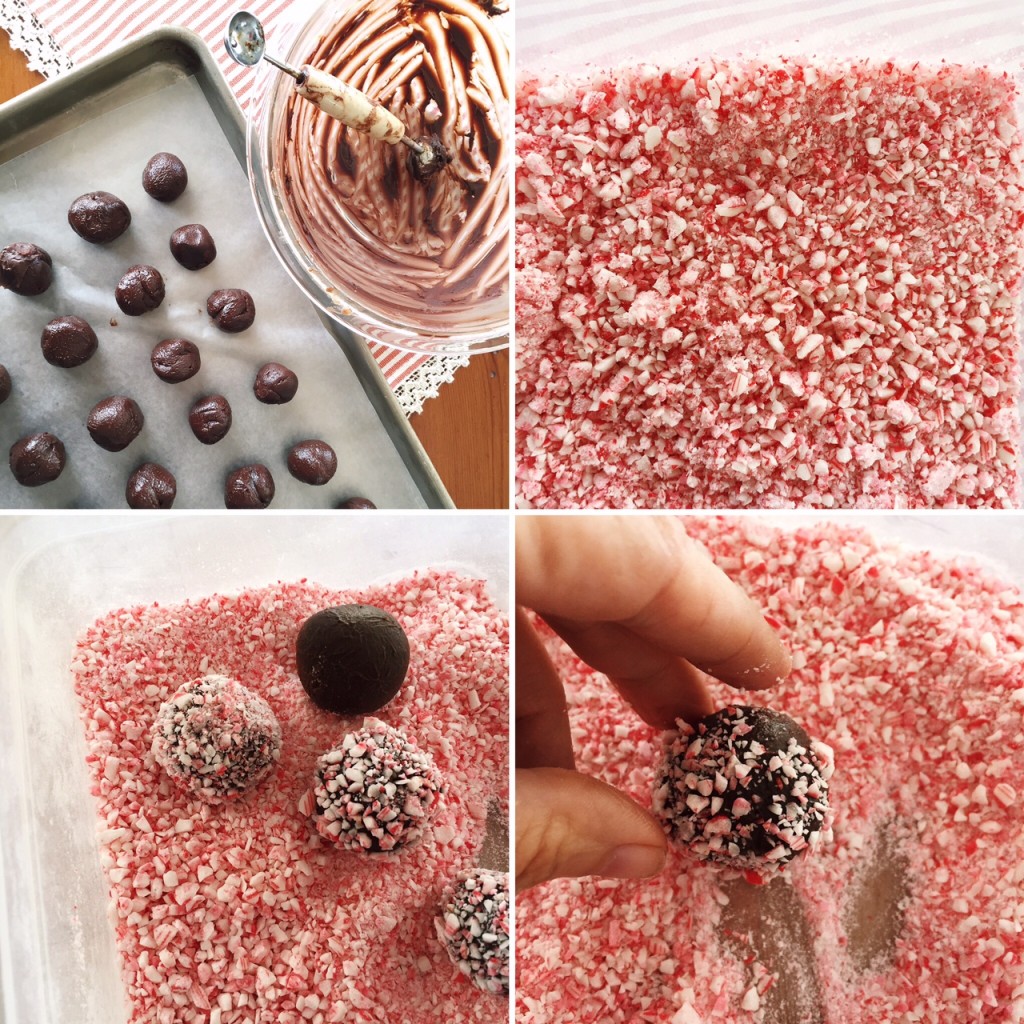 Now that you are all nice and clean get those lovely orbs of chocolate out and roll them around in the crushed candy cane. You'll notice I didn't include the actual candy in the original photo of ingredients and that's because you can roll these rich little balls of decadent deliciousness in anything! Think chopped nuts, or cocoa powder, or powdered sugar, or chopped toffee bits, or cinnamon sugar and cayenne, or or or……you get the idea. We're playing Santa here today and I had some of these guys hangin on the tree, so….
Back they go on their wax paper tray.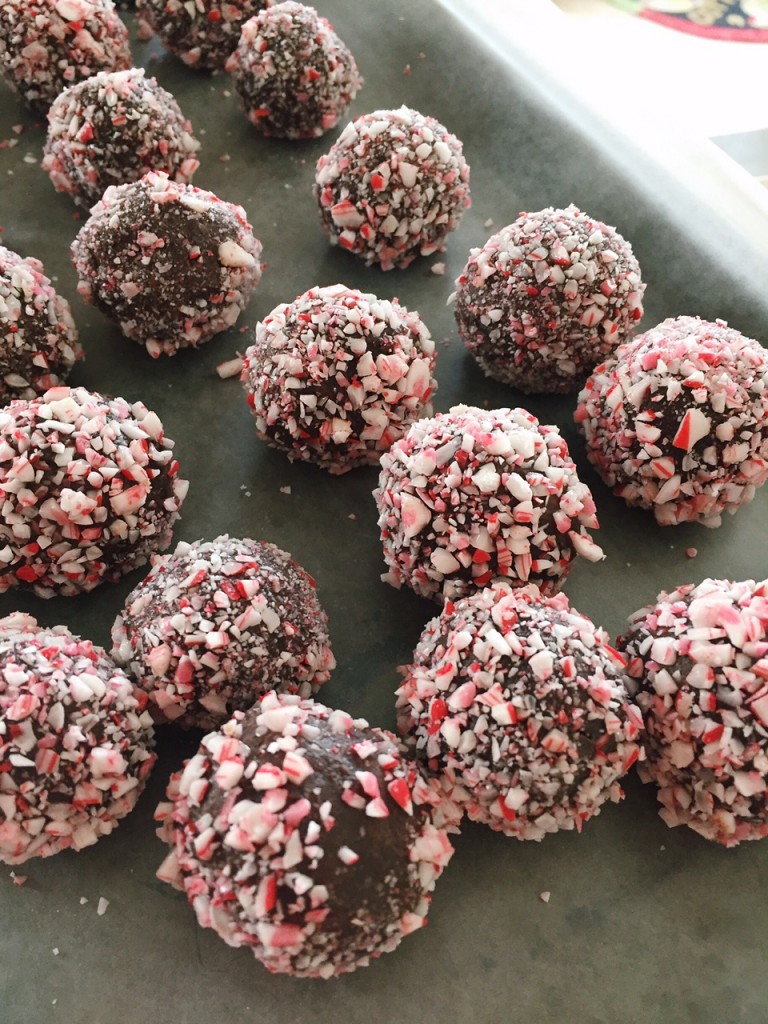 Again. Chillin. For another couple of hours.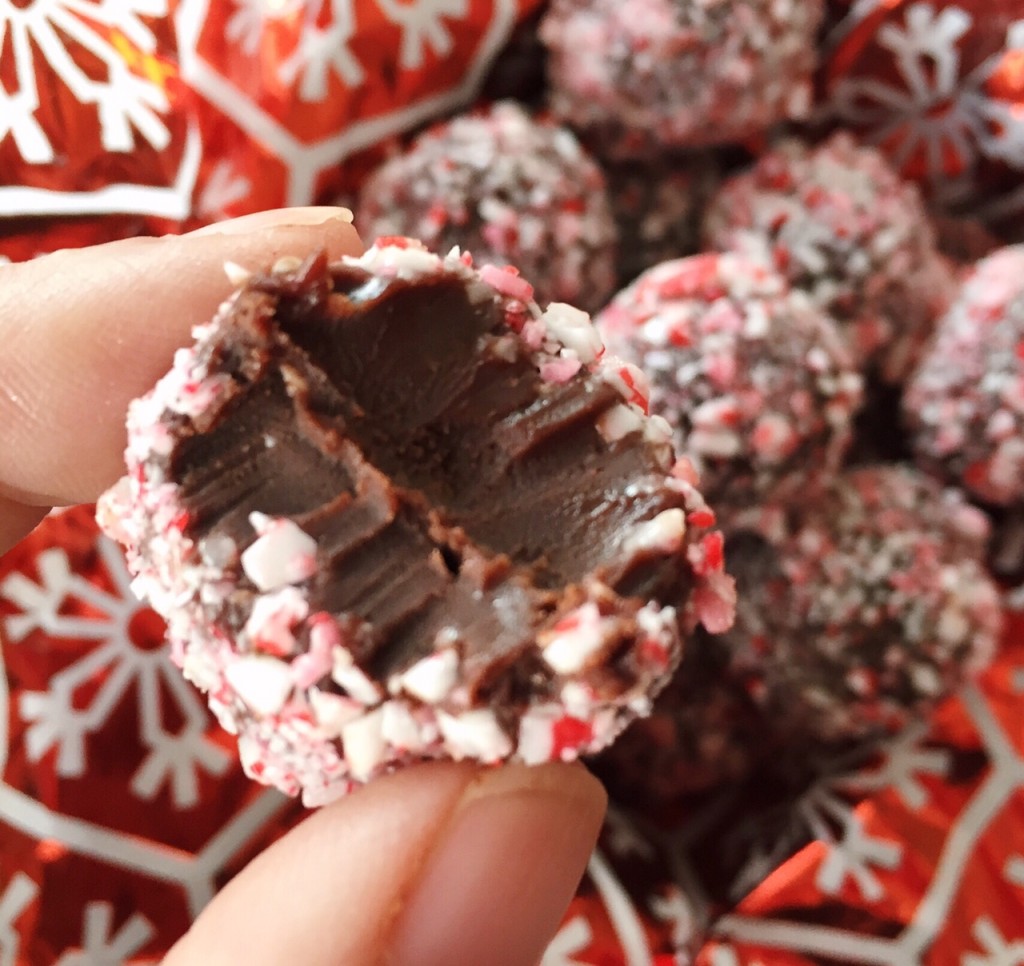 Just to be melting…..in your mouth!
Recipe Below:
Merry Christmas, Happy Holidays, Best Wishes for ALL good things for ALL, every day of the year.
Candy Cane Truffles
2015-12-24 08:04:54
Ingredients
3/4 cup heavy cream
10 oz bag dark chocolate chips*
1 teaspoon vanilla
10 (or so) candy canes, unwrapped and crushed**
Instructions
Place the chocolate chips into a medium sized bowl
Heat the heavy cream in a small saucepan until it is just barely bubbling up on the sides
Pour the hot cream over the chocolate chips. Add the vanilla, and let this sit for a minute
Stir the melty chips into the cream until you have a thick and evenly distributed ganache
Allow the mixture to cool, and then cover and chill for at least two hours to set up
In the meantime, place the candy canes into a zip lock bag and leave it open just an inch
Cover with a towel and bash the candy with the bottom of a large frying pan, continue smashing until the candy cane is finely crushed *** Place in a shallow container and set aside
Once the chocolate has hardened, use a melon baller or teaspoon to evenly portion out balls of chocolate. Quickly roll the ganache into balls and place on a wax paper lined rimmed cookie sheet
Transfer back to the refrigerator to cool for a few minutes, while you go wash your hands
Roll the ganache balls in the crushed candy cane. Place back on the cookie tray with a new peice of clean wax paper. Back in the refrigerator they go to set up, at least two hours.
You should get about 25-30 truffles out of this depending on the size you roll them!
Notes
* Use whatever you like but I love the dark chocolate with the minty candy
** Finely chopped nuts, powdered sugar, cocoa powder......these work too!
***Adding a teaspoon of powdered sugar to the crushed candy cane will keep it from sticking together, in case you are in a humid climate
These make a great gift! Just keep em in a cool place!
Kick and Dinner http://kickanddinner.com/