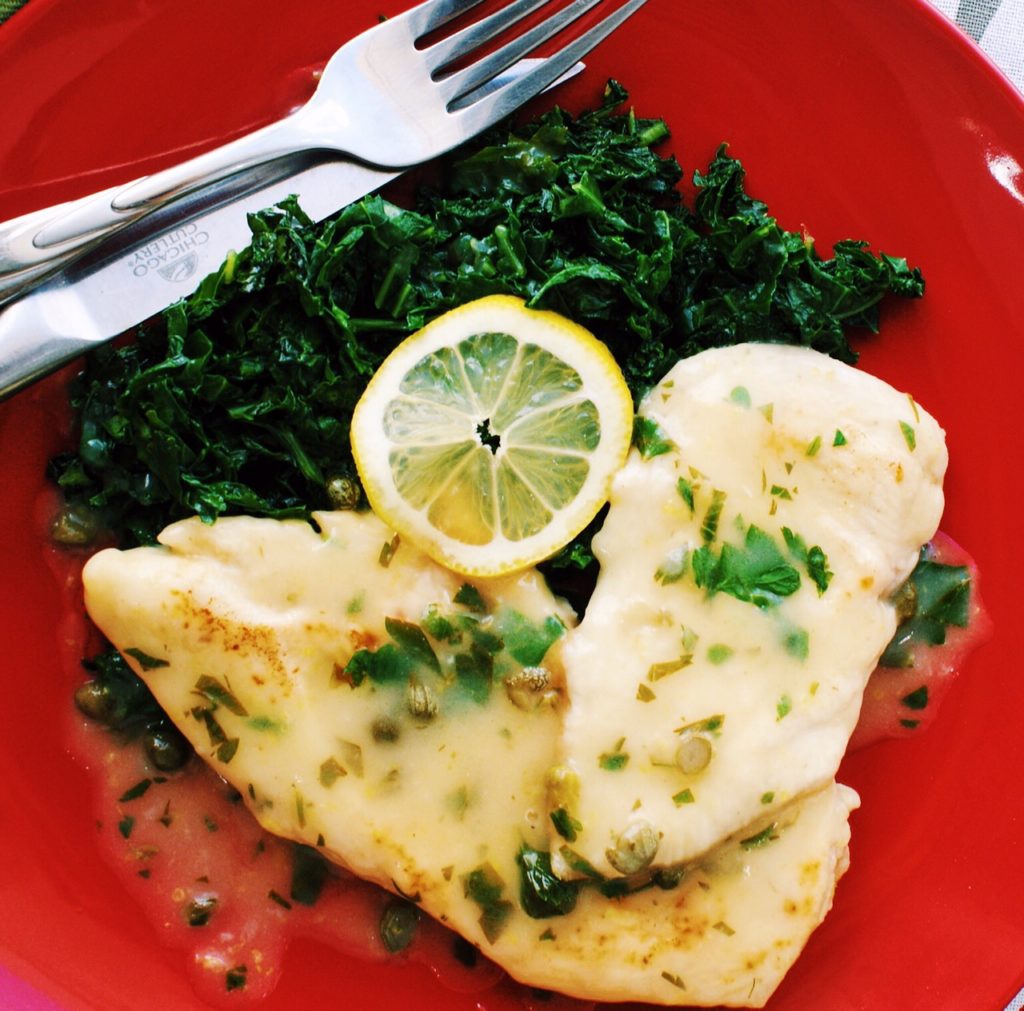 If there is a restaurant within a 50 mile radius of my residence that serves chicken piccata, I have ordered it. Probably more than once. And no doubt I have enjoyed it, because to me, there is no such thing as a bad chicken piccata. Tender sand dollars of perfectly sautéd chicken in a supremely light and lemony sauce dotted with puckery pops of briny capers, dusted up with a flurry of freshly chopped parsley over an ethereal cloud of perfectly al dente' angel hair pasta? Sounds sooooo good. Don't ya think?
But could you take this into your kitchen and make it even bETTER?
Don't be silly. Of COURSE you can. Piccata is so easy and delicious, and when you swap out the pasta for some beautifully sautéd kale, even more amazing.
I know. Kale? With this? Trust me, you really won't miss the semolina here, unless of course you are a total die-hard pasta-holic (and I feel you, I do). But if I haven't yet convinced you – with perhaps maybe this or most certainly this to get your healthy self aboard the kale train with me…..well, then……
maybe this won't do it for you either…..lol 😜🔫
So make it with some nice spaghetti, for the love of ya mother! Just be sure to make this piccata. No judgements, I just personally happen to like the color green.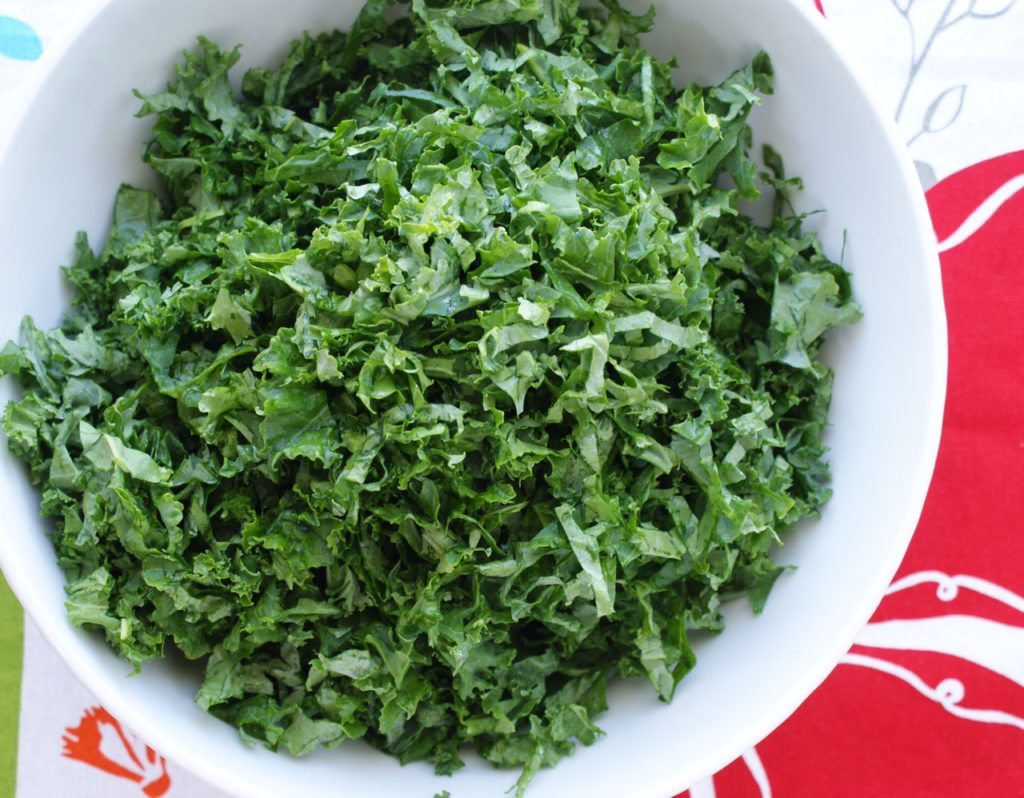 Speaking of green, go ahead and start with your kale. Make sure it is super clean by dunking it into a full bowl (I use a small bucket that fits in my sink) of water. Give it a good swish. The dirt and debris will fall to the bottom, so make sure it's deep enough. Lay the kale out onto a kitchen towel and pat it dry, then go ahead and de-stem. Just tear the leaves off, no problemo. Good to go!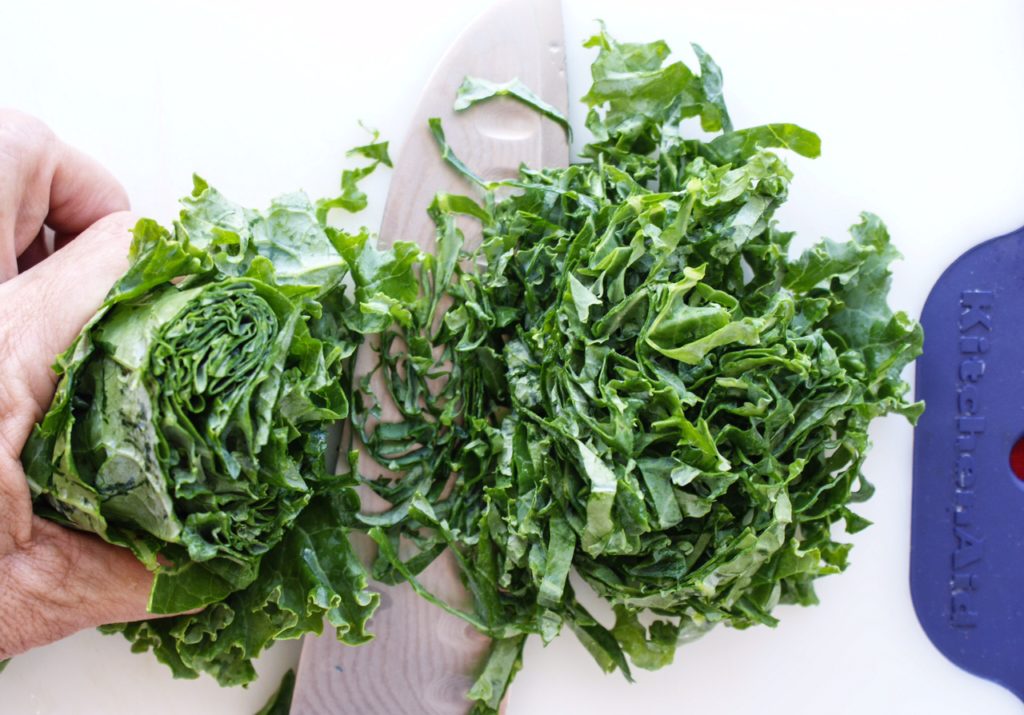 Now I like to slice my kale by stacking a few leaves together and rolling them as tightly as I can into a sort of a pipe-like shape. Then I slice through the "cigar" into fairly thin strands, quite fancily called a chiffonade. Noun? Verb? Whatever, you gotta love the French, because you end up with long delicate ribbons (translated "made of rags"). Much prettier than a chop and frankly because kale can be such a tough customer, a really nice way to begin to break down the fibers and soften it up.
Get a large pan onto a medium high heat, give it a few glugs of olive oil. In goes your kale chiffonade, and a nice healthy pinch of salt and some black pepper if you like it. Give it a stir every once in a while and let it do its sauté thing, about ten minutes or so. Done! That was easy.
Now let's get the PIC-arty started. (har der har……………..okay, I'm done).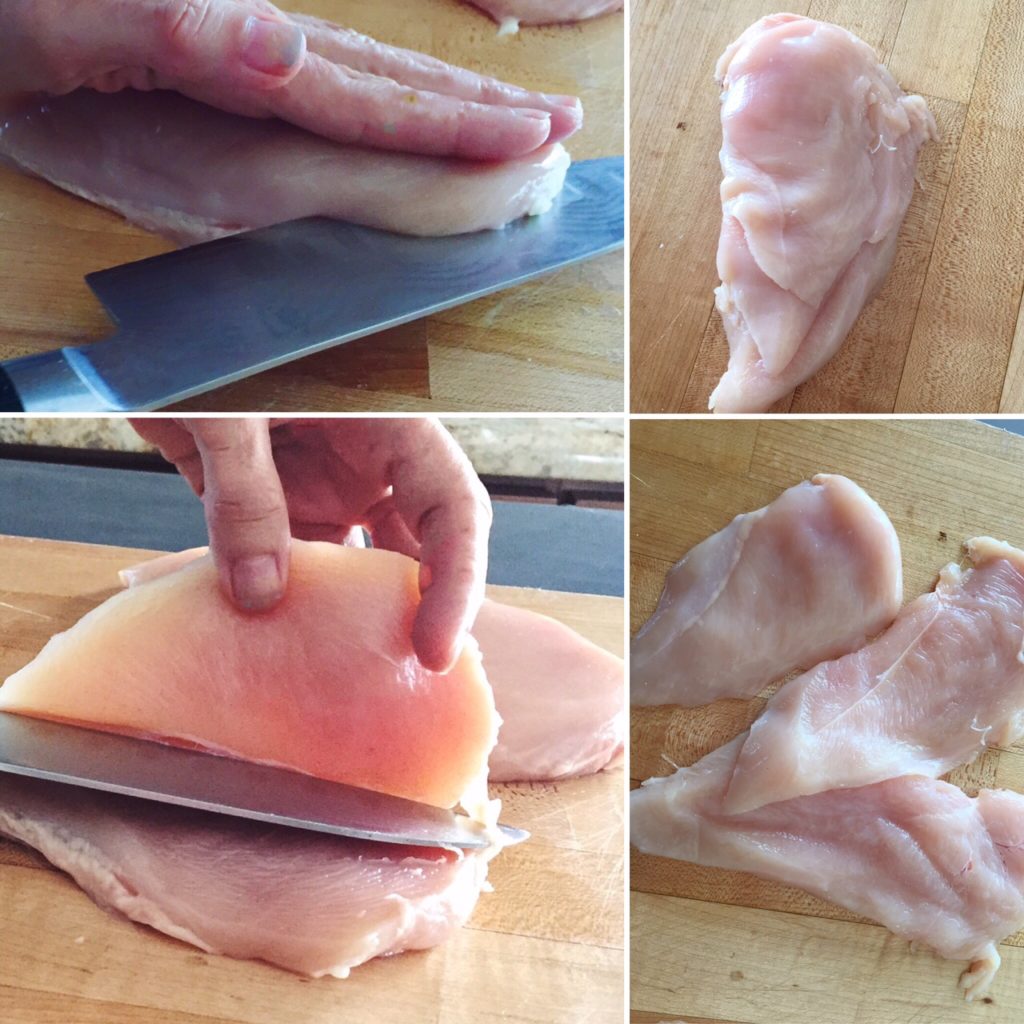 Always use boneless, skinless chicken breasts, there is just no good reason to torture yourself with anything else. Don't purchase the pre-made "cutlets" either, thinking you'll save time. You'll only gain about two minutes and you'll spend more $ and the chicken will most likely be dry. No no no.
To cut the chicken into manageable pieces, just lay one piece flat out on a cutting board, and with your palm pressing firmly over it to keep it stable, slice the breast horizontally with a very sharp knife. Depending on the thickness of your chicken you could end up with two to three pieces. Don't worry if they vary in thickness, in fact that's almost sure to happen, unless you are a trained surgeon (and even then). Just slice two to three pieces from each breast – perfect! This will instantly render the chicken tenderized and super-quick to cook up.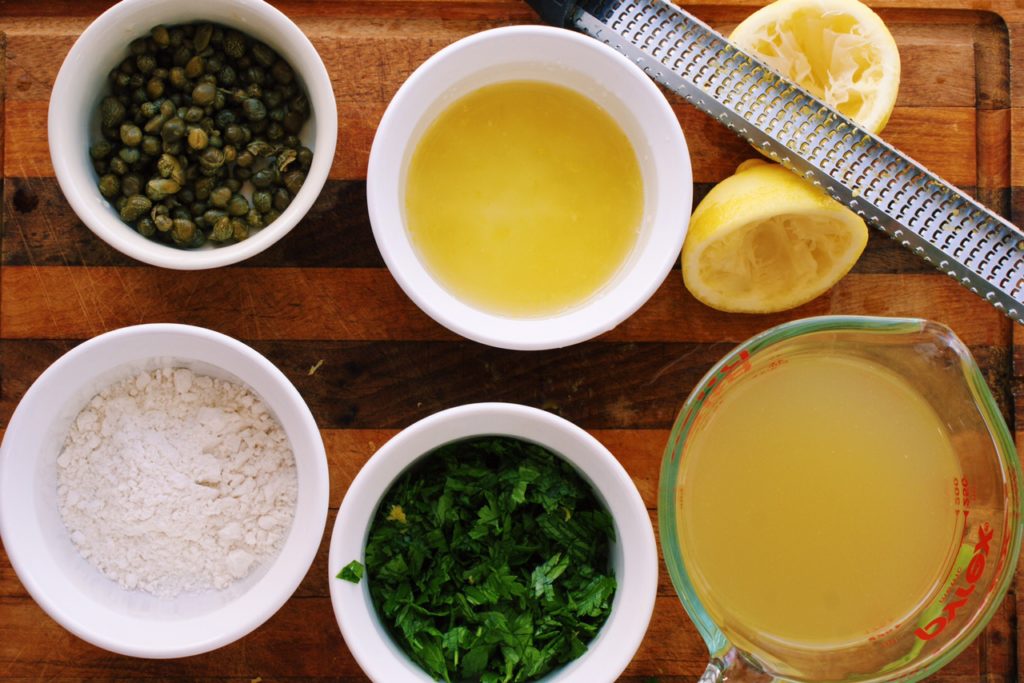 Now it's time to get everything else ready because once you begin the cooking process, it all comes together very quickly. Read: you will be eating in less than 10 minutes! Yay!
Zest one medium-sized lemon into a little bowl, then go ahead and slice it in half and get 'er juiced. You should have about a quarter cup, but don't fuss about that too much. Get out a jar of capers, and have two to three tablespoons (I like a lot of capers….you may not) drained and ready to go.
Roughly chop a big handful of fresh parsley. Once again this is not exact science so your handful may equate to more or less than mine. No matter! Smoosh em up into a "ball" sort of like you did with the kale and chop away.
You will need about a cup of chicken broth, have a box of that at the ready. Salt? Pepper? Olive oil? Some buttah? A little bit of flour? Almost there.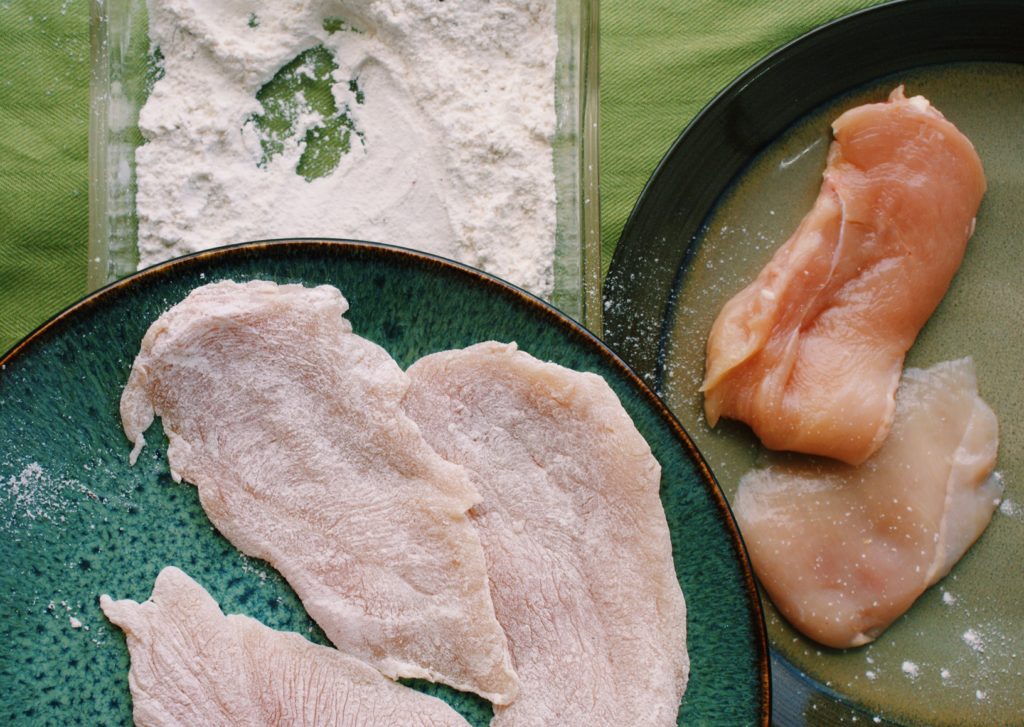 Sprinkle 1/4 cup or so of all-purpose flour into a shallow dish or even a dinner plate. Season this with a very healthy pinch of salt and some fresh black pepper. Take your little chicken cutie slices, and douse them one by one in the flour mixture, shaking off the excess as you go. Get them all floured and ready before you even think about getting them in a pan……you'll most likely end up with some excess flour when you're done with this step…no worries, that's just fine.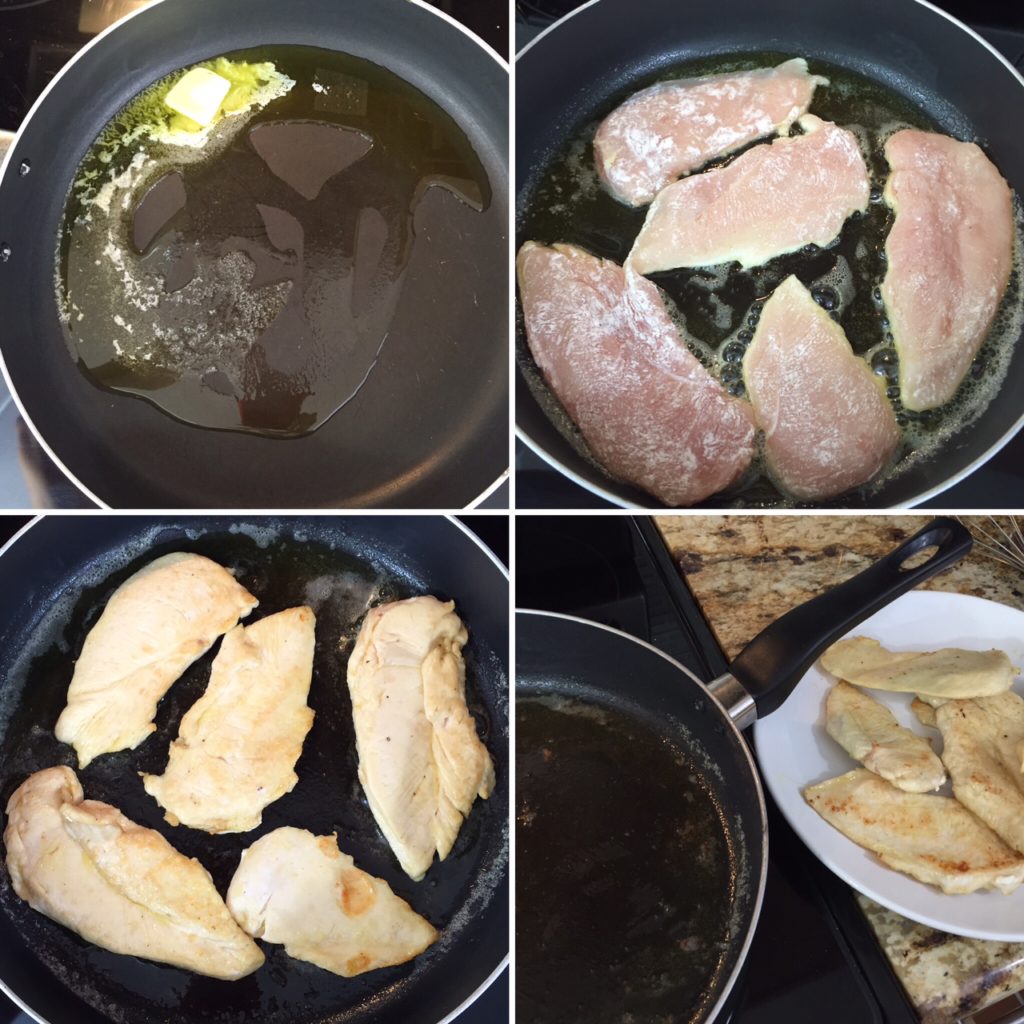 Once they are all coated and looking ghostly heat some olive oil and butter in a big old skillet. Don't have butter? Just good ol EVOO works just fine on its own, I just love the little bit of extra richness you get with the addition of the butter. Once its got it's froth on, pop in your dusted chicken pieces. If you have a small pan or a lot more chicken than this, you will have to do this in batches, because you really don't want to crowd anybody.
Get the chicks just barely browned on each side, three minutes for the first side, and then flip em over for two minutes on the next. You want the heat pretty high for this. Set them aside on a separate plate once they are done. We'll be seeing them again very soon.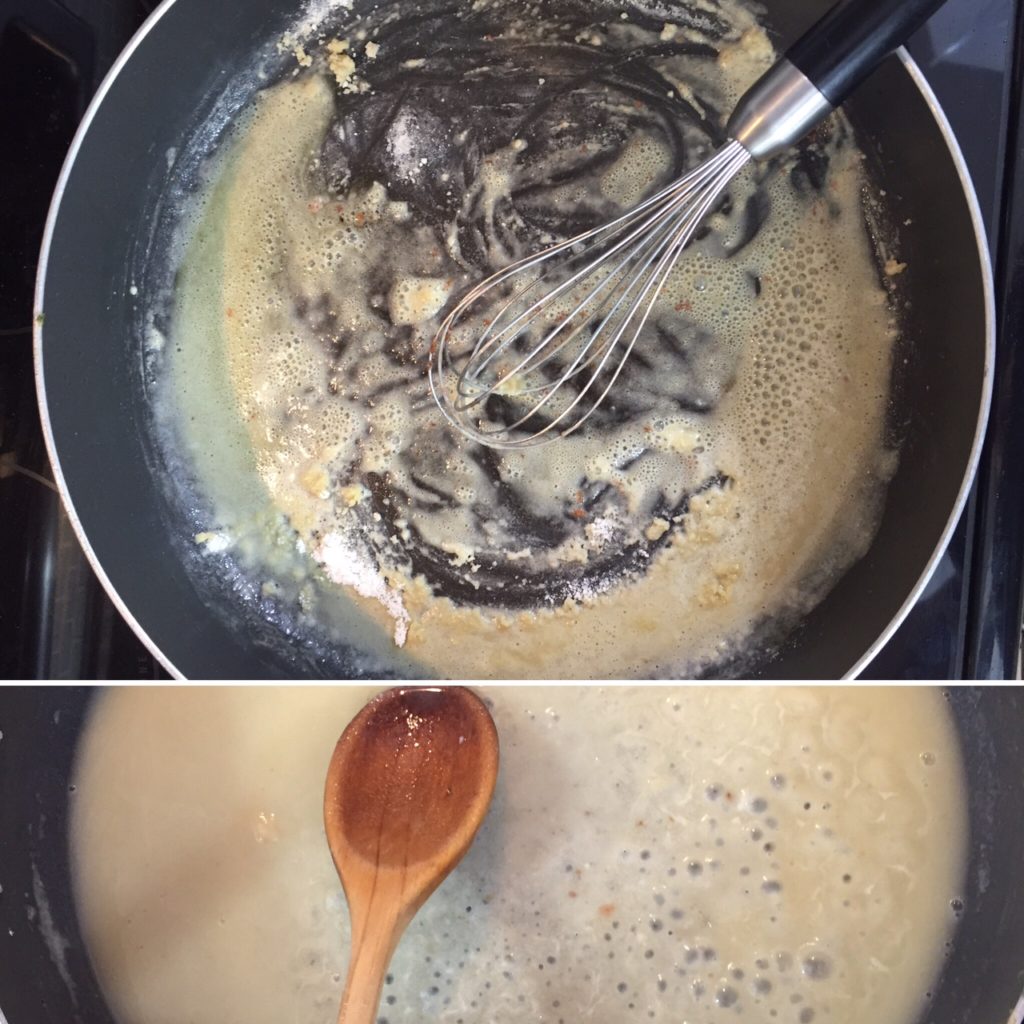 Turn the heat down to medium and add two tablespoons of flour and stir with a whisk, to cook the flour and get up all of the good brown bits of yummy stuck there to the pan. It's not pretty yet but just you wait. If you don't have enough fat in the pan at this point feel free to add a little more butter or oil. You want the flour to incorporate into a sort of a paste. Just spin this around for a minute or two. Now deglaze (just means to add liquid to dissolve the browned bits, really) the pan with your chicken broth, and stir it all briskly together, smoothing everything out.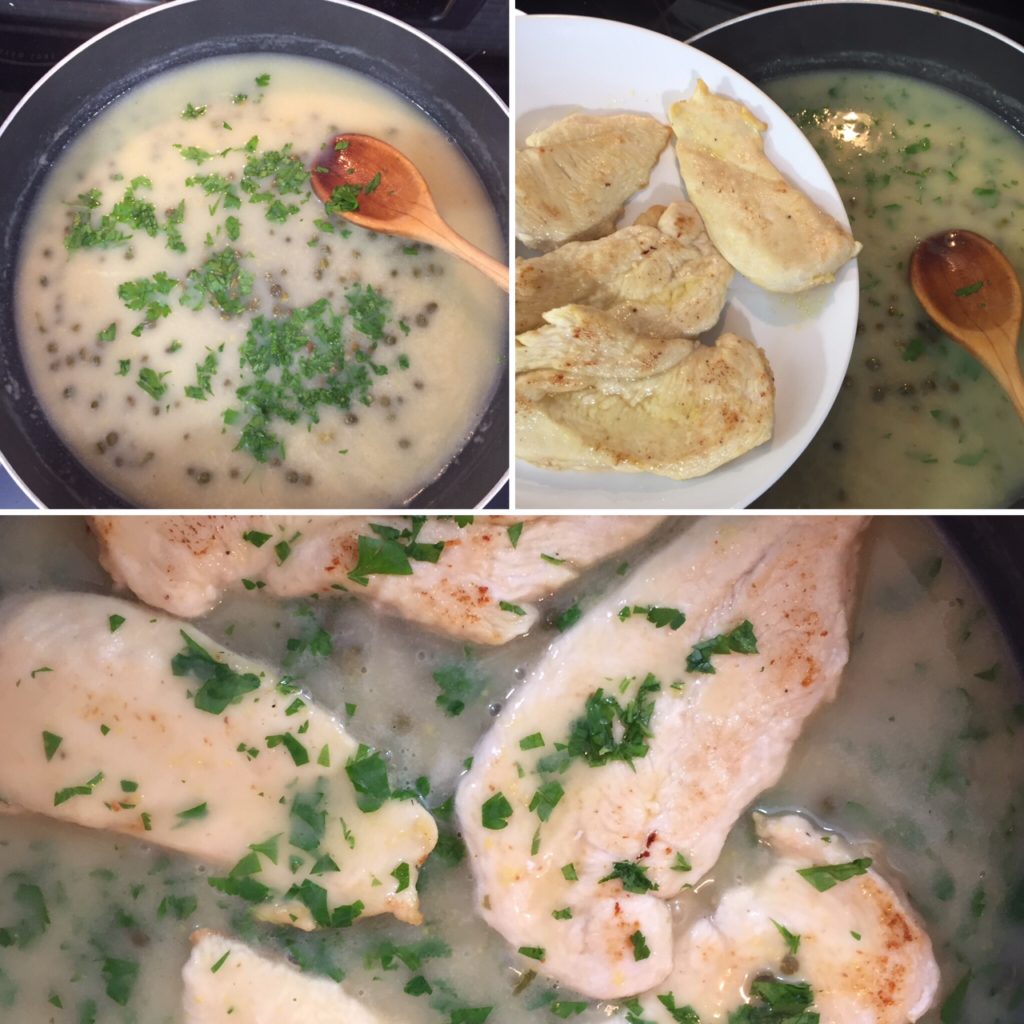 Add the lemon juice and the capers, and a bit of the parsley. Now slide your pretty poultry back into the sauce, and bring the heat down. You want to give it a few minutes to re-warm the chicken through. Sprinkle it all up with the extra parsley and serve it over a big pile of kale.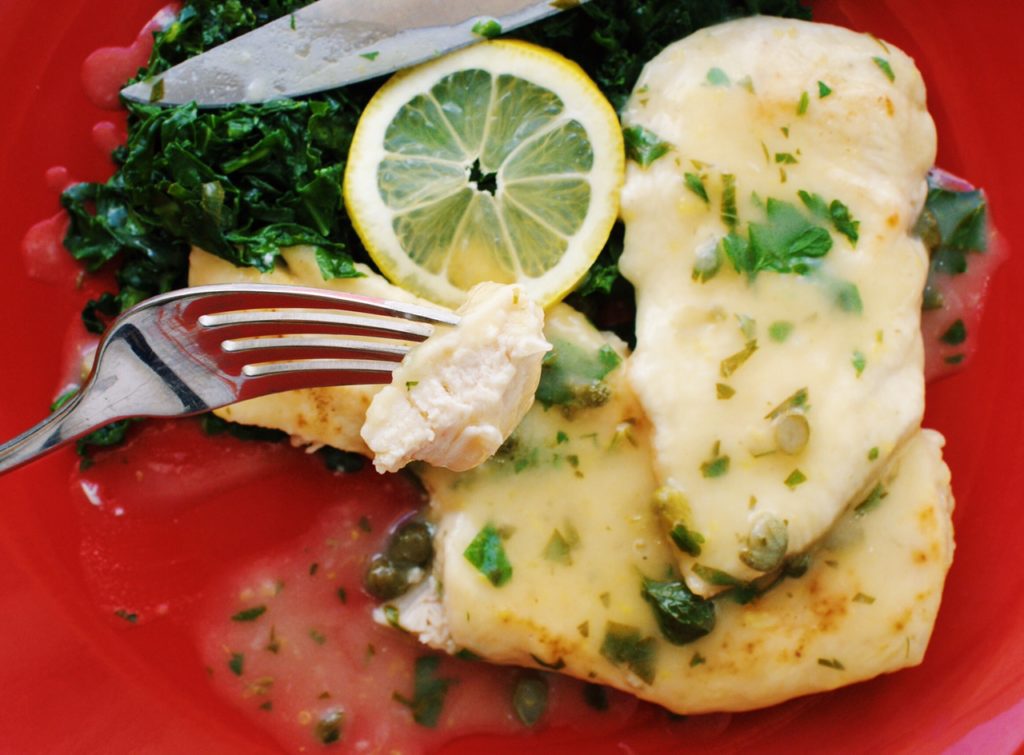 Lemony light, pretty enough for company yet comfort food friendly in that roast-chicken-dinner sort of way…..this is so easy and so delishio, and just looking at it, OMG, really, can you even possibly?
Now I'm just gushing.
CLeaRLy, I know what I'm having for dinner tonight.
Recipe below:
This makes enough for two, and we even had some leftovers! (gotta love that) Just consider one chicken breast per person, and adjust as you need to. Really, truly one of my all time favs.
Kicken Chicken Picatta
2016-04-26 12:01:24
Ingredients
2 boneless skinless chicken breasts, sliced horizontally into two or three pieces (depending on width of the chicken breast)
1/4 cup (plus two tablespoons) of all purpose flour
2-3 tablespoons olive oil
2-3 pats of butter
1 lemon, zest and juice
1 cup chicken broth
2-3 tablespoons capers, drained
1/3 cup fresh parsley, chopped
For the Kale
1 bunch kale, washed and de-stemmed
2 tablespoons olive oil
Kosher salt and freshly ground black pepper
Instructions
Start with the kale by rolling the leaves into a tight cylinder and thinly slicing as if you were slicing a cigar.
Heat a glug or two of olive oil in a big pan and add the sliced kale. Sprinkle with a pinch of salt and a grind of black pepper.
Continue cooking the kale over a medium heat until it is softened, about ten minutes. Set aside.
For the Picatta
Shake 1/4 cup of flour into a shallow bowl or plate and season with a healthy pinch of salt and some fresh cracked black pepper.
Dredge the chicken slices in the seasoned flour and shake off the excess.
In a large skillet over medium high heat melt two tablespoons (pats) of butter with two tablespoons of olive oil. When the butter and oil begin to get frothy add the chicken (do not crowd the pan, you may have to do this in stages depending on the size of your pan or how much chicken you have) and cook for three minutes. Flip and cook on the other side for two minutes. Transfer the chicken to a plate.
Into the hot pan add two tablespoons of flour, stirring into any fat left, and picking up the browned bits. If this looks too crumbly and dry, add a little oil or butter to form a dry paste. Continue stirring and cooking this for about a minute.
Deglaze the pan by adding the chicken broth, and whisk briskly to get all the flour incorporated and your sauce nice and smooth. Let this slightly bubble for about two minutes.
Add the lemon juice and zest, capers and half of the chopped parsley. Turn the heat to medium low.
Slide the chicken back into the sauce, and let this simmer for a few minutes to re-warm the chicken through.
Serve the chicken over some of that kale. Make sure to pour some extra sauce on top and garnish with an extra dusting of the leftover parsley. Lemon slices are nice but the extra time they take are just standing in the way of you and that perfect plate of picatta!
Go eat.
Kick and Dinner http://kickanddinner.com/