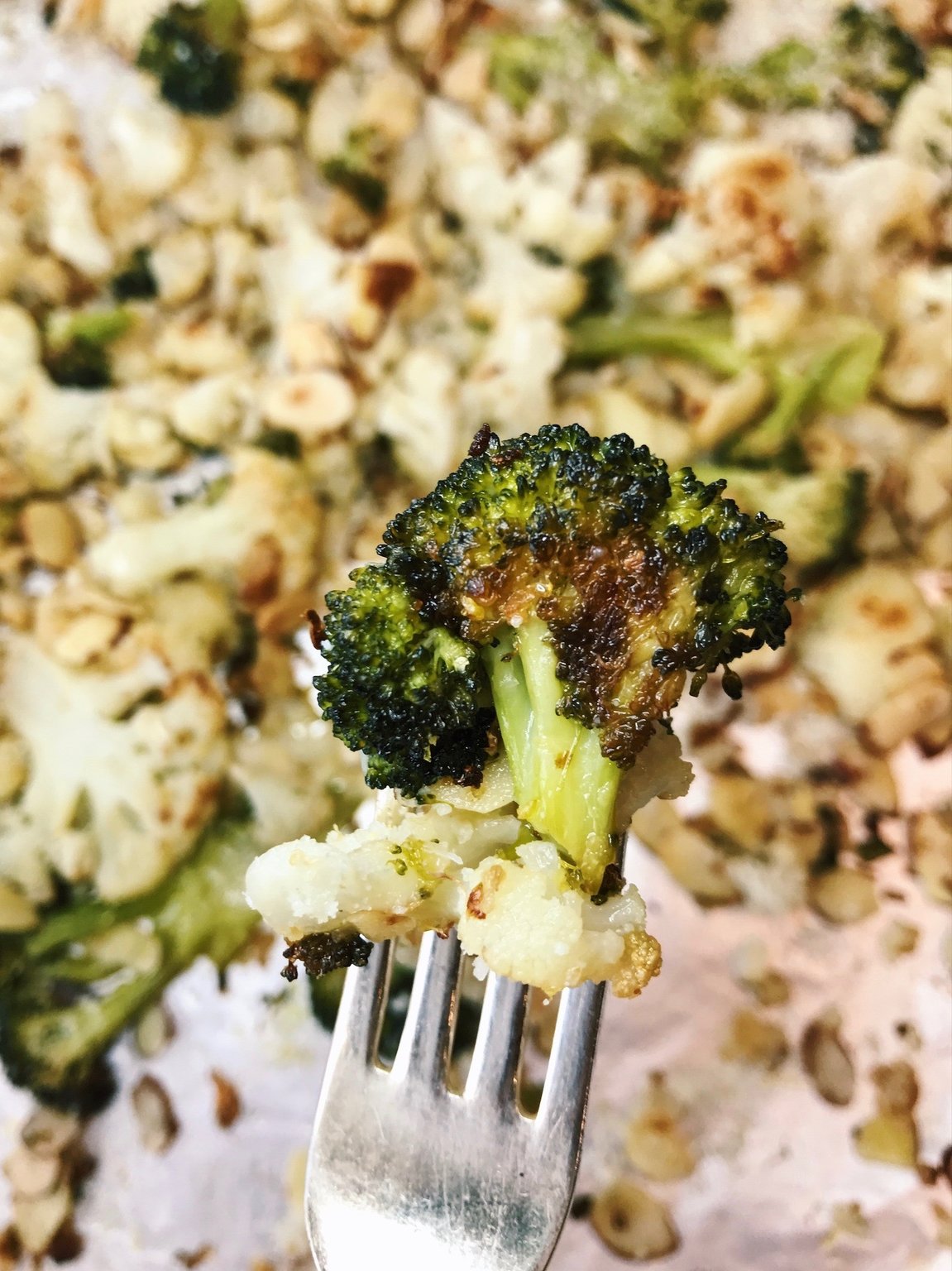 I officially OD'ed on this stuff, and I feel pretty good about it.
Broccoli and cauliflower, two of my favorite cruciferous crusaders (disguised by day as plain old boring, borderline bland vegetables) duet together in this bright and flavorful, glucosinolate-packin' conglomeration.
Full of those cancer cramping compounds found so copiously in this particular lineage of the cabbage family, this stuff is so good for you…..so full of vitamins, minerals and phytochemicals – that you will WELCOME the fact that you CAN'T STOP (won't stop) eating it!
I'm telling you what. Seriously.
Garlic infused veggies roasted with crunchy slivered almonds until everybody is bronzed and toasty, splashed with an invigorating squeeze of lemon and kissed with a dash of grated cheese for a satisfyingly salty finish. Oh, YUM.
This shiz Is so GOOD, I wolfed down an entire tray of it all by myself (broccoholics-anonymous, here I come). Tender on the inside, slightly charred (especially those little broccoli florets) and crisped on the outside, with an extra crunchy crackle to bite down into thanks to those almonds, cloaked in lemony garlic goodness. I mean, really?
All the addiction, with none of the guilt. Miracles DO happen.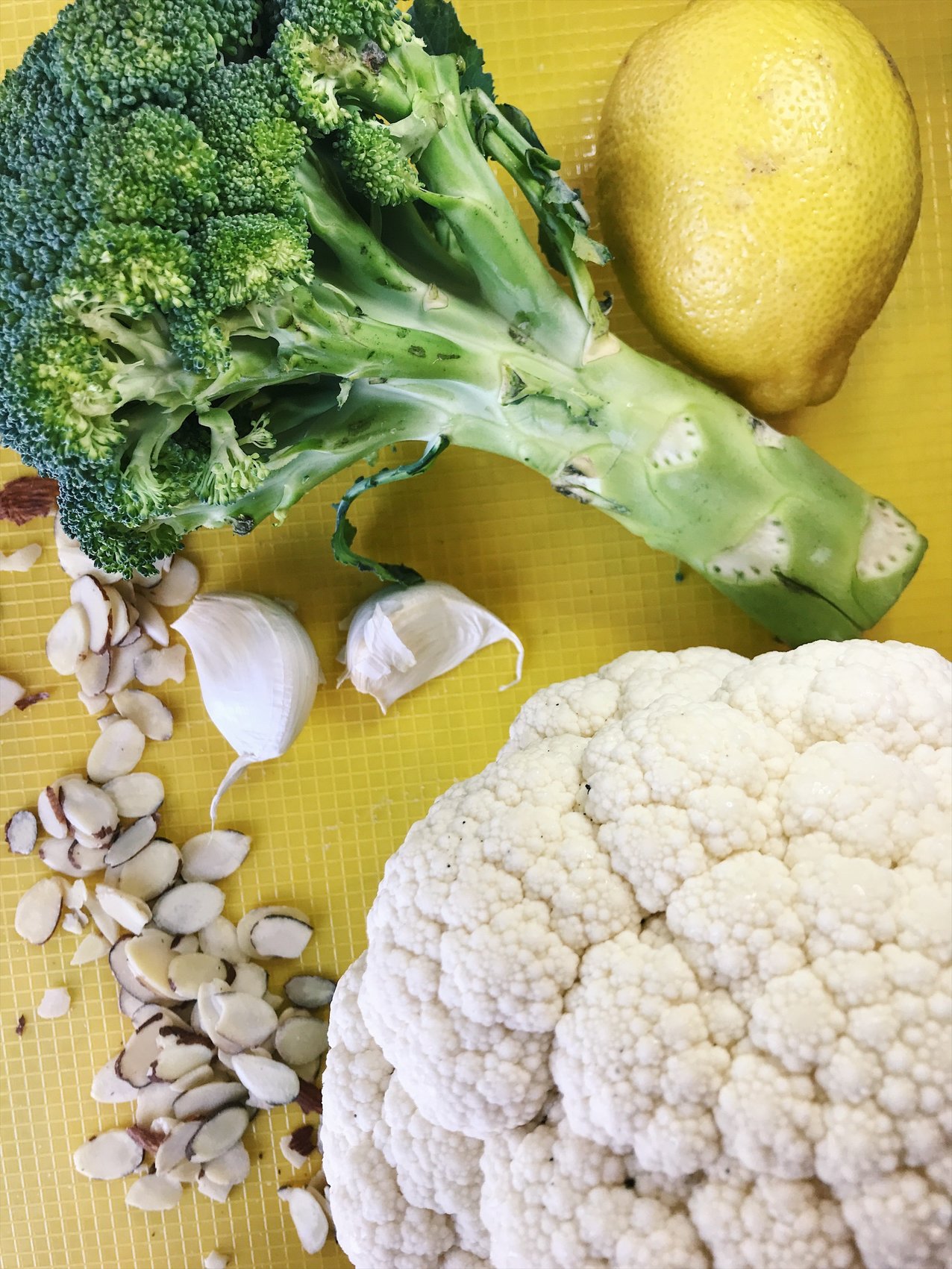 Start with some broccoli, cauliflower and a couple of cloves of garlic. Nothing too scandalous here so far…….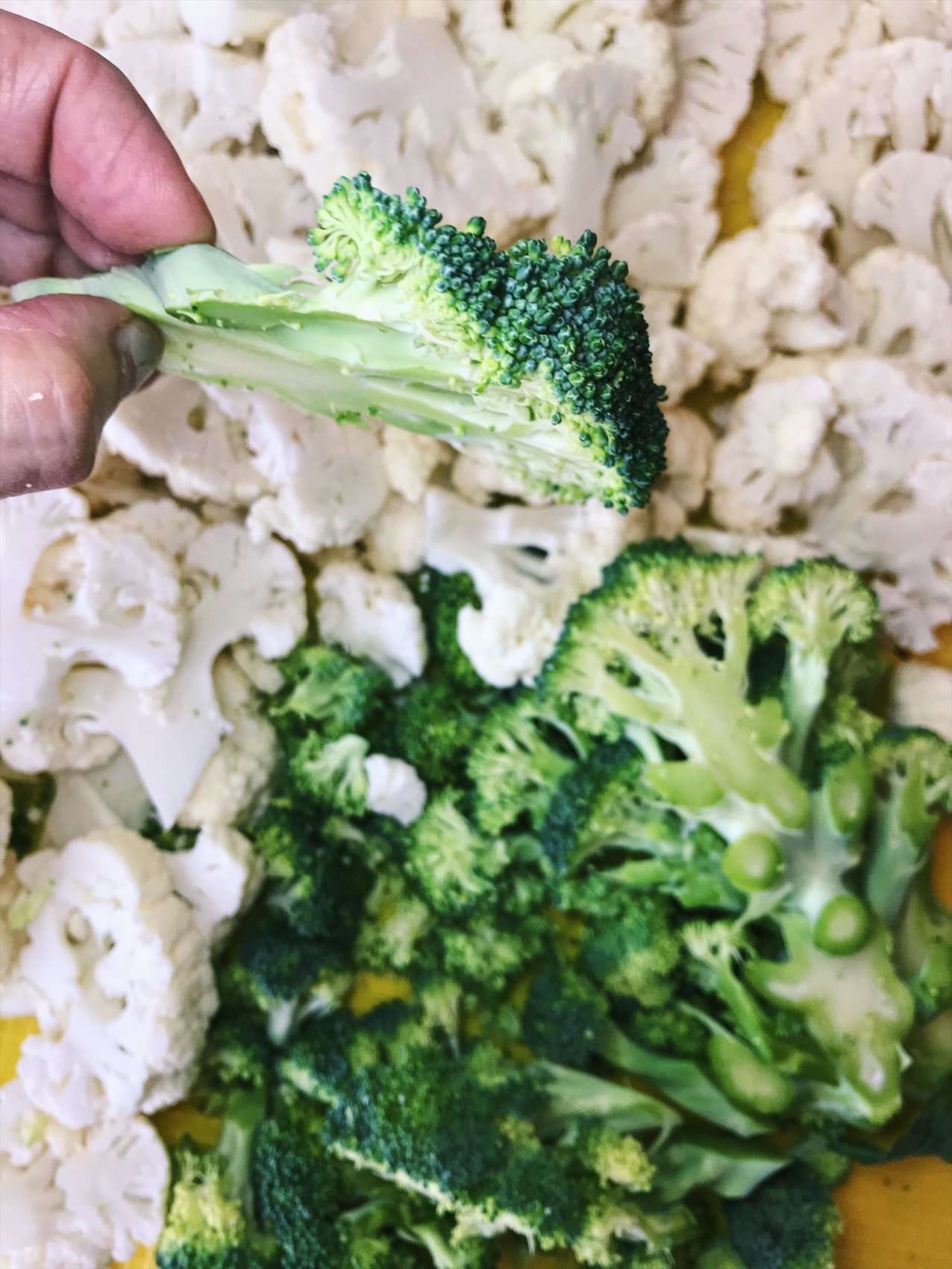 Trim that broccoli, and give the stalks a bit of a shave down with a veggie peeler, just to get rid of any tough, woody-ness. Core your cauliflower. Now slice everybody up into about 1/4 inch thin flats, rather than breaking them into florets. This will give the veggies lots of surface area (more area means more places for garlic oil goodness to spread its love) and a more even cooking time. This will be rough and bits will fly all over the place and that is totally fine.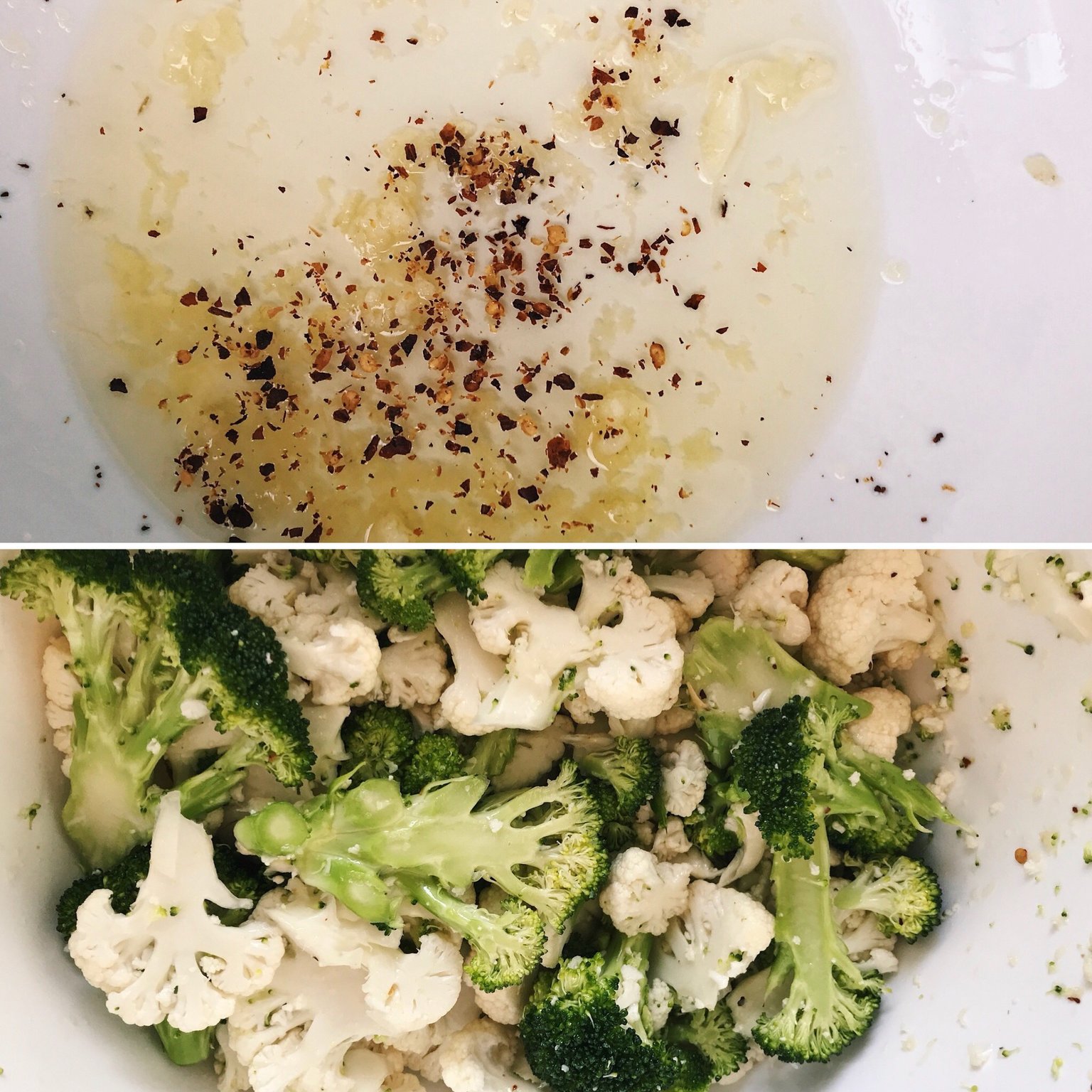 In a fairly large bowl, mix together some olive oil, a few cloves of finely grated (or chopped) garlic, and a dash of dried red pepper flakes. Dump your veggies in for a swim and get in there yourself with your hands (do it) and give everybody a good rub down. You want to make sure all the players here get nice and glossy, so if things are feelin' a little drrrrrryyyyyy……don't be afraid to add in an extra drizzle of oil.
(Badda bing, now we're talkin'…….is it starting to get warm in here?)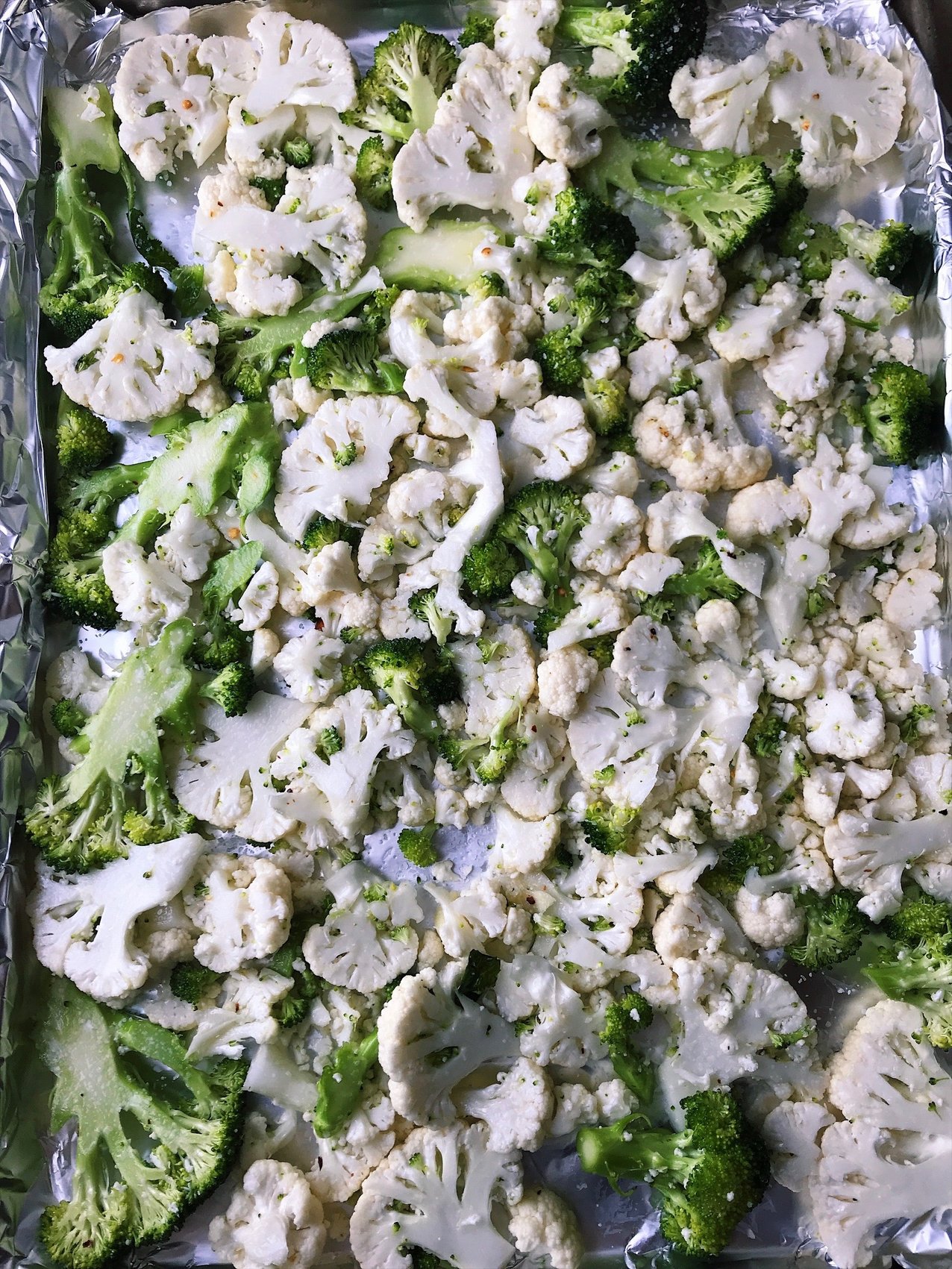 Spread these lavishly lubed-up lovelies out onto a big sheet pan (easy clean alert….cover it with foil first!) and give it all a good pelting of salt and pepper. Into a 425° she goes for 15 minutes…….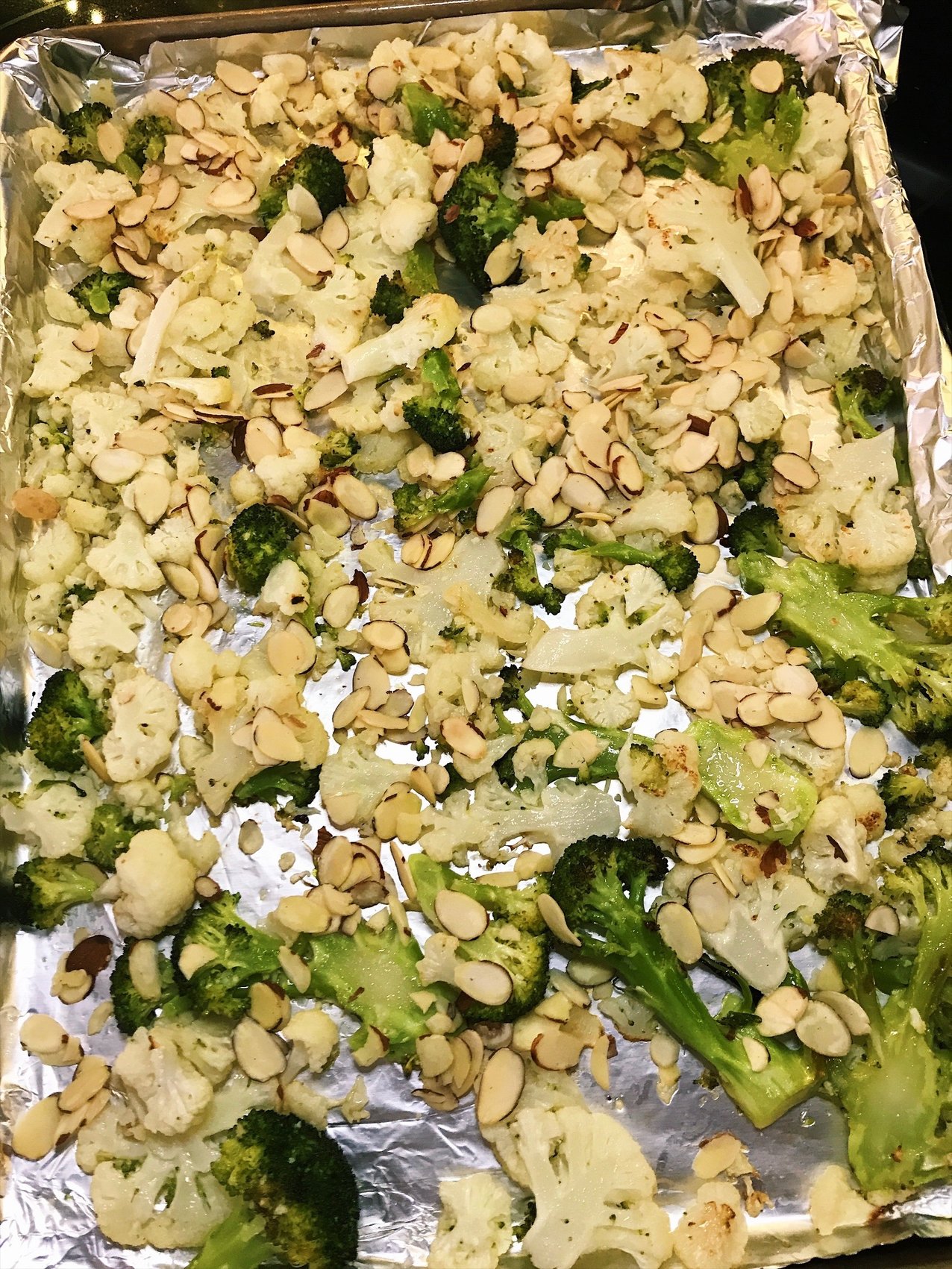 and once times' up….slide this out and carefully, carefully (it will be hot hot hot) give your veggies a flip over, best you can. Then sprinkle around half a cup of slivered almonds (got leftover almonds? use them up in this) and back into the oven this goes for another 10 – 20 minutes. Ovens can vary in their temperatures so after the ten minute mark just keep an eye on things……… you want everybody browned and toasty but not BURNT to a crisp.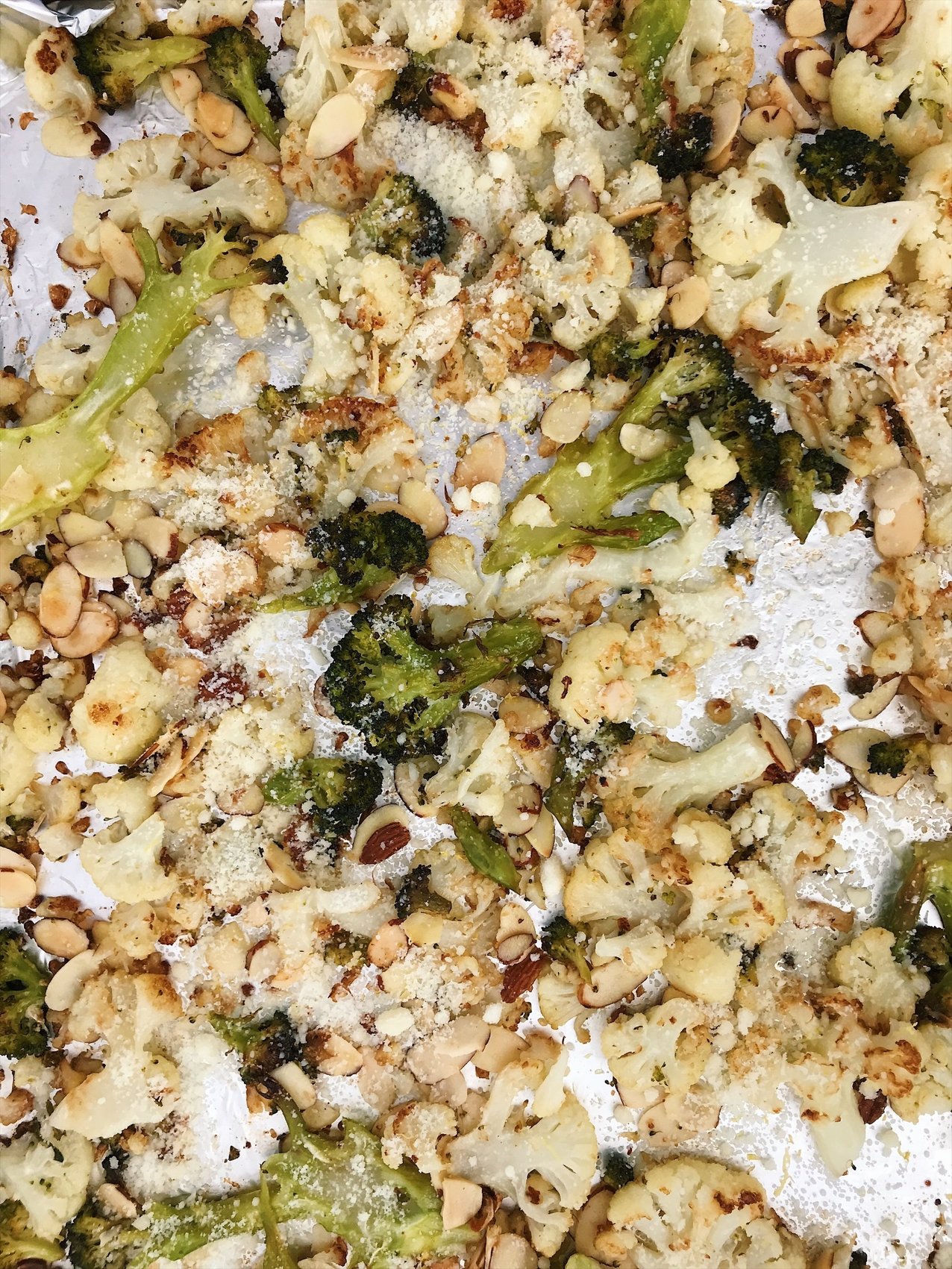 When your veggies are beautifully burnished and super tender when you stick 'em with a fork, pull the tray out of the oven, hit it with a squeeze of lemon (not too much, just a bit from half a lemon to wake everybody up out of their deeply roasted coma) and a delicate smattering of some salty Pecorino Romano cheese……..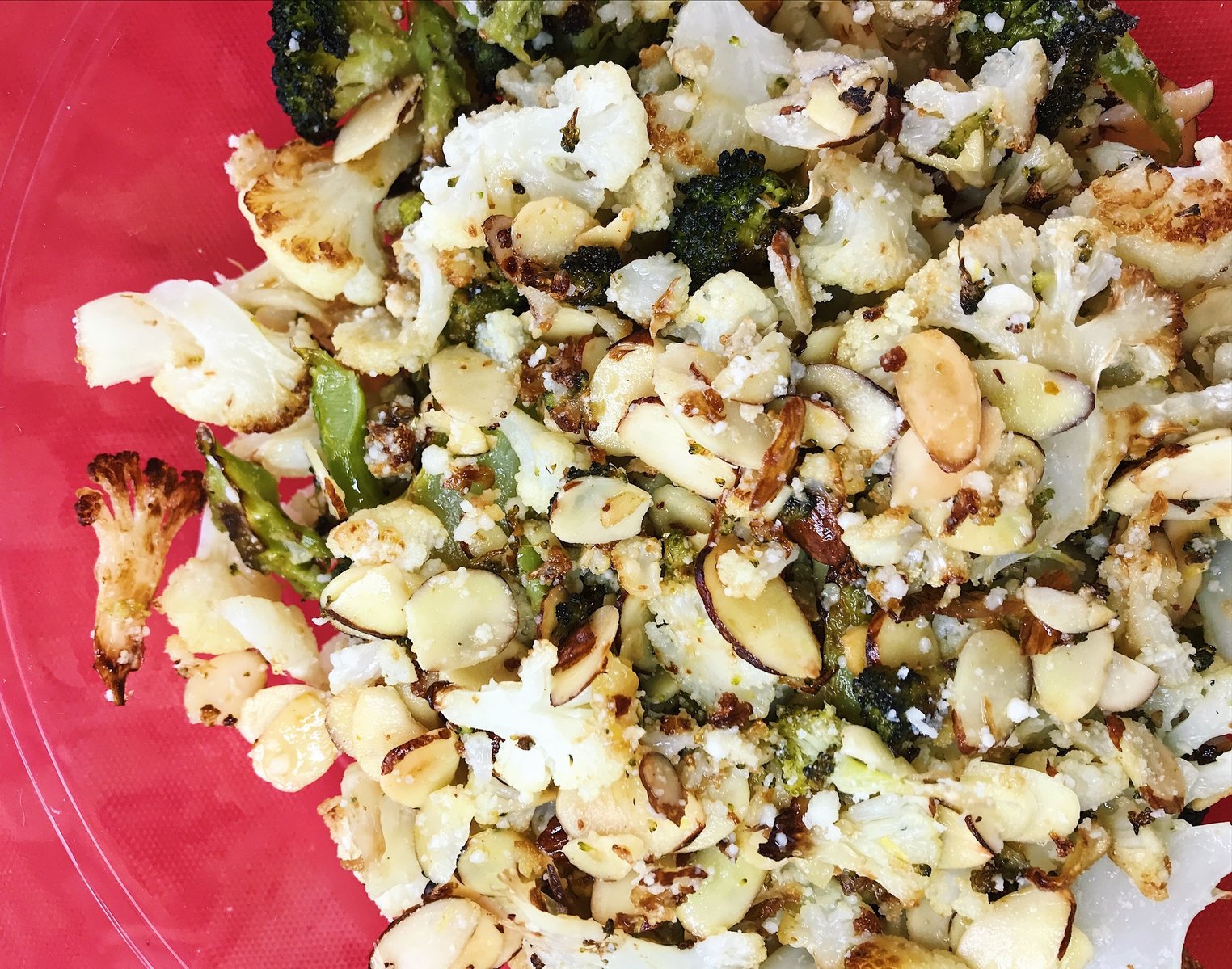 and BOOM! You've got yourself a habit-forming plate of distraction, a seriously sensational side dish to just about ANYTHING!
Or in my case, dinner.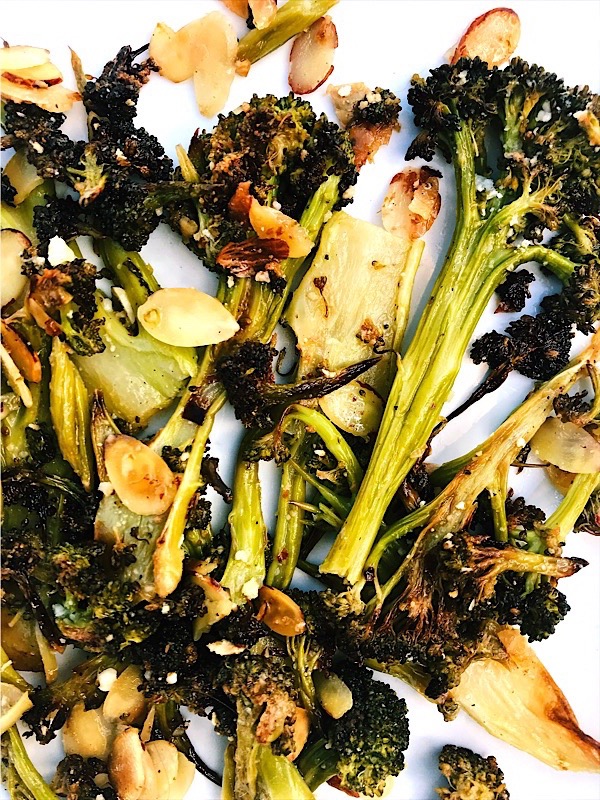 Not feeling the cauliflower? Just use broccoli, or visa-versa.
Just as delish room temperature as it is piping hot out of the oven, this may become your favorite go-to dish to take along to that next dinner party…..it travels better than some people I know.
Then again, you can always do it my way and hog it all to yourself.
RECIPE BELOW: This "recipe" is really very loose, in that you can use whatever you want as the STAR of the show. Only have a head of cauliflower in the fridge? Just use that, then. You only have broccoli? Broccoli it is! Have a ton of brussels sprouts you need to use up? Use 'em in this! Each veg will crisp up in its own way, and they all get along really well with lemon and garlic (but then who doesn't?), so you will be golden. Takes just the amount of time you need for a little slicing and chopping really, the rest is spent in the oven. How easy is that? As far as quantities go….just don't overcrowd the pan, and you'll be fine. Allow for a little shrinkage. This should make at least four servings …….unless of course you are me. And we already discussed how I handled the situation (like the glutton that I am). Thanks to A Beautiful Plate, where I first got wind of this magical addiction.
Cruciferous Crack aka Cauliflower and Broccoli
2017-12-04 13:26:54
Ingredients
1 1/2 lbs. broccoli and/or cauliflower cleaned, trimmed and sliced
(this translates to roughly 2-3 heads of broccoli alone or just one big head of cauliflower alone OR, if you're doing both, a small head of cauliflower and a head of broccoli.....don't sweat this too much)
1/4 cup (and you might need some extra) olive oil
2-4 cloves of garlic finely diced or grated
nice big pinch of dried red pepper flakes
1/4 -1/2 cup raw slivered almonds
the juice of half a lemon (don't go crazy and use the whole thing, I promise you won't need it)
2-3 tablespoons grated Pecorino Romano cheese (once again, not much, more is not more here)
Salt and pepper to taste
Instructions
Preheat your oven to 450°.
In a decent sized bowl, whisk together the olive oil, garlic and red pepper flake. Add your veg of choice and gently toss with your hands to evenly coat. If things aren't feeling lubie enough, drizzle in a little extra oil. You want everyone well coated (but NOT dripping).
Spread the vega-licious-ness evenly onto a foil lined sheet pan and sprinkle with salt and pepper.
Into the preheated oven this goes for 15 minutes. Then remove the pan from the oven, give everyone a flip over, and sprinkle in the slivered almonds. Back in the oven this goes for an additional 10-20 minutes, depending on YOUR oven. You want the veggies to become bronzed (and the broccoli heads will even get a little crispy) and tender when you poke 'em with a fork.
Once everyone is golden remove from the oven, and top with a squirt of lemon juice and a dusting of the pecorino Romano cheese. Serve hot or at room temp. YUM!
Adapted from A Beautiful Plate
Kick and Dinner http://kickanddinner.com/