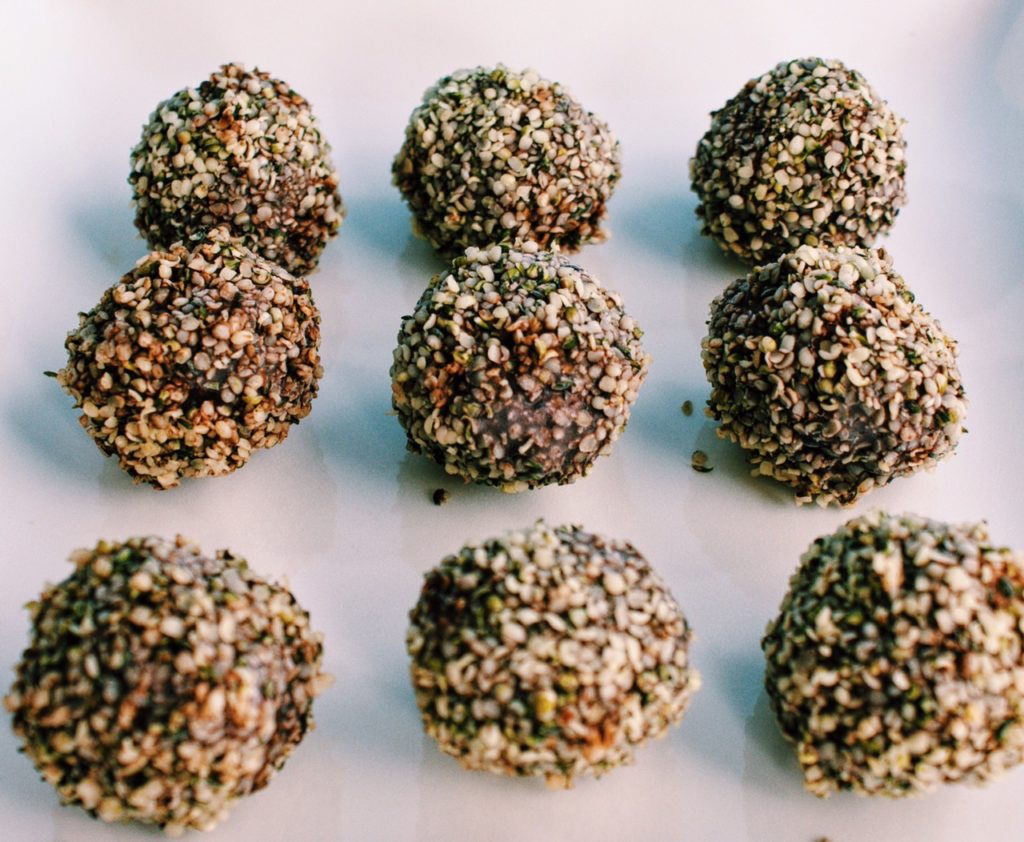 I know it's summertime and the Fro-Yo is beckoning, but I have something better here that I whipped up for you.
Creamy, luscious, actually HEALTHY, frosty balls of chocolatey dipped frozen finery, these little babies will curb your cravings for ice cream…when that's all your brain can scream about.
Fabulously rich and super fudgy, with absolutely NO processed sugar in sight, they also pack a substantial nutritive whollop…….you know, if you're into, oh, let's see….unique and potent antioxidants not commonly found in the standard American diet like, quinine juglone, the tannin tellimagrandin, flavonol morin, as well as fiber, iron, potassium, calcium, manganese, copper, and magnesium.
Wow, don't I sound like such a smartie…..maybe that's because these are also full of omega-3 fats, soooo good for the brain (and maybe because I ate most of them myself).
All in a super cute, unbelievably yummy, simple to make frozen treat.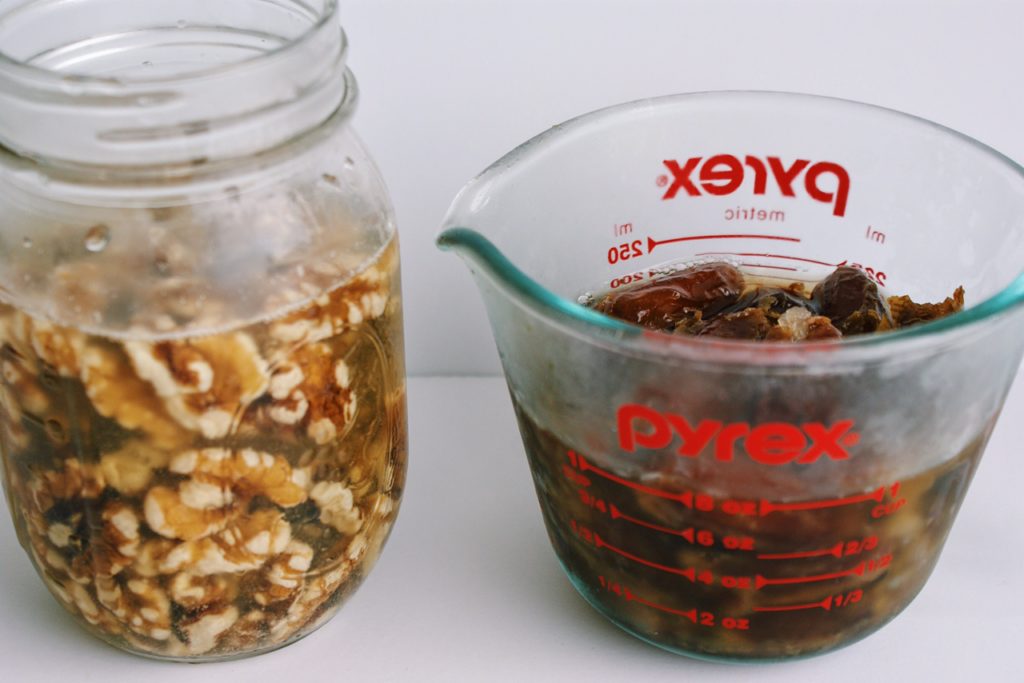 I know this looks sort of weird….but this is the base of these lush little orbs of awesome; waterlogged walnuts and dates. Now, some people don't think they even LIKE dates, and that is most likely because they have never actually tried one, so be open minded here. The fruit of the date palm (not actually a fruit but a drupe…as in, a fleshy husk enclosing a nut…..nothing like an impromptu botany lesson), they are sweet and they are lush and even though they sorta resemble a very large insect, they are delicious!
Looks won't matter here anyway as they'll be taking a soak in some water to soften them up to get them ready to be smushed into creamy decadent-ness (is that a word?). Same with those walnuts….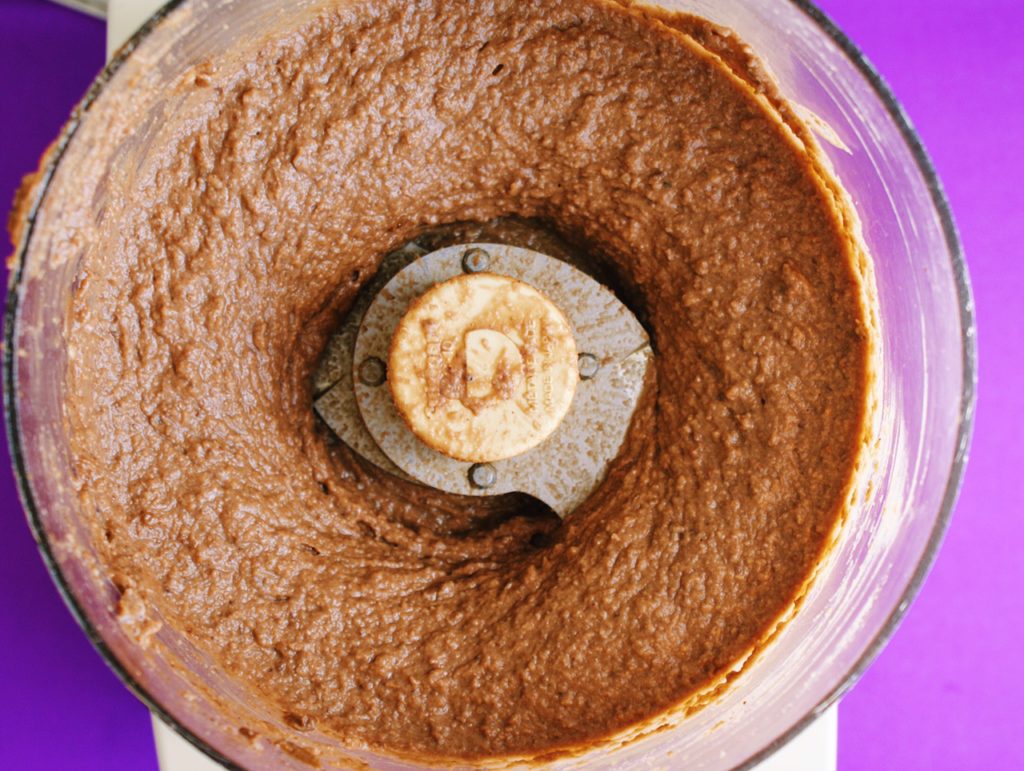 Into a food processor (or if you have a Vitamix, better still!) they go, along with some cacao powder, vanilla, a pinch of salt, and a drizzle of coconut oil. Make sure to drain the water from those walnuts, you won't need that….but keep the syrupy liquid the dates will be kind enough to create for you. That will be all the sweetness you will need for this, Sweetness 😘.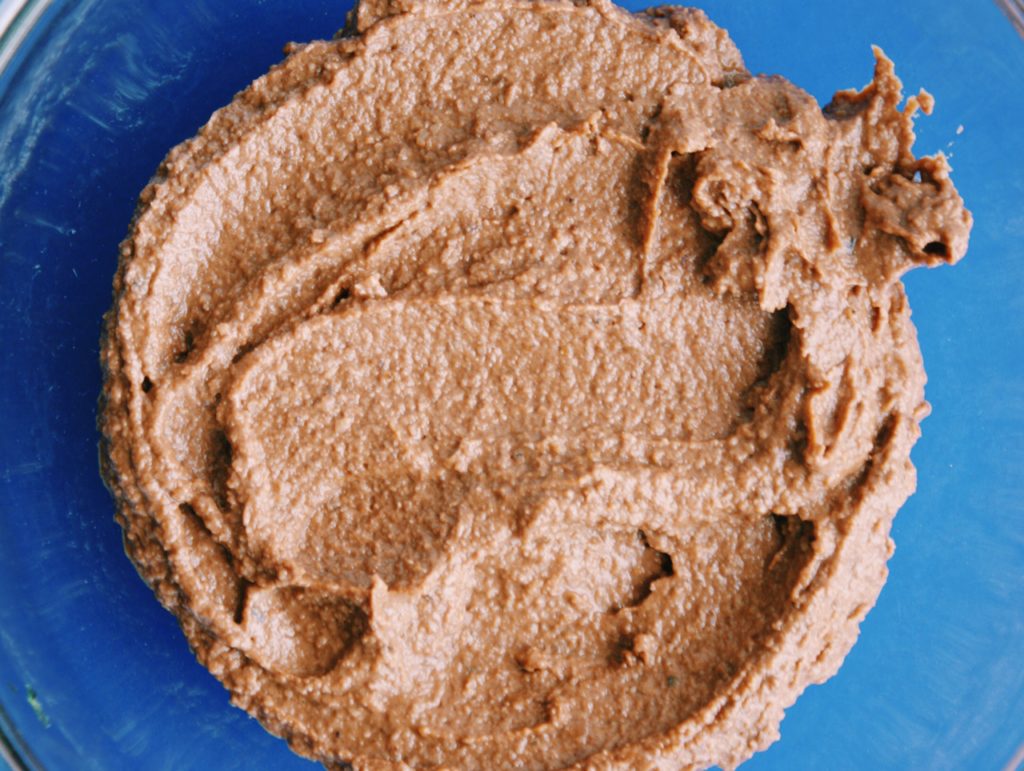 Get this blended up until it is smooth and creamy, and then pop it into a bowl and cover it with some plastic wrap. I know, it sorta resembles mud, and the consistency is pretty close. Stay with me here, don't let the looks of things throw you off. Now whack this into the fridge to chill out and firm up, at least an hour or longer if you can manage it, k?
Once your gooey mud pie mixture is chilled, it's time to get dirty.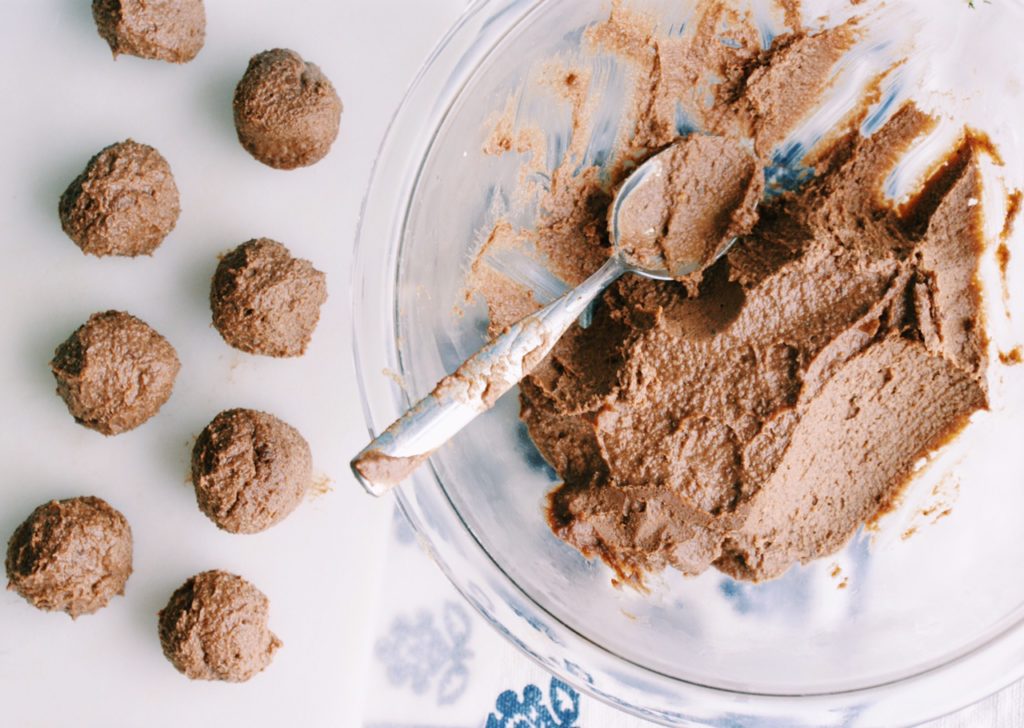 Using a regular teaspoon, scoop out a mound of your cacao mixture and roll it into a ball, about the size of a bonbon. This is pretty messy and you need to work fast. You should be able to get about 22 balls out of this, and I had to wash my hands twice during the process just because it all gets so sticky. Make sure to place your balls on a wax paper lined board that is small enough to easily fit into your freezer.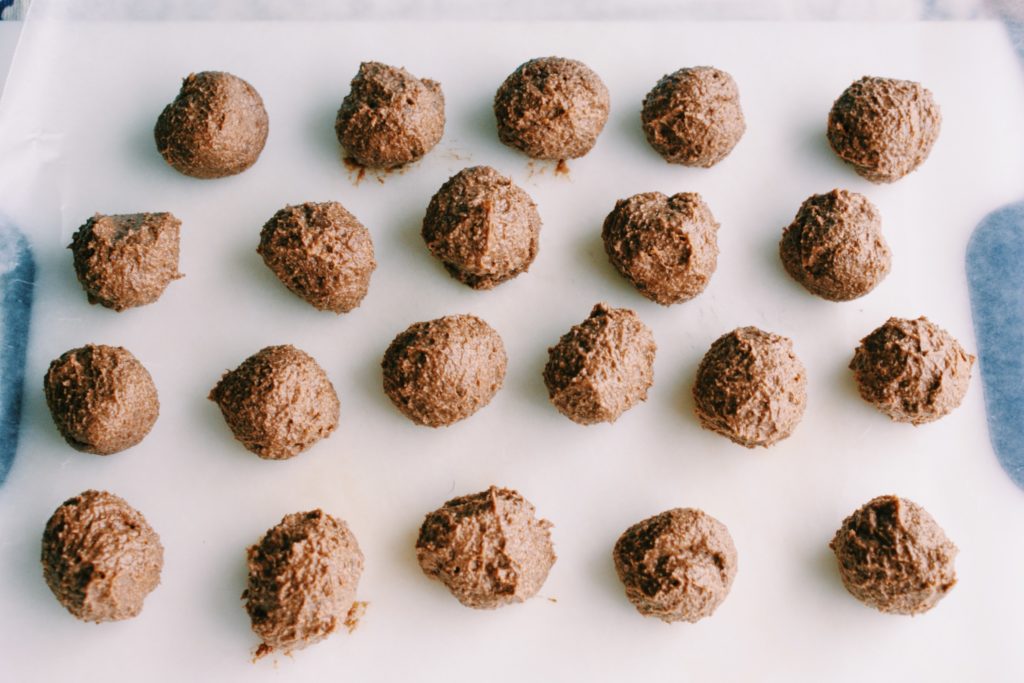 Because that's where these guys are going to go for at least an hour, to get fairly solid. But in the meantime…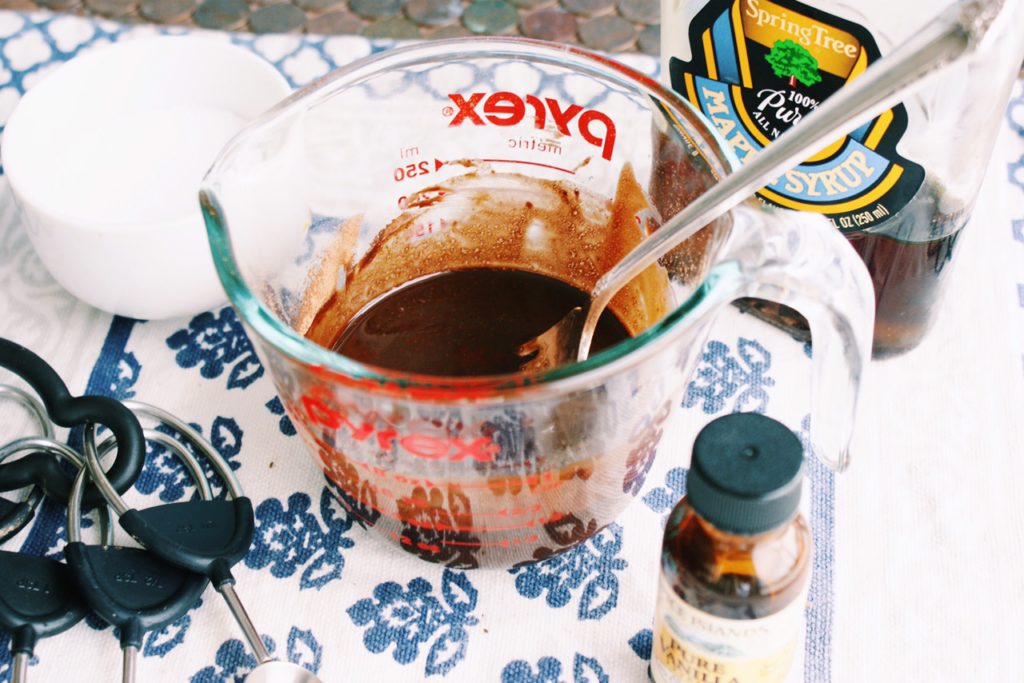 You're going to need a chocolate coating to contain all of this deliciousness, so in a shallow cup, mix together some melted coconut oil, cacao powder, vanilla, a tablespoon of PURE maple syrup, and a pinch of salt. Remember we are keeping it real here…so no Aunt Jemima fake maple syrup garbage.
Not on OUR balls, AMIRITE?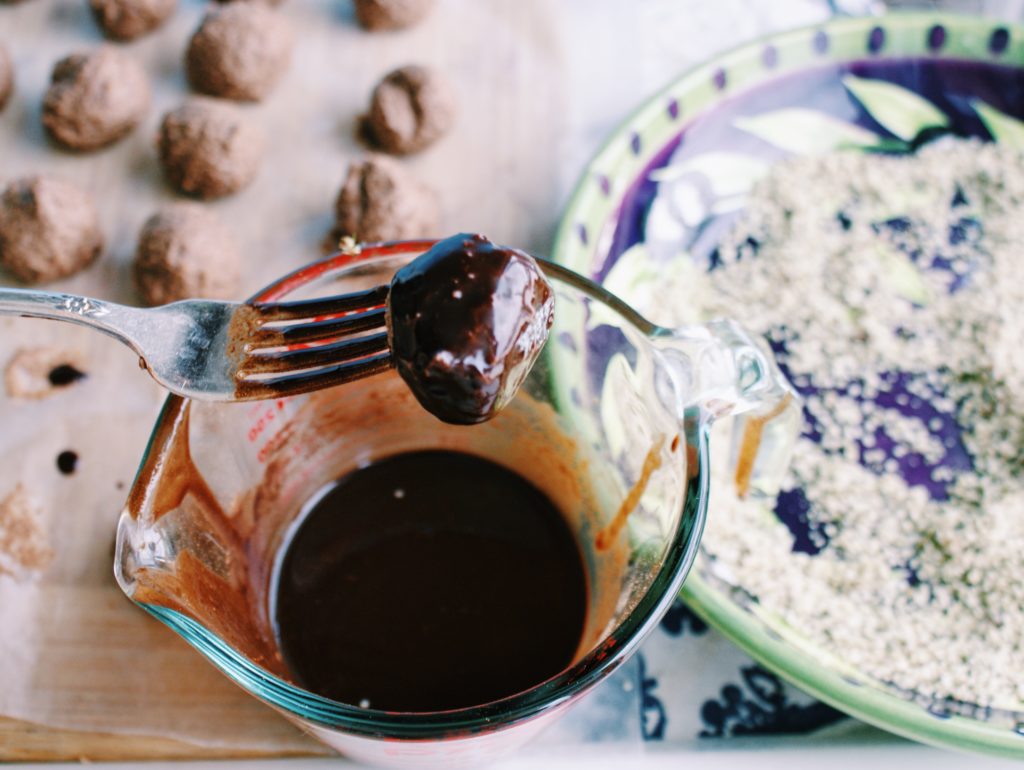 Get out your chilled cacao babies, stab 'em with a fork, and give each one a quick dip in that melty chocolate pool. Now before that sets up, spin 'em around in some finely chopped nuts of your choice. I used hemp hearts, perfect straight out of the bag, super healthy and no chopping required. Unfamiliar? Check them out, here.
You can use any sort of nut that you like, just make sure they are super ground down, almost to a dust. This second coating is imperative, simply because it gives the balls something dry to adhere to, making it much less messy when the time comes to handle them. Ug. I know how bad that sounds. Lol.
Now lay those guys out onto your wax paper and back into the freezer they go to set up for real….and that means at least a couple of hours. Be patient…..these are worth the wait.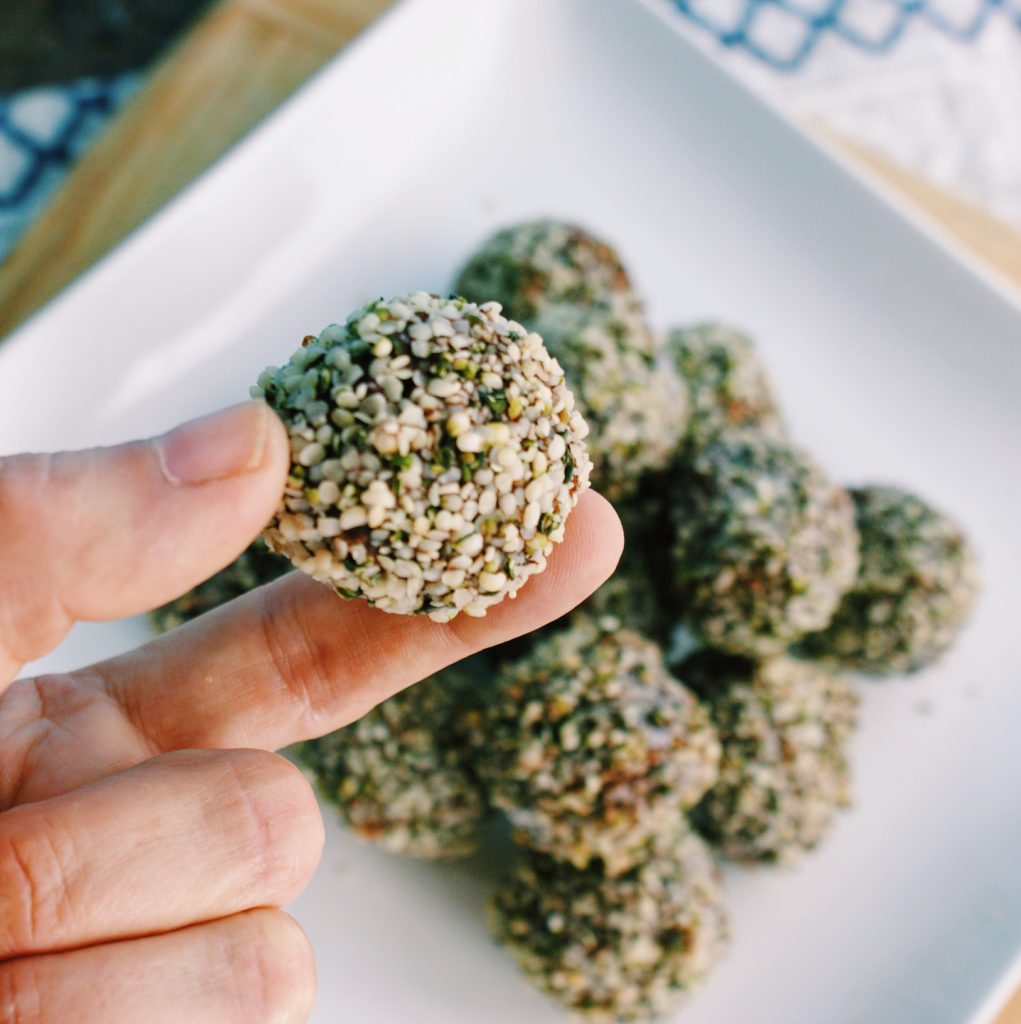 Slightly crunchy, sweet and chocolatey, rich and fudgy, these guys are so good that you will forget how good they are for you. And you may even forget the Fro-Yo…..for a little while.
Eat this, not that. Be happy.
It's summer!
RECIPE BELOW:
Healthy, Fudgy, Cacao Balls
2016-06-18 14:41:25
Ingredients
1 cup pitted dates, soaked in 1 cup of water overnight - DO NOT DRAIN
1 cup of raw walnuts, soaked in water for at least two hours, up to overnight, then drained
1 teaspoon vanilla
3 tablespoons of cacao powder
1/4 cup melted coconut oil
Pinch of salt
FOR THE COATING
1/4 cup melted coconut oil
1/4 cup cocoa powder
1 tablespoon pure maple syrup
1/2 teaspoon vanilla extract
pinch of salt
3/4 cup finely crushed nuts (of your choice) or hemp hearts
Instructions
Combine the dates and their liquid, the DRAINED walnuts, 1/4 cup of coconut oil, 3 tablespoons of cacao powder, teaspoon of vanilla and pinch of salt in a food processor or vitamix. Blend until smooth.
Transfer mixture to a shallow bowl and cover with plastic wrap. Refrigerate for at least an hour and longer if possible.
Once the mixture is firm, scoop out teaspoonful sized portions and roll into balls. Place on a wax paper lined sheet. Work quickly, and wash hands as you go, this gets quite sticky. You should end up with approximately 22 balls.
Place these in the freezer to set up for at least an hour.
For the coating
In a small bowl or measuring cup, mix together the coconut oil, cocoa powder, pure maple syrup, vanilla and salt until smooth.
Once the date/nut balls have firmed up
With a fork, stab each ball and dip into the chocolatey coating, allowing excess to drip off.
Roll the dipped balls in hemp hearts or chopped nuts of your choice.
Place back on wax paper lined sheet pan and return to the freezer for at least two hours.
Once frozen, store in a covered plastic container and when the urge strikes....
Dig into these instead!
Kick and Dinner http://kickanddinner.com/