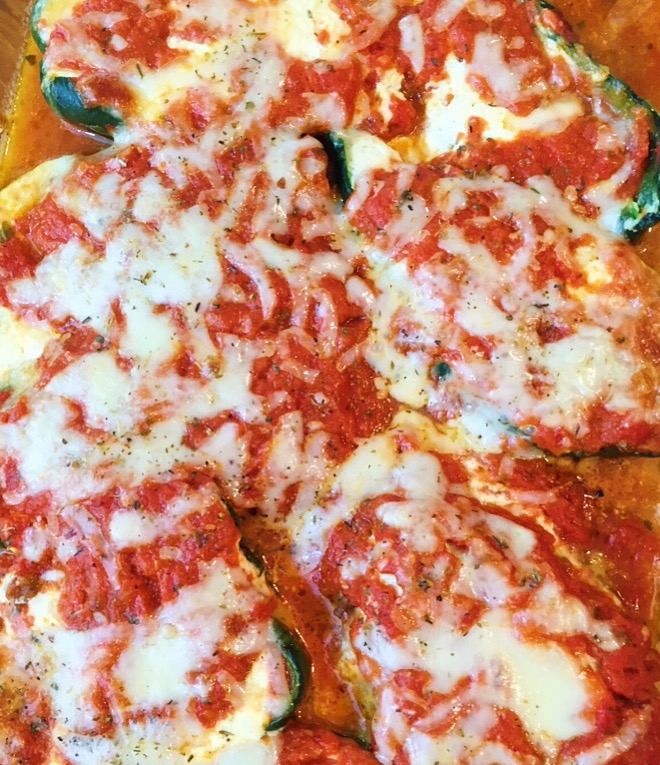 I may be going out on a limb here but I think it's safe to say that you are a fan of lasagna (because really, who isn't?). Tomato saucy, stretchy-cheesy creamy goodness, you can count on pleasing the masses when you whip out a bubbling pan of this classic comfort casserole.
Which makes it so perfect for feeding lots of people.
But what if your particular peeps are of the persnickety persuasion?
Maybe there's a gluten issue in the crowd?
Oh yeah, then there are the vegetarians to consider.
Die hard carnivores are people too, you know.
So.
I am here to tell you that you can make everybody happy, including yourself, with this beauty…
Layers of luscious lasagna-filling layered lovingly inside of a perfectly proportioned poblano pepper half, cloaked in a layer of gooey mozzarella cheese and baked up until it is it hot and melty and just…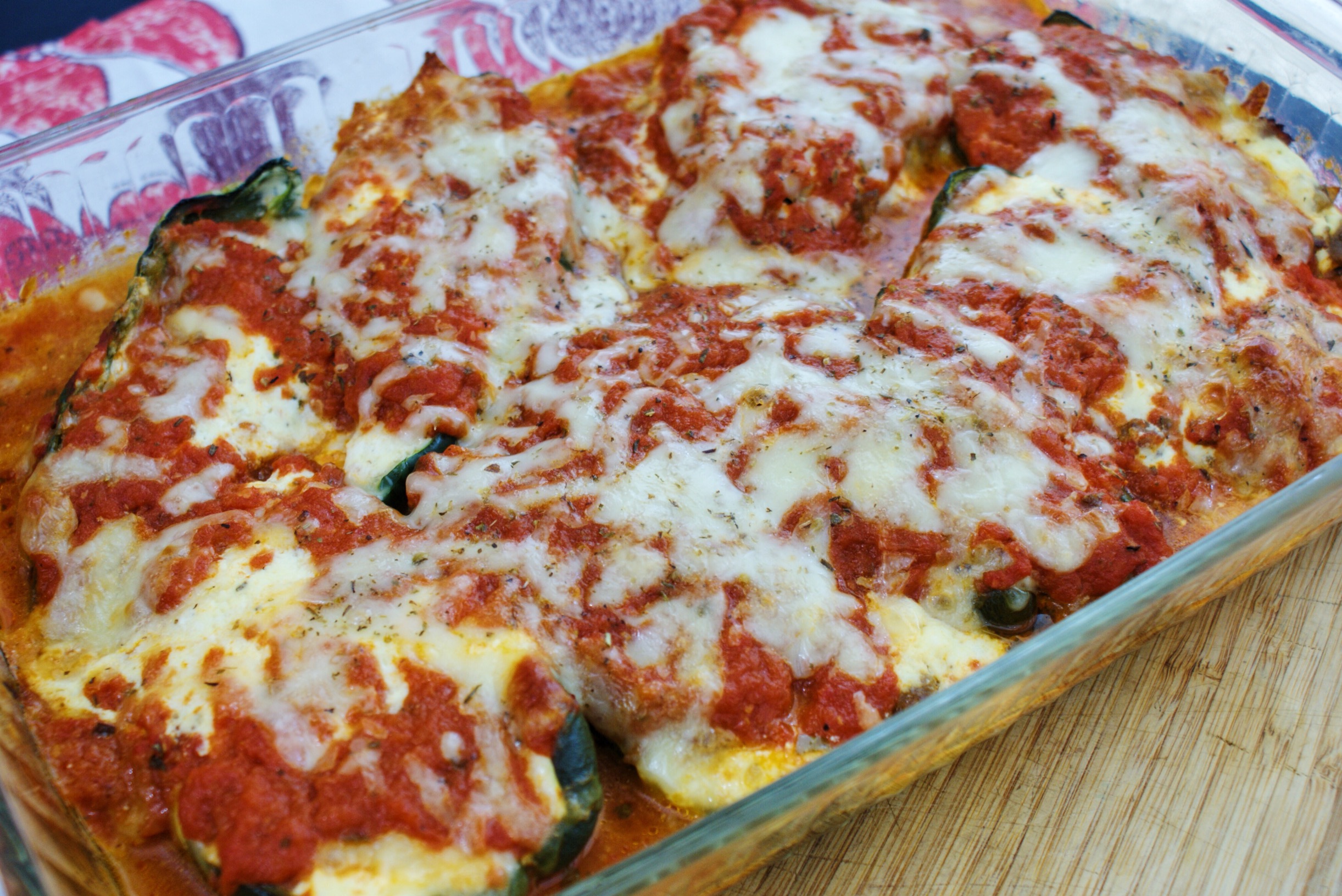 yeah, you know what I'm sayin' here. And yes, obviously……..there's not a noodle in sight. Score one for the gluten free side.
We are using poblano peppers here instead of ubiquitous bell peppers and I'll tell you why. For one thing, a bell pepper is just too big! Talk about too much of a good thing; eating one of those guys (even half of one) stuffed with all of that ricotta and mozzarella, well, clearly you can't be lactose intolerant to even consider making this dish but you surely would be after consuming one of those babies! A poblano pepper is sort of flat and heart-shaped, and makes the perfect vessel for the perfect portion.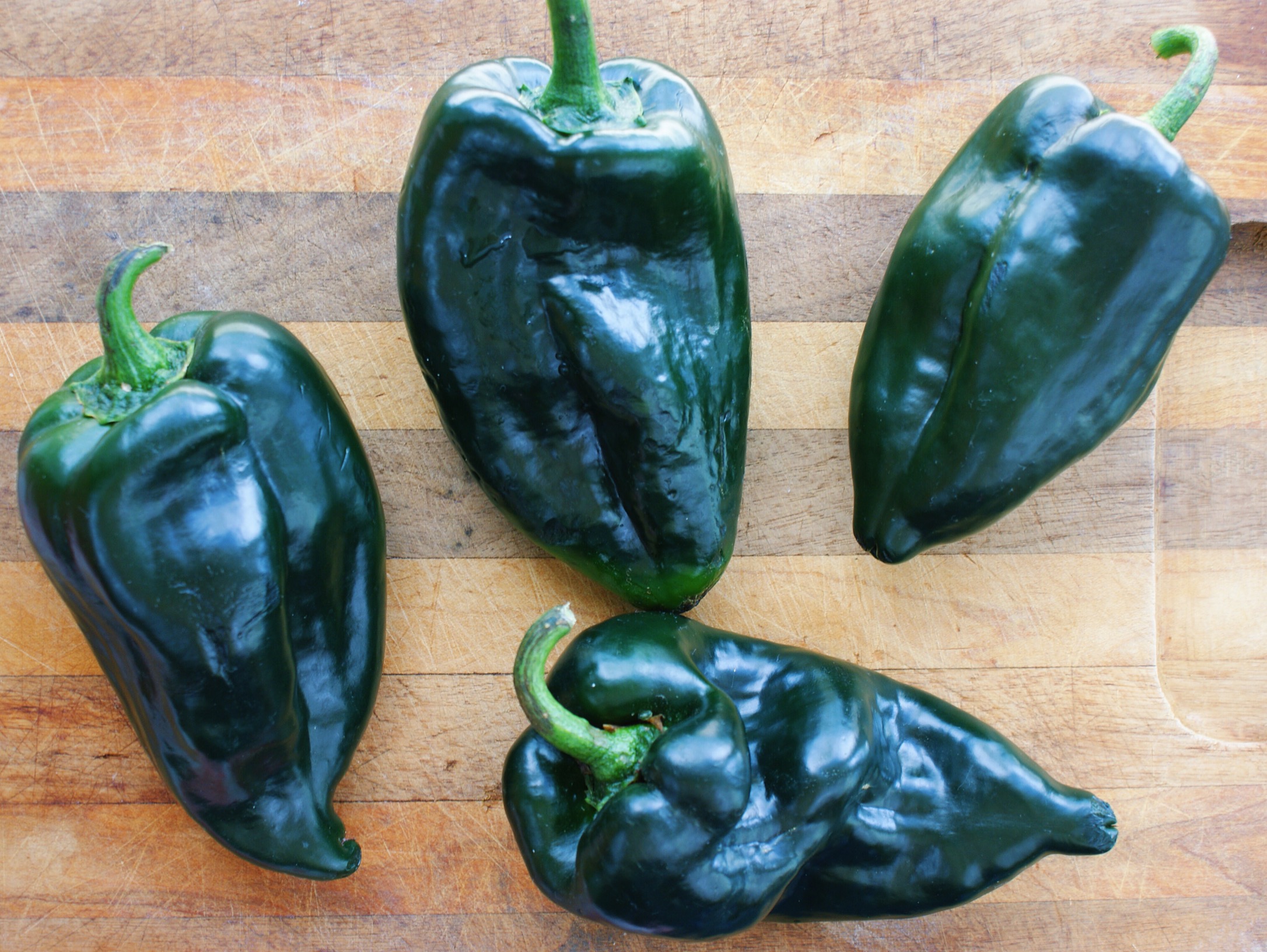 Secondly, if you are not familiar with these Capsicum annuum originating from Puebla, Mexico, check them out! These guys are very mild in flavor, with just the smallest amount of heat (although occasionally and unpredictably you may get one that can definitely be on the spicy side) which gives them a whole lot more depth of character when you stuff them with anything….including this classic Italian deliciousioso-ness.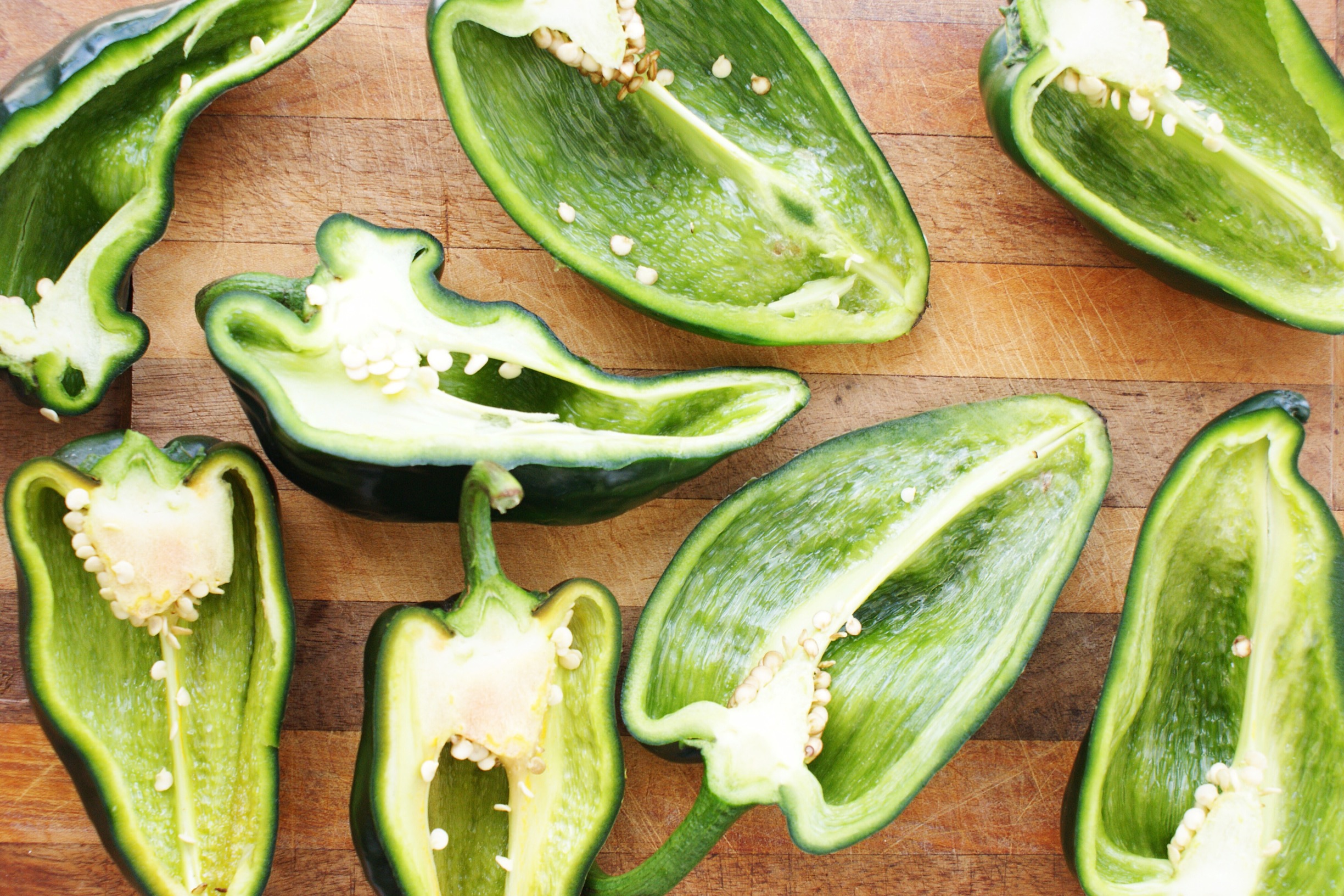 So begin by cutting them in half lengthwise, and removing the seeds and membranes.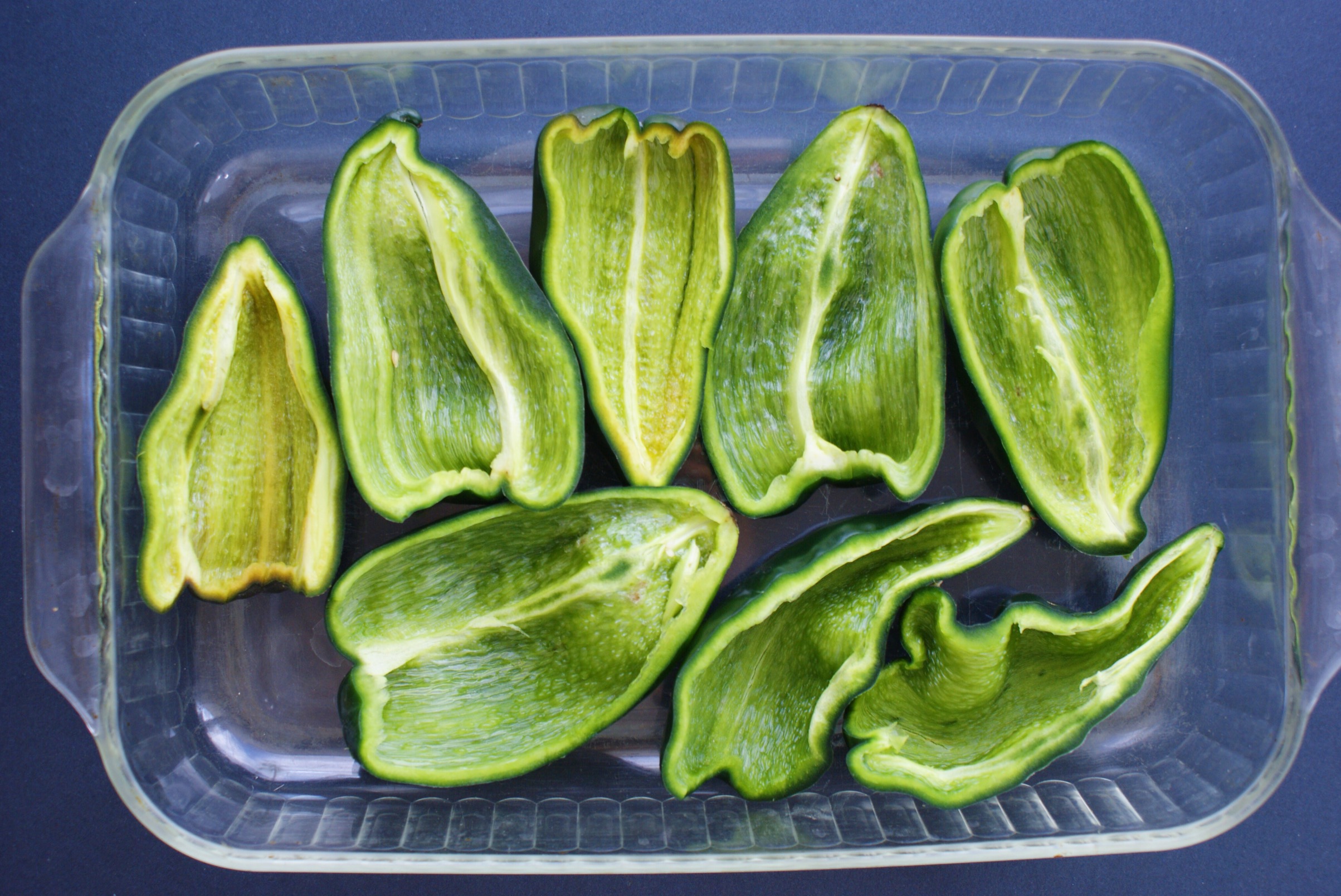 Into a big glass baking dish they go, with just a teeny tiny miniscule teaspoon of water. Cover this tightly with saran wrap and into the microwave oven they go, for a little pre-cook time, around 5 minutes. You want your finished product nice and tender (like a noodle!) so be sure not to skip this step.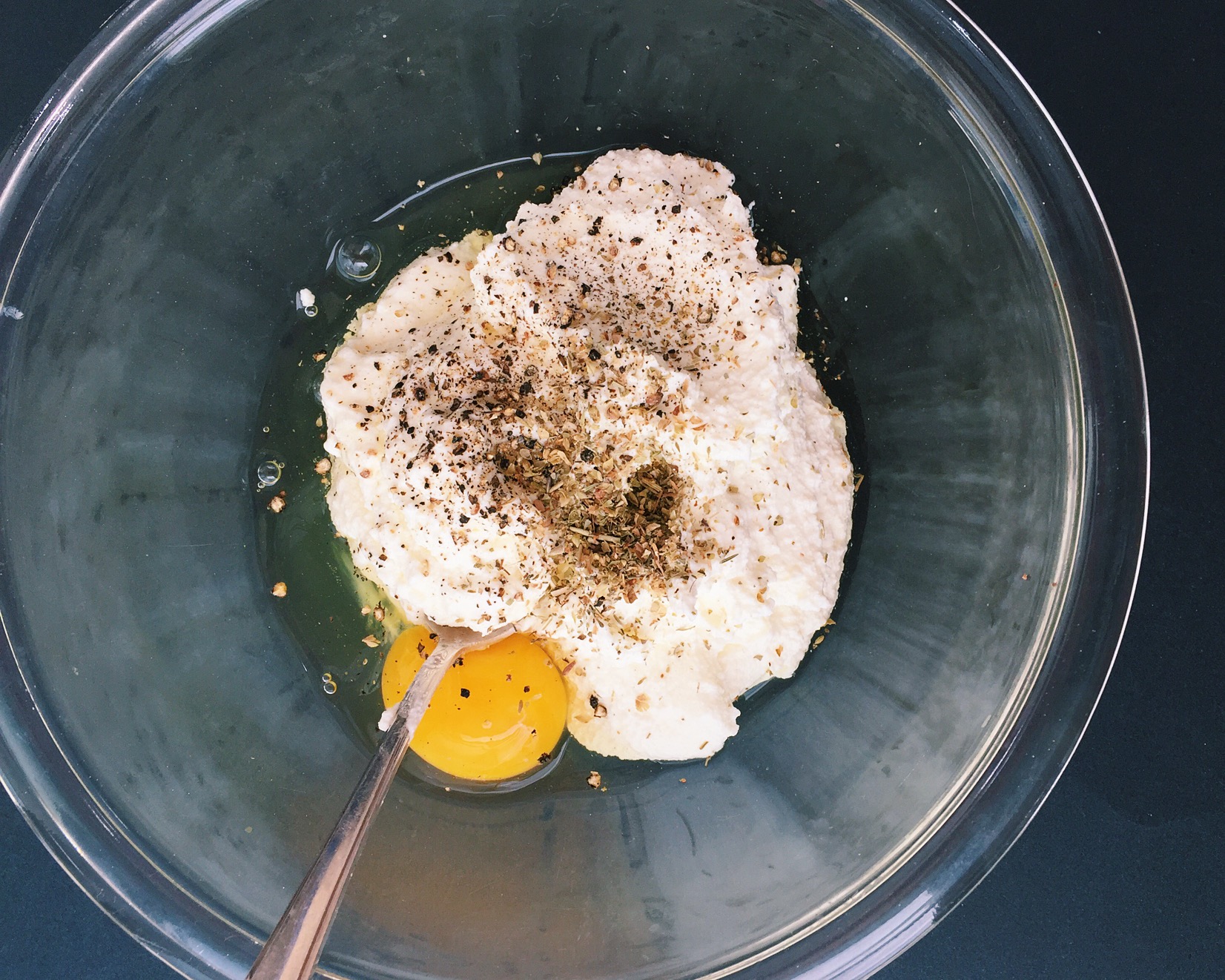 While you have that zapping along, empty a 15 oz container of ricotta cheese into a bowl and crack one egg into that. Combine this together with some black pepper and a healthy pinch of dried oregano. Cheese in general, even creamy ricotta cheese, is pretty salty all on its own, so give it a taste…..does it need salt? Add a little if you're feelin' it, then just mix everyone thoroughly and set this aside.
Shred up about 8 oz of mozzarella cheese. Procure some marinara sauce, like my Simple Homemade Marinara OR, yes, I'll look away but you can find some good ones in the jar, just promise you'll check the ingredients and skip any with added sugar, okay? RAO's Homemade Marinara is supposedly a good one, along with Newman's Own (then let's not speak of this ever again). And, to score one for the carnivores, fry up 1 or 2 sweet Italian sausages, removed from the casings. Set this aside.
Now gather up all of your goodies to create a stuffing station. Ricotta mixture, your cooked Italian sausage, your shredded mozzarella, your marinara sauce, and of course, those purdy poblanos, which you have throughly drained of any water left in the dish since their spin in the microwave.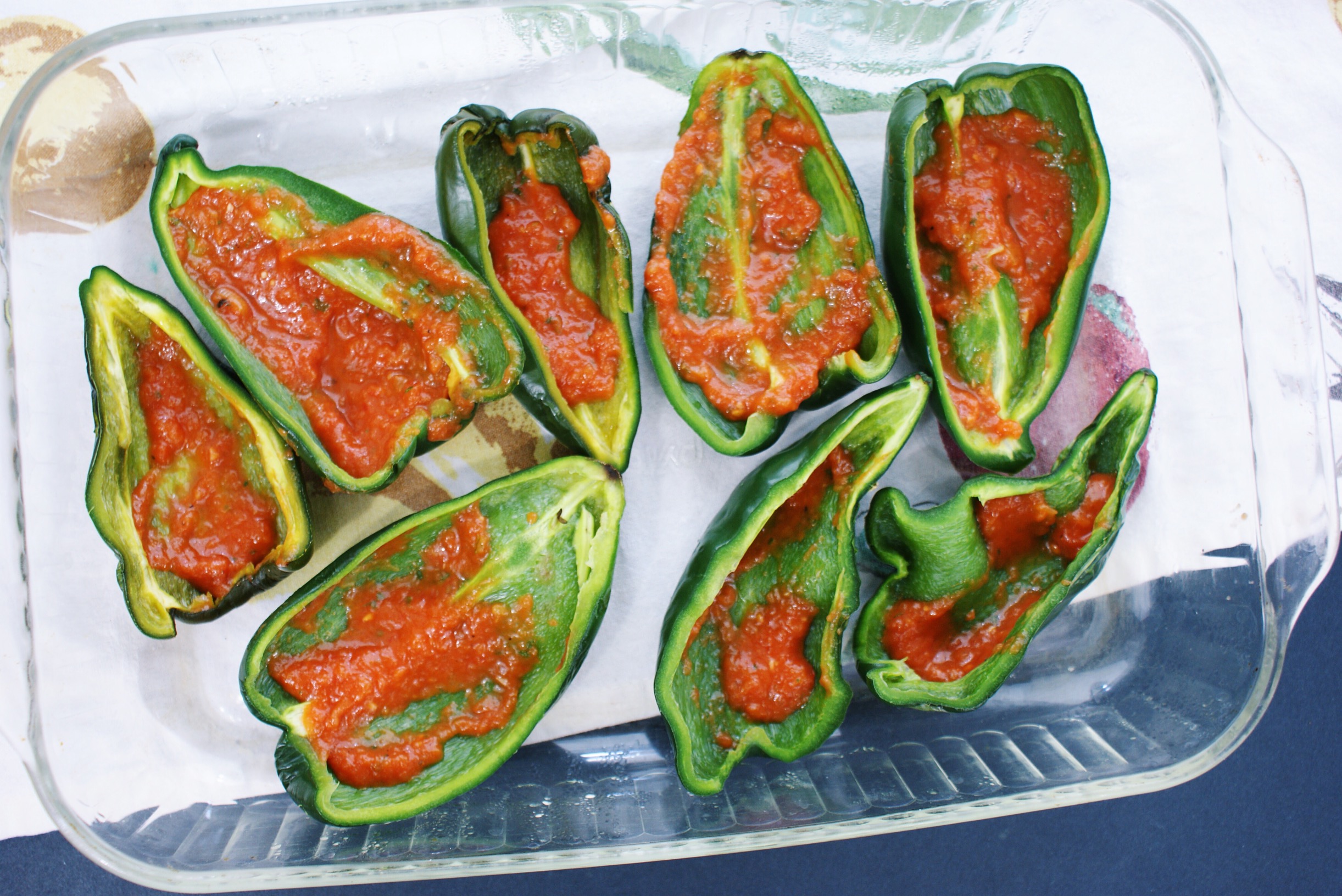 Start with a dab of sauce, just spread this around….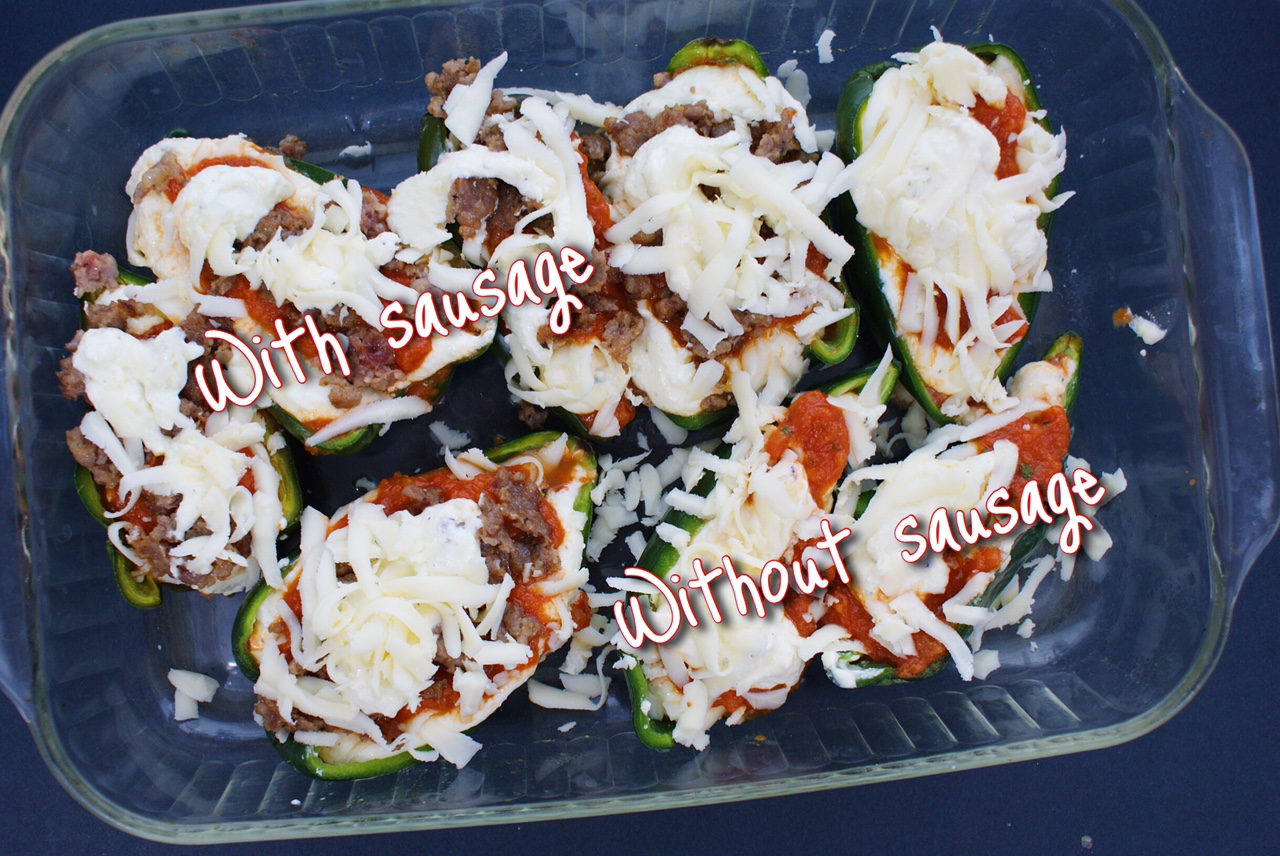 Then layer in approximately (DON"T get all crazy with proportions here, this is very rustic and sorta hap hazard and sloppy and perfectly yummy however it comes together) two teaspoons of ricotta. Add a bit of mozzarella, a dab more sauce, and for the meat eaters, a layer of sausage…….or not (score one for the vegetarians)….see how this works? The poblanos' are sorta shallow so you'll have them layered up and filled pretty quickly.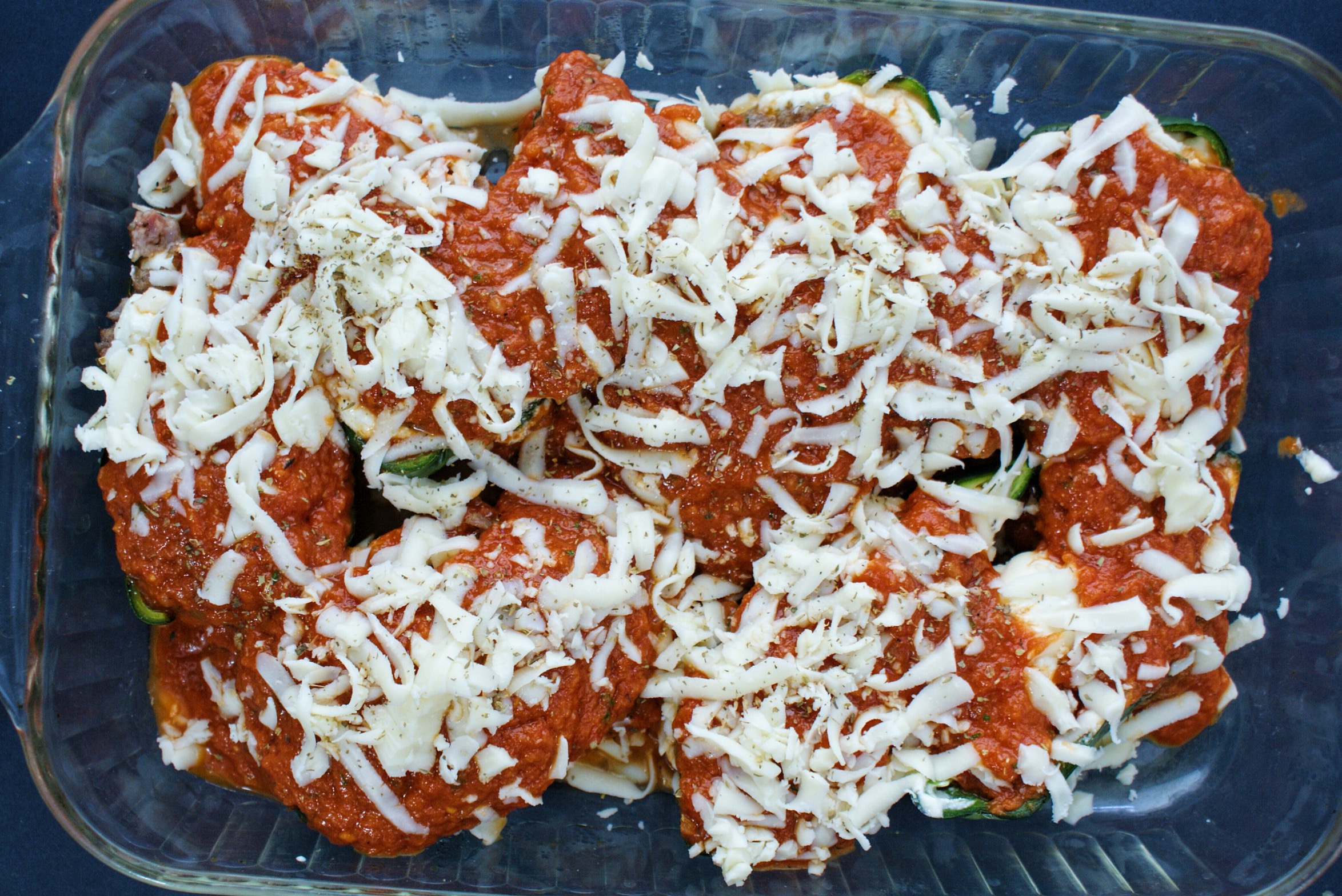 Then top everybody with a generous amount of sauce and the rest of your mozzarella. I always like to sprinkle a dusting of dried oregano over anything I consider to be even remotely Italian…….then cover the whole thing in foil and into the oven for 30 minutes. Remove the foil and back into the oven it goes for 10 more minutes or until everything is melty and burbling to perfection.
Once it's out of the oven be sure to let it rest for about 5 minutes. This will give it time to gather itself together, sorta firm up just a bit……….if you can wait that long …..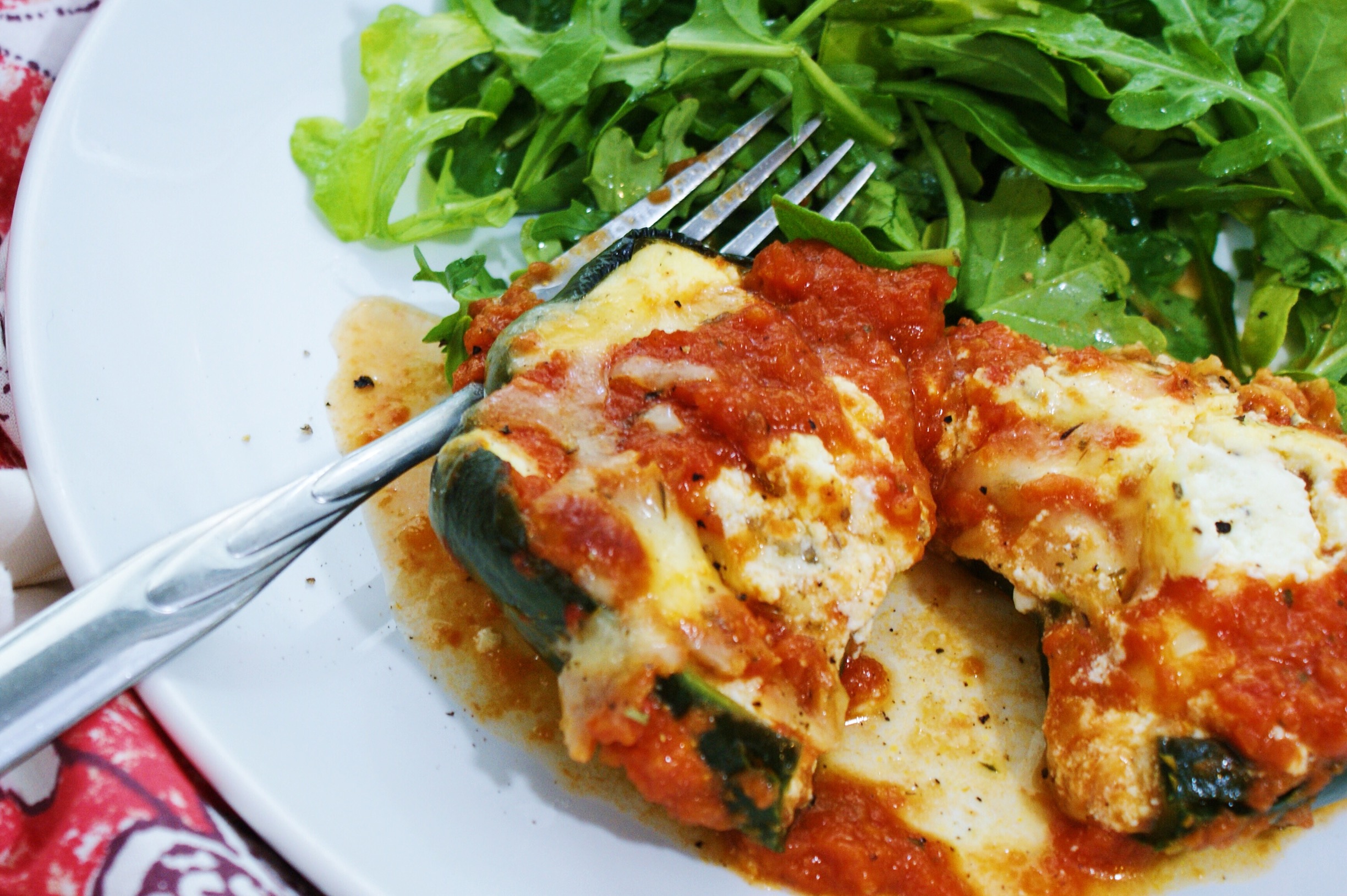 Yup. That is a plate of worthy of the colors of the flags it represents, Italy and Mexico! A coincidence? I think not. Never mind that those colors also represents the flags of Hungary, Bulgaria, Algeria, etc…., but what do we care, delicious tastes good in any nationality!
RECIPE BELOW: This takes about 30 minutes actual hands on time and 40 minutes in the oven. One poblano pepper will yield you two servings, so plan accordingly. I used four peppers, and there was a lot of food. Obviously I combined my vegetarian with the non-vegetarian in the same baking dish….if that offended anyone then, well, you are just way too sensitive! Sorry, baby.
Lasagna Stuffed Poblano Peppers
2016-09-13 18:57:12
Ingredients
4 poblano peppers, halved lengthwise, cleaned and seeded
1 teaspoon water
1 egg
15 oz container ricotta cheese
8 oz shredded mozzarella cheese
1/2 teaspoon dried oregano (plus more for dusting)
freshly cracked black pepper and Kosher salt to taste
1-2 sweet Italian sausages, removed from the casings and browned (this is optional)
3 cups marinara sauce
Instructions
Preheat oven to 350°
Lay the poblano pepper halves out evenly in a 9x11 glass baking dish. Add the teaspoon of water to the dish and cover tightly with plastic wrap. Microwave on high for 5 minutes.
In a small bowl, mix together the ricotta cheese, egg, dried oregano and black pepper until combined. Taste for seasonings and if you are feeling it needs it, add a pinch of salt.
Make sure the peppers are drained of any excess water once they come out of the microwave. Be careful removing the saran wrap, it will be hot and steamy under there......
Start by smearing a teaspoon or so of marinara sauce inside each of the peppers.
Continue with approx two teaspoons of the ricotta mixture in each pepper, then a sprinkle of mozzarella, a little more sauce, and repeat. If desired, add a layer of the cooked Italian sausage to a couple of the peppers, or all of them.
Once the peppers are all stuffed, spoon the remaining sauce over the whole thing and sprinkle with the remaining mozzarella cheese. Sprinkle over a pinch of dried oregano.
Cover this with foil, and bake in the oven for 30 minutes. After 30 minutes, remove the foil, and bake for another 10 minutes uncovered, or until the peppers are melty and bubbly.
Let the peppers sit for five minutes out of the oven before serving.
Notes
I served this with a super simple salad of arugula with olive oil and lemon juice. Perfection!
Kick and Dinner http://kickanddinner.com/