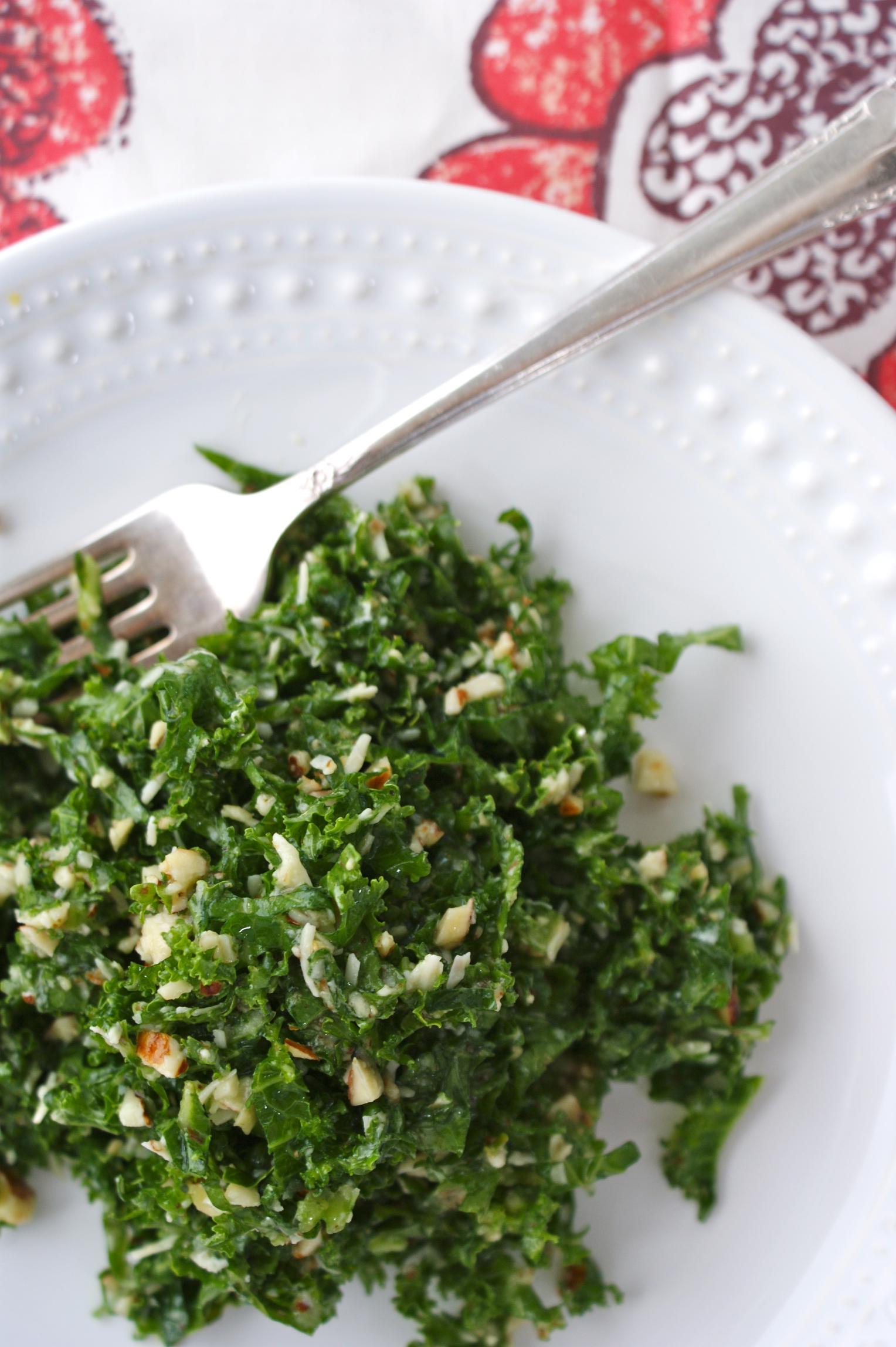 Kale has been the "new" spinach for a while now. I myself have been more than happy to hop aboard the borecole bus, adding it to everything I consume from breakfast smoothies to lasagna. You can boil this shiz…bake it…saute it…even roast pieces of it into crispy chips for snackin.
You can eat it cooked, you can eat it raw, but you most definitely want to eat it because it is just so ridiculously good for you. Vitamin A. Vitamin C. Vitamin K. Calcium. Iron. Fiber. Antioxidants. Omega-3 fatty acids. Unicorn horn (okay, I made that one up but you get the idea). This favorite child of the cruciferous family is green gold.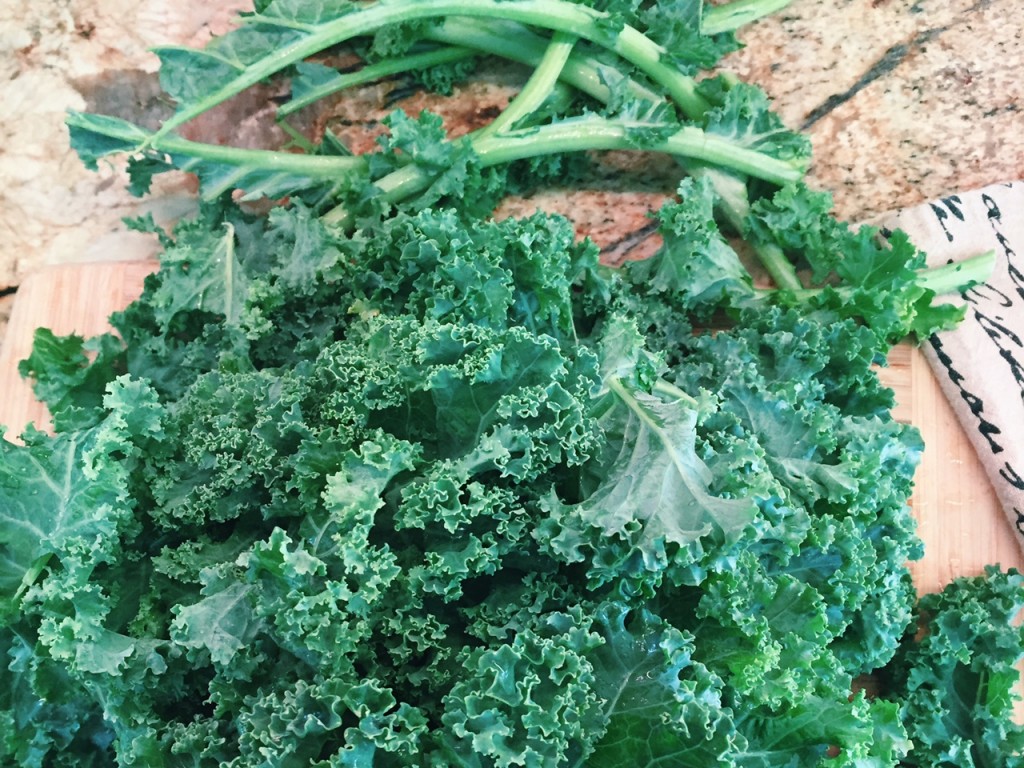 But what if you just don't like the stuff? Or, what is more often the case – what if you love kale but your peeps or posse or tribe or whomever it is that you enjoy dining with/cooking for does not?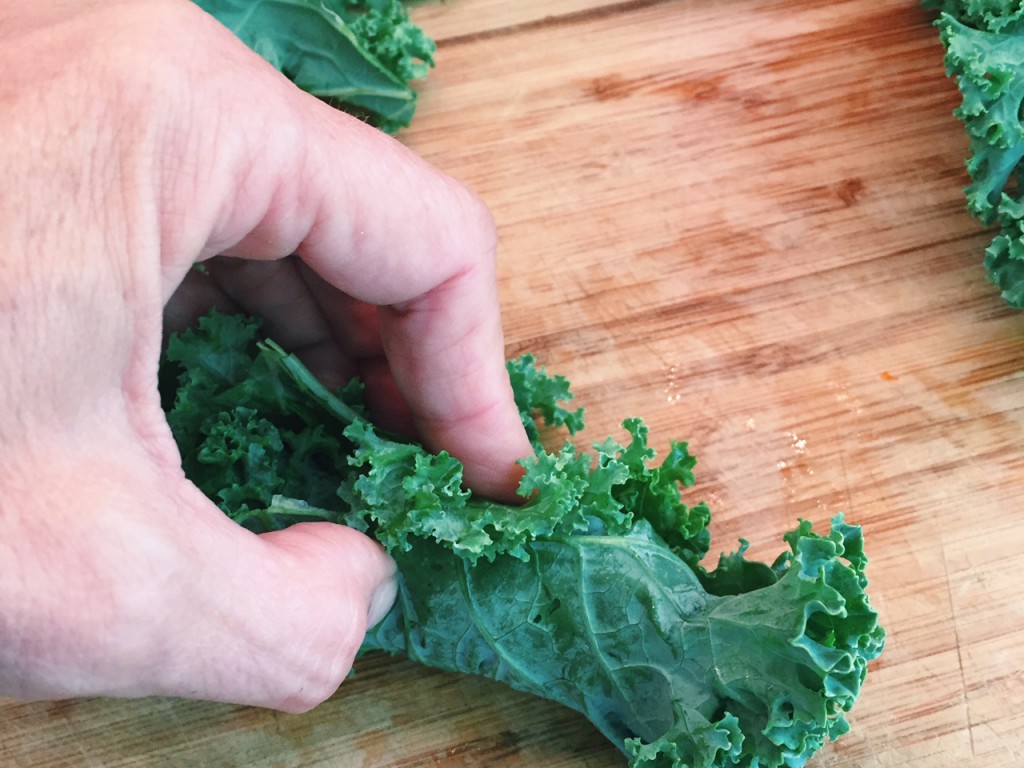 Try this. Raw kale sliced super thinly (almost like a slaw) and tossed in a lemony vinaigrette that hints of fresh garlic and salty rich parmesan cheese. Finely chopped "crumbs" of toasted almonds add a roasty, unexpected crunch.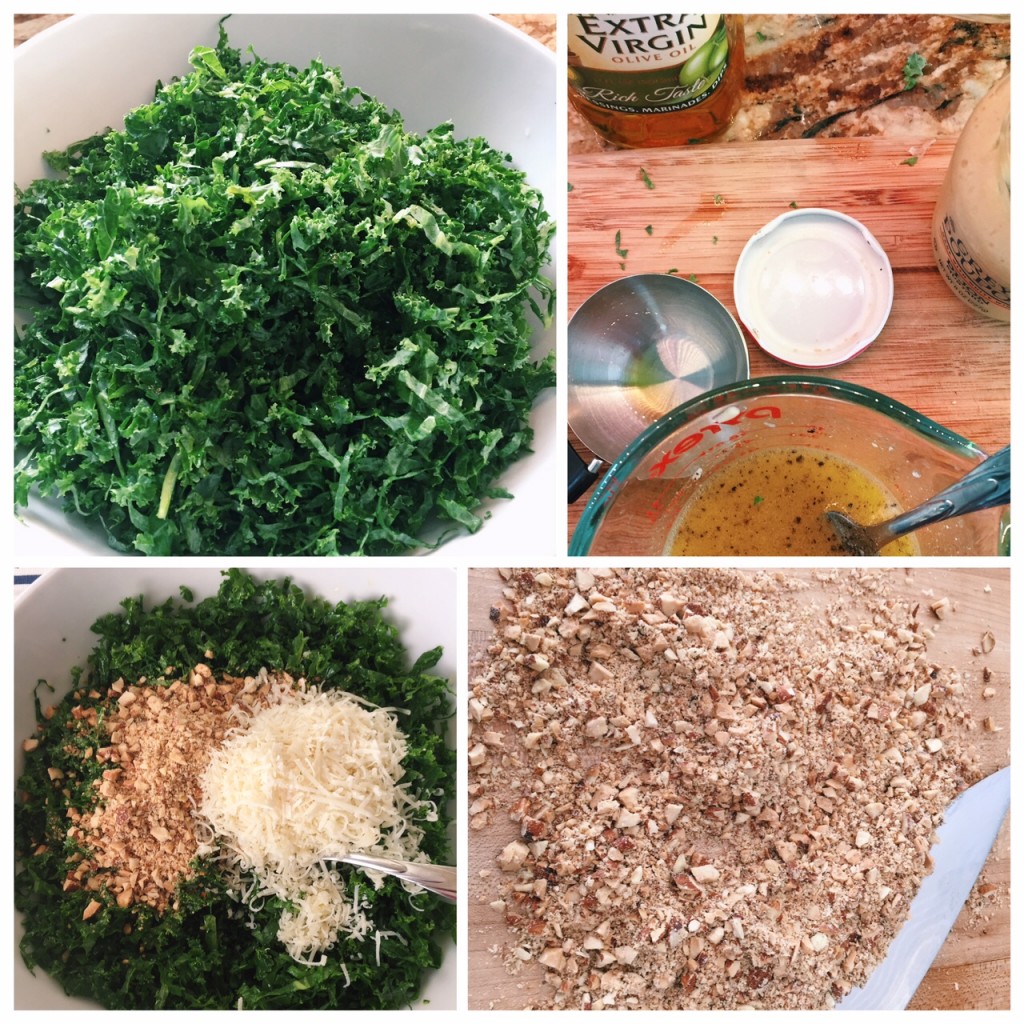 This is a simple, yet seriously satisfying salad or side dish, and I personally love it so much that I seem to make it for everyone – all the time.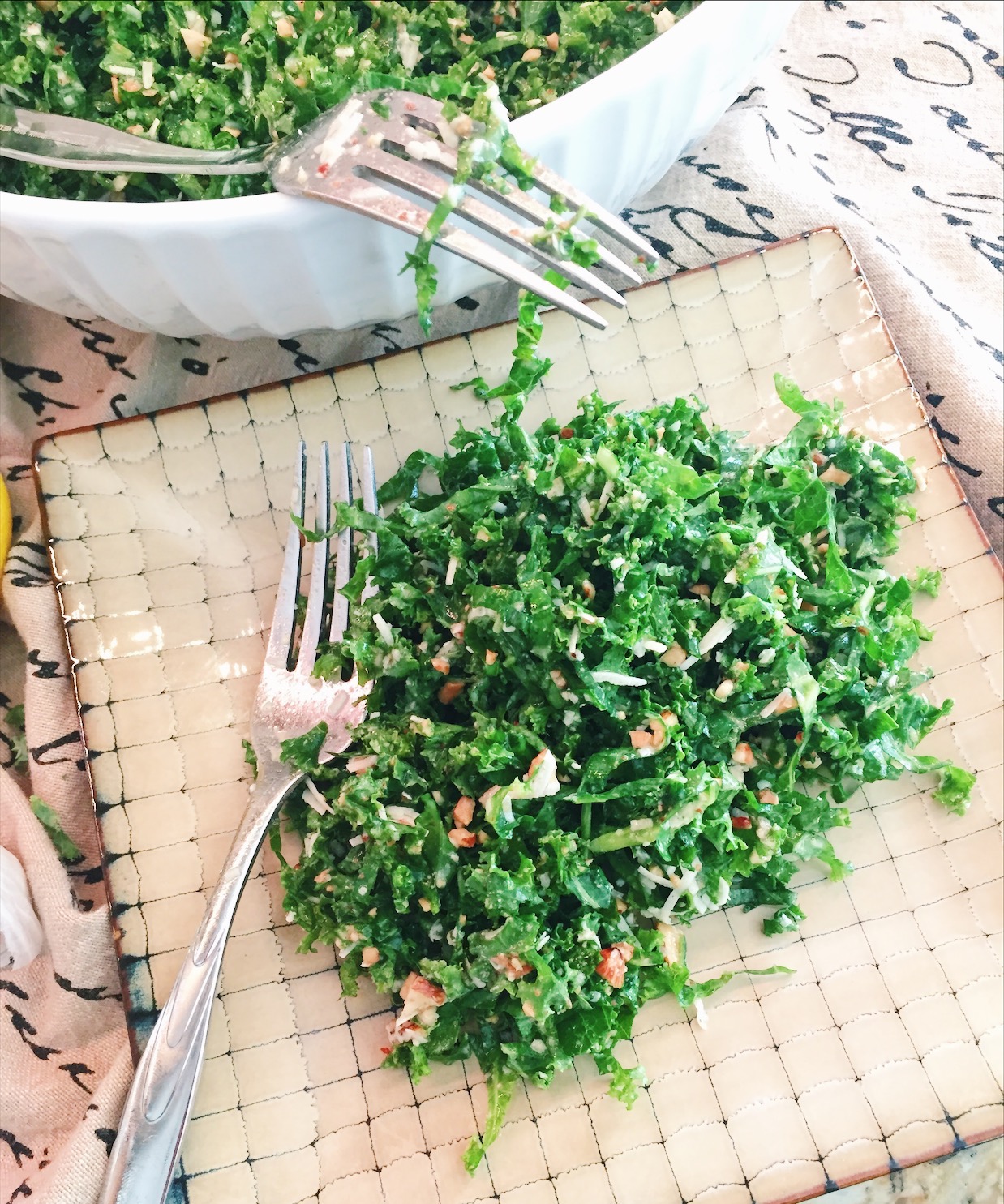 And then they are believers. Hail to the kale.
RECIPE BELOW:
Lemony Kale Salad
2015-08-24 12:20:05
Ingredients
1 bunch (about 6 cups) kale, well washed* and dried, de-stemmed**
1/2 cup raw almonds***
1/3 cup of fresh lemon juice (you'll need 1 - 2 lemons for this)
1/4 cup olive oil (and a little more for a drizzle)
1 raw garlic clove, peeled and minced finely or grated on the finest side of a cheese grater
1 teaspoon Dijon mustard
1/2 cup finely grated parmesan cheese (or more to taste)
kosher salt
freshly cracked black pepper
Instructions
Roast the Nuts
Turn your oven to 350º Spread the almonds out evenly onto a sheet pan and bake for about ten minutes. Keep an eye on this - nuts burn easily! When nuts are slightly brown, remove from the oven and onto a cutting board to cool. Once cooled, finely chop the almonds with a sharp knife, or you can pulse them in a food processor to get them to the texture of bread crumbs, set aside.
Make the Dressing
In a small bowl mix the dijon mustard with the lemon juice and the minced garlic. Whisk in 1/4 cup of olive oil. Add salt and pepper to taste. Add half of the grated cheese, and give it another stir. It will be pretty thick. Let this hang out at room temp while you.....
Prep that Kale
To slice your kale, take several leaves at a time and roughly stack them as best as you can. Roll the stack tightly like a cigar, and with a sharp knife slice the rolled kale very thinly into a chiffonade (fancy name for confetti like strands!) Continue with all of your kale leaves. Place into a bowl.
Drizzle a tablespoon or so of olive oil over the kale and massage that in with your (clean, der) hands. This will help to begin the breakdown of the kale fibers and help to tenderize it.
Assemble the Whole She-Bang!
Pour your lemon vinaigrette over the kale and give it a good toss. Add the finely chopped almonds and the remainder of the cheese. Give it another toss. Taste for seasonings. Dig in right away, or sock in the fridge for later. It just gets better and better.
But it does like to get stuck in your teeth. Small price to pay.
Notes
* Always make sure your kale is well washed! Here's how I do it....... Fill a very large bowl or basin or even a clean bucket with cold water and plunge in the kale. Give it a swish and let any grit fall to the bottom of your receptacle. Lift out your kale and place it on a layer of kitchen towels. Pat dry.
** To de-stem, you can tear the leaves from the stem or simply slice them off with a sharp knife.
Stems are tough, so you don't want to eat them in your salad!
***Walnuts work well here too, so do roasted pepitas (pumpkin seeds)
Kick and Dinner http://kickanddinner.com/