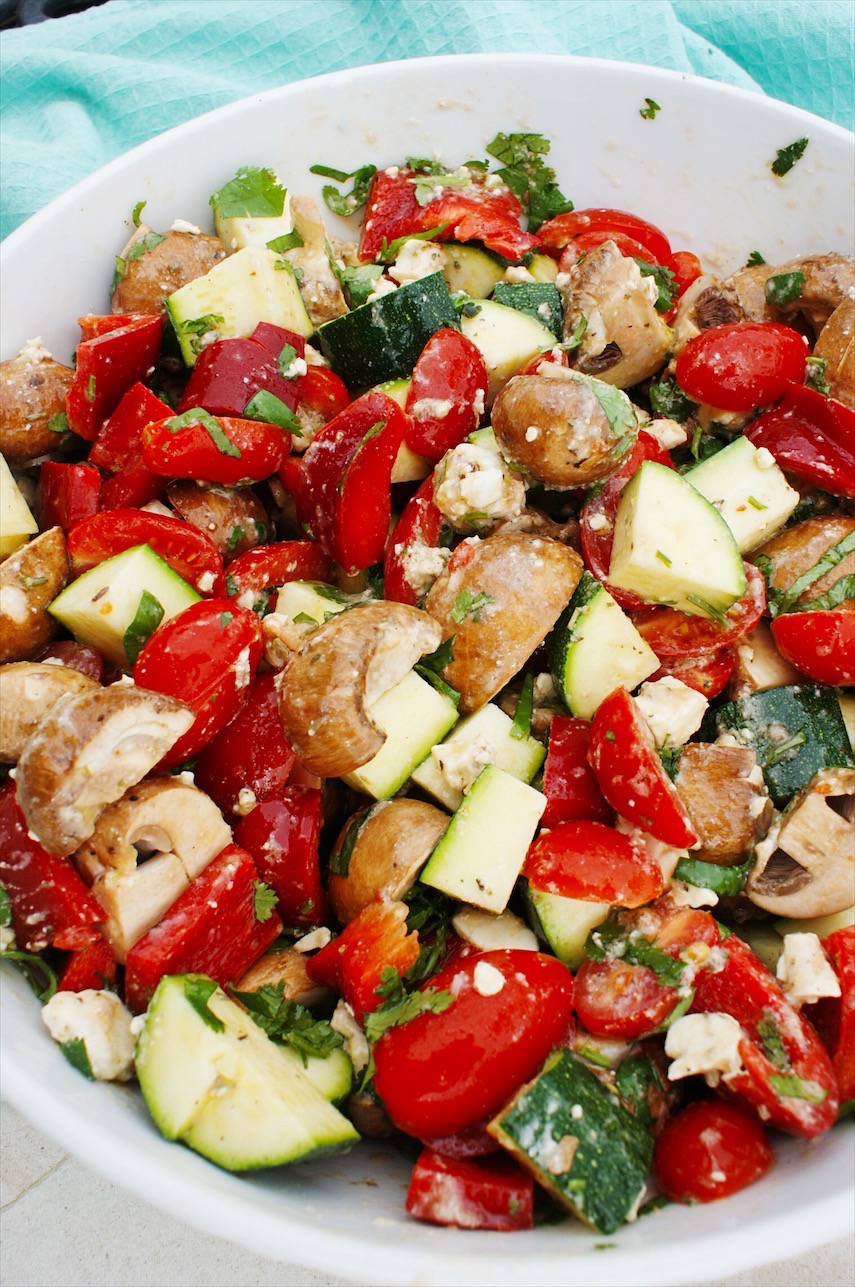 I don't know about you, but I can almost actually feel my vitamin D levels going up….just by looking at this bright and beautiful bowl of bodily benevolent bounty.
Earthy mushrooms, juicy grape tomatoes, sweet red bell pepper and crunchy cubed zucchini come together in raw and ready solidarity, held up (and held together) by a gutsy, garlicky, feta-cheese-a-fied marinade/dressing.
No sissy pants of a side dish; this bodacious babe brings the goods when it comes to a super delicious, sinfully simple salad.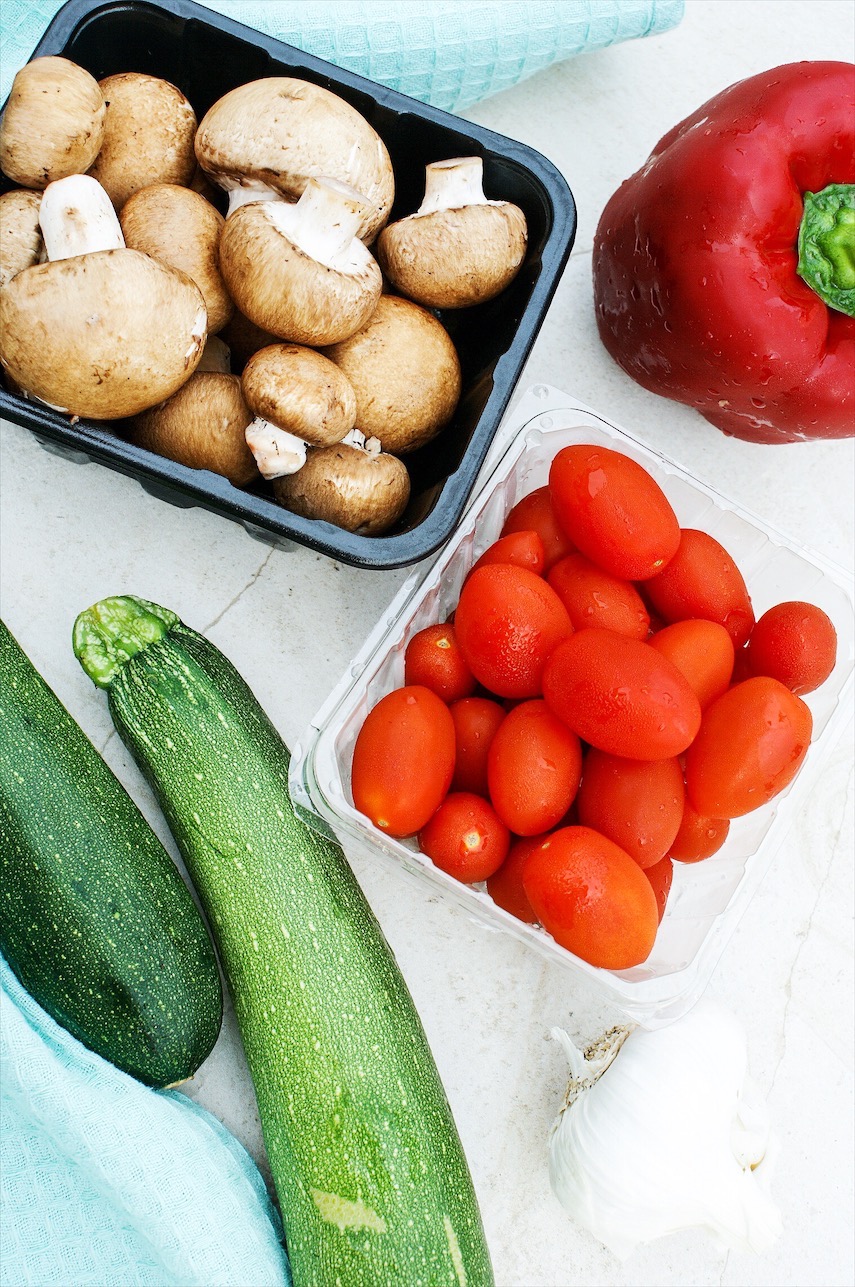 And if you are what you eat…….how about a face-full of flavonoid antioxidants? Oh, you know, fancy sounding stuff like zeaxanthin, carotenes and lutein……all designed by big-momma nature herself to slow down aging and prevent diseases by zapping free radical bad guys. But that's not all.
Zucchini has more potassium than a banana, whaaaaat?
Bell peppers outshine an orange when it comes to vitamin C.
Mushrooms contain the ever elusive Vitamin D (and are the only thing in the produce section that ever will) as well as gobs of B vitamins.
………oh, and that feta cheese you see in there?
Well, that supplies all the vitamin F (as in fat and happy) that you will ever need.
At least until you go in for seconds. Good thing this makes a lot.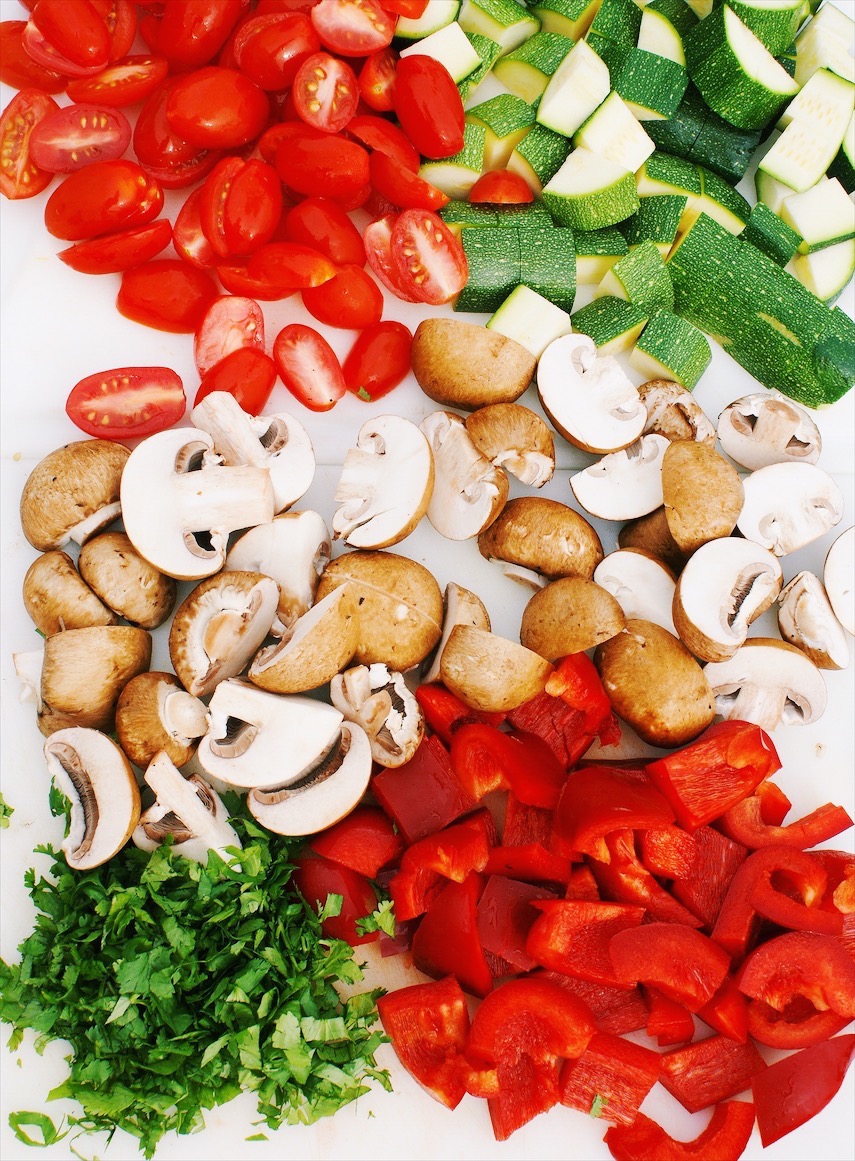 Nothing too complicated here, start with everybody well washed and dried. Mushrooms can be a bugger to clean; it's best to wipe them down with a damp cloth rather than dunk 'em. Precious as that may seem, they are like little sponges so you'll want to keep them from being submerged in water, especially since we are going raw today. Once they are all prepped and proper, simply slice them in half.
One container of those grape tomatoes will do the trick. I cut them in half the old-fashioned way (slowly and individually, GAH!), but if you're feeling hack-ish you can always try it like this.
Quarter your zucchini and slice it into big chunks. Core and seed your pepper and slice that up into generous bite sized pieces as well.
Fresh flat leaf parsley is an INGREDIENT (not a wisp of a garnish) in this too……..so get out a big handful of the stuff and give it a rough chop. Stems and all.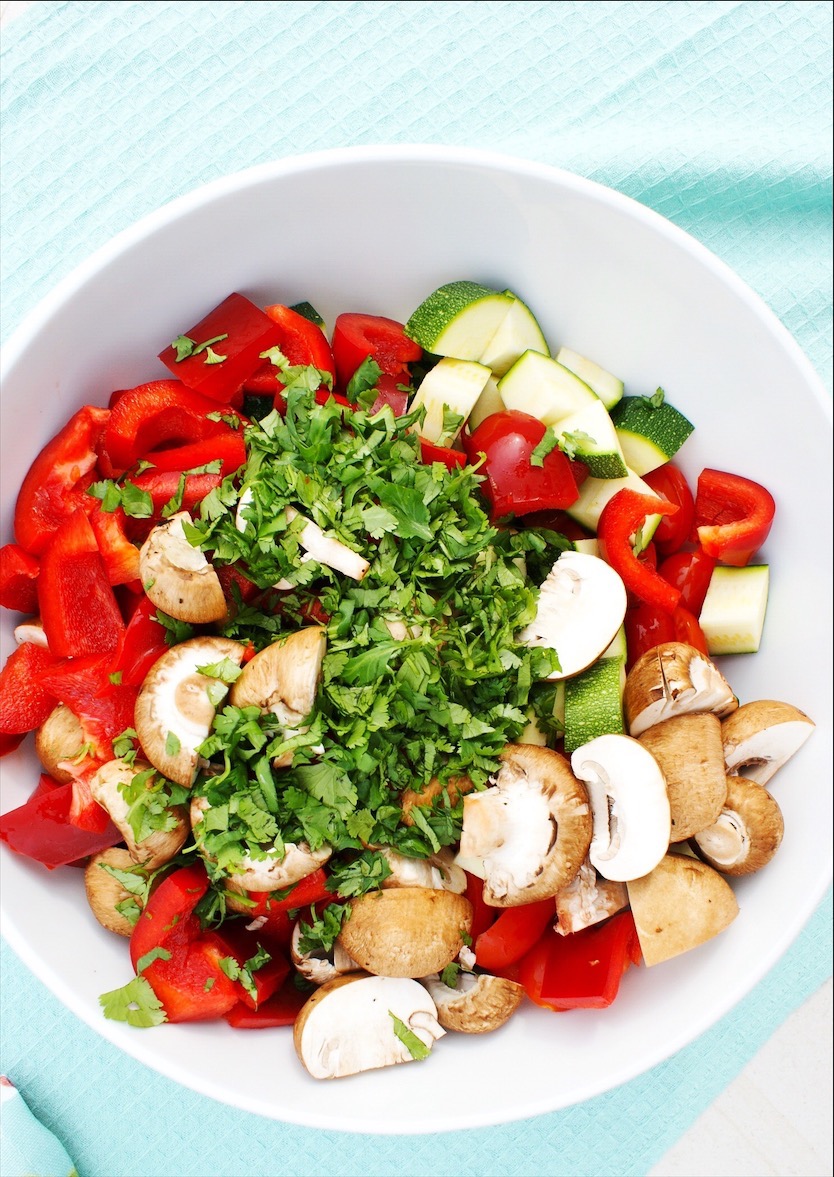 Into a big bowl, everybody! I hardly want to mess with this it looks so pretty……….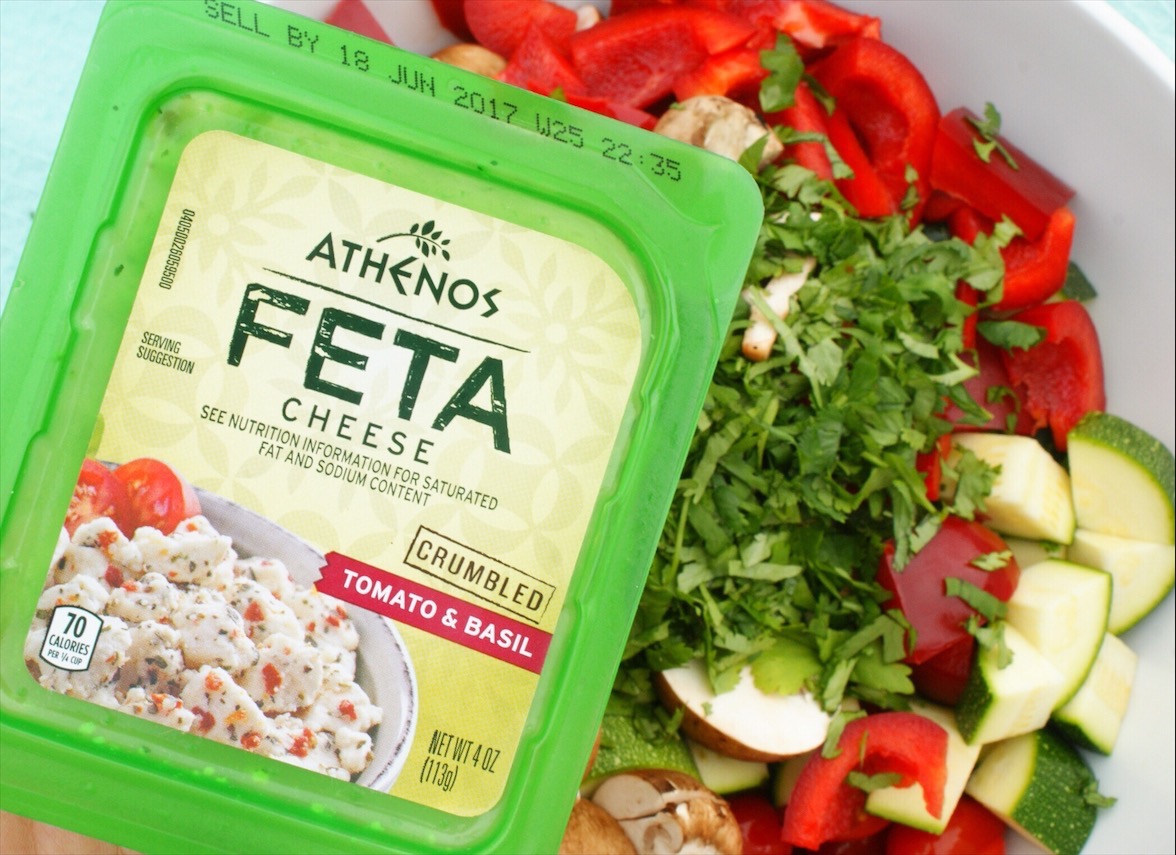 Oh wait, never mind, who am I kidding? Helloooooo, FETAaaaa, making it all BETAaaaa…..
(get it?, feta? beta? okay, I'll stop) Dump 'er in! Clearly I am all over the tomato & basil flavor.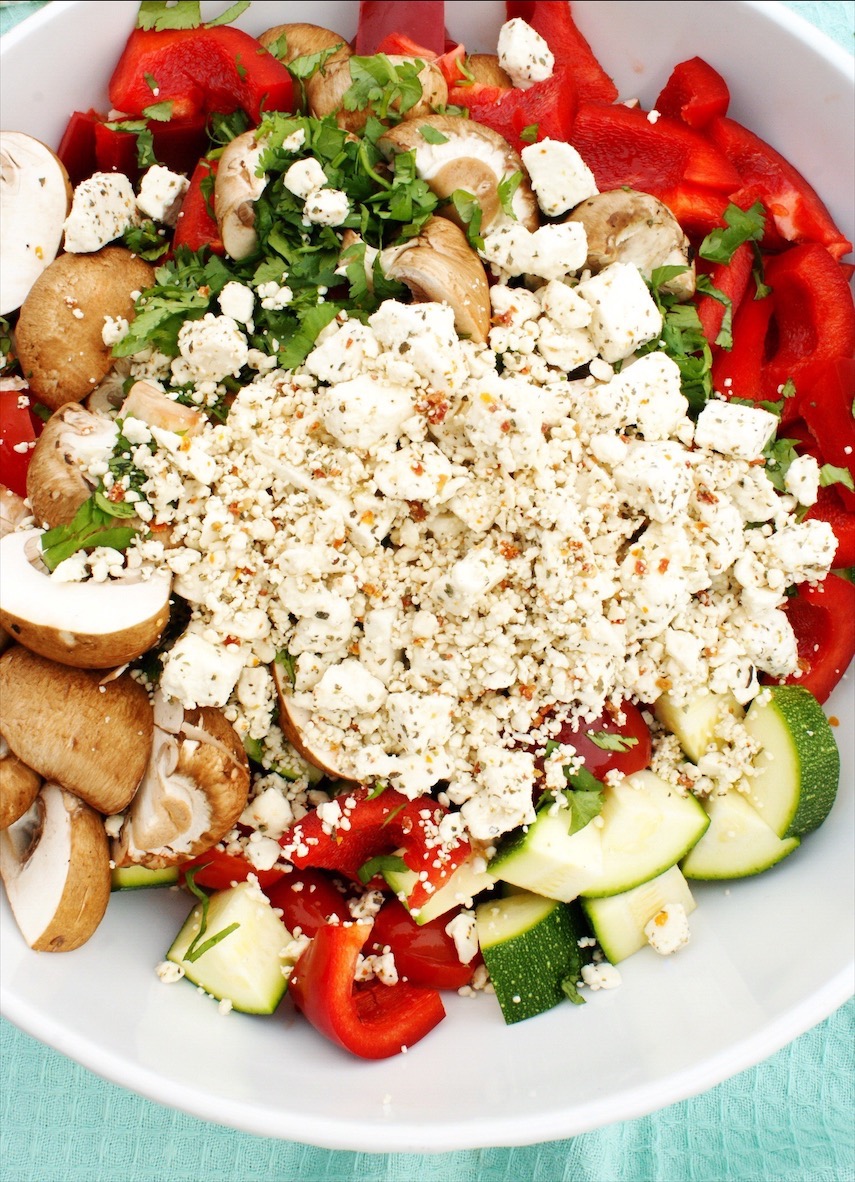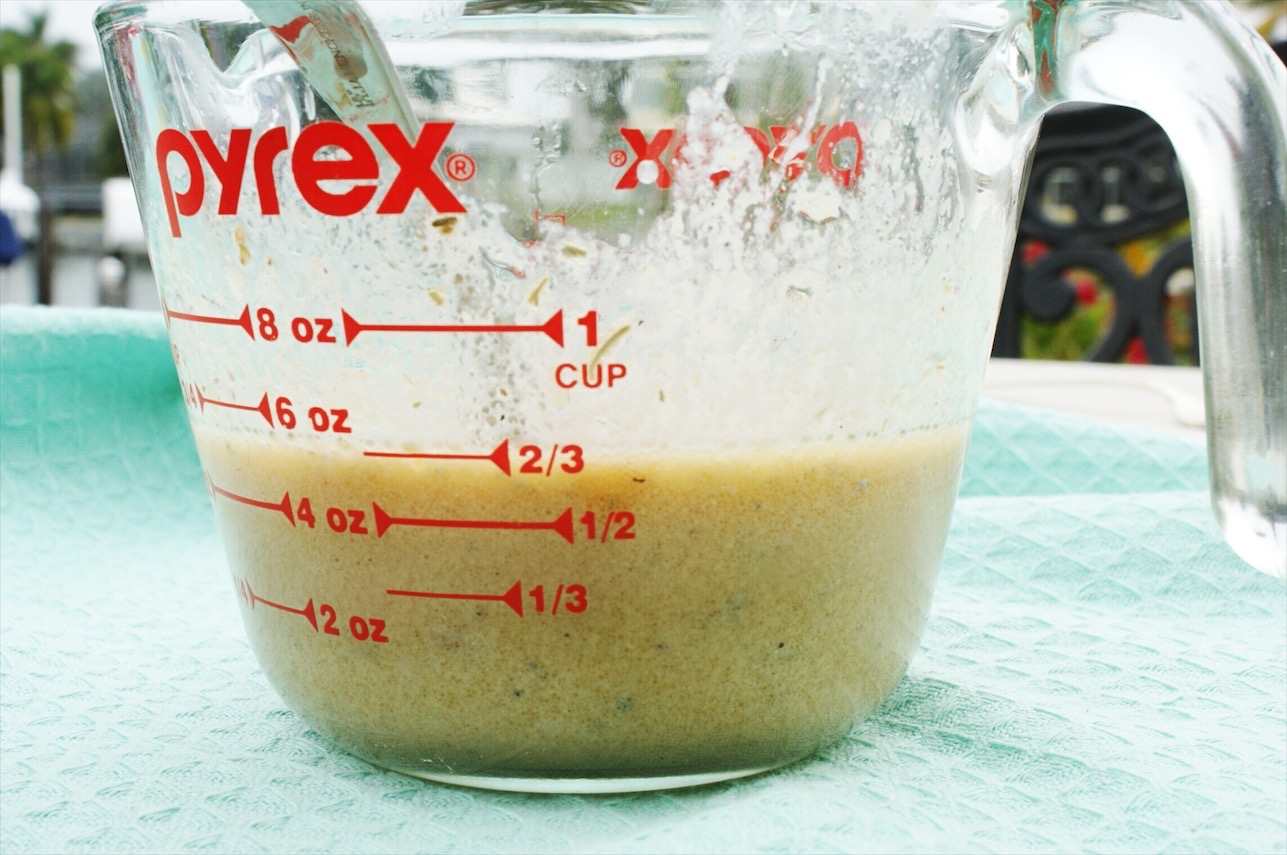 It takes two minutes to whip together the marinade. This is a heady and aromatic emulsion of grated fresh garlic, Dijon mustard, red wine vinegar, some Italian seasoning and olive oil. It will be strong, and it will be tart and that is JUST WHAT YOU WANT!
Pour this puckery perfection over your vibrant veggies and give everyone a good mix. Cover it up and into the fridge it goes for AT LEAST an hour.
The longer – the better. Which is awesome, I gotta say………..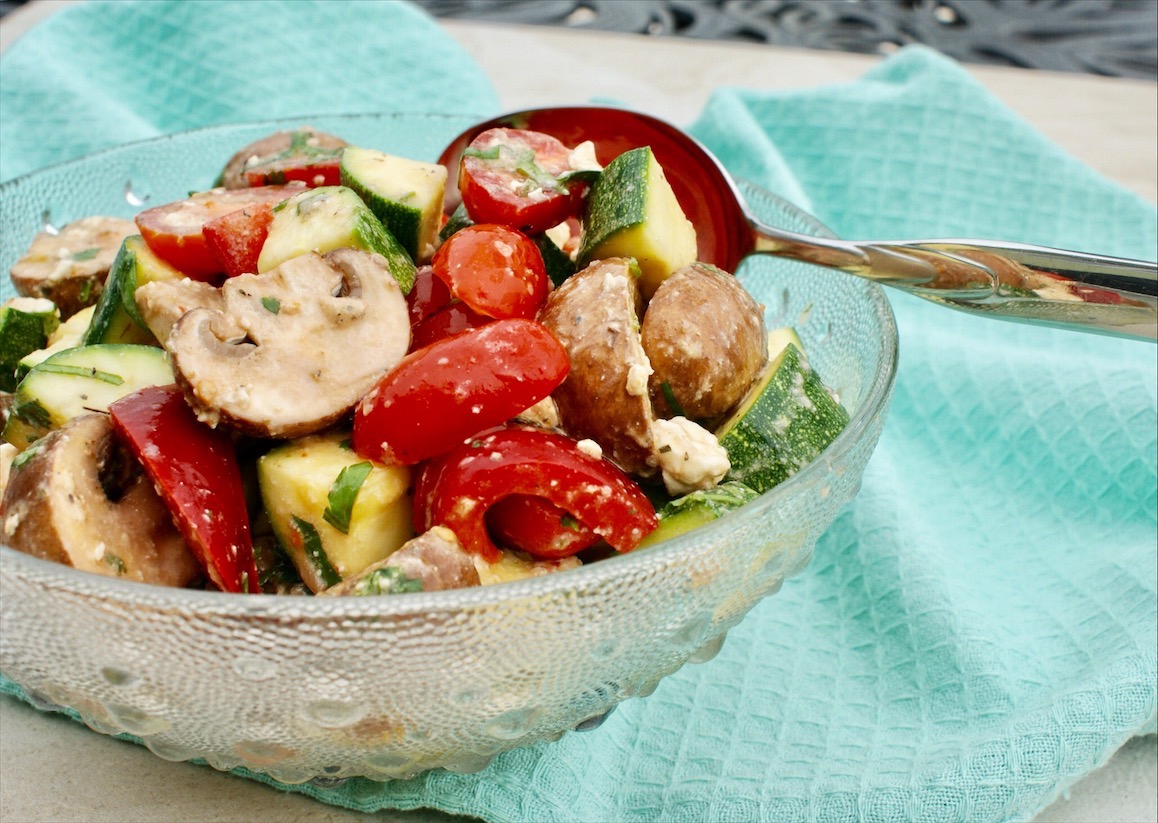 Because unlike most salads that get soggy after a prolonged dip in the depths of the Frigidaire, this baby just gets better and better.
The perfect side salad to make ahead.
Or take to work the next day.
Or to bring to the next Spring Fling Pot Luck Luncheon In the Park Thing that you just KNOW you can't wriggle out of. (awe jeez, sorry 'bout that)
Happy Springtime!
RECIPE BELOW: This makes A LOT. Great for when you have a bunch of people around. So easy to pull together, you'll barely require 15 minutes, but you DO need that extra time in the fridge to chill out so plan accordingly. Fast and furiously good.
Marinated Mushroom Veggie Salad
2017-04-10 16:18:37
Ingredients
1 small container grape tomatoes, sliced lengthwise in half
2 medium zucchini, quartered and cut into cubes
1 small container whole cremini (or regular white) mushrooms, well cleaned and cut in half
1 red or yellow bell pepper, cored and seeded, cut into bite sized pieces
A generous handful of fresh flat leaf parsley, roughly chopped
1 - 4 oz container of crumbled feta cheese, preferably basil & tomato flavored
FOR THE MARINADE/dressing
1 medium sized fresh clove of garlic (finely grate this over a microplane or the smallest grate of a cheese slicer)
3 teaspoons Dijon mustard
1/2 teaspoon of Italian seasoning (or dried oregano)
1/3 cup of red wine vinegar
1/4 cup of olive oil
Kosher salt and fresh cracked black pepper to taste
Instructions
In a large serving bowl, combine all of the veggies, including the chopped parsley. Add the entire container of feta cheese.
MIX UP THE DRESSING
Finely grate the garlic into a small measuring cup. Add the Dijon mustard, Italian seasoning, red wine vinegar, a pinch of salt and pepper, and whisk together until combined. Continue whisking, and stream in the olive oil until you have a well mixed emulsion.
Pour this over the veggies/feta and toss gently to coat.
Cover the whole she-bang with saran wrap and refrigerate for at least an hour, longer if possible.
Show up smiling the next time you have to lug over a side salad to your next shin dig. No mayo, no soggy lettuce, just lots of happy helpings. Winner!!!!!
Kick and Dinner http://kickanddinner.com/