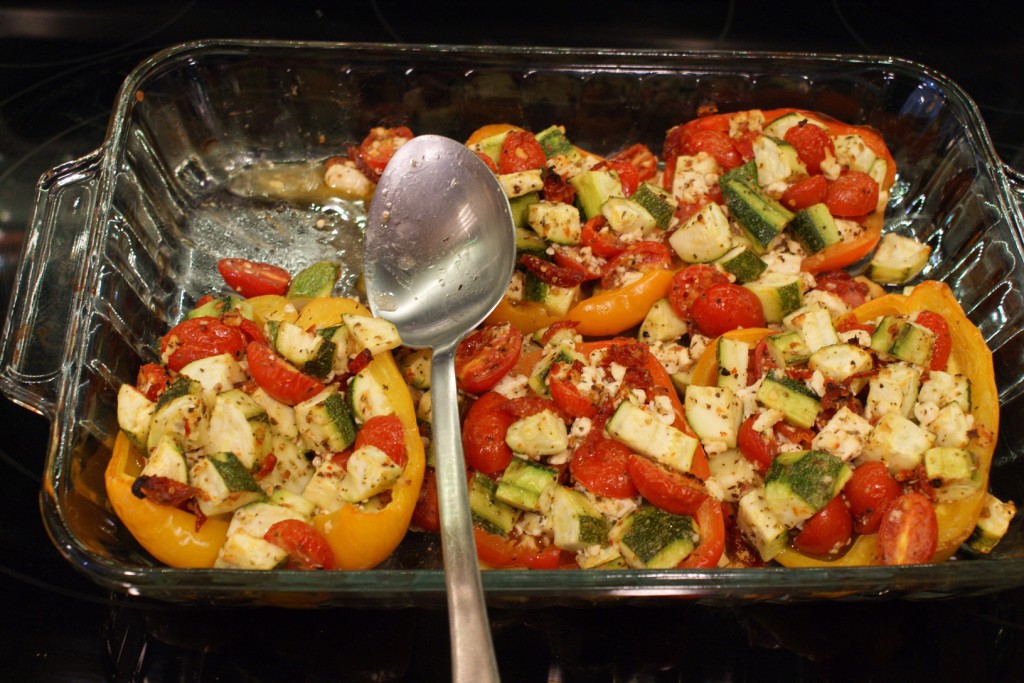 This is a recipe update from 10-17-2013
Soooooo…… do you know any vegetarians? Are they nice to you? Want to make 'em happy? Want to make anybody happy for that matter? Then take the twenty minutes you will spend in prep time out of your day and make these sunny jewels. Unlike the dense, rice and ground beef Campbell's tomato soup inspired stuffed green bell peppers of your wonder years, (which I happen to love as well) these peppers are gorgeous, fresh, and actually healthy. Nestle these pretty babies over a bed of quinoa laced with peppery arugula and crunchy sunflower seeds, and you just may look forward to more "meat-free Mondays".
Making sure your peppers are clean, slice each one in half lengthwise. I used three peppers here because that yellow one I got was really huge, holy crow-bar, but truly the best fit for this would be four peppers total. Carefully remove the seeds and membranes and set your peppers in a baking dish large enough to accommodate them. To expedite things just a tad I add a tiny touch (1/2 of a teaspoon, we're talkin) of water to the dish, cover with plastic wrap, and give it a spin in the microwave for about four minutes just to get them a little softened up.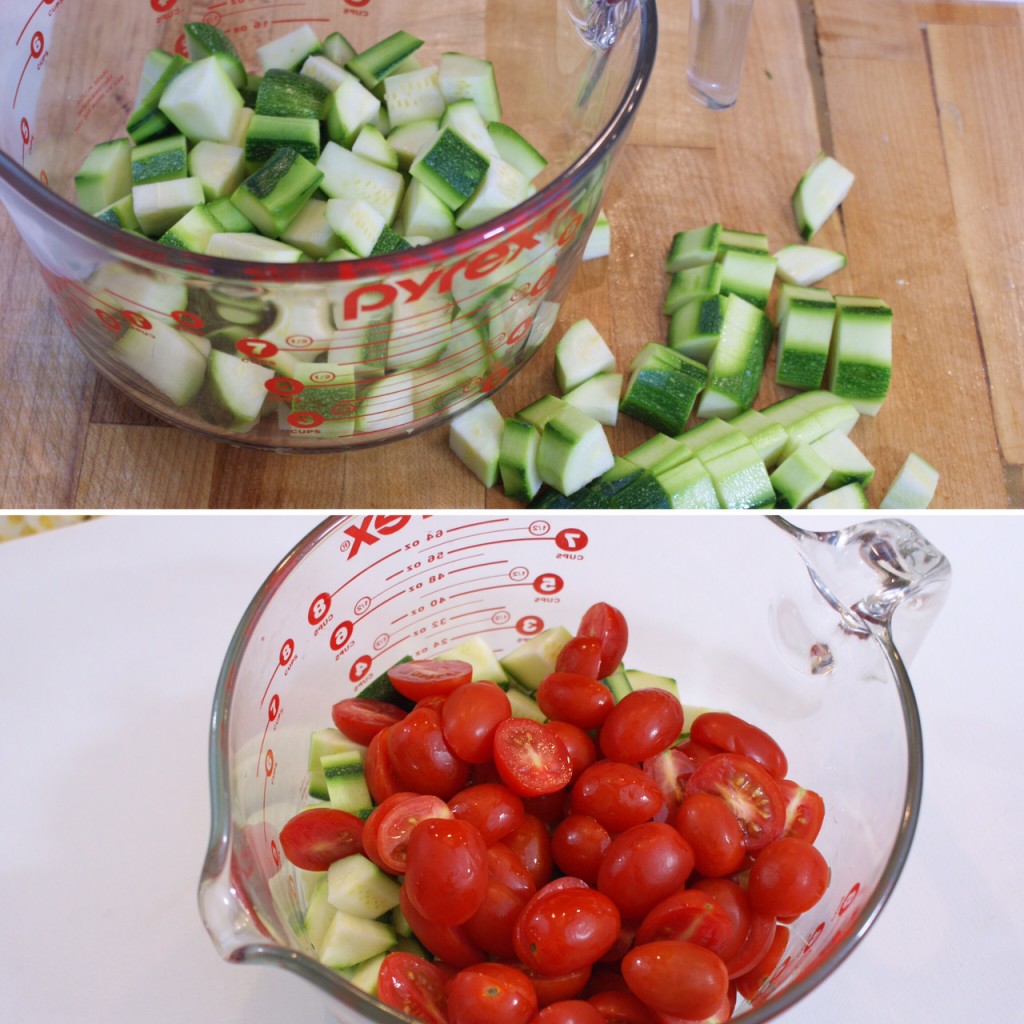 Dice up your zucchini (I like to keep a little peel on em, but you don't really have to peel zucchini at all if you don't want to) and toss em in a bowl. You can use 3 – 4 medium sized zukes for this, you will end up with about 3 1/2 cups. Now halve those cute little tomatoes and throw them in along with a container of tomato basil crumbled feta cheese, a nice healthy teaspoon of dried oregano or Italian seasoning (or go nuts and use both!) and a glug or two of olive oil. Add a grind of fresh cracked black pepper, but I would take it easy on the salt, that feta is some salty stuff all on its own. Now if you happen to have some hanging out over there in the door of your refrigerator, feel free to slice up a couple (and by that I mean 4-5) sun dried tomatoes and add them to the pot! Toss this all together to gently combine. Then……fill your peppers! I always like a little sprinkle of crushed red pepper flake on top but that is up to you. A drizzle of olive oil can do nothing but good things to this……..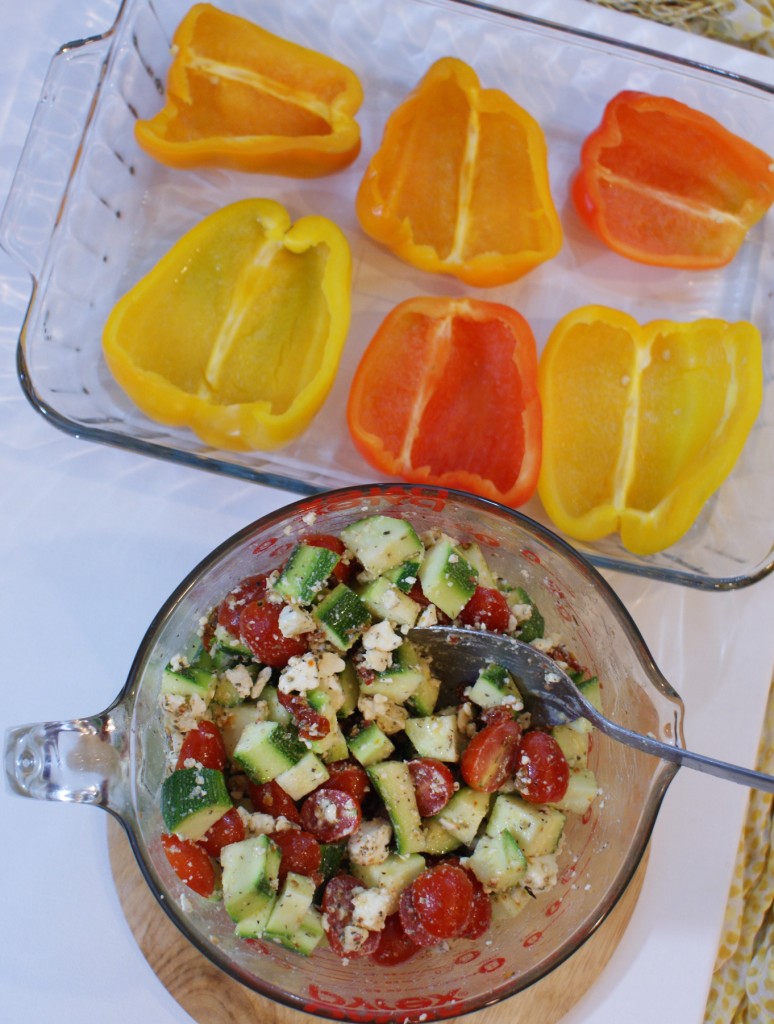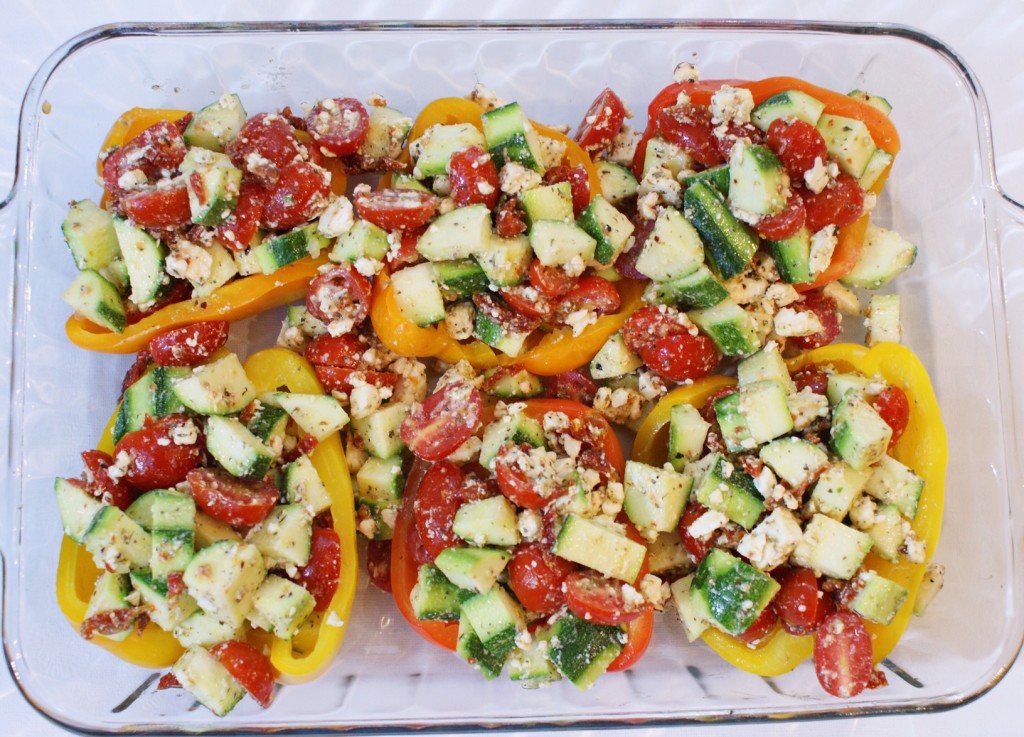 Look at that, I have too much filling, oh no (ha). Pretty! Cover the whole she-bang tightly with tin foil and let it bake in a preheated 350 degree oven, for 50 minutes to an hour, until the peppers are very tender when you stick a fork in them. Carefully, carefully take the tin foil off, and let it bake uncovered another ten minutes or so, or until the edges of various goodies sticking up are just a little bit browned, like this… hmmmmm….sorta hard to tell, but you get the idea!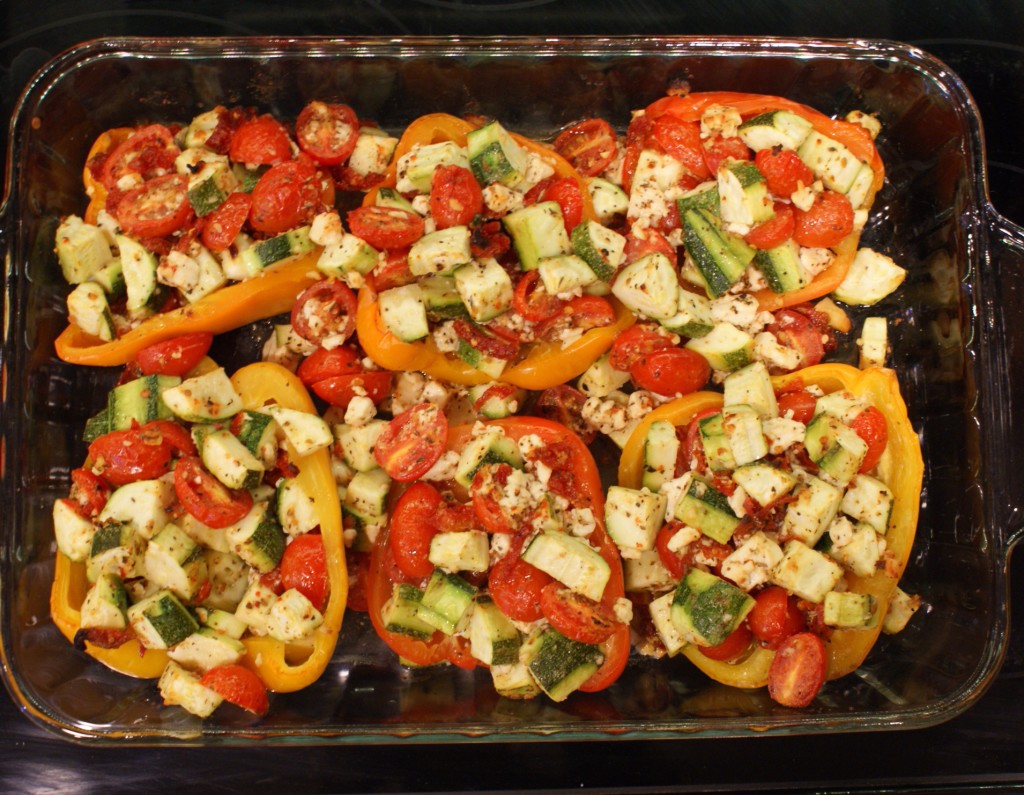 So while these are baking go ahead and make your quinoa. If you are unfamiliar with this ingredient, don't be a stranger! Quinoa (you say it – KEEN-WAH) looks and cooks like a grain (think rice) but is actually a seed. Being a seed, it is full of all sorts of good for you nutrients like potassium, magnesium and iron, as well as an impressive dose of calcium. AND, if that wasn't enough good news this stuff is also considered a complete source of protein, so . . . put down the rice.
Quinoa is better tasting and much better for you. It also cooks up much, much faster. Just remember 1 part quinoa to 2 parts liquid (water or stock), and a pinch of salt. Bring it to a boil, cover it and let it cook on simmer until it's nice and fluffy. Won't take you more than ten minutes.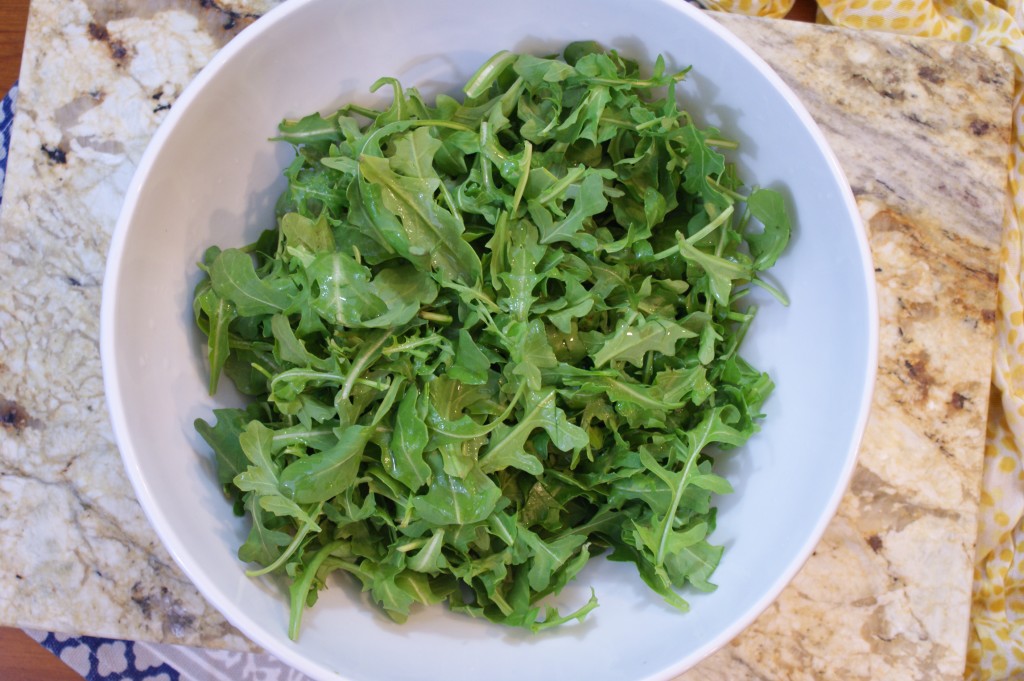 Lovely arugula. Use more than you think you need because this stuff will wilt waaaaay down once you hit it with the hot quinoa. This green has a bite that is perfect with the mild taste of the quinoa.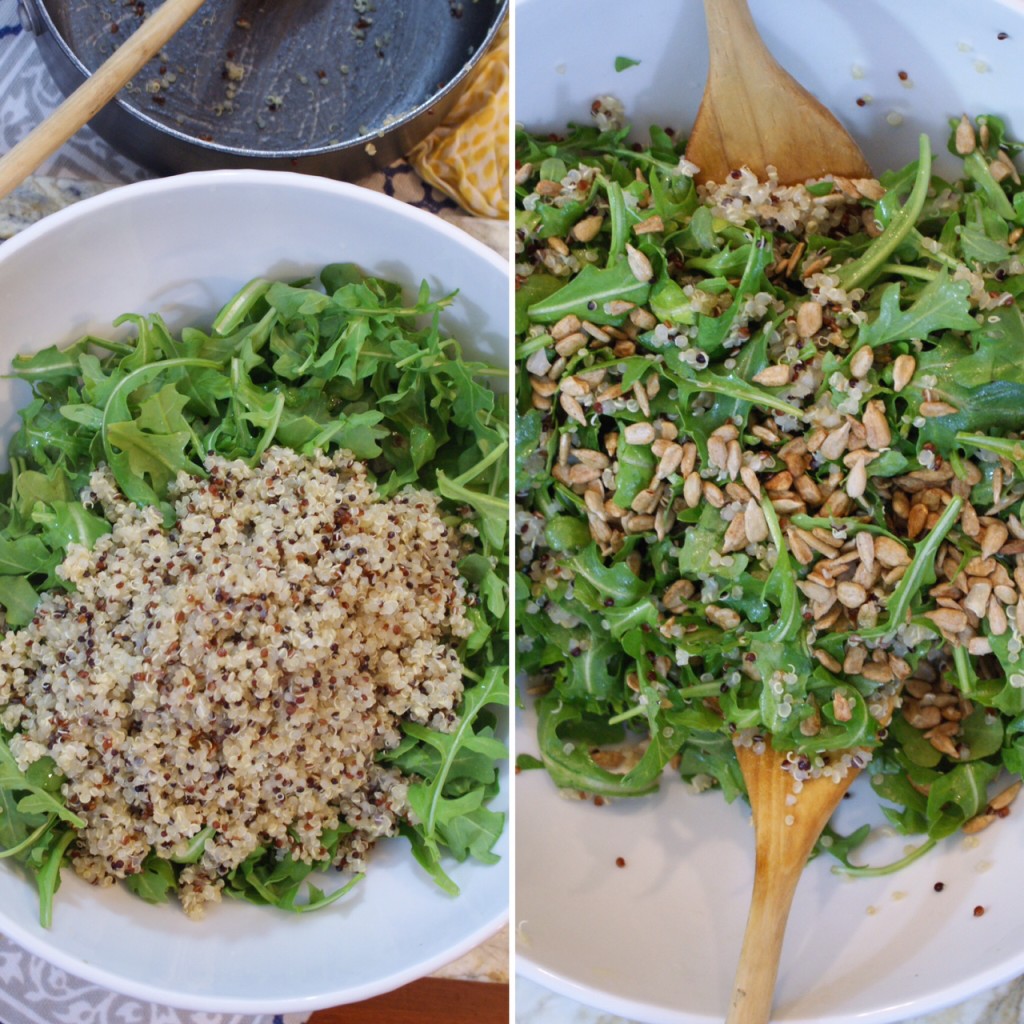 Toss it into a shallow bowl and douse it liberally with the juice of a lemon. Tip that pot of hot quinoa over into the lemony arugula, add two tablespoons of olive oil and toss it all together! Hit it with some salt and cracked black pepper, of course. Top this with a liberal smattering of crunchy roasted sunflower seeds, as much or little as you like. I used about a quarter cup.
Dish out some of that quinoa/arugula, and top with one or two of those juicy peppers. A sprinkle of kosher salt never hurt anything…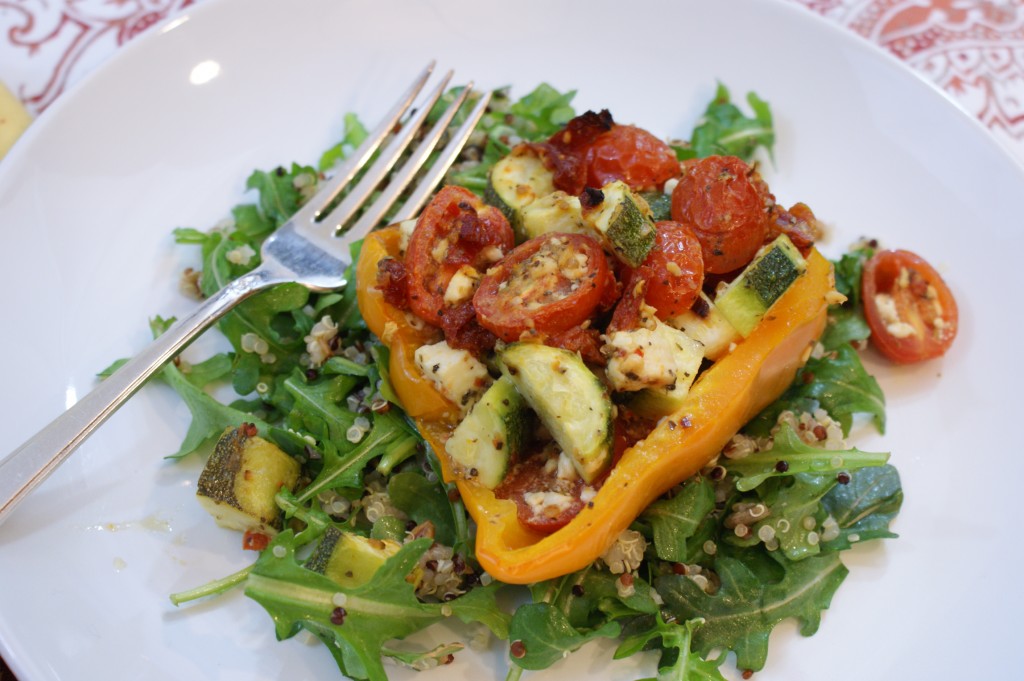 You gotta be colorblind not to want to jump into this face first.
Recipe below:
Not Your Gramma's Stuffed Bell Peppers
2016-01-17 13:48:42
Ingredients
4 bell peppers (preferably not green) sliced lengthwise, seeds and membranes removed
3- 4 medium zucchini, cut to a medium cube
1 pint grape tomatoes, halved
1 container (8 - 10 oz) tomato and basil flavored crumbled feta cheese
1 teaspoon dried oregano or Italian seasoning
4-5 thinly sliced sun dried tomatoes (optional!)
Olive oil, divided
Kosher salt and fresh ground black pepper
Red pepper flake
FOR THE QUINOA
1 cup quinoa, (you'll end up with two cups total once it's cooked)
1 5 oz package arugula, very roughly chopped
1 lemon (juice)
1/4 cup dry roasted sunflower seeds
olive oil
Instructions
Pre-heat oven to 350°
Place peppers into a large baking dish (cut side up) and add 1/2 teaspoon of water. Cover tightly with plastic wrap and microwave on high for 4 minutes
In a large bowl combine zucchini, tomatoes, feta cheese, and dried oregano. Drizzle in two tablespoons (more or less) of olive oil and combine gently. Add sun dried tomatoes if desired, add salt (taste first, feta is salty to begin with) and pepper.
Spoon veggie mix into the pre-softened bell pepper halves. Sprinkle with a pinch of red pepper flake (if you like it!) and drizzle with additional smidge of olive oil.
Cover tightly with foil and bake for 50 minutes, or until the peppers and zucchini feel tender when poked with a fork. Remove the foil, and allow to brown in the oven for an additional 10 minutes, uncovered
Serve over quinoa arugula
FOR THE QUINOA ARUGULA
Place the roughly chopped arugula into a bowl and squeeze the lemon over
Add the cooked quinoa and sunflower seeds and toss. Add a drizzle of olive oil and salt and pepper to taste
Place the quinoa/arugula down onto a plate and nestle in a pepper half or two, depending on how hungry you are.
DIVE IN!
Notes
Each pepper half is considered a "serving" plus a healthy portion of the quinoa/arugula. The amount this serves depends on how hungry everyone is but I say six, easy!
The peppers themselves make perfect leftovers - the quinoa/arugula mix is sadly... NOT SAH GREAT when it comes to brown bagging it the next day.
Kick and Dinner http://kickanddinner.com/