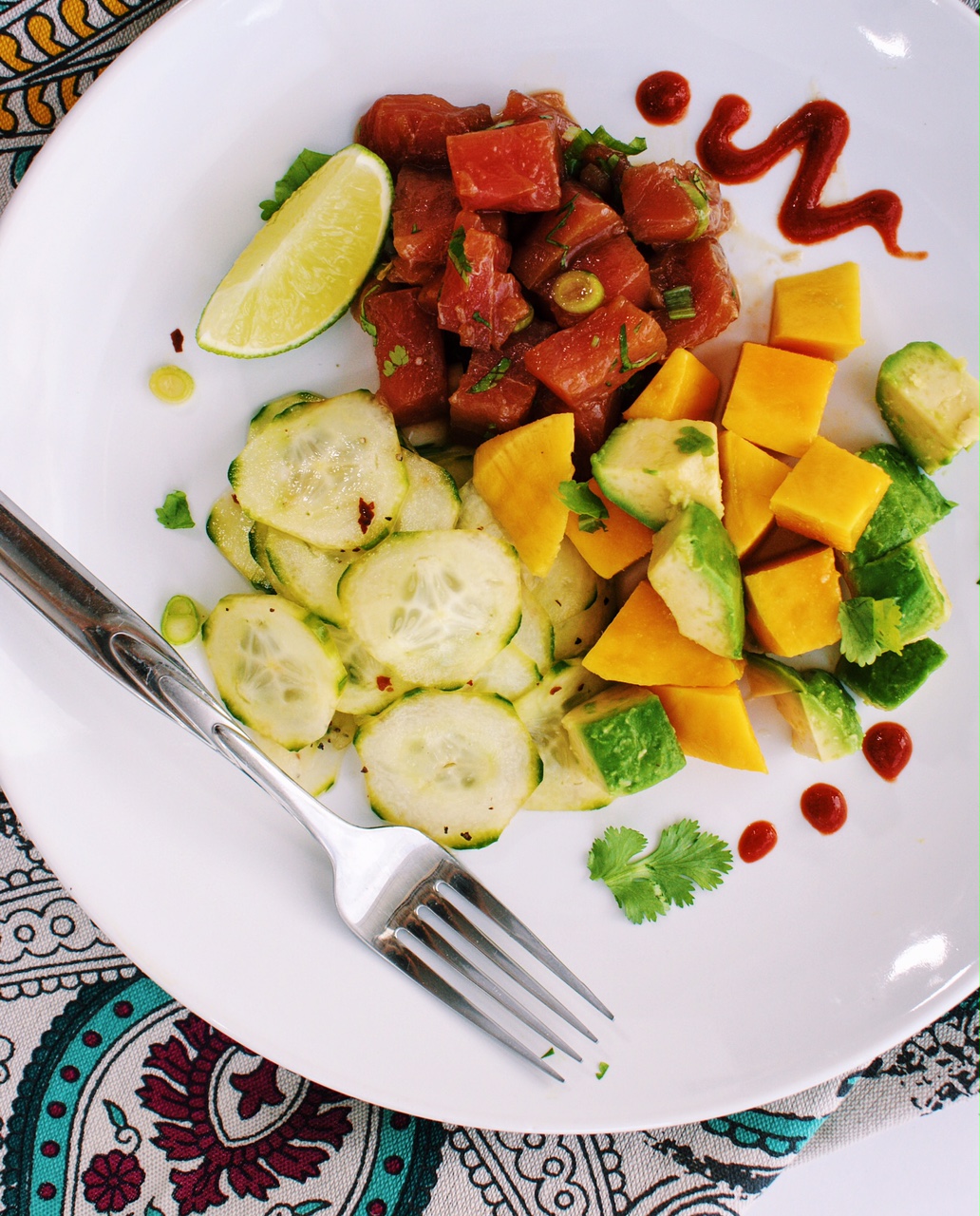 Behold…my take on the poke (pronounced POH-Key, just in case you needed that) bowl.
A traditional poke bowl is both cooked and raw, hot and cold, all at once, sort of like a burrito bowl meets The Little Mermaid. Rice serves as the cooked portion of the production, a blank canvas to hold up the rest of the more assertive supporting cast. A staple of Hawaiian cuisine since, oh probably the dawn of the volcano, the poke bowl has found itself a place in mainland-style foodie trendiness, right alongside acai bowls, power bowls, and cereal bowls.
Yeh, I'm kidding about the cereal bowls, wink wink. Let's not get crazy about what sort of vessel you serve this up in/on. This is so beautiful, so amazingly delicious, so easy to assemble together on the fly (NO COOKING INVOLVED AT ALL no lie), that you would probably eat it out of a shoe if I gave it to you like that. I know I would.
Okay … make that a brand new, super clean, very fancy, really nice shoe.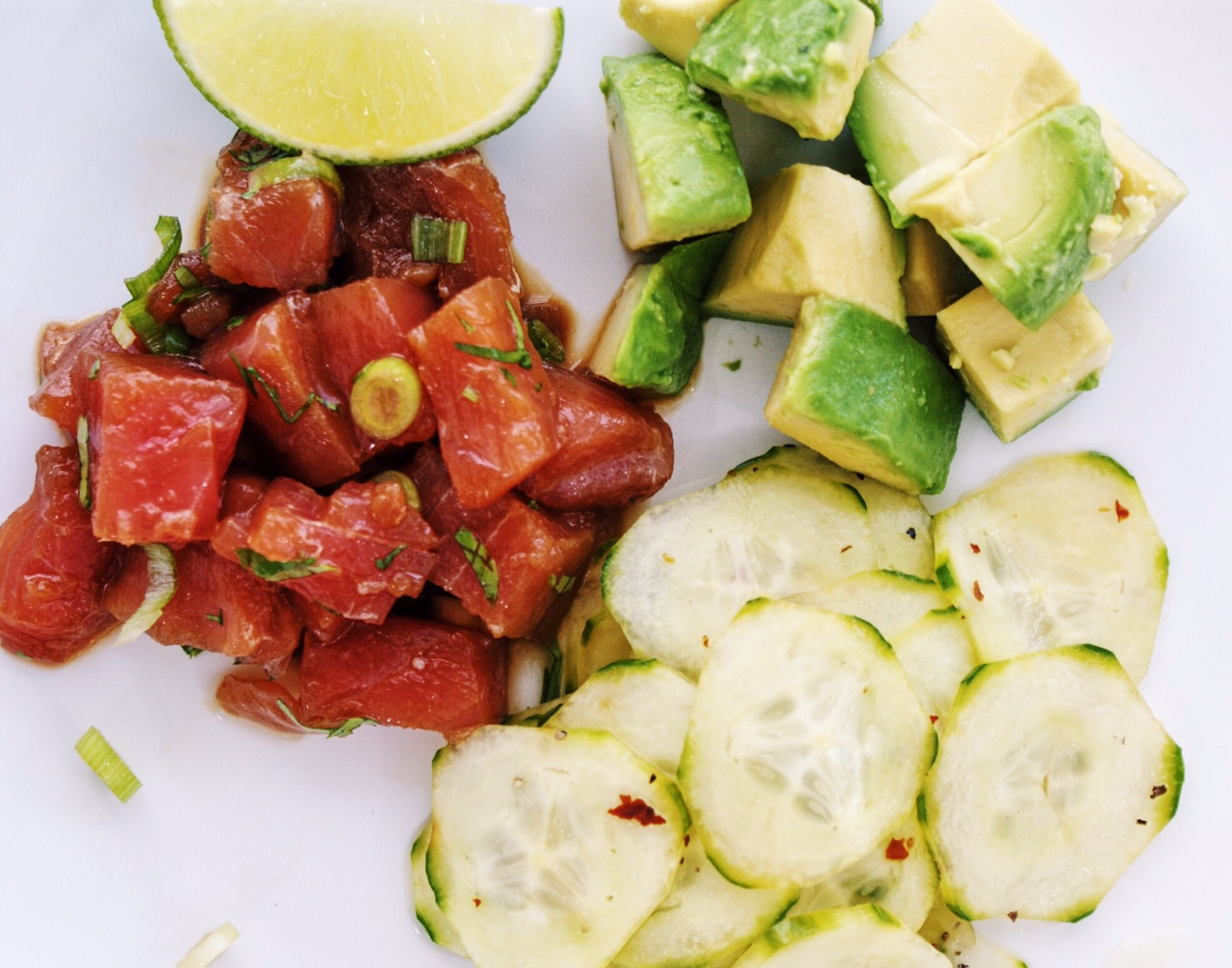 But no need to go there. I suggest we serve it on a plate, and the reason I'm jumping off the bowl bandwagon is pretty simple….
No rice. Nope. Not for me. I'm lazy and I want to get this together quick! I can't even do chopsticks because they slow me down. DO you know how long it takes to cook rice? Well, neither do I because I never make rice but I am pretty certain it takes longer than what I've got goin on here…..
Instead of that starchy rice, I say why not chop up an avocado for that bland backdrop of perfection? It's the ideal foil to the silky, buttery unami-ness of the tuna, and so much better for you than rice. Round this out with the sweet-sour spicy crunch of some quickly pickled cucumbers, and you have got the perfect plate.
Save your bowls for soup. And I'll save the shoes for my feet.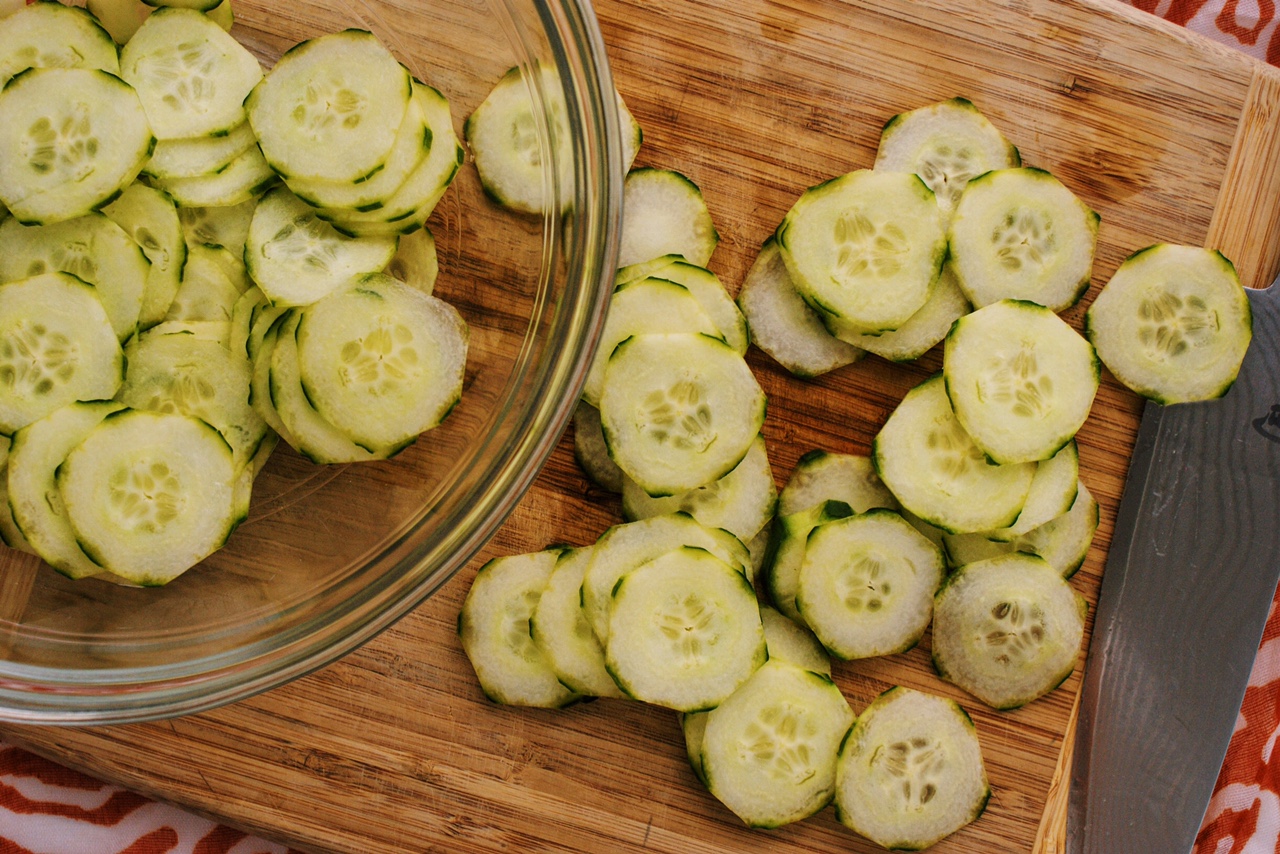 Since we want the cucumber to marinate for a bit we'll start there. I always prefer an English cucumber, no seeds and very little peeling (if any) required. Give it as thin of a slice as you can without slicing off a finger, please. A sharp knife is, as always, your best pal.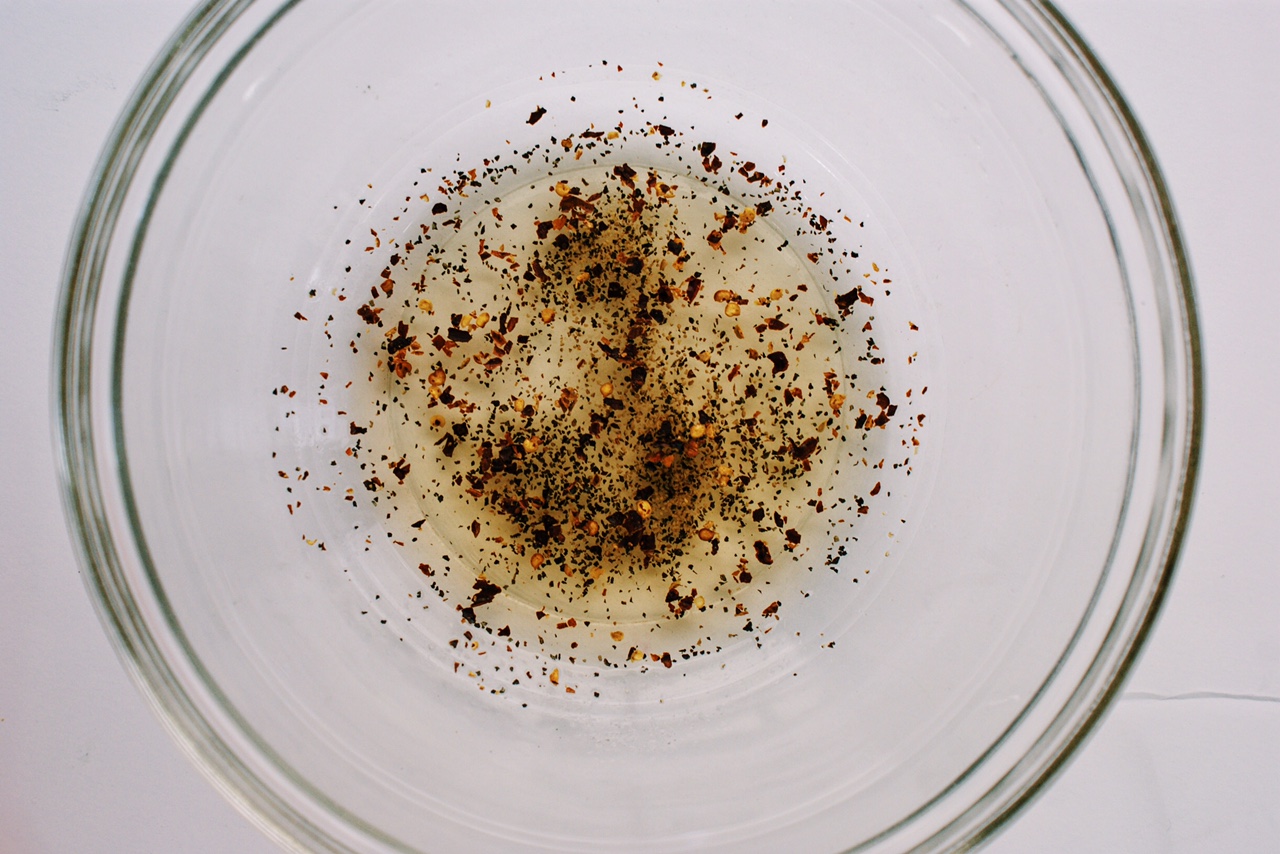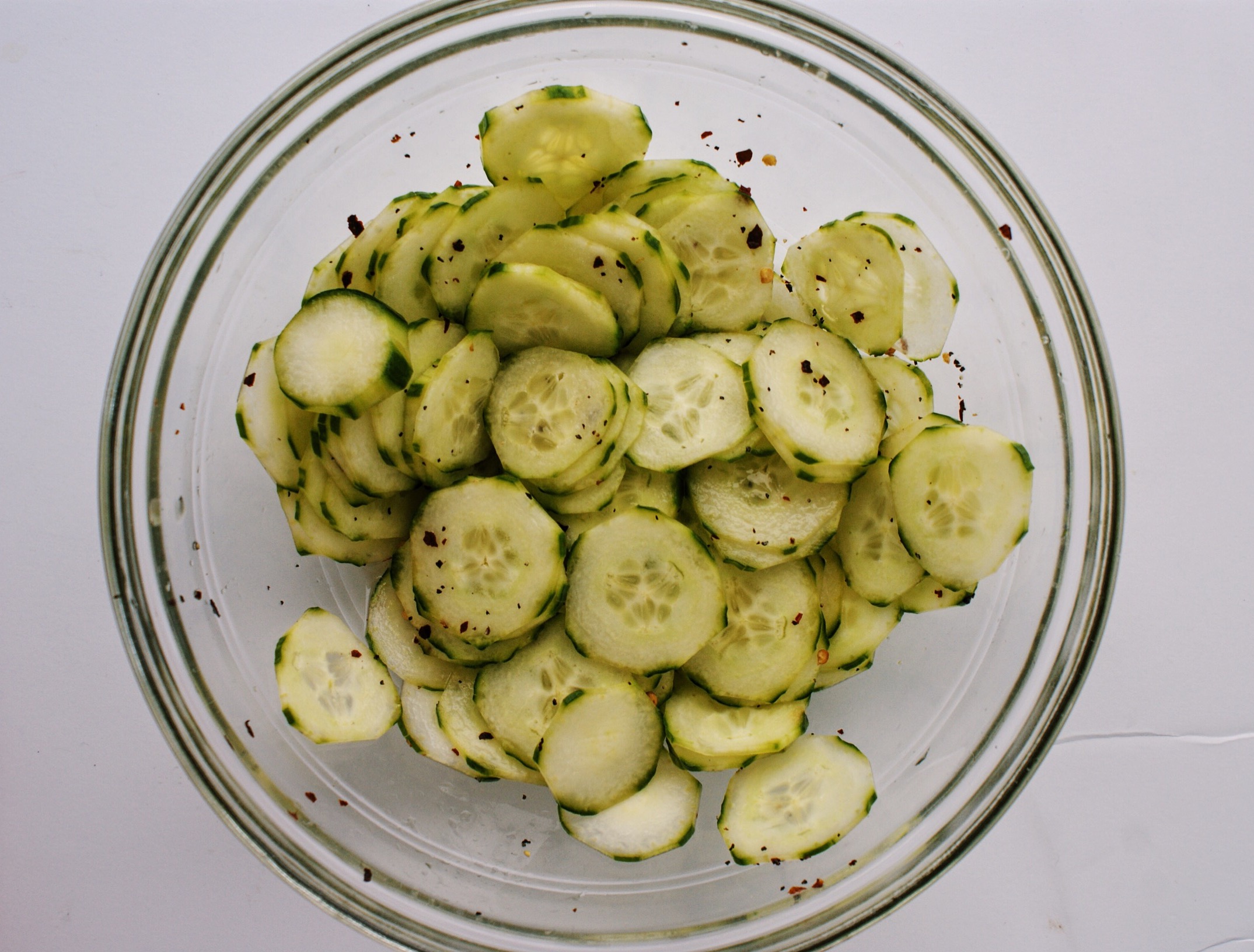 In a fairly shallow bowl, splash in about a 3/4 cup of rice wine vinegar. Add to that about two teaspoons of sugar and give that a good stir until all the sugar is dissolved. What you are going for here is a sweet/sour sorta thang. Give it a taste and add a bit more sugar if you're feeling it. Don't forget a pinch of kosher salt and some cracked black pepper, and for a little kick, a dash or two of red pepper flakes. Plunk in your thinly sliced coins of cukes, and give this a good stir. Pop some saran wrap over the top of this and into the fridge it goes to marinate for a bit. Doesn't get much easier, does it?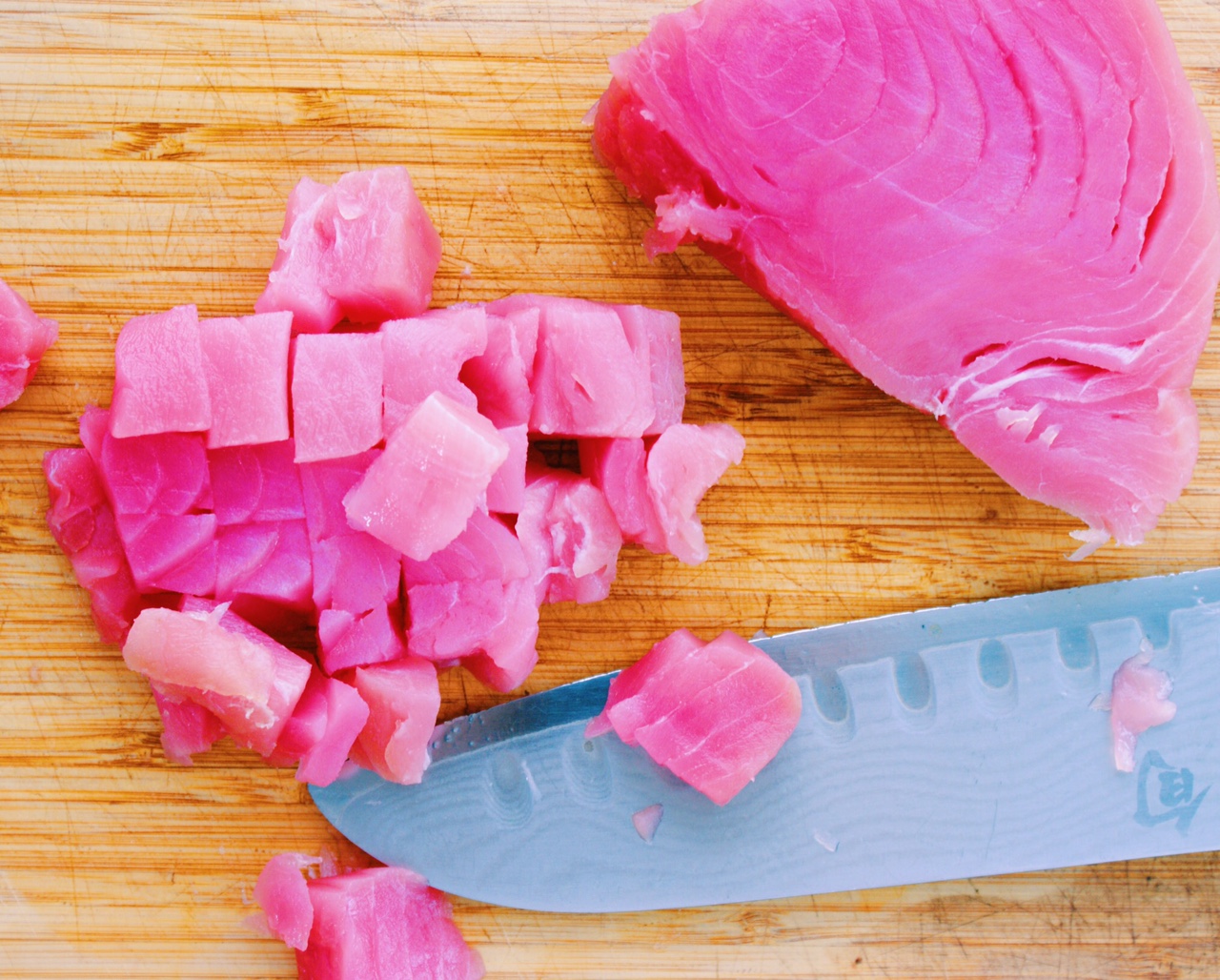 Now what you see here is 1lb of yellowfin tuna, or sushi (ahi) tuna (figure on about 1/4 lb per serving). Make sure to shop where you know it is super fresh, because I don't have to tell you, this is raw fish we are dealing with, and fresh is key! Dice this up into fairly small (about 1/2inch) cubes. If you wrap this in plastic and put it in the freezer for about ten minutes, it will firm right up and make this part a little easier, but truly, you should have no problem with this either way.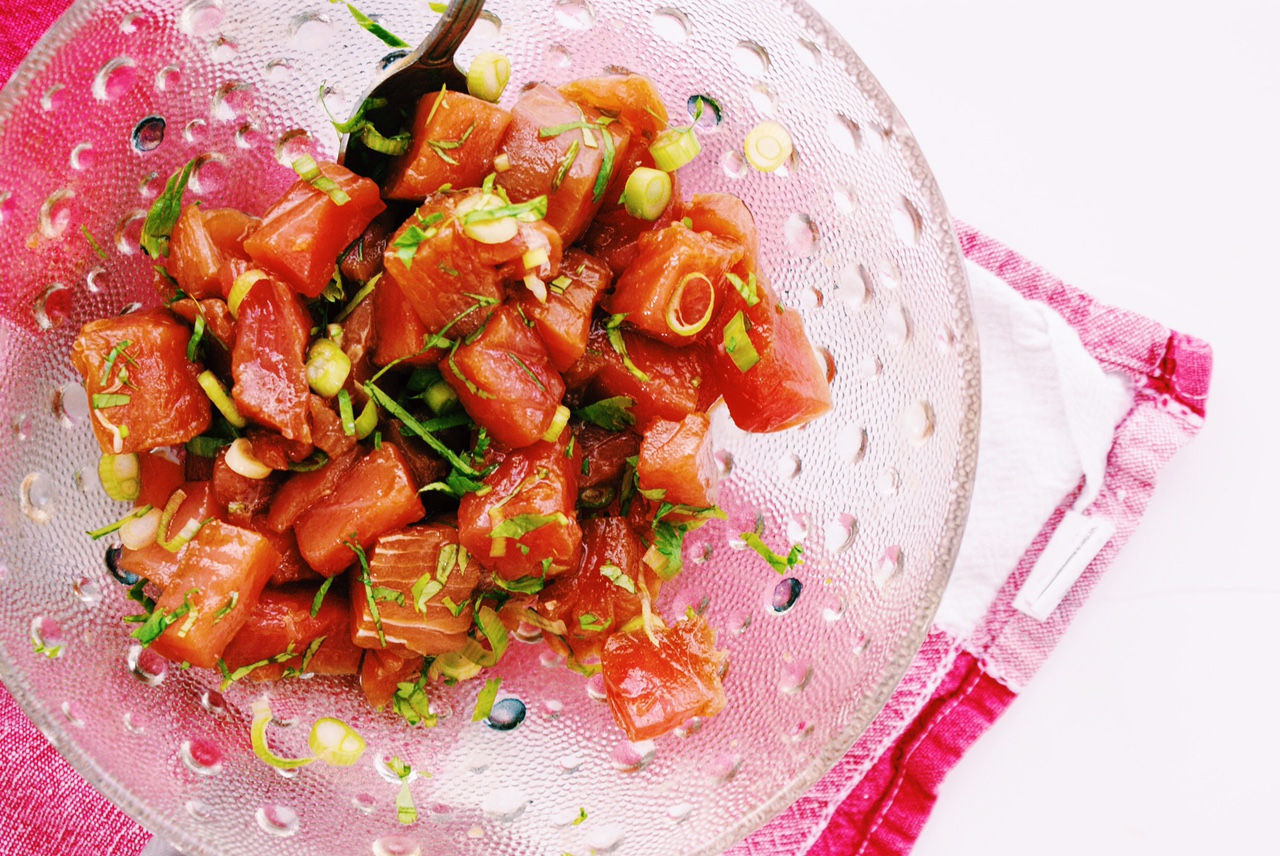 Throw these little rubies into a bowl, and toss them with a drizzle of Tamari (2 tablespoons to start) and 1 teaspoon of DARK sesame oil. BTW, Tamari is just like soy sauce….only better, so get some! You can use soy if that is all you happen to have on hand. Add a tablespoon of rice wine vinegar. These are some really strong flavors so go easy. You can always add more. Taste it! A little sprinkle of chopped green onion and fresh cilantro and you are almost good to go…..all you need to do now is cube up a couple of avocados, and give 'em a little squirt of lime juice and a pinch of kosher salt. Are mangoes available where you are? Oooooh, get yourself a mango and cube it up and add that to your avocado. Sublime simplicity!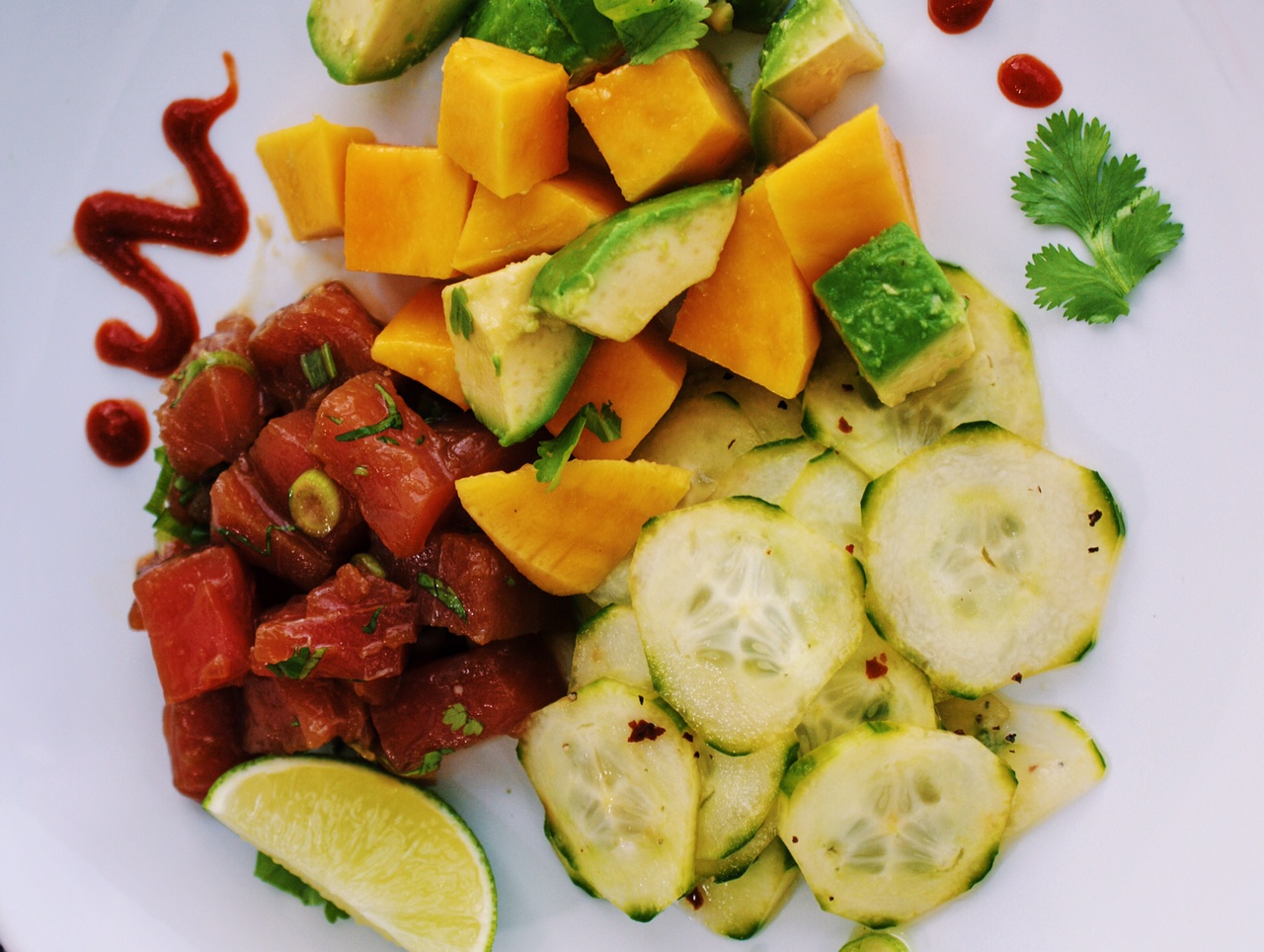 Portion out your tuna, cucumbers, and avocado cubes (with mango if you scored!) into nice even piles and garnish your plate with a spicy streak of Sriracha or two. A slice of lime is perfect to squeeze over EVERYTHING. Is this pretty or what? Lusciously silky, salty, sweetly sour, creamy and crunchy, you get it all.
Everything but a messy stove top. No heat, no cook, no sweat, no stress.
RECIPE BELOW:
Hands on time for this is maybe 15 or 20 minutes, tops! Really! This will serve two to three people…. as long as they aren't lumberjacks or sumo wrestlers. A little goes a long way!
Poke Plate or Tuna with Spicy Cucumbers and Avocado
2016-07-22 18:00:52
Ingredients
1 lb. sushi tuna (this is generally yellowfin tuna)
2 tablespoons Tamari sauce
1 tablespoon rice wine vinegar
1 teaspoon dark sesame oil
1 finely sliced green onion
5-7 sprigs of fresh cilantro, medium chop
For the sides
1 large English cucumber, sliced very thin
3/4 cup rice wine vinegar
2 tablespoons (possibly more) sugar
pinch of red pepper flake
2 avocados, pitted and cubed
1 mango (optional, but great if you can get your hands on one!)
1 lime
kosher salt and fresh ground black pepper to taste
Begin with the cucumbers
In a shallow bowl, combine the sugar with 3/4 cup rice wine vinegar and stir until dissolved. Add salt and pepper to taste. Add more sugar if desired. Add the red pepper flake. Gently stir in the sliced cucumbers. Cover with plastic wrap and set aside in the refrigerator.
Cut the tuna into 1/2 inch cubes, it's best to try to cut with the grain. Place the tuna into a medium bowl, and gently toss with the Tamari sauce, dark sesame oil, and extra tablespoon of rice wine vinegar. Scatter with the chopped green onion and cilantro and toss again.
In a small bowl, combine the cubed avocado with the cubed mango. Squeeze the juice from 1/2 of the lime over this. Sprinkle with kosher salt to taste.
To plate
Portion out a pile of tuna, a pile of the cucumbers*, and a pile of the avocado onto a plate. Garnish with a swipe of Sriracha. Serve with lime wedges.
Eat. Be happy.
Notes
*If you feel the cucumbers are a little too tangy/vinegary for your taste, go ahead and add a drizzle of olive oil, maybe a tablespoon or so, to the mix. That will mellow those babies right on out for ya.
Kick and Dinner http://kickanddinner.com/