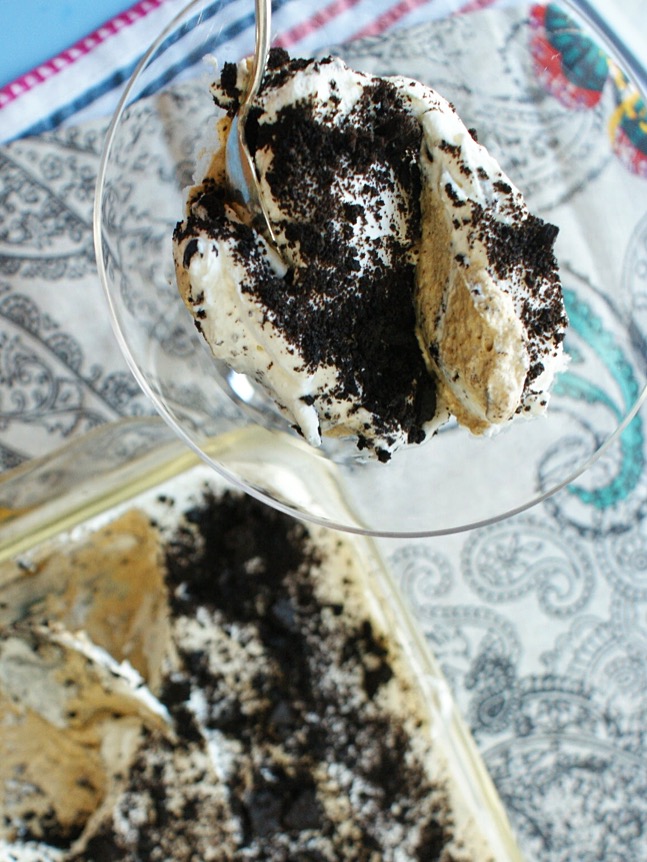 So have you reached your annual pumpkin spice saturation point yet?
I really hope not.
Because if you are a lover of this classic fall flavor favorite, you will want to make this. STAT.
A luxurious larder of lush heavy cream, whipped until irresistibly fluffy and then folded into a cinnamon spice scented base of slightly sweetened pureed pumpkin and silky ricotta cheese, layered with crushed chocolate wafer cookies that just get better as they soften and meld together in the refrigerator………
Are you feelin me? This is one super easy, amazingly delisioso, decidedly decadent, pumpkin spice dessert. No bake even, no fuss, all pumpkiny spice perfection.
And at the risk of jumping on the bandwagon, I must admit I had to do it.
'Tis the season of all things orange and squashie, amirite? And speaking of squash…….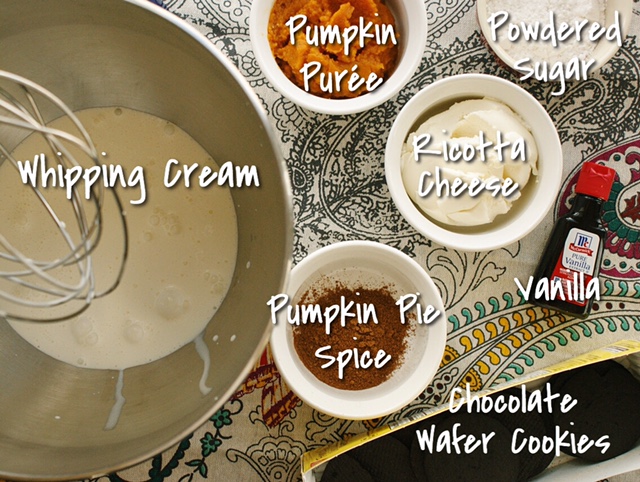 See that box of plain old chocolate wafer cookies down there in the corner? Go ahead and put about eight of them into a partially sealed freezer baggie and squash 'em up into smithereens with a rolling-pin (or whatever you may have to do the job…be creative!). Just give them a good bashing until you have cookie crumbs, basically. We'll get back to those in a minute.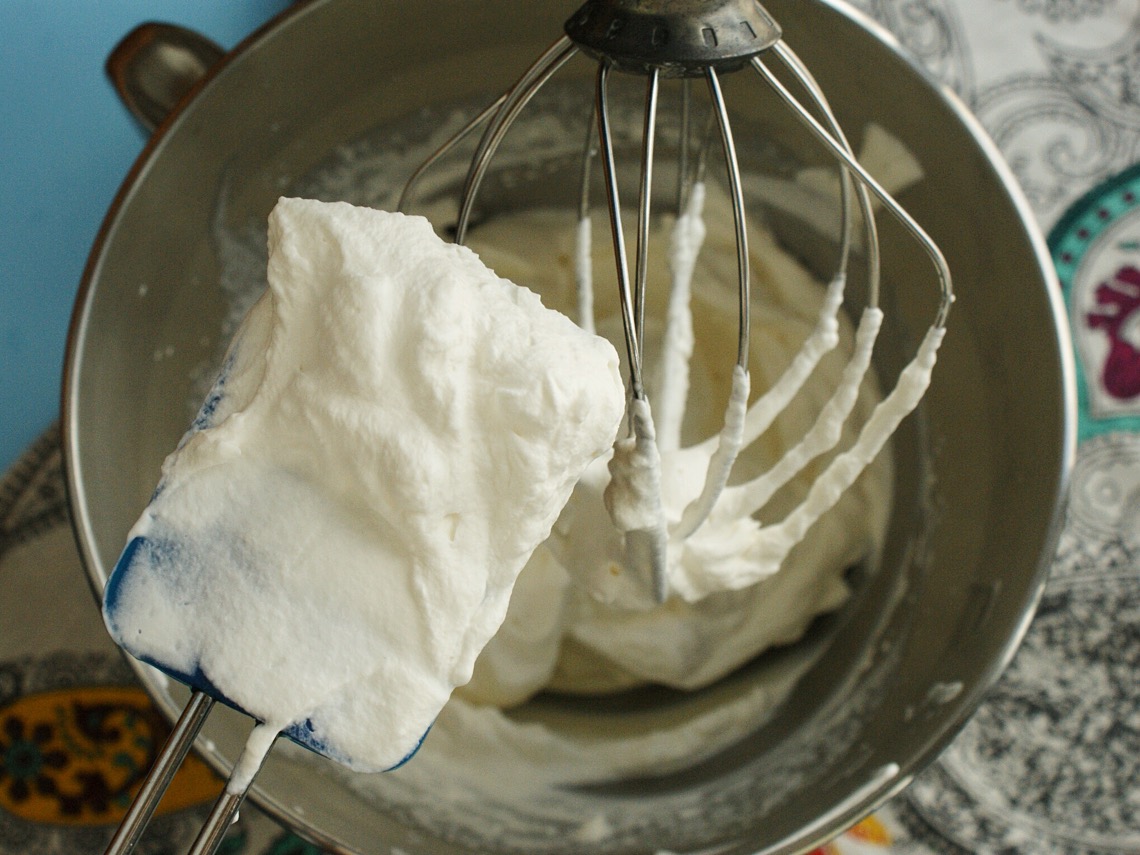 Into a large mixing bowl goes a cup and a half of heavy whipping cream. Add 1 teaspoon of vanilla extract and 2 tablespoons of powdered sugar and give this a good beat down until it is light and fluffy. This should only take a couple of minutes. Once that is looking good scoop out about a cup of your lovely white cloud of yum and park that away in the refrigerator. For now we'll be working with what's left.
In a separate bowl, mix together 1/2 cup pureed pumpkin (NOT pumpkin pie filling, just plain old regular canned pumpkin) 1/2 cup of ricotta cheese, three tablespoons of powdered sugar and two teaspoons of pumpkin pie spice*. Get everybody nicely incorporated here.
*Wait…. you don't have pumpkin pie spice (whaaaat?) hanging around the house? Okay, you can use straight cinnamon instead, and I won't tell anyone. Maybe you are feeling your inner Amish and want to make your very own batch of actual pumpkin pie spice mix? Oh, heck yeah, it is so super easy, check it out here (that's what I did…and I'm feeling pretty good about it). Simplest culinary DIY ever.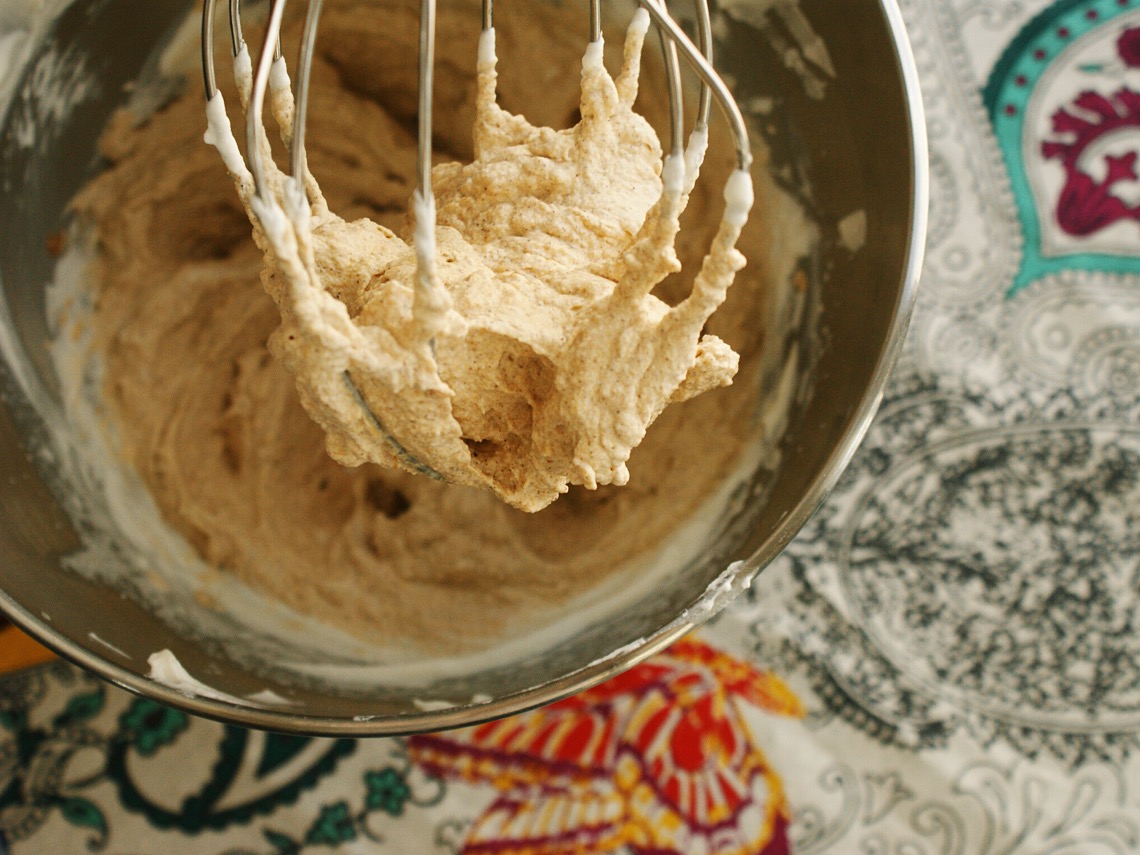 Now combine that pumpkin spiced smoosh with the whipped cream you have left waiting for you in your original bowl. Just turn on the mixer (or your hand-held beaters, if that happens to be your method of choice) for a few seconds to start the blending action, then get out a rubber scraper to fold everybody gently together by hand; you don't want to over whip or deflate your cream here.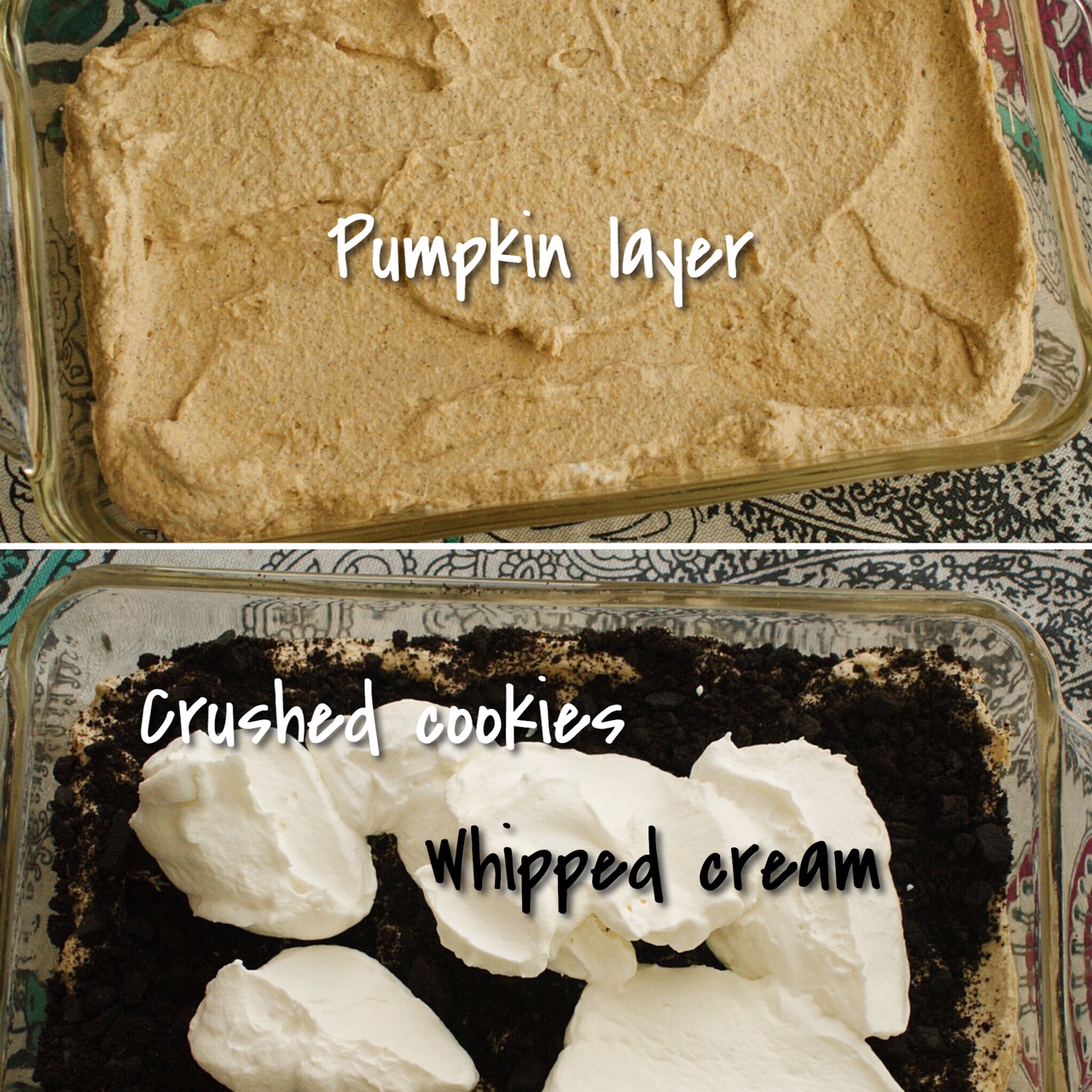 Once your pumpkin mixture is looking evenly orange spread that down into a 1-1/2 qt (or thereabouts) serving dish. Sprinkle half of those crushed chocolate cookies over your pumpkin mousse base and then get out the cup of plain whipped cream that you held out earlier. Plop that out in fat dollops over the cookie layer.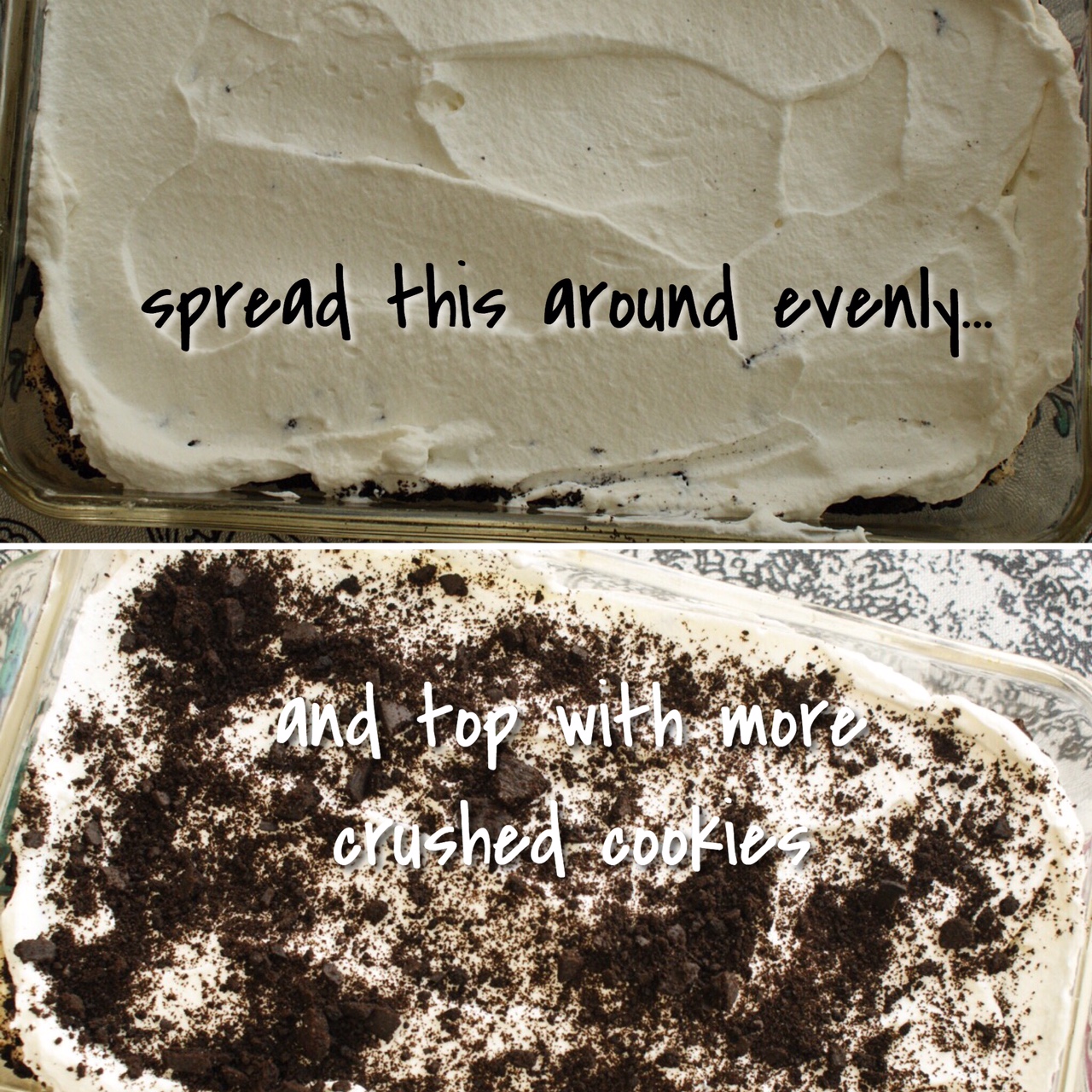 Carefully spread the cream out. It helps to keep the spatula (or back of spoon, or whatever you are using) in a continual, even spreading motion, as if you were smearing icing on a sheet cake. If you lift it up, UP comes the cookie layer with it, and you'll get yourself in a bit of a pickle….. so commit to the swipe like a windshield wiper and give it a confident swoop. Once you've got that all evenly spread out top it off with the remainder of those crushed cookies. Cover this beauty with some saran wrap and into the refrigerator it goes for some chilling time. How easy was that?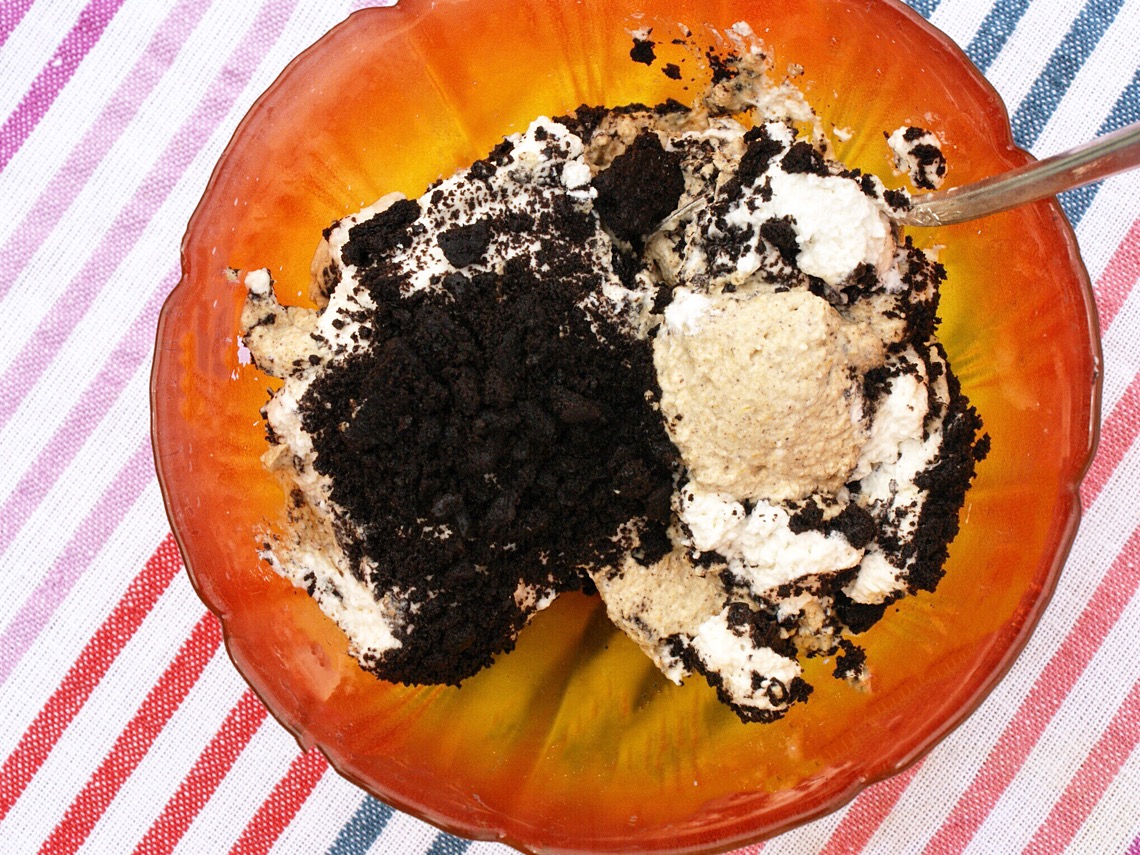 And there you have it, in all of its delicately whipped pumpkin perfection. Not too sweet, not too "squashie"- like, kissed with a bit of a chocolate crumble goodness, this creamy concoction will pump you up over pumpkin spice.
As if you needed the encouragement.
RECIPE BELOW:
You may spend a whole fifteen minutes putting this together, and that's if you're really pokey. Let it chill at least an hour. This makes about six servings, and for the sake of easy I just plop it all down into one serving dish. If you want to get fancy you can always layer this out into individual dessert bowls, or even some fun martini glasses. Portion control! Not a bad idea with this stuff. So addictive you should be required to have an Rx to eat it! YUM!
Pumpkin Spice Mousse
2016-10-11 13:24:05
Ingredients
1 1/2 cup heavy whipping cream
1 teaspoon vanilla extract
5 tablespoons powdered sugar (2 for the whipping cream and 3 for the pumpkin mousse)
1/2 cup pumpkin puree
1/2 cup ricotta cheese
2 teaspoons pumpkin pie spice
8 chocolate wafer cookies (like Nabisco), finely crushed
Instructions
Beat the heavy cream along with the vanilla and 2 tablespoons of powdered sugar, until soft peaks form. TIP: pop your bowl into the freezer for about ten minutes before you begin. The colder everything is, the easier and faster the whipping will be.
Remove a cup of the whipped cream (this will be the topping), set aside in the refrigerator.
In another bowl, combine the pureed pumpkin, ricotta cheese, and 3 tablespoons of powdered sugar until smooth and well incorporated.
Turn the pumpkin mixture into the whipped cream mixture you have in the original mixing bowl (not the cup you have set aside). Blend this together for a few seconds with the mixer or beaters, and then gently fold everything together by hand, so as not to over-work the cream.
Turn this mixture into a 1-1/2 quart size baking dish, and spread out evenly. Sprinkle this layer with half of the crushed cookies.
Spread the cup of reserved plain whipping cream over the cookie crumbs. Do this by spooning out dollops of the cream, and then spreading it out in a continuous motion with a spatula or back of a spoon. Try not to lift it up until you have a nice even layer.
Sprinkle the remaining chocolate cookie crumbs evenly over the top and cover with saran wrap.
Let this chill for at least an hour, the longer the better.
Notes
Stand back, and get ready for the adoration!!!
Kick and Dinner http://kickanddinner.com/