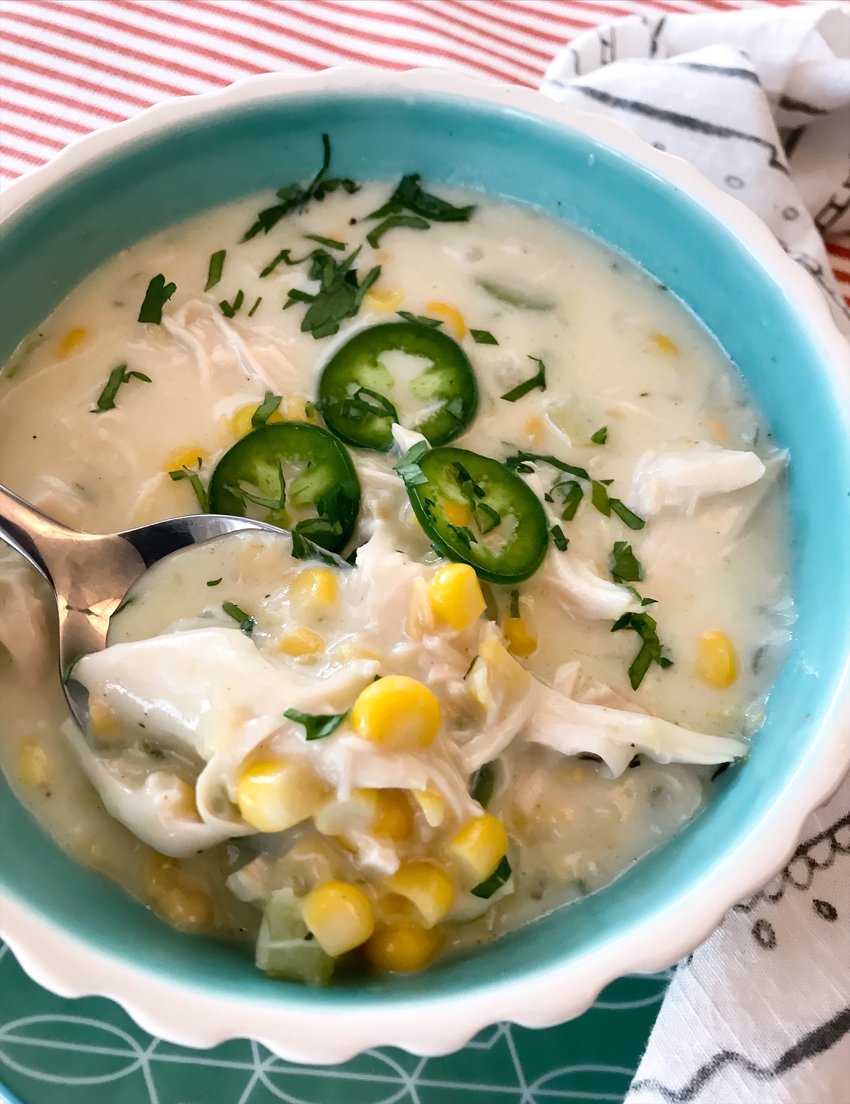 SouP SOUp SOup, fabulous SOUP!
It may not feel like it, as the sizzling summer temperatures outside belie the fact that it is indeed officially FALL; but by gawd if the autumnal equinox didn't do its astronomical thing a few days ago (September 22, to be precise) and here we are!
This of course means it's time for all of those good things we humans were bred to view as snuggly and comforting……like flannel shirts, pumpkin spice lattes (have you SEEN the new fall cups at Starbucks? KA-Yoot!), the smell of a fireplace, crunchy autumn leaves and the boots you get to finally wear again to stomp 'em.
It's all FALL, and although no time is a bad time to nourish the bod and soothe the soul, there's nothing like this time of year to get me hankering for a big, steamy, satisfying, something- something like this: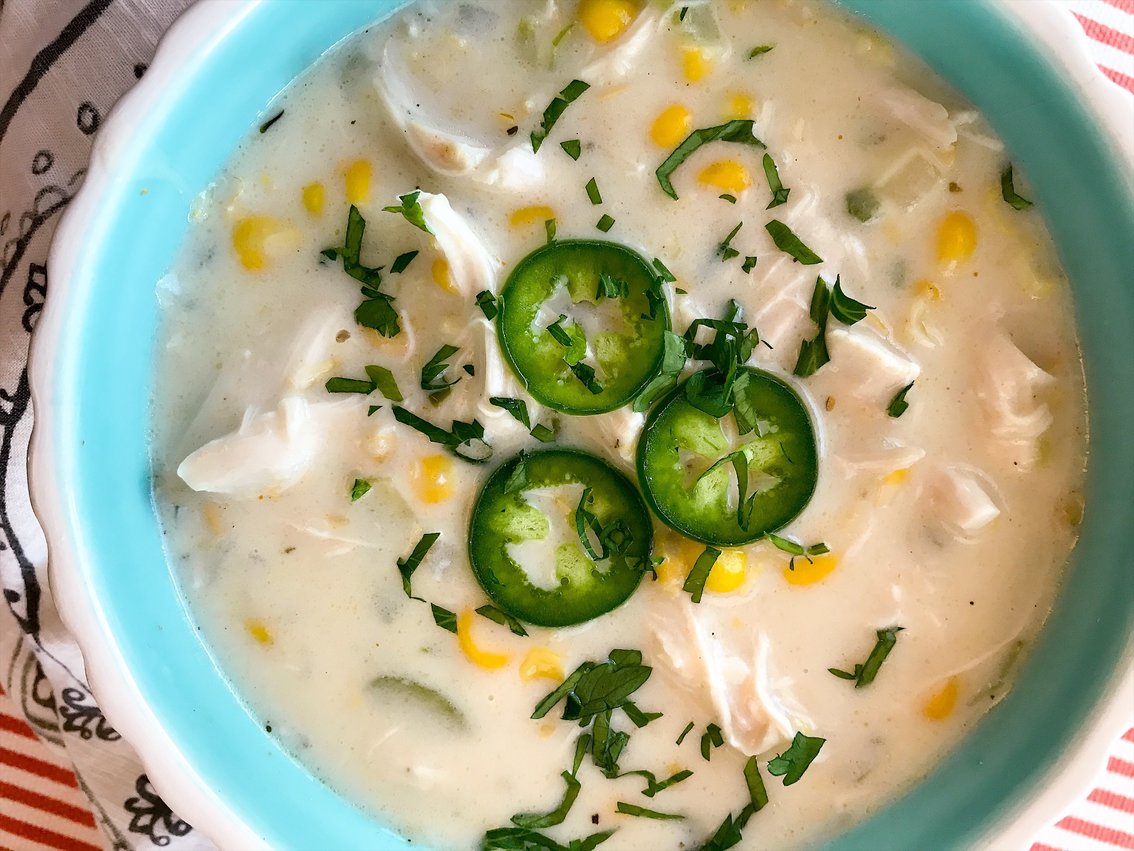 Hug-in-a-bowl ALERT…
Perfectly roasted chicken and sweet corn come together in a velvety base that includes onion, celery and jalapeño……all sweetly sautéed together to hold up this thick and creamy chowder. No potatoes, no cream yet STILL luxuriously rich and silky, this supper soup is super easy, super filling, and super freaking delicious. Happiness sits at the end of your spoon.
Like Grandma used to say….
Soup = love……….
(or at least a little therapy).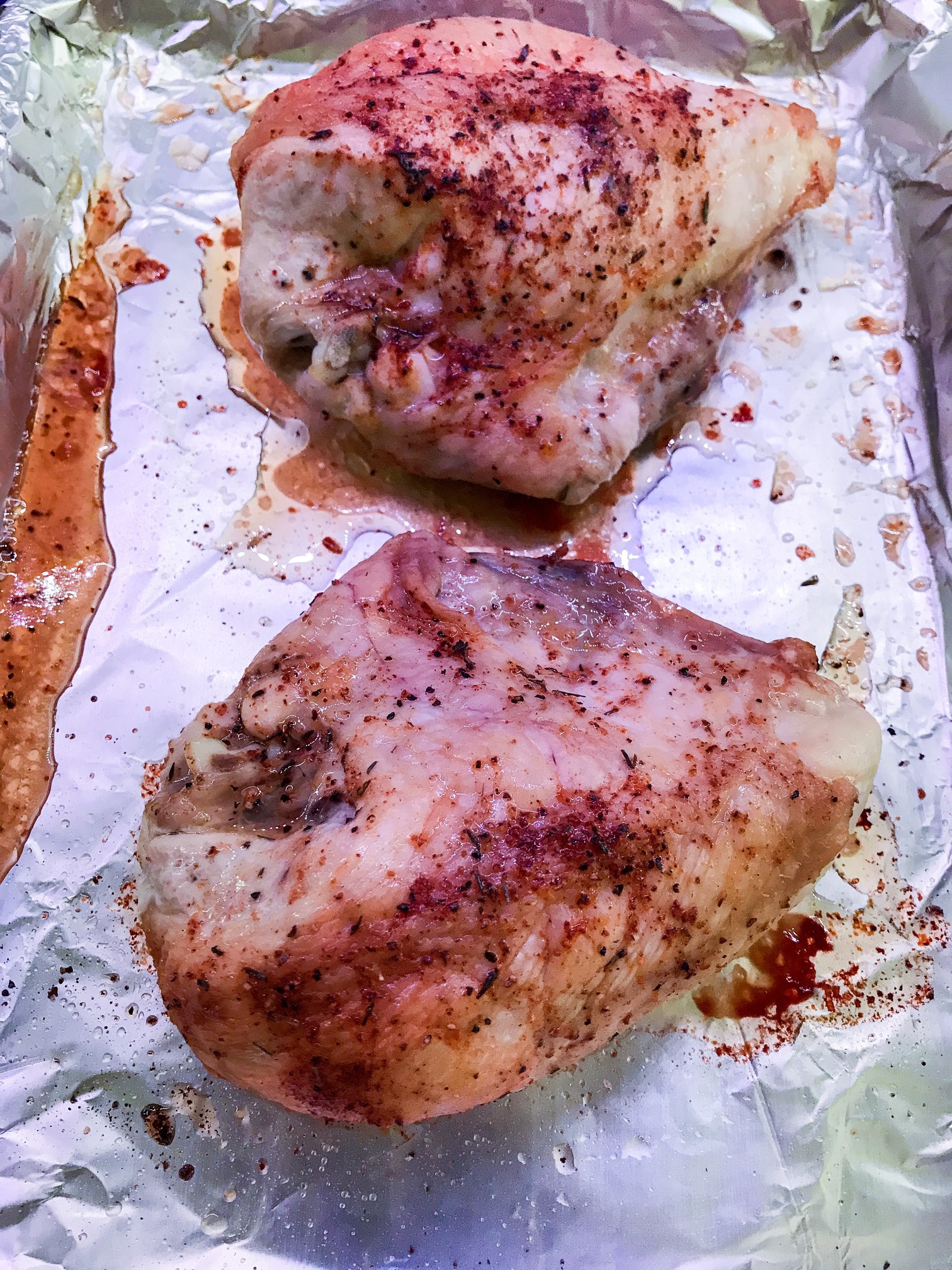 What is really great about this recipe is that you can take some shortcuts and still end up with excellent results. I started with two bone-in skin-on chicken breasts, seasoned them up (both sides, please!) with my favorite spice mix (see how to mix that together here, or just use whatever you like!), and into a 400° oven they went for 35 minutes.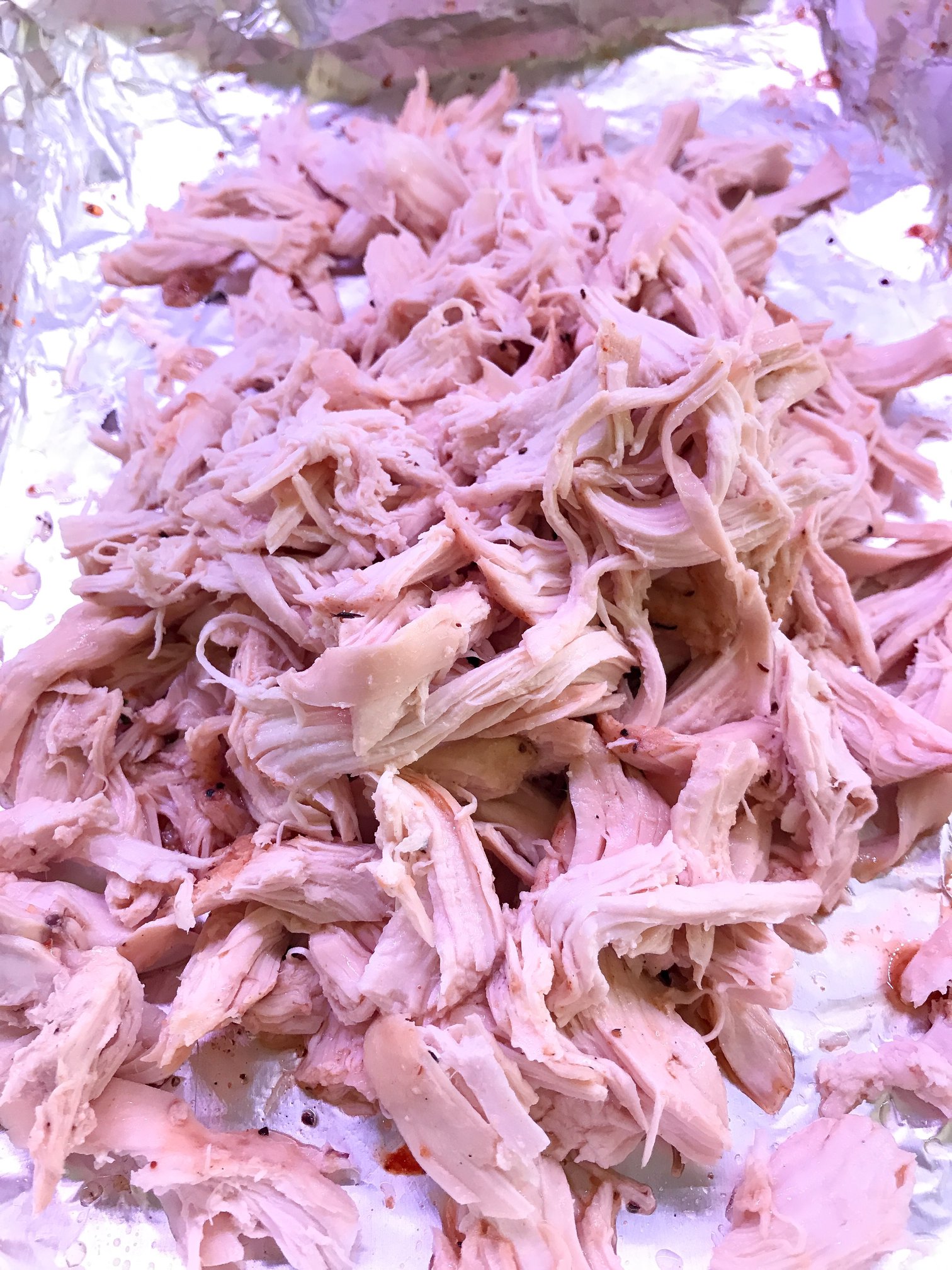 But if you are short on time, just grab a rotisserie chicken at your local grocery store and shred that baby up instead…..no problemo!
Chop up some onion…….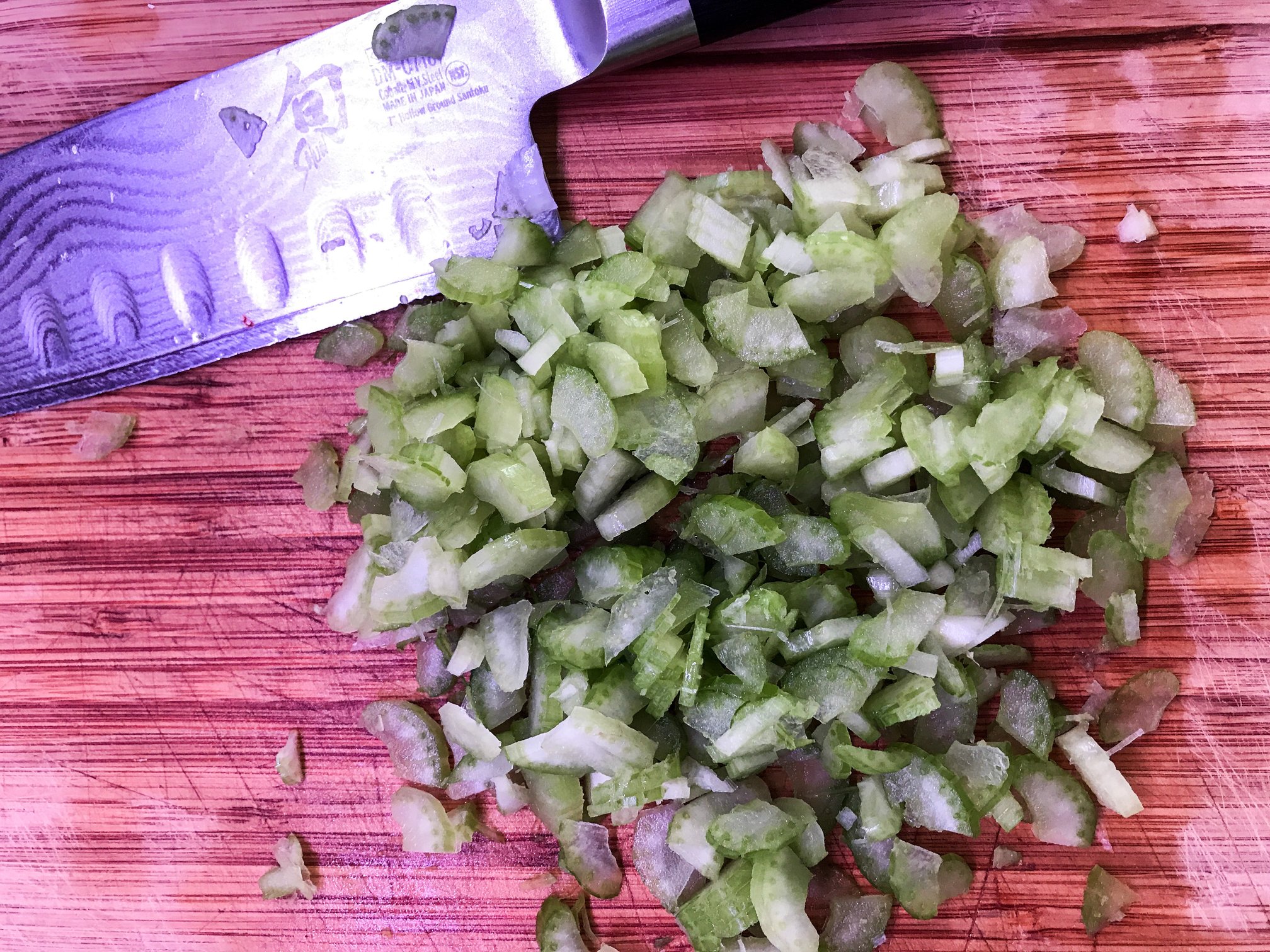 a couple of stalks of celery…….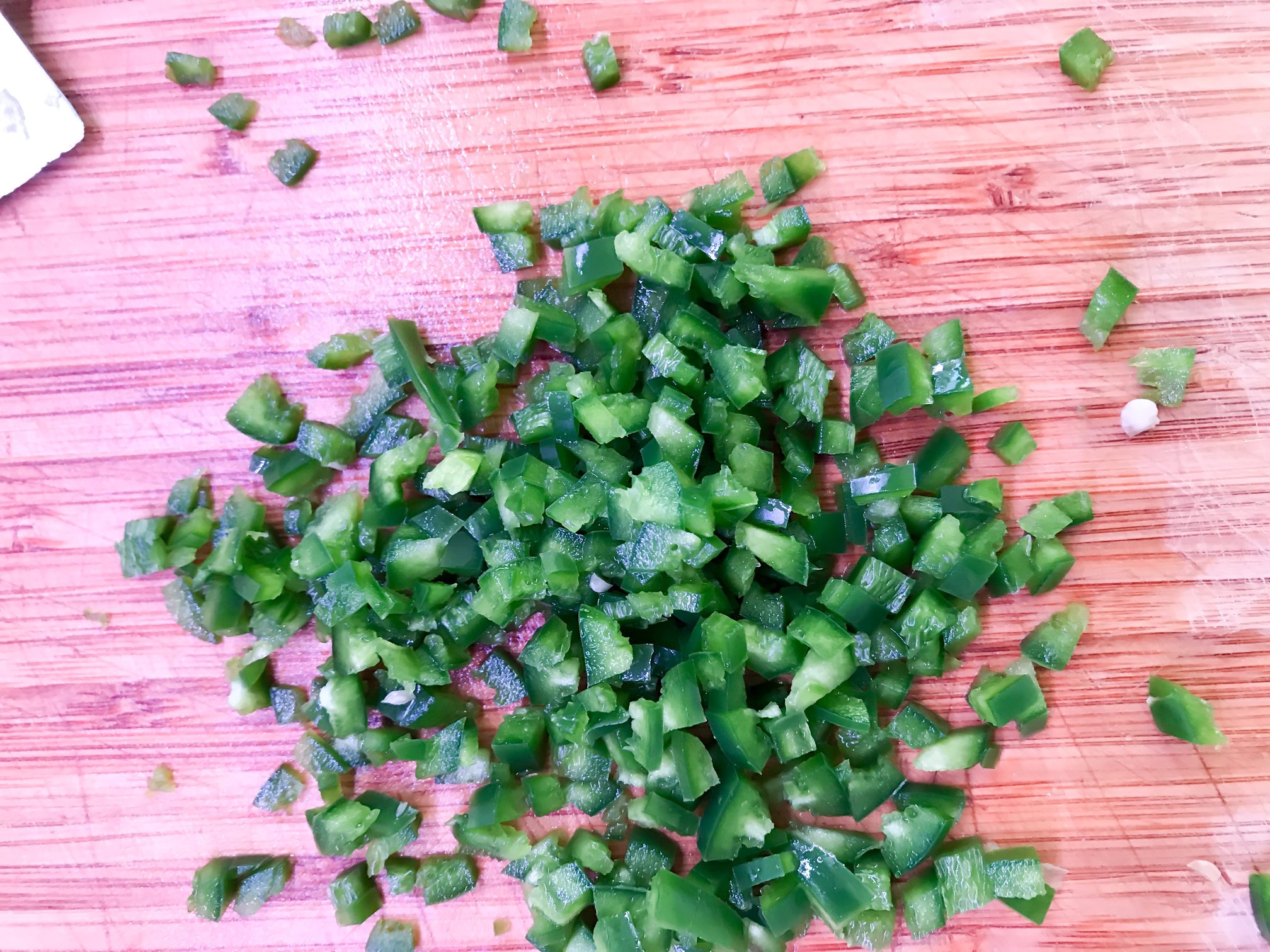 and finely dice one jalapeño pepper. Make sure to remove the seeds and membrane…..and don't fear the heat in these little guys, the cooking process mellows them waaaaay out.
Into a big soup pot these aromatics go with a few tablespoons of olive oil. Spin these around on medium high heat for about ten minutes, and then add some flour and cook and stir that in for another minute or two. Then it's just a matter of whisking in some milk, chicken broth, and some spices……and you are on your way to the races! Chuck in that chicken, dump in some corn (fresh is great or take the shortcut I did and use frozen), warm it through….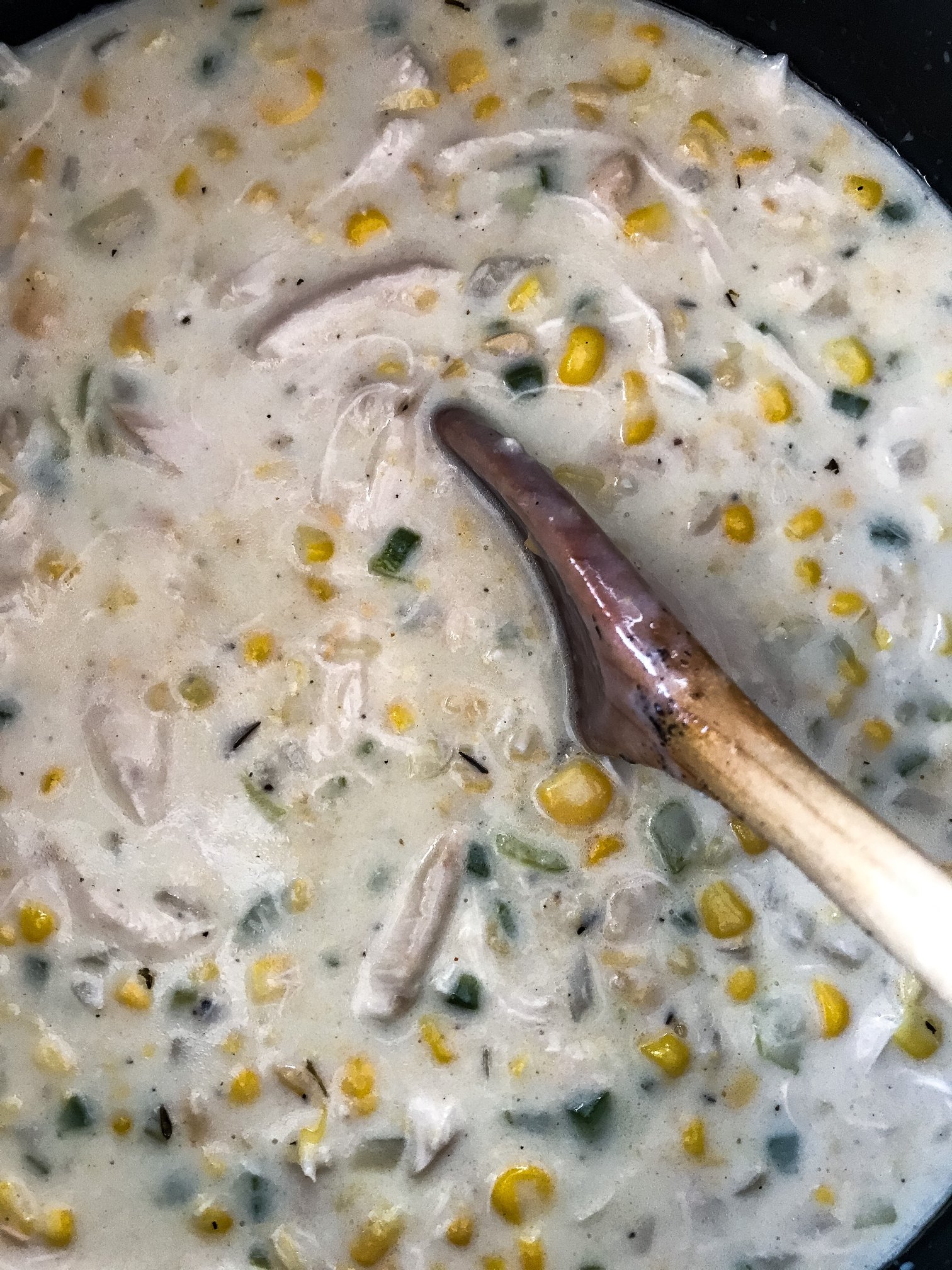 And you've got yourself some creamy, silky, slightly spicy sumptuous-ness! If you feel the call of the wild, add some chopped green chile to this and you may just lose your mind! Now kick off your shoes (if you haven't already) and go get comfy.
Call of the Fall. Yum.
RECIPE BELOW: This makes plenty enough for four servings plus leftovers! Spread the love around, I say! All the chopping and cooking takes less than 20 minutes, I promise. If you choose to roast your own chicken, however, you'll need an hour of mostly hands-off time. 35 minutes for the chicken in the oven, and a little extra cool off time so that you don't burn off your fingerprints while shredding it up. Rotisserie chicken works in a pinch here, nothing like a good short-cut.
Quickie Chicken-Corn Chowder
2017-09-26 14:28:58
Ingredients
2-3 tablespoons olive oil (plus extra)
1/2 large yellow onion, finely chopped (about a cup)
2 celery ribs, finely sliced and chopped (about 3/4 cup)
1 jalapeño pepper, seeded and finely minced
2 tablespoons all-purpose flour
1 cup chicken broth (plus extra)
2 cups milk (whatever kind you like, I used whole milk because that's what I put in my coffee!)
2 bone-in skin-on chicken breasts (OR, skip this step and just buy a rotisserie chicken, shred that up until you have about two cups)
3 ears of fresh corn kernels (OR (1)one 10-oz bag of frozen sweet corn)
1-14 oz can of cream-style corn (ah-ha! the secret ingredient!)
1/2 teaspoon dried thyme
1/4 teaspoon cayenne pepper
Salt and fresh ground black pepper to taste
OPTIONAL
Thinly sliced jalapeño to garnish
Finely chopped parsley to garnish
Chopped Green Chile*
Roast the chicken
Preheat your oven to 400°. Pat the chicken dry with paper towels and then liberally season both side with salt and pepper, or any seasoning mix you may like. Place the chicken on a rimmed baking sheet (covered in foil for easy clean up) and drizzle with a bit of olive oil. Place this into the oven (top rack) for 35 minutes. Remove from the oven and set aside until it is cool enough to handle. Once you can, remove the chicken skin and bones, and shred the chicken into bite sized pieces.
While the chicken is roasting
Heat two or three tablespoons of olive oil (enough to coat the bottom) in a large soup pot or Dutch oven over medium - medium high heat. Add onion, celery and jalapeño; stir and cook for about ten minutes, or until tender. Add a pinch of salt to help this along. Add the flour, and stir and cook another minute. Stir in the milk and broth, and continue cooking and stirring until the soup begins to thicken, about 5 minutes. Then add the can of cream style corn, thyme, cayenne pepper, stir to combine. Add the shredded chicken and bag of frozen corn, and let this cook until the chicken and corn are warmed through. Taste for seasoning, and add in an extra splash of broth if the soup seems too thick.
Serve with thinly sliced jalapeño to garnish, or just a sprinkle of parsley - or both!
Even better leftover, you can freeze the remainder for up to a month and make yourself happy in a pinch. Surprise! Lunch awaits in your freezer.
Notes
*Green Chile Lovers.......this soup is AMAZING with the addition of some chopped green chile. SO if you have some in your freezer.......(you know who you are)........and you want to go from happy to ecstatic.......this soup loves chile almost as much as we do.
Kick and Dinner http://kickanddinner.com/