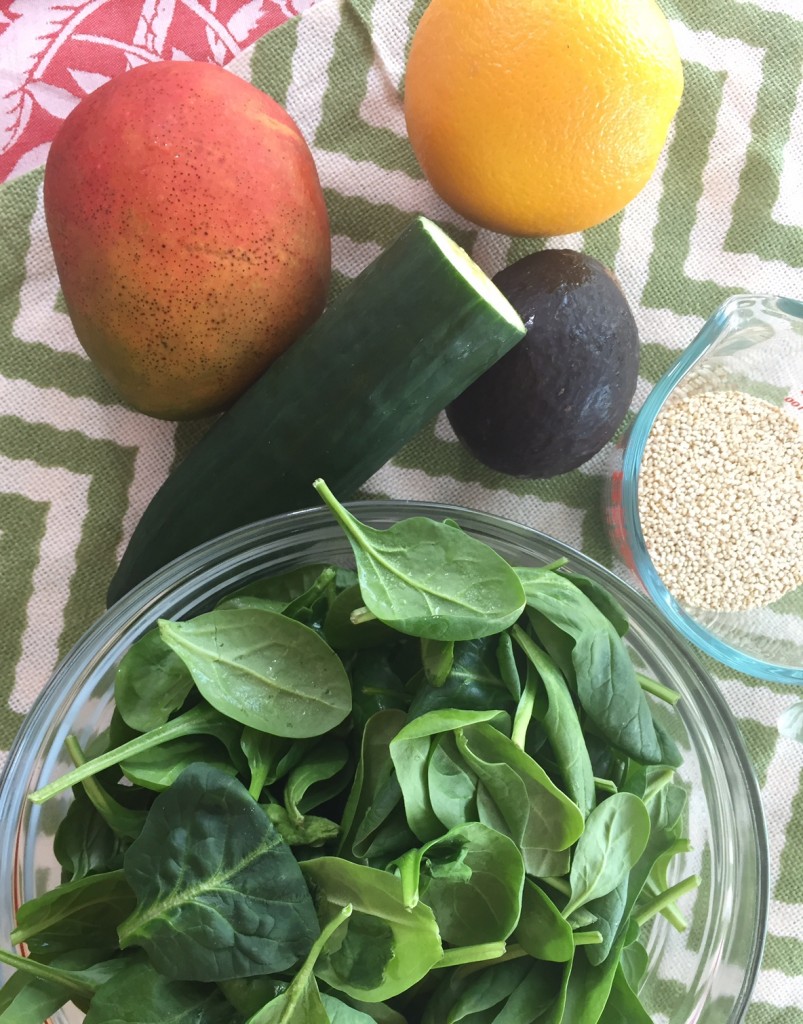 I have good news. No, you didn't win the Publishers Clearing House Giveaway.
Sorry. But, listen………
Mangoes are available in January. Did you know this? I gotta tell you, I absolutely did not so when I spotted them at my not exactly trendy local grocery store I bee-lined right over and snagged a couple….but not without my suspicions. Produce out of season typically equals either way expensive or not-sah-good (usually both). Turns out mangoes have two growing seasons depending on where they're from. January mangoes! This is awesome! No, really, this is exciting stuff!
But only if you like to eat.
So here it is, the beginning of a brand new year and I have to suspect if you are anything like me, you probably wouldn't object to a bit of a time out from all of the crap you've (we've) been consuming over the holidays. Something a little bit lighter? Brighter? Something that will give you a tiny little glimpse of the summer yet to come? Enter the magnificent mango….which is what all of my babbling here has been about….because it is an integral part of this truly tremendous tropically tinged salad. In January, no less! Told you I had good news.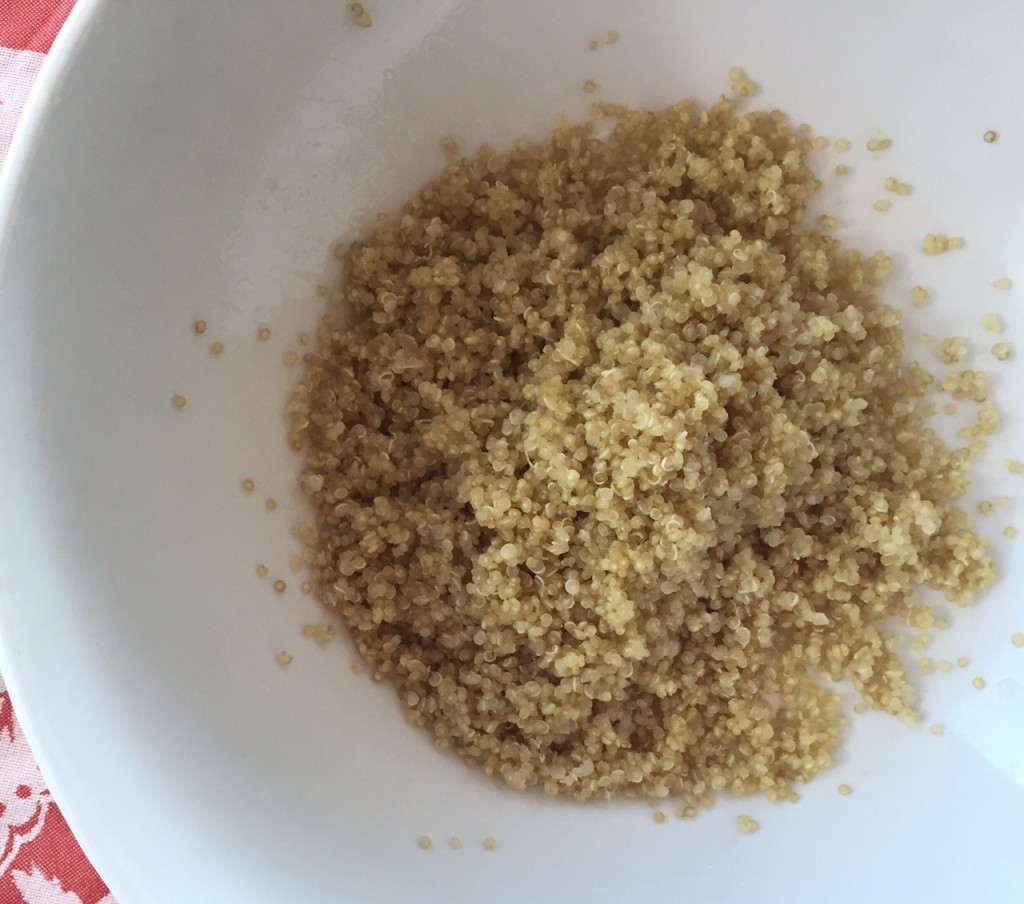 Start with quinoa, but just half a cup! This makes four really generous servings but the amount of quinoa you'll be using is minimal, hence the "kissed" in the title. (You crazy for quinoa? Go ahead and use a cup you wild thing) Get your quinoa cooked up, and then dump it into a bowl to give it a little time to cool. Remember two parts water to one part quinoa and a pinch of salt, bring to a boil and reduce to a simmer, cover and cook until the water is absorbed and you have a nice, fluffy end product. Such a small amount will take no more than ten minutes.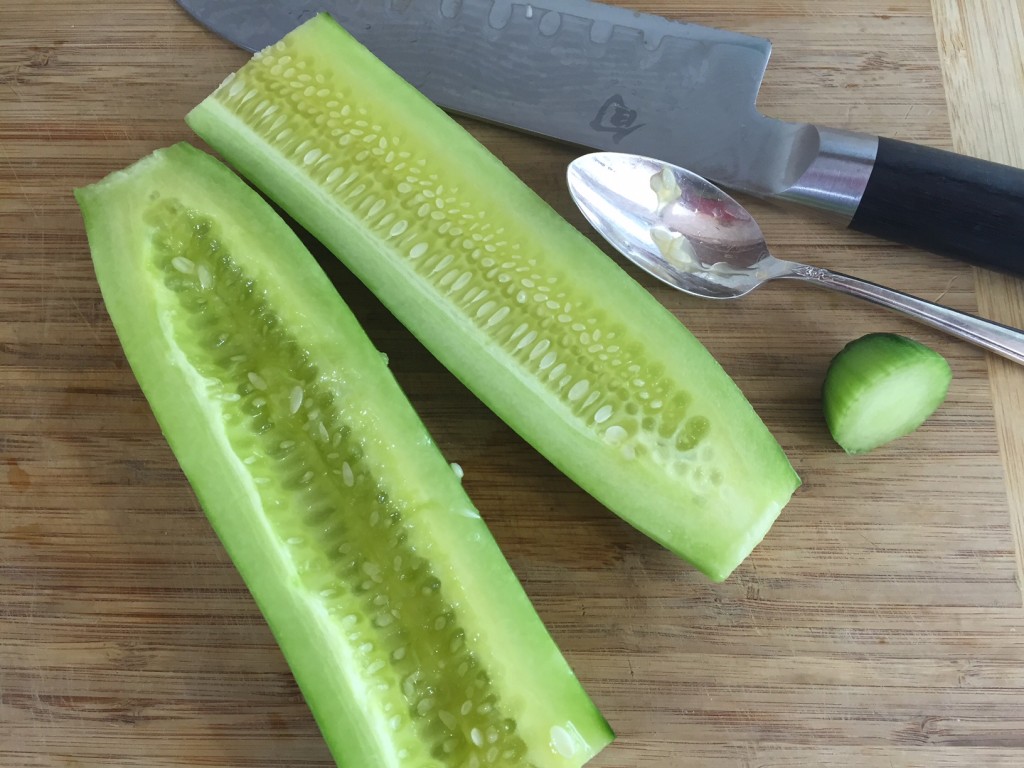 While that's happening, you've got a few veggies to prep. Peel and slice a half of an english cucumber….they really should not be as "seedy" as the one I have here, (which is why I like them – very little to no seeds) but if you find you have that issue, just go ahead and scrape out the seeds with a spoon, no problemo. Less seeds, less water, less dilution of deliciousness! Give them a slice, and into a medium-sized bowl they go.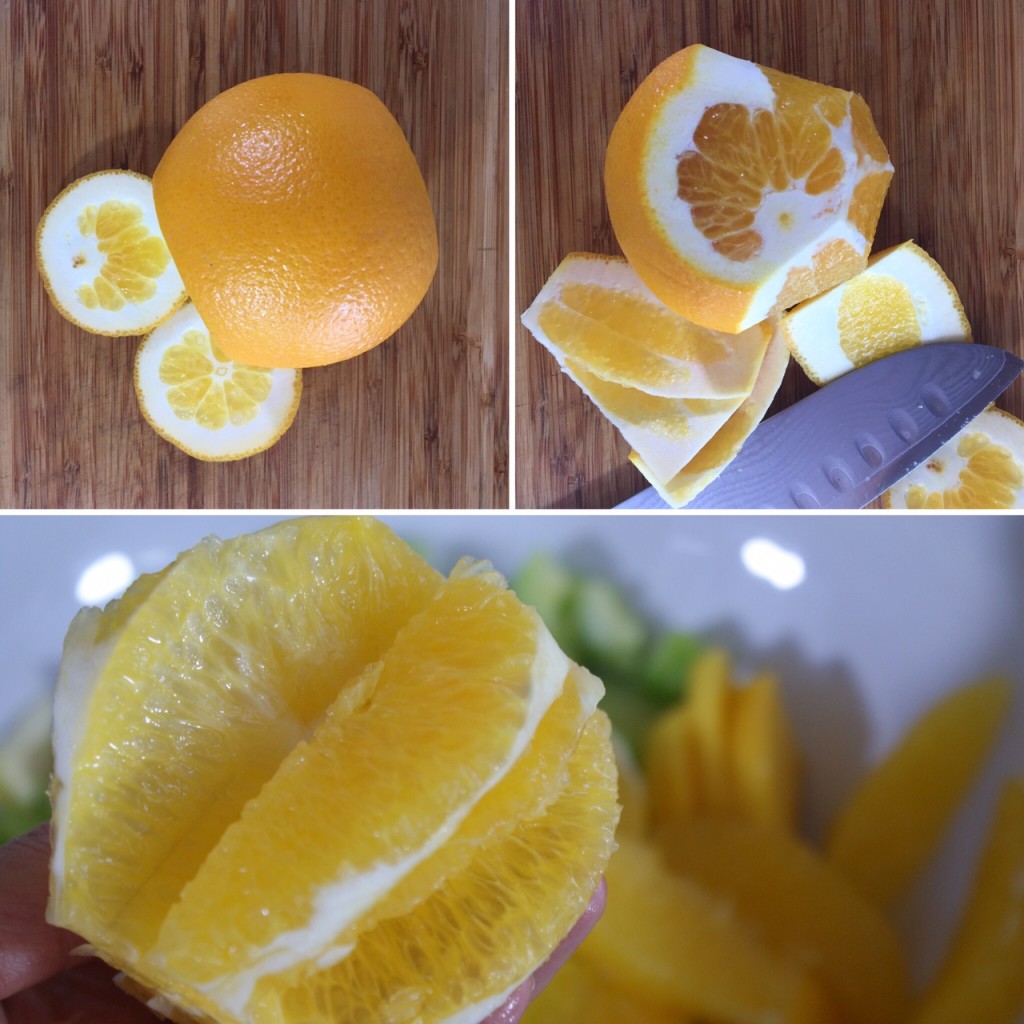 Take that orange and segment it. Essentially cut off the ends and with a sharp knife, cut the peel away from the fruit from the top to the bottom, following the curve of the orange. Try to cut away the skin and pith without taking too much of the fruit. You can always trim up the spots you missed. Then cut each segment from the membrane. Work over your cucumber bowl, they are going to the same party. You'll have perfect little orange wedges. Give what you have leftover in your hand (a big ball of pulp) a squeeze and add that juice to a measuring cup, it should give you about 1/8 of a cup or so.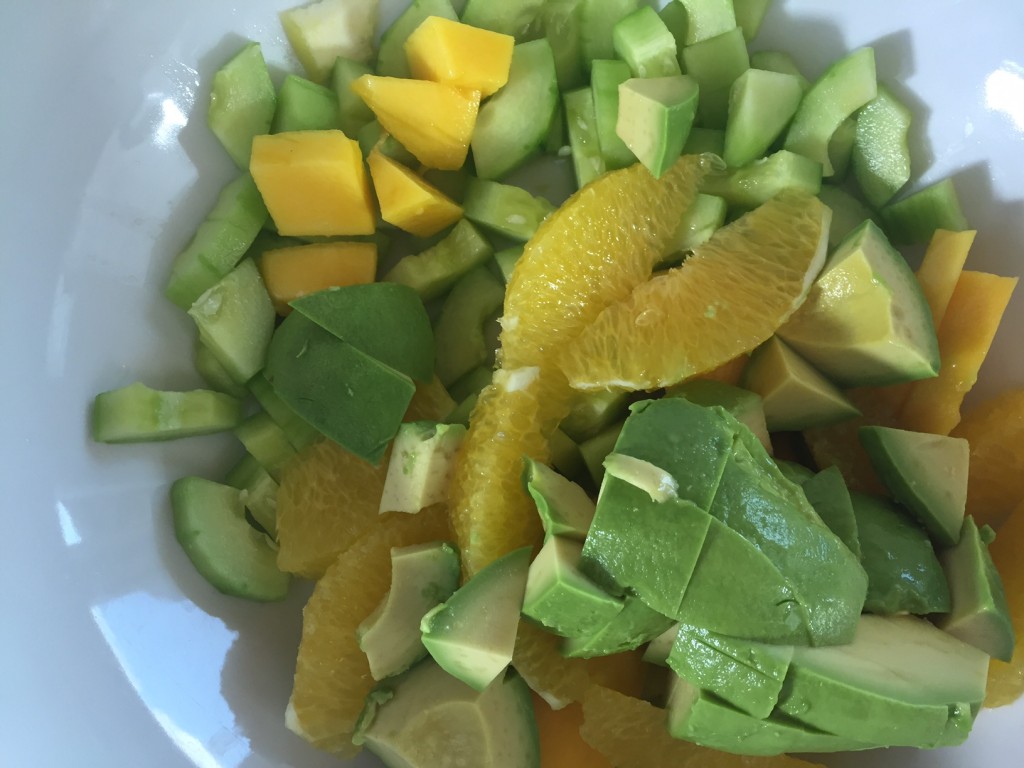 Peel and cube up your mango (if you can't find mangoes or you just don't like em – leave them out! But please – don't tell me, unless of course you WANT to break my heart) and one avocado, and pop those in with your other goodies. Combine gently. Do not abuse the produce.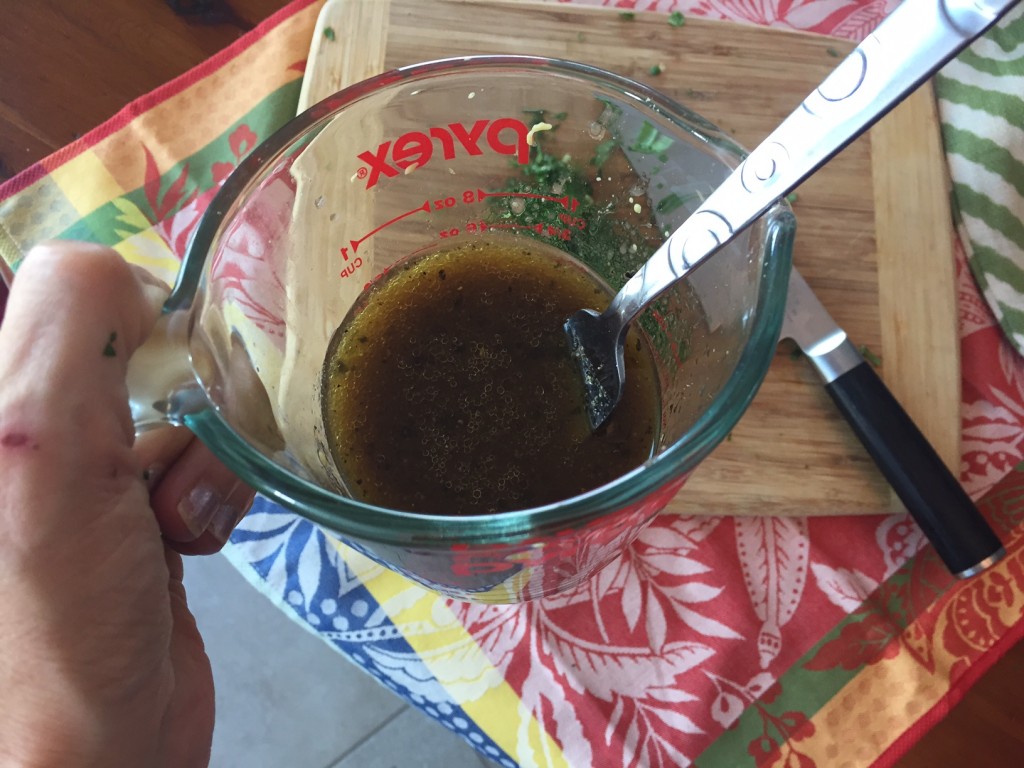 Now take that measuring cup with the juice you saved and add some vinegar to it so that you are up to 1/4 cup total. (yes, I know…I desperately need a manicure AND I had a little kitchen grater mis-hap – who knew this would be so treacherous?) Balsamic vinegar is perfect here, but I love red wine vinegar too and that would totally work. Any vinegar is fine, really, use what you like. Add a healthy teaspoon of Dijon mustard to the cup, along with a nice dash of salt and fresh cracked pepper. Get a fork down in there and give it a stir. Now drizzle in 1/4 cup of olive oil, stirring as you go. The mustard will help everything get all acquainted and incorporated.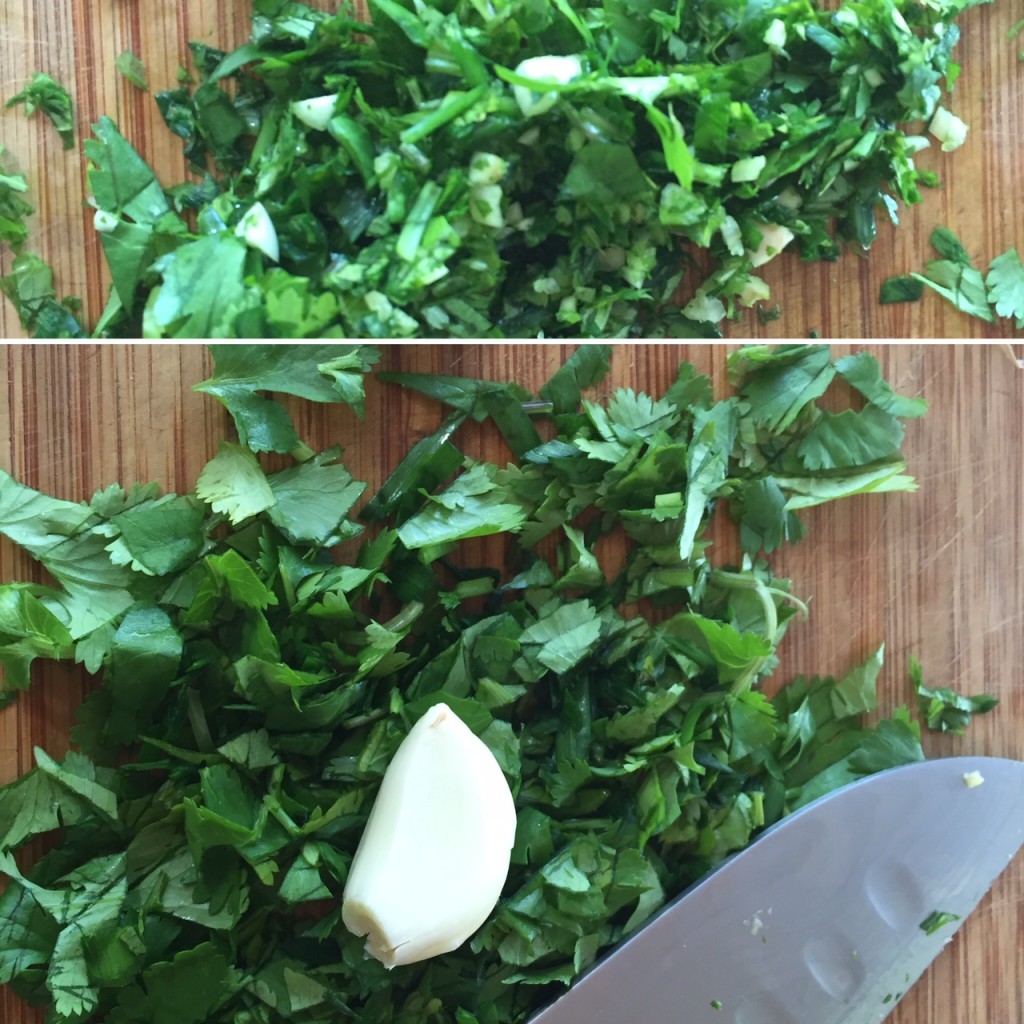 Got herbs? Cilantro is my herbage of choice for this one. Get yourself a nice big handful and roll it up as best you can into a wonky "ball " and give it a fairly fine chop. Work in a clove of garlic into this as you go. Parsley works too, or a combo of both. Don't be stingy with your herbs my friends, they are the most amazingly easy way to take just about anything you cook (or in this case, toss together) over the top. From bleh to OH YEAH!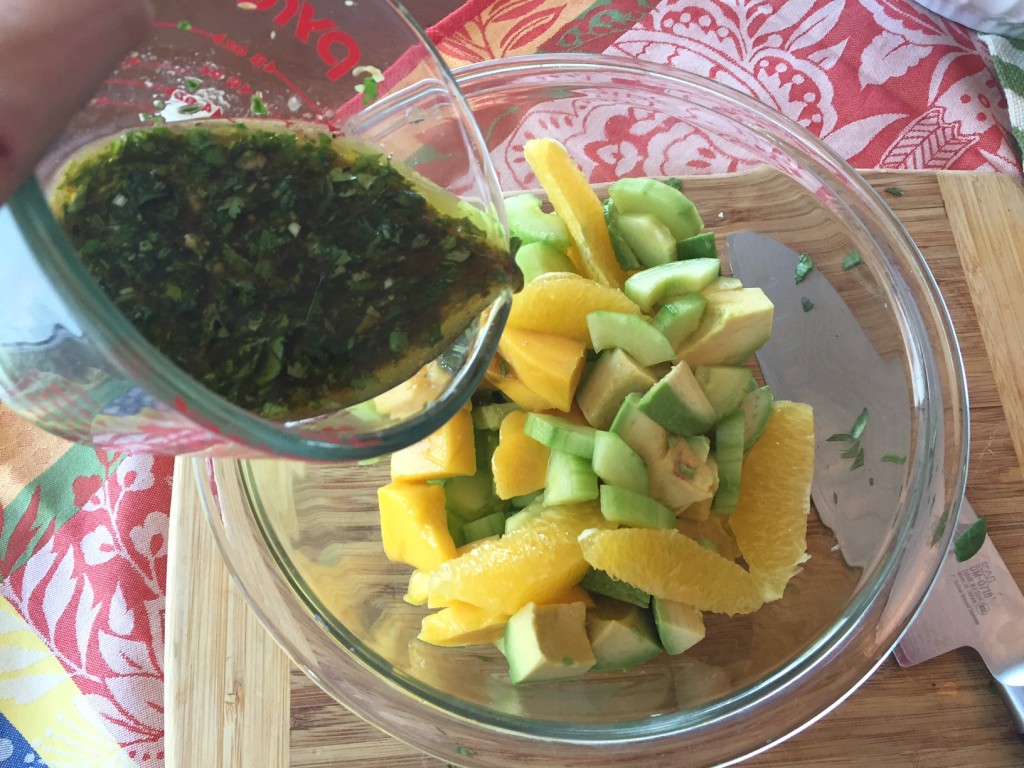 Just sayin….but I digress. Into your vinaigrette they go. Stir, and then toss this in gently… gently with your bowl of mango-orange-avocado-cucumber goodness.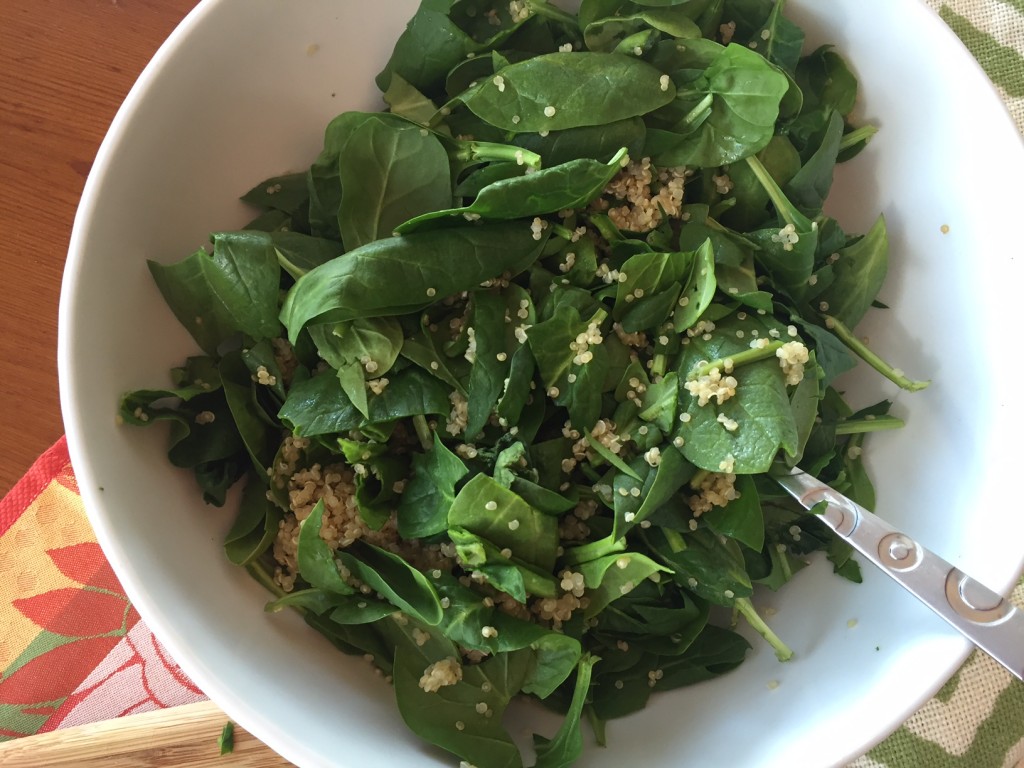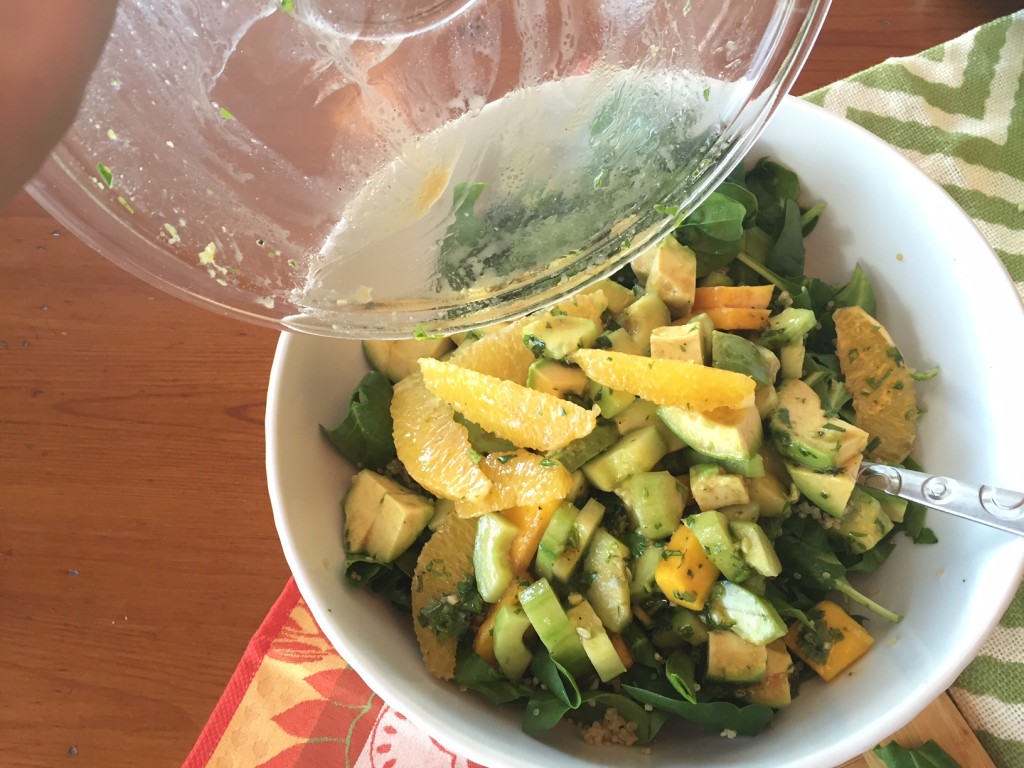 Now get out a BIG bowl. Dump in the spinach and toss it with your quinoa. On top of that goes your beautifully dressed bowl of flavor packed flavinoids. You are but a gentle toss away from some serious salad surrender. Plate it up, and for some omega-3's and a super satisfying crunch hit this with a smattering of walnuts.
Then hand it over.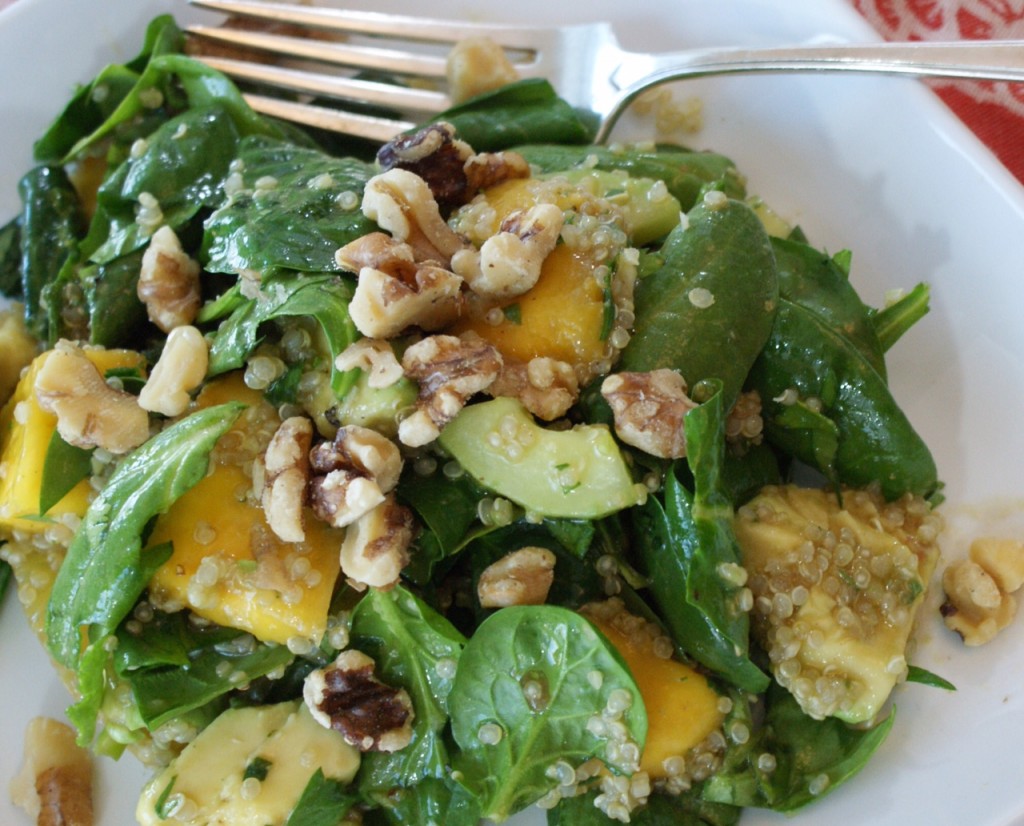 Perfection! Add some grilled protein if you feel the need to bulk this up……or stick with the color scheme and serve it along with this soup.
Nothing mean in this green.
Recipe below: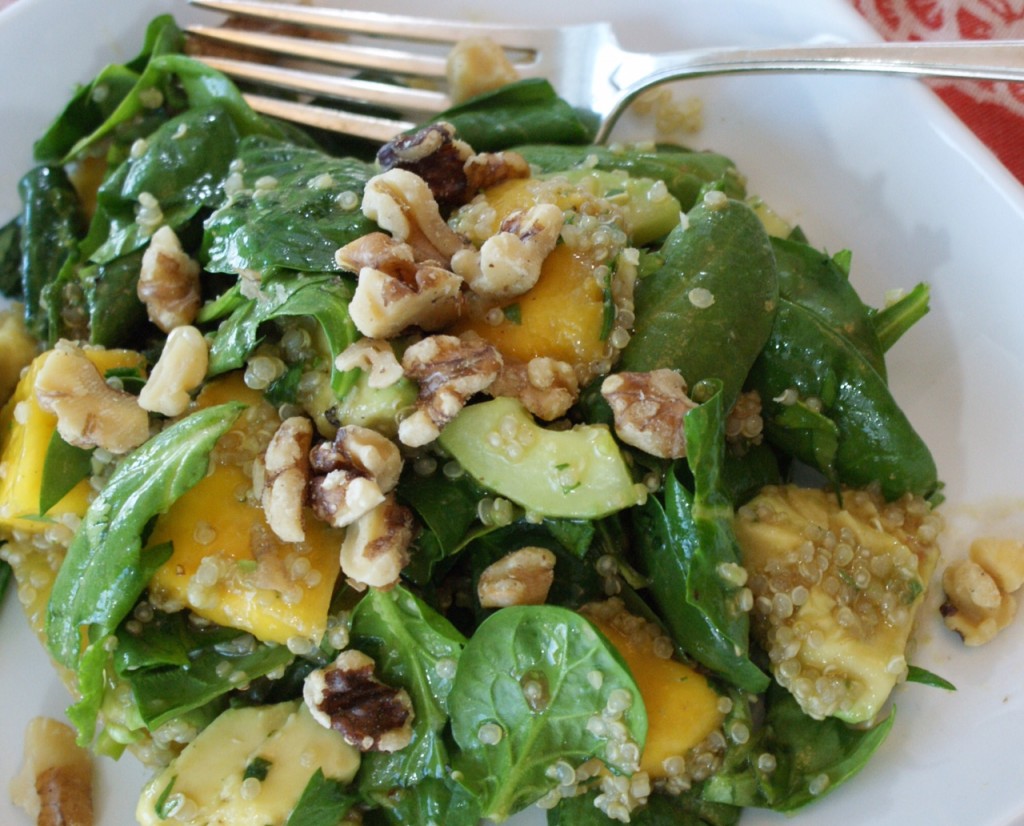 Quinoa Kissed Spinach Salad
2016-01-08 10:33:21
Ingredients
1/2 cup quinoa (equals one cup cooked)
4 cups of fresh spinach
1/2 of an english cucumber, peeled and sliced
1 orange, cut into segments
1 mango, peeled and cut into cubes
1 avocado peeled and cut into cubes
1/8 cup (more or less) balsamic vinegar
1/4 cup olive oil
handful of fresh herbs (prefereably cilantro, but parsley would be fine) chopped
1 clove garlic chopped in with the herbs
1 healthy teaspoon Dijon mustard
Salt and fresh cracked pepper
1/4 cup walnuts
Instructions
Begin by cooking the quinoa: add 1 cup of water to 1/2 cup quinoa and a pinch of salt in a saucepan. Bring to a boil and then reduce to a simmer and cook until the water is absorbed, about 7 - 10 minutes. Turn out into a bowl to cool
In a medium size bowl, combine the cucumber, mango, avocado and orange segments
Gently squeeze juice from the remaining pulp of the orange into a measuring cup
To the juice add the vinegar (you may need a little more to get it to 1/4 cup total), mustard and salt and pepper - stir vigorously with a fork
Continue stirring, and drizzle in the olive oil until incorporated. Add the herb garlic mixture and stir - give it a taste for seasoning!
Pour the herb viniaigrette over the cucumber, mango avocado and orange mix, and gently combine
Meanwhile....
In a large bowl, add the quinoa to the spinach and toss well. Pour in the cucumber avocado mixture and toss gently to combine all
Plate and sprinkle with a scatter of walnuts
Notes
This makes 4 very ample straight up servings, a whole lot more if served as a side-dish
Not super great as far as leftovers go (tolerable, but not amazing) so eat up!
Kick and Dinner http://kickanddinner.com/