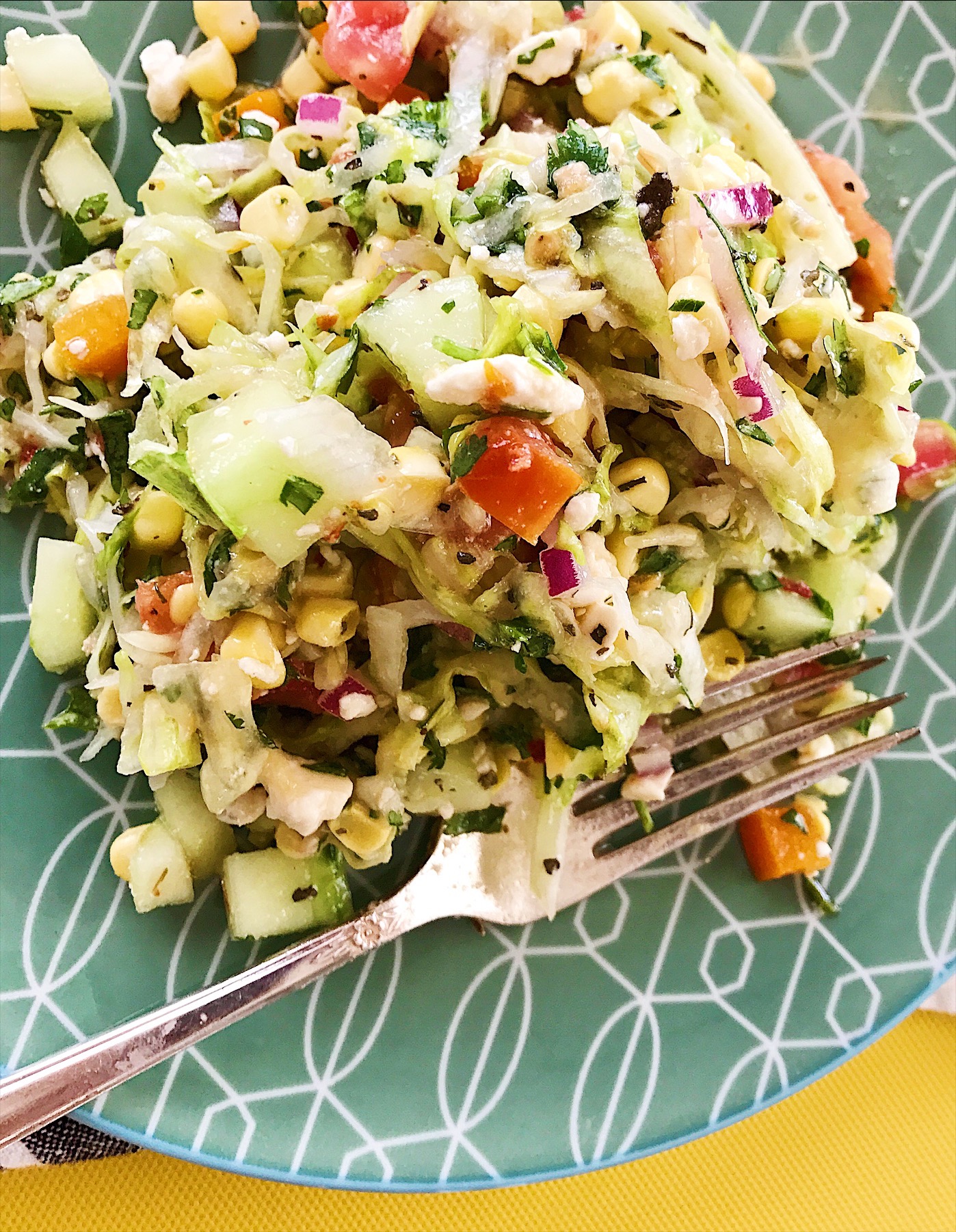 Seems kind of redundant to include the word raw in the name of a salad. I mean, isn't the definition of a salad, you know….lettuce, tomatoes, cucumbers, dressing, what-have-you…a culinary state of perpetual raw-ness?
As in: uncooked…..au naturel…..untouched by any source of heat………?
Ha! Sure, Bunny. You know as well as I do that any sort of salad is a good one (the notable exception being anything congealed together by Jello, yuk) but really, what defines a salad? Is it just any old conglomeration of random ingredients that aren't called soup or dessert or a casserole; like this (Spicy Steak Salad with quinoa and black beans), or this (Roasted Broccoli and white bean salad)? Does it count as salad if it's mostly cooked?

Happily the answer to this burning conundrum (I know, it keeps me up nights, too) is YES! Yes and yes. But who cares???
Salad can be anything you want! And right here, right now, I want some raw veggies. And a tart, well seasoned, astringent splash of dressing, to give my taste buds an exhilarating pinch. If you're feeling that same hankerin'…. this one will bring it home for you.
Super speedy, quick and crunchy mindlessly satisfying mastication awaits once you toss together this raw (and unfettered of any pesky broiling, baking or frying) chopped salad. Perfect for when you want something light or as a side to any protein, this slaw of salty, juicy, crisply meditative munchin' will keep your molars busy.
Sometimes you just crave the KA-RUNCH, amirite?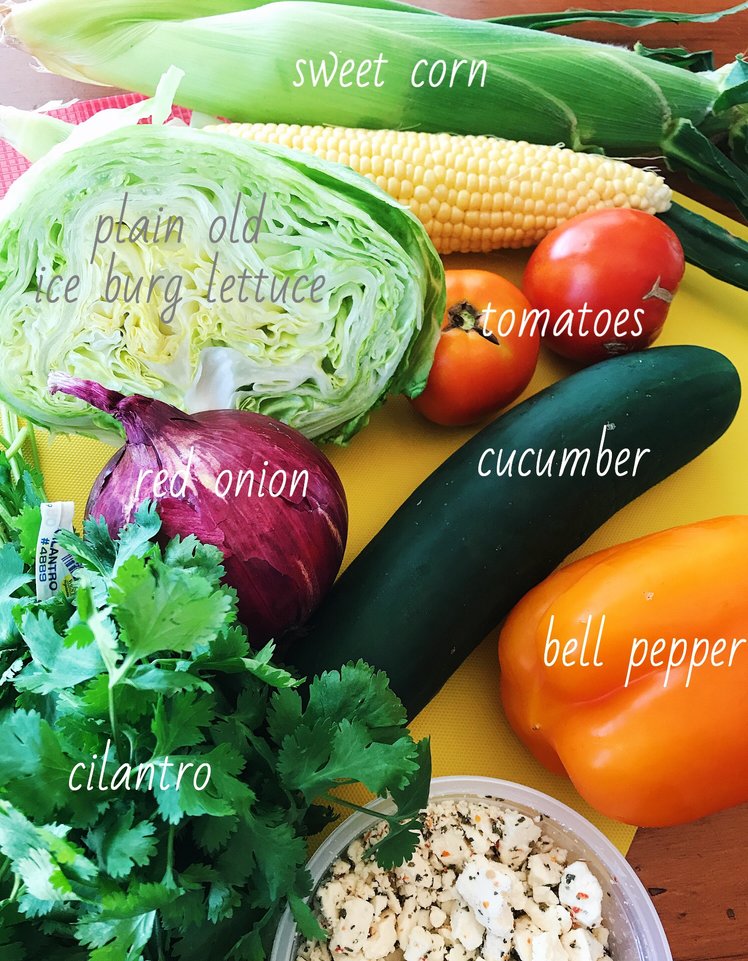 Money shot! Look at this beatific bounty!
Easy to access, nothing fancy produce department regulars, the secret of this salad is in your knife. So sharpen up your best one and get your cutting board out; you want to take the time to dice your cucumber, tomatoes and bell pepper into small, neat, consistently sized cubes.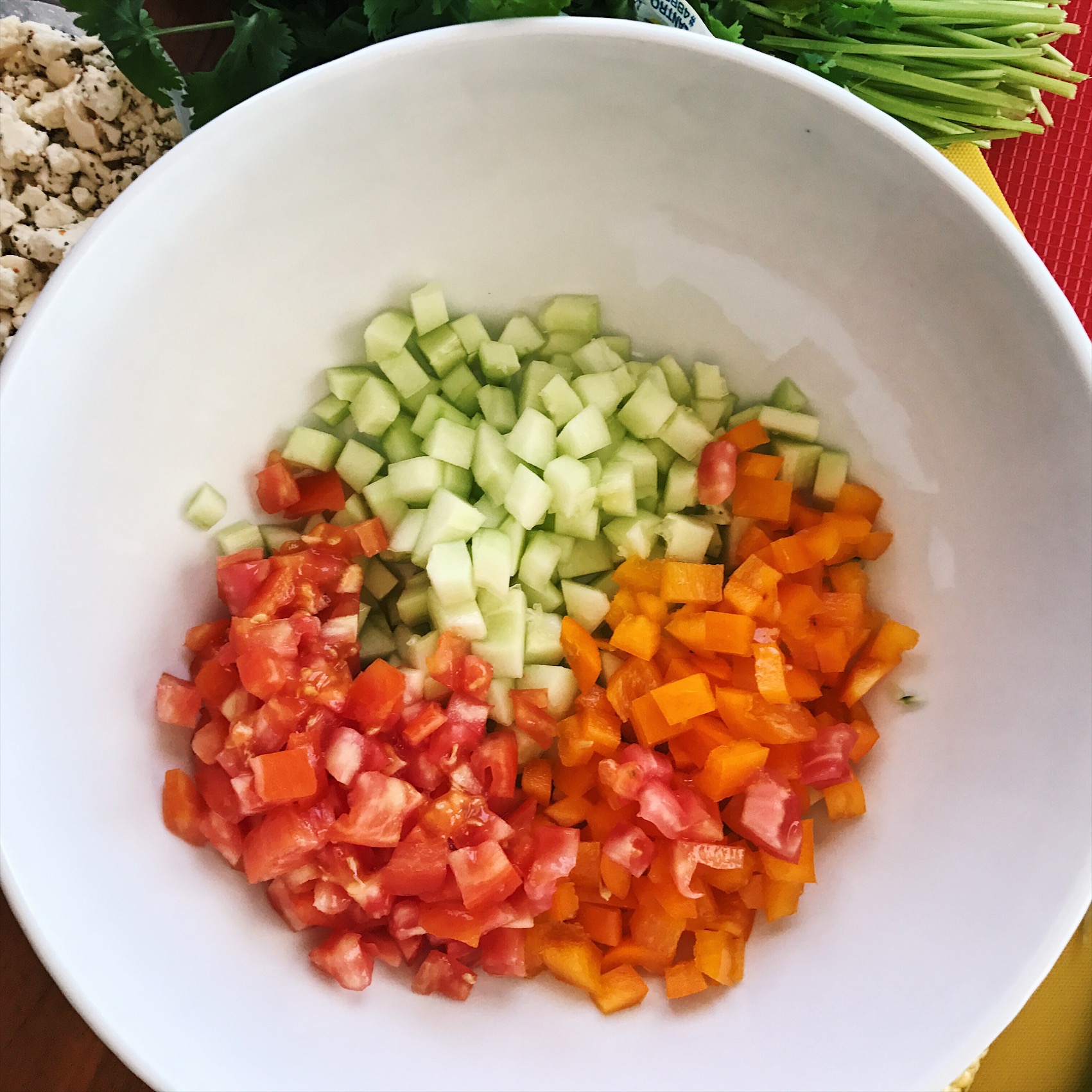 Look how pretty that is already.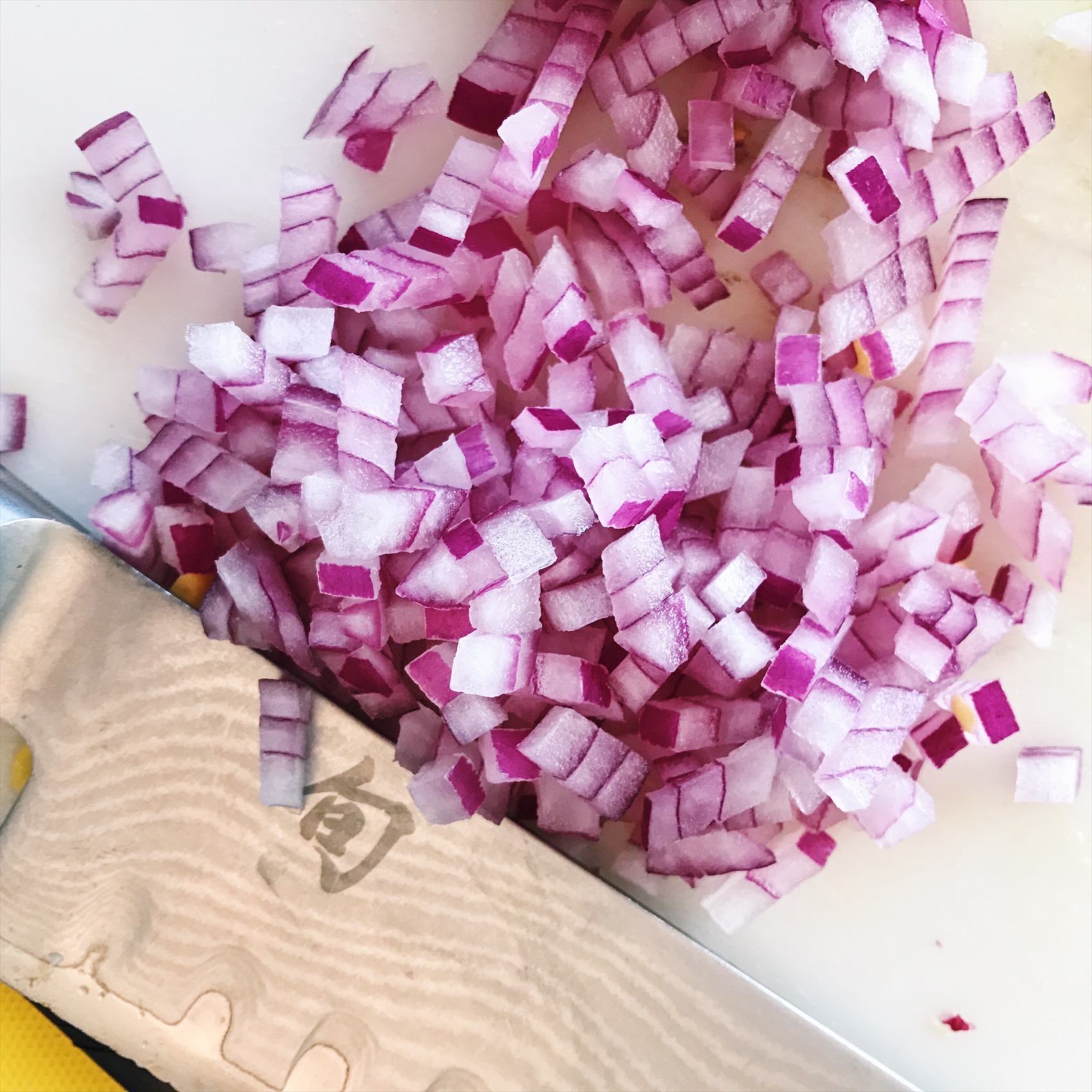 When you get to that red onion, take the time to make this a super-fine cut. Raw onion is a STRONG but important component to this whole she-bang……you want that mildly pungent bite only a raw red onion can serve up, but not a whole huge mouthful at once. Yeah….no, that would not make anybody happy.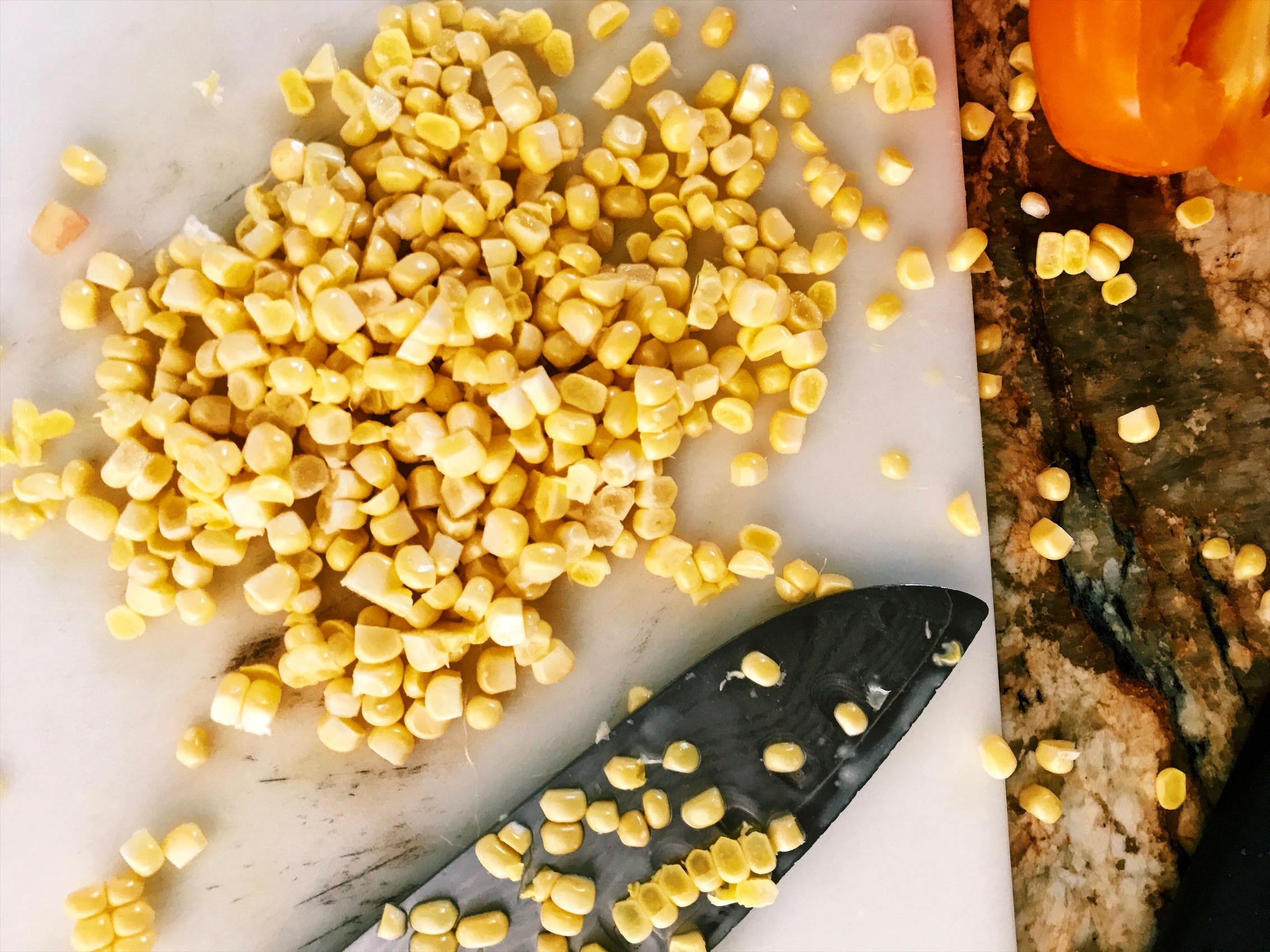 Now shuck two ears of fresh sweet corn and run your knife down the sides over a bowl to release those lovely yellow kernels. Yep, this stays raw as well. Yes, I made a mess. Those little buggers flew everywhere, but hey…bright side, at least you don't have to dice 'em. Collect up whatever you didn't scatter all over the floor, and let them join the party.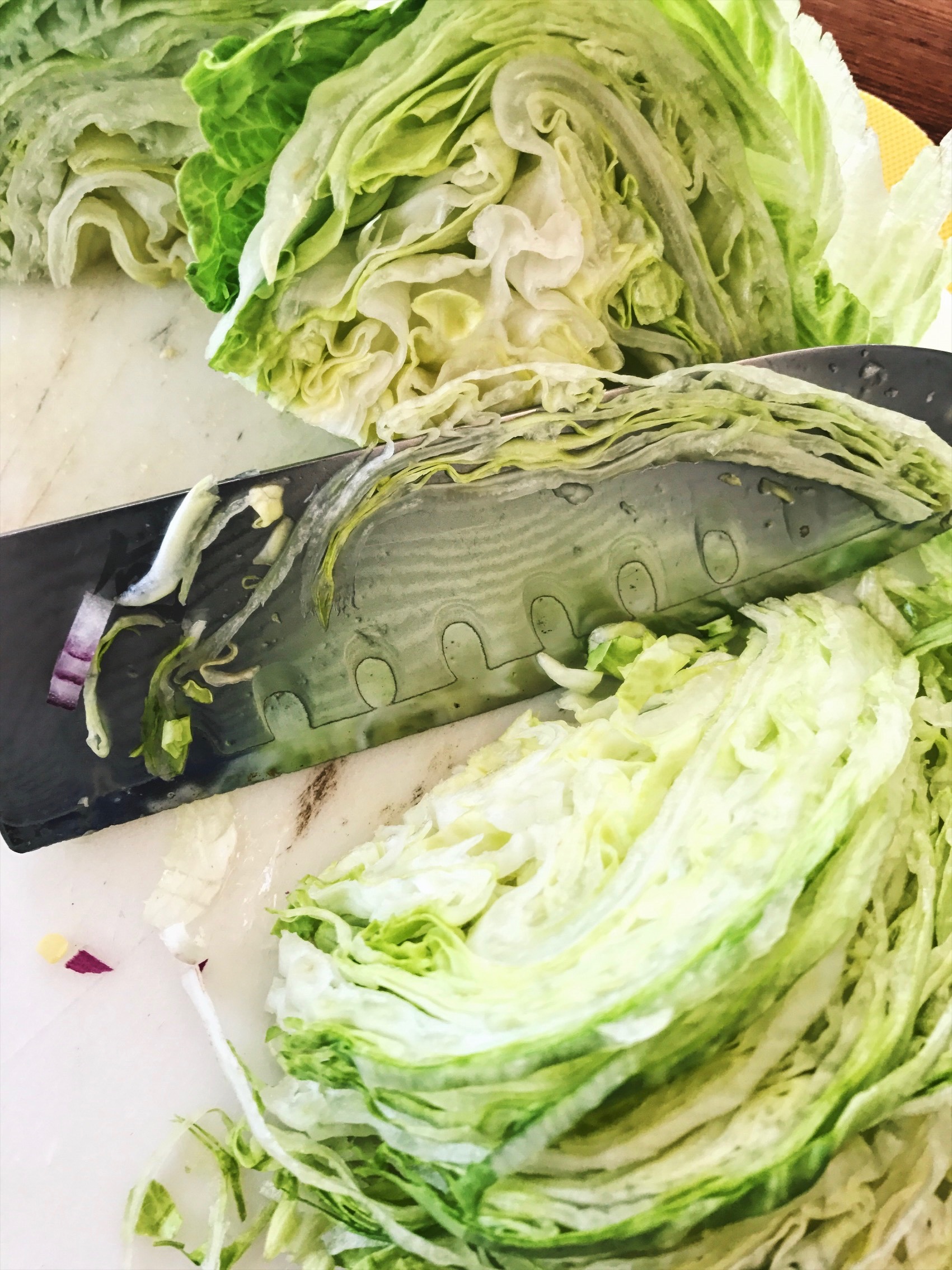 Thinly sliver 1/2 wedge of ice-burg lettuce. Good old ice-burg! I know!!?!!! That bland watery crunch is just the best in this, what can I tell ya? Go ahead and get out a big fat handful of cilantro or flat leaf parsley and give that a rough chop as well. Everybody into the pool.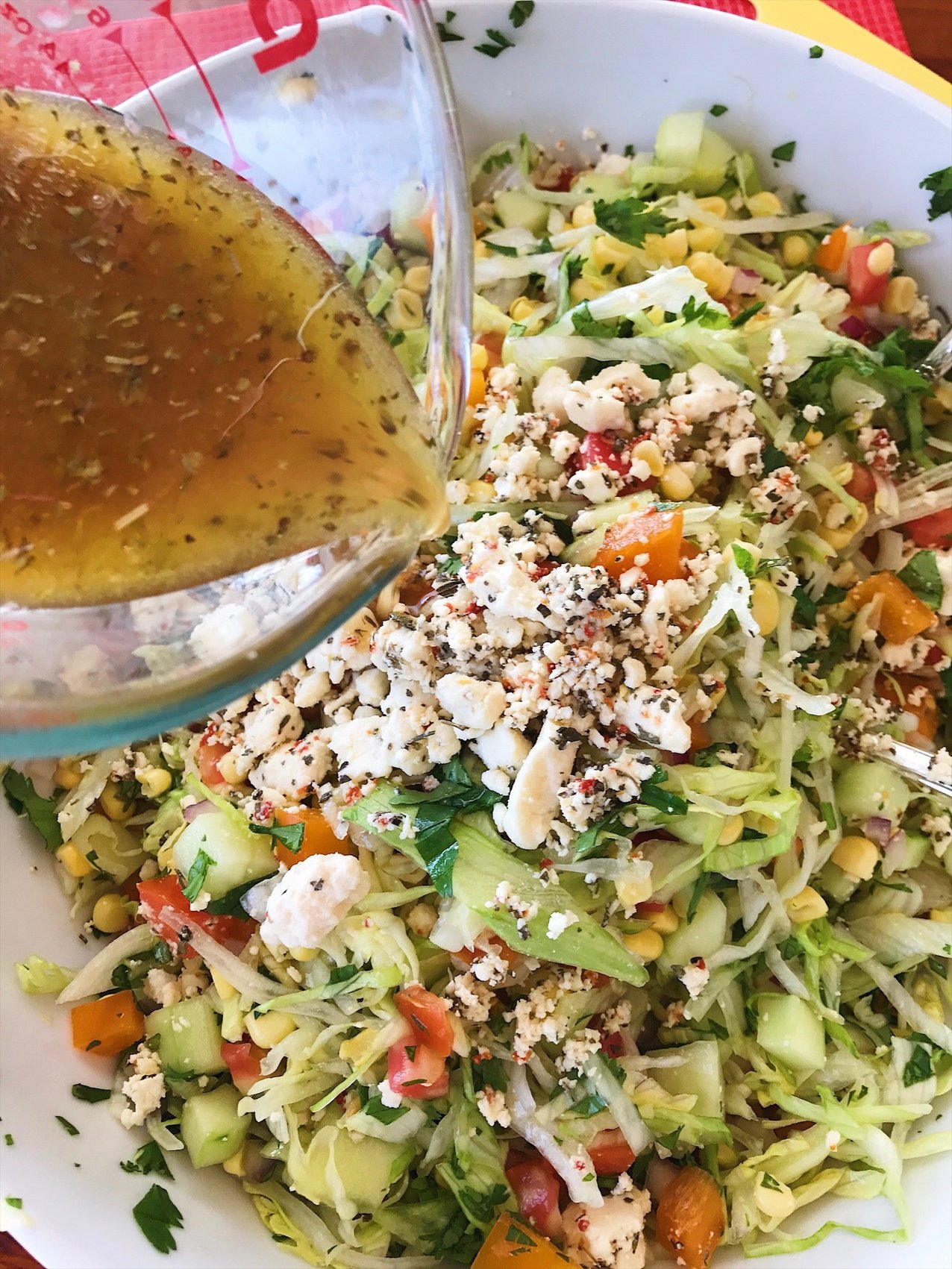 Top this off with some feta cheese (totally optional, but I love it…..technically not raw though, is it?) and whip together your dressing. Pour it on over and give everybody a big fat toss.
Then stuff your face. You won't want to stop, and that's pretty much okay. I say eat all the salad – and all the salads, HOWEVER they show up!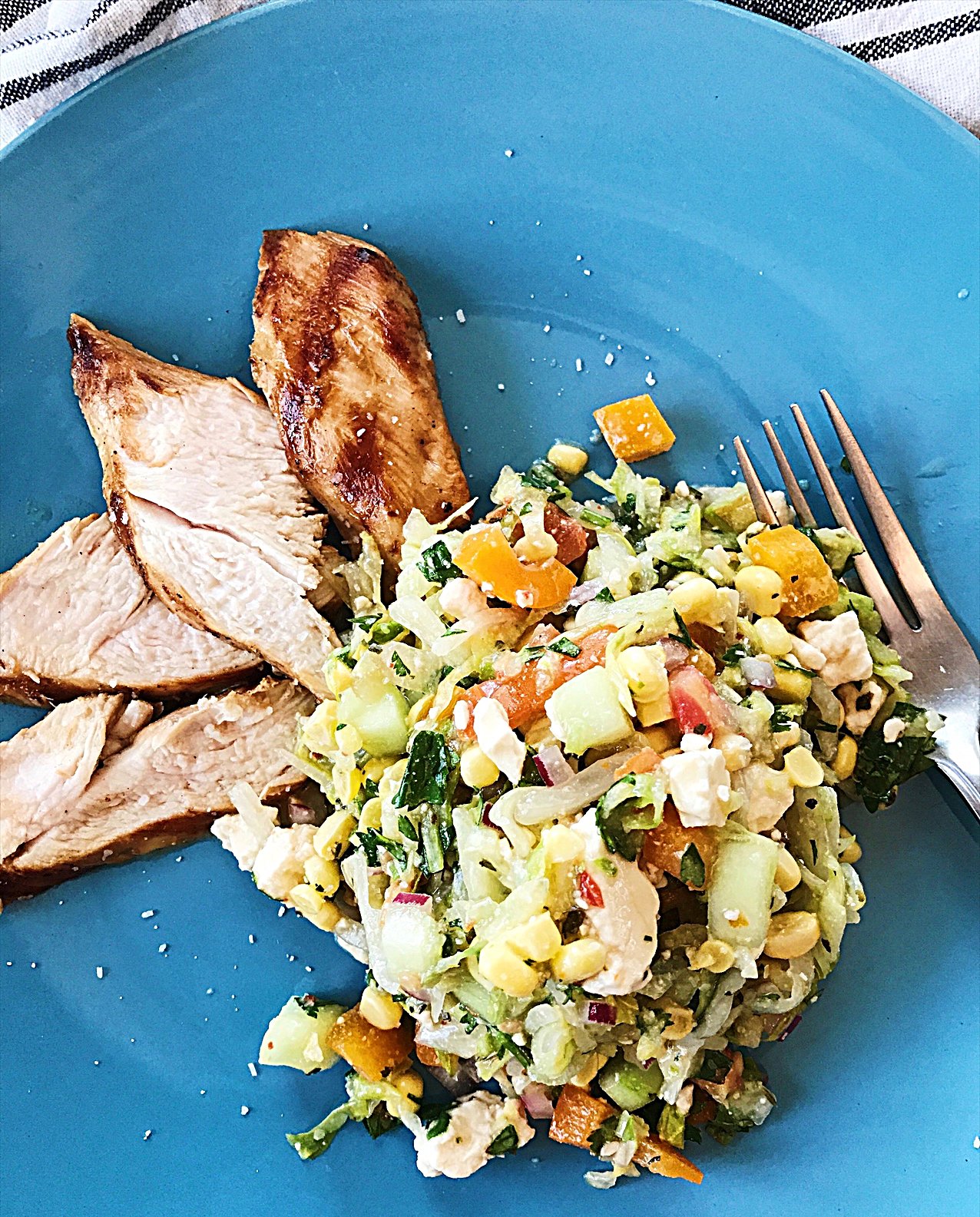 It's pretty perfect with some grilled chicken too. Happy crunching.
RECIPE BELOW:
This salad takes about twenty minutes of chopping, dumping, tossing time. As mentioned, what makes this so satisfying is the texture provided by the consistently precise and small chop of the veggies. I don't know why….it just WORKS! So sharpen up those knife skills! Obviously you can add to or take out whatever floats your boat…..salads are nothing if not flexible, right? This makes enough for 4-6 generous servings……leftovers are NOT the best with this one, so eat up! If you are traveling with this (a great idea for a pot luck or picnic), pack the dressing separately and toss together upon arrival.
Raw and Ready Chopped Salad
2017-06-06 11:50:00
For the Salad
1 medium sized cucumber, peeled, seeded, and cut into a small even dice
1-2 tomatoes, cut into a small dice
1 bell pepper (red or yellow) cored, seeded, and cut into a small dice
Corn kernels cut from two ears of fresh sweet corn
1/4 (less or more, depending on YOUR taste) red onion, cut into a very fine even dice
1/2 ice-burg lettuce, quartered and finely shredded
Generous handful of fresh cilantro or flat leaf parsley, coarsely chopped
7 oz of crumbled Feta cheese (Optional)
For the Dressing
1/2 cup red wine vinegar
1 generous teaspoon Dijon mustard
1/4 cup olive oil
1 finely diced or grated fresh garlic clove OR 1/2 teaspoon garlic powder
1/2 teaspoon dried oregano or Italian seasoning
1/2 teaspoon kosher salt
fresh cracked black pepper to taste
First make the dressing
In a small bowl or measuring cup, whisk together the red wine vinegar with the Dijon mustard until incorporated. As you continue whisking, slowly drizzle in the olive oil until you have a cohesive emulsion. Add the garlic, dried herbs, salt and pepper and give this a stir. Check for seasonings, it should be VERY strong. Set this aside.
MIX IT UP
In a large bowl, add all of the salad ingredients. Drizzle over the salad dressing and toss together gently. Um, yeah....that's about IT! Get a fork!
Notes
As far as leftovers go this does get a little watery overnight in the fridge.....due to the water content of that shredded lettuce. The rest of the veggies stay nice and crisp, so if you drain off the accumulated water, and freshen it up with a splash of vinegar or a squeeze of lemon or lime, it is completely do-able for a quickie lunch.....okay, maybe not the best but life sustaining, ya know? I cannot lie....in a pinch that occasionally works for me!
Kick and Dinner http://kickanddinner.com/