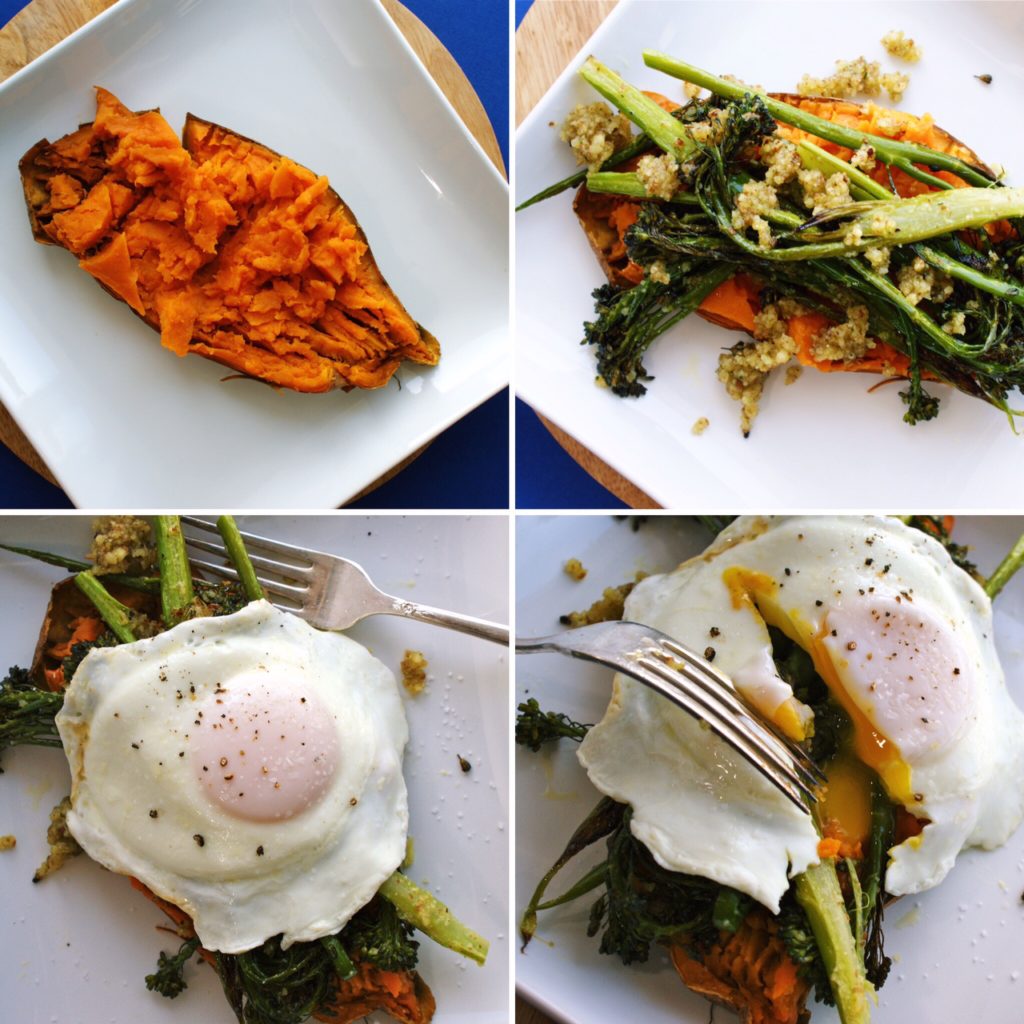 Crispy-fied (not fried) roasted broccolini tossed with a garlicky, nutty rich, almond "pesto", crowned with a perfectly runny over-medium egg. Go ahead and cut into it and that oozy, silky yolk is the foolproof foil for the sharpness of the pesto and the delicate green charred crunch of the broccolini. A perfect portion of creamy baked sweet potato serves as the delicious foundation, quietly but assuredly holding everybody together.
This sure works as dinner for ME…..but it didn't start out that way.
I was in Phoenix recently and was lucky enough to get the opportunity to check out OKRA Cookhouse & Cocktails, with two of my favorite people in the whole wide world (hey there, Chris and Meeshy). If you like southern food with a contemporary twist and you're in the area, completely get yourself on over there. In fact, go take a peek at the menu here, but come right back, and try to focus…because what I have for you on this page is my take on their Grilled Broccolini with Almond Pesto & an Egg appetizer. This was so good that I knew I had to re-create it as best as I could possibly finagle.
Or move to Phoenix. Like, next door to the restaurant.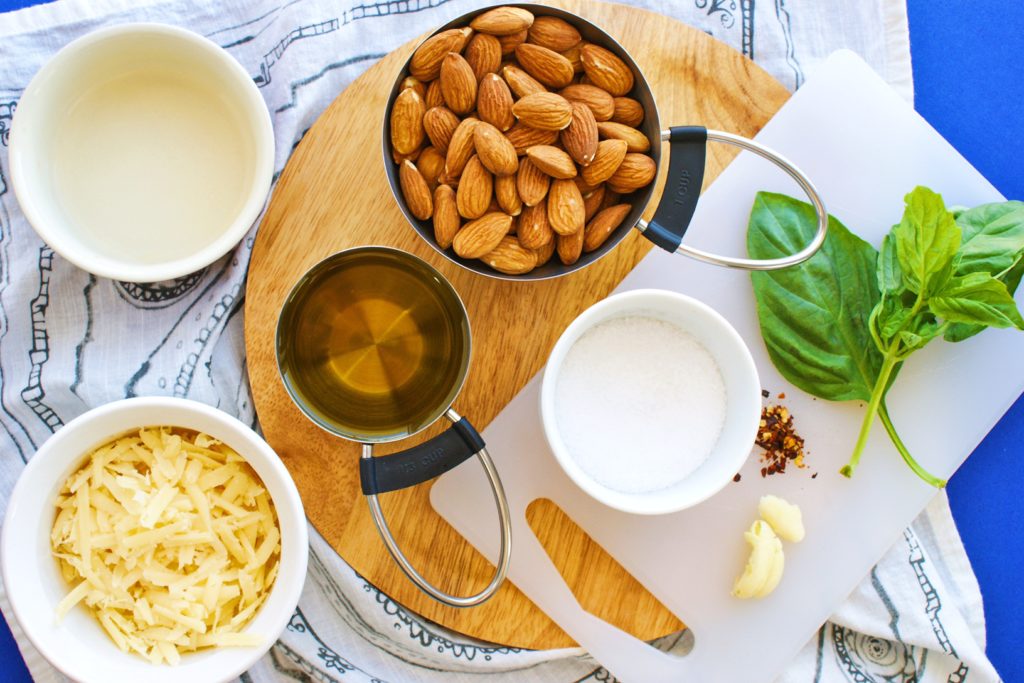 In the spirit of "borrowing" a little of this and a little of that to get this dinner on MY table, I went straight to one of my favorite blogs of all time, Smitten Kitchen, and lifted the almond pesto recipe (check out Green Beans with Almond Pesto). Just like that. Blatant thievery. (thanks, Deb!)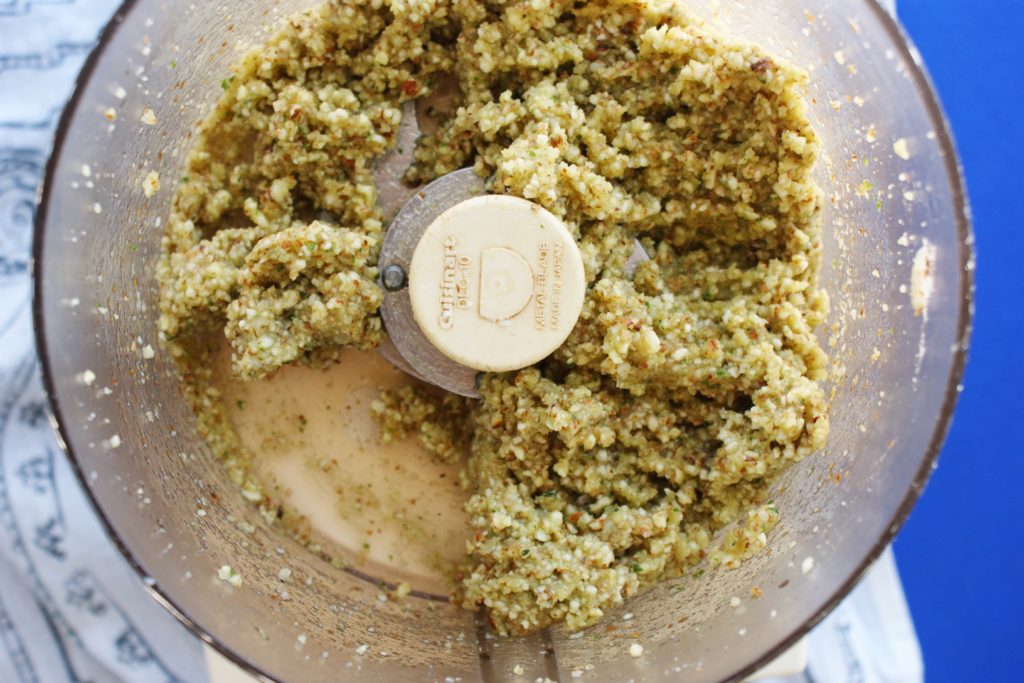 Get out your food processor and two minutes later, you will have a most amazing variation of pesto, which besides what we are about to do right here right now, can doll up just about any veggie, crostini, pasta, or or or……so many things!
I like to use it as an exfoliator in the shower. Kidding. OR AM I? 😜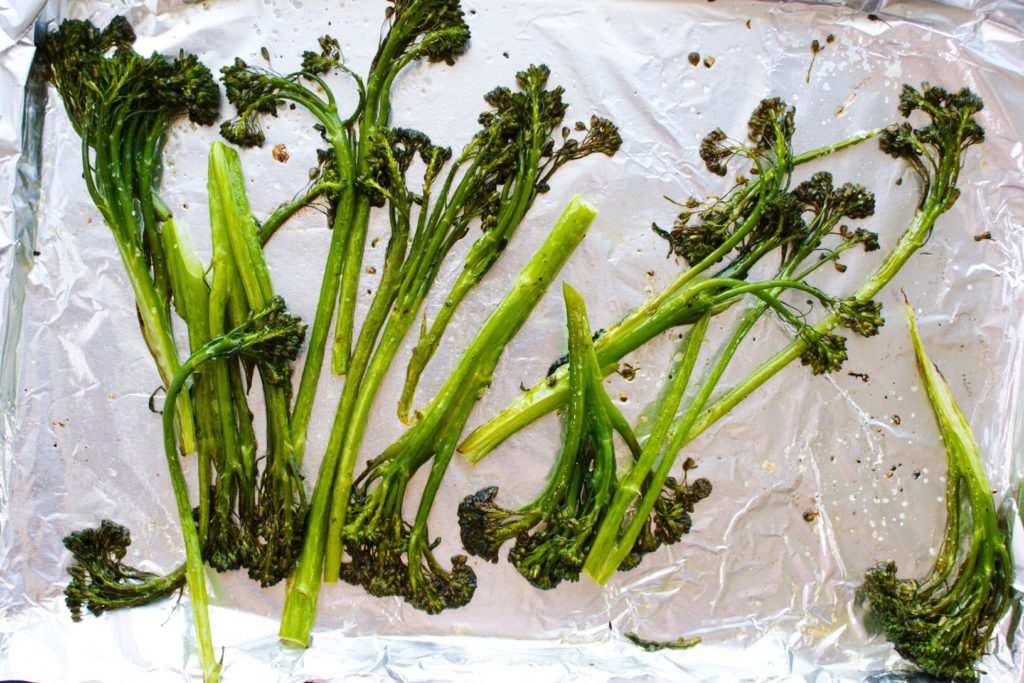 Roasting any vegetable is such a great way to bring out the best in it, and could not get any easier. Give your broccolini stalks a little rub down with some olive oil, and a dash of salt and pepper. Spread them evenly out onto a sheet pan and into the oven they go until they are tender when pierced with a fork. The heads should have a nice char going on, just a little bit of extra crisp to bite down on……yum.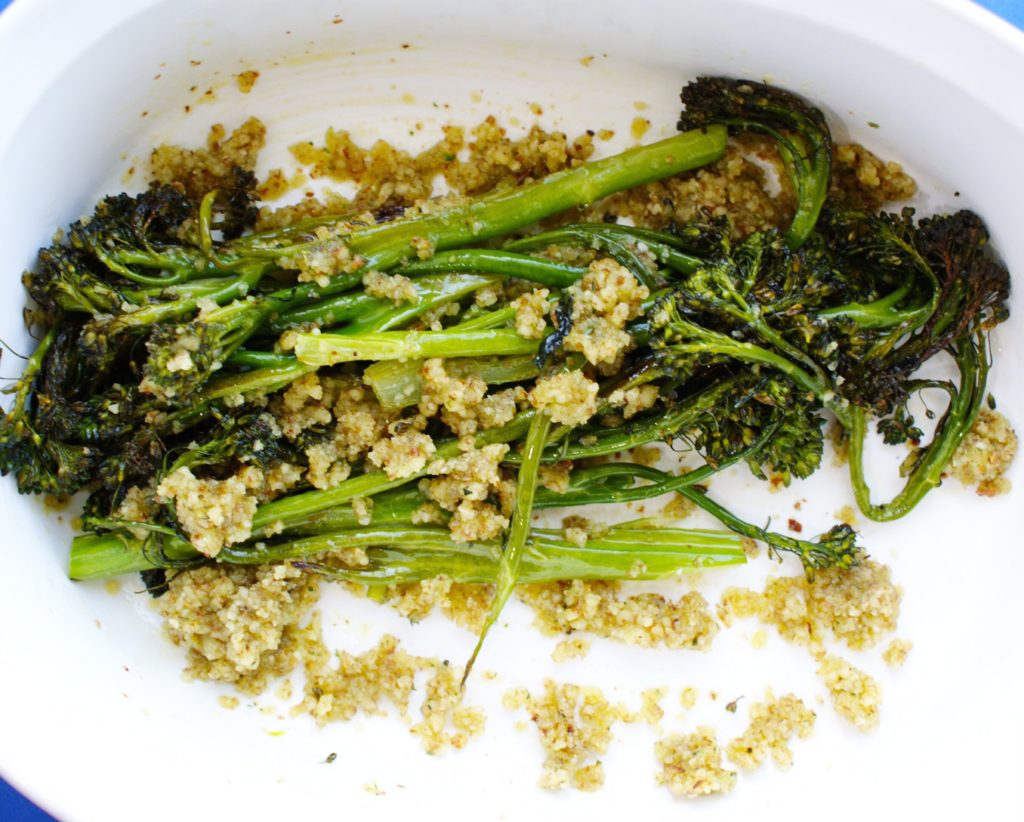 Toss those hot brocco beauties up with some of that almond pesto; you may need to add a drizzle of extra olive oil to the mix to get everyone better acquainted,…..then pop a few of these guys out onto a plate (if you're going for the appetizer angle) or over a perfectly cooked sweet potato half (if you're just plain going for it!), and turn this gorgeous appetizer into a meal.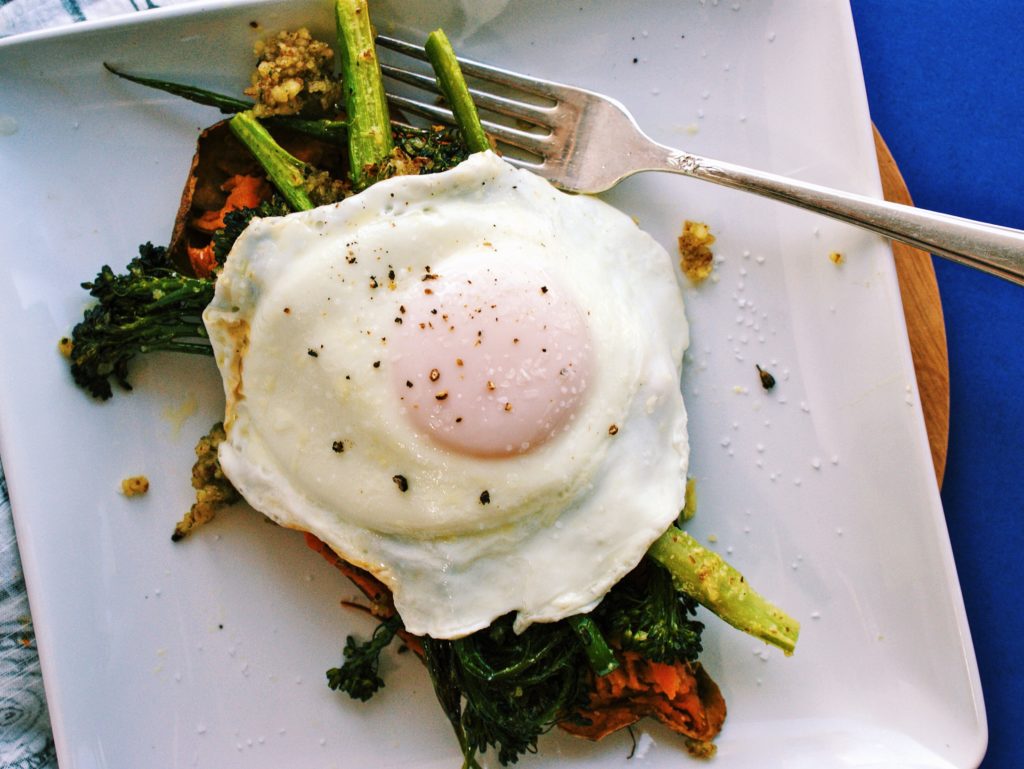 *SIdenote: It takes about an hour to fully bake a sweet potato to velvety perfection. All you need is an oven, the time and your actual presence, that's about it. I baked this earlier in the week, then it was just a matter of cutting it in half and popping it in the microwave on the day I actually served it.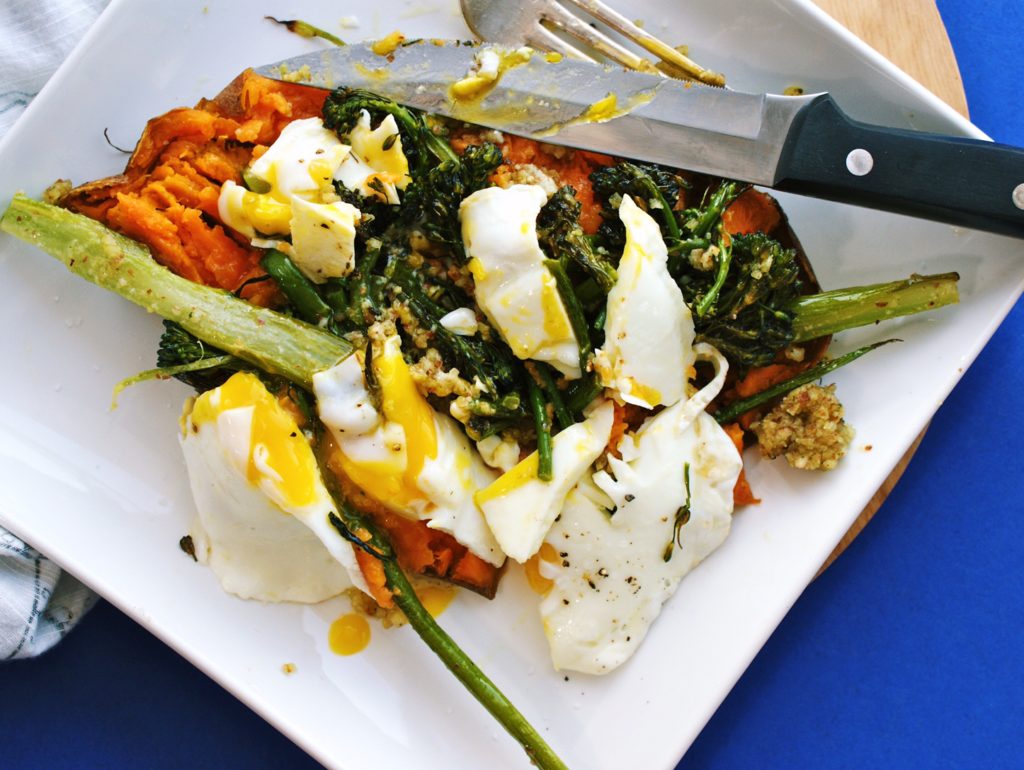 Top this off with a yummy, runny, over-medium egg and you are in for the smooshy, satiny, crispy, salty-subtly sweet decadence BUSINESS.
And business is really good.
Recipe below:
This makes enough for two servings, perfect for a light meal. This will take you all of ten minutes to prep (it will take you longer to wash the food processor), fifteen minutes to roast the greens, and maybe three minutes to cook your egg(s). *The largest investment of time that you will make is baking that sweet potato. And you know……..how hard is that?
Roasted Broccolini with Almond Pesto topped with an egg
2016-05-10 13:33:51
Ingredients
1 bunch broccolini, trimmed of the dry ends
Drizzle of olive oil (about 2-3 tablespoons)
For the Almond Pesto
1 cup almonds, toasted and cooled
1/3 cup grated parmesan cheese*
1 small garlic clove, peeled and crushed
leaves from a sprig or two of thyme**
Pinch of red pepper flake
1/4 teaspoon kosher salt
2 teaspoons white wine vinegar
1/3 cup olive oil, plus extra
1 large baked sweet potato***
2-4 eggs
Salt and pepper to taste
For the Broccolini
Preheat your oven to 375°
Line a cookie sheet or flat roasting pan with foil and spread broccolini out in an even layer.
Drizzle olive oil over the broccolini and give it a good toss with your hands, making sure it's well coated.
Give this a sprinkle of salt and fresh cracked black pepper.
Roast in the oven on the top rack for 10-15 minutes (depending on your oven) until tender crisp, giving it a toss midway through.
For the Pesto
In a food processor, grind the almonds, cheese, garlic, thyme (or basil if you prefer) red pepper and salt to a course paste. Add the vinegar and give it another pulse or two. Stir in the oil and adjust seasonings to taste.
In a medium size bowl, toss the hot broccolini with the pesto, adding extra olive oil if you feel the pesto is too "dry".
Put it all together
On each of two plates place 1/2 of the sweet potato. Portion half of the almond broccolini over each. Top this with one (or two if you are really feelin it) over-medium or over-easy egg(s).
Dig in while the eggs are hot!
Notes
* feel free to use romano or asiago cheese if you like.
** I was all out of thyme sprigs so I used a few leaves of fresh basil.
*** 1/2 of the potato per serving should work fine. Bake your potato at 350° for one hour to get it nice and smooshie. You can do this days ahead of time if you like, just store in the fridge until you are ready to use it. Slice it in half and pop it in the microwave for a few minutes until it is nice and hot. Good to go.
Adapted from A combination of Smitten Kitchen and OKRA Cookhouse and Cocktails
Adapted from A combination of Smitten Kitchen and OKRA Cookhouse and Cocktails
Kick and Dinner http://kickanddinner.com/