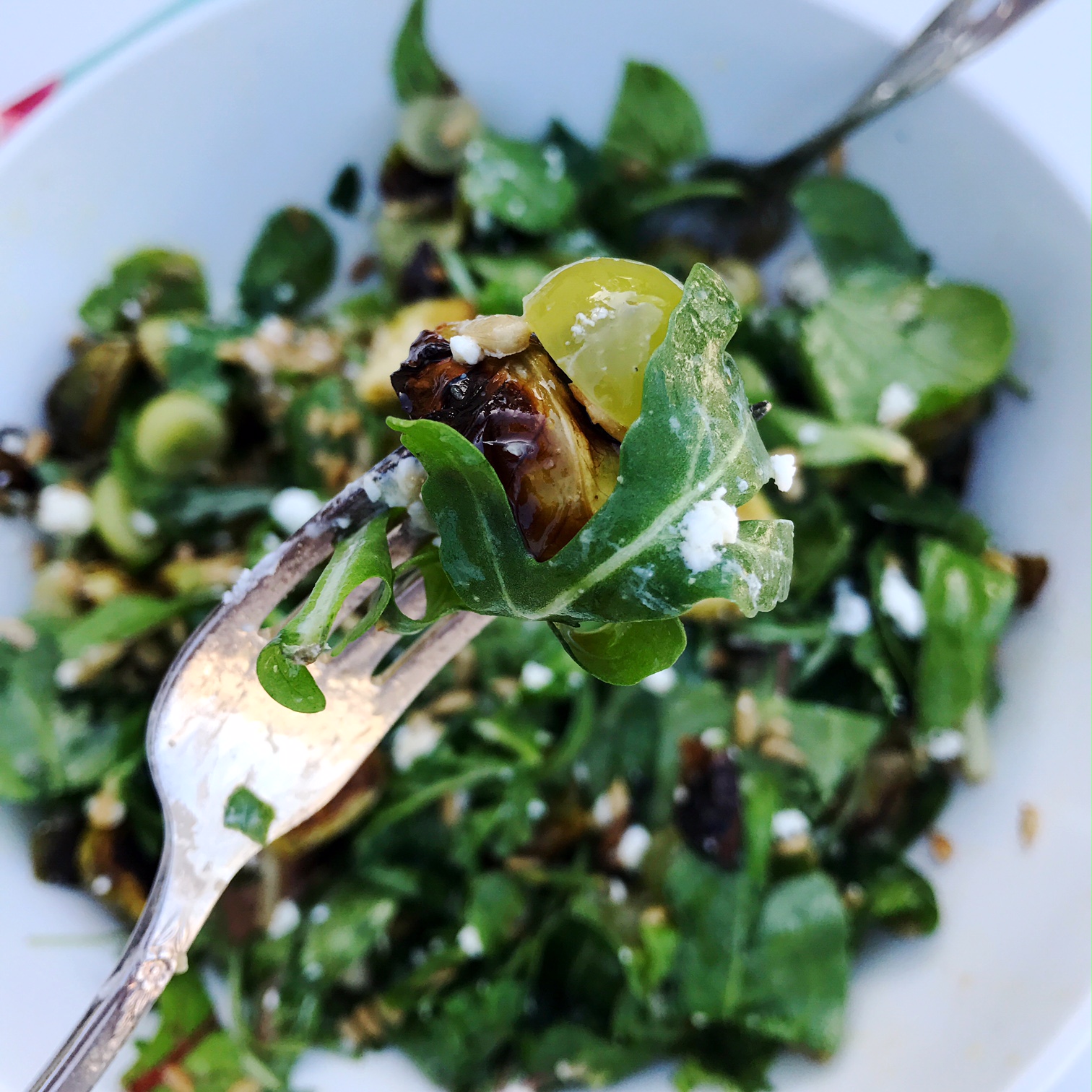 Well, hellooooo, 2017. I've been waiting for your arrival, how the heck are you doing? I'm so happy to see you! I think it's safe to say a lot of people are. It must feel really good to be so anticipated.
So listen…..One-Seven….(you don't mind if I call you that?) do you think that maybe we could just forget the past few days…weeks…okay, yes months, of all of that over-zealous over-doing it? You KNOW what I'm talking about here; it all starts out innocently enough with the pumpkin spice season shiz-bah (squash IS a vegetable after all, AMIRITE?), and then it goes ALL downhill from there. Riding the holiday horse right into the ground! What happened to all of my good intentions???
This doozy of a detox salad is totally what we all could use right about now. It is simply SO delish and SO good for you! Loaded up with all sorts of good-mood-healthy-food ingredients like brussels sprouts, sunflower seeds, baby kale and olive oil, this salad not only tastes amazing, it makes you feel amazing. Guilt-free goodness!
Of course, it's fast and easy and you will want to have it all the time.
ALL the TIME!
I am so excited I am repeating myself.
You are 20 minutes away from your New Year's resolution.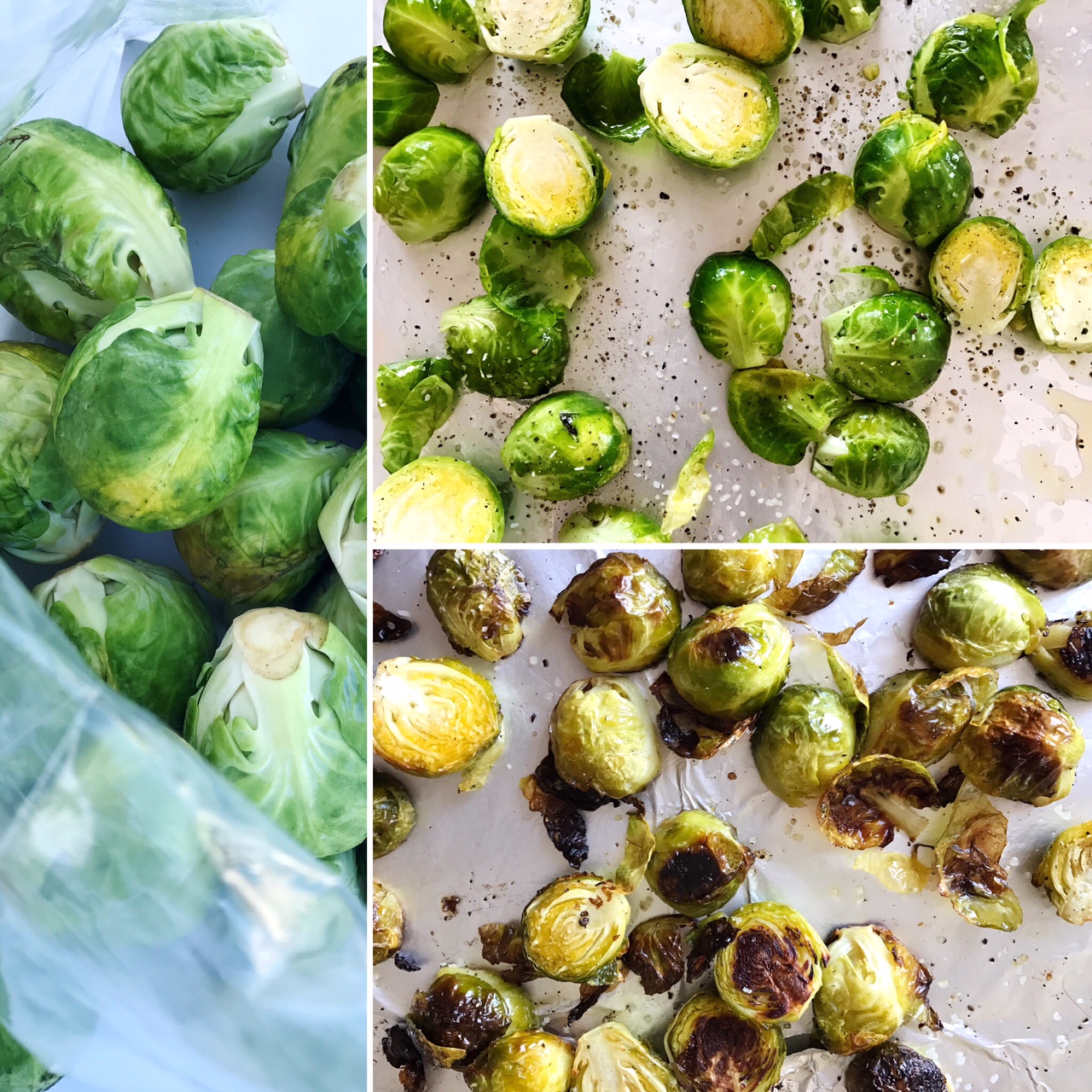 You will need roughly 5 -6 sprouts per person for this; of course these little guys vary greatly in size so use your best judgement here. Too many of these mini cabbages are hardly a bad thing, so you can't go wrong. Wash 'em up and trim them a little at the end and slice in half. Pop them onto a large baking sheet (I covered mine in foil for easy clean up, smarty that I am) and drizzle them with a liberal lube of olive oil. Sprinkle them up with salt and pepper and use your hands to massage these little buggers to make sure they are thoroughly coated and evenly spread out on the pan. Into a 400° oven they go for about 20 minutes or until they seem tender when poked with a fork. Give 'em a turn halfway through, they should be nicely browned.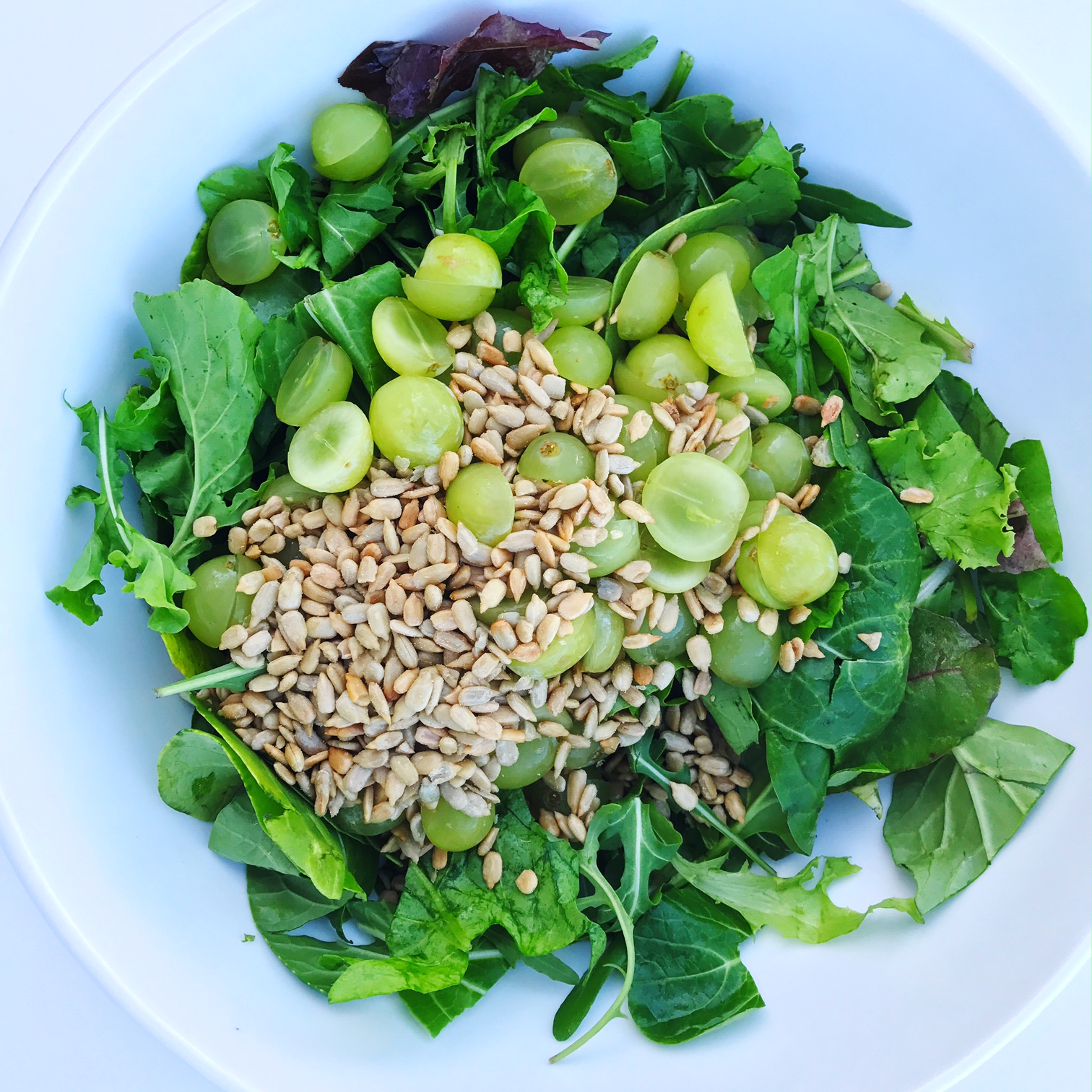 While that's happening de-VINE some grapes (one bunch should do the trick, red or green) and slice them in half. You'll need about a cup. Pop a container of baby kale (or you can totally go with spinach…or Spring mix, or WHATEVER YOU LIKE) into a nice big bowl and dump in your halved grapes and about 1/4 cup of roasted, salted sunflower seeds.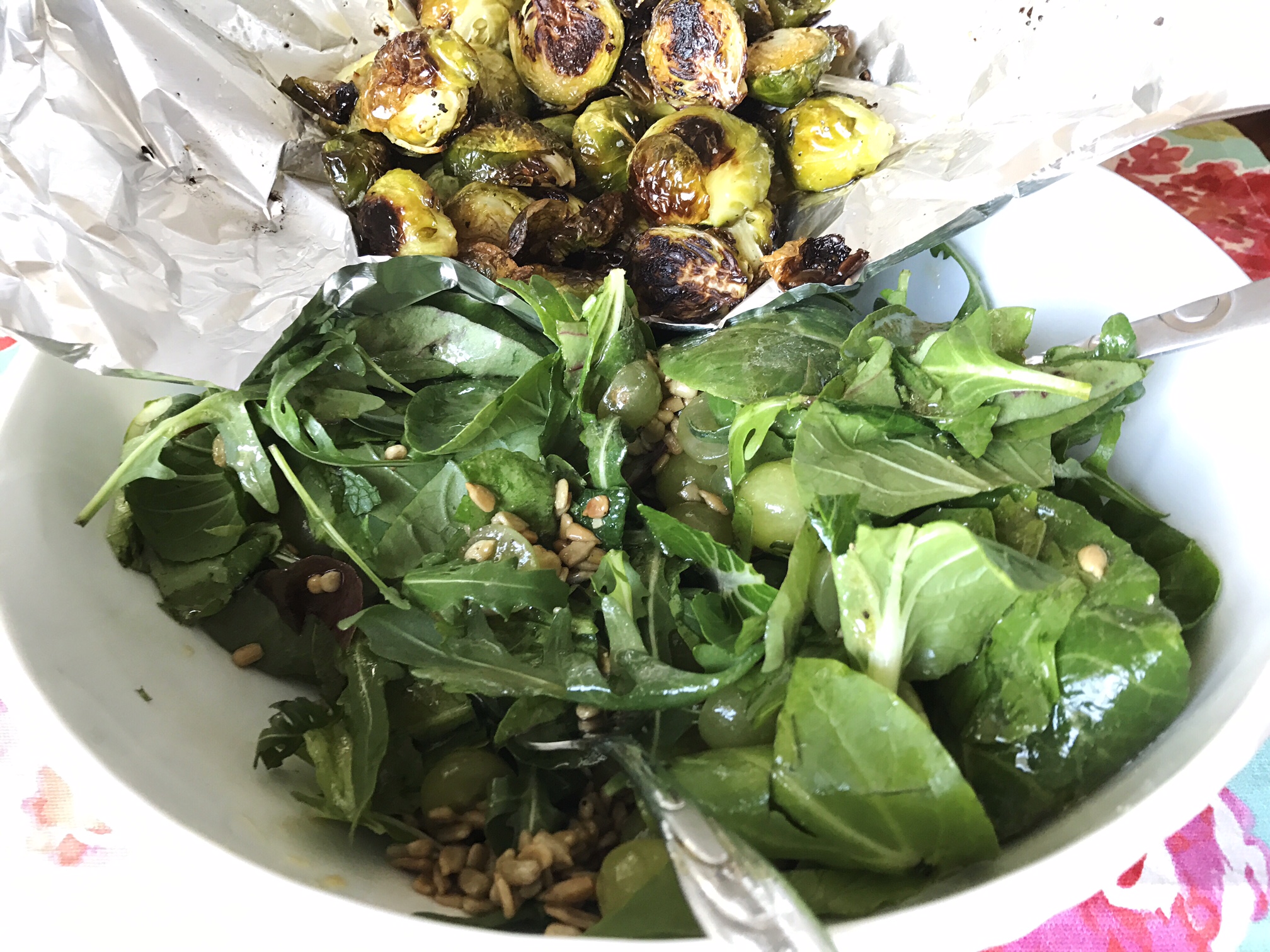 The dressing here is a classic vinaigrette, and could not be easier. Mix up some oil, vinegar, a little Dijon mustard and some salt and pepper and drizzle all but about a tablespoon over your greens and give this a toss. Take the reserved dressing and add it to your roasted brussels that you let cool slightly, give that a little mix. I just picked up the foil and made a little bowl out of that to combine it all in, then I tipped that straight away into the greens. I tossed the foil away and had one less thing to clean. Yay, meeeee!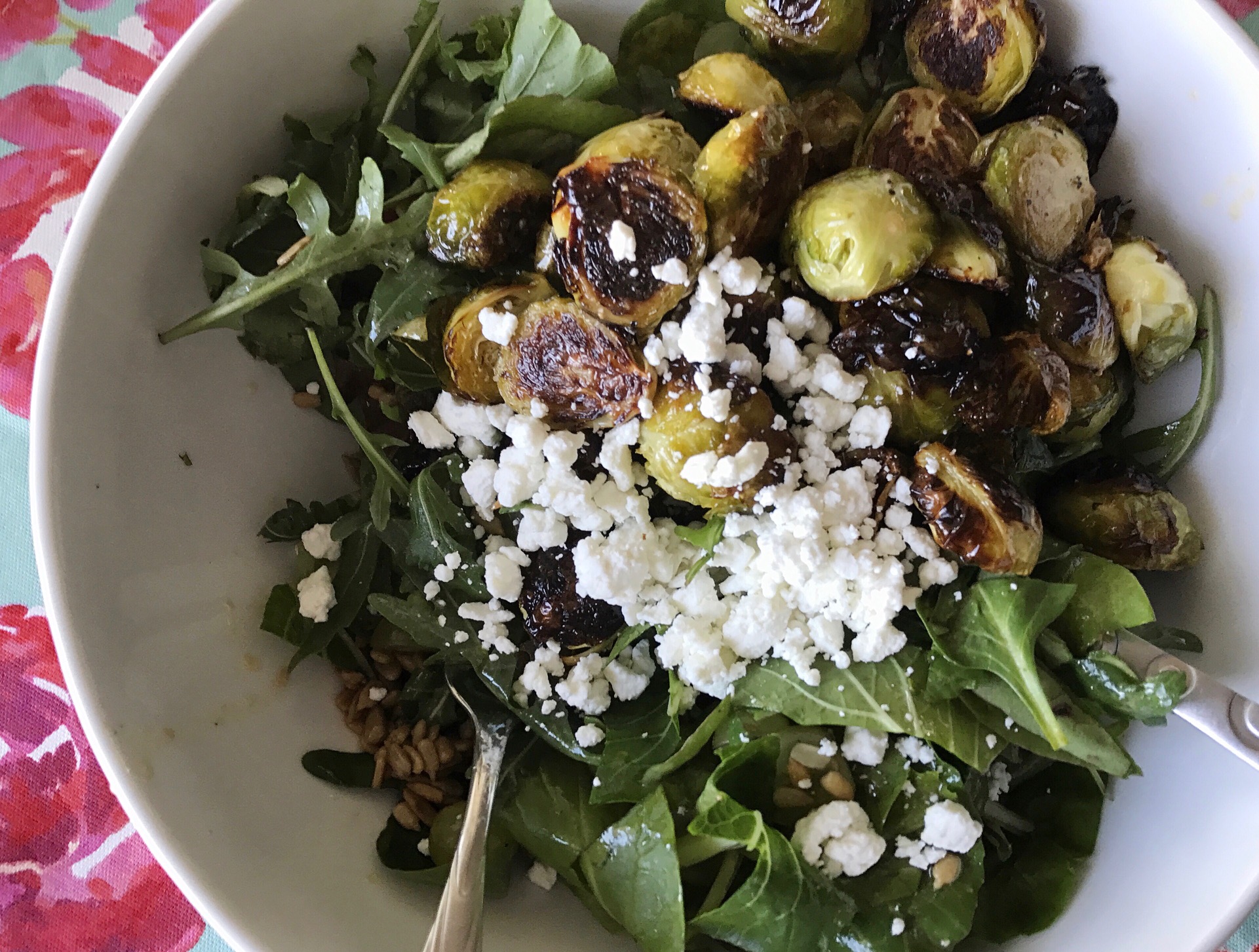 Add some goat cheese to this, the smooth and creamy richness is just perfect against the salty crunch of the seeds and the tart sweetness of the grapes. This is where the goat cheese crumbles come in really handy compared to a log of the stuff…..much easier to navigate. Crumbled gorgonzola would be great here too. How about feta? If you like it, use it!
You can serve this as a meal on its own because it is really substantial, or you can grill up a piece of chicken or fish and this would be an amazing go along……..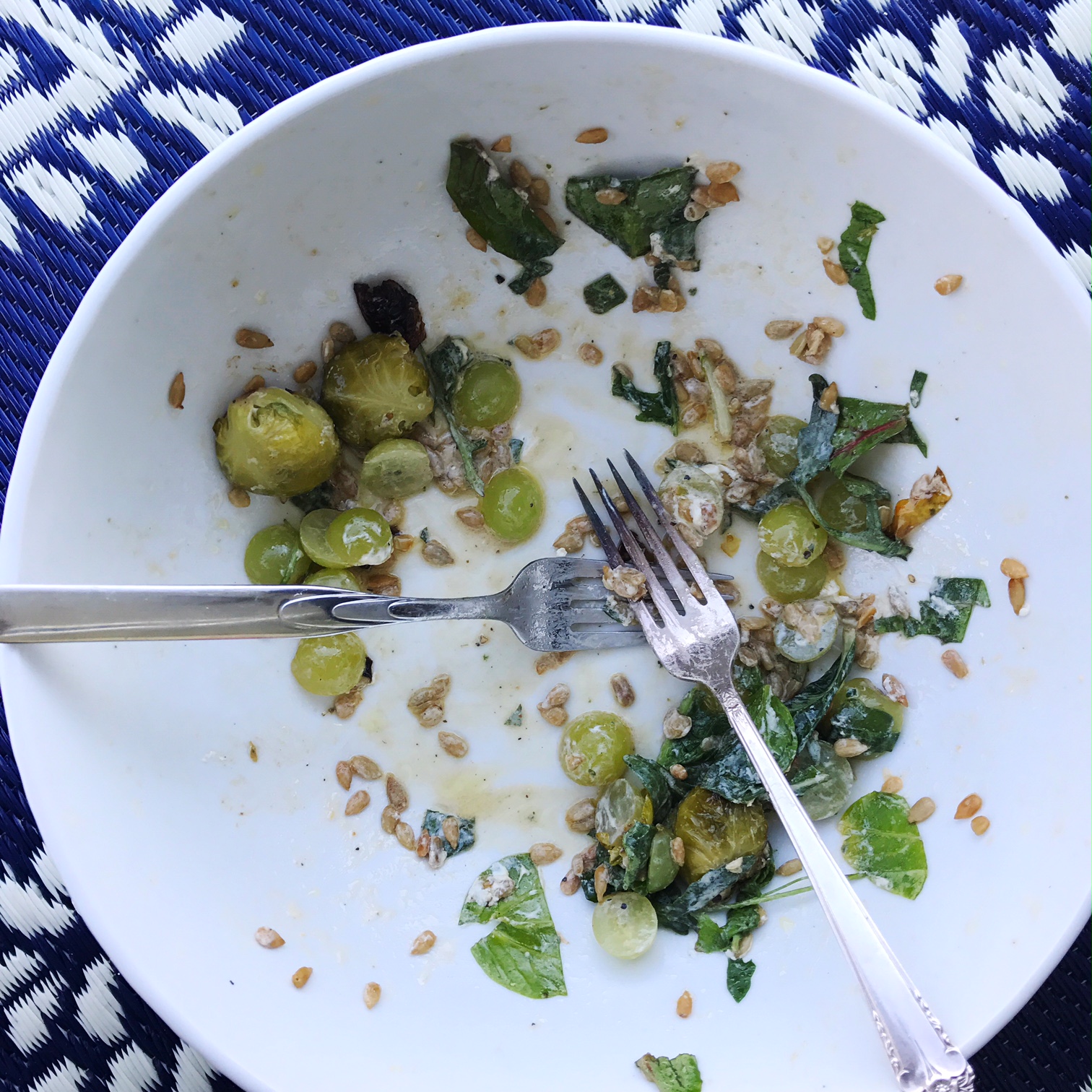 and then it's gone. Man that was good.
This year is looking great already.
RECIPE BELOW: THIS MAKES 2-3 very generous servings. Non-brussels sprouts eaters be warned……this salad is so good it will take you to the cruciferous side. Come on over, good things await here for you.
Roasted Brussels Sprouts & Baby Greens Salad
2017-01-02 16:21:54
Ingredients
1 1/4lb (about 12 - 15 depending on their size) Brussels Sprouts, trimmed and slice in half
1 5 oz container baby greens, or baby kale mix, or spring mix, or WHATEVER YOU LIKE
1 cup grapes, halved (red or green, you choose!)
1/4 cup dry roasted sunflower seeds
1/4 cup (or more!) crumbled goat cheese
FOR THE DRESSING
3 tablespoons red wine vinegar
1 teaspoon Dijon mustard
1/3 cup olive oil (plus more for your drizzling)
Kosher salt and fresh cracked pepper to taste
Instructions
Heat your oven to 400°
Place the brussels sprouts on a large foil lined baking sheet and drizzle with olive oil, season with salt and pepper and give them a rub down to coat, and then spread them out evenly. Pop into the oven and roast for 20 minutes or until browned and fork tender, turning once halfway through. Allow to cool slightly.
While thats going on in a small bowl whisk the vinegar, mustard, healthy pinch of salt and some black pepper together. Gradually whisk in the olive oil until thickened. Taste for seasoning, it should be pretty ROBUST!
In a big salad bowl, dump in your greens. Follow that with the grapes and sunflower seeds, and toss gently with most of the dressing to combine. Leave out about a tablespoon, you are going to toss that around with the slightly cooled sprouts. Then add this to the greens and toss again gently.
Top with goat cheese crumbles (or tear pieces from a log if that is what you happen to have on hand.....a little messy but it does the trick!), and more sunflower seeds if you like.
Dish this up and DIG IN! Feel GREAT!
Repeat.
Kick and Dinner http://kickanddinner.com/