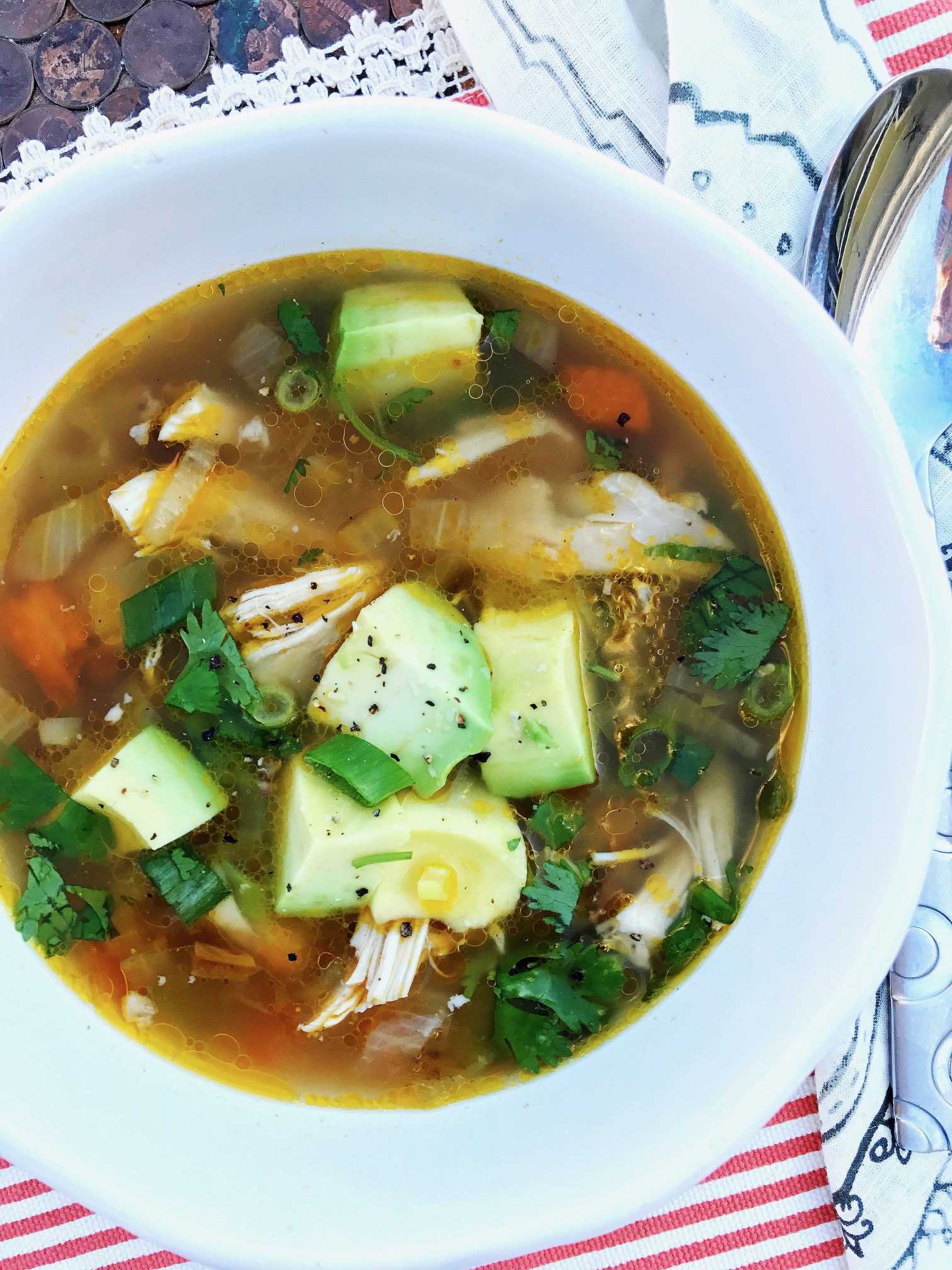 This is a re-post from last year. It's just THAT cold outside, I consider it a public service announcement : ).
Okay, sure, I like chicken soup well enough.
It's sort of watery though, don't you think? Kinda thin. Doesn't seem to have much going for it, unless you like mealy overcooked chicken bits and a few soggy scraps of carrot. Maybe I just associate it with being sick and that's clouding my judgement. Maybe I relied on too many cans of Campbell's Chicken and Stars during my leaner years. Ug.
So do I LOVE chicken soup? . . . . meh, can't say that I do;
Until now. This soup has redefined chicken soup for me, and that is all. Tender chunks of oven roasted (not boiled within inches of its last existence) chicken languish luxuriously in a fresh tomato and green chile infused broth. Ladle that piping hot elixir of love over some cilantro, green onion and velvety chunks of avocado. The heat from the broth will hit that fragrant herbage and it will bloom for you, while the creamy avocado plays off the subtle heat of the green chile. Yes, it is as good as it sounds. And yes, it is really easy to pull together.
It's simple, it's soothing, and it will curl your toes at the same time.
Big payout coming from a little bowl of soup.
But ya gotta start with that chicken, and it's not how you would think. Rather than throw a whole chicken into a big pot of water to be cooked down like grandma used to do (well, not my grandma but I imagine somebody's grandma), what I suggest is to roast the chicken first, skin and all, before it goes into the broth.
No boiled down rubber chicken in this soup, ya hearin' me out there?
I used one package each of breast and thighs, bone in, skin on. If you don't fancy dark meat as a general rule, keep in mind that any soup benefits from the dense delicious fatty-ness the thigh portion (as opposed to the super lean breast) brings to the hot-tub party, so don't get weird about that, okay? Give your chicken a little love with a rub down of olive oil and then liberally season with salt and pepper, both sides. If you have a seasoning mix that you are partial to, go ahead and use that. Whatever. Just be sure to wash your hands…..raw chicken….you know the drill. Onto a tin-foil lined sheet pan and into a preheated 375 degree oven for 45 minutes this will go.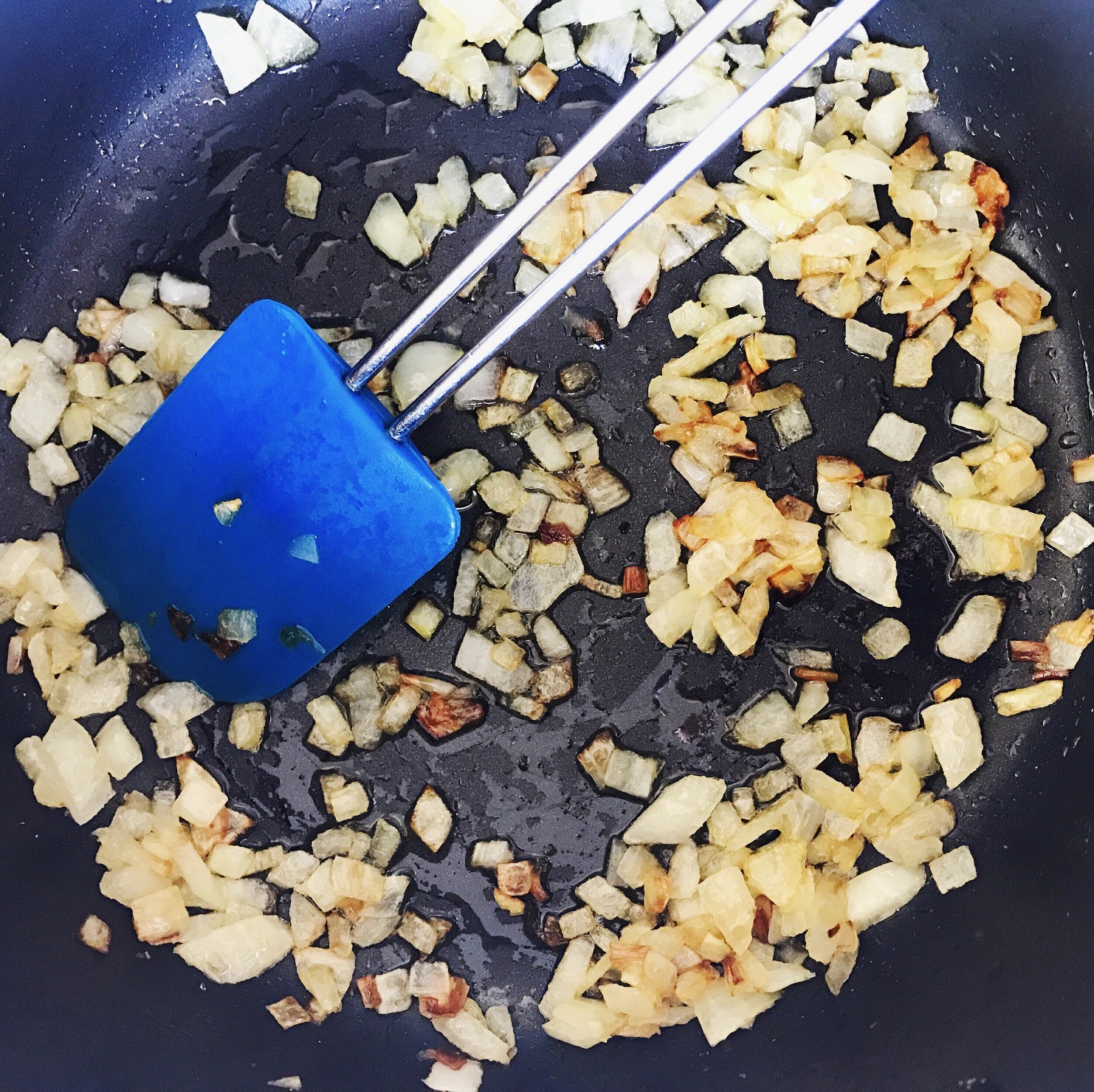 While the chicken is doing its thing get out a nice big soup size pot and plunk in some diced onion with a glug or two of olive oil. Let this cook over a medium heat stirring now and again until you get a nice, soft caramelization, YUM! The browning of the sugars in the onion are crucial to flavor your broth so be patient and stay the course. This should take about ten minutes.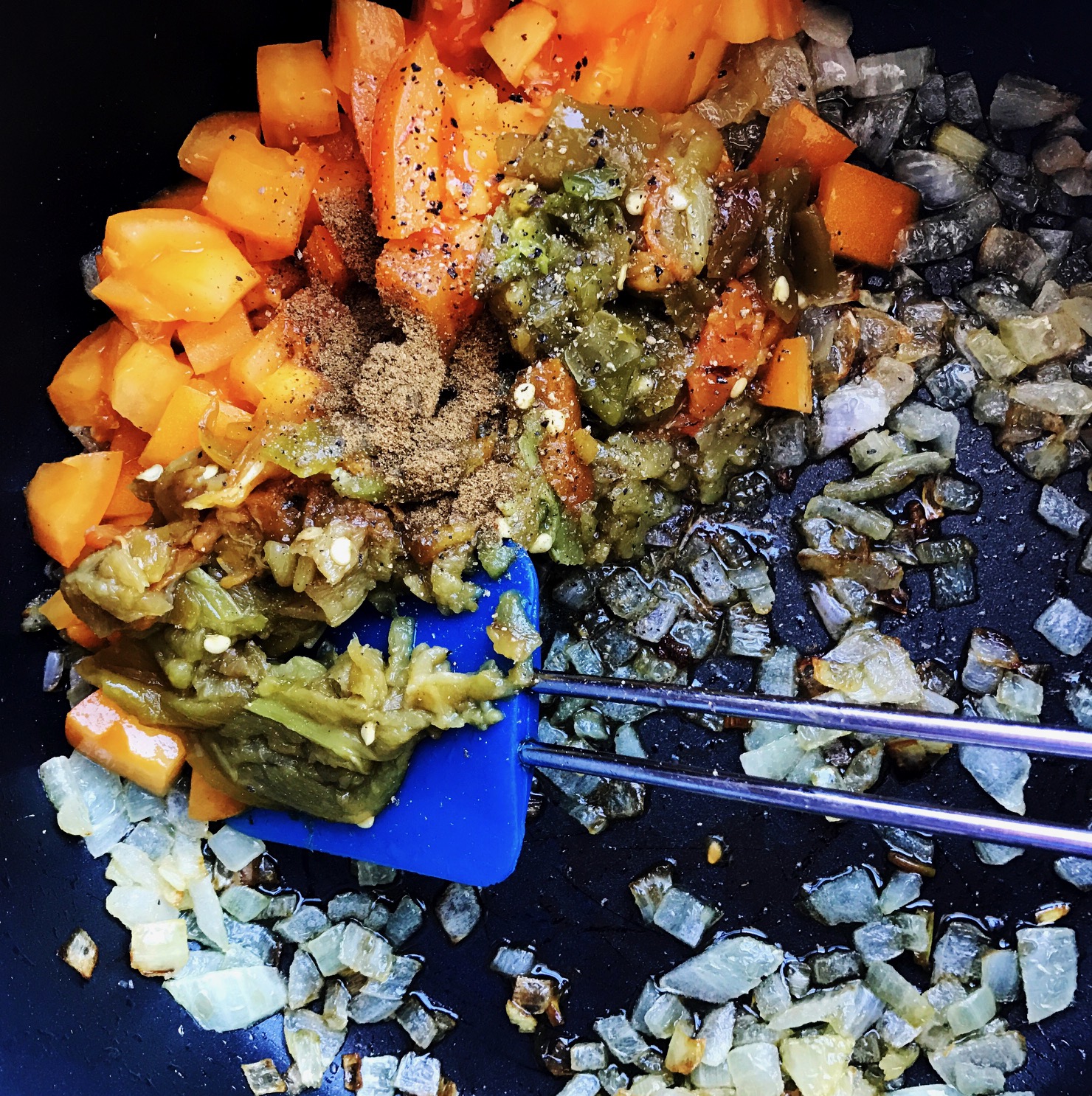 Toss in some diced fresh tomato, some chopped roasted green chile*, a teaspoon of cumin, and salt and pepper to taste. Give this a stir. I found these beautiful yellow tomatoes but plain old red tomatoes work just as well, of course! Roma tomatoes work great btw because they are less watery than your run of the mill salad tomato, and always easy to procure.
*Feel free to omit if you don't like chile, although I won't be happy about it, and I will wonder about you forever. I am a New Mexico girl, and we do love our green chile.
In goes some chicken broth. Just go crazy and dump in two 32 ounce cartons, and heat this through while you get after that chicken, which should be cooled down by now. Remove and discard the skin and bones and tear that meat up into bite sized (ish) chunks (I don't know why it tastes better than cutting it up with a knife, it just does…go figure). Plunk your chicken down into the heated broth.
This makes a lot of soup.
And you will be so happy about it! Plus, you are pretty much done with the cooking part.
It's true!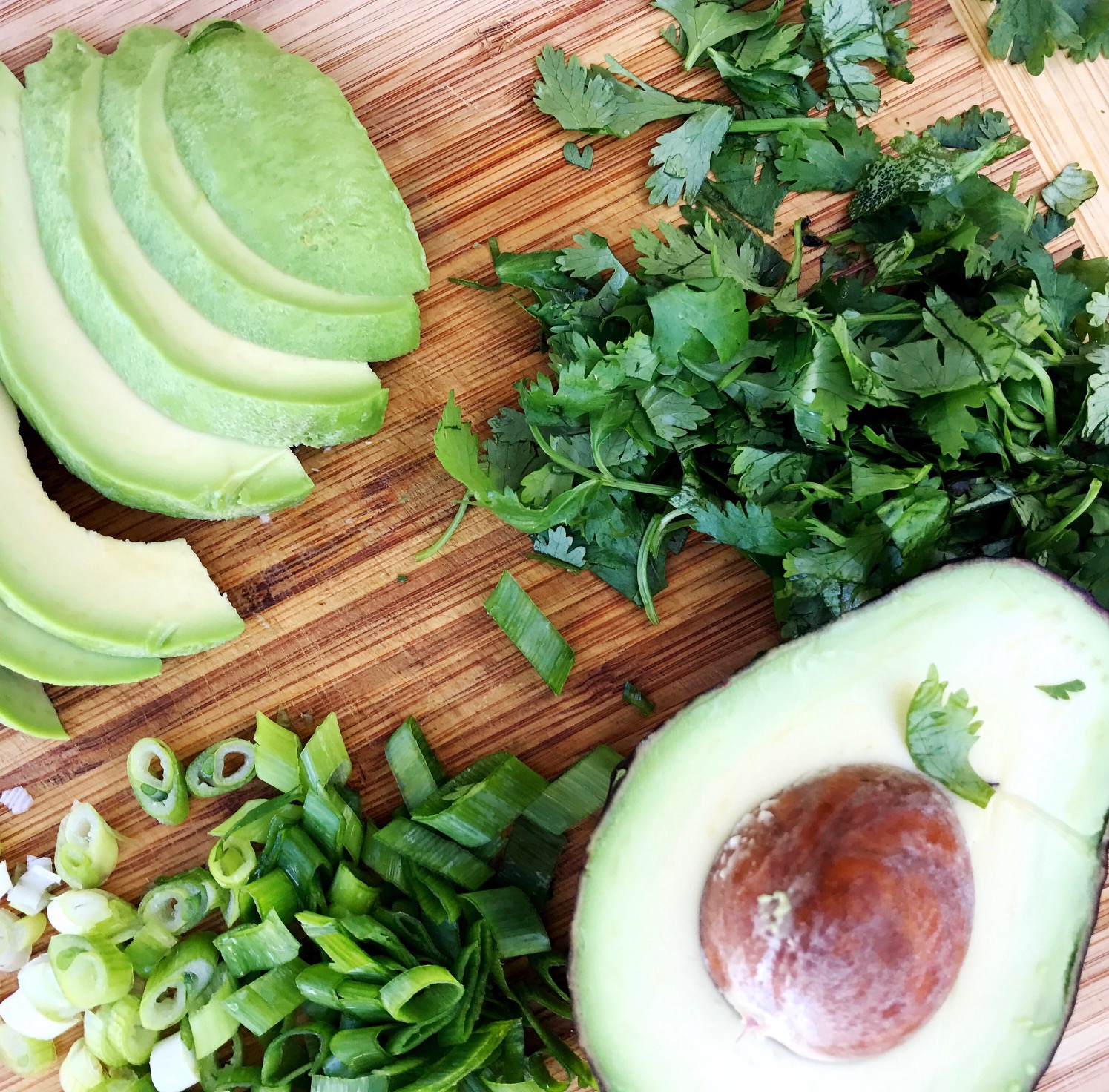 Here is where the cilantro, green onion (interesting green onion DIY here) and avocado come in; you had lots of time to prep this up while the chicken was roasting…..see how efficient you are?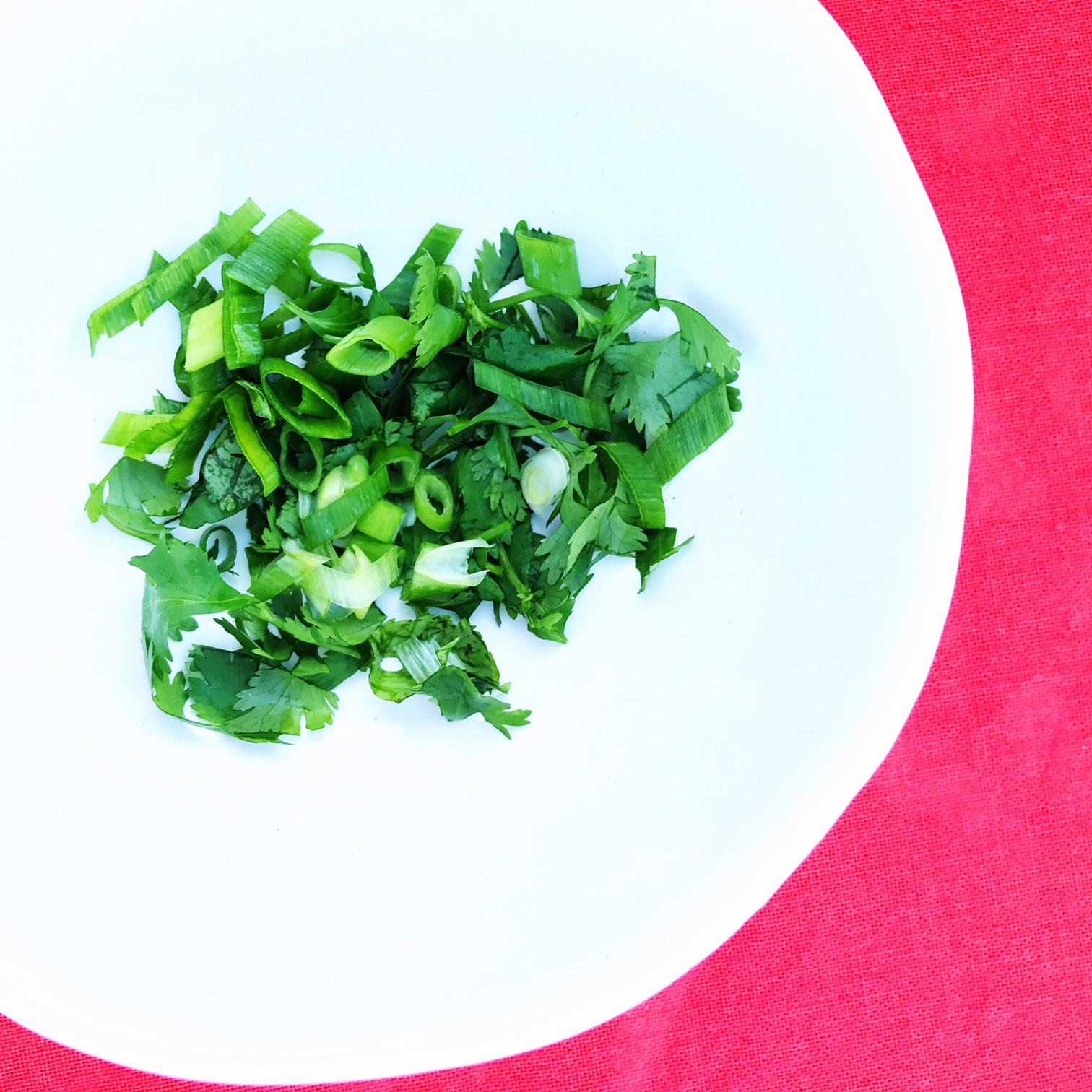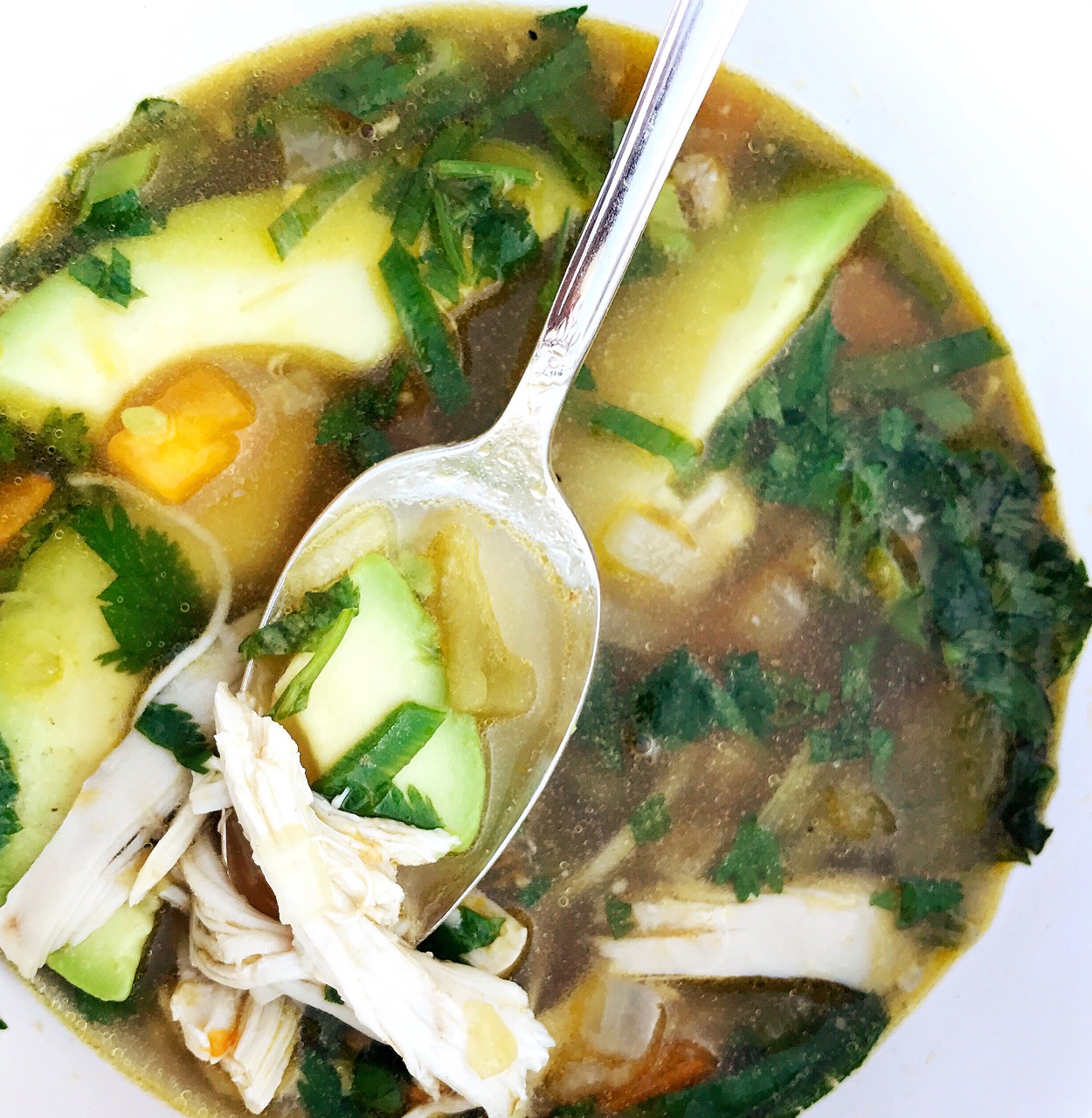 Scatter some cilantro and green onion down into your serving bowl. Ladle over your hot soup. Top with some avocado and more green stuff for good measure. The heat gently releases the flavors of the cilantro and green onion and does something magical to the richness of the avocado. Of course the chicken is not boiled to death here so it remains nice and juicy and if you have the extra kick from the chile, well, it's chicken soup with a PhC. Get it? Ph C? C for Chile? yukyuk….. okay I'll stop now.
RECIPE BELOW:
As mentioned this makes A LOT of soup (around 10 cups), so it's great when you have a bunch of people around. Perfect with a salad for dinner, even better as leftovers the next day. Cooking time is about an hour, mostly because the chicken roasts for 45 minutes. Prep time will take you half of that, no sweat. Homemade chicken soup in under an hour? Hey baby, it's cold outside and we're not messing around!
Roasted Green Chile Chicken Soup
2018-01-05 12:41:47
Ingredients
2 chicken breasts, bone in, skin on
4 chicken thighs, bone in, skin on
2-32 ounce cartons of chicken broth
1/2 yellow onion, finely diced
2 medium sized fresh tomatoes, diced to a medium chop
1/4 - 1/2 (or more) cup chopped green chile*
1 teaspoon cumin
olive oil
salt and pepper to taste
TO LAYER INTO THE SOUP
2 avocados (chunks or sliced, however you like it)
bunch of chopped fresh cilantro
2-3 thinly sliced green onion
Start with the chicken
Preheat your oven to 375°
Liberally coat the chicken with olive oil. Season both sides with salt and pepper. Place on a foil lined baking sheet and into the oven to roast for 45 minutes. Remove from the oven and allow to cool.
While the chicken is roasting
Add olive oil to coat the bottom of a large soup pot, then add the chopped onion and bring up to a medium to medium high heat, stirring occasionally, until the onion becomes soft and slightly bronzed, about 10 minutes.
Add the chopped tomato, green chile, cumin, and salt and pepper to taste. Give this a stir and let it cook for another minute or so.
Add the broth and let this heat through. Check for seasoning, adding salt as needed.
Once that chicken is cool enough to handle
Separate the meat from the skin and bones (which of course you can discard). Break or pull the chicken apart into healthy bite sized chunks. Add the chicken to the broth.
TO SERVE THIS UP
Scatter some green onions and cilantro into your soup bowl. As much or as little as you like. Ladle the hot soup over your herbs, and plunk in some avocado chunks (or slices). Top with a bit more greens just because it looks pretty.
Go find the biggest spoon that will fit in your pie-hole.
Notes
* As anyone familiar with this ingredient knows, the amounts you use depends upon your chile. It also depends on how hot (or mild) you like it! Canned green chile is an absolute no-no....so if you don't have any in the freezer (like all good card carrying New Mexicans do, and you know who you are) there are some great choices in the frozen food section in some grocery stores. If THAT doesn't work and you can't find green chile anywhere then finely dice a jalapeño or two and cook that down slowly with the onion. You will get a nice little zing with that.
Kick and Dinner http://kickanddinner.com/