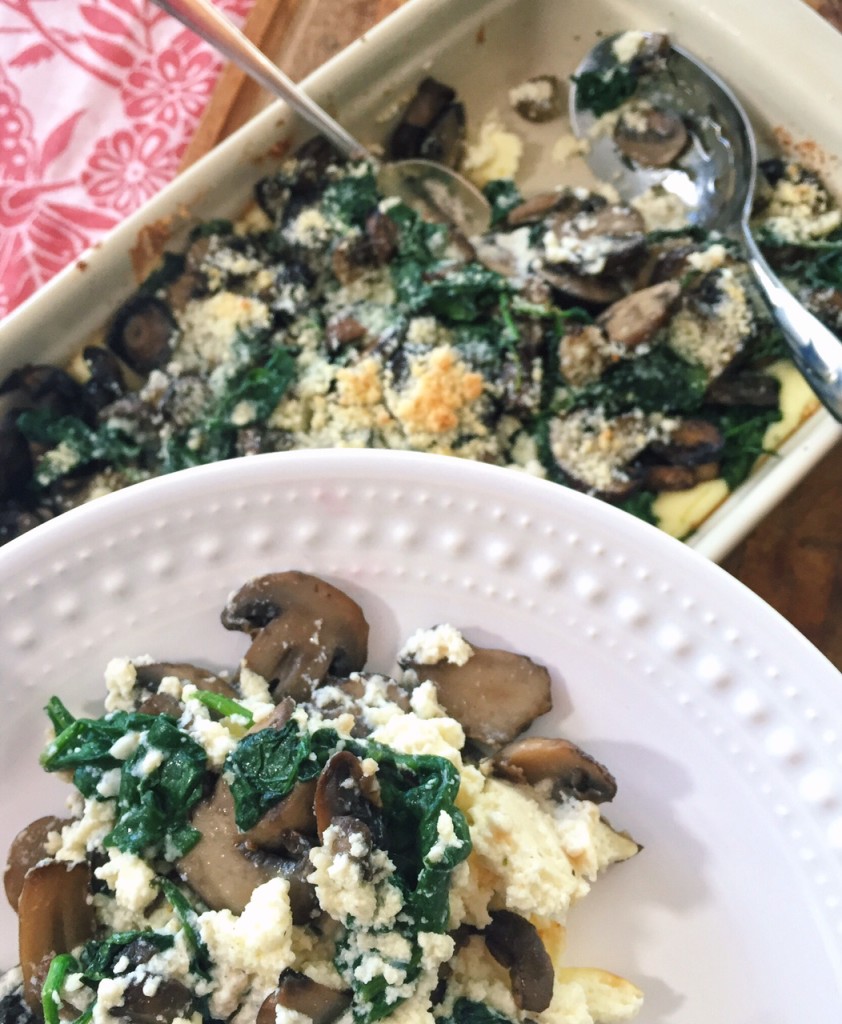 Poor little mushrooms. Somewhat underrated (what, a rubbery fungus?) and most often times an afterthought (I'll take a large with pepperoni, sausage, peppers, olives….and, oh yeah, mushrooms) or delegated to the appetizer section of the menu (where they will be either stuffed or fried, let's face it) mushrooms are really a versatile if not under-appreciated gem of an ingredient!
Thanks to the influence of my favorite fan of all things schroomie (hi, Michelle!), I took a look into the benefits of adding more of these guys into the diet….and I found that mushrooms contain just as much of an antioxidant capacity as tomatoes, pumpkins, green beans or zucchini! Surprise! Plus they are a great source of selenium, a mineral you don't generally find in most fruits and veggies. Then there is the vitamin D and folate …. good news for any fungi fanatic, because lotsa people do not get enough of either. Consuming mushrooms can help with immunity, heart health, and even play an important role in DNA repair.
I don't know about you……but I could definitely use some of THAT. eeek
SO eat your veggies….and your fungus. This creamy, cheesy, comforting casserole (yeh, I'm bringing the casserole back…don't even try to stop me) will make it easy.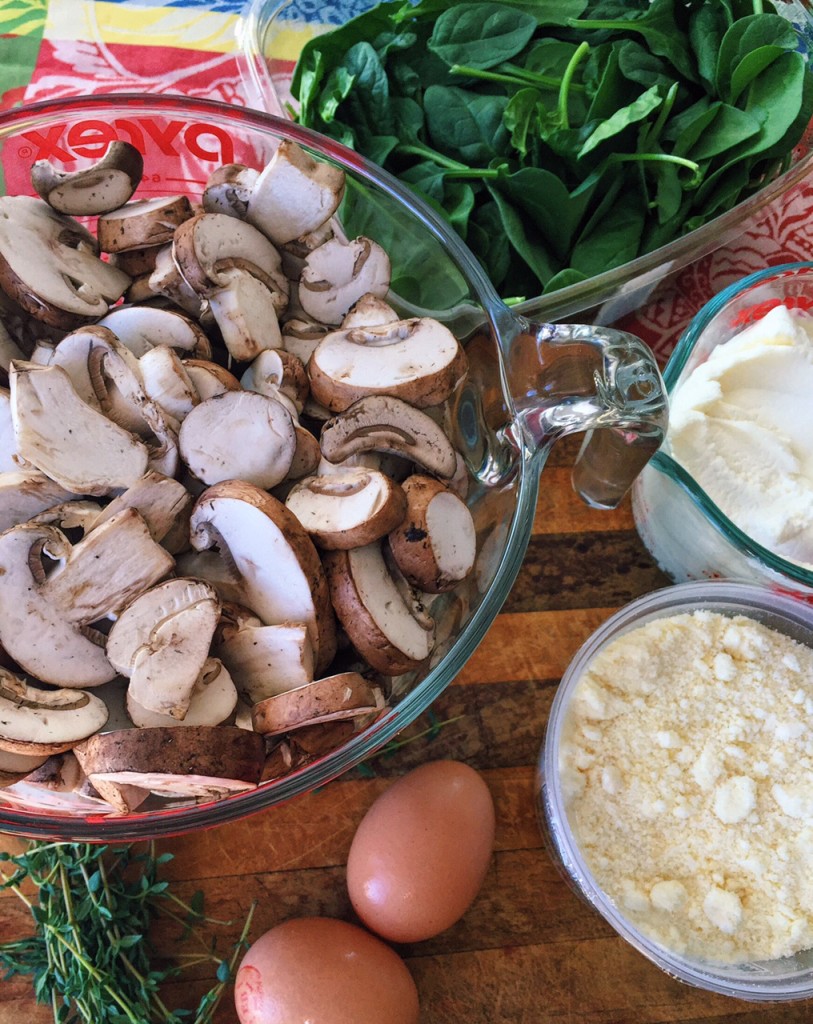 Yep…..you'll need a lot of mushrooms for this. Just get yourself three 8oz packages (about 8 cups) of sliced Crimini mushrooms, and you are pretty much good to go! The majority of the work just did itself. Now pop those onto a big 'ol baking pan with a shallow rim and give them a drizzle of olive oil and a smattering of salt and pepper. I always line the sheet with tin foil, easy cleanup – guaranteed! Now get in there with your hands and give your mushrooms a bit of a massage, just to get everyone all nicely coated and feeling it.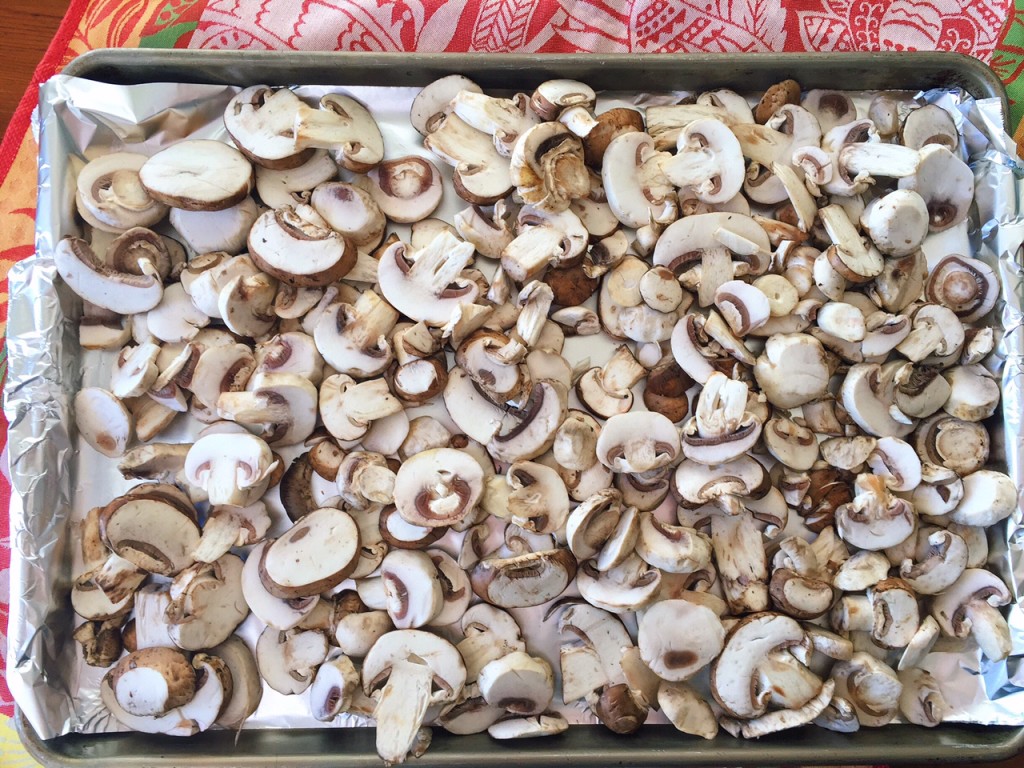 Into the oven this goes for 25 minutes, while you whip together the creamy base of deliciousness that's going to gently cradle those baby bellos.
Yep, a Crimini is simply an infant Portobello mushroom.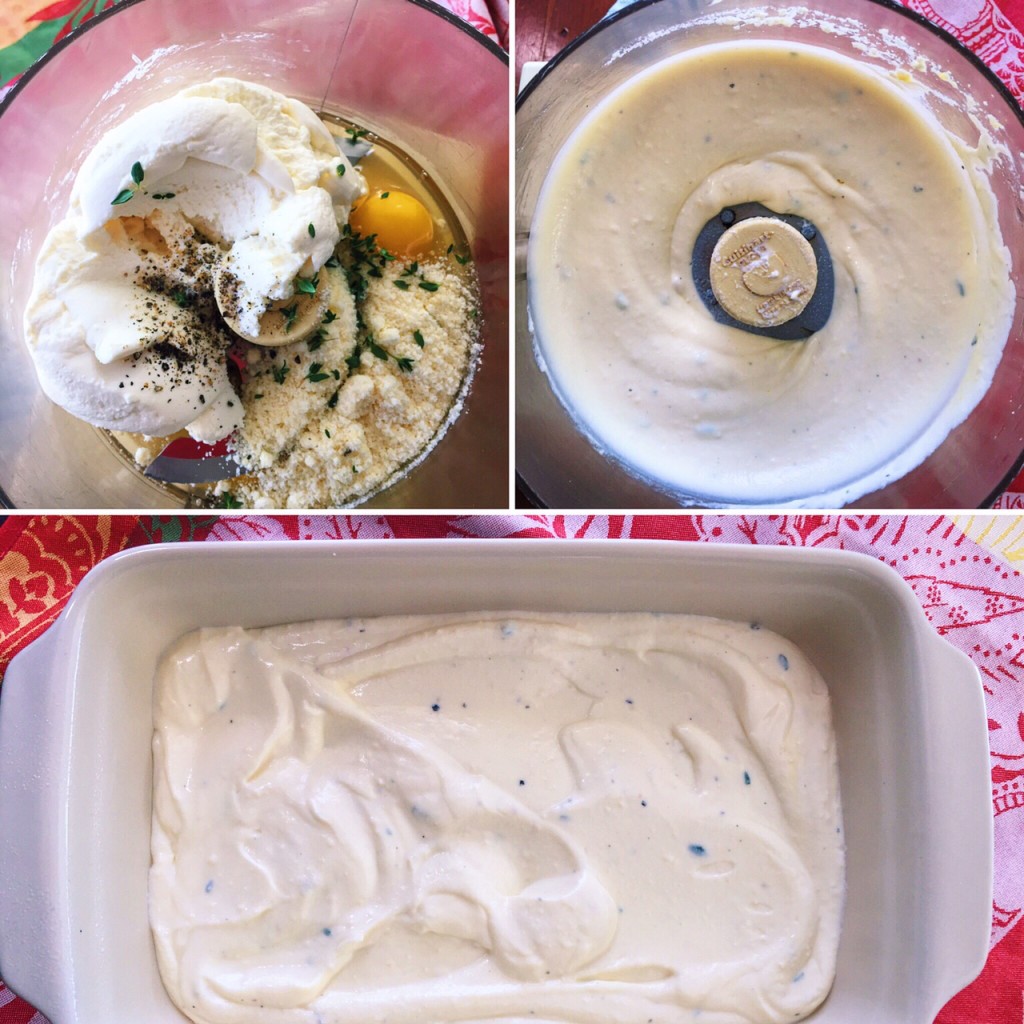 And seriously, you'll still have time to walk the dog because all you're doing here is blending together a cup of ricotta cheese, some parmesan, a few sprigs of fresh thyme, two eggs, a grind of pepper. Two minutes later……….spread that blanket of love into the bottom of a lightly greased baking dish. Set that aside….. and check out those mushrooms!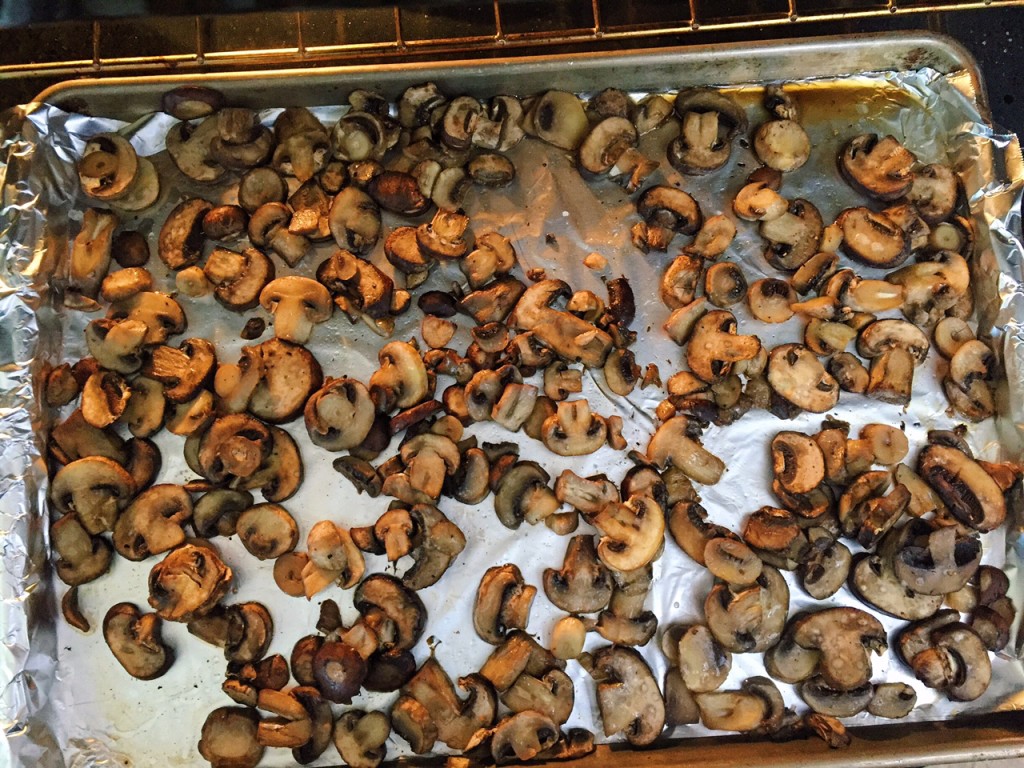 They will look like this after twenty-five minutes. Now it's time to go ahead and dump that container of spinach on top…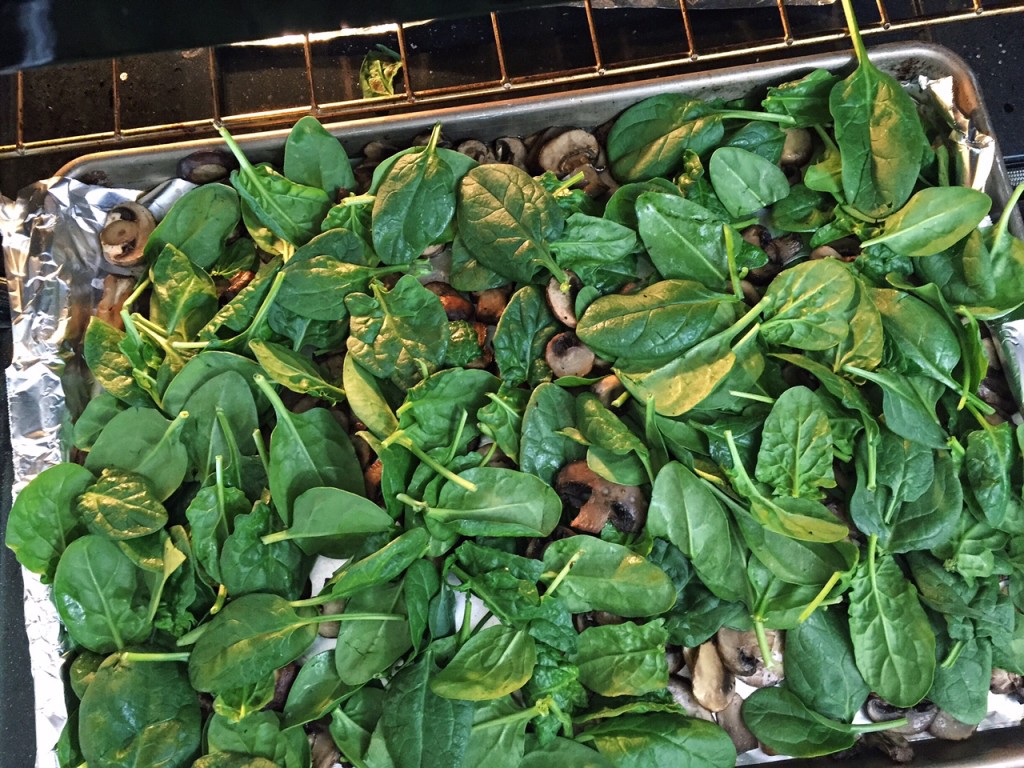 …and back into the oven this will go for another ten minutes.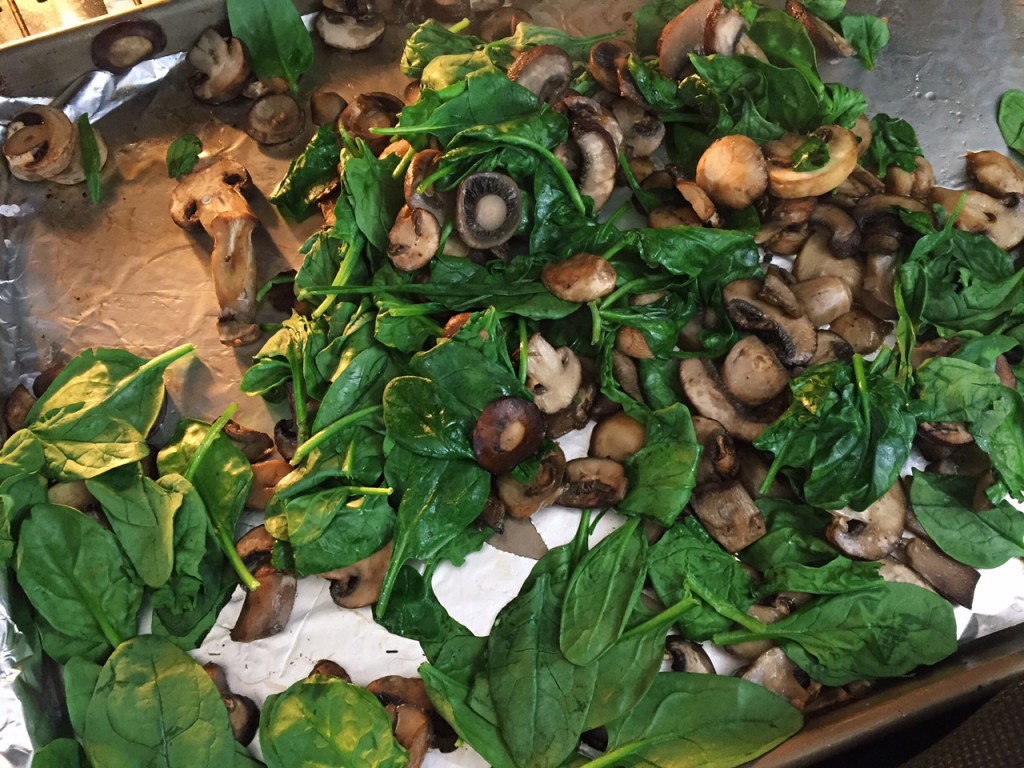 Now you are ready to pour the whole shroom-licious she-bang over the creamy ricotta mixture. That tinfoil does a great job in helping you pick it all up and just like that, pop it on top. Sprinkle this with a shake of parmesan, and back into the oven (on a lower temp now) it goes!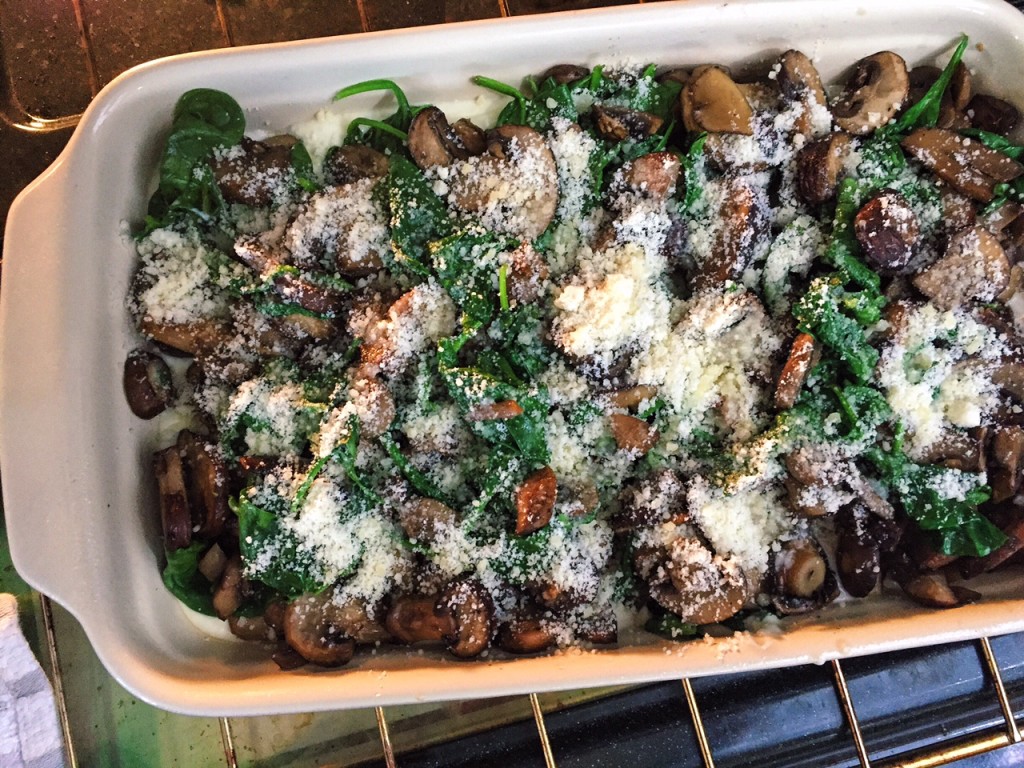 Since you already walked the dog….take this time you have now to throw together a fresh little gremolata to sprinkle over the top of everything! A gremolata sounds fancy, but is simply a chopped herb condiment classically made of lemon zest, fresh parsley and garlic. Well guess what? I didn't HAVE any lemon so I chopped up some parsley with a garlic clove and some kosher salt. I am such a rebel.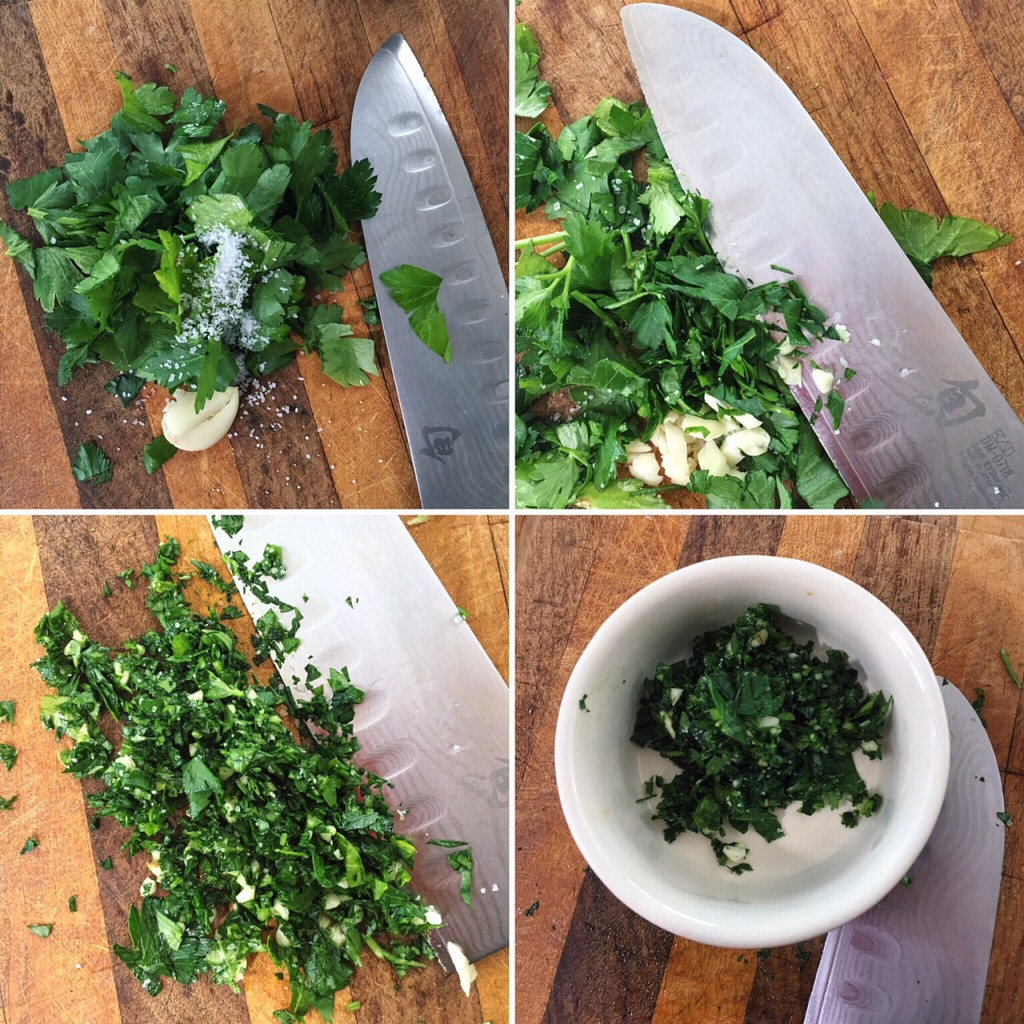 Use a big sharp knife, no need to get anything else dirty. The course-ness of the salt will help the knife grind down the parsley and garlic, and you will end up with a fresh, super flavorful pop of salty, garlicy….what the yum? Don't leave it out, it is so awesome with this………….(and so many other things, you'll see once you try it). Into a little bowl it goes, at the ready.
Is it time yet? Oh, yeah…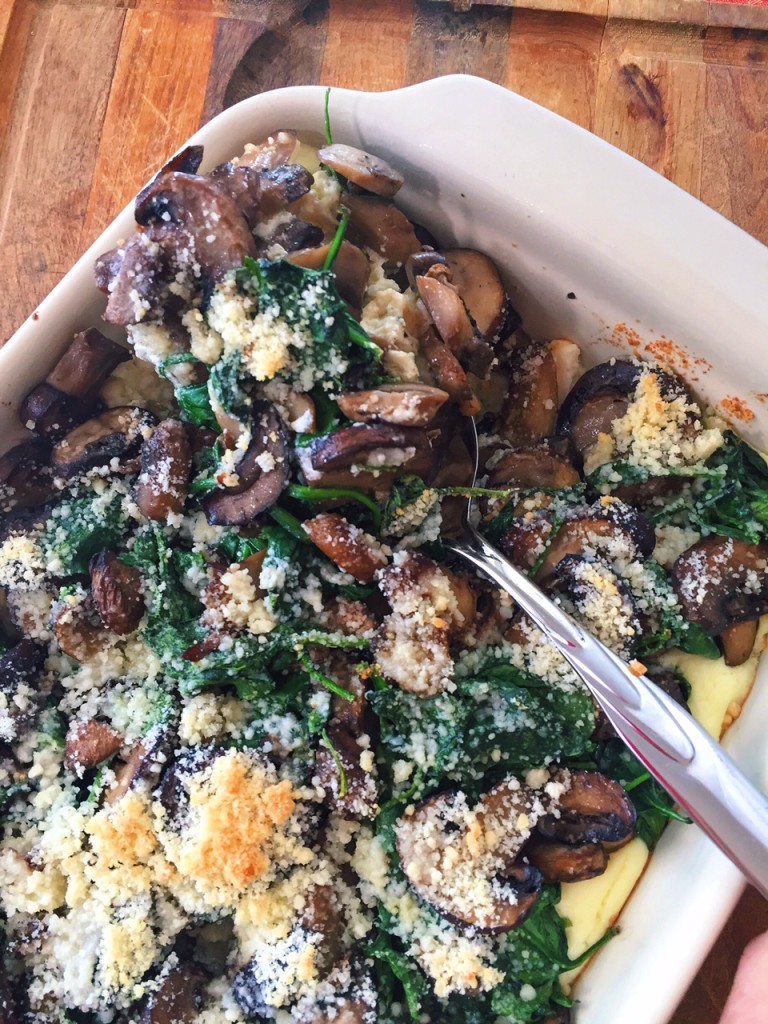 This is perfect if:
You really like mushrooms.
You are a vegetarian, and you really like mushrooms.
You really like mushrooms and you are looking for a great side dish next to….anything.
You are looking for a nifty brunch idea…..and you happen to really like mushrooms.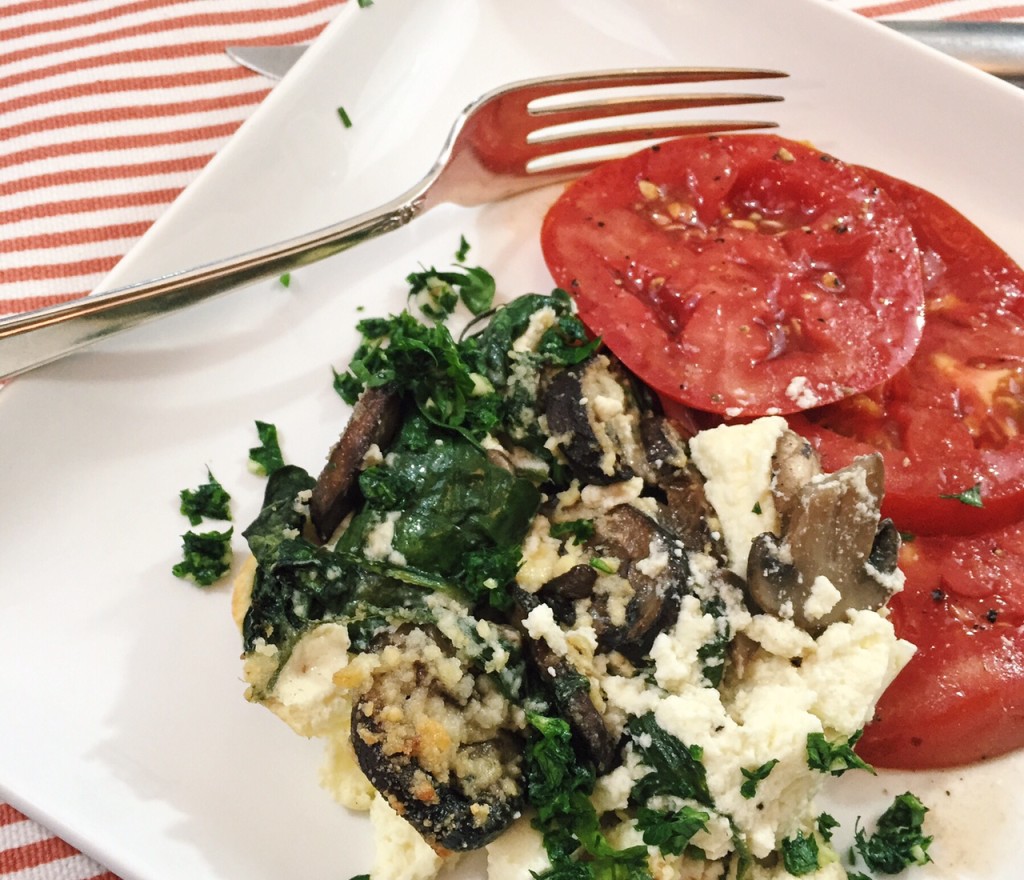 Now serve this up, sprinkle it with a teaspoon or so of your fresh and pungent gremolata, and get happy.
Mushrooms really are magic.
Recipe Below:
This serves 6 easily….and makes for great leftovers. (try it with a sploosh of Sriracha, O…M…G)
JUST SO YA KNOW….There is quite a bit of cooking time involved in this……almost an hour total, but the prep time is very minimal, 15 minutes at the most! The oven will be doing the heavy lifting, and that works for me!
Roasted Mushroom and Spinach Casserole
2016-03-09 09:02:45
Ingredients
1 cup ricotta cheese
2 eggs
3-4 sprigs of fresh thyme*
3 tablespoons grated parmesan cheese, divided
24 ounces (about 8 cups) fresh mushrooms, sliced (I like Criminis)
1-6 ounce package of fresh spinach
Olive oil
Kosher salt and ground black pepper
FOR THE "GREMOLATA"
1 garlic clove
1/4 cup fresh parsley**
1/2 teaspoon kosher salt
Instructions
Preheat oven to 425°
Into a large, shallow rimmed, tinfoil lined roasting pan (or cookie sheet), combine mushrooms, approximately 2 tablespoons (eyeball it) of olive oil and 1/4 teaspoon of salt. Give it a grind or two of black pepper and massage with your hands to distribute the oil. Into the oven this goes for 25 minutes. Once that is done........
Pop the spinach on top of the roasted mushrooms and work them in a little with a wooden spoon, back into the oven this goes for 10 minutes. Once these come out of the oven turn the heat down to 375°.
TO MAKE THE RICOTTA "FILLING"
In a food processor combine ricotta cheese, eggs, thyme (or basil!) 2 tablespoons of the parmesan cheese and a grind or two of black pepper. Process until very smooth.
Spread the ricotta mixture into the bottom of a lightly greased 1 1/2 QT sized casserole dish. Top evenly with the roasted mushroom spinach mixture and remaining 1 tablespoon of parmesan cheese.
Bake for 25 minutes in a 375° oven until lightly browned on top. Remove from oven and let stand for ten minutes. Serve sprinkled with the gremolata.
TO MAKE THE GREMOLATA
On a cutting board with a large sharp knife chop together your pile of parsley, the garlic clove, and 1/4 teaspoon of kosher salt. The salt will help the knife break down the parsley and the garlic, and you will end up with a rough, slightly dry, herby condiment to sprinkle over the plated finished product as you wish. Delish!
Notes
* just strip the little leaves off of the stem, easy! Or, if you prefer use 1/4 cup fresh basil leaves. OR....if you don't happen to have any fresh herbage hanging around use 1/2 teaspoon dried thyme.
** don't measure this out, you will make yourself crazy. Just grab some parsley and start chopping.
Kick and Dinner http://kickanddinner.com/