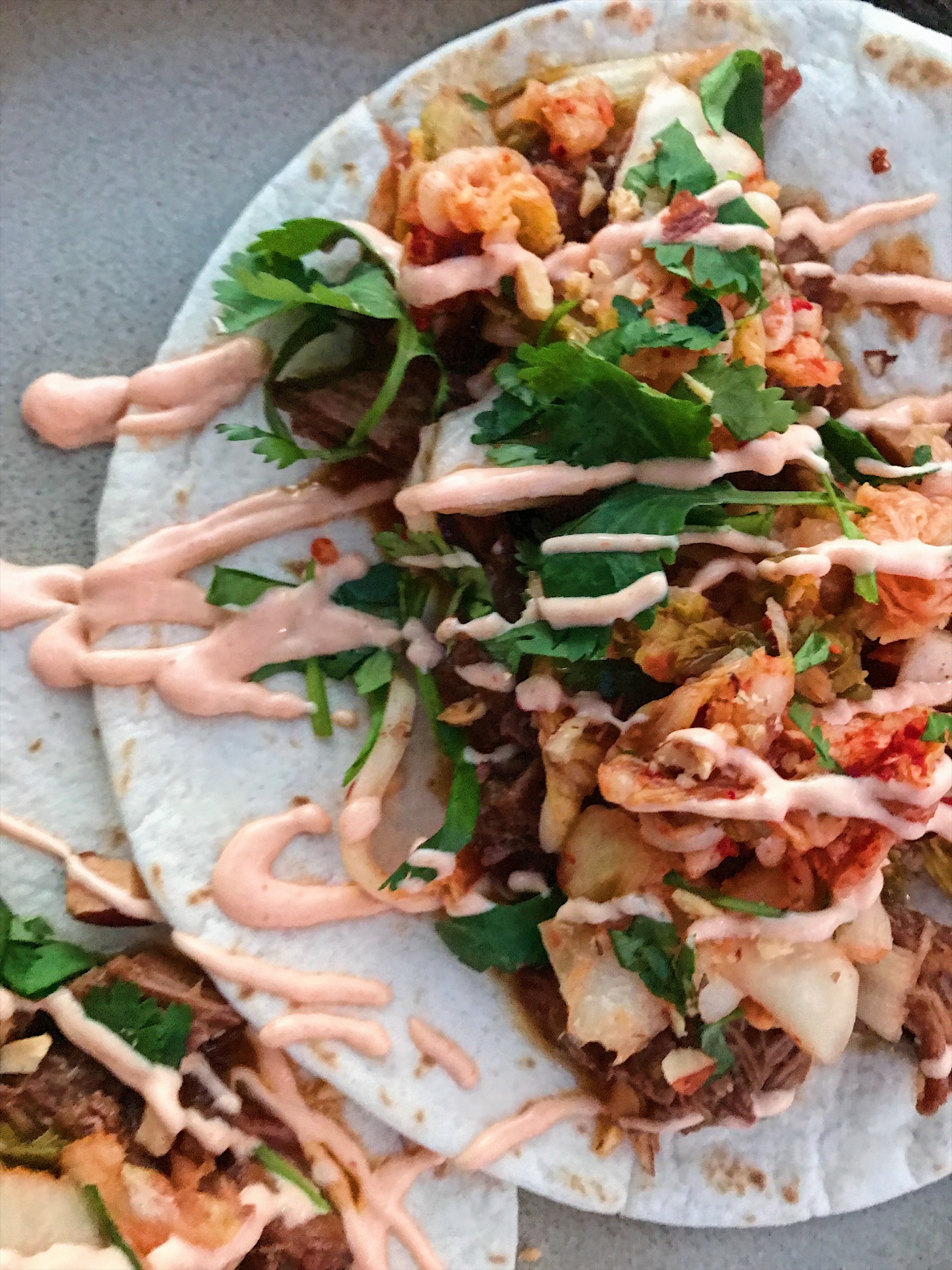 Serious food-fan plagiarism alert :
Just a few short days ago, I was gob-smacked by this beautific-ness popping up in my Instagram feed……….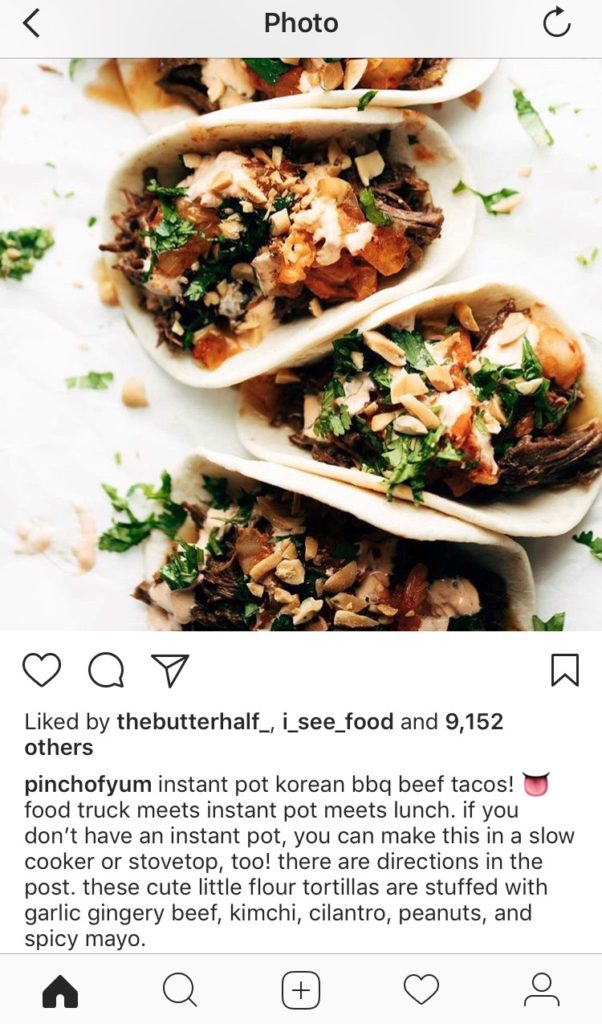 Instant Pot Korean Beef Tacos from Lindsay Ostrom @ Pinch of Yum (poor thing, she doesn't look to have too many followers, does she?) is just one of the ka-billions of gorgeous, completely do-able recipes her blog has been churning out for years (thank you over there, Lindsay and company!), and I am a huge fan in general….
but I can't really put my finger on what prompted me to literally drop everything and run to the grocery store to procure the crucial components of this particular concept. I mean, we ALL look at beautiful food recipes and say to ourselves – oh yeah, makin this shizbah for sure; and then you know what happens. SQUIRREL! Off you go to the next thing.
Something about this one though…..succulent, Asian inspired slow-cooked beef (or quick cooked, if you own an insta-pot!) with all of its sweet and savory umami-ness plopped into a fluffy flour tortilla and piled high with Kimchi (the Korean mother of all condiments), drizzled with a spicy Sriracha mayo…..topped with a scattering of fresh cilantro and crunchy chopped nuts? So easy, so delish, and really.
Who doesn't like a taco?
You gotta know this one is completely ON.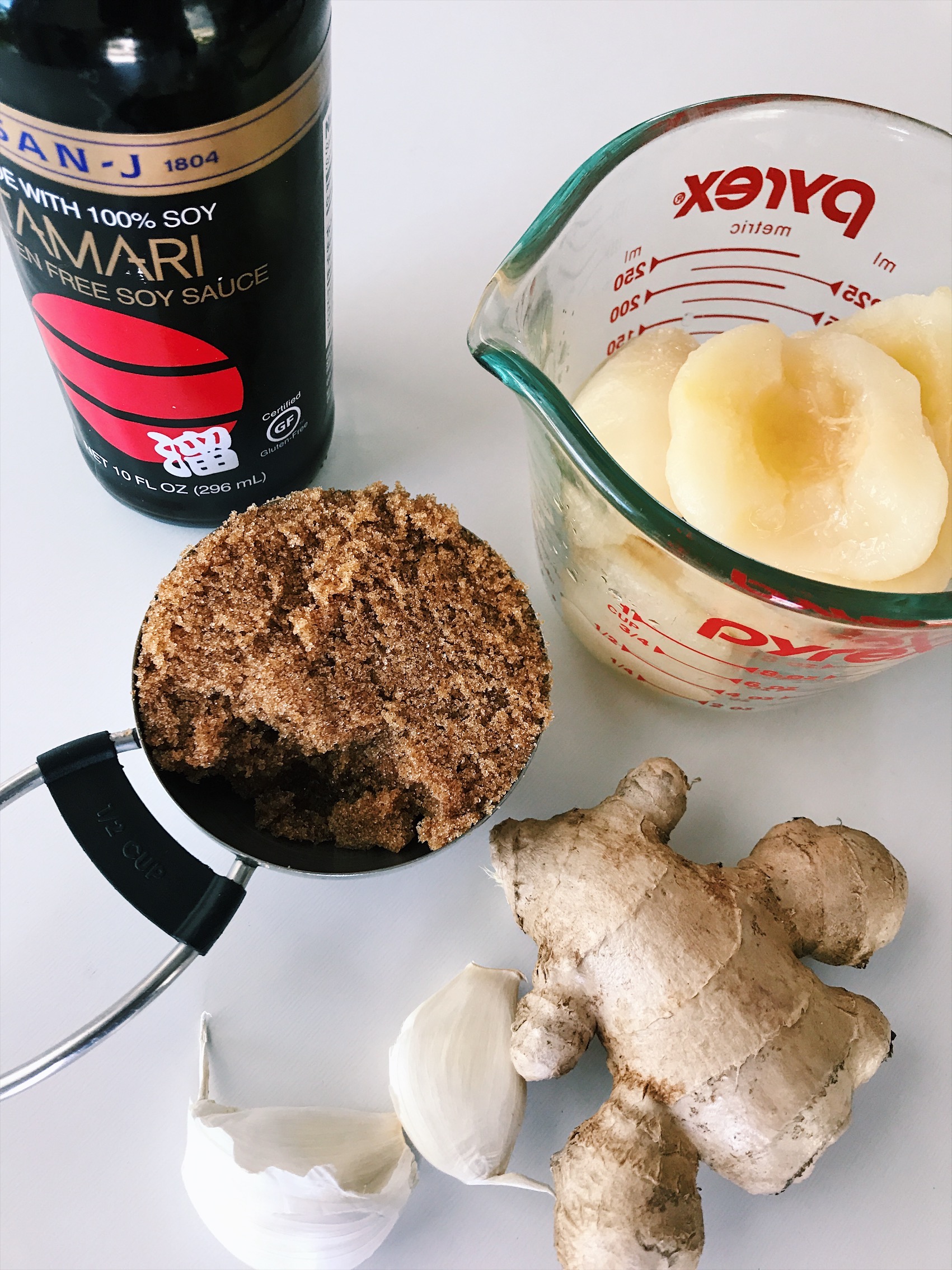 Start with the gorgeous saucey-ness that sends this taco straight to the top. You'll need some soy sauce, brown sugar, fresh garlic, fresh ginger root and a can of pears.
Yep. A can of pears. Love this!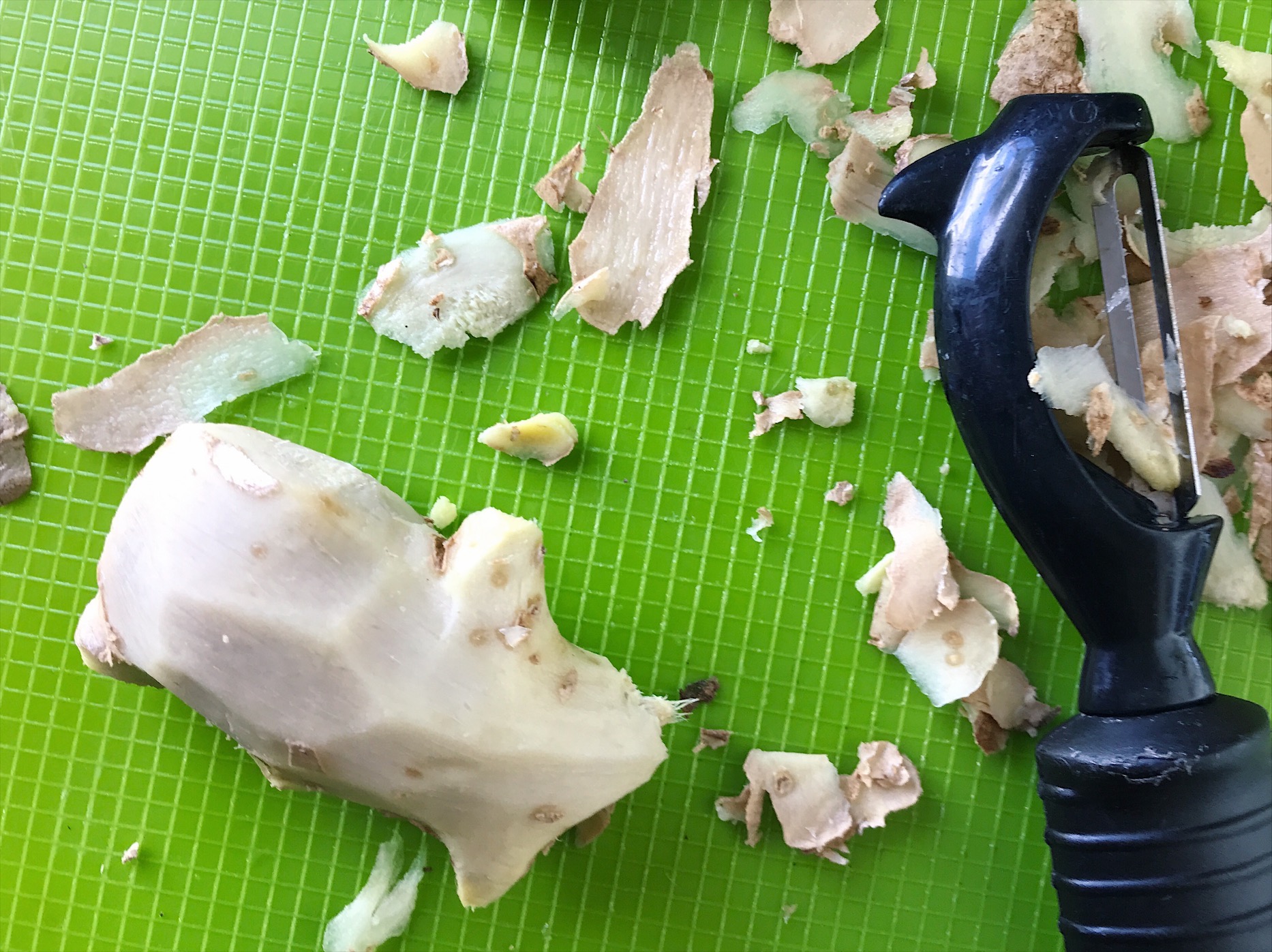 Now as weird and intimidating as that ginger root may look, it cleans up really easily with any old vegetable peeler. Just work around those nibs and protrusions as best you can, and give it a good scrape down. You can also use the edge of a spoon for this job (see how here). Underneath that woody exterior you'll find a fragrant, kinda peppery, dense flesh. Slice this knob up into manageable pieces, just to help things along.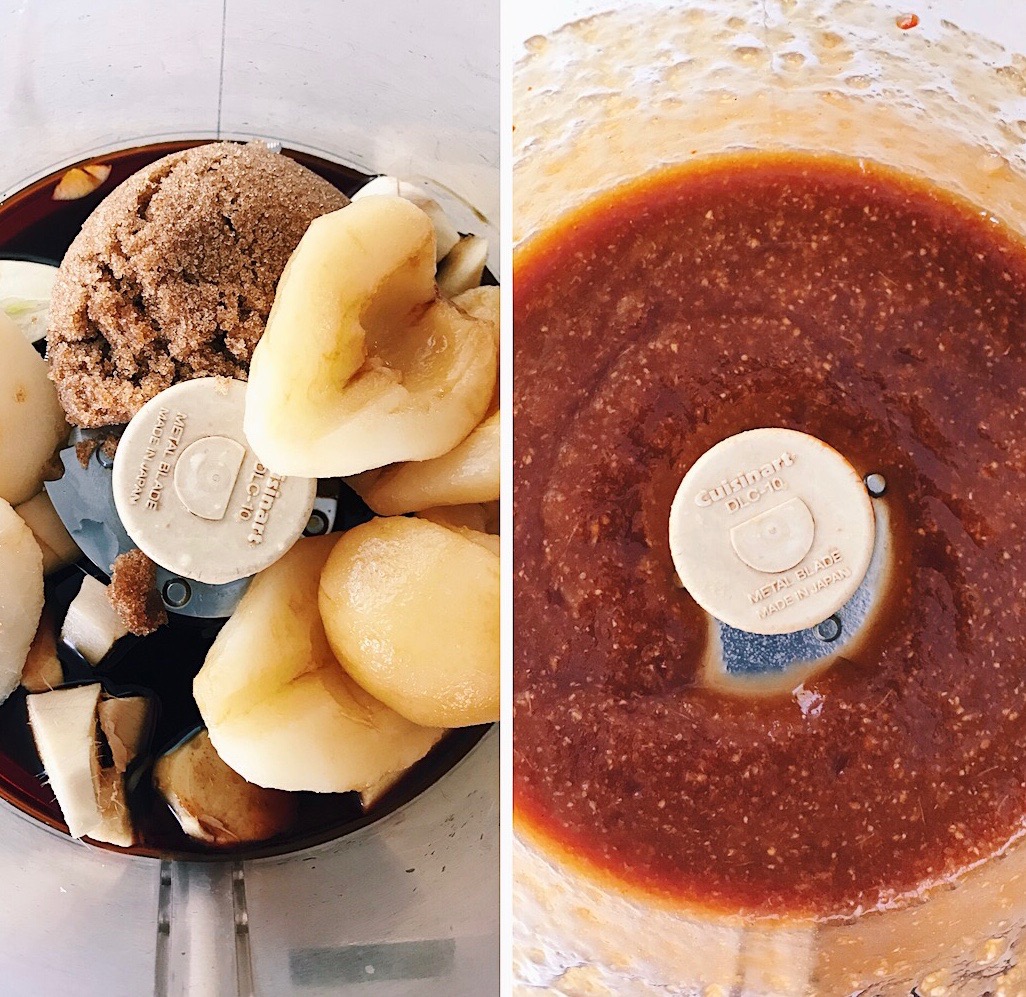 Into a food processor (or blender) everybody goes. Start with a pulse-pulse-pulse to get things rolling, then let 'er rip until you end up with a sort of applesauce consistency. Perfect! You should end up with a little over a cup: reserve half of it for later use (see notes on this at the veeeery end*).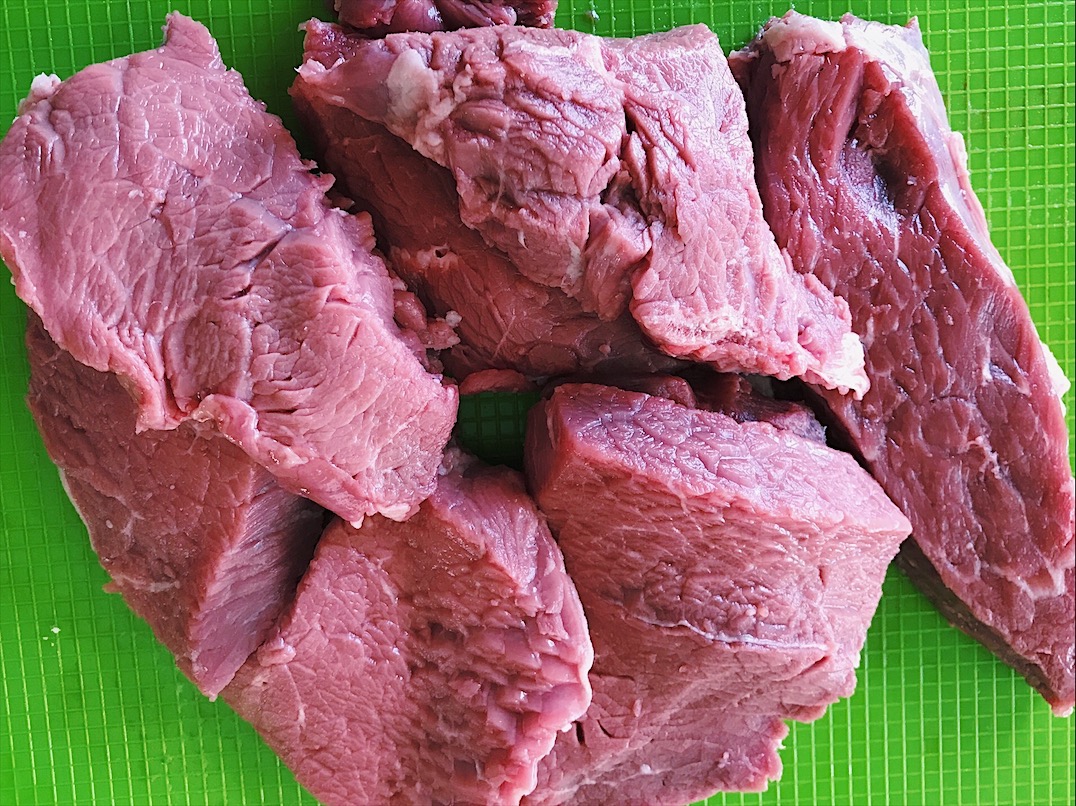 Now the beefy component of this recipe comes in the form of (nothing like a good in-your-face raw-meat-shot, yikes) an approximately 2 lb sirloin steak, which is one super lean piece of protein. Amazingly enough, this cut will come through the whole cooking process not at all tough and stringy like I had originally imagined (I truly thought a sirloin was only good for slapping onto a grill), but super soft and perfectly shred-able. Without a lake of oil to deal with! Yay!
Trim off any visible fat (because it's yucky) and cut this into quicker cooking, easier to (eventually) shred chunks.
Into your crock pot this goes, along with that yummy sauce. Let this do its slow cooker thing for 8 hours on low, or 4 hours on high. Note…If you happen to own the afore-mentioned Instant Pot, please go check out Lindsay's instructions (if you aren't there already in which case you are no longer here with me since her stuff is so stinking pretty) for that.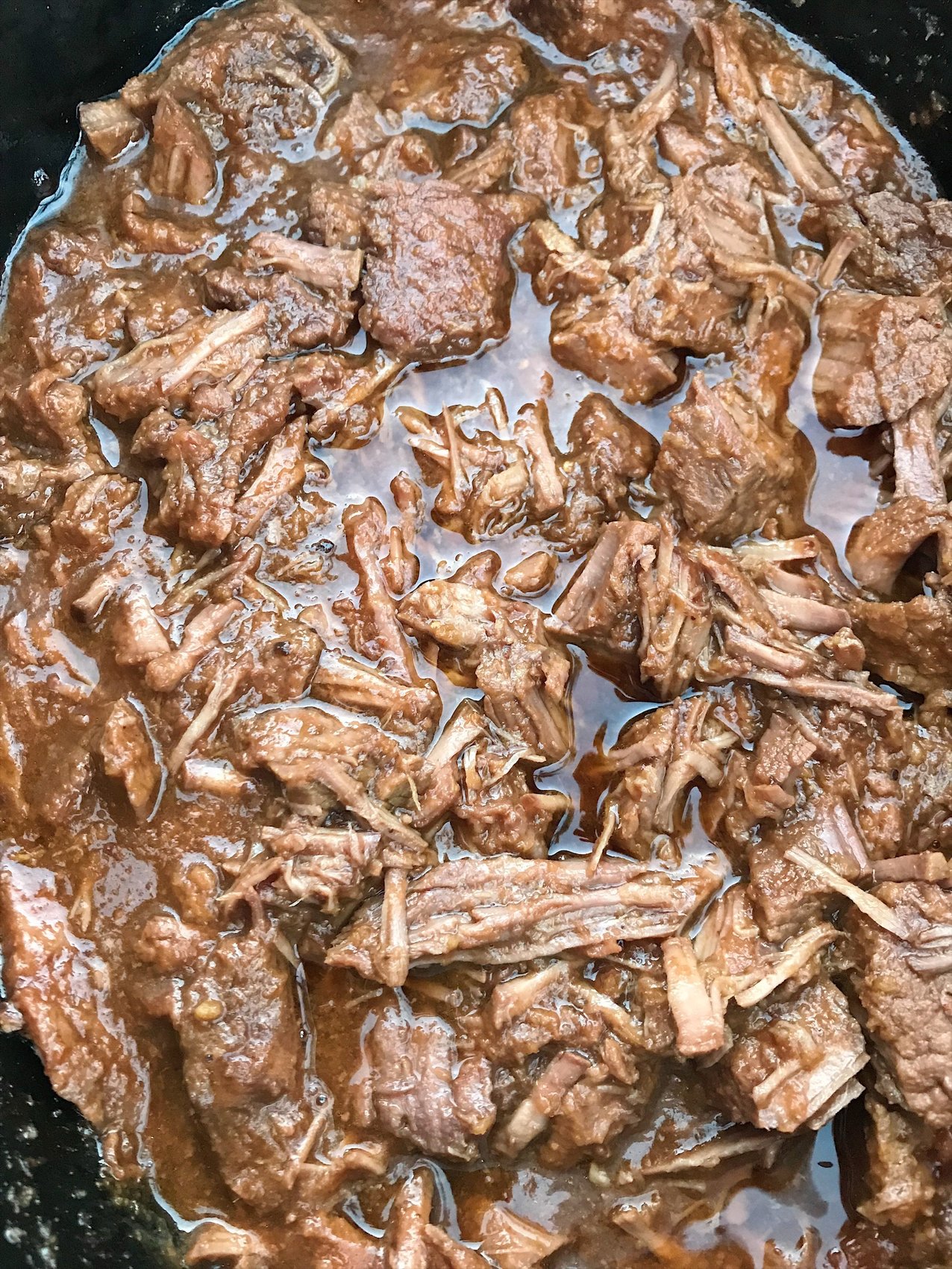 And when it's finished cooking, get on in there with two forks and gently pull that meat apart into perfect chunks of tender taco tidbits. This stuff will have you howling at the moon it's so good.
But wait, it's about to get better.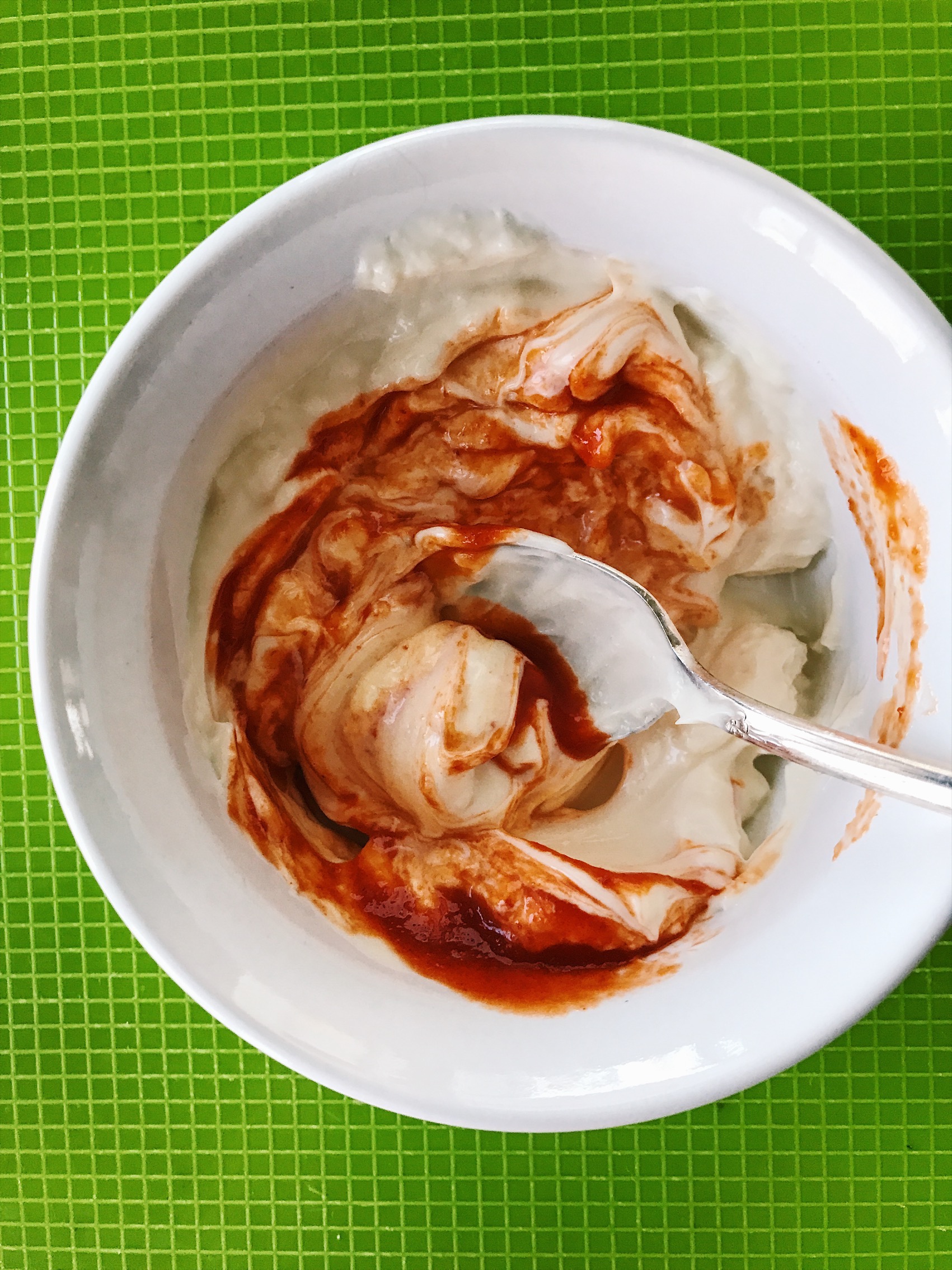 Stir together a little mayonnaise with a squirt or two of Sriracha. Add a little water a few drops at a time to make this thinner and a little more drizzle-able.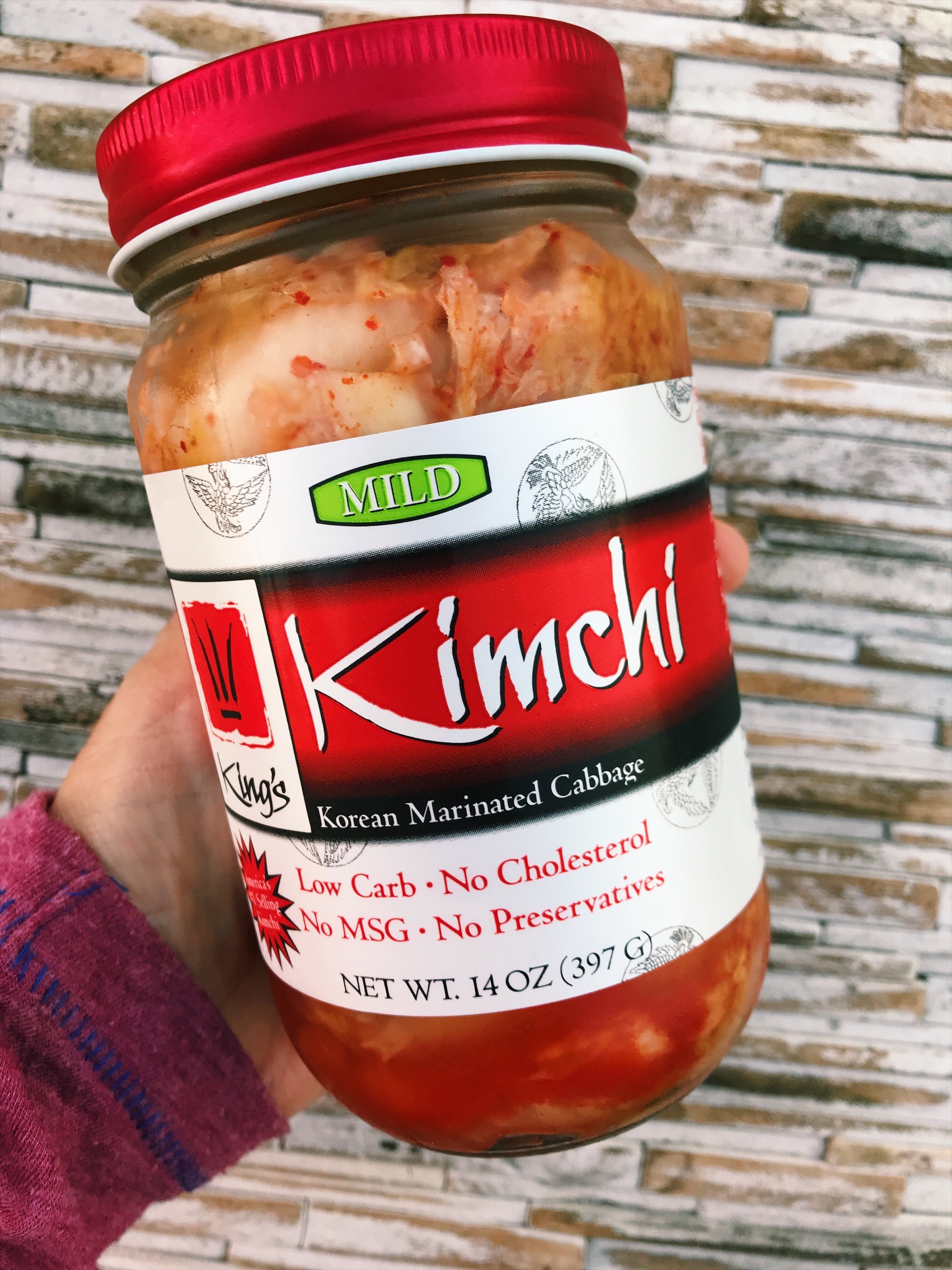 Then crack open a jar of Kimchi.
Yes! Kimchi! If you've never had it or are freaking out because you just figured out what it was (cabbage????) don't go away mad after coming this far. Kimchi is a spicy, sour, pungent vegetable condiment that is so completely addictive you will never believe how unbelievably good it is for you (read all about it, here). If you like strong flavors (hot sauce, salsa, chile lovers are generally all up into the Kimchi) you will LOVE this stuff.
Now stop being a baby and pull some out of the jar and give it a course chop. Get yourself some fresh cilantro chopped while you're at it.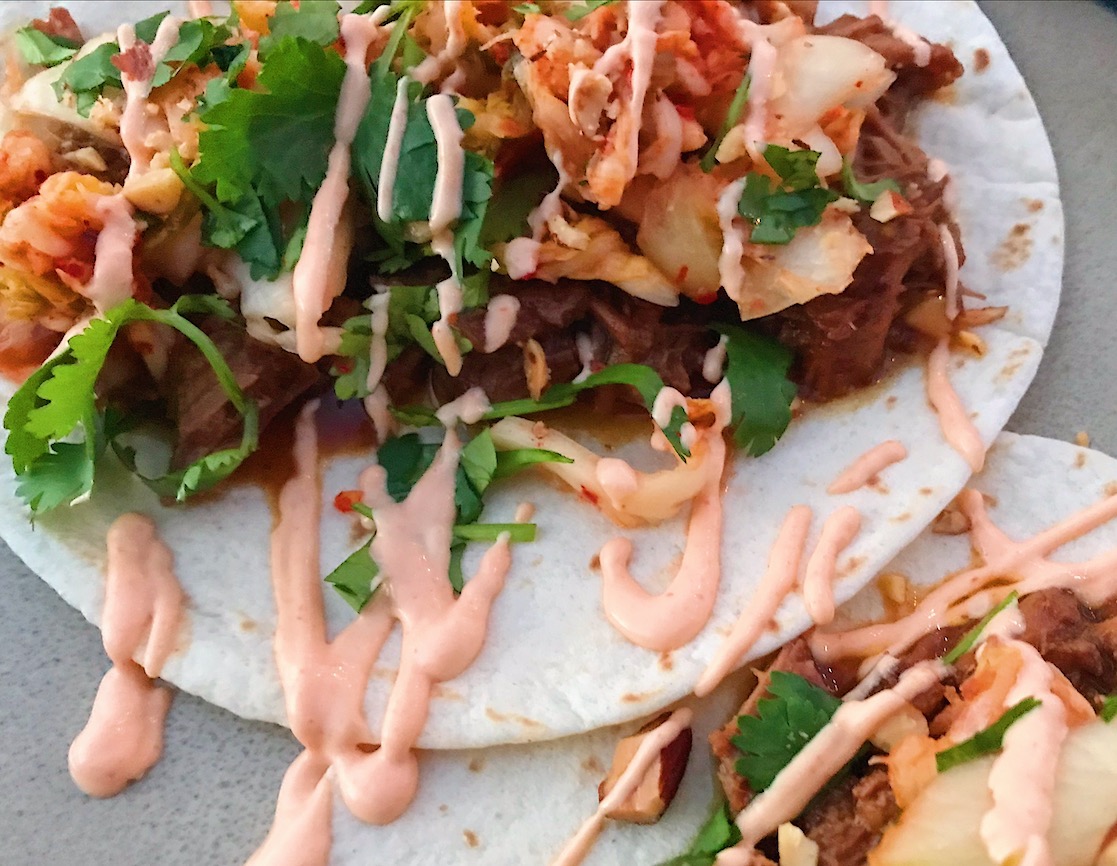 Warm up a soft little flour tortilla. Throw down some of your awesome shredded beef. Top that with a pile of kimchi and give it a sprinkle of cilantro and a scattering of (totally optional) chopped nuts for some crunch. Dab a drizzle of that Sriracha mayo over everybody. Fold it over and shovel it in!
There. Are. No. Words. Which is a good thing here since you should never talk with your mouth full.
RECIPE BELOW: As mentioned I brazenly lifted this goodness from pinchofyum.com before I could even say, what's for dinner. No regrets here, baby! Aside from using a tiny bit less garlic then the original and subbing in smoked almonds for the peanuts (I don't really like peanuts, that's all) I would change NOTHING about this recipe…..*except to use ALL of the sauce and just add more meat. More more more!!!! I suspect once you try this you will agree. This will take about 20 minutes of prep time, and the rest is just letting your cooker of choice do what it does best. Makes 8 tacos. Leftovers are awesome! Happy dance food, right here.
Slow Cooker Korean Beef Tacos
2017-11-16 13:24:42
For the Saucy Beef
1 -14 ounce can of pears, drained
1 approximately two-inch knob of fresh ginger, peeled and sliced into pieces
2 cloves garlic, peeled
1/2 cup soy sauce (or Tamari sauce, my favorite)
1/2 cup brown sugar (I used dark)
2 lbs (or thereabouts) top sirloin steak, trimmed of excess fat and cut into 5 or 6 pieces
For the Tacos
Chopped KIMCHI! (this you can find in the refrigerated section of your grocery store)
Chopped cilantro
Sriracha mayo (Sriracha to taste + mayo + a few drops of water to thin out)
Small flour tortillas...make sure they are of the soft and fluffy persuasion.
Totally optional
Chopped nuts, dry roasted peanuts or smoked almonds for Ka-RUNCH!
Make the Sauce
Pulse pears, ginger, garlic, soy sauce and brown sugar until fairly smooth. Reserve half for later use *
Get it Cooked
Place the sirloin pieces into your slow cooker and cover with half the sauce. Cook on HIGH for 4 hours or LOW for 8. Once the meat is tender, shred it up in the pot with two forks.
ASSEMBLE!
Warm the tortillas in a low oven for a few minutes, wrapped in foil. Fill each tortilla with shredded beef. Top with kimchi, cilantro, nuts and a drizzle of the spicy mayo. Fold over. Shove in.
So stinkin' tasty.
Notes
* I put mine in the freezer and I plan to be using it up for round 2 soon! HOWEVER I feel comfortable saying I believe you can totally go rogue and use all of the sauce at one clip, just get a little larger sirloin. More is MORE!
Kick and Dinner http://kickanddinner.com/