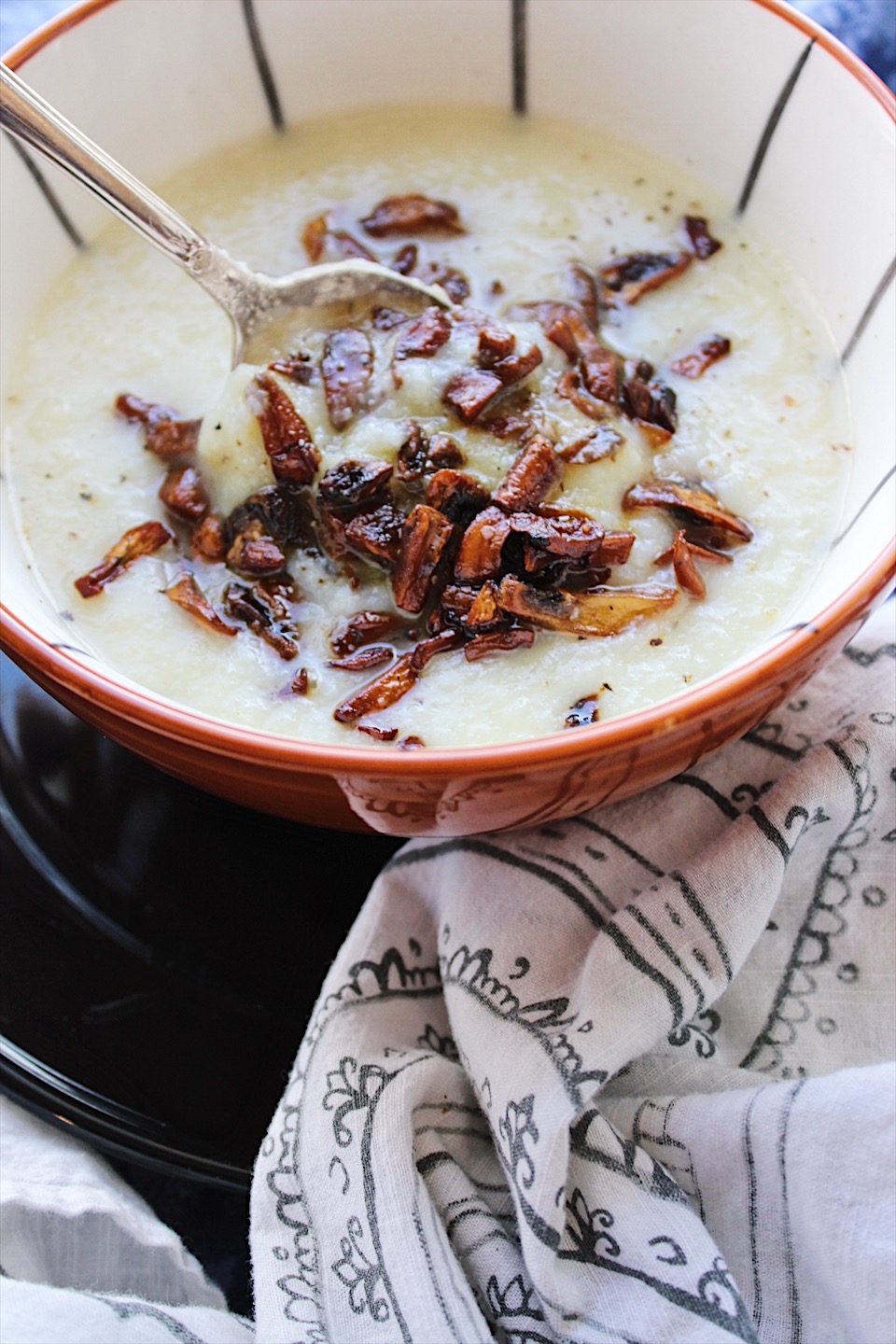 When I was a kid the only way I can remember ever eating cauliflower was bland and boiled, generally alongside some sad and soggy broccoli (I think it came that way, you know in those freezer bags?) – and I hated it. Once I got a little older and discovered the charms of Hidden Valley Ranch dressing, I somehow decided that cauliflower wasn't so bad after all. But of course it had to be raw.
Then again maybe I just liked ranch dressing. 😬
How times have changed, amirite? Cauliflower has catapulted from uninspiring side dish to the darling of the dinner table, and this pristine white work horse can seemingly do it all. You can mash it, roast it, put it in a salad, coat it in hot sauce, disguise it up like rice; even drug yourself with the stuff, and we cannot get enough. Don't even get me started on how good it is for you.
Today I offer up my favorite cruciferoid-powered cauliflower sorta old school style. Not exactly BOILED (ug, I wouldn't do that to you) but gently simmered in a soothing broth until just tender then blended into a smooth and satiny emulsion of a soup. So gorgeous in its utter simplicity, this soup morphs into something spectacular when you top it with its match-made-in-kitchen-heaven (and really, truly the star of this whole she-bang)….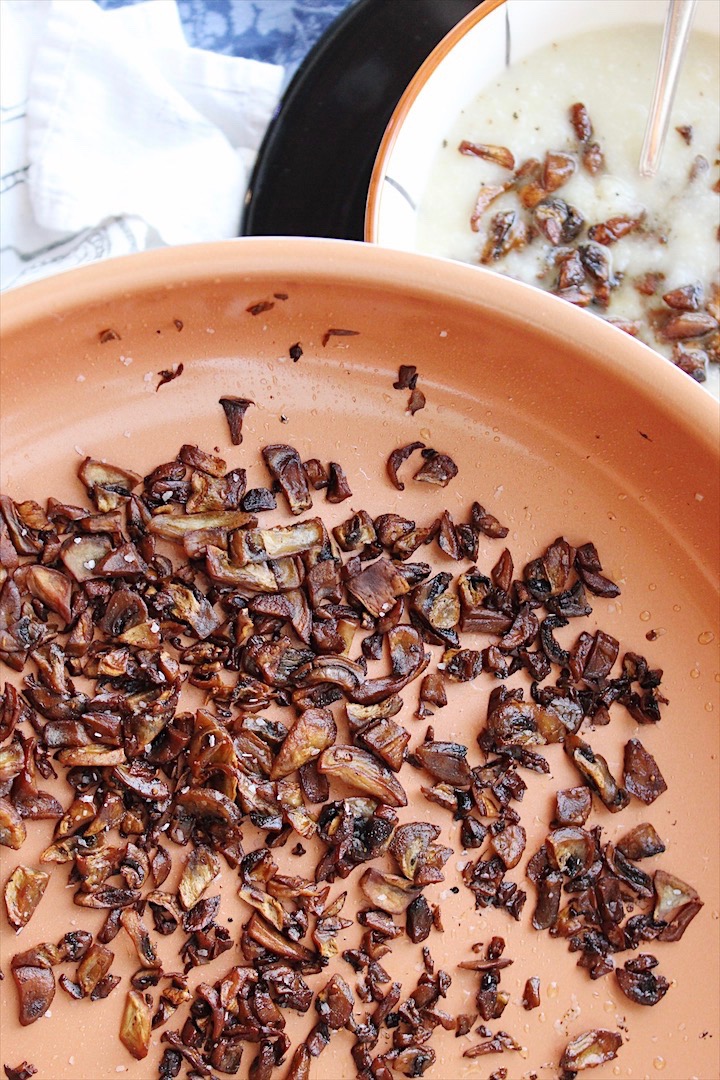 amazingly crisp and crunchy mushroom "bacon" magic!
Can we talk about these munch worthy morsels of magnificence? I mean, holy cow, is it crazy that ever since I whipped 'em up for this soup I have been dreaming of other ways to use them? Really, I just want to shovel them into my face like tiny potato chips. They are that good.
Chopped sliced mushrooms, simply pan-fried in butter and olive oil slowly and evenly for maximum crunch, then salted LIBERALLY….and that's it! Done. These guys can be used like bacon bits (but tastier, I mean it…..and I LOVE bacon, okay? Love it) and you just feel better about the whole process. Seriously…..all these veggies up in yo face along with all the happiness that bacon brings (and none of the nitrites?)…….
Get out the soup pot. STAT.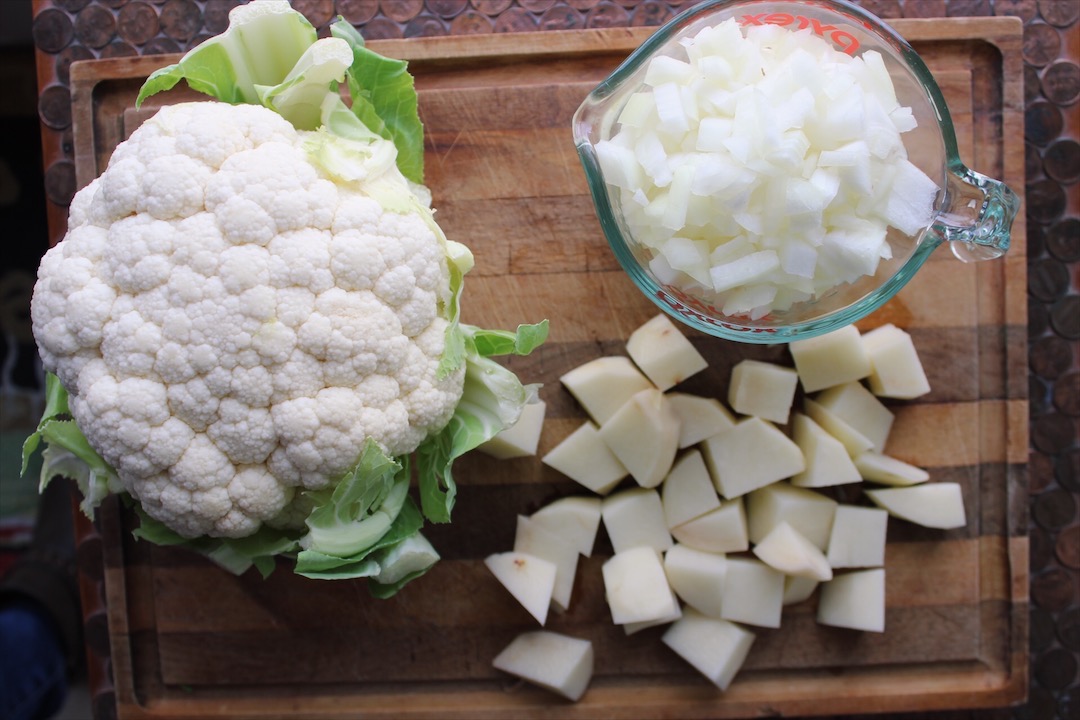 You'll need one medium-sized head of cauliflower, one medium-sized potato, and probably about half of a lovely yellow onion (cos where I live….those babies come BIG). You'll need about 1 -1/2 cup, evenly diced.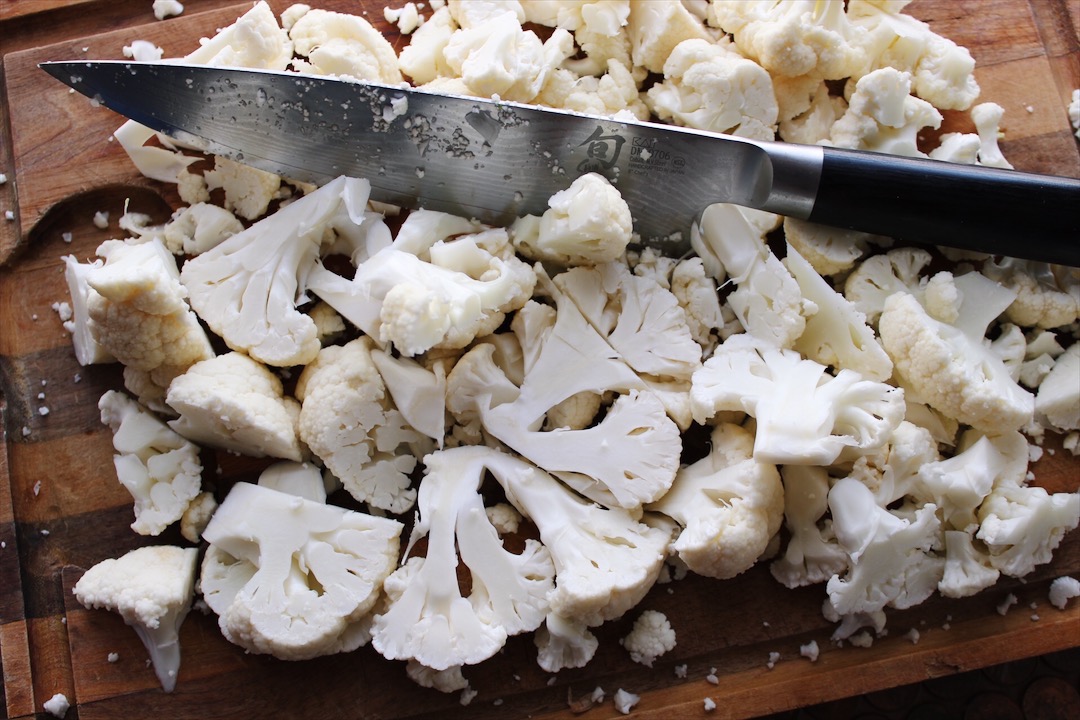 Core and cut up that cauliflower. You don't have to be too neat with this AT ALL, since it's all going to be smooshed up in the end. Just give it a good chop, you don't want the pieces too big or they take too long to cook. Not a crime, just a minor inconvenience.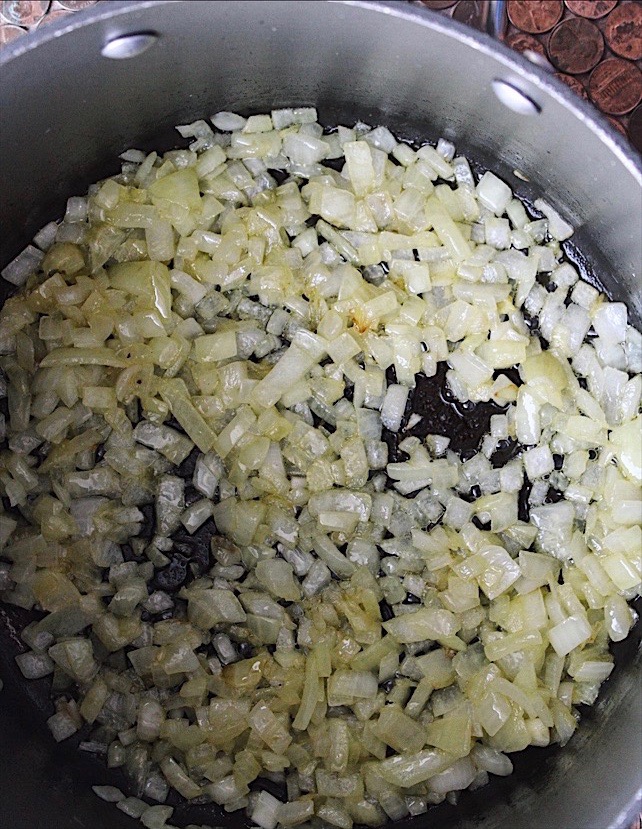 In a decent sized soup pot, melt down 3 tablespoons of butter. Add a healthy drizzle of olive oil (it keeps the butter from the slight possibility of burning) and get it sizzly. Toss in the onions, give them a healthy dusting of kosher salt and let them cook away over a medium high heat, for about ten minutes, until they are soft and translucent and beginning to slightly bronze at the edges, just like you see above.
Don't rush this step! I know it's tempting to get these guys in the pan and get on with it. Ten minutes can seem like an awfully long time just staring at a pot of onions. Gently coaxing the natural sugars out of this awesome Allium are what you need to bring out the best in the rest of your very basic ingredients.
Besides, you want this to be good, right?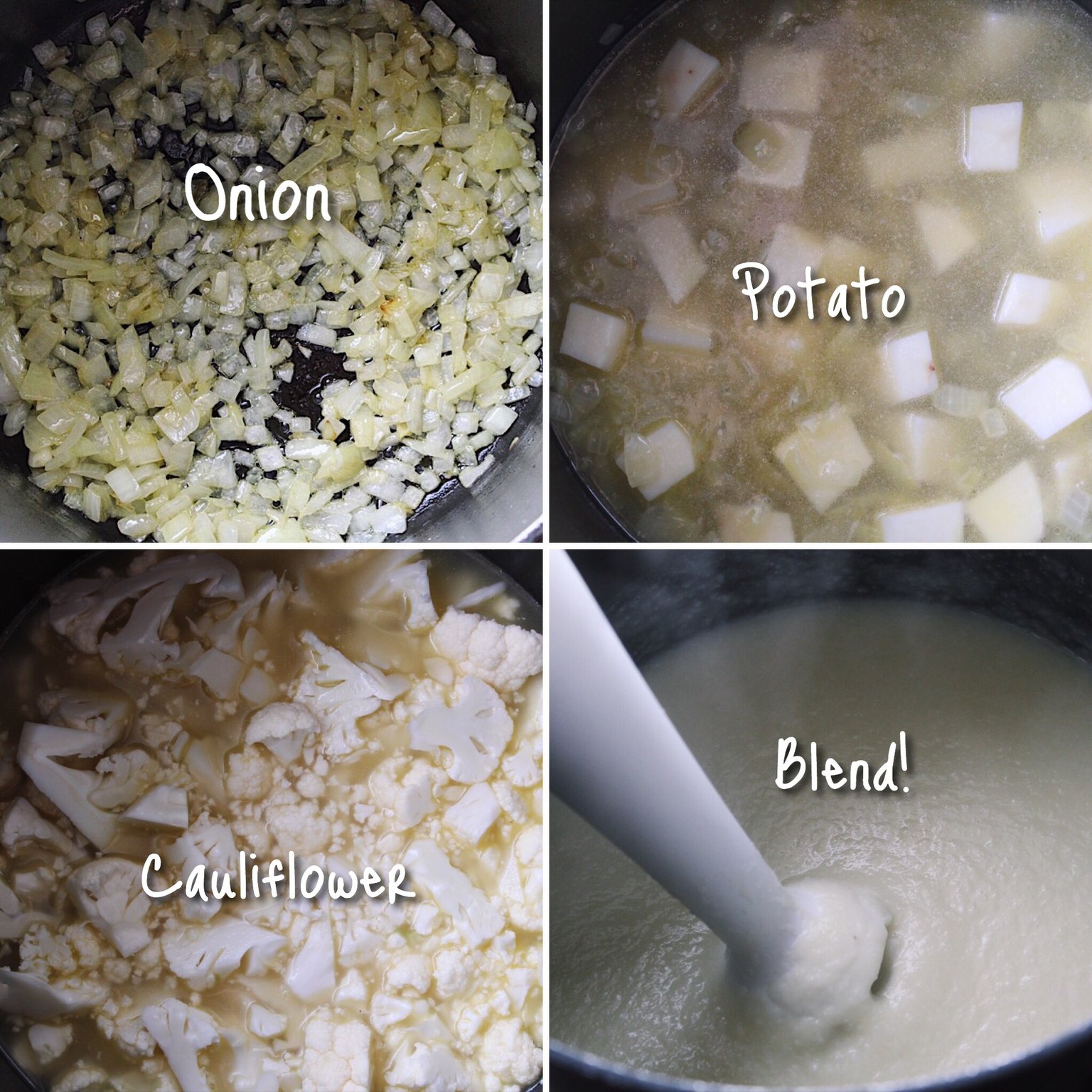 Once you've got that onion where you want it, pop in that potato. Give this a stir and add enough chicken broth to just barely cover everybody. On goes a lid and let this simmer for 5-8 minutes, until the potato feels tender when you poke it with a fork. Then you do the very same thing with the cauliflower. Add this to the hot tub party and add more broth to barely cover. Back on with the lid and let that simmer away another 5-8 minutes or so (depends on how big or small you chopped your veg….Ah Hah!!!, see how this works?)…..until – you guessed it, your cauliflower is nice and soft when you give it a little poke.
Now's a great time to add a liberal amount of salt and fresh cracked pepper….and if you are feelin' it (and I always do!) a pinch or two of red pepper flake, just for fun. Now get out your immersion blender (basically a buzzy blender on a stick), and get on in there and whooosh it up.
Violá! Soup! Or really runny baby food……depending on if you used red pepper flake or not. But have no fear! We are about to amp this up to FULL ADULTHOOD with those mighty mushrooooms.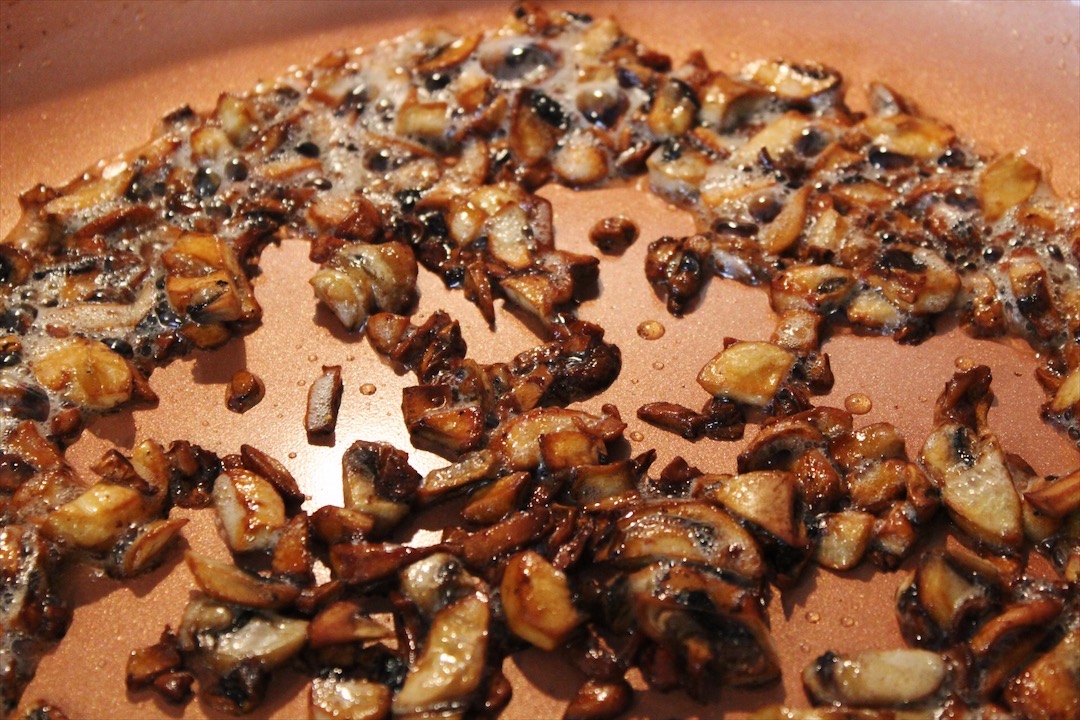 THIS IS NOT BACON.
I know, right? So GOrgeOus.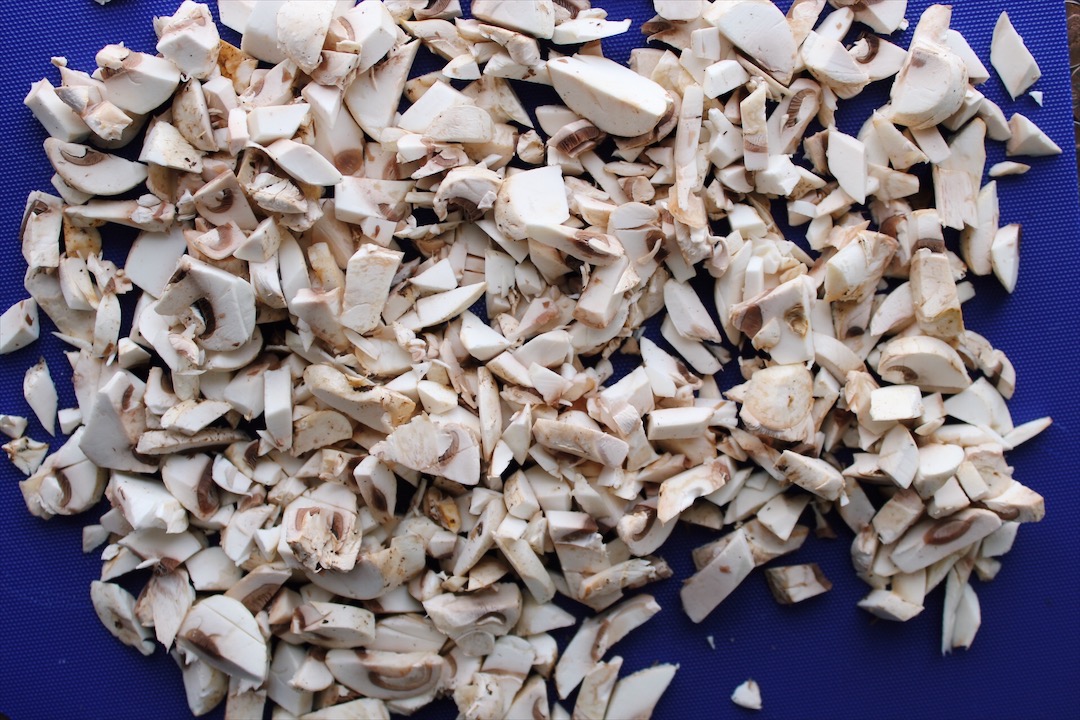 Roughly chop an 8 oz. container of sliced mushrooms. I like to buy them sliced as opposed to whole because I feel like they come cleaner that way….but you can totally do your thing with whole mushrooms. Just make sure to wipe them clean first.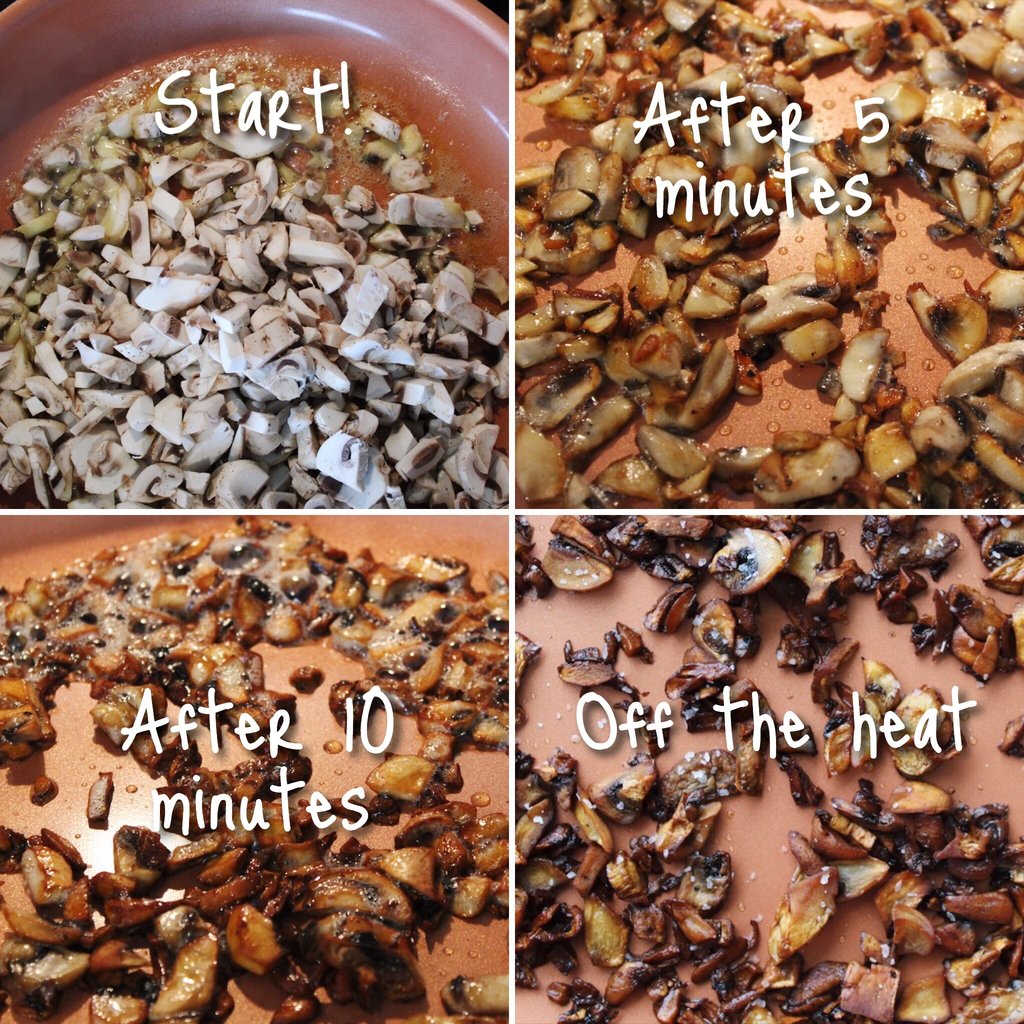 Now it's simply a matter of frying them up. Once again, you want a nice butter/olive oil medley going on here….and don't be skimpy or weird about the "grease", – I mean really?
Didn't you just have french fries the other day? 🤔 That's what I thought.
Anyway, over a medium high heat, get those mushrooms into a fairly large frying pan and let them sizzle away for a good 15 minutes! Keep an eye on these, in fact while the soup is cooking this is the perfect time to get these guys crisp-i-fied. And once they are perfect…
Remove the pan from the heat, and just let them settle in there; don't even think about draining them on a paper towel or any of that such foolishness – you want to keep all of that lovely buttery goodness! Give them a serious pelting of kosher salt….no fooling around here. You want these guys crunchy and salty and ready to go!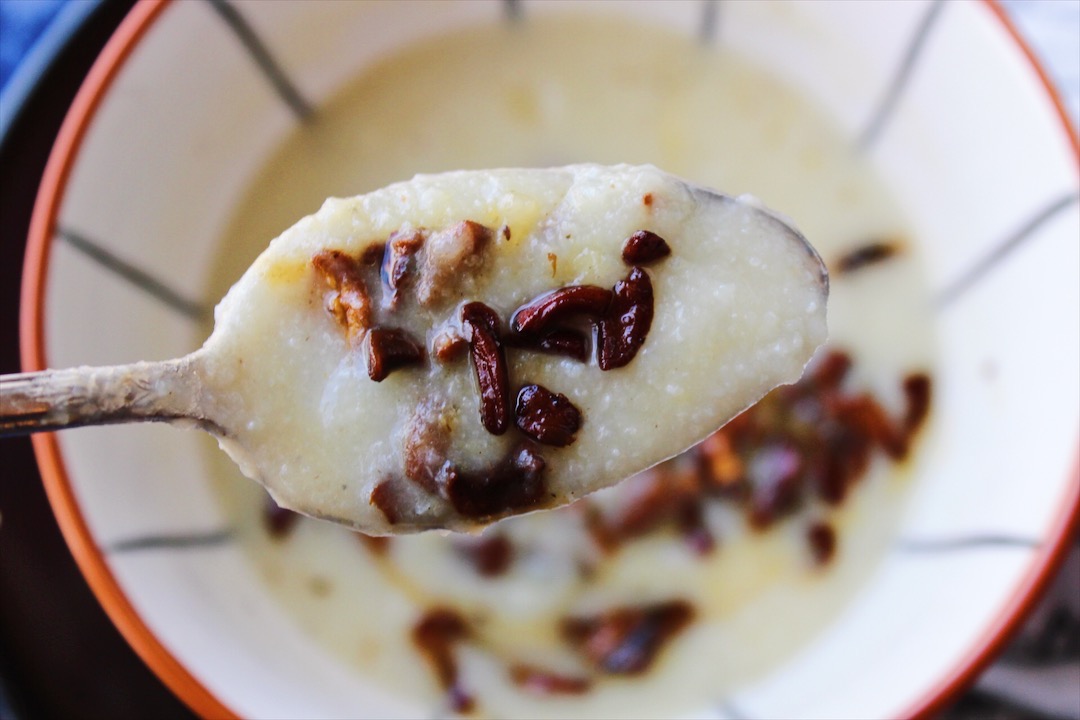 Ladle up some of that soup and top it with those mesmerizing mushrooms. Another dusting of salt, a sprinkle of black pepper and you'll be sittin' pretty in cozy-time-town. Pairs really well with a grilled cheese sandwich, maybe a quick cheese quesadilla, or throw together a salad if you're into it. Any sort of soup tastes better if you serve it with these Popovers.
Scrumptious AND virtuous.
RECIPE BELOW: Easily coming together for you in less than 45 minutes, this makes enough for four generous servings with leftovers to boot! Speaking of leftovers, this soup, like most, is actually better the next day. Make sure you store the soup separately from the mushrooms, lest they become soggy (yuck). Upon re-heating (in the microwave) get the soup hot first, then sprinkle the mushrooms over the top and back into the zapper for another 20 seconds or so, to help keep their bacon-y texture. Uh – YUM!
Soothing Cauliflower Soup with Mushroom Bacon Crunchies
2018-01-24 11:39:04
For the Soup
1 medium head of cauliflower, peeled, cored and chopped
1 medium sized potato, peeled and cubed
1/1/2 cups of chopped onion (approx. half of a large yellow onion)
3 tablespoons butter
2 tablespoons olive oil (give or take, just eyeball it)
4 cups (approximately) chicken broth*
Kosher salt and fresh black pepper
Totally optional (maybe for you, not for me!) - 1/4 teaspoon red pepper flake
For the Mushrooms
8oz package of sliced mushrooms
3-4 tablespoons of butter
2 tablespoons of olive oil (once again, no need to measure, just wing it)
Kosher salt
For the Soup
In a soup pot or dutch oven, melt the butter with the olive oil over a medium high heat until bubbly. Add the chopped onions, a pinch of salt and cook, stirring occasionally for at least ten minutes, or until the onions are soft and translucent and becoming slightly caramel colored.
Add the cubed potato to the pot, give this a stir and then add about half of the broth until the potato is just barely covered. Put a lid on this and let this simmer, NOT boil, until the potatoes are tender when poked with a fork (about 5-8 minutes).
Add the chopped cauliflower to the potato onion mixture** and add more broth until the veggies are just barely covered. Place the lid back onto the pot and let this simmer for another 5-8 minutes until the cauliflower is very tender when poked with a fork.
Turn the heat down to low, and stir in a teaspoon of salt, a generous amount of fresh black pepper and the red pepper flake (if using). With an immersion blender, puree the veggies into soup.
You can use a blender for this if you don't have a stick, just do it in batches and be careful because it will be hot.
Taste for seasoning (this soup seems to really like salt).
Fry those mushrooms
In a large frying pan (what begins as a lot will shrink waaaay down) get the butter and olive oil frothy over medium high heat. Add the mushrooms, and let them cook for up to 15 minutes, giving them an occasional stir until they are burnished (but NOT burnt!!!) and crunchy. Remove the pan from the heat and liberally dust the mushrooms with kosher salt. Let them sit in the pan as you ladle the soup into bowls, DO NOT remove them to drain on a paper towel or anything goofy like that......you want all that buttery deliciousness; besides those spongy little monkeys will absorb most of it anyway.
Ladle it up!
Schloop some soup into a bowl and top it with a generous portion of those salty, crunchy mushrooms. More salt and a scattering of pepper please....remember this soup is very gentle and really works well with all of that extra seasoning.
Dainty and delicately delish.......with a sassy, meaty, mushroom crunch.
So good.
Notes
* hello vegetarians! I don't have to tell you to sub out veggie broth for the chicken broth...I know, I know.
** why not just dump in the potatoes and the cauliflower all at once in the beginning? Good question! Actually the potatoes take a little longer to cook, so they need that little extra time, but I like how you think!!!
Kick and Dinner http://kickanddinner.com/