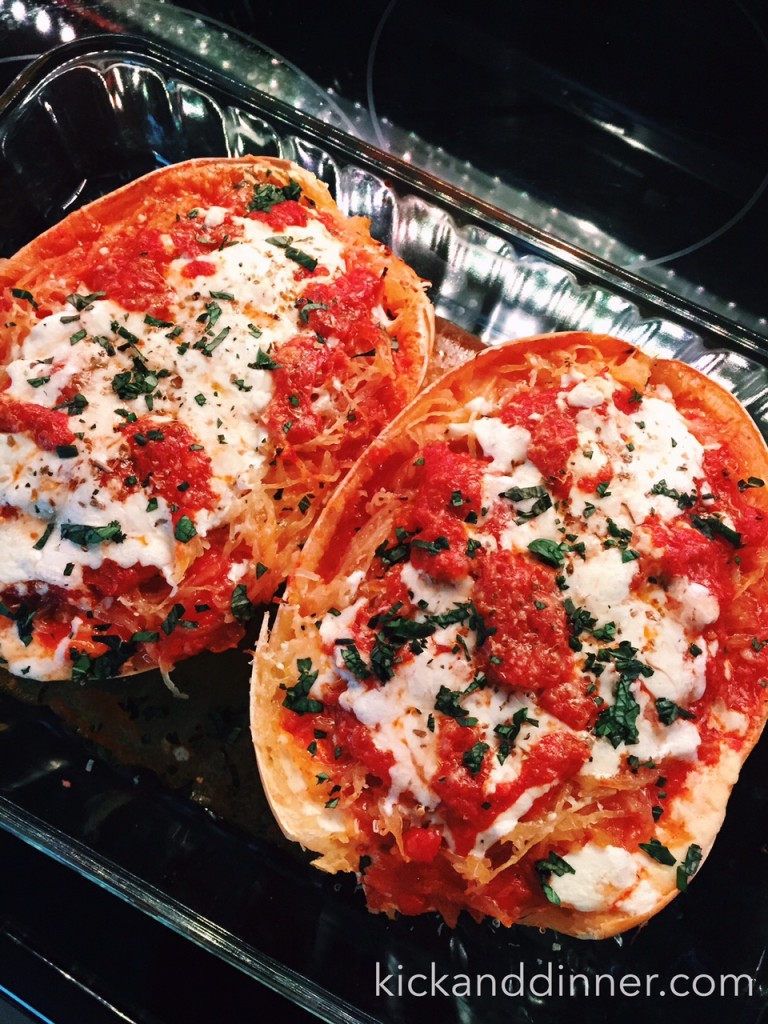 If you are like me and every other person out there who eats then I suspect you already know that it wouldn't be a bad thing to cut down on the amount of processed carbs we all love to consume. I am the first to admit that I can be as naughty as anyone (Pasta! I love you!) so when I can come up with something that not only replaces an otherwise un-healthy ingredient with a super good-for-you swap out, and it tastes even better than the original……well, all I can say is winner winner, spaghetti squash dinner. Everybody says that, right? That's what I thought.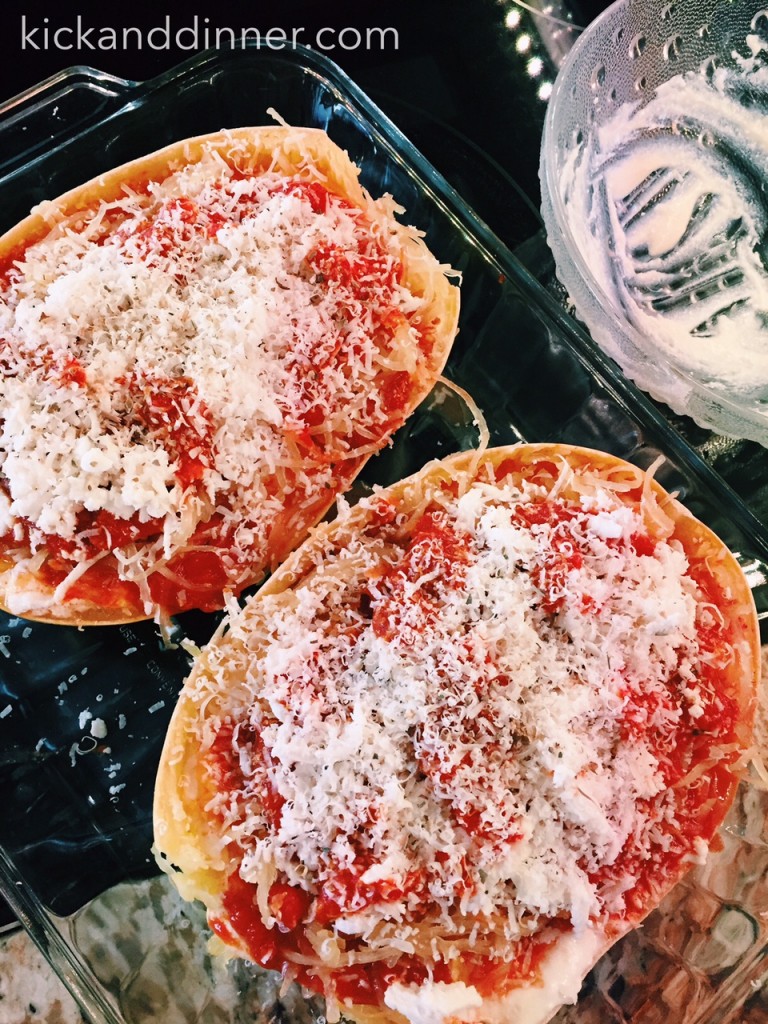 Spaghetti squash is natures' answer to the Spiralizer. Cook this pale yellow oblong gourd and you end up with beautiful strands of string-like (not stringy) flesh, that you rake out of the shell with a fork. Viola! Spaghetti! There are several ways you can cook a spaghetti squash. You can boil it, microwave it, or cook it in the oven. Easy, right? Well there's just a little catch…….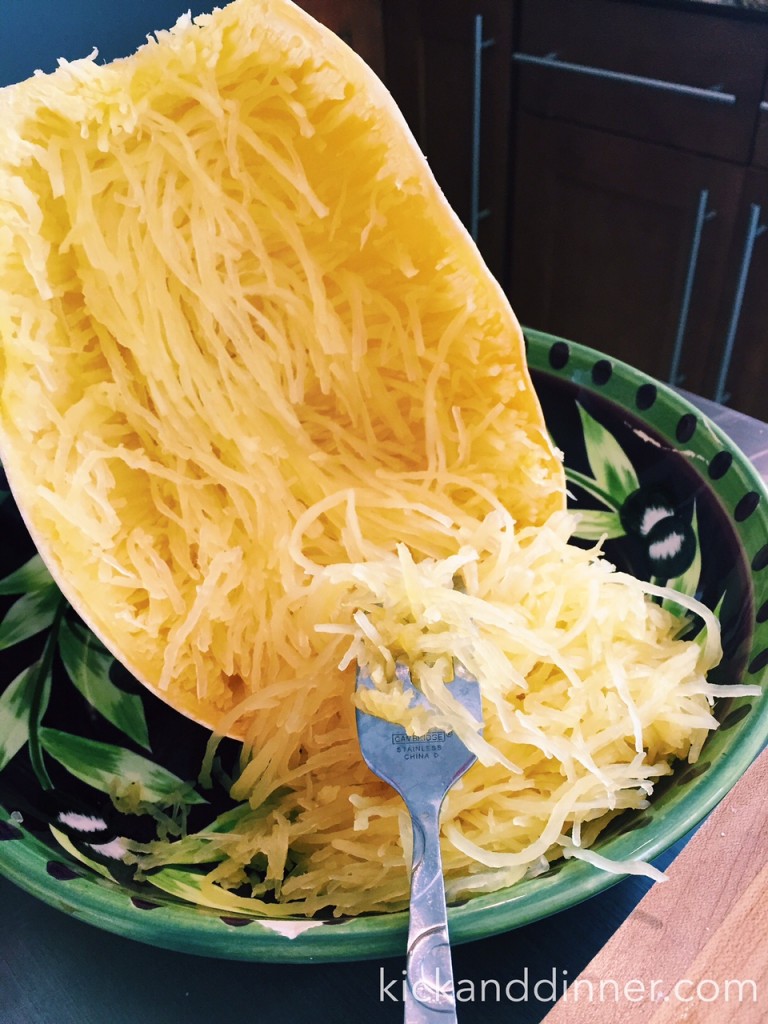 You have to cut that bad boy in half lengthwise at some point to get the seeds out. This can be pretty tricky because your average spaghetti squash is generally 8 inches long! They roll around and are as hard as a basketball (in their raw state) and just basically unstable on the cutting board so in order to avoid any slicing off of fingers here is what I do: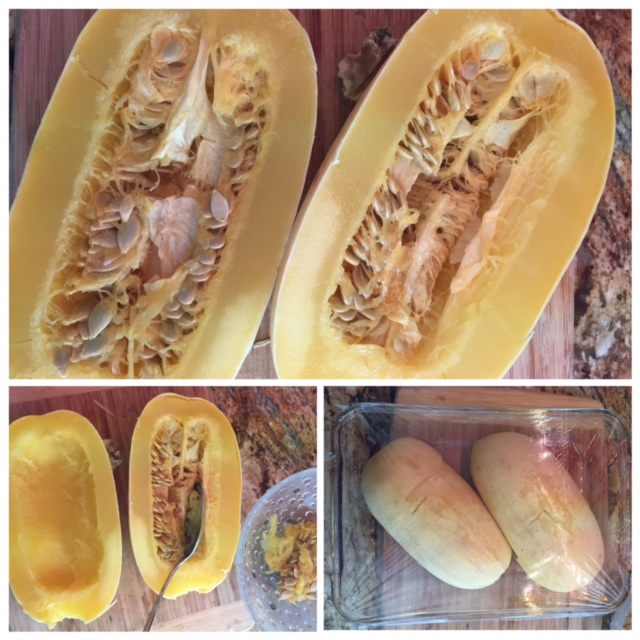 Take your clean, dry SS (spaghetti squash), and with a sharp knife, give it an inch deep puncture in at least three places. This is important so that it doesn't blow up in your microwave. (Yikes) Be careful, a squash is tough, contrary to it's innocent exterior! Place your impaled SS in a glass baking dish and pop that in your microwave. Zap it for 10 minutes, and give it a little time to cool because it will be HOT. Once you can handle it without giving yourself a third degree burn, it should be pretty easy to cut in half. I like to start at the bottom and end at the stem. At this point it is not yet fully cooked, but you should be able to see the strands forming. Remove and discard the seeds that are clumped up in the middle of your squash, you should have about an inch or more of flesh.
You can bake the squash in a 350° oven for 30 – 45 minutes, covered with foil. Or you could pop it into a big pot of boiling water for 20 min or so……..but you already used the microwave so why not just finish it up in there? Take your squash halves and put them cut side down in your glass baking dish. This time add about a tablespoon of water to the dish, and cover with plastic wrap. Put this back in the microwave and give it 7 – 12 minutes. The SS is done when you can pierce it easily with a fork. Be careful when you pull back the wrap because it gets steamy under there. Once it's cool enough to handle use a fork to scrape and fluff (why is that funny to me?) the spaghetti like strands out of the shell! That is the fun part for sure.
Saucy, cheesy, luscious lasagna. Layers of ricotta, mozzarella and marinara (need a recipe? look here) – and spaghetti squash! All baked up inside that cute little shell! Sure you could make butternut squash lasagna, or zucchini lasagna, or any other vegetable lasagna………but this one comes with it's own bowl!
Spectacular Spaghetti Squash Lasagna Boats
2015-08-01 09:38:18
Ingredients
1 medium (approximately 3-4lb) cooked spaghetti squash/ save the shell
15 oz container ricotta cheese
1 egg
8 oz mozzarella cheese, grated
1/2 cup grated parmesan cheese, divided
24 oz (approx 2 1/2 cups) marinara sauce (you can use your own, buy a great jarred version or make mine)
Olive oil
1/4 tsp dried oregano
salt and pepper to taste
A small greased baking dish for possible overflow!*
Instructions
1. Pre-heat your oven to 350°
2. Cook your spaghetti squash and scrape the contents out into a bowl. Drizzle a little (maybe a tablespoon) of olive oil and toss with a pinch of salt and pepper, set aside. Place the shells onto a large glass baking dish.
3. In a separate bowl, mix the ricotta with the egg and half of the grated parmesan cheese. Add a pinch of pepper to taste. (you don't need salt here because the cheese is salty enough)
4. Begin to layer! Start by spreading about two tablespoons of marinara sauce in the bottom of each of your shells. Add a layer (about an inch of the stuff) of your cooked spaghetti squash over the sauce, then spread 1/4 of the ricotta mixture over that. Sprinkle with 1/4 of the mozzarella cheese. Repeat: A layer of sauce, a layer of squash, a layer of ricotta and mozzarella. I like to add more sauce to the top, and then sprinkle this with the other half of my grated parmesan cheese, and any remaining mozzarella that I may have.
5. Sprinkle with dried oregano
6. Bake for 35-45 minutes, until browned and bubbly. Let "set up"(cool) for ten minutes or so before serving, as the squash can be watery and needs that time to re-absorb it.
Notes
* The squash contents will vary so you may have too much of everything and you don't want to over stuff your shells! For that reason I have a small baking dish ready to layer in the extras, and bake alongside the shells. You don't want to waste any of it! Instant leftovers!
Kick and Dinner http://kickanddinner.com/