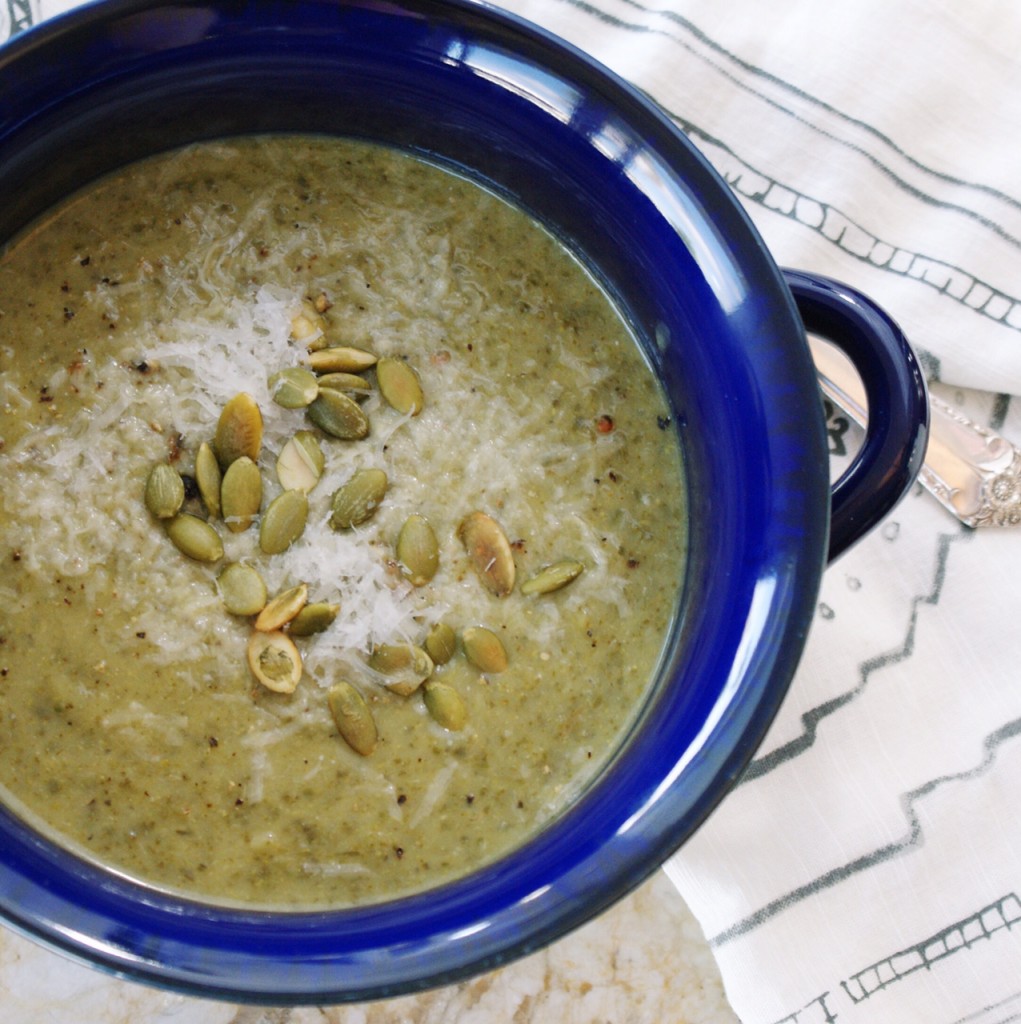 Green thumb. Green light. Green room. Greenback. Greenhorn. Green with envy. Green around the gills. Greener pastures.
Lean Green fighting machine. Oh wait a second, did I get that one wrong? 😏
No matter, because that is exactly what you will be if you eat more, yeh, you know what's coming here……….GREENS. This soup blends a gorgeous combination of spinach and broccoli, so you are getting the Batman and Robin cruciferous crusaders of the plant world, packed with vitamins, minerals, and fabulous flavonoids. SO what? Well, how's a healthy cardiovascular system sound to you? What about reduced blood pressure? Maybe a little anti-inflammatory anti-cancer action?
How about just the most awesome, comforting and yummy bowl of soup? Green just may become your favorite color.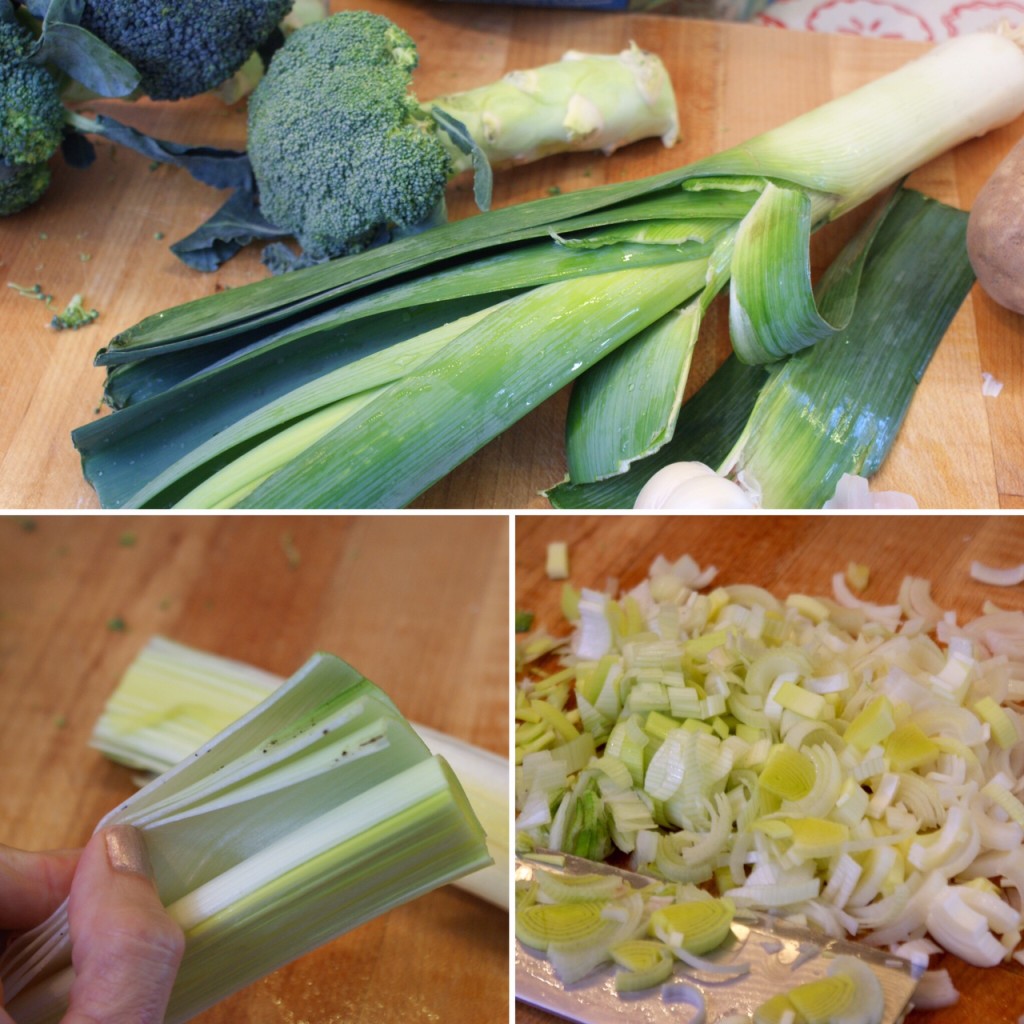 This batch of garden goodness gets its start with sautéed leeks. Leeks look like they could be green onions on steroids, but they are actually a distant cousin, and quite mild and aromatic in comparison. They are a really dirty veggie, however, as they are grown in the sand, so I trim off the greenest part and then just slice the leek lengthwise down the middle. If there is any grit to be found that's where it will be and you can just rinse it right away. Then give it a good chop.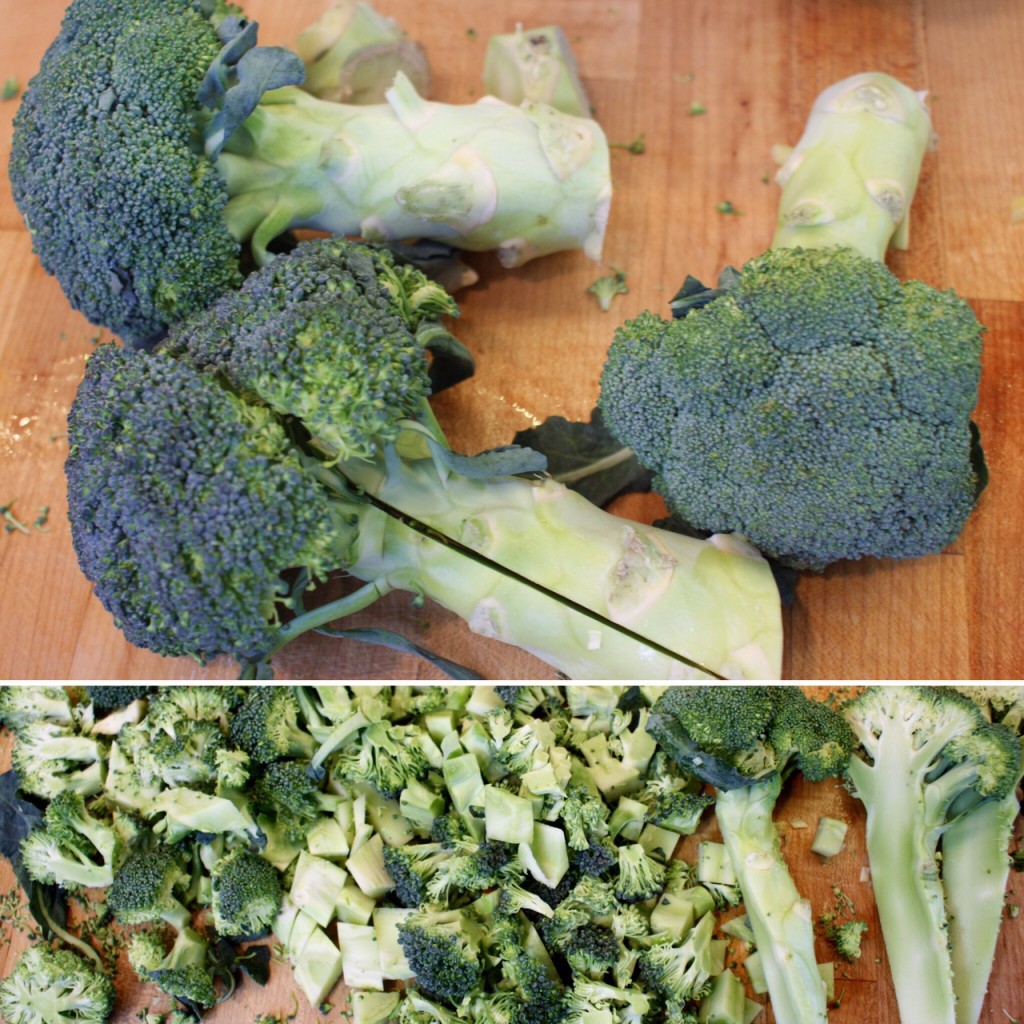 You are going to use everything that you bought when you got that broccoli….no waste here! Just go ahead and trim off the really dry ends of the stalks, and if they feel really tough, maybe give them a tiny bit of a shave down with a vegetable peeler. Then start chopping! Leaves, stems, everything! Keep the chop on the stalks pretty small, they are tougher than the head and need that little extra help for cooking up evenly.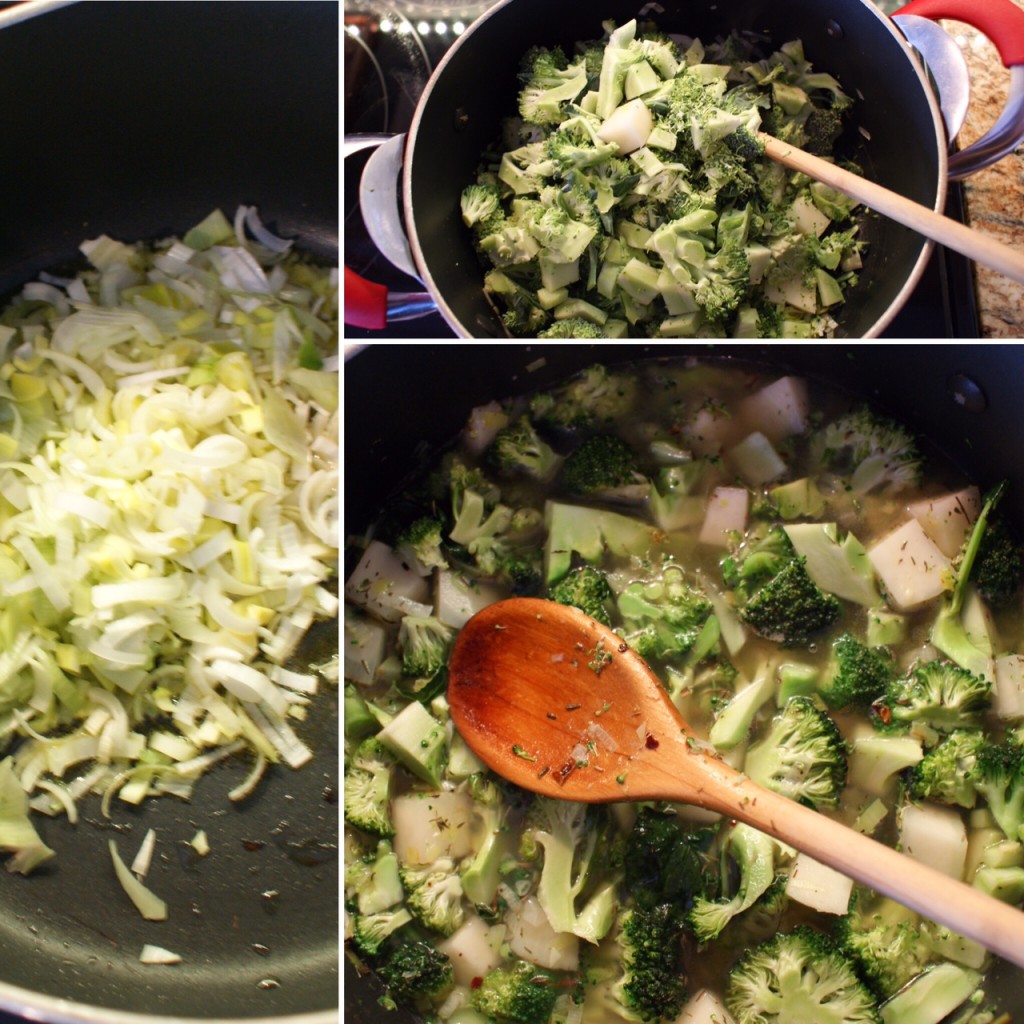 Heat up a big soup pot with some butter and olive oil and once that gets hot in goes your chopped leeks. Give that around five minutes to get nice and soft and then add that beautiful broccoli and give it a stir. Add one medium-sized peeled and cubed potato, some thyme, salt and pepper. I alway love a pinch of red pepper flake for a touch of heat but that is completely up to you. Now drench it all with enough chicken stock just to cover the veggies, and give it a little time to get all loosey goosey.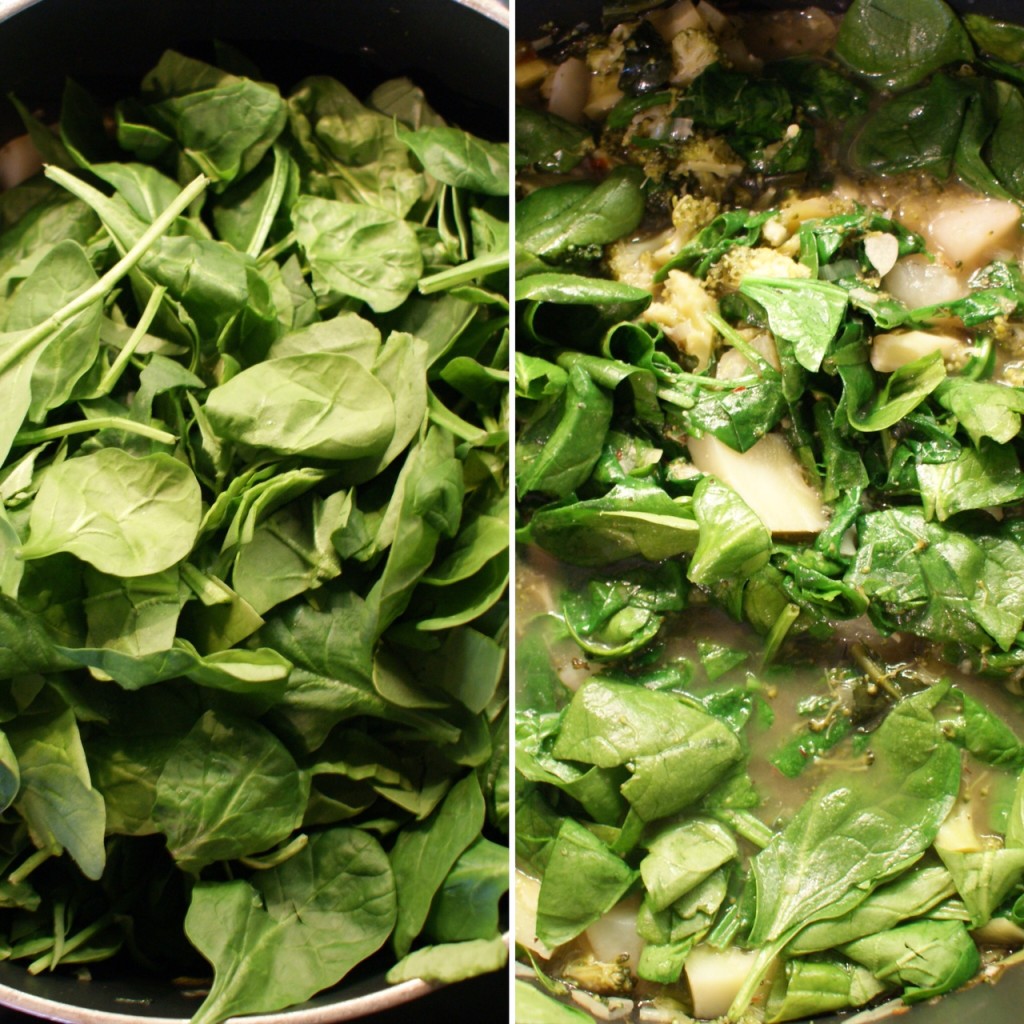 Once the potato and broccoli are fork tender (about five minutes or so) it's time to add the spinach. Just pop it in and press it down as best as you can, it looks like so much. Until it wilts. Then it looks like so little! It only takes a few minutes for this to shrink down for you.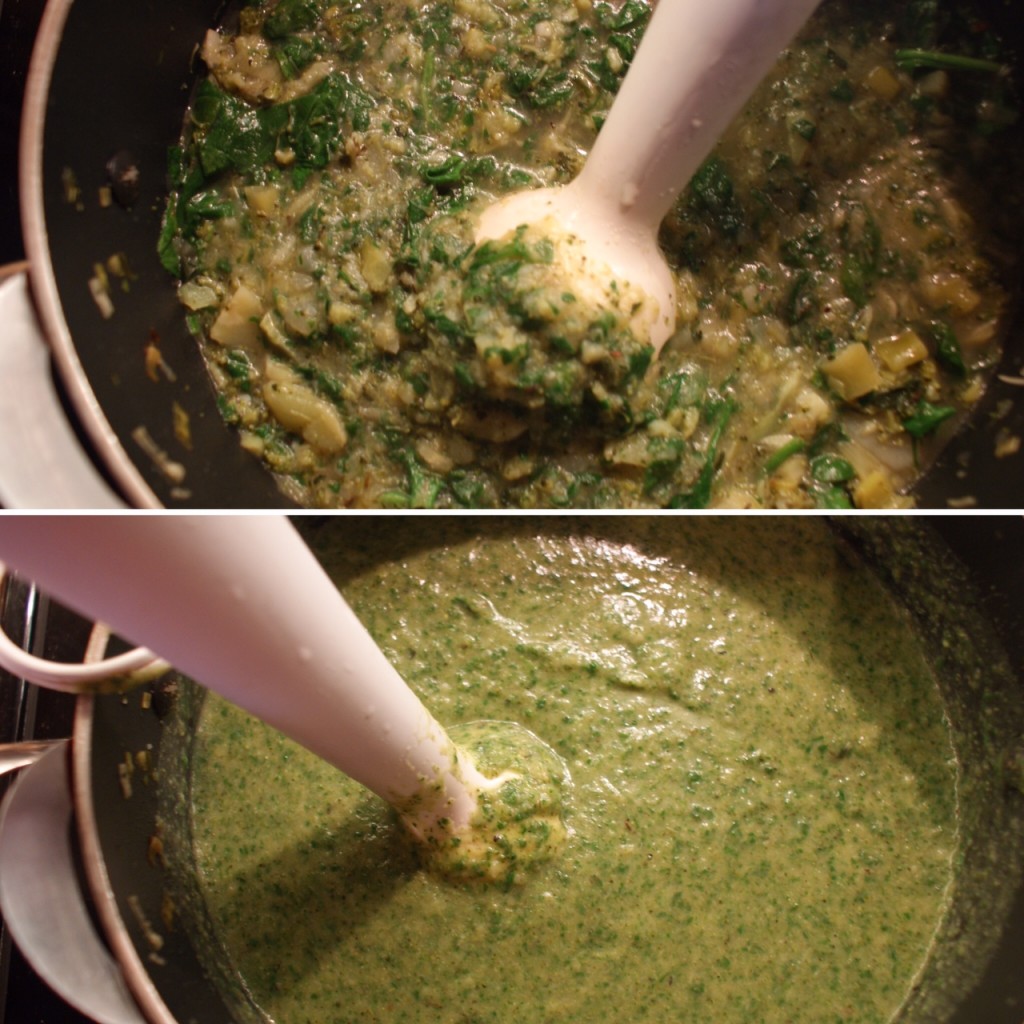 Time to blend it all up! I hope you have an immersion blender – especially if you are a soup person. It's basically a blender on a stick and it makes smooshing super easy. Go ahead and get out your conventional blender if that's what you have, it does the job just as well you just have to do it in batches. Be careful though, this stuff is hot. Blend away until you have a nice thick soup. Squeeze in the juice of half of a lemon, (so very important to really set off the flavors of the greens but I totally forgot to include any snaps 🍋 of that happening! arg!) You may find that you want to thin this out a little with some of your leftover chicken stock. Give it a taste and adjust your seasoning if you're feelin it.
Serve this up with a sprinkle of finely grated cheese (I happened to have some Asiago) and a scatter of roasted pumpkin seeds – or a dollop of greek yogurt and a drizzle of olive oil! Oh yummmm. Don't have any of that stuff? Throw a scatter of chopped fresh parsley or cilantro at it, that always works for me.
Kermit the frog once said, "It's not easy being green". Sorry Kermie, times have changed. It's sure easy to eat green when it's this soup on the end of your spoon.
Recipe below:
Spin-roccoli Soup
2016-01-04 14:12:35
Ingredients
2 tablespoons butter
2 tablespoons olive oil
1 large or 2 small leeks, white and light green parts, cleaned really well and chopped
1 small head of broccoli, trimmed, stalks and leaves and florets chopped
1 medium russet potato, peeled and cubed
8 oz fresh spinach (about 3-4 cups) chopped
1 32oz box of chicken broth*
1 teaspoon dried thyme
Juice of 1/2 lemon
pinch of red pepper flake
Kosher salt and fresh cracked pepper
For topping/garnish
Grated cheese, toasted pumpkin seeds......or greek yogurt and a drizzle of olive oil.....or a sprinkle of chopped fresh parsley or cilantro........or just even a fresh grind of black pepper.........
Instructions
In a medium soup pot, heat the oil and butter over medium heat
Once it gets foamy add the leeks and cook, stirring often, until they begin to soften, about 2 to 5 minutes
Add the chopped broccoli, potato and thyme, and give it a stir. Add some salt and pepper, and a pinch of the red pepper flake if desired. Cook, stirring occasionally for about 5 minutes
Raise the heat a bit, and add enough stock to just barely cover the veggies. Let the veggies cook in the stock until fork tender, about five minutes
Add the spinach and push it down into the pot until it wilts down. Remove from the heat
Use an immersion blender (or standard blender) to blend the mixture into a puree
Add the lemon juice and taste and adjust seasoning. Stir in more broth to thin out the soup, if it's too thick
Serve up in a shallow bowl and top with any of the suggestions, above
Notes
* you will probably not use all of this
This makes 4 very generous servings! The leftovers are just as amazing if not better the next day.
Adapted from Rachael Ray Every Day
Adapted from Rachael Ray Every Day
Kick and Dinner http://kickanddinner.com/