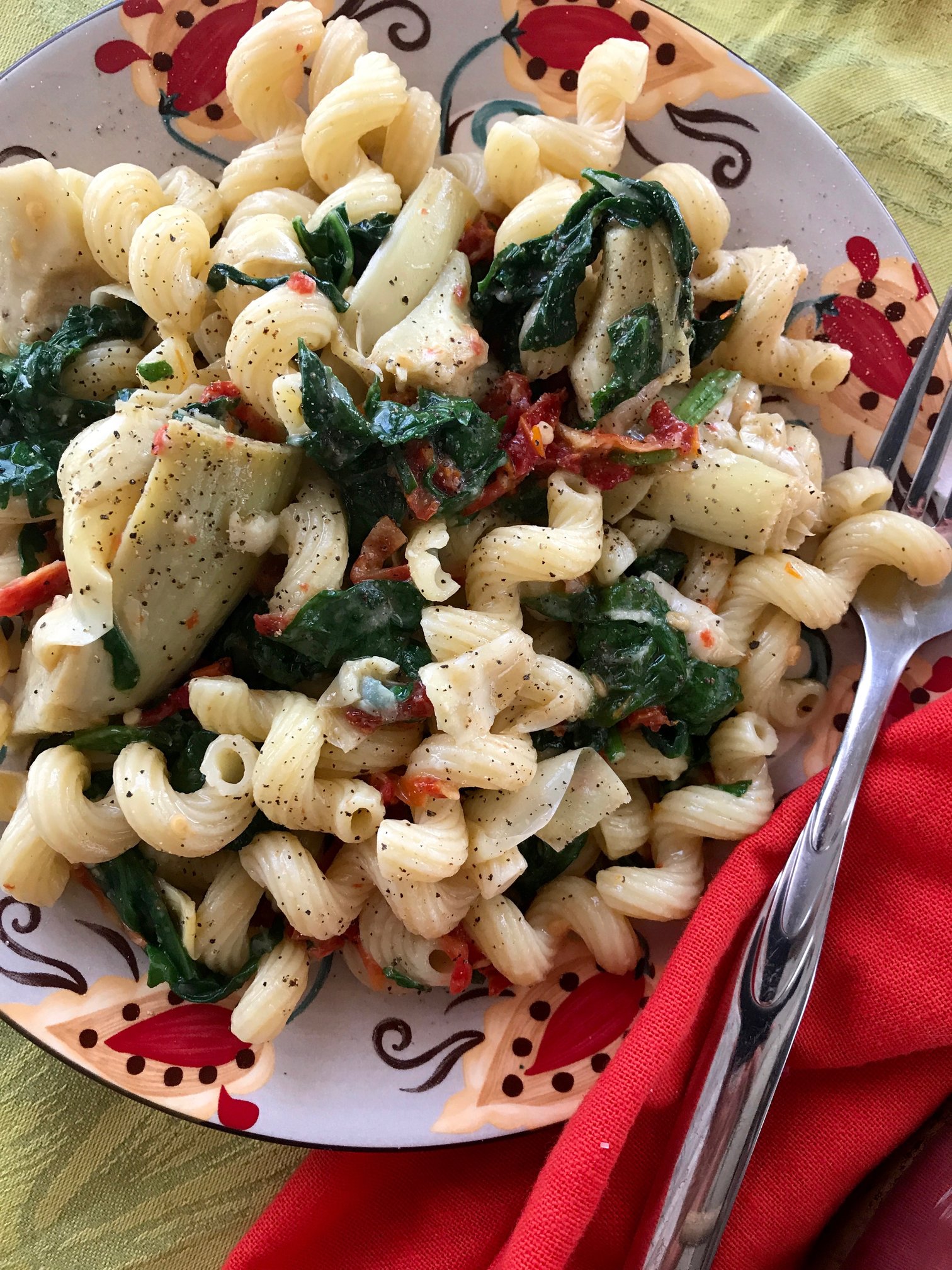 I have only ONE recipe on this site that actually includes any form of pasta in its list of ingredients.
Can you believe that? Just

One. Okay two, if you count this.

Now I have plenty of recipes that you could use with pasta, or sub in some pasta….but for the most part, my claim to a steadfast breakup with all things noodley and comforting has remained pretty consistent. I love you pasta, with all of my heart, and although it was tough to walk away you were making me fat around the middle and frankly sorta unhappy about it.

Okay then I admit it, we still sneak around occasionally (usually out at dark restaurants), and then there are those times that I just can't avoid you in public (dinner parties, or somebody nice cooks for you, how can you say no?) but for a pasta prima donna such as myself….I think I did really well for a really long time, you know, shunning your starchy advances.

But this one? This one is such a keeper, I couldn't keep my guard up another minute.
Boil some water, throw in some pasta and in the time it takes for that to cook you are going to do a little chopping, grating and can opening. Drain that pasta and stir all your easy ingredients up together. In the very pot you started with! Less clean up too? Whaaa??? This can't be real life. Or real good. But oh yes.
It can and it IS.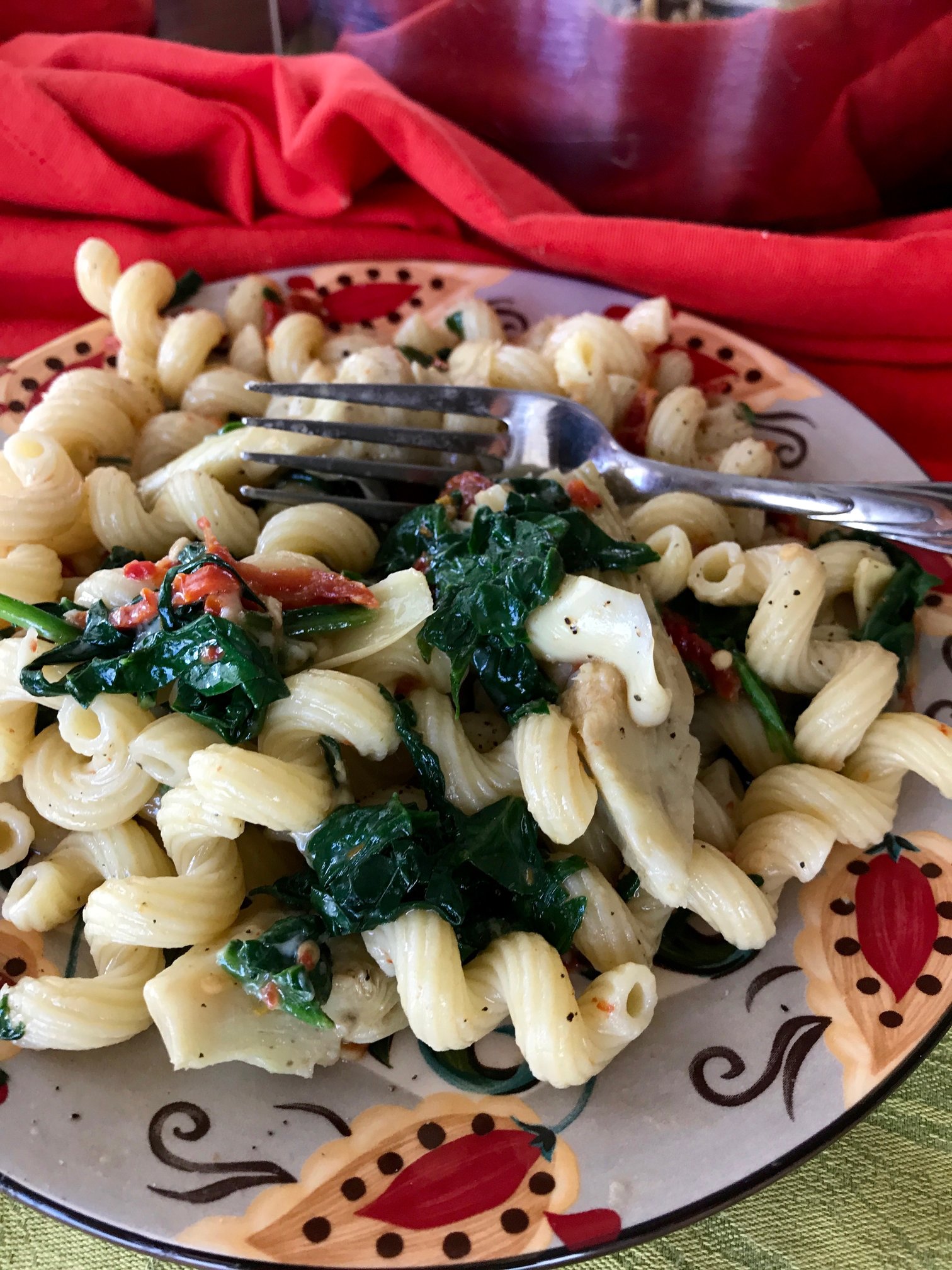 Bing. Bam. Boom. Dig in to a garlic scented, chewy dried tomato flecked, sweet artichoke, spinach cheesy one stop pot of pasta perfection! In no time at all! Seriously. I tell you no lies!
Ten minutes + one pot = one beautiful and easy meal. (food math)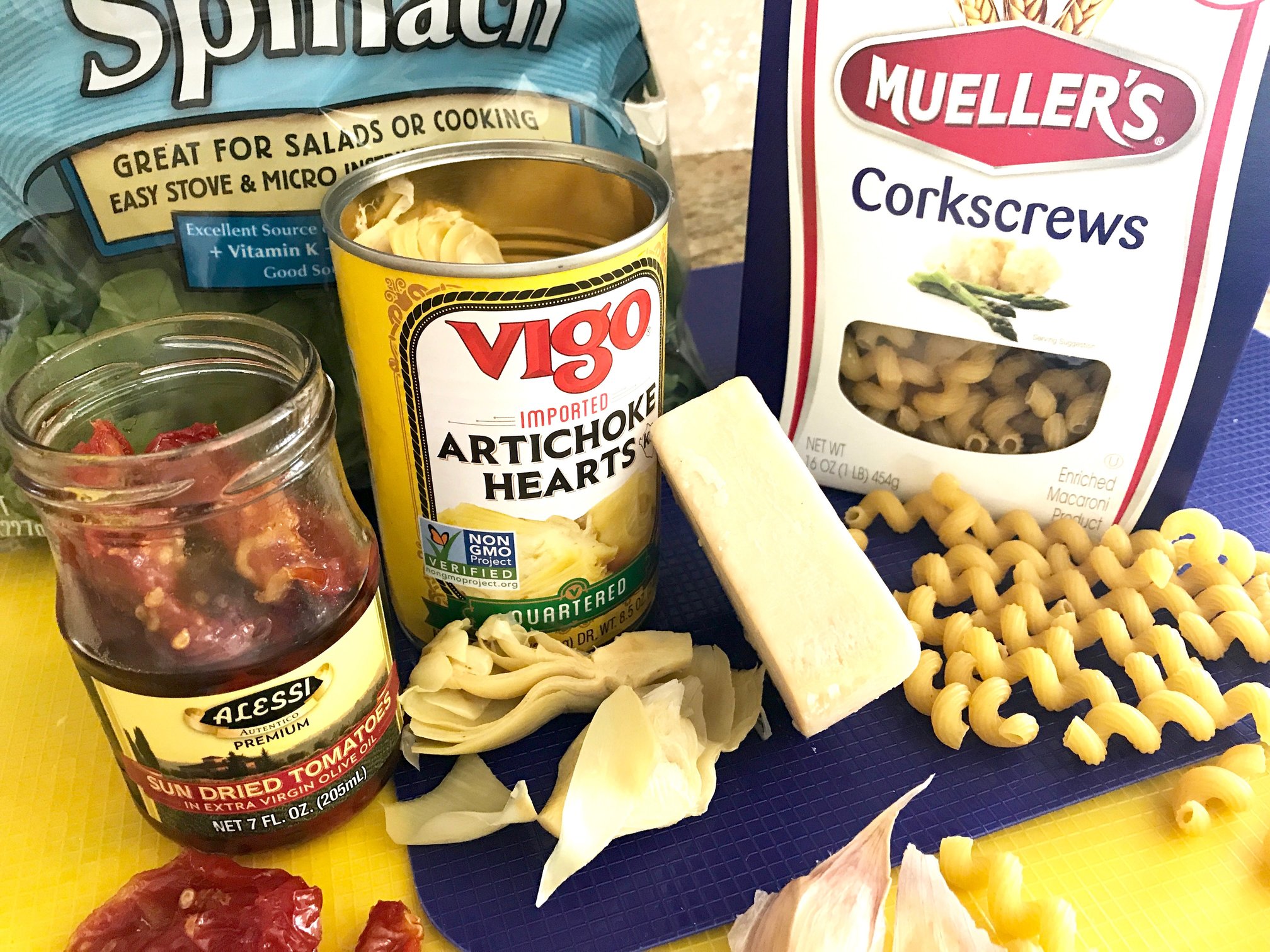 Raw spinach, a jar of oil packed sun-dried tomatoes, a can of artichoke hearts, a clove of garlic, pasta and cheese and you are on your way. Boil some water, get these players ready for action……and you are truly minutes away from staring down some substantial happiness.
You ready?
Start by getting a big pot of water boiling. Once you have it bubbly, toss in a nice healthy dose of salt……..and don't be skimpy! You want your water to be as salty as the ocean, so be generous here, it's really the only chance you'll get to season the pasta. Now dump in your pasta of choice (as you can see I love me some curly corkscrews but penne would be awesome here as well) and give 'em a good stir.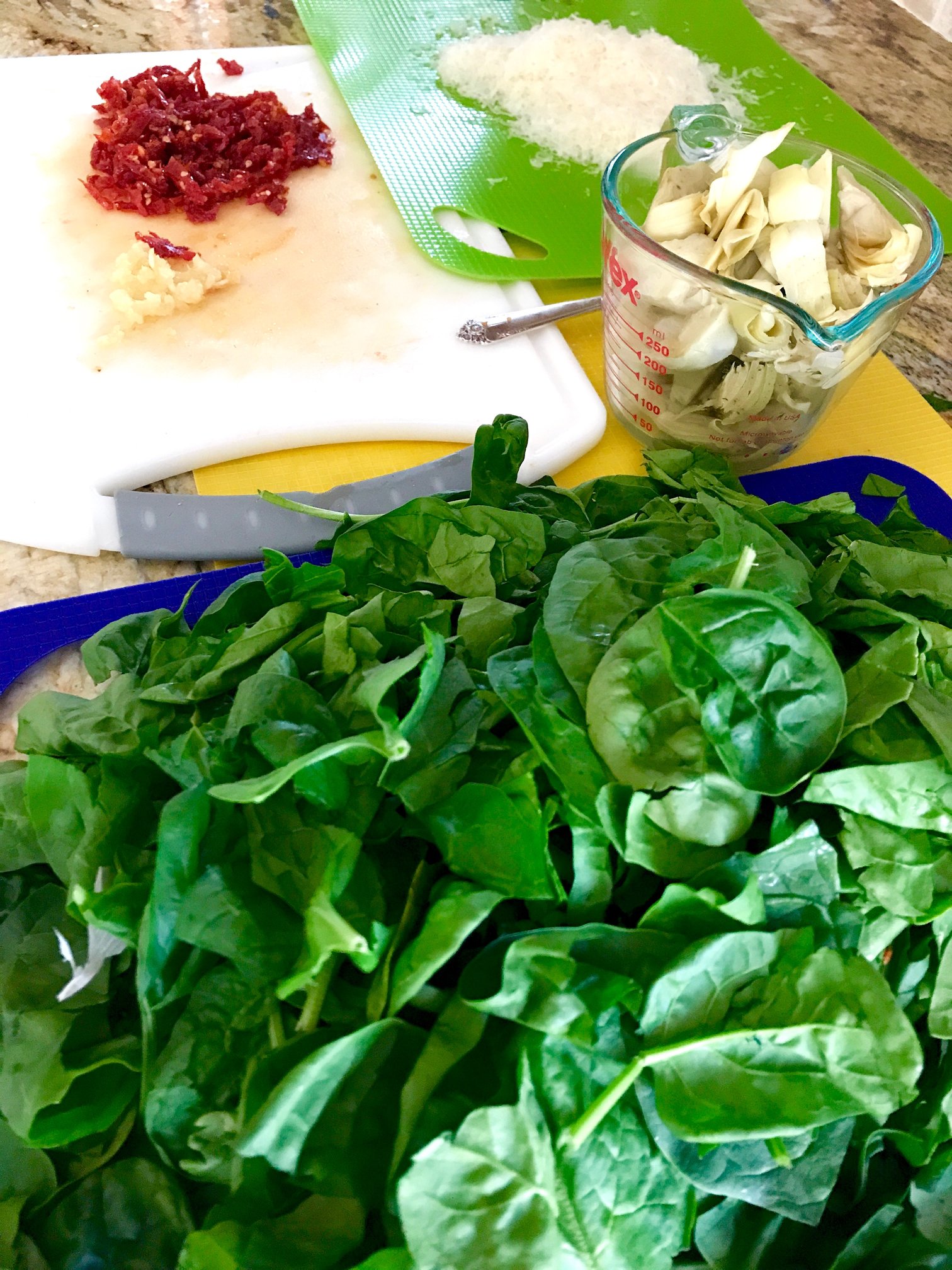 You have about 8-12 minutes to get everybody else ready. PLeeeeenty of time!
Open and drain that can of artichokes……DONE!
Roughly run your knife through that bag of spinach (um yeah, remove it from the bag first, ok?)……DONE!
Grate that garlic clove on the finest side of your cheese grater and then finely grate about an ounce or two of Asiago cheese….DONE!
Carefully (they are sticky and therefore a wee bit tricky) slice 4 or 5 sun-dried tomatoes into skinny little slivers……DONE!
I mean, nothing to it, right? Now go check on that pasta and see how it's doing. Fish one of those guys out and give it the bite down test……and if it's ready to go, so are you!
But wait……….before you drain that water off, take a measuring cup or coffee cup or something with a handle (safety first! then dinner) and scoop out some of that starchy, salty cooking water and set it aside. We'll be needing a little of that in a minute.
Now we're rolling
………….drain off the water, and pop that pasta right back into the hot pot.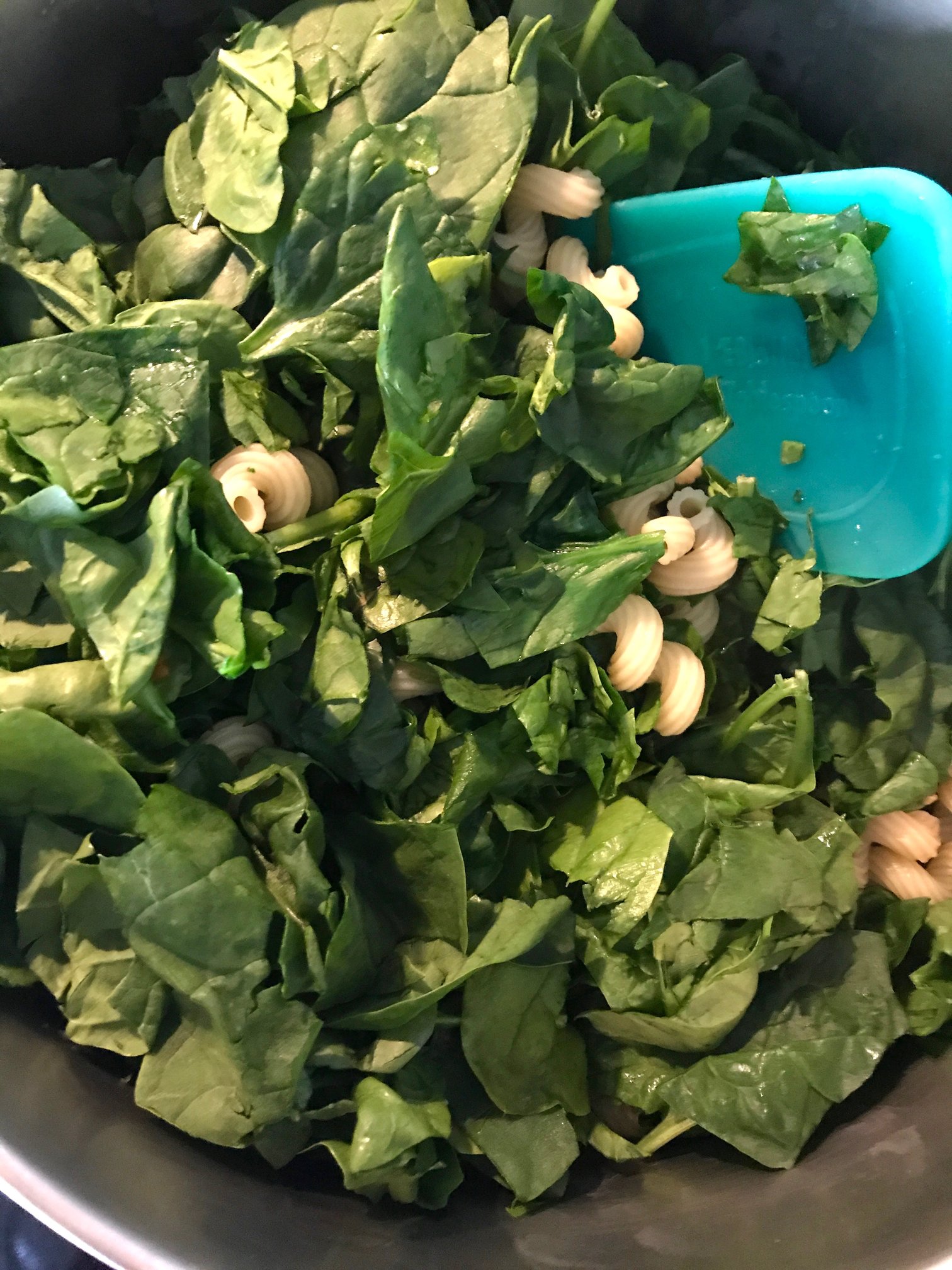 Immediately dump in all that beautiful spinach. Give this a stir….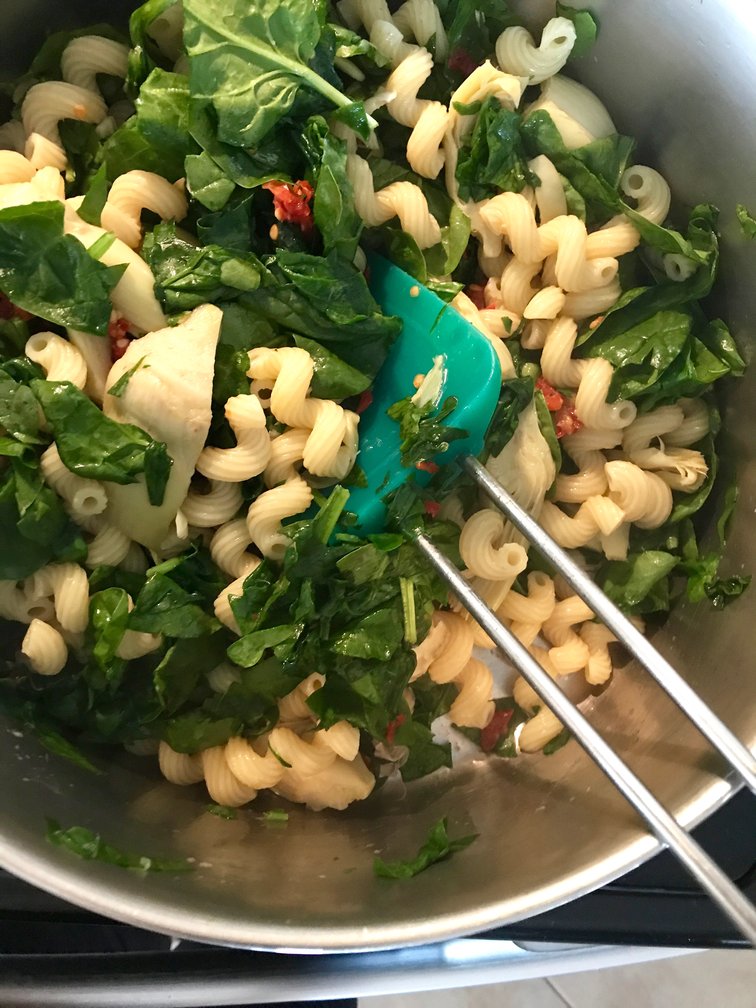 and then toss everybody else into the pool! Artichokes, garlic, tomatoes, and a drizzle of the awesome oil you will have left in that jar of tomatoes, to help get everyone all loosey goosey.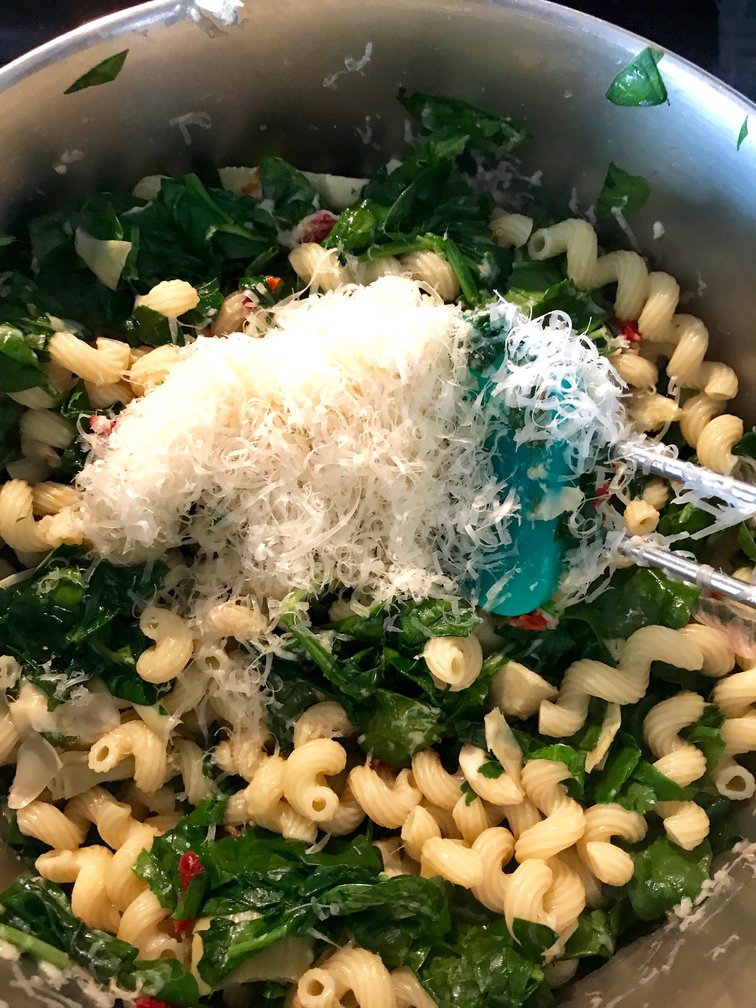 Now fold in that cheese, and continue tossing everything around. The residual heat from the pasta will wilt the spinach, gently heat the tomatoes and cause that very finely grated garlic to absolutely bloom! A splash of the leftover pasta water you scooped out earlier will be helpful right about now, as well. Just add a little at a time if you need to.
There you have it! Spinach, sun-dried tomatoes, artichokes and pasta…….
ALL. IN. ONE. POT.
Just one more reason why…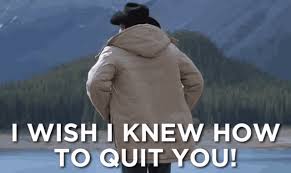 I feel you, Jack, I feel you.
RECIPE BELOW: This makes enough for 3 super generous servings, or 4 side dish type servings. I know it seems like a TON of spinach for the amount of noodles, but believe me when I tell you, that spinach shrinks down to nothin in no time! More is actually MORE if you ask me. Use any sort of cheese that you like, just be sure to grate it super duper fine…this dish is reliant upon just residual heat, so you don't want to have to fight with your cheese. And who wants to fight with anything? It's bad enough having to fight with pasta cravings………..
One Pot Spinach, Sun Dried Tomato and Artichoke Pasta
2017-09-21 09:23:46
Ingredients
8 oz (approx half the box) Corkscrew Pasta, or the shape of your choice!
1-8.5 ounce can Quartered Artichoke Hearts
8 ounces Raw Spinach, roughly chopped
5-6 Sun-Dried Tomatoes (packed in olive oil) thinly sliced. Save some of the oil in the jar.
1 large Garlic Clove, peeled and finely grated
1-2 ounces Asiago or Parmesan Cheese, finely grated (plus more to dust over the top if you like!)
Water
Salt and pepper to taste
Instructions
In a nice big pot with lots of room get some water boiling. Once you have that going add a generous amount of salt (teaspoon or two). Add the pasta and give it a stir. Let this boil for 8-12 minutes, as per the instructions on the package.
While the pasta is cooking, prepare the remaining ingredients, and have them ready by the stovetop. Get out a colander and have it ready in the sink.
Once the pasta is cooked, turn off the heat, but before you drain the water out, take a coffee cup and scoop out about 3/4 cup or so from the pot, set this aside.
Drain the water from the pasta, then place the pasta right back into the hot pot and place that back on the stove (which should be off at this time).
Immediately dump in the spinach and give it a stir to wilt down. Quickly add the remaining ingredients and gently toss along with a tablespoon or two of the oil that came in the jar of tomatoes. Add a splash of leftover pasta water if the mixtures seems too tight.
Serve it up! With a dash of black pepper and some extra cheese if you like!
Oooooh, YUM.
Kick and Dinner http://kickanddinner.com/