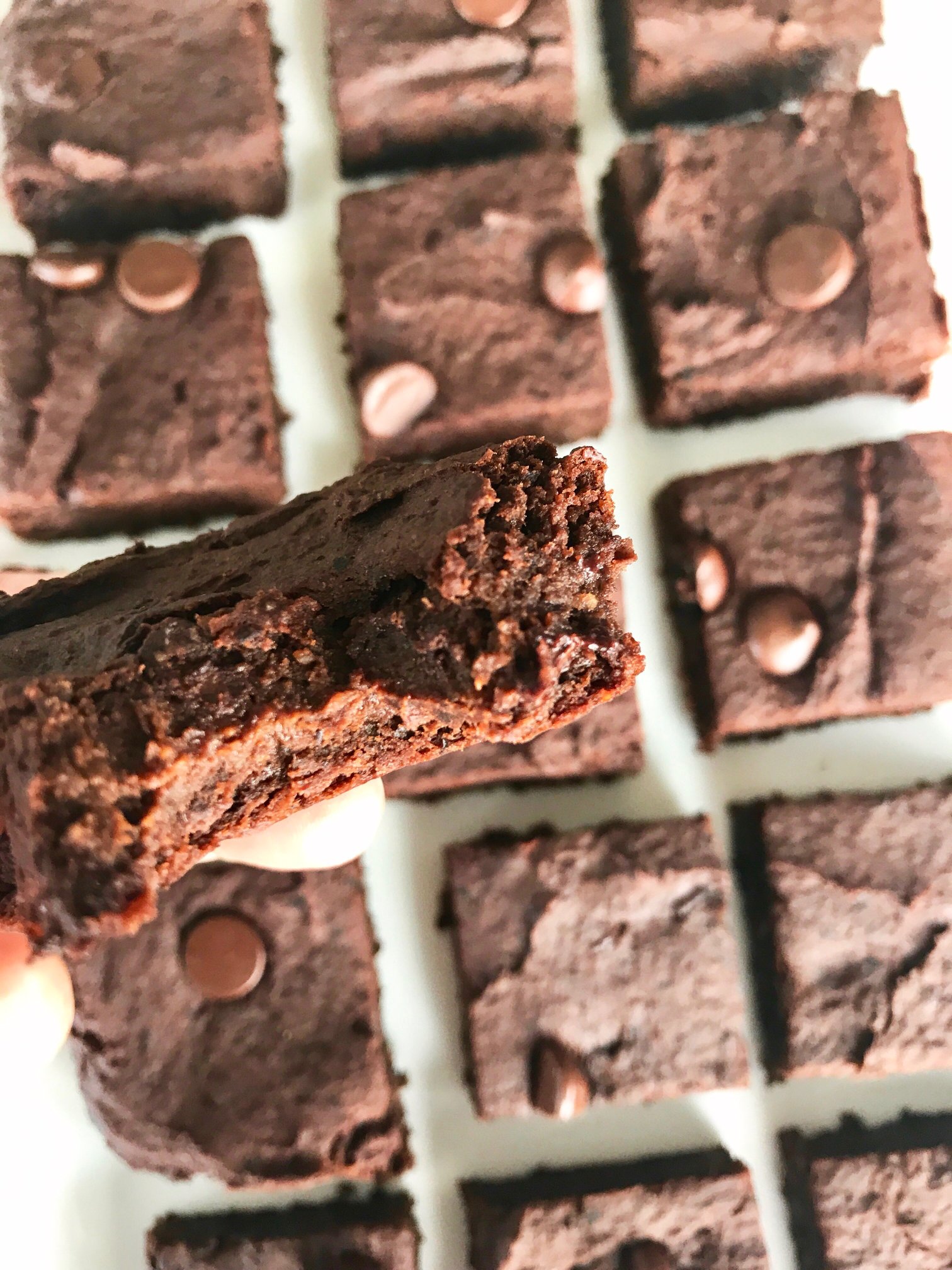 Who doesn't want to partake in a goodie-fest that offers more than just a chocolate rush? (not that I have any problem with THAT, per se………)
HOWEVER:
These moist and squidgy squares of phenomenally fudgy fun are super easy, super yummy and super good for you! Containing not one, not two, but three particularly pumped players, these bulked up brownies will give you a whole lot more nutritional bang for your buck than say…..the regular baked-goods you can buy at the grocery store (no bueno). Consider the lineup:
Black beans: loaded with protein and fiber and impressive amounts of folate, manganese, potassium, copper and iron, minerals that are active in every system in your body, from initiating DNA synthesis to maintaining a regular heartbeat; (no biggie, right? ha!)
Cacao: thought to be one of the richest sources of antioxidants out there. Hey, just being a living, breathing organism is stressful stuff, and antioxidants work to cancel out all those non-welcome free radicals the human body naturally produces. (and I always thought free was a good thing)
Flax: my newest favorite super-seed, these itty bitty boys are jammed with lignans, a metabolite known to bala

nce hormones (yes, guys too) and block the probability of any pesky hormonally related jam-ups to occur. (check out

Fierce Frozen Fun Flaxseed Energy Bites for even more lignan love)
All that AND rich chocolatey deliciousness? Sold.
Now if you could only get someone else to make them life would be just about perfect, AMIRITE?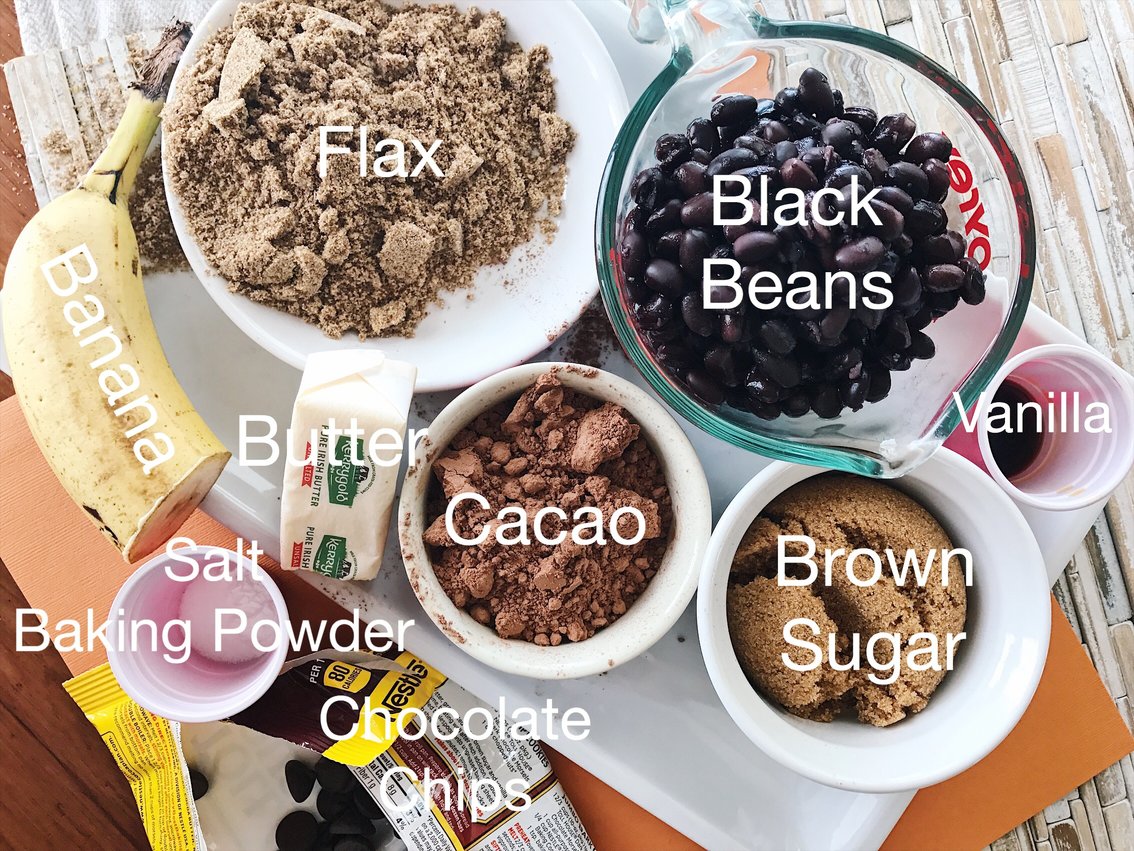 Look! Half a banana. Another potassium packing power house, the main reason for its inclusion here is the addition of sweetness and bulk. There is some brown sugar as well, but only 1/2 a cup….not sah bad! You've also got your requisite baking powder (not baking soda), salt, vanilla extract, butter (Kerry Gold happy cow butter, of course), black beans, cacao powder, and ground up flax seed. I tossed in some dark chocolate chips for the gooey factor….walnuts would be awesome here too if you are a member of the "brownies WITH nuts" team.
I find that people can be very funny when it comes to their nuts.
IN BROWNIES, folks. In brownies.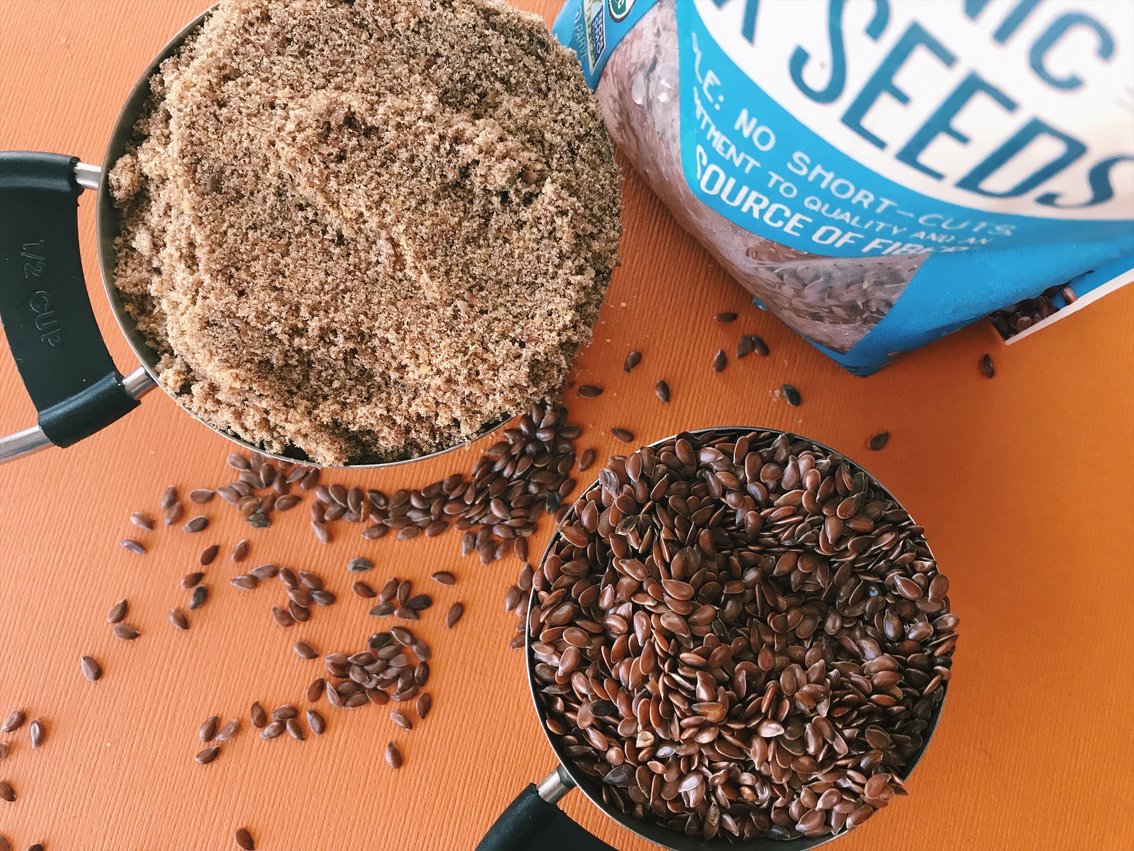 I like to purchase my flax-seeds whole and then grind 'em up in my NutriBullet (blender or Vitamix work just as well if not better). Make sure you store your flax in the freezer; like most seeds and nuts, they are oily little bugs and can go rancid pretty quickly. You'll need a half a cup of flax powder…..if you start with a quarter to a third of a cup of whole seeds they will aerate up in the pulverization process to the right amount. Just make sure to grind….THEN measure.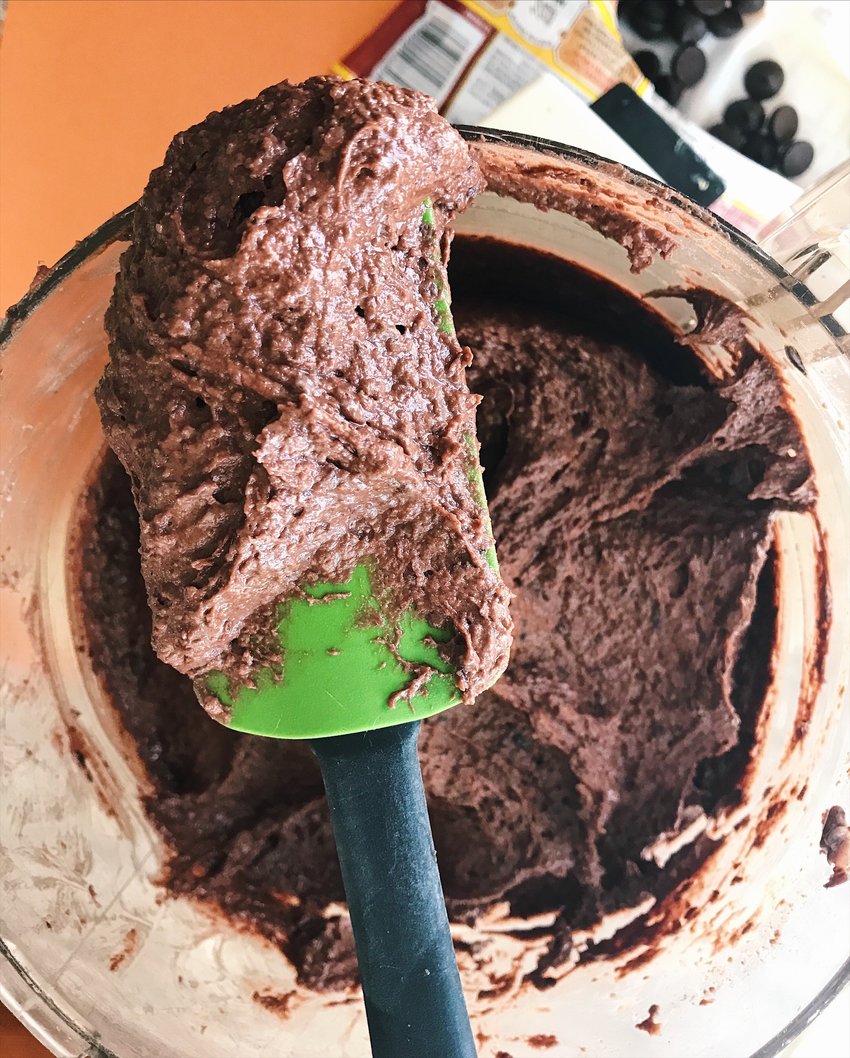 Whack everybody (plus a little water) into a food processor….except those chocolate chips. Pulse a few times and then let 'er rip…..giving it a scrape down once or twice or three times. Keep spinning your batter around until you end up with a super thick consistency that looks a little like….
Mud. (I know what you thought I was going to say and yes it looks like that too)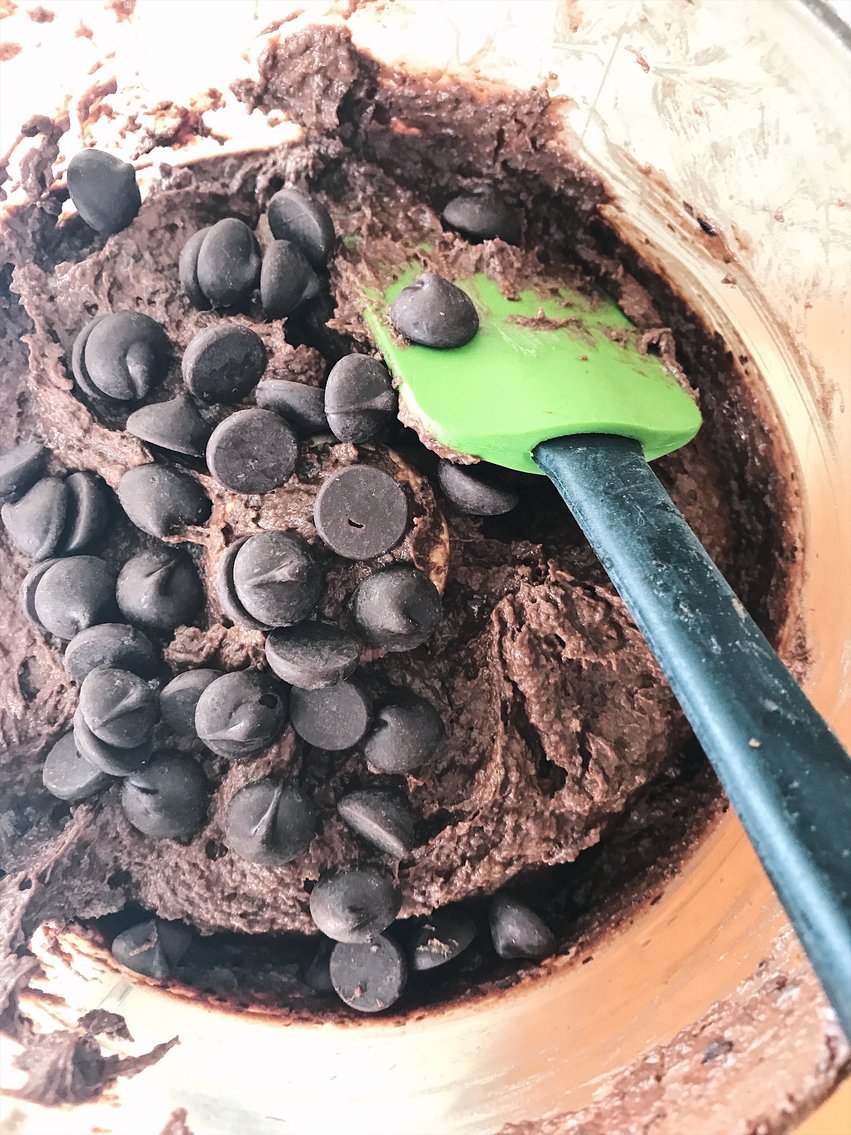 Mix in your chocolate chips manually. Just work around the blade, no worries. If you want you can pulse it a few times to break them up, and that is perfectly great! I just prefer my chips of chocolate in one whole gooey piece when I bite down. Luscious! If you're still thinking about dem nuts………now's the time to add those in.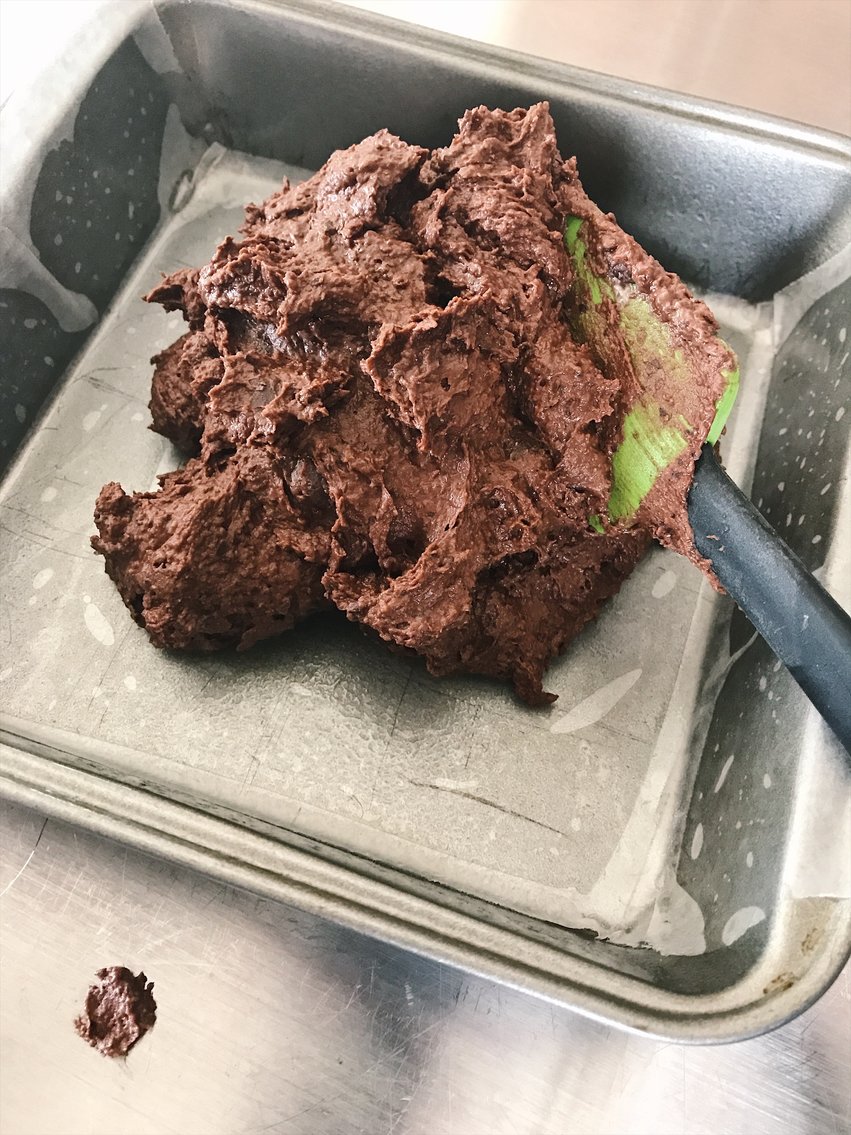 Go ahead and lightly grease a 9 x 9 inch baking pan, then line it with a piece of wax paper, letting it hang over two sides. Lube that wax paper up as well, for a little extra slippage insurance.
Now be prepared to HEAVE that batter down into your pan. And I am not messing around when I say you will wrestle with this just a bit. Look at this stuff, you could use it for mortar! Smooth it down evenly and pop a few leftover chips over the top. Just because you CAN………and into a 350° oven for thirty minutes it goes.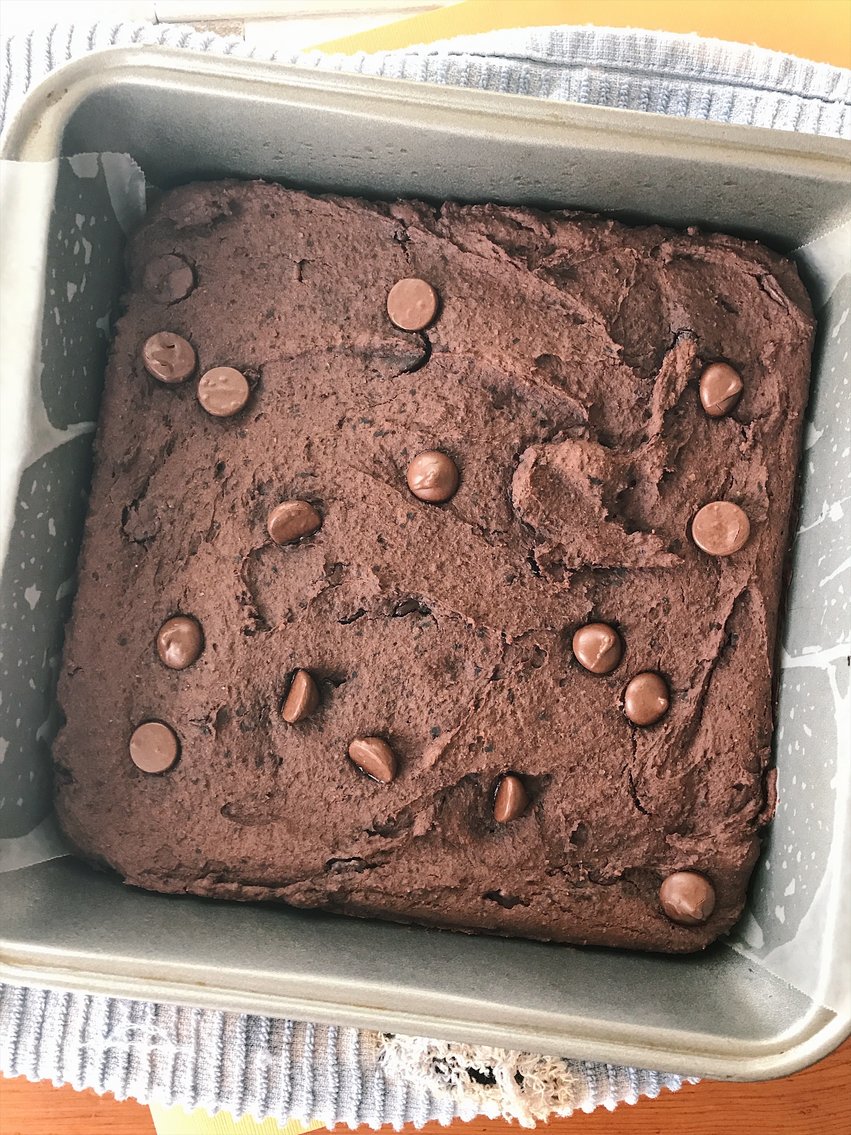 After about twenty minutes of cool down time in the pan you can lift the whole she-bang out in one piece because you were a smartie-pants and you used that wax paper!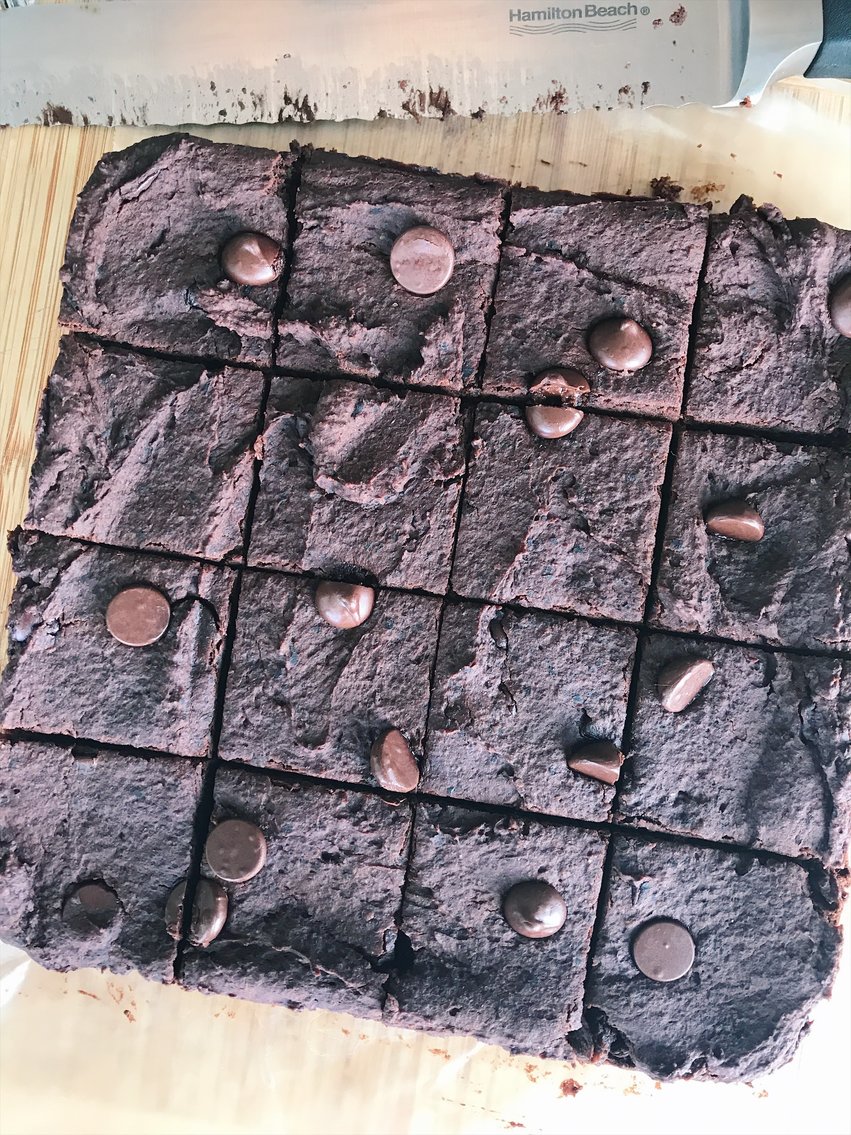 Let them cool all the way down, and slice 'em up with a serrated knife.
Yes, that means you'll be expected to share.
Store them in a covered container in the fridge. Maybe nobody will find them that way.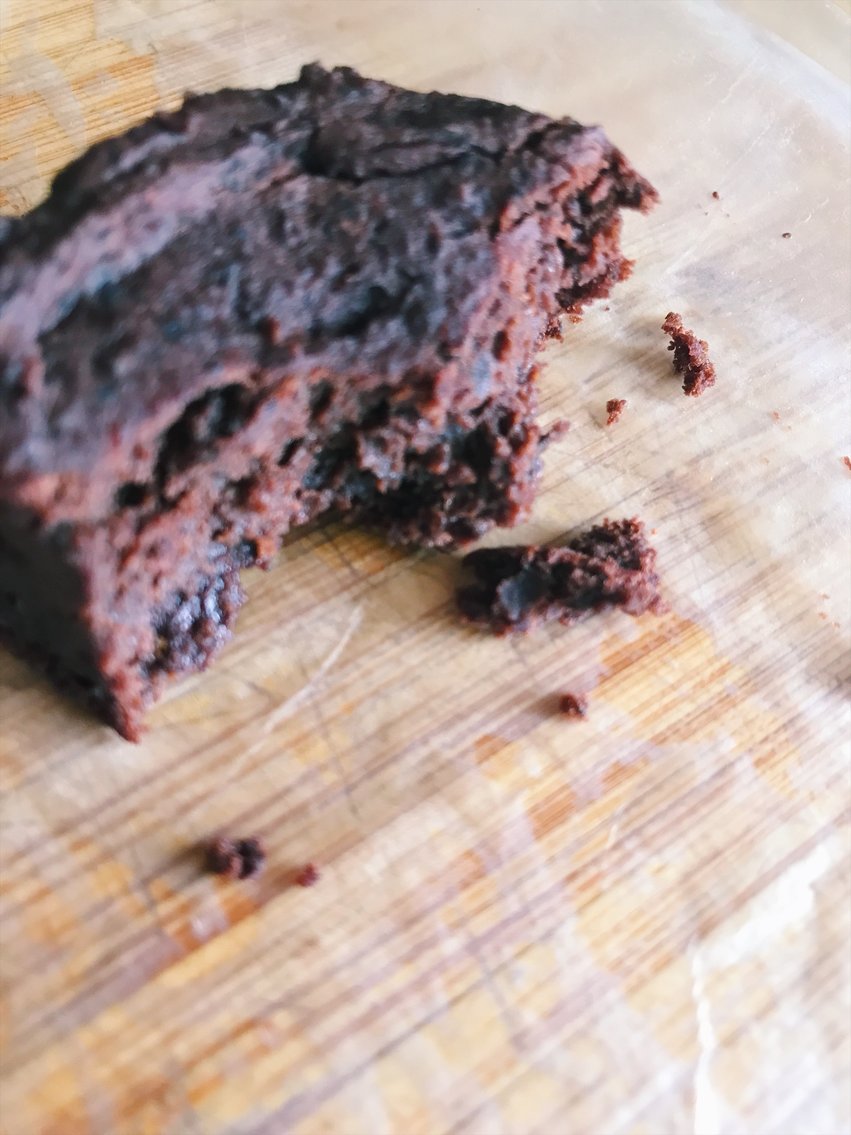 Man, these are so good! And pretty much guilt free. Just the perfect amount of chocolate goodness without being too sweet, these are almost fudge-like in texture, and actually get better overnight. So if you like your brownies more on the cakey side……
well, THEN MAKE A chocolate CAKE !!!!!!!!!!!(which looks amazing, btw)
And pass the milk.
RECIPE BELOW: This makes 16 servings unless you are a glutton like me and consider three individual squares to be one. Food math is so great that way! Listen, each square has 6 grams of protein, tons of fiber and other healthy goodies, so eat up, and be HAPPY. You're welcome.
Super Food Super Good Black Bean Brownies
2017-10-07 14:39:34
Ingredients
1 -15 ounce can of black beans, rinsed and drained
1/2 banana*
1/2 cup cacao powder**
1/2 cup GROUND flaxseed***
1/2 cup dark brown sugar
1/2 stick butter - softened to room temp
1/4 teaspoon salt
1 teaspoon baking powder
2 teaspoons vanilla extract
2 tablespoons water
1/4 - 1/2 cup dark chocolate chips (save a dozen or so to top)
OPTIONAL
1/4 cup roughly chopped walnuts
Instructions
Preheat your oven to 350°
Lightly grease a 9 x 9 inch baking pan and then line it with a piece of wax paper, allowing the paper to hang over opposite sides. Lightly grease the wax paper as well.
In a food processor, add all of the ingredients (except for the chocolate chips and optional nuts). Pulse a few times to incorporate, then blend continuously until the mixture is very smooth, scraping down the sides a few times during this process.
Remove the lid and add the chocolate chips and nuts and stir in manually, working around the blade.
Use a rubber scraper to scoop up the batter and plop it into your prepared baking pan. It will be very thick. Smooth this out into an even layer, and sprinkle with the leftover chocolate chips, gently pressing them down.
Bake for 30 minutes, then remove from the oven and allow to cool in the pan for at least twenty minutes. Use the overhanging wax paper tabs to pull out the brownie in one piece and transfer to a cutting board. Let cool completely.
Using a serrated knife, cut the brownie into equal squares. Store chilled in an airtight container for up to a week.
Notes
*Really? why not use the WHOLE freaking banana? okay okay....you most certainly can but it will taste far more BANANA-brownie-ish. And if you are good with that.....so am I.
**Regular cocoa powder works here as well, cacao is just generally a more pure form of chocolate with less additives, therefore...better for you. Easy to procure just about anywhere, these days.
***Start with about 1/3 cup of whole flax seeds and grind them up to a fine powder, that should measure out to at least half a cup.
SO good, better for you than a donut (but then what isn't?), these are awesome little treats that sub in nicely for a quickie breakfast on the run or a healthy snack. Yum!
Kick and Dinner http://kickanddinner.com/