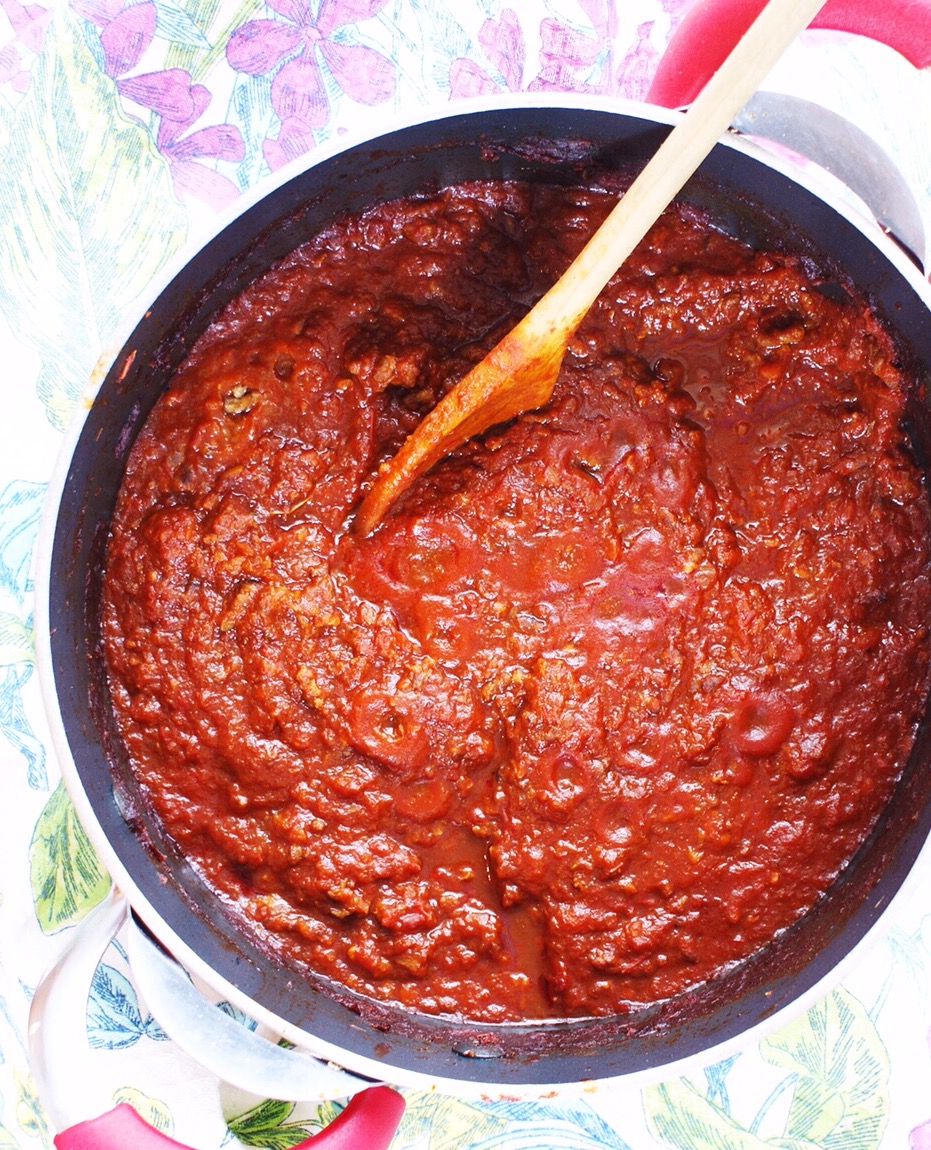 Oh good grief, talk about a BIG FAT steaming pot of luscious lycopene LOVE. This undeniably delicious, slow cooked masterpiece of a "sauce" has gently bubbled its way into every muscle fiber of my marinara lovin' heart. This is NOT your average tomato sauce. Oh no no no no no.
This is a RAGU.
Not to be confused with the junk in the jar, a true ragu is a slow cooked meat sauce, usually created by adding meat to a partially fried mixture of finely chopped veggies and tomatoes, and letting this simmer for hours and hours and hours. Right.
Doesn't sound too good or like much fun does it?
I KNOW!
But I promise, if you take the patience that this requires, and you pay attention to the (very) simple steps, and you give yourself the permission to take your time with this……..you will be swooning over the stunning results that you will get. I mean it! The depth of yumminess that comes from simply taking the time to brown the ingredients in stages, and go low and slow with it, will keep you up nights.
I dream about this sauce. I want to sit in a bathtub of this stuff, carry it around in a water bottle….use it for eye drops. It is really JUST THAT GOOD.
And it goes with everything…………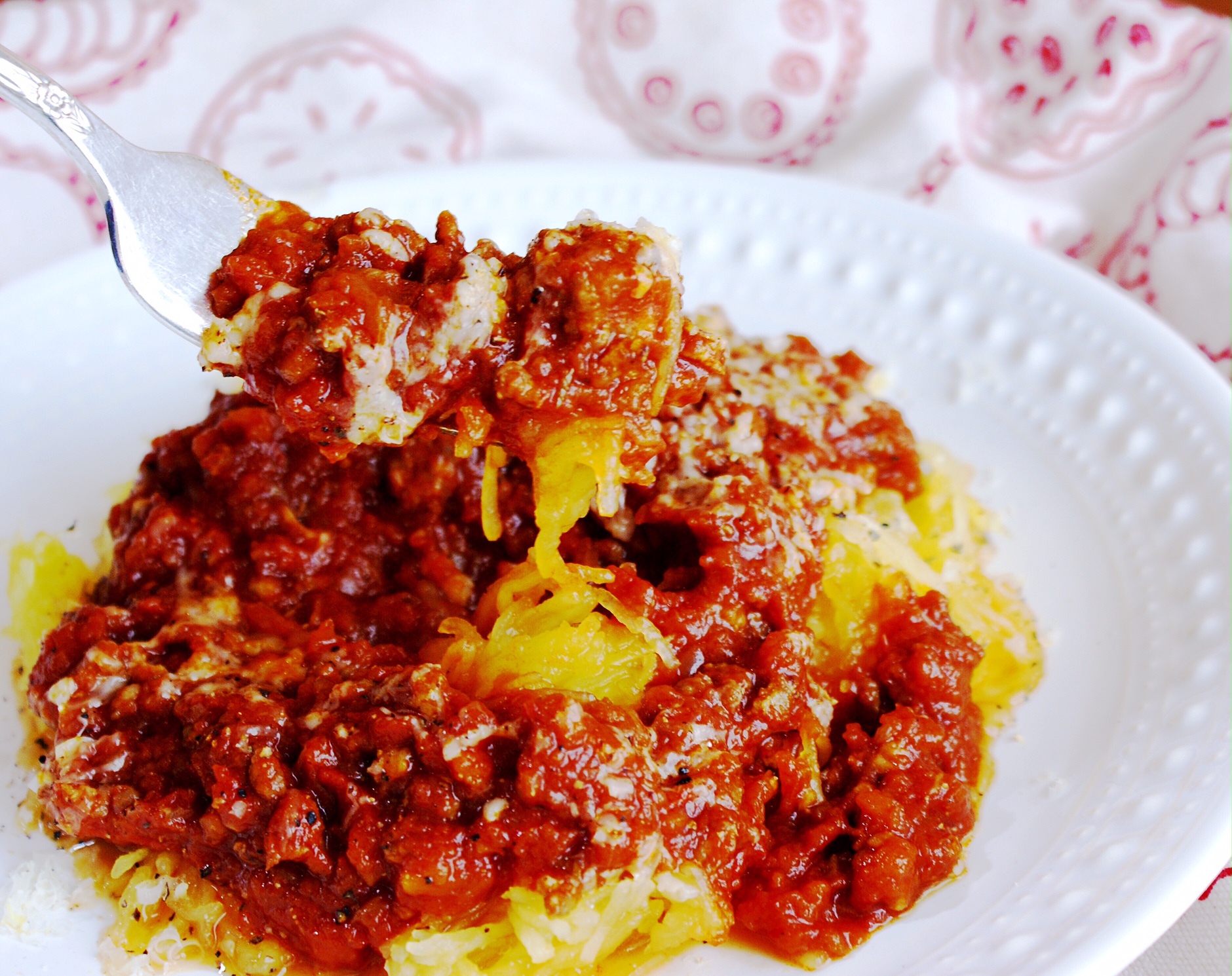 Over spaghetti squash to keep the carb count on the down low-down………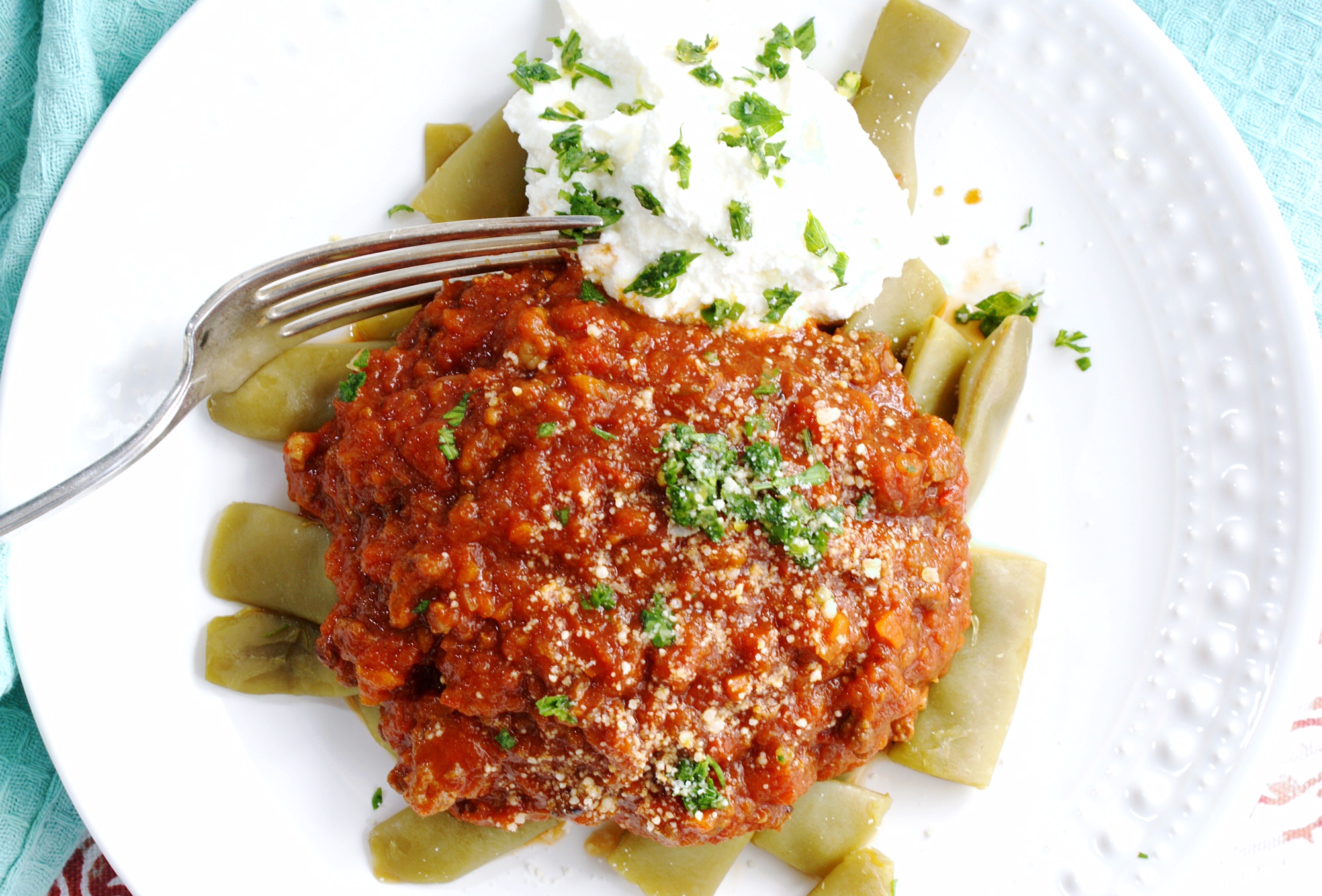 Over some canned (yes, I said canned….Italian style, ya gotta love it) green beans with a creamy dollop of ricotta cheese and a pungent smattering of gremolata (fancy word for finely chopped raw herbs and other good stuff……see how to make it here).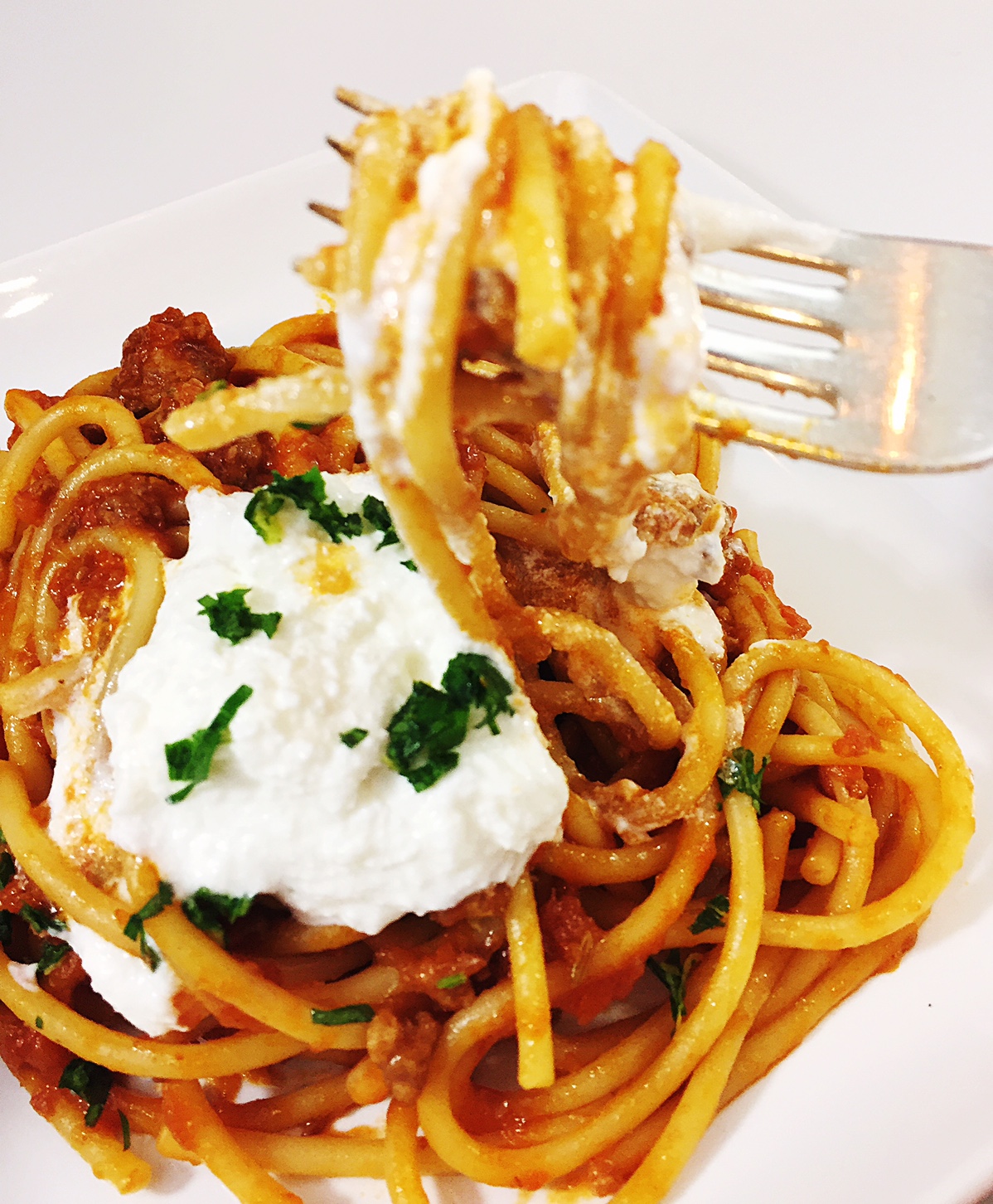 Or just keep it classic, spinning it through a heaping helping of bucatini (or the pasta of your choice)!
Convinced yet?
I'm just sayin, super simple ingredients, handled in the right way, and you too will be on your way to ragu royalty. The trick here is the steps, and the crucial browning action that you will be creating within each level. Nothing too fancy, just cook and brown and brown and cook.
Repeat.
Begin with your veggies; an onion, some garlic, a couple of carrots and some fennel. Pulse these guys through your food processor….you want to get this to a very course paste-like consistency, without turning it into soup.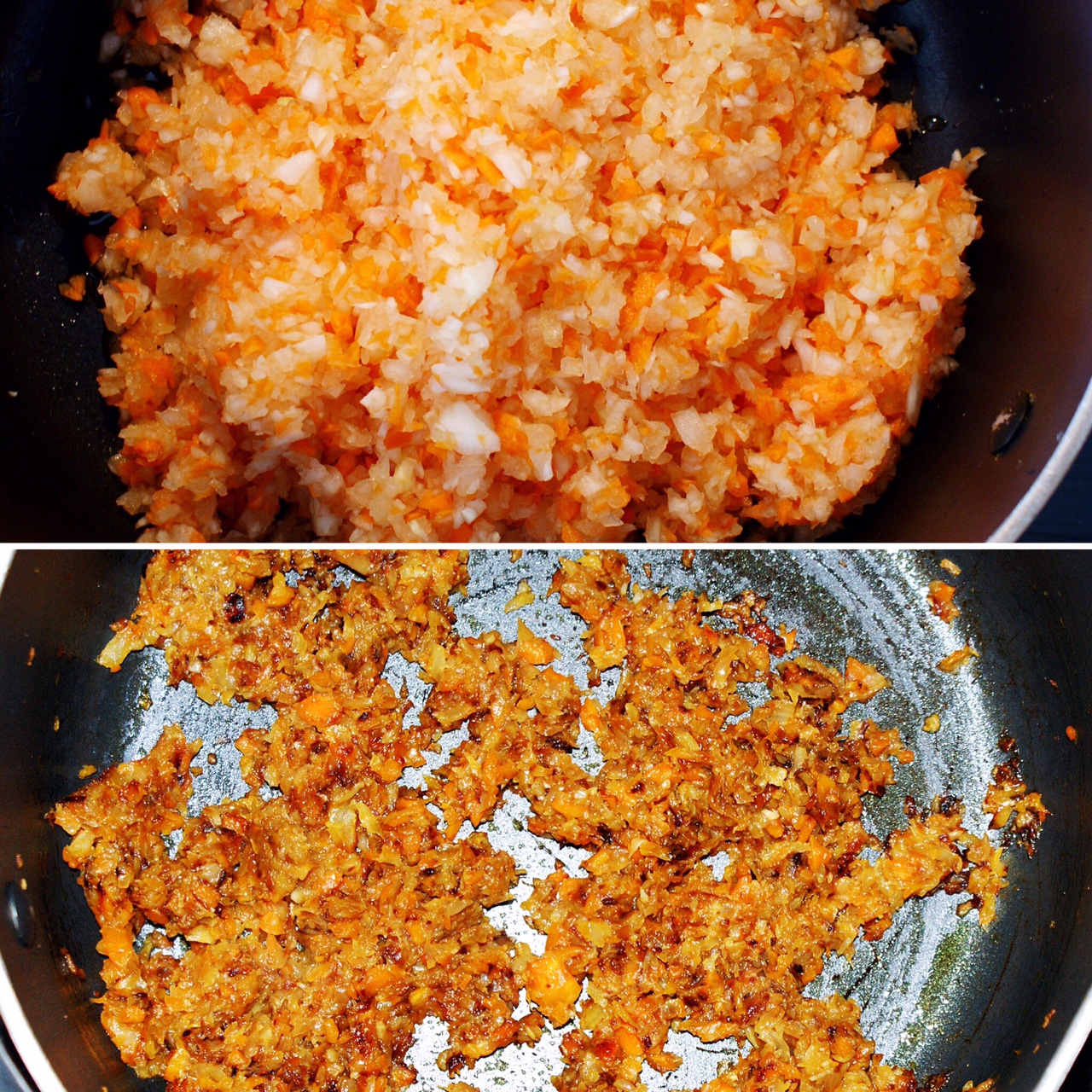 Into a wide, deep pan heated with some olive oil this goes, along with a healthy pinch of salt. Cook and brown and brown and cook, getting the veggies all nice and caramelized and the liquid evaporated as you go. Browning is so important here, that is where the flavor is. Be patient and take your time, this step could take up to thirty minutes!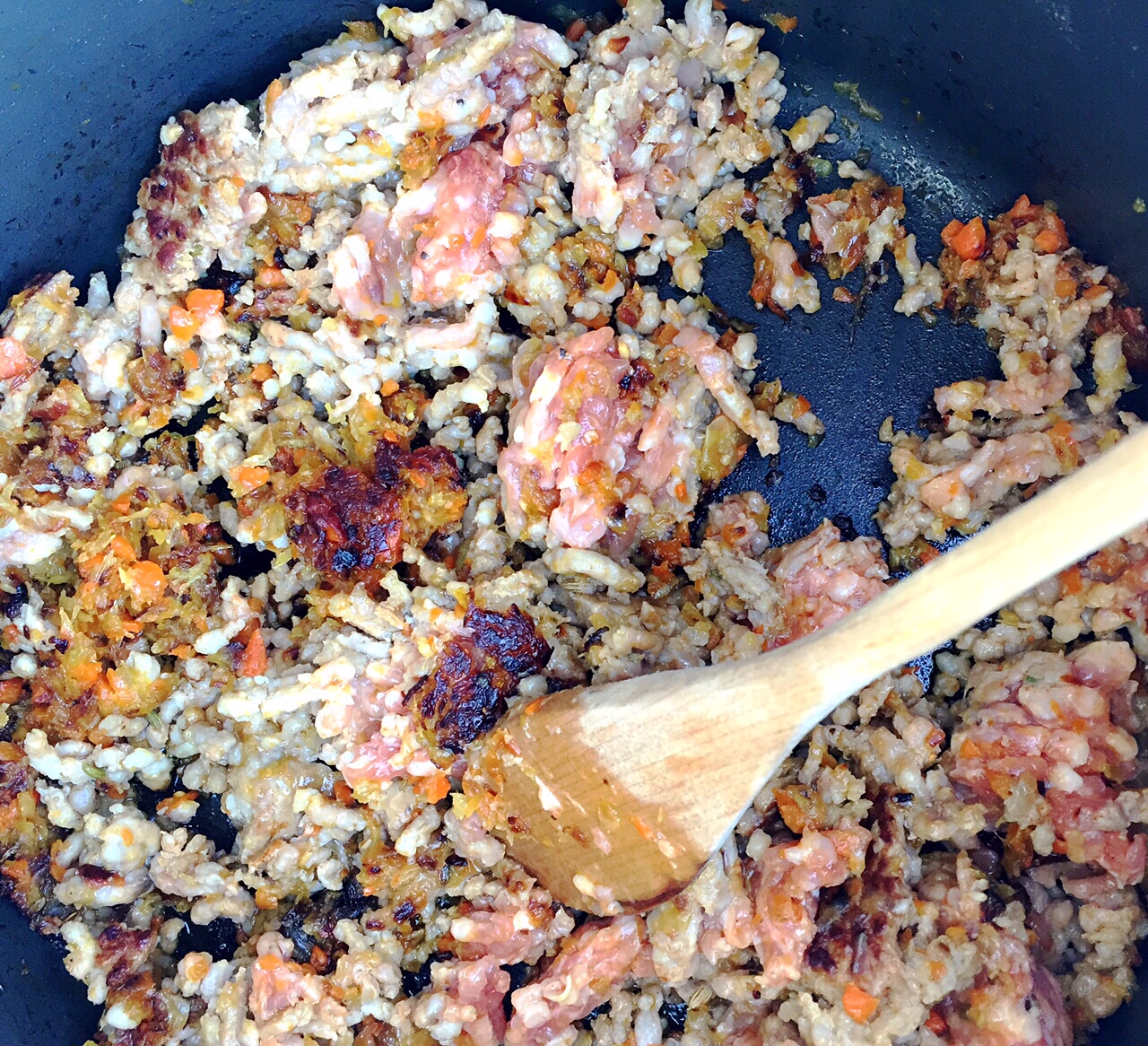 Now pop in your pound of sausage. Once again, brown and cook and cook and brown (or is it the other way around?) breaking up the sausage as you go. Get it it nice and crispy…..but not burned! This "crust" is key!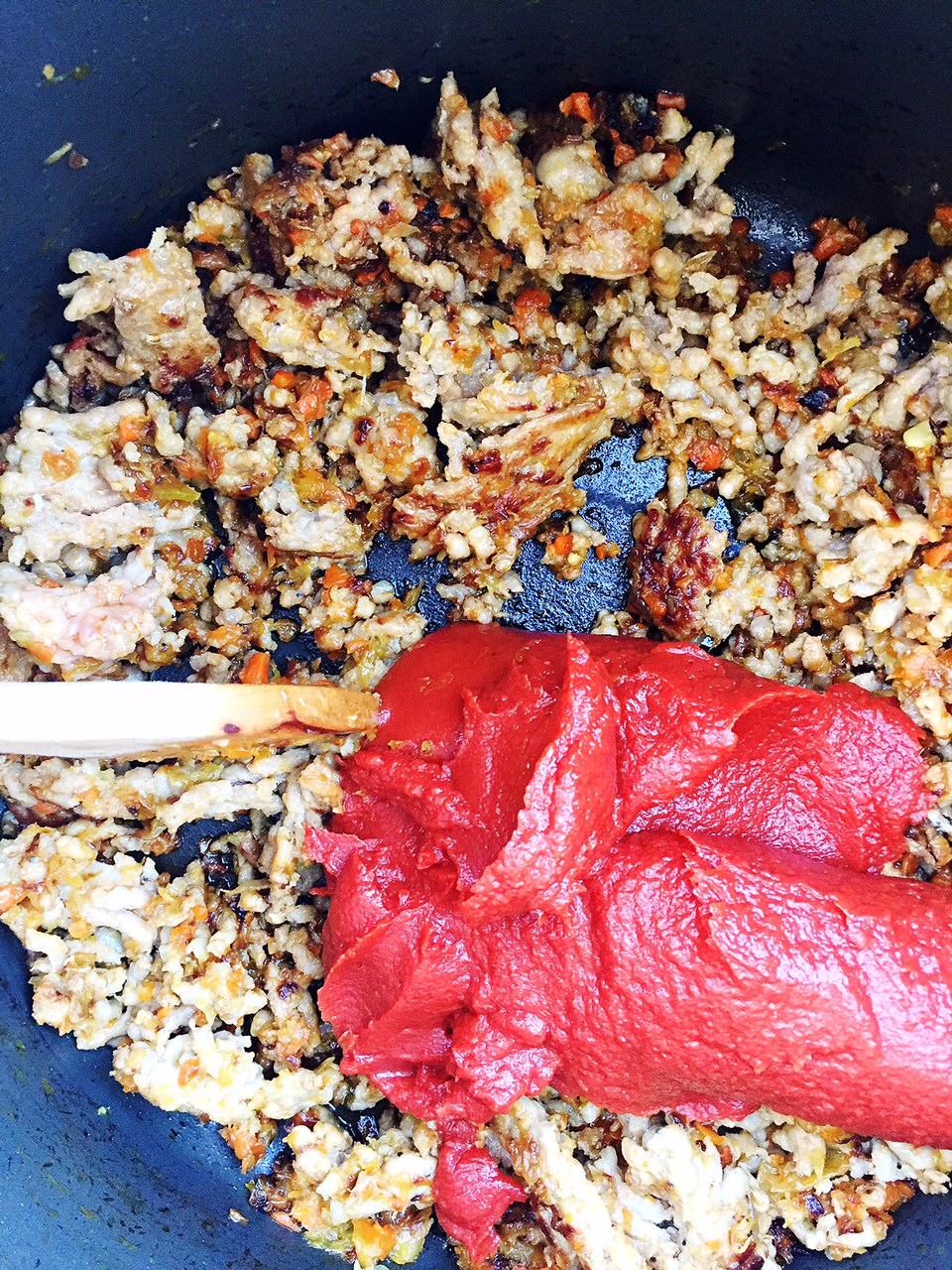 Add the tomato paste and continue stirring and cooking…..the pan is pretty dry here at this point so now is not the time to take a selfie. Another minute or so and you are ready to add your liquid. I used 2 cups of chicken broth, but of course, you could use water or a combination of red wine and water. Or red wine and chicken broth. Or chicken broth and water. You get the idea, just add two cups of liquid but DON't let that be two cups of straight wine, k? That would be a little too much fruit of the vine…………even for me.
(hic!)
Stir and cook and cook and stir, letting the liquid reduce.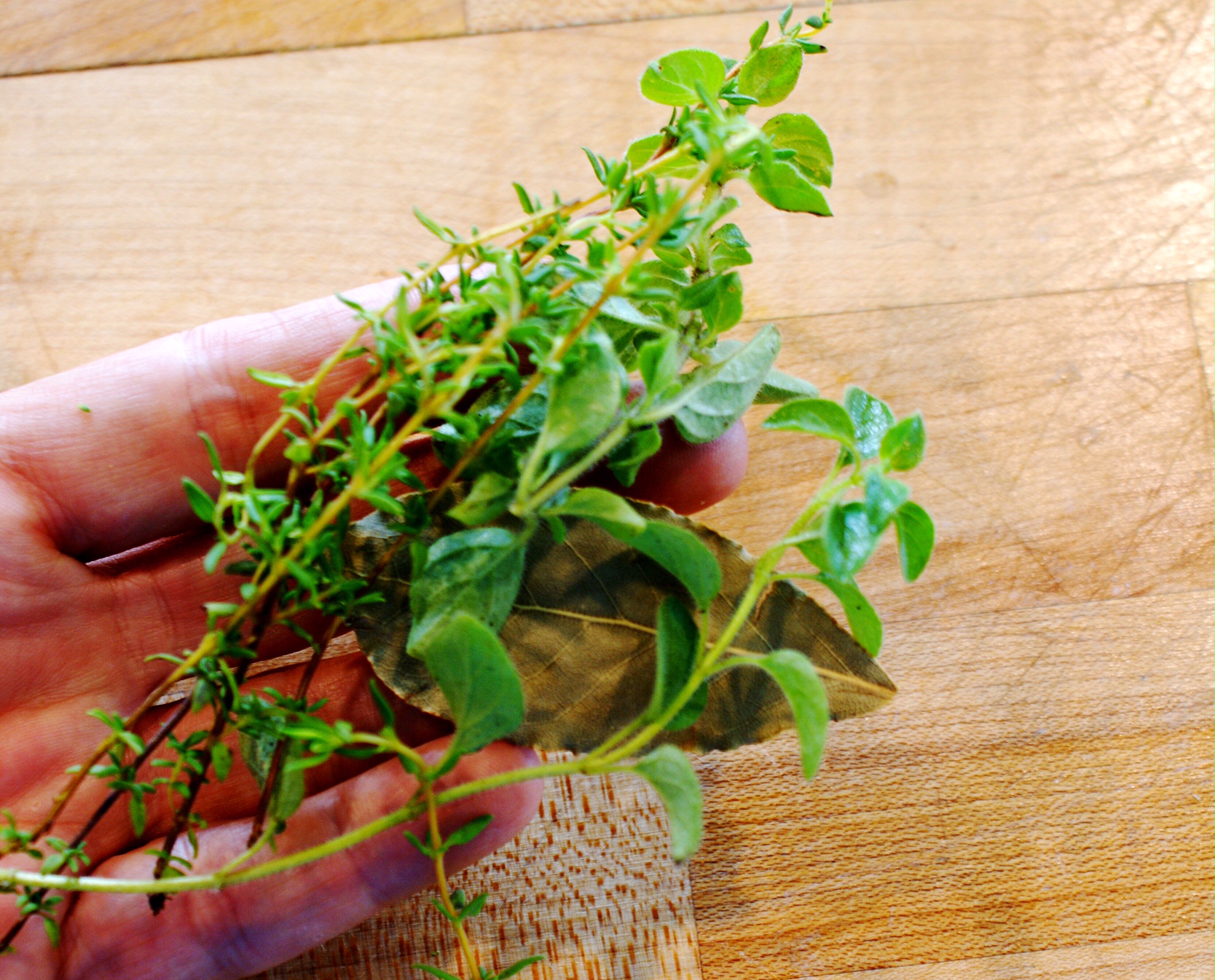 You are in the home stretch now……..add enough water to cover the meat, but just barely (maybe a half cup to a cup). Give it another pinch of salt, a pinch of red pepper flake and toss in a couple of dried bay leaves and a couple of sprigs of thyme. Bring this to a bubble and then reduce it down to a simmer…for the next three hours. (! ! !)
But don't go far.
During this time….check your sauce! Taste it! Add a pinch of salt here and there, a little water if it gets too thick. The trick is to do the tasting tango……back and forth, I dip you dip we dip. Keep cooking and checking, checking and cooking……..tasting, adding salt or water as you feel the need, and let this amazing sauce slowly develop its personality.
ANd then…
It will bloom, like a flower, into the most delectable edible you have ever ladled over a noodle.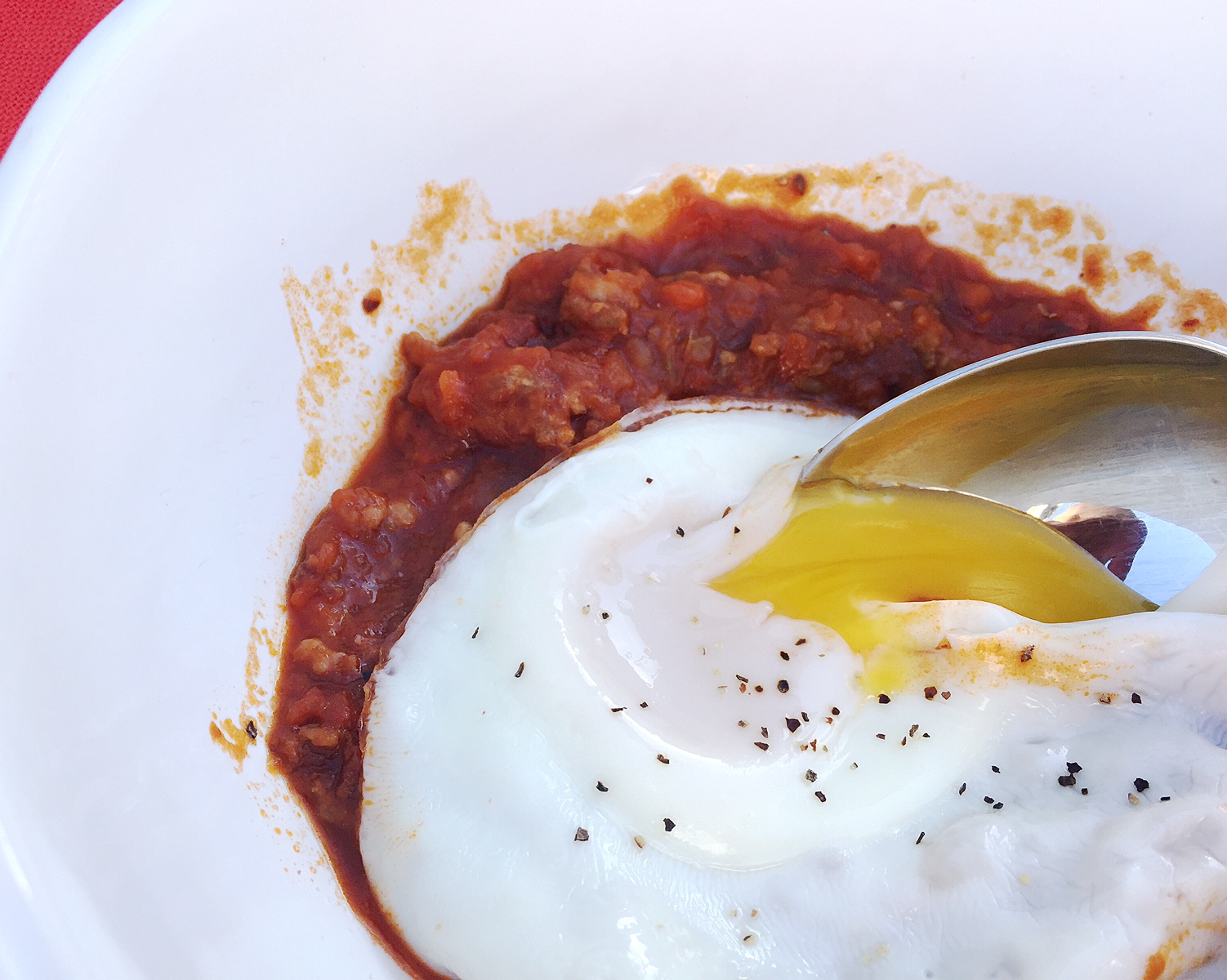 Or under an egg. Oh, hellooooo there, breakfast! You are looking good.
Got three hours? This is the best way I can think of to spend it.
RECIPE BELOW:
This makes A LOT of sauce, which is a really good thing because you will become addicted to it and want to put it on pretty much everything. OR, you can make it when you know you have a whole lotta people to feed, OR, you can eat some today and freeze the rest to enjoy at a later date. It does take about three to four hours of your day, but that is really mostly unattended cooking time, and it is worth every. single. minute.
Sweet and Spicy Sausage Ragu
2016-12-04 17:51:03
Ingredients
1 large onion, cut into a rough dice
1 small fennel bulb, tops and middle stalk removed, cut into a rough dice
2-3 garlic cloves, smashed
4 carrots, peeled and cut into pieces
Extra Virgin Olive oil
Kosher salt
2-12 ounce cans of tomato paste
2 cups of chicken broth*
1 pound sweet Italian sausage (not in the casings)
2 bay leaves
3-4 sprigs of thyme
pinch of red pepper flake
Optional
1 small container ricotta cheese
Instructions
Put the onion, fennel, carrots and garlic in a food processor and puree to a course paste.
Coat a wide, deep pan with olive oil and add the veggies, season with salt, and bring to a medium high heat. Cook the veggies until the liquid evaporates and they stick to the pan, forming a brown crust as you go. Stir and cook, scraping up the browned bits as you go, and let it form again. Be patient, to get all those veggies fully cooked and browned could take up to thirty minutes.
Add the sausage, and once again, cook and stir and get the meat broken up as it forms a nice browned (but not burnt) crust.
Once the sausage is cooked add the tomato paste and stir and cook, letting it brown just a little, about two to three minutes.
Add the broth, and stir and cook, letting the liquid reduce by half. Be sure to scrape up any remaining browned bits in the pan. This should take about 4 minutes.
Add enough water to the pan to just barely cover the meat, maybe a cup? Stir well to combine and add the thyme, bay leaf and a pinch of red pepper flake. Taste for seasoning. Bring this to a boil, and reduce to a simmer.
COntinue cooking for three hours, checking occasionally, tasting, adding more water and/or salt as needed.
Before serving, make sure to fish the dried herbs out of the pot!
NOW ENJOY THIS......
Over pasta, of course. The traditional way to do this is to boil up your pasta of choice, and add it to the pot of sauce, thinning it out as needed with a little bit of the reserved pasta cooking water.
OR...
Ladle it over some cooked spaghetti squash, give it a sprinkle of Parmigiano cheese.....YUM!
OR...
Open up a can of Italian style green beans (yep, Italians used the canned stuff, or so I am informed) and scoop some of your ragu over a helping.
ANY ONE of these sugestions can definitely benefit from a side dollop of creamy ricotta cheese, and a drizzle of olive oil or a zesty smattering of gremolata (or both!)
ALSO
Freeze any leftovers for up to three months. Frozen happiness.
Notes
* Or veggie broth, or red wine (although I would use one cup of wine, one cup of water), or even water.
Adapted from from COOK LIKE A ROCK STAR by Anne Burrell
Adapted from from COOK LIKE A ROCK STAR by Anne Burrell
Kick and Dinner http://kickanddinner.com/