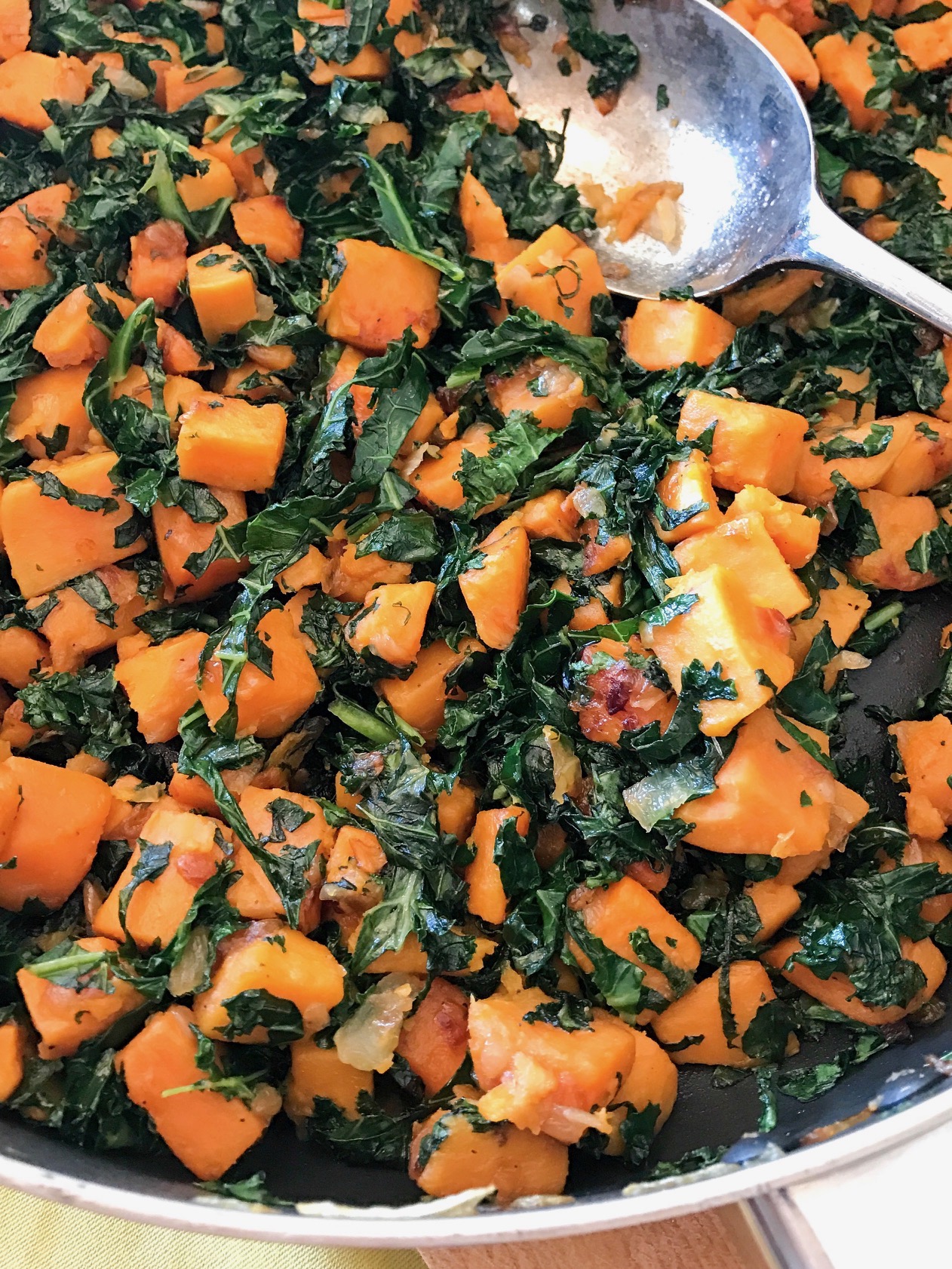 Have you ever had one of those happy accidents in the kitchen where you found yourself refrigerator diving for dinner fixins and ended up throwing together whatever you could find simply because you were:
a/ hungry
b/ too tired/cranky/not feelin it, to actually go out to a restaurant or hit up the grocery store, which leads to:
c/ desperation
…and it ended up being so undoubtedly delightful that you actually went out of your way to make it again? Kinda cool when that happens, I gotta tell you. It is a rare phenomena around here to be sure…
sort of like a total lunar eclipse,
or snow (I live in Florida),
or finding me awake past 9:30pm (what can I tell you, a girl needs her beauty sleep).
This veggie hash is the rewarding result of one of those magic moments.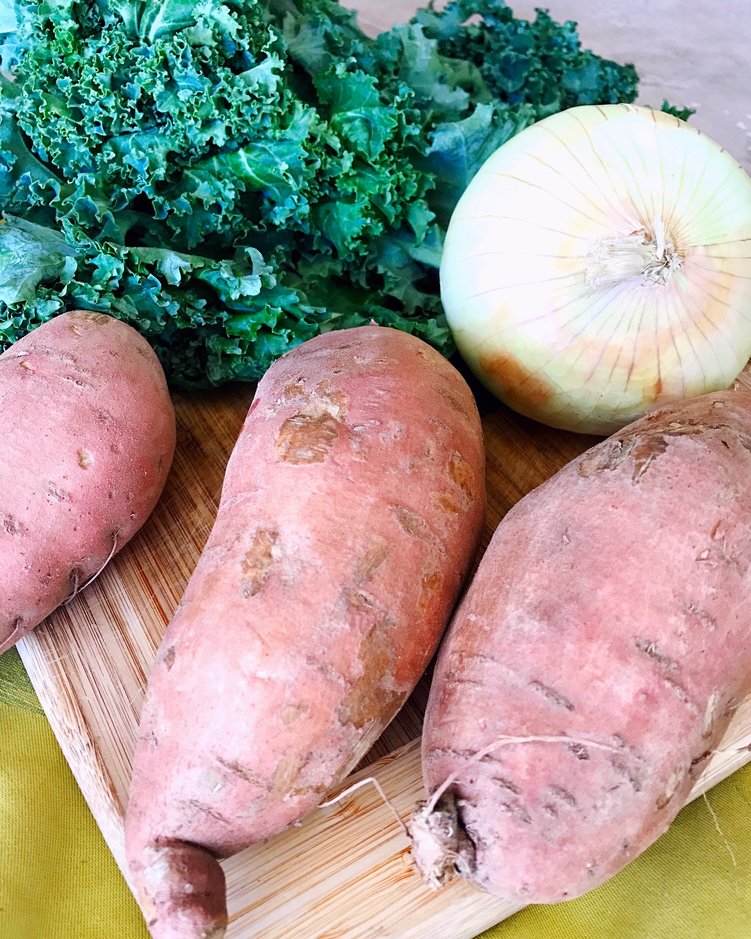 Park your peepers on this pack of improbably plain produce.
I found some sweet potatoes, yeah, because they last forever, right? Onions have a pretty major shelf life too so of course I located one of those and lucky me…..I had some aging kale in the back of the veg bin that needed to be used or put down, sooner rather than later.
It wasn't much but I was starving. Armed with some olive oil and a little patience, I went to work.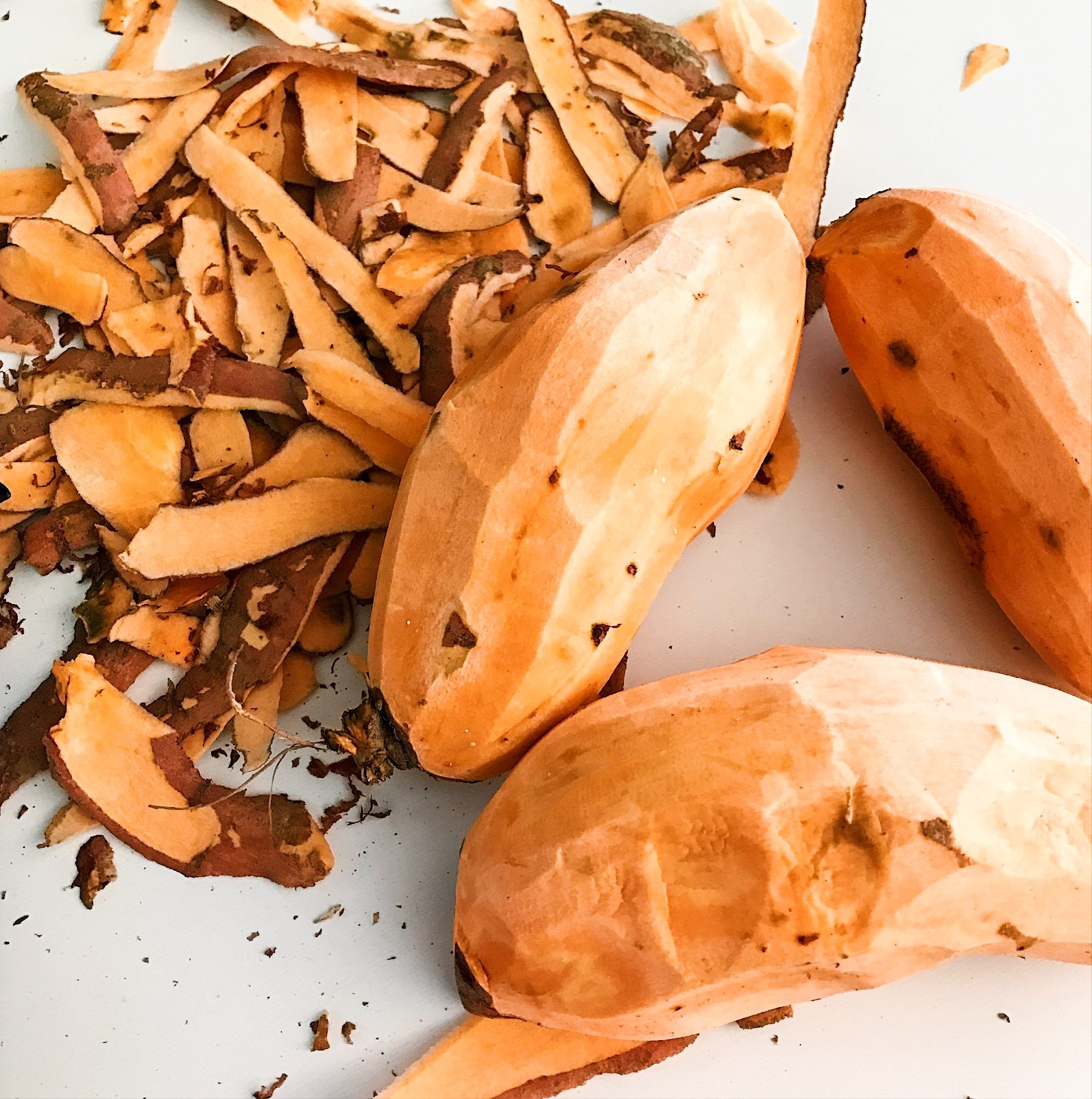 Drudgery of the worst kind, if you ask me, is the whole peeling of potatoes situation. There is no interesting way around it (unless you can get somebody else to do it for you, I find that unsuspecting visitors wanting to be helpful come in handy for this) so just hunker down, it takes but a minute.
Now when you go to cut your tubers into (hopefully) nice even cubes, pay attention! These guys will be hard and slippery and most definitely on the unwieldly side, so in order to save your sanity (and most importantly, your precious appendages) try it like this: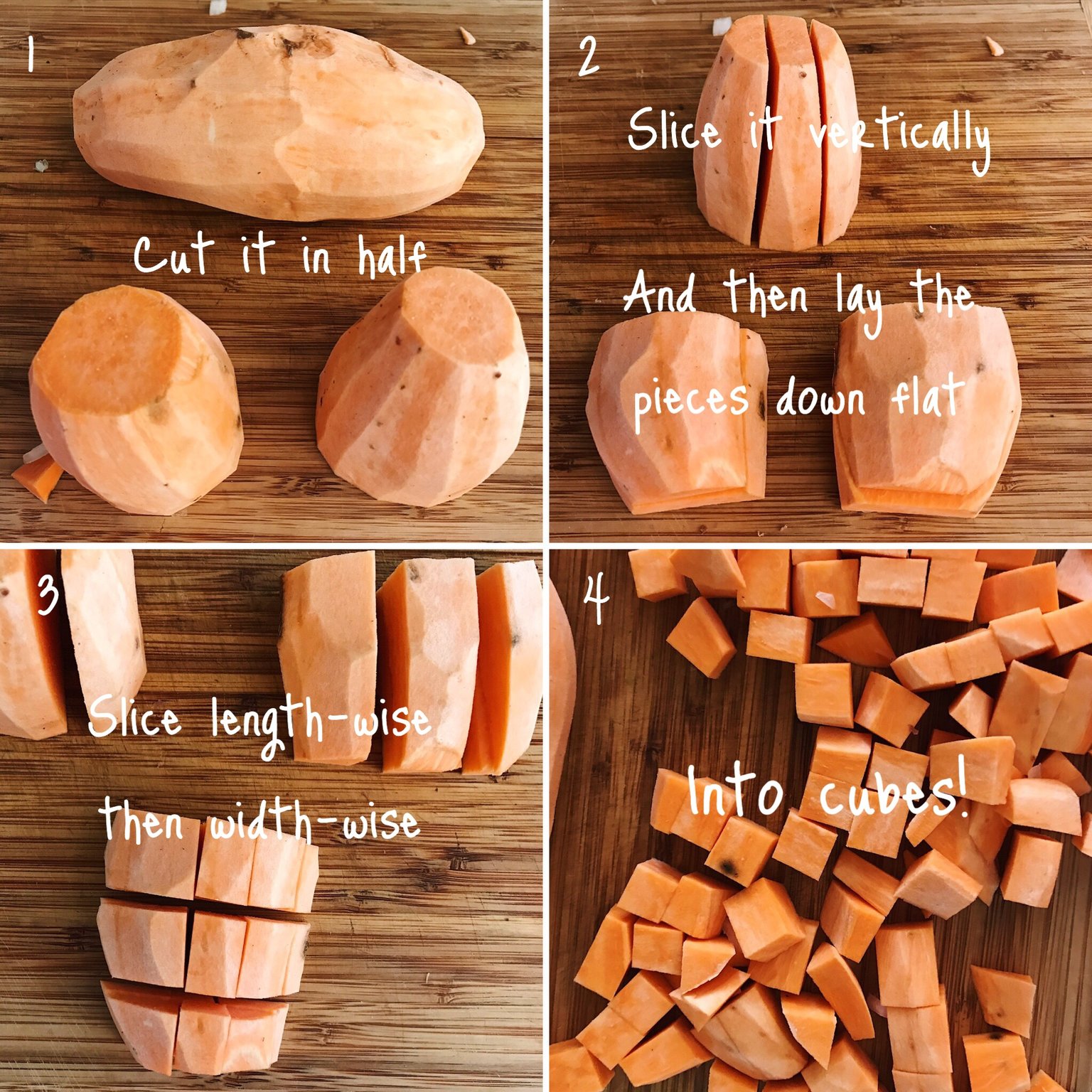 Cut your potato in half, to give it some "feet".
Slice vertically down into each half, two or three slices, depending on its size.
Separate this into piles, lay em down flat for stability and slice vertically and the crosswise into cubes.
Neat, easy peasy, practically perfect, and no dashing off of digits.
Two thumbs up. Because you CAN.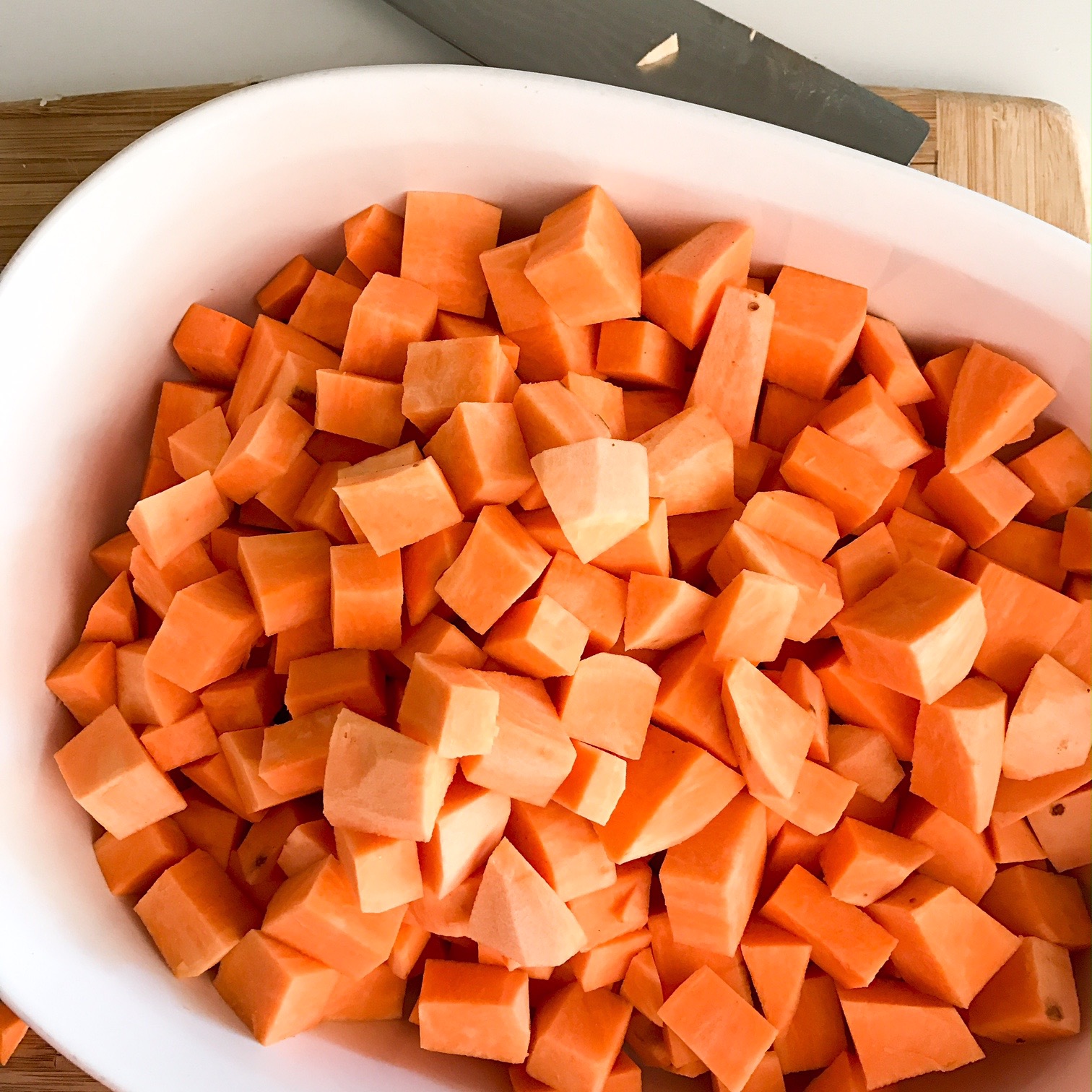 Into a glass bowl they go with a scant two tablespoons of water. Cover this up nice and tight with some saran wrap, and zap it on high in your microwave for 6 minutes. note: beeee careful, the plastic wrap will get all fat and bulgie (not an actual word, I know) as it nukes, from the heat of the water, and the bowl will get very hot! Maybe give that wrap a little pop with the tip of a knife like a balloon to let out some of that pressure, before you try to uncover it. This very important pre-into-the-frying-pan step will get these guys going for you; sweet potatoes can take a REALLY long time to cook.
While your yammies are doing their micro-wavin thing go ahead and get some olive oil into a big skillet over a medium high heat. In goes that onion. Let this get nice and soft and translucent.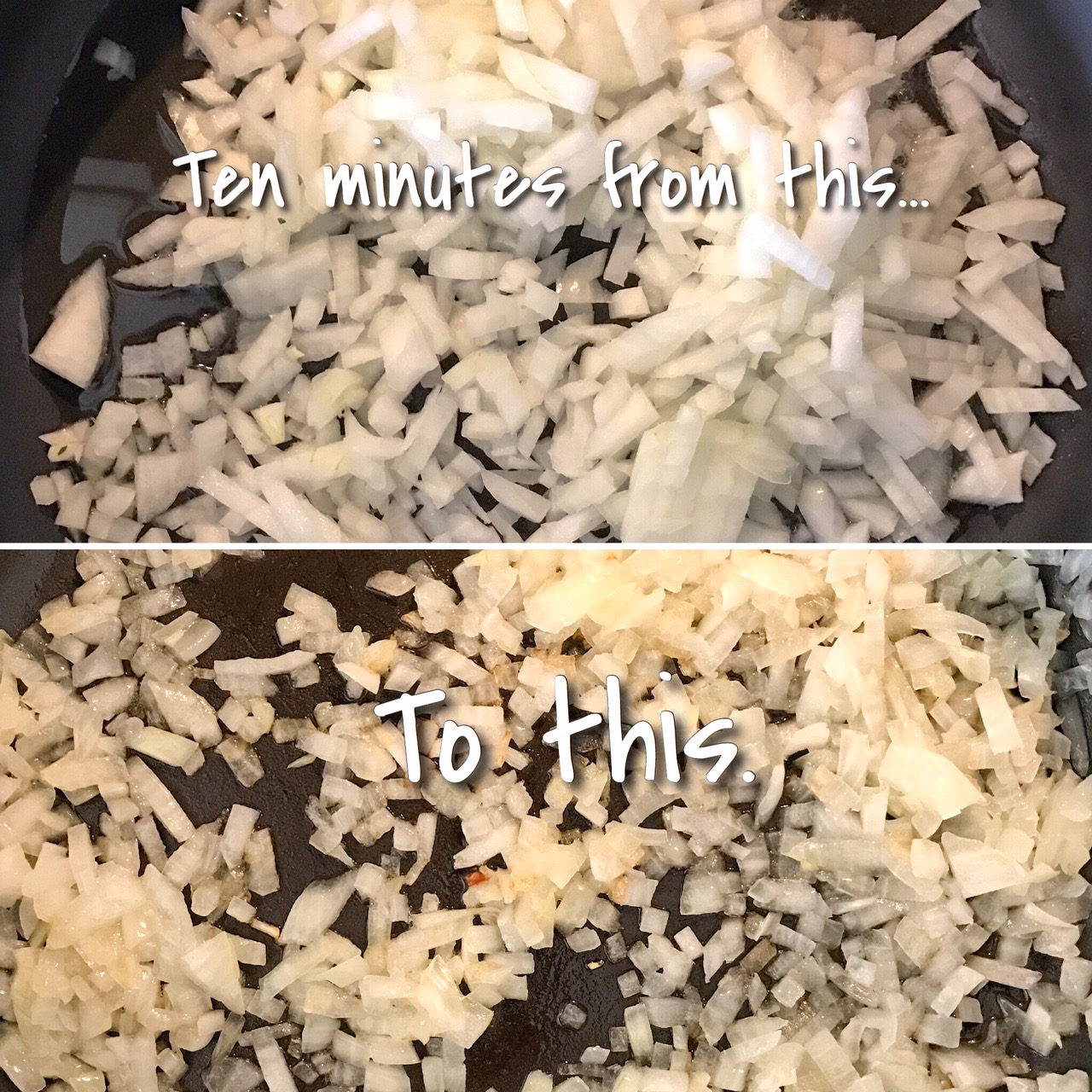 Then in go your potatoes. Make sure you drained off any remaining water from those, okay?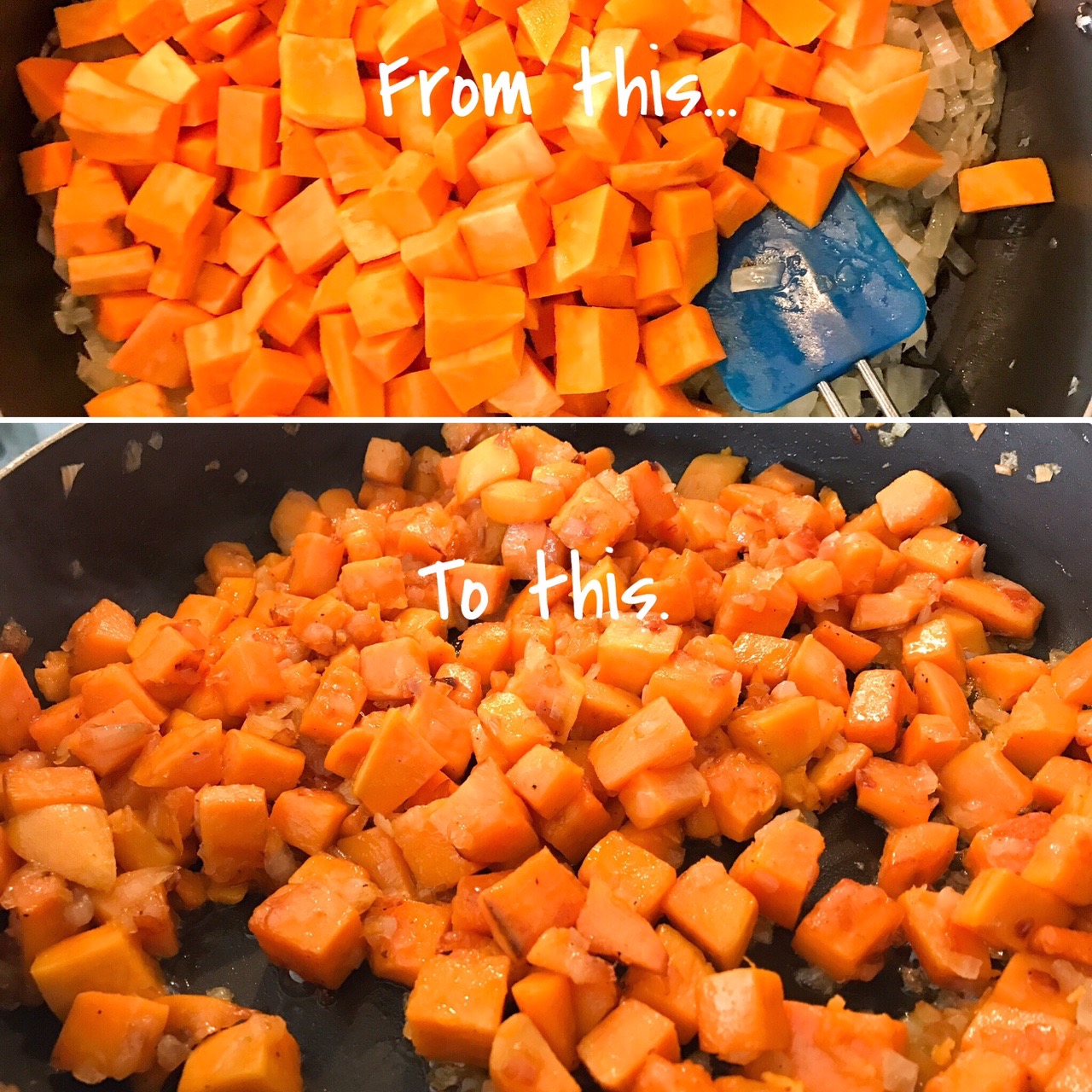 Now take your time, and let the potatoes and onion get all chummy in there together as they get barely browned on the edges. You do this by…..letting it be. Then after 2 or 3 minutes go in and give it a stir, and then let it be………and repeat. If you stir this constantly your ingredients will lack any constant contact with the hot pan……so go easy on the chaperoning… but don't like, go clean out the garage! Just stay close, giving them a turn here and there, scraping the slightly browned bits off the bottom of the pan as you go.
While this is happening, de-stalk and chop some kale….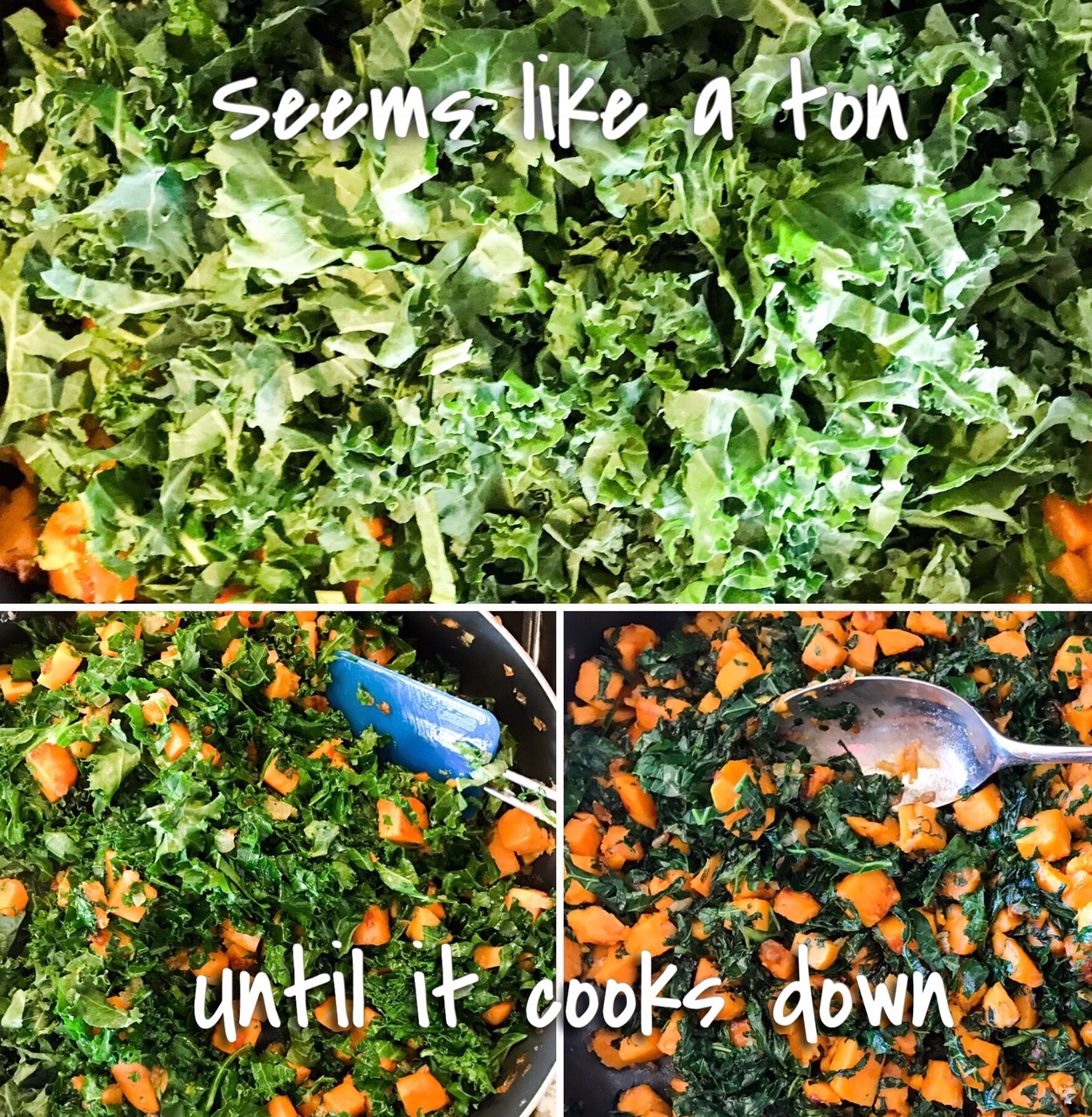 And add those greens, along with an extra drizzle of olive oil keeping things juicy, to the party. Don't forget to season it up with a good pelting of salt. Let this cook a few minutes undisturbed, and then give it a stir (and yeah, you know, repeat) and you will create almost a bit of a crust on your veggies, and this is a really yummy thing. Give it a taste…..you'll know when its ready. This will take 10 to 15 minutes or so.
And that – IS IT! Creamy, sweet, salty, maybe a little crunchy and slightly bitter, this "hash" makes a perfect side dish to any lone piece of protein you may have lying around. Obviously, that would NOT be the case for me on that fateful day.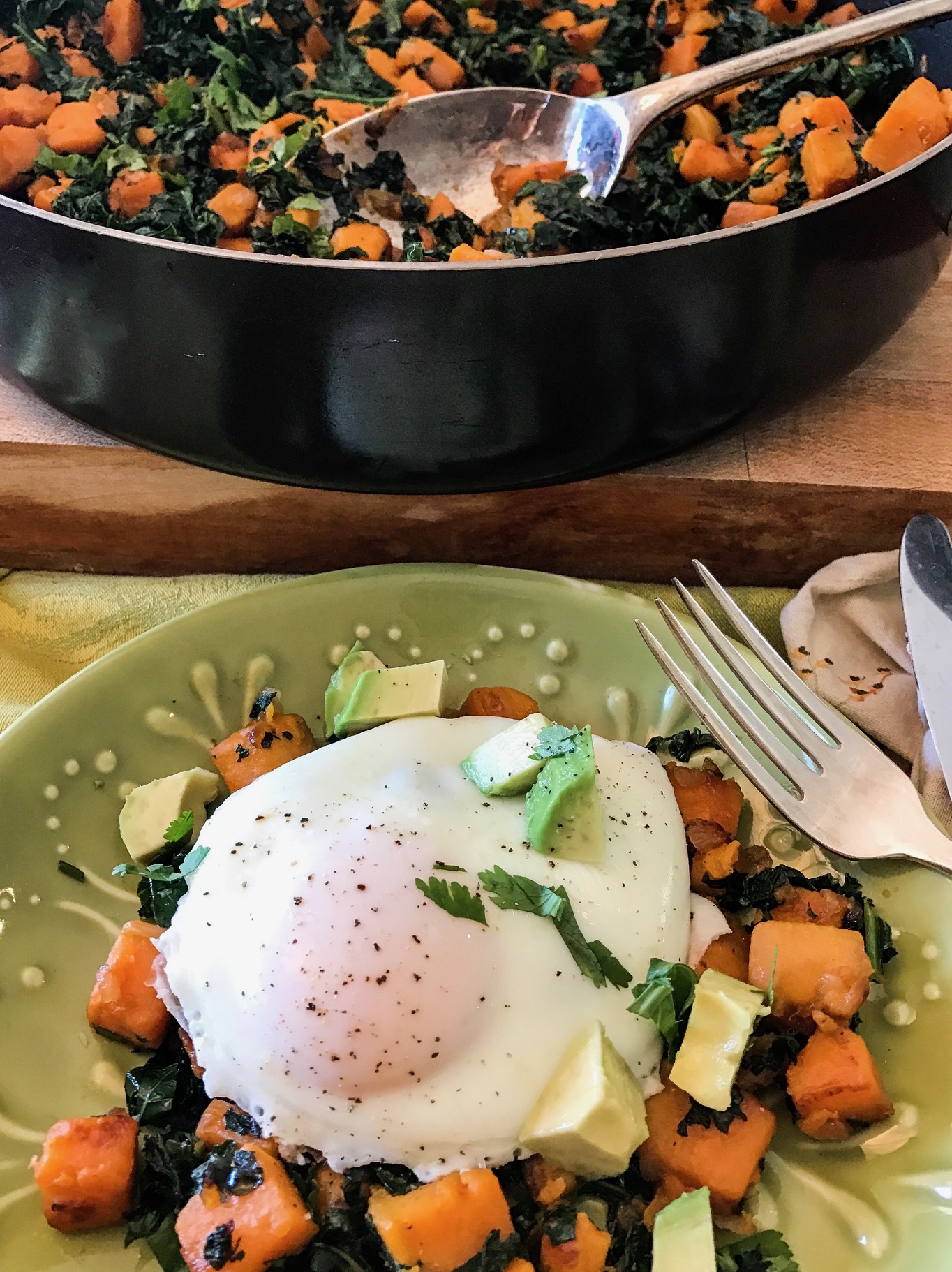 But I always have eggs!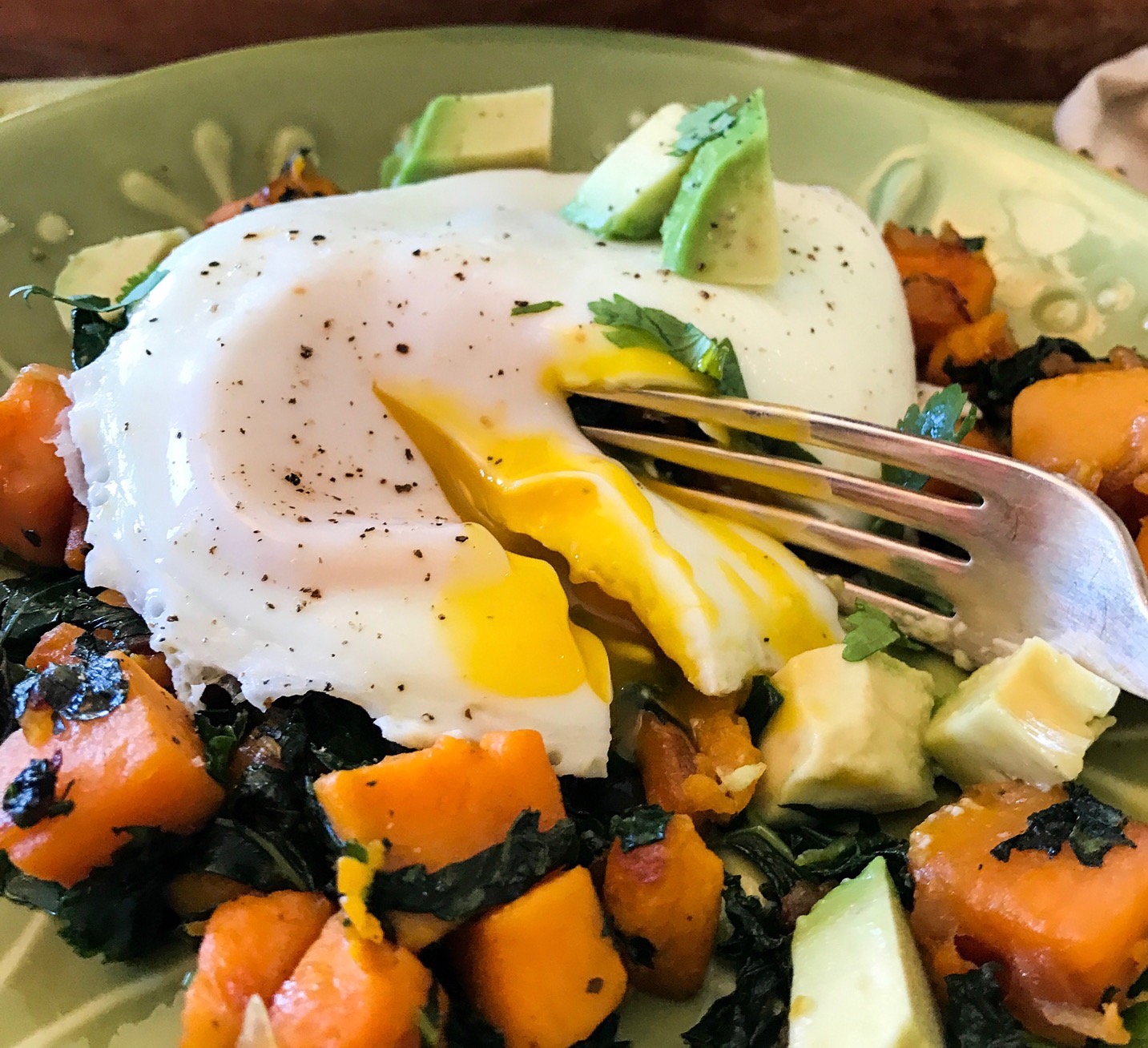 FOR THE WIN.
RECIPE BELOW: Start to finish this will take about a half an hour of your time. You'll end up with plenty, so plan on leftovers. Life is good for you.
Sweet Potato Kale Hash
2017-03-02 12:30:29
Ingredients
1 medium yellow onion, cut into a fairly small dice
2-3 sweet potatoes, peeled and cut into cubes
2 tablespoons water
1 bunch of kale, well washed, de-stalked and finely sliced
1/4 cup (approx) olive oil
Kosher salt to taste
OPTIONAL
eggs, diced avocado, chopped parsley or cilantro
Instructions
Place the cubed sweet potatoes into a large glass dish and add 2 tablespoons of water. Cover this tightly with plastic wrap and microwave on high for 6 minutes. Be careful when you attempt to uncover the dish, it will be very hot. Drain any excess water from the potatoes.
While that's going on
Coat the bottom of a large pan with olive oil and heat to medium high. Add the diced onion, let this cook until the onion becomes soft and translucent, about 10 minutes. Add a pinch of salt.
Add the sweet potatoes and continue cooking, maybe adding a drizzle of oil if the pan gets dry, allowing the onion and potatoes to get slightly browned, but do not burn. Keep cooking for another 7 - 10 minutes.
Add the chopped kale. You may have to do this in batches, as it wilts down to allow more room. Add a little oil to this if you feel the need, and another sprinkle of salt. Continue cooking stirring occasionally, until the potatoes are tender when poked with a fork and everything is slightly bronzed. This could take up to 15 minutes, possibly longer, depending on the size of your pan, and how long your potatoes are wanting to take.
To Serve It UP
This is a great side dish all on its own, or you can do it my favorite way by topping a healthy portion with a perfectly cooked, runny yolked, egg, and some cubes of silky avocado. A sprinkle of fresh parsley or cilantro just add that perfect touch.
Notes
This is a great make ahead when you are looking for the perfect breakfast to serve/impress a lot of people! Re-heat this any way you like (stove-top, microwave or even covered in a 350° oven) and then just dish it out, and top it with an egg. Delish.
Kick and Dinner http://kickanddinner.com/