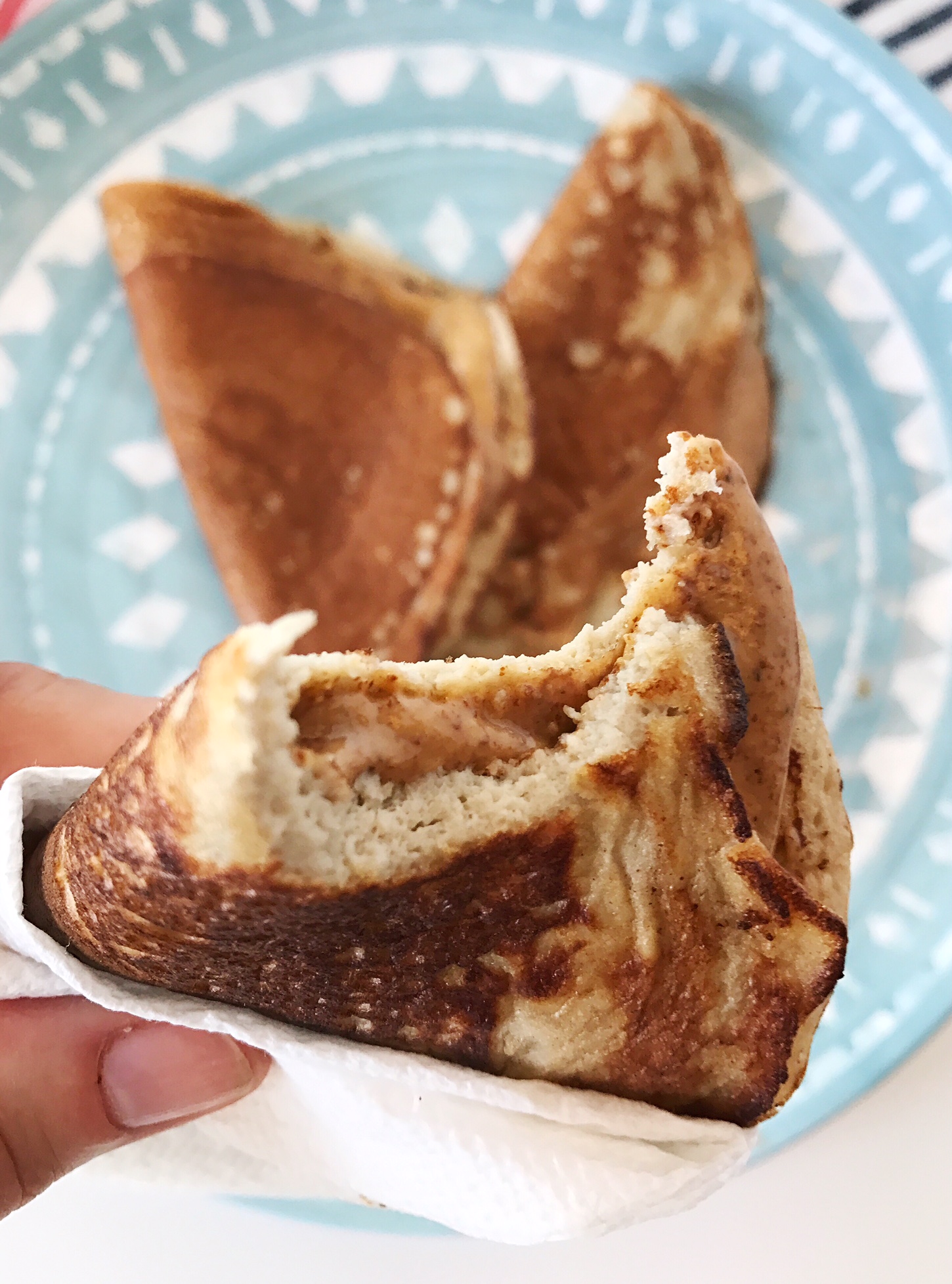 So you know how you'll see those super-cute recipe videos on your Facebook feed? The ones where disembodied hands create some delicious looking something or the other, all under a minute and to the snappy tune of some upbeat music? You know what I'm talking about.
I LOVE those videos!
Those things are mesmerizing, and I have spent waaay too many minutes (which add up to hours, right?) of my life watching them. I mean, seriously….Chicken Alfredo Lasagna? Chili Dog Bread Ring? 5 Layer Breakfast Bake? What sort of heaven is this that awaits? Because frankly….
If you ate that stuff on the regular you would probably be checking in sooner rather than later.
To heaven, that is. I'm kidding. No, yeah no, actually I'm not. Those videos look soooo good, but then you see what goes into the finished product, and well, shoot…..it's just soooo bad. I mean, not all, but most. It's just a fact. A sad, sad fact.
Cue the perfect tear running down the side of face.
Not feeling like I could actually partake in re-creating these amazingly tantalizing temptations (without a whole lotta guilt), I was destined to be ever the silent voyeur of video food pornography.
That is until a FB friend shared this……..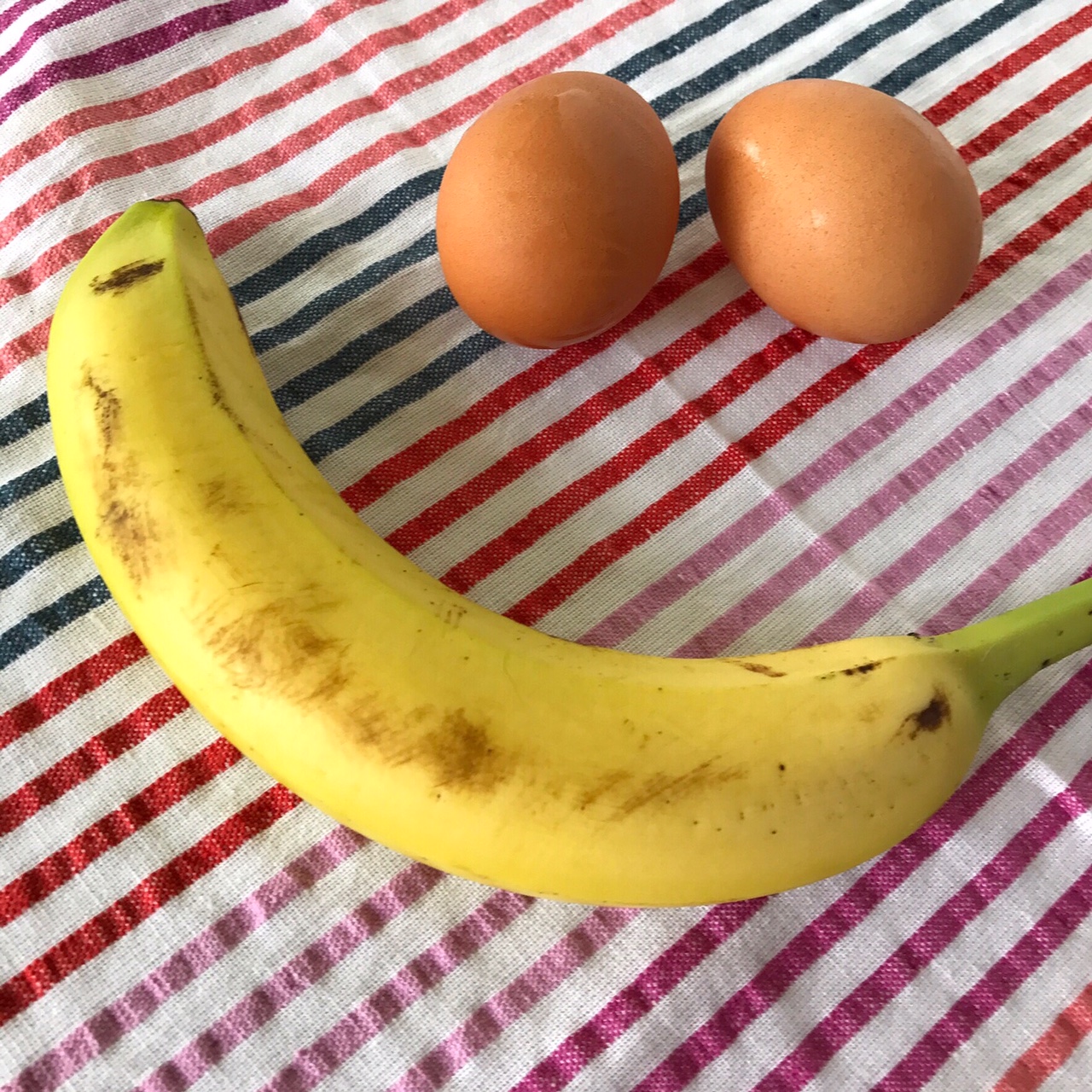 Two ingredients! Two little natural, healthy ingredients (plus a non stick pan, and some imagination) are all that stand between you and the quickest, easiest breakfast: EVER.
How has this most adorable hack alluded me for so long?
In the video (and there are about a zillion of them out there, not sure where I'VE been), you see someone mash together a banana with two eggs and end up with a sort of a batter. This is ladled onto a hot griddle and…VOILÀ! Pancakes! Gluten free! Light and healthy! Quick and easy! Extremely tasty.
Too excited, I had to try this for myself.
And so I did.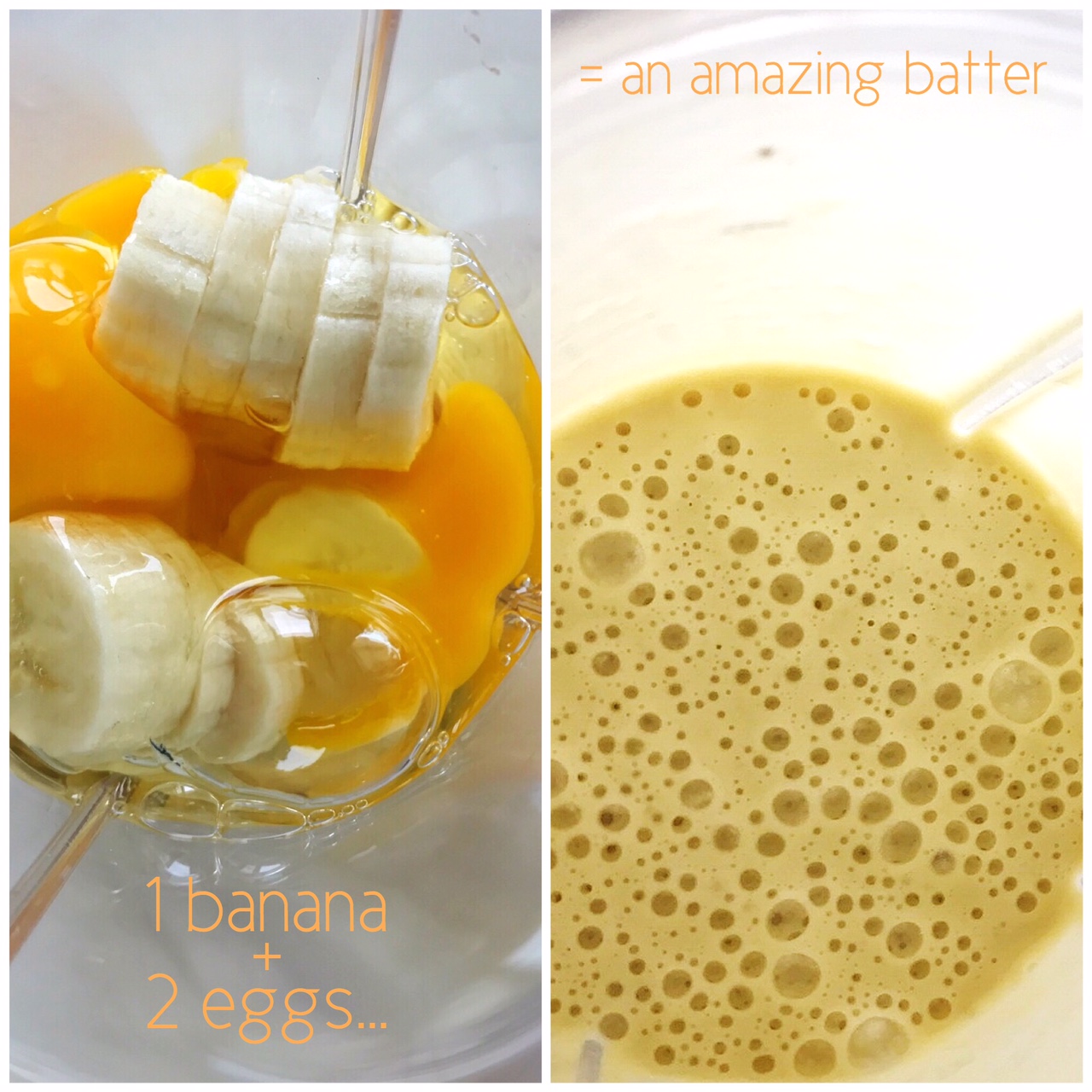 But rather than just fork mash it together (bananas taste great and all but that SMAH-ooshy texture…um, nah, not so much), I popped my cut up banana and the two eggs into my NutriBullet and let 'er rip. 5 seconds is really all you need.
And you thought that baby was only good for smoothies……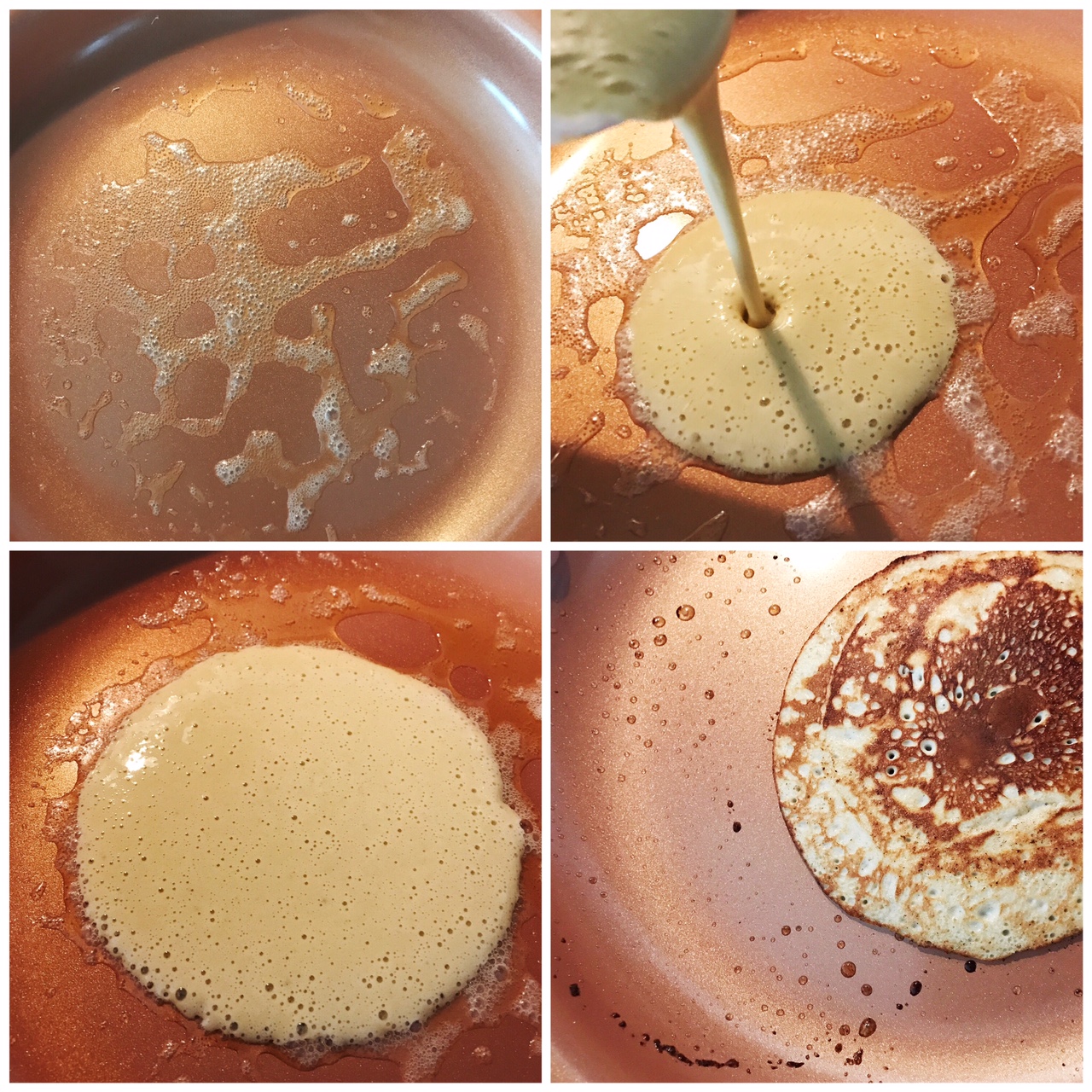 Just that quickly you will end up with a smooth, luscious batter. Get a NON-STICK*** pan up to a medium high temperature, and pop a little dab of butter in there for good measure. Once that gets all frothy, pour 1/4 of your batter into that sizzly butter and give the pan a little flick of your wrist to move it around, letting it quickly settle into a nice flat circle. After about a minute, give that flap jack a flip. Twenty seconds on the second side, go ahead and remove it from the pan.
Repeat three times. BOOM!
How long did that take? Maybe five minutes? It takes me longer to decide how I want to eat em!!!
How about folded over some almond butter and drizzled with maple syrup? Classic!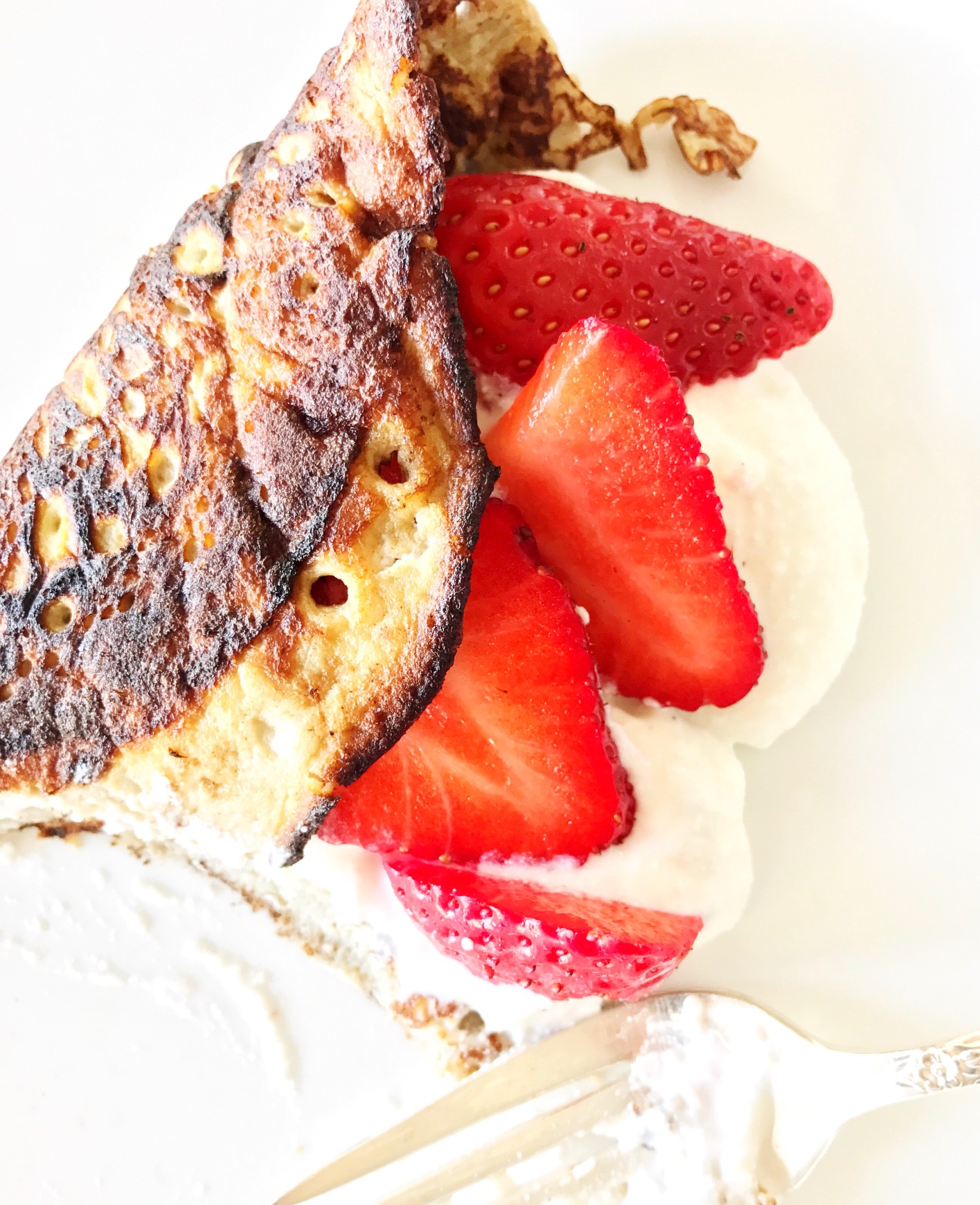 I even got all fancy and sweetened up some ricotta cheese with a little powdered sugar along with a drop of vanilla extract, and snuggled in some strawberries. I mean…..right?????? Scrumptious.
I was AMAZED at how well this actually worked. I love, love, love me some pancakes but I definitely don't love how crappy I feel after I eat them, kind of like I ingested a pile of wet cement. These guys were actually light and almost airy, and not overwhelmingly banana flavored. A bit of a cross between a pancake and a crepe, they make the perfect vehicle for all sorts of things…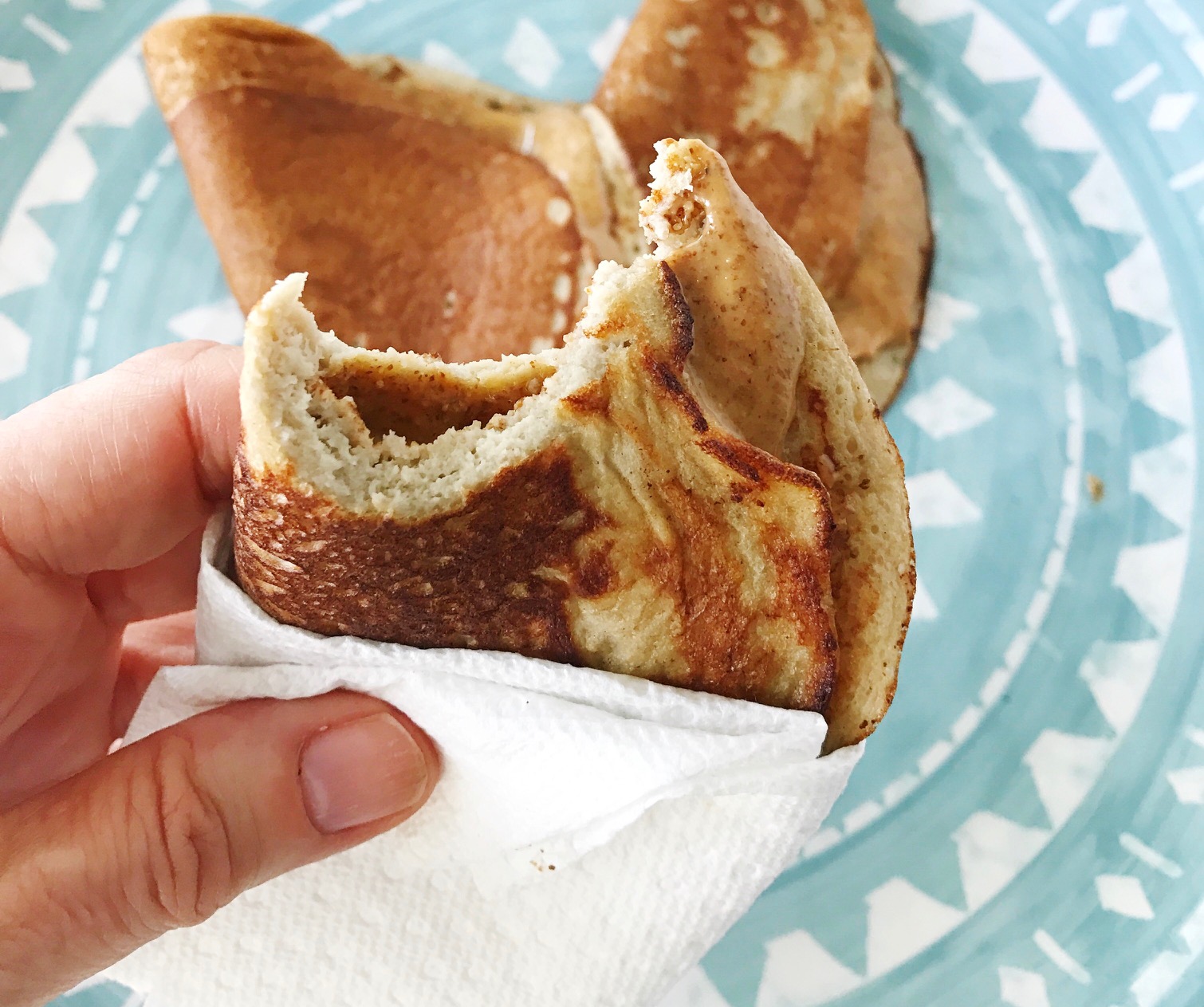 Or the perfect portable to take in your vehicle. 😜
THERE IS NO RECIPE BELOW: Because you already know that all you need are two eggs and a banana! If it was any easier it would be considered fasting.
These guys are awesome to whip out in advance, then keep em refrigerated until you are hungry and in a hurry. Smear em with almond butter, peanut butter, churned butter, honey, fruit, whatever! Wrap up in a paper towel and you're off! No excuses.
ONE MORE THING…
*** So yes, you really do need a non stick pan for the very best results and yes, I actually own one of those red copper pans that you may have seen that nice lady pimping online and in the commercials. I have to tell you that although things ACTUALLY CAN STILL STICK to this pan (they make it look like it is impervious to any such shenanigans), I really love mine and would highly recommend it. Especially now that I know how to make these little gems!!!!!!