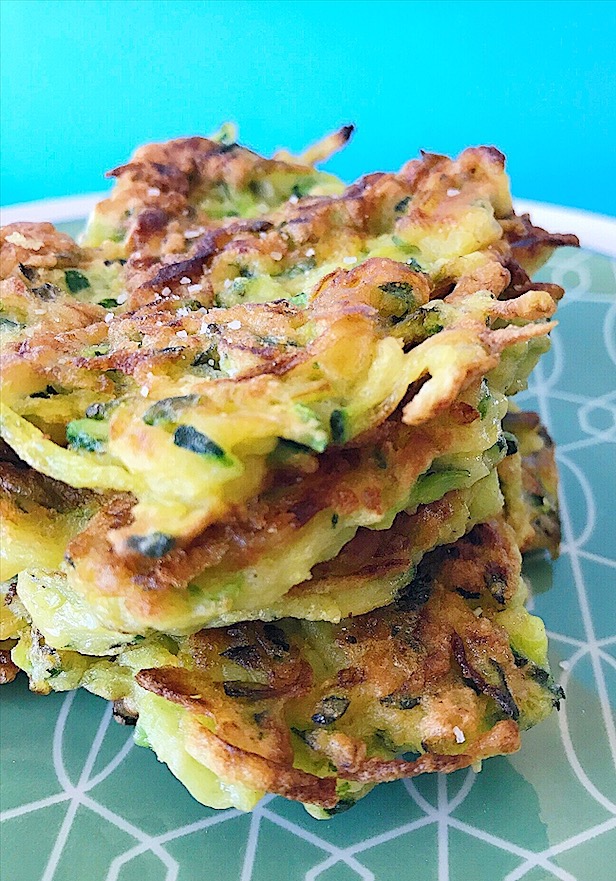 I am no gardener (more of a Plant Slayer, admittedly) but I do have an absolute fascination with the whole concept of growing stuff.
Like, in the dirt. With just some water. And a little time, maybe? The right conditions?
Cos if you are lucky…
It gives you food. Really healthy food. For FREE, even (well, sorta).
Seriously, when you think about it, how cool is that?
It is with this recipe in mind that I went and purchased a wee-baby zucchini plant at my local nursery, along with the hopes of a bumper crop of those famously prolific green gourds. Because if things go well and I have my way, I'll be able to eat these masterfully fried fritters – every single day.
Shamelessly snagged from from one of my favorite food blogs smittenkitchen, these golden brown, crispi-fied patties of perfection will get you hitting up the garden section of the Home Depot too….or at the very least have you looking forward to your neighbor's (or mother's, or uncle Joe's) annual zucchini overflow extravaganza. Really! Shredded zucchini folded into the barest minimum of batter and plopped down onto a hot griddle, pancake style. Fry them up until they are beautifully burnished and crunchy on the outside, moist and tender on the inside.
Any day is a better one when these are part of it. Bring on the copious courgettes.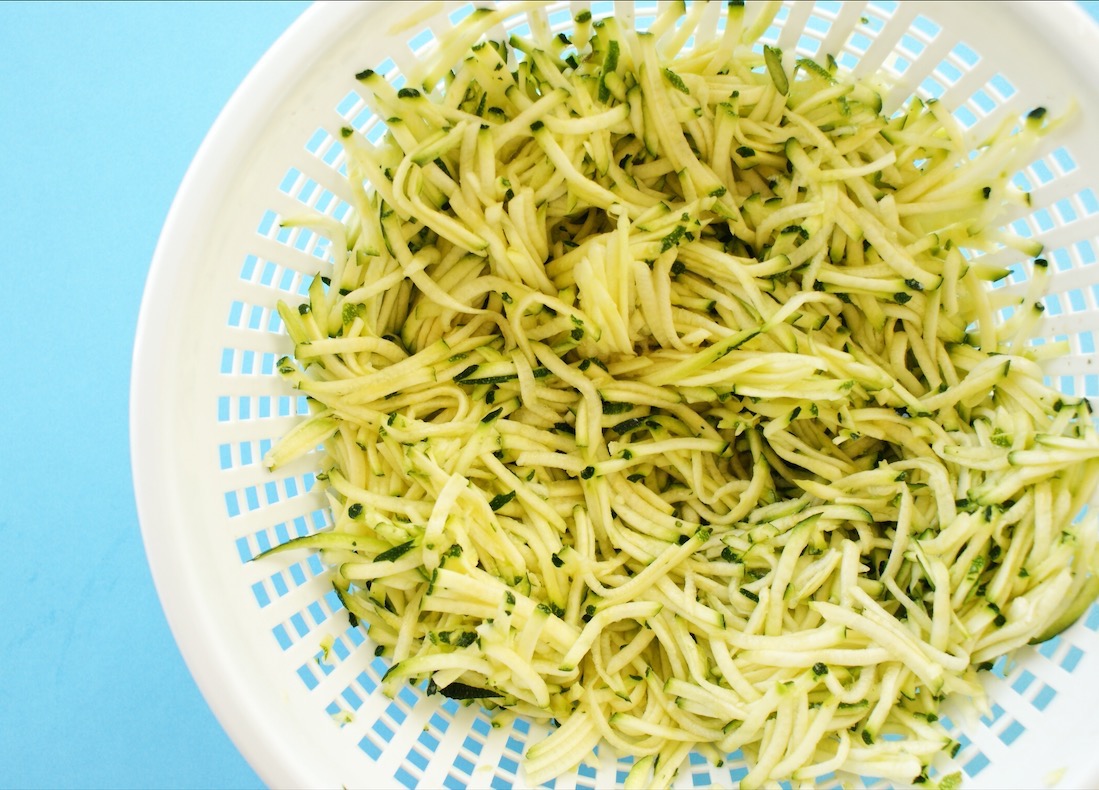 Start with your squash, and squish them into the shredding blade of a food processor or slip 'em through a box grater by hand. Nothing to it, either way you choose (although a food processor will take it from fast to SUPER SONIC SPEEDY). Dump your strands into a colander and give them a generous pelting of kosher salt. Give everyone a quick mix and set this in your sink. The salt will begin to draw out the water in the zucchini, so let this hang for a few minutes, you want it to do its thing. Besides, it will give you just the right amount of time to make this awesome tzatziki sauce I've been teasing you with.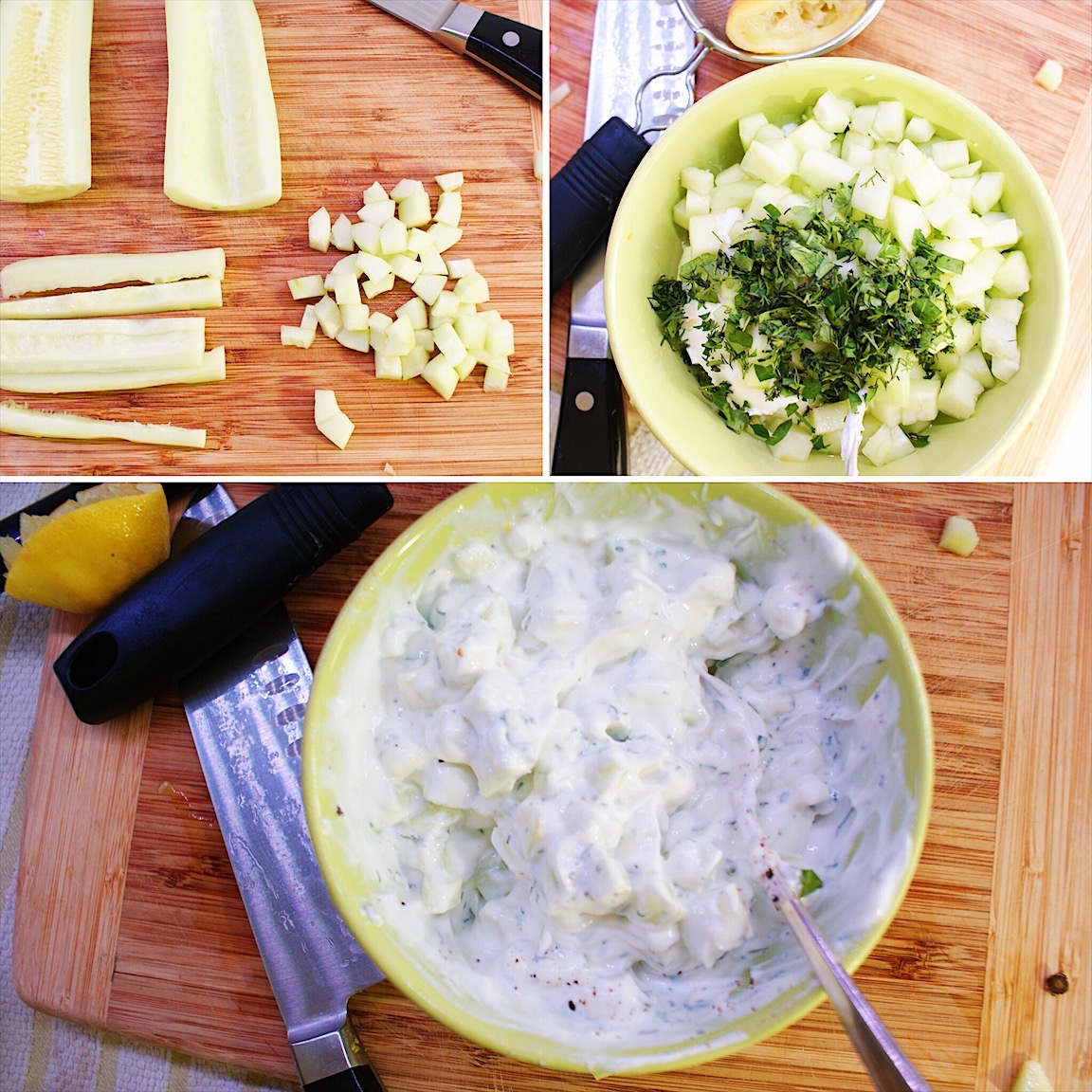 Tzatziki sauce is that wonderful white stuff that comes with your Gyro (did you know that the proper pronunciation of that word is GEE-ROH, – not Jiy-ROW? Somehow it still sounds ridiculous coming out of my mouth) at your fave Greek restaurant. Cool, creamy and super garlicky, tzatziki is the ticket with these freaking fantastic fritters, but don't limit yourself…….this shiz can doll up any protein, add a punch of crunch to any wrap, or just stand alone as a dip with some toasted pita bread. (YES!)
All you have to do is peel and de-seed a medium-sized cucumber, and give it a fairly small dice. Mix that together with some chopped fresh herbage (I used parsley and dill) and one 7oz container of plain greek yogurt. Use a microplane to finely grate in one fresh garlic clove. Add some lemon juice, kosher salt and freshly cracked black pepper; give it a mix, and boom! Done. Now stash this away in the fridge, its time to wring out your zucchini.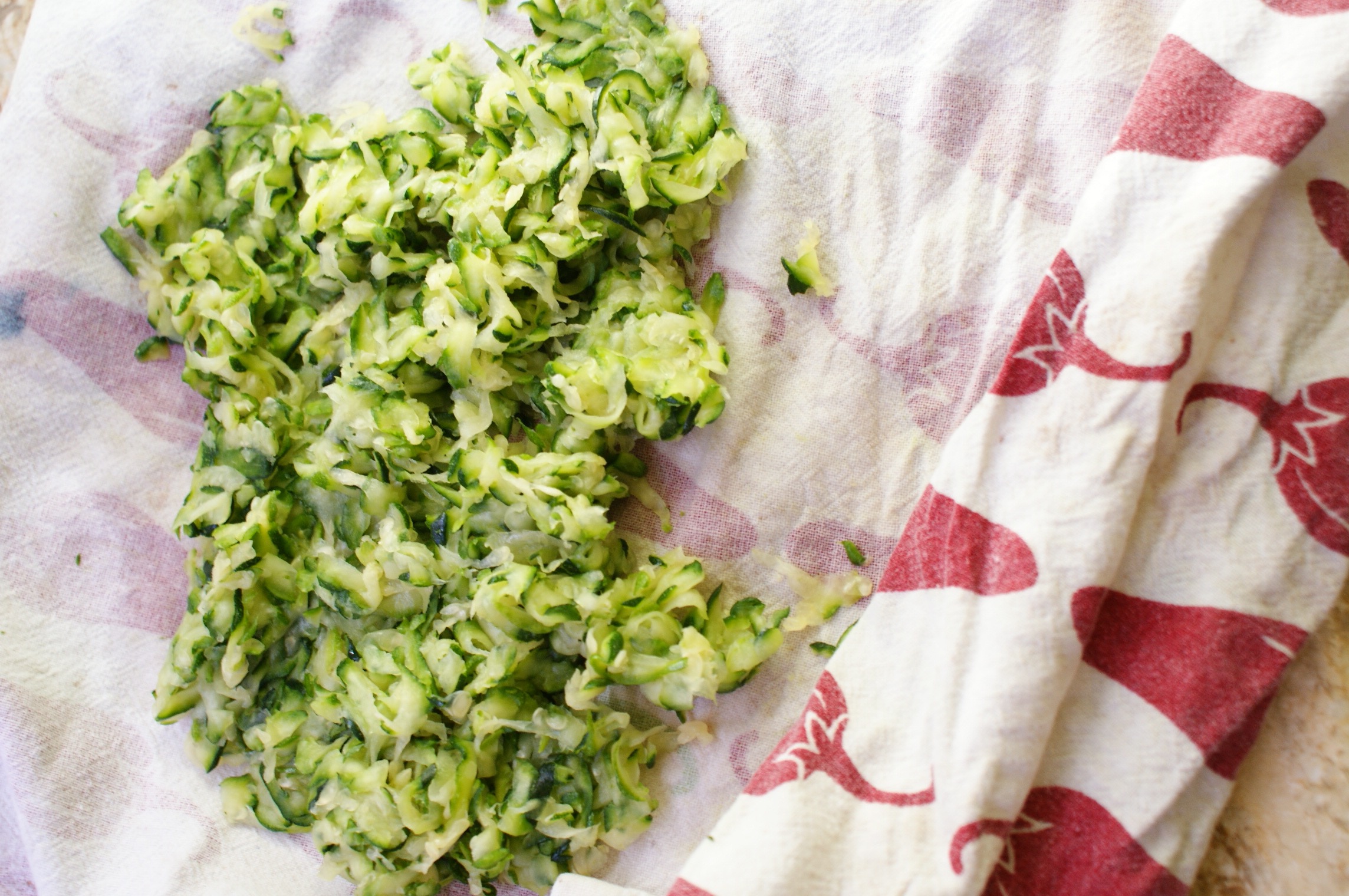 You will find your salty shreds have become a little sweaty and more than ready to give up some of their liquid, and the best way to really get it out is to wring it out. Just lay your zucchini out onto one side of a clean (preferable to dirty, yes?) kitchen towel and fold it over, then roll it up and give it a good twist. You might even be a little amazed at the amount of water you can get out of this….all for the love of a fritter.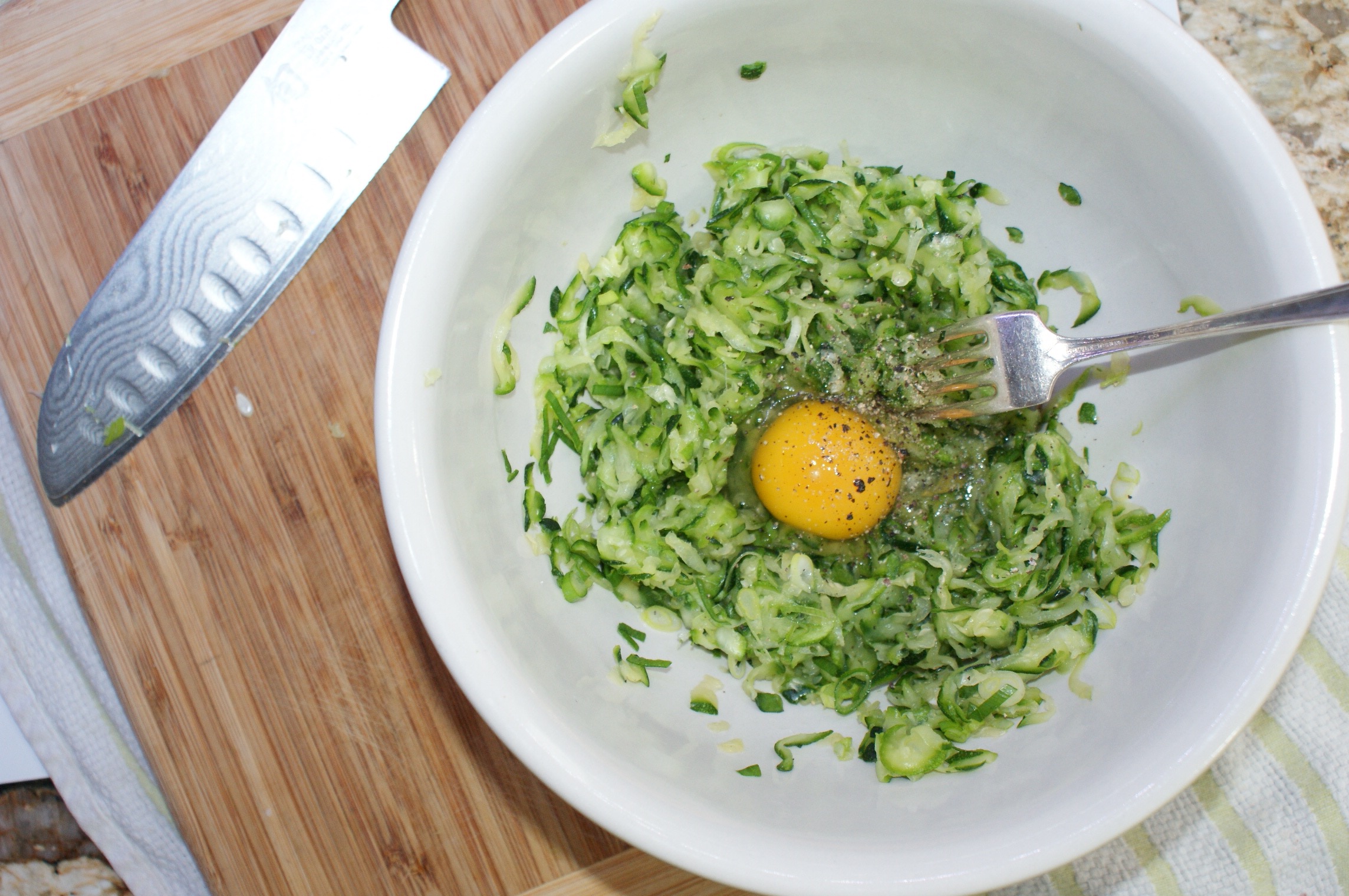 Into a medium bowl goes your de-humidified zucchini strands. If you have a couple of scallions lying around – GREAT! – give 'em a thin slice and add them to the party, crack in an egg and hit it all up with some salt and pepper. In a tiny little bowl (stage left – yes, you need to do this in its own bowl) mix together a quarter cup of flour with 1/2 teaspoon baking powder,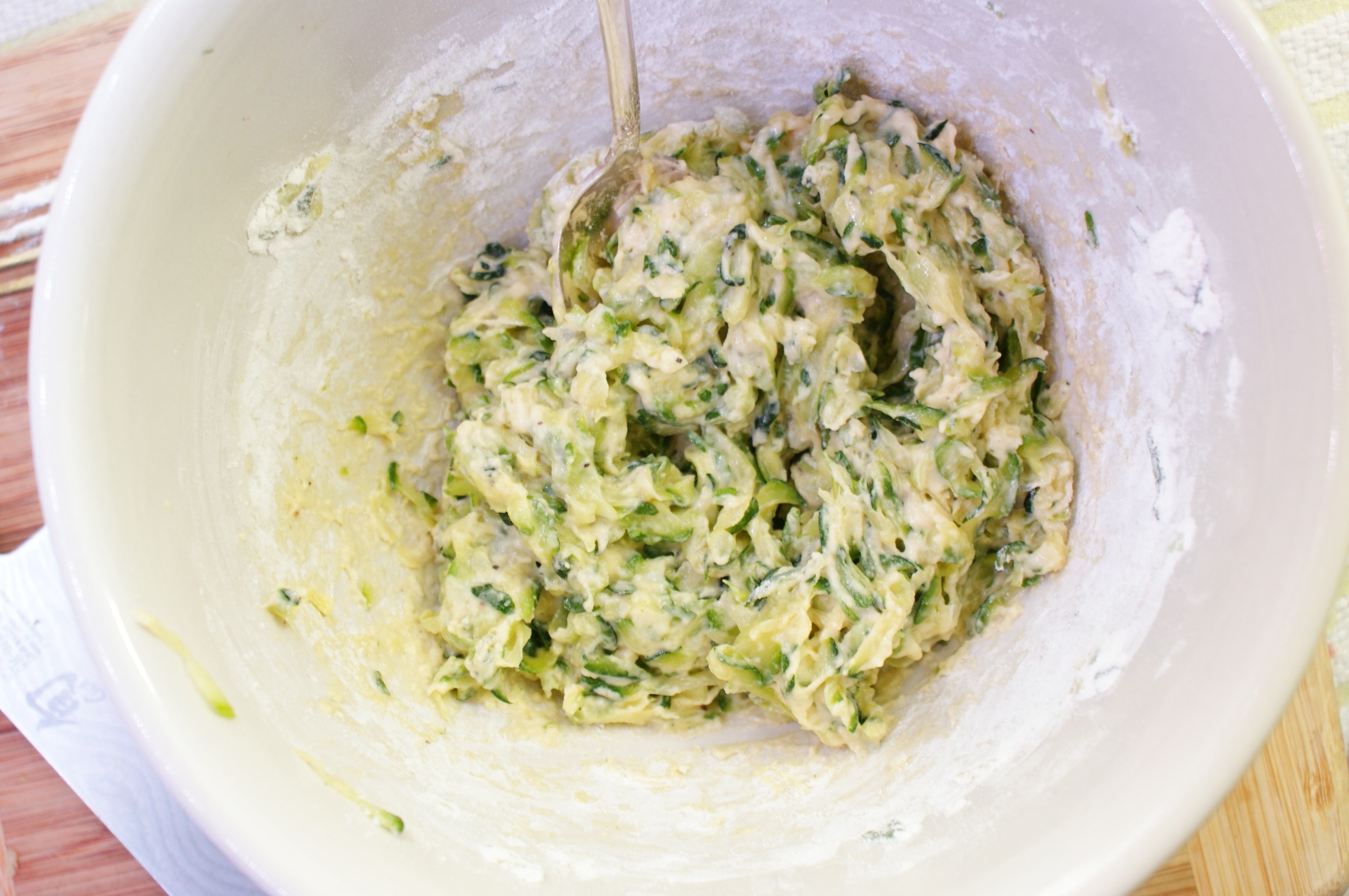 and sprinkle this down into your squash. Combine everybody together, and you will end up with a pretty stiff, zucchini intense batter. If it doesn't look like this…..add a tad bit more flour, about a teaspoon at a time (as zucchini size and liquidity can vary).
Time to get to griddlin'.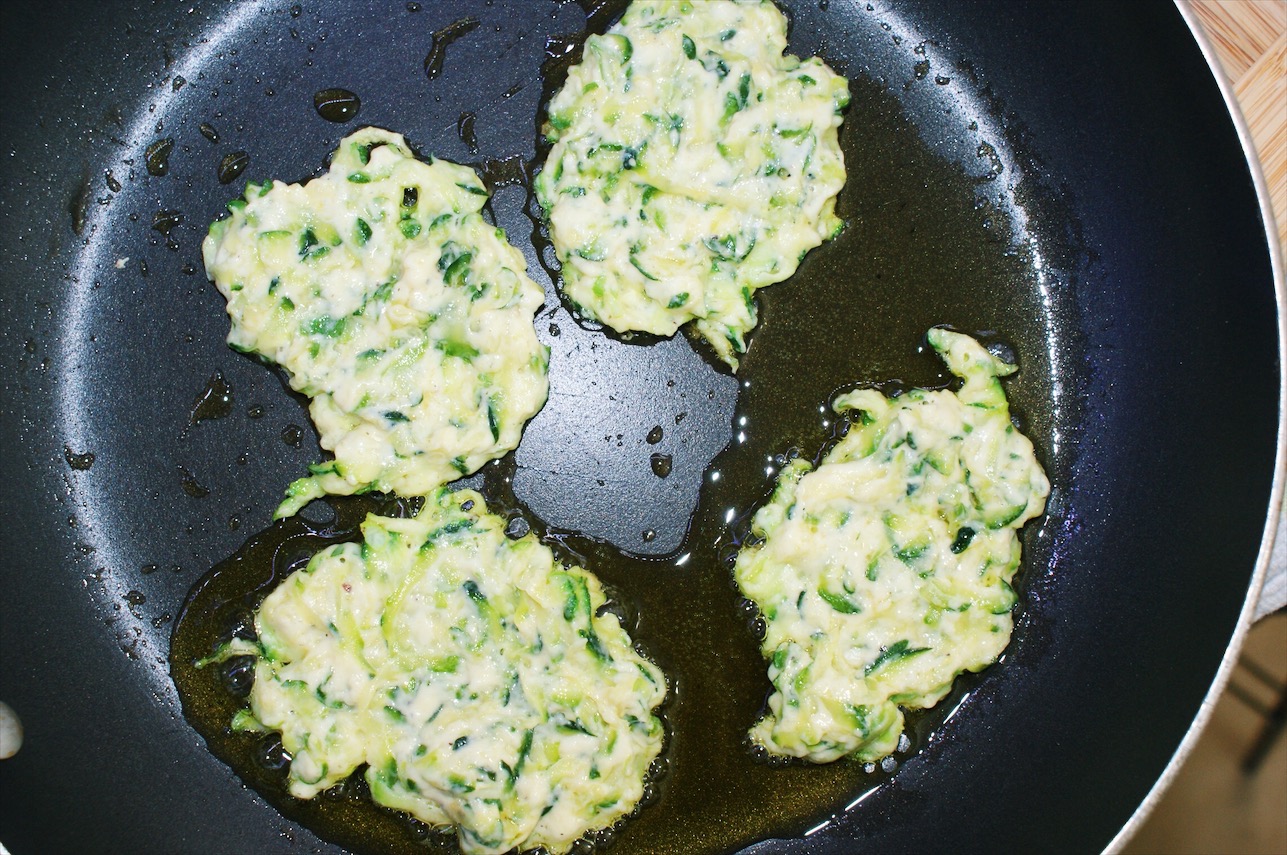 Add 2 or 3 tablespoons of olive oil to a big heavy skillet and get this up to a medium high heat. Plop in small dollops of the zucchini batter and flatten them out with your spatula. You are going to do this in two batches so there's no overcrowding going on! Let these sizzle away for 2 to 3 minutes (take a peek underneath to see how they're doing) and then flip 'em over for another 2 or 3.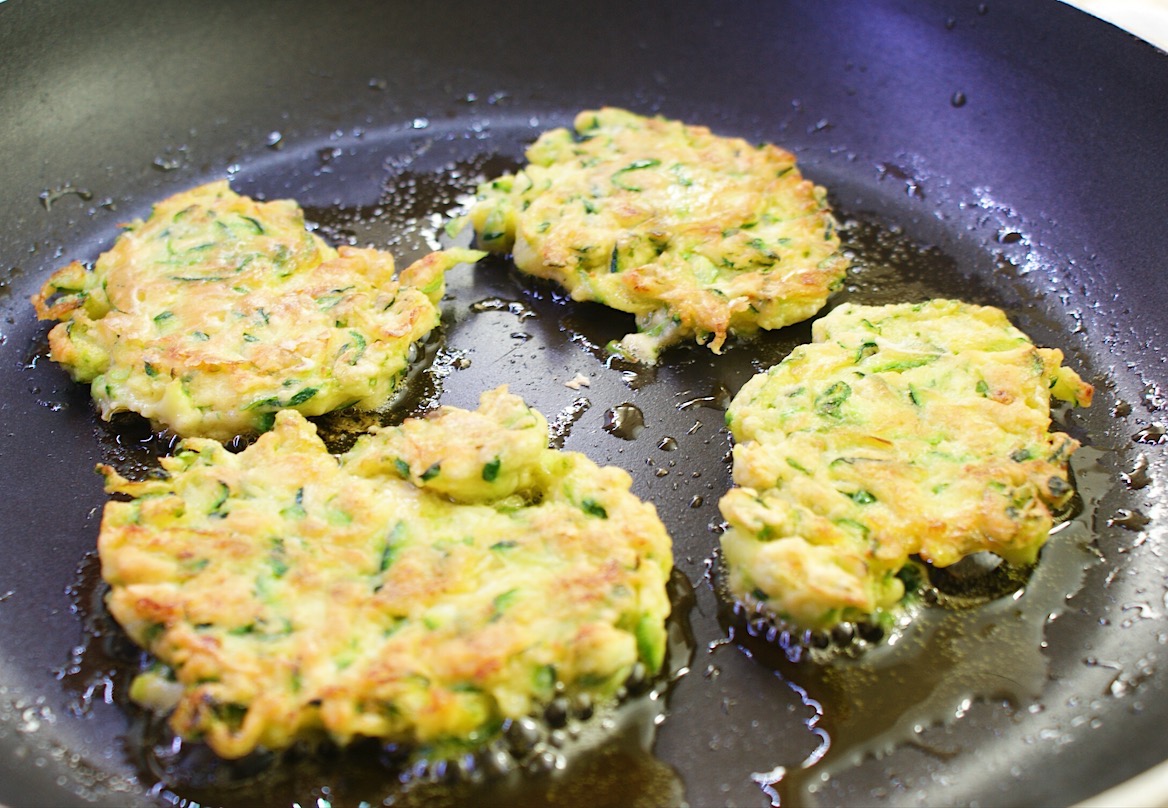 Remove 'em from the pan and transfer them into a warm oven while you finish up (repeat) with the rest of the batter. I like to hit 'em with a scatter of salt right then and there, while they are super hot and barely glossy with oil.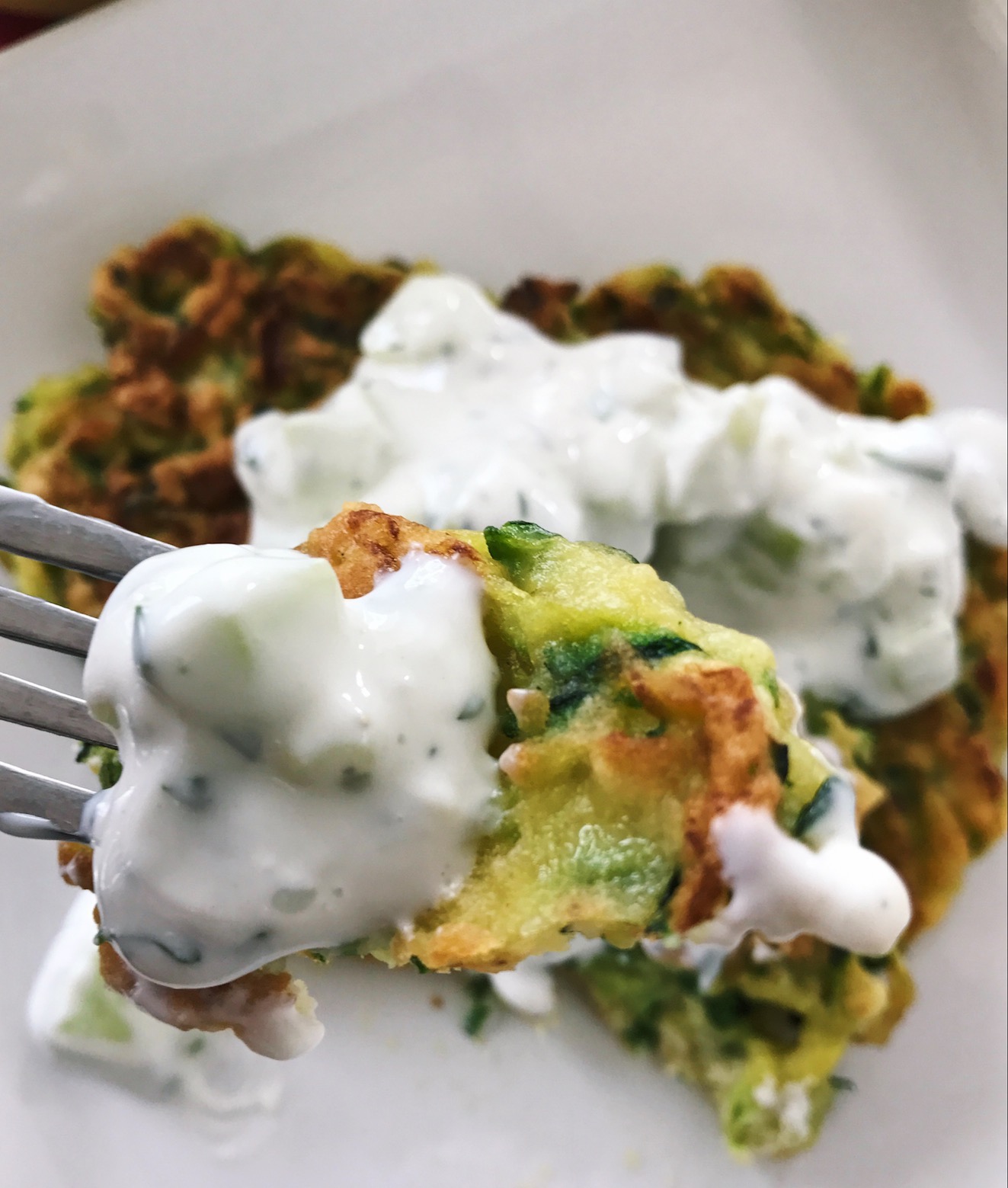 Get cozy with your vegetarian vibe and serve them topped with that tantalizing tzatziki OR…..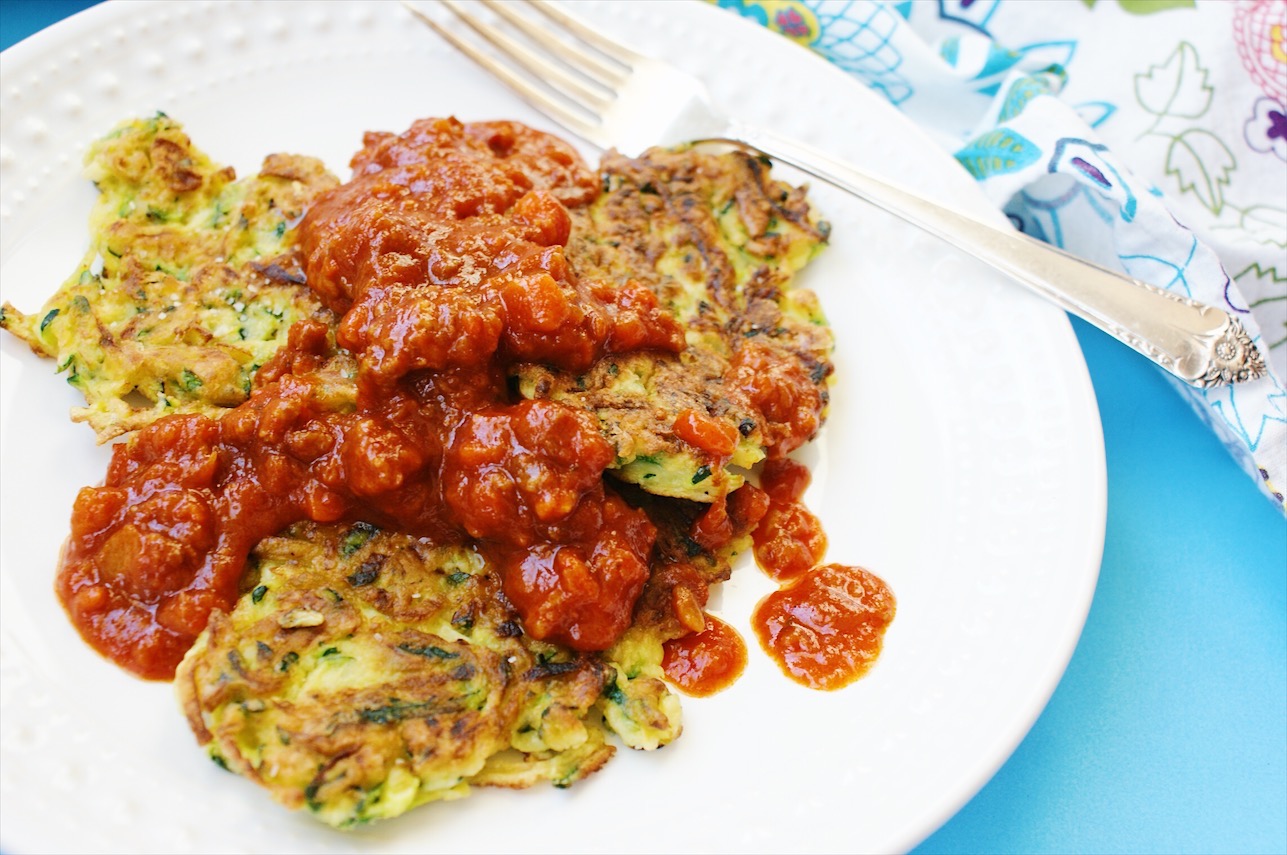 go red in the plate and bang out the best RAGU sauce – EVER, and do 'em up Italian style. That is if you can resist snatching them straight out of the pan….my personal favorite way to eat them, of course.
RECIPE BELOW: This will make about 8 or 9 patties, enough for two or three servings as a main dish, obviously a few more if you choose to use this as a side. Not that you'll have leftovers but they do fine in the fridge for a few days and you can even freeze them if you are feeling industrious. Just pop them into a 325° oven for a few minutes until hot and crispy again. You'll put in about 45 minutes of your precious time. So worth it. Once again, all the credit for this recipe goes to smittenkitchen, (check her out if you want to experience far superior photography).
Zucchini Fritters with Tzatziki Sauce
2017-05-05 09:10:26
FOR THE FRITTERS
1 pound (I used 3 medium size) zucchini, trimmed of ends
1 teaspoon (plus some) kosher salt
2 scallions, sliced thin (possibly optional - but if you have some, use 'em, for sure!!)
1 large egg
1/4 - 1/2 cup all purpose flour
1/2 teaspoon baking powder
Fresh cracked black pepper, to taste
Olive oil, for frying
FOR THE TZATZIKI
1-7ounce container PLAIN Greek yogurt
1 small cucumber, peeled, de-seeded, and finely diced
Juice of 1/2 lemon
1 small garlic clove, finely grated
2 tablespoons total fresh flat leaf parsley and dill, finely diced*
Kosher salt and fresh cracked black pepper to taste
TO START
Begin by shredding the zucchini either by using a box grater or sending them flying through the shredding blade of your food processor; chef's choice. Pop them into a colander and toss with 1 teaspoon of the kosher salt. Set this aside in your sink (or if your sink is unavailable, I feel you, just set this on a plate, it may drip a little) for ten minutes.
NOW IS A GOOD TIME TO MAKE THE TZATZIKI
In a small bowl, mix together the yogurt, chopped cucumber, herbs and lemon juice. Get out your microplane and finely grate that garlic clove in. Give this a stir, and season with some salt and pepper. Cover and place in refrigerator, while you finish the fritters.
ON WITH THE FRITTERS
Gently squeeze as much water as you can out of the zucchini, over the colander. To really wring it out, place the shreds on one side of a clean kitchen towel, fold it over and then roll it up and wring it out. You may have to do this twice. Extracting the water means no soggy fritters for you!
Return the zucchini to a medium sized bowl. Stir in scallions, egg, and season with some salt and pepper. In another tiny bowl, stir together 1/4 cup flour with the baking powder (but don't put the flour bag away just yet, you may need a little more), then stir into the zucchini mixture. You want this to be really thick, so you may need to add a little more flour, but do not exceed 1/2 cup total. Either way, this is very, very forgiving, so don't panic.
COOK 'EM UP!
In a large heavy skillet, heat 2 or 3 tablespoons of olive oil over medium high heat until it looks shimmering. Using about half of your batter, plop down four blobs of the mixture down into the pan, using your spatula to flatten them out a bit into "pancakes", and keeping them from crowding together. Cook about 3 minutes, or until the edges are golden (give em a little peek underneath) and then flip them over and give them another few minutes on the other side. You may have to adjust the heat here if they brown up too fast, but you will know it if that occurs.
Once they are beautifully browned on both sides, remove them from the pan, pop them onto a cooling rack, sprinkle 'em with some salt and pop them into a warm oven to hang out while you repeat the whole deal with the remaining batter.
TO SERVE THESE UP.....
Stuff your face with abandon as they come off the stove....wait..... sorry......NO! A'hem..Get the tzatziki out of the refrigerator and give it a stir and a taste. You may find it is way too thick, go ahead and thin it out with a little milk or water. Add salt and pepper to taste. It should be garlicky-licious by now! Get those fritters up onto a plate and top 'em with as much of that tzatziki as makes you happy.
AND THINK OF ALL THE WAYS YOU CAN EAT THESE!!!!
oooooh, maybe with some melty cheese on top.........definitely with that ragu I mentioned in the post.......always and forever with a fried egg on top........what about inside of a wrap?
YUM!
Notes
SIDE NOTE
Most of the time I have parsley in the fridge, but rarely do I have dill. If you happen to have some dill,....it is delicious in this but if you are anything like me, you probably won't have it on hand so just use parsley, or cilantro. Or mix up whatever you have and do that. We be wild like that.
Adapted from Deb at smittenkitchen.com
Adapted from Deb at smittenkitchen.com
Kick and Dinner http://kickanddinner.com/