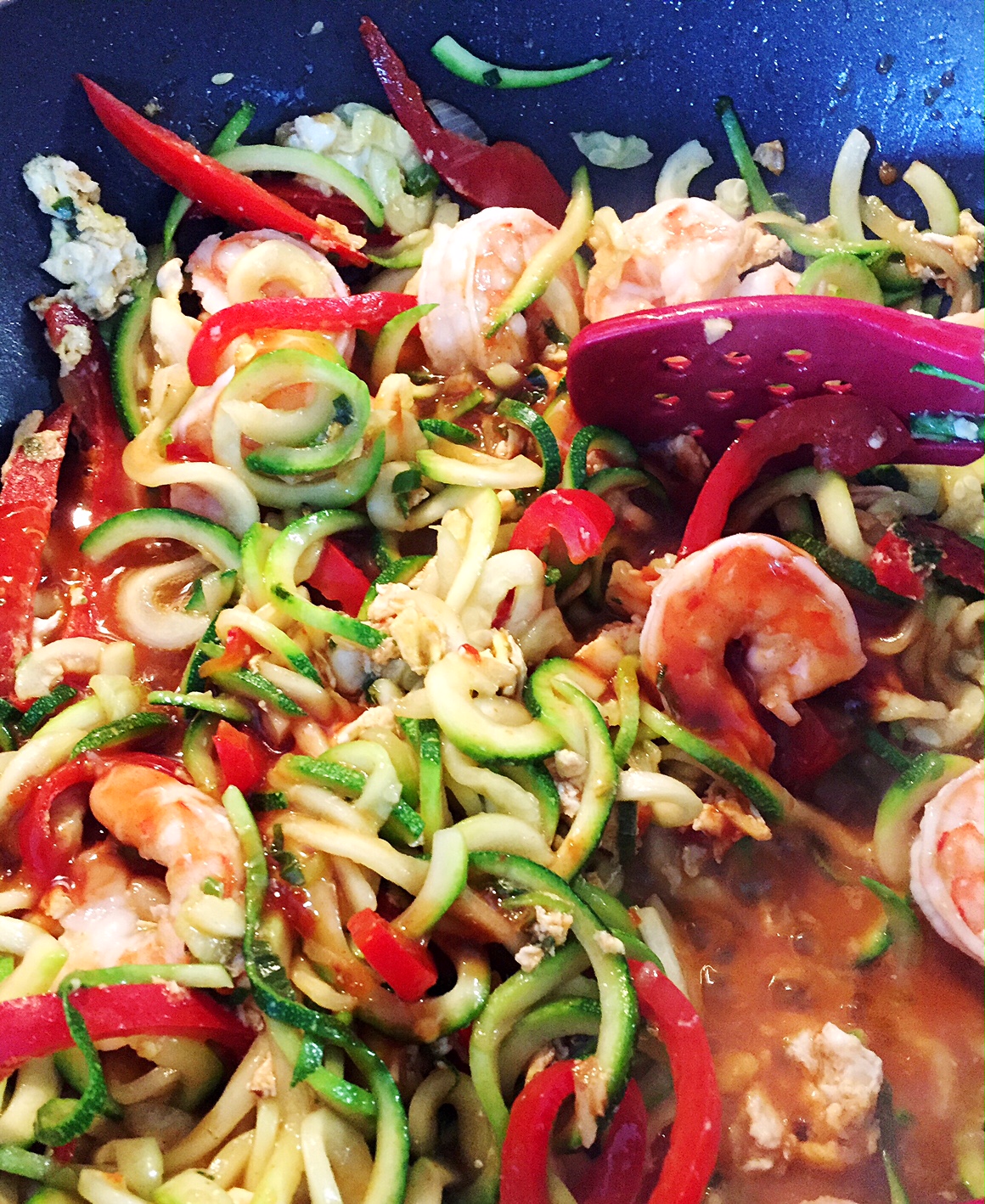 Probably one of the best known Thai dishes out there (at least to me!), traditional pad Thai is created from rice noodles stir fried together with any number of other various ingredients…….and we all love, love, love it for a reason.
It IS Soooooo Stinkin Delicious!
SO stinkin delicious. sigh
Unfortunately…..your basic restaurant style pad Thai has few nutritional benefits to offset its staggering carb, calorie and salt profile. And that's really okay every once in a while but what if I told you that you could whip this together in your own kitchen, create a dish that is actually bursting with low carb, nutrient dense veggie goodness, and knock yourself out with the results?
Then, you could eat it ALL THE TIME! Whaaat?
Sweet and sour, salty and spicy, all at once, this Zucchini Noodle pad Thai boasts some seriously tantalizing taste bud trickery. What it doesn't boast is an off the charts enough-carbs-for-a-week disaster.
It all starts with those "zoodles". So pull out that spiralizer.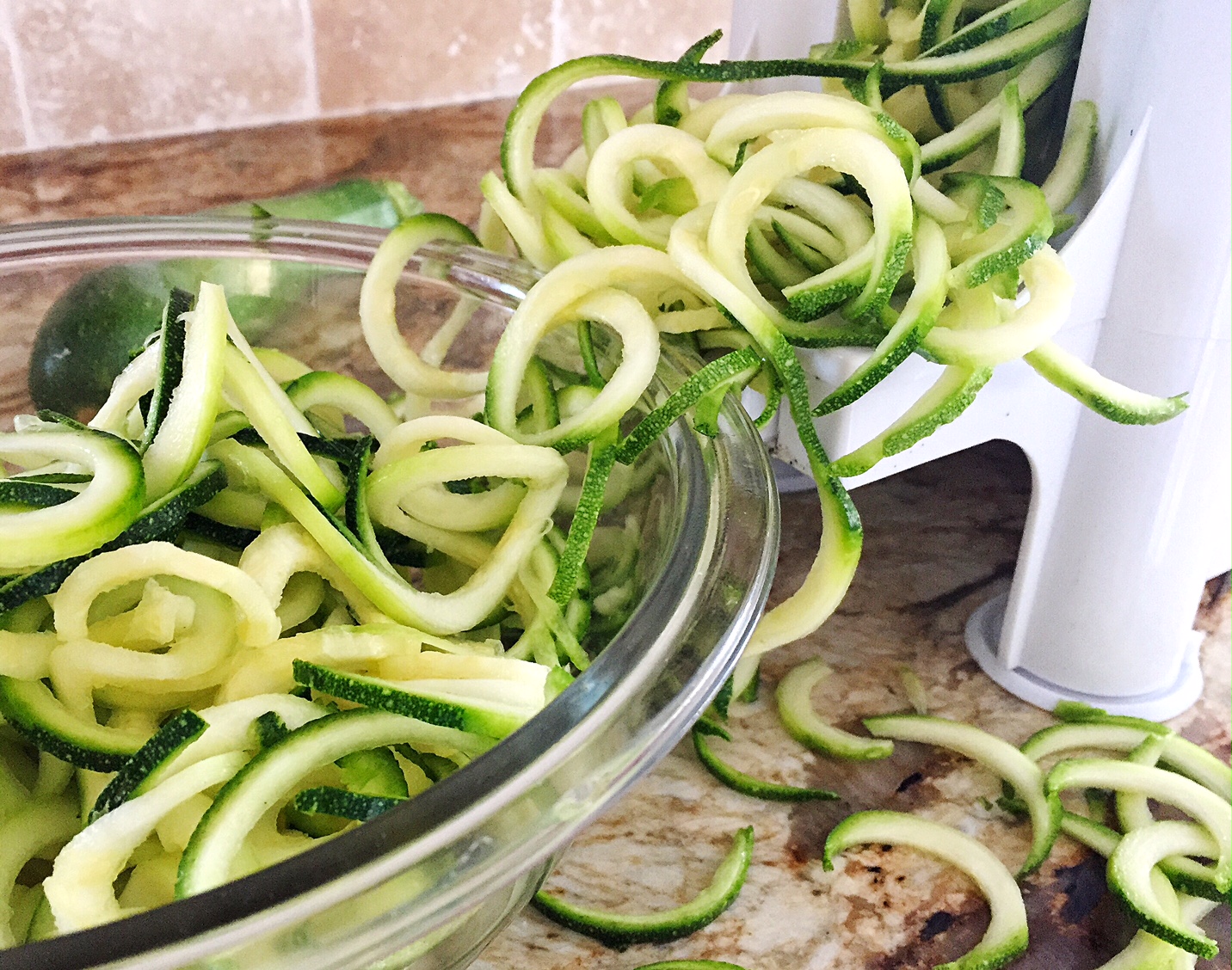 I am not going to lie when I tell you that the first time I attempted to use this nifty little gadget I could not figure it out to save my life! I mean, how hard can it be? Shove a piece of whatever into a moving blade and it magically spews out strands of confetti colored low carb ribbons, right? That was what I had envisioned and although the end result is exactly what I just described, the mechanics are slightly different (you spin the veg, not the blade) than what your brain would find logical (or at least my brain). So, if you can't make heads or tails of your spiralizer; please know you are not alone. Could be why someone made this video, here.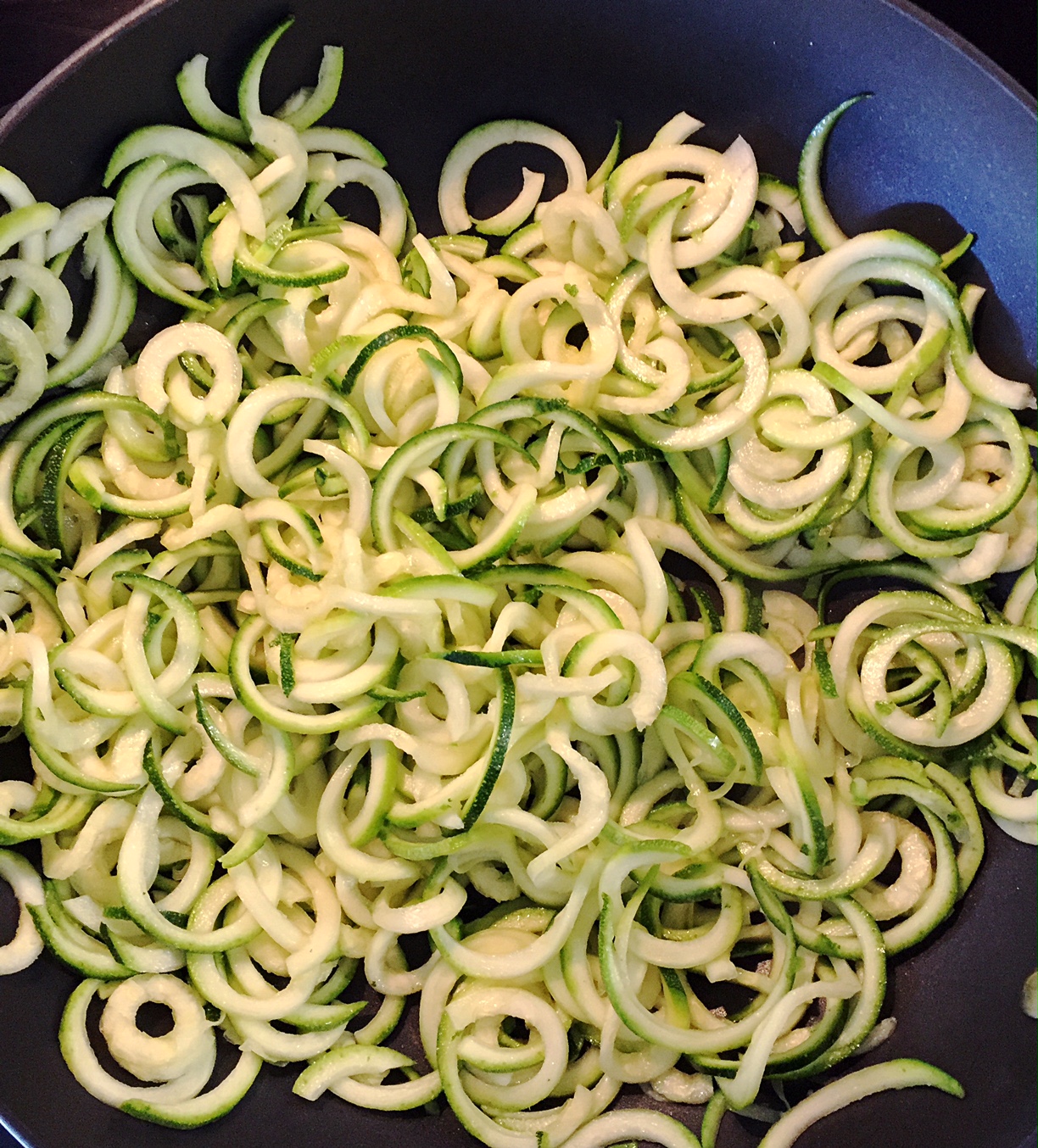 Lightly sauté these verdant green ringlets in some olive oil just for a minute or two. Set this aside to drain in a colander: you'll want to give them a chance to let off some of their liquid.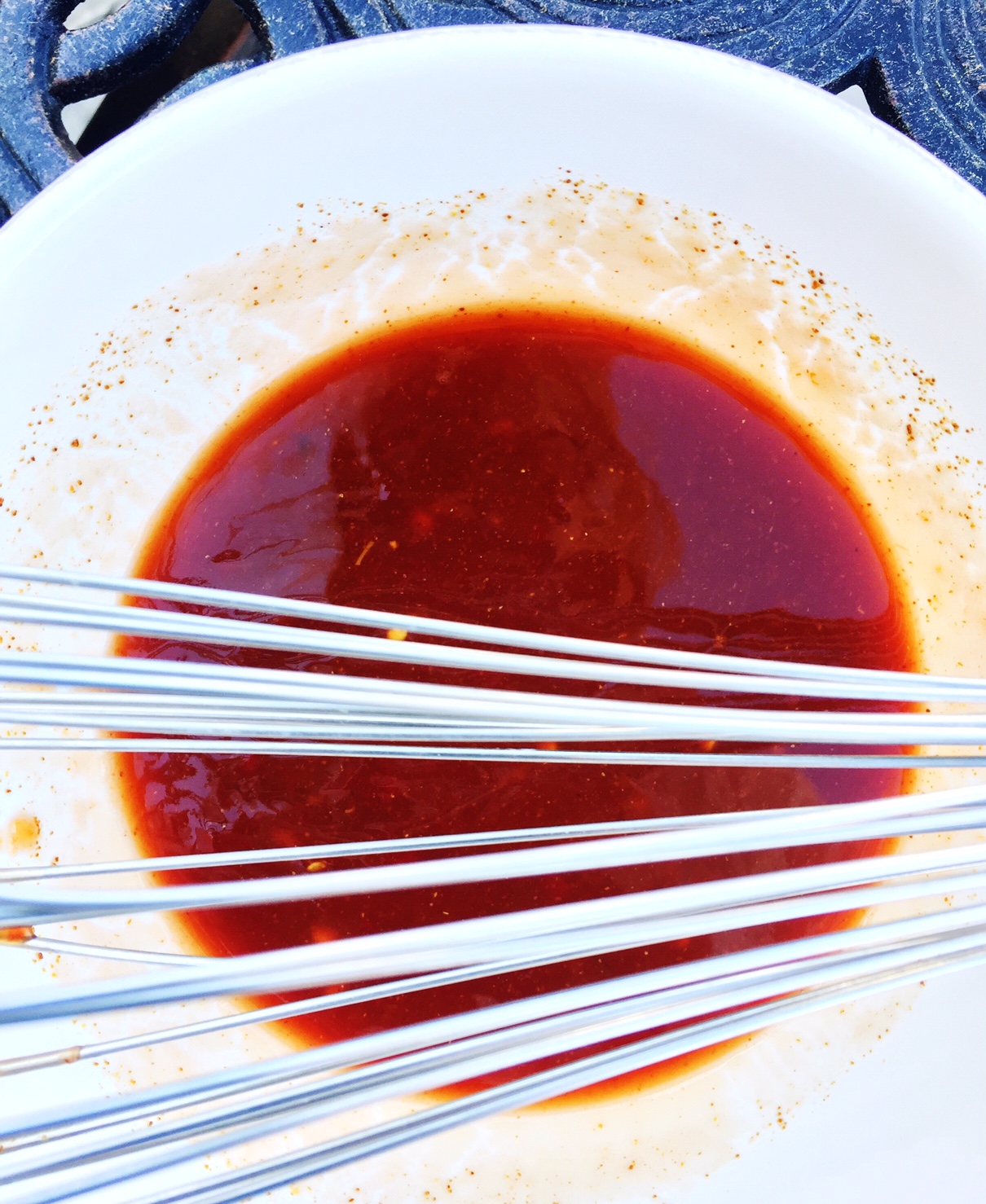 Whisk together your sauce. All you need is some rice vinegar, ketchup, brown sugar, chili garlic sauce, cayenne pepper and some fish sauce. Yes, fish sauce. Trust me on this. Just don't take a whiff of it because straight out of the bottle it smells…well…exactly as you might suspect. So once again…
Trust.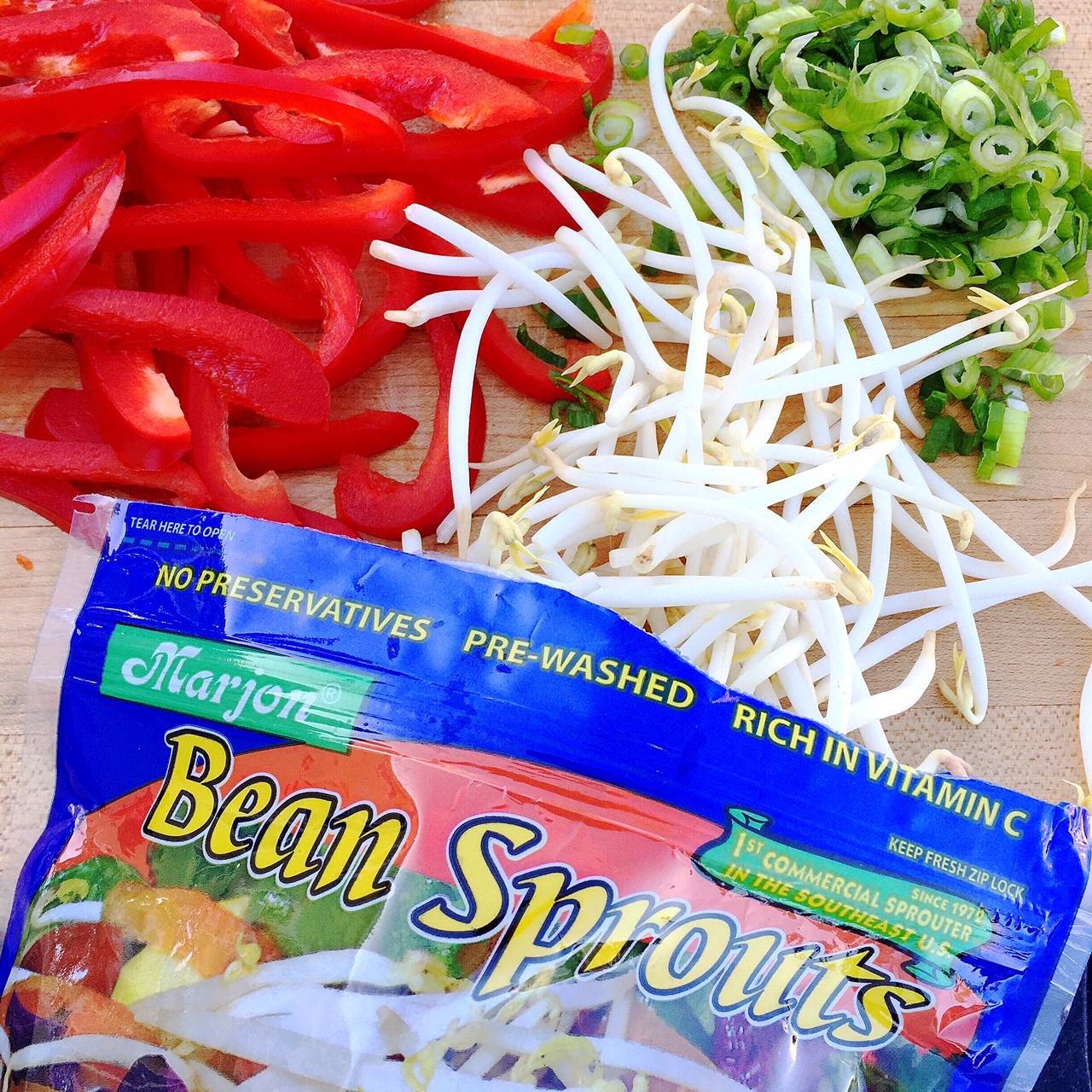 Get your veggies prepped. Thinly slice a red bell pepper and some green onions. Bean sprouts are easy, just open the bag! Cut up a lime while you are at it, along with some fresh cilantro. Get out a jar of dry roasted peanuts and give a handful of those a course chop. Food prep, DONE!
Now it's time to put it all together.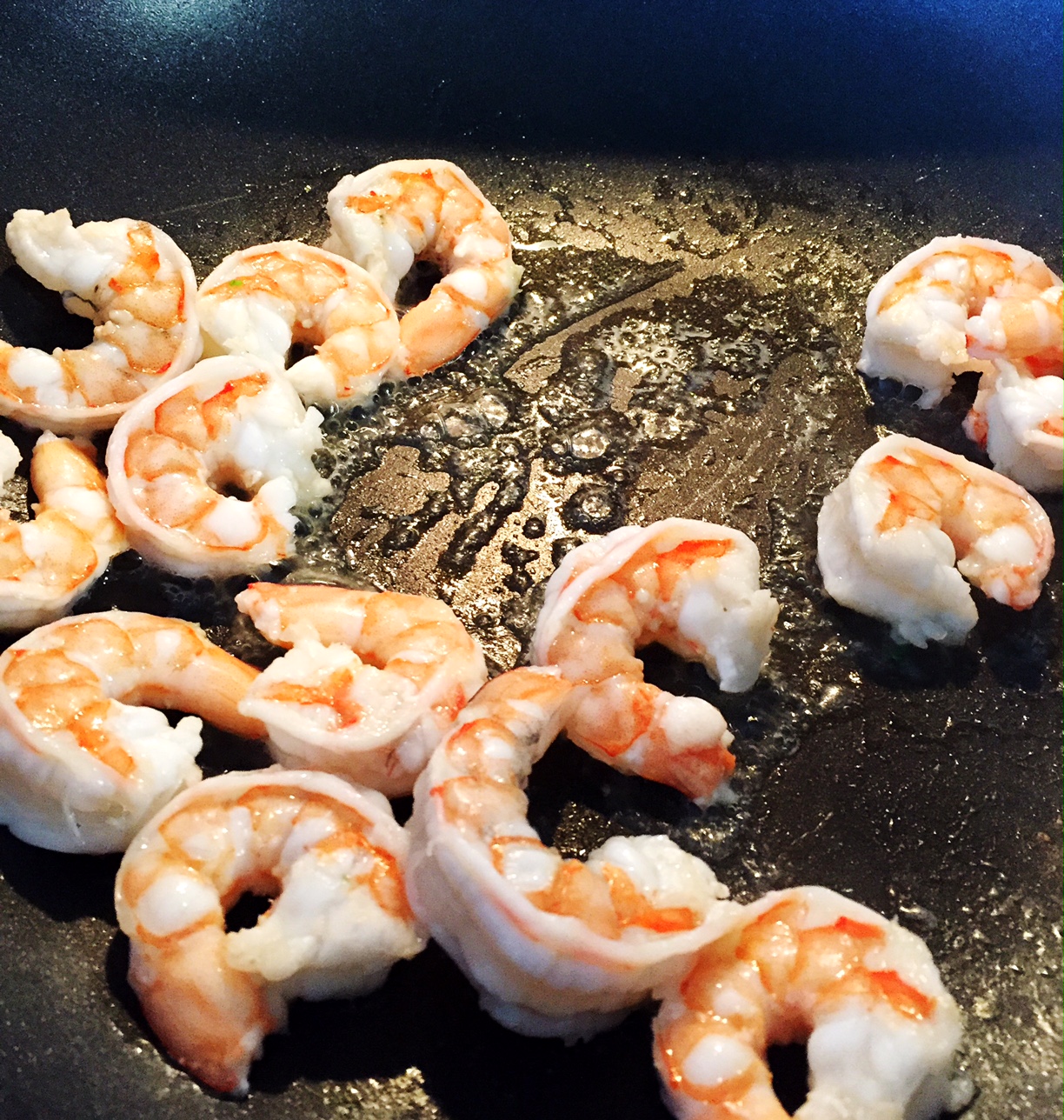 In the same pan that you sautéed your zucchini, add a tiny dollop of olive oil and get it over a medium high heat. Pop in about a dozen shelled and deveined shrimpies. By the time you lay them out in the pan it is truly time to flip them over, they cook up just, that, fast. Take them out of the pan and set them aside, we'll get back to those little babies in a minute.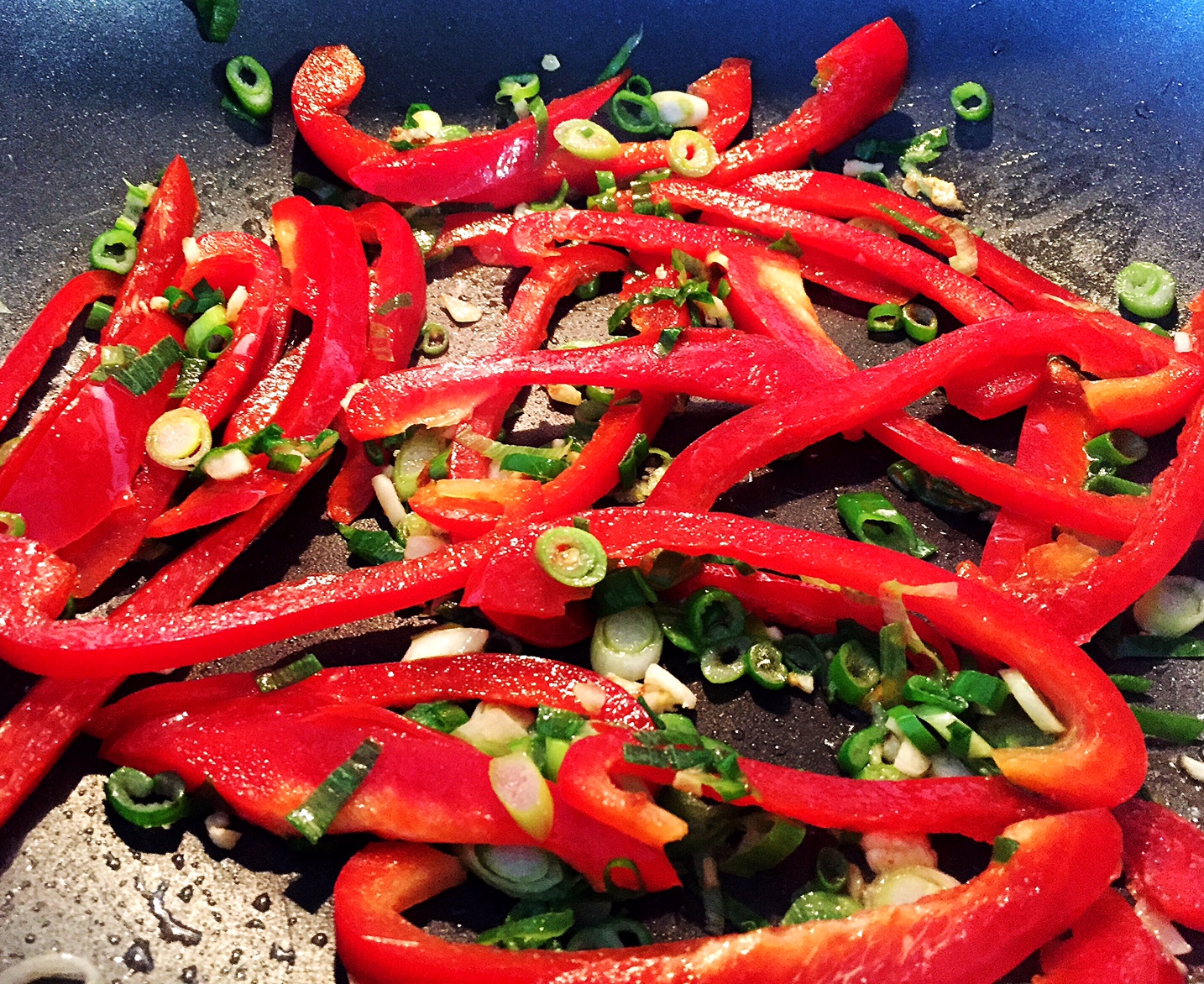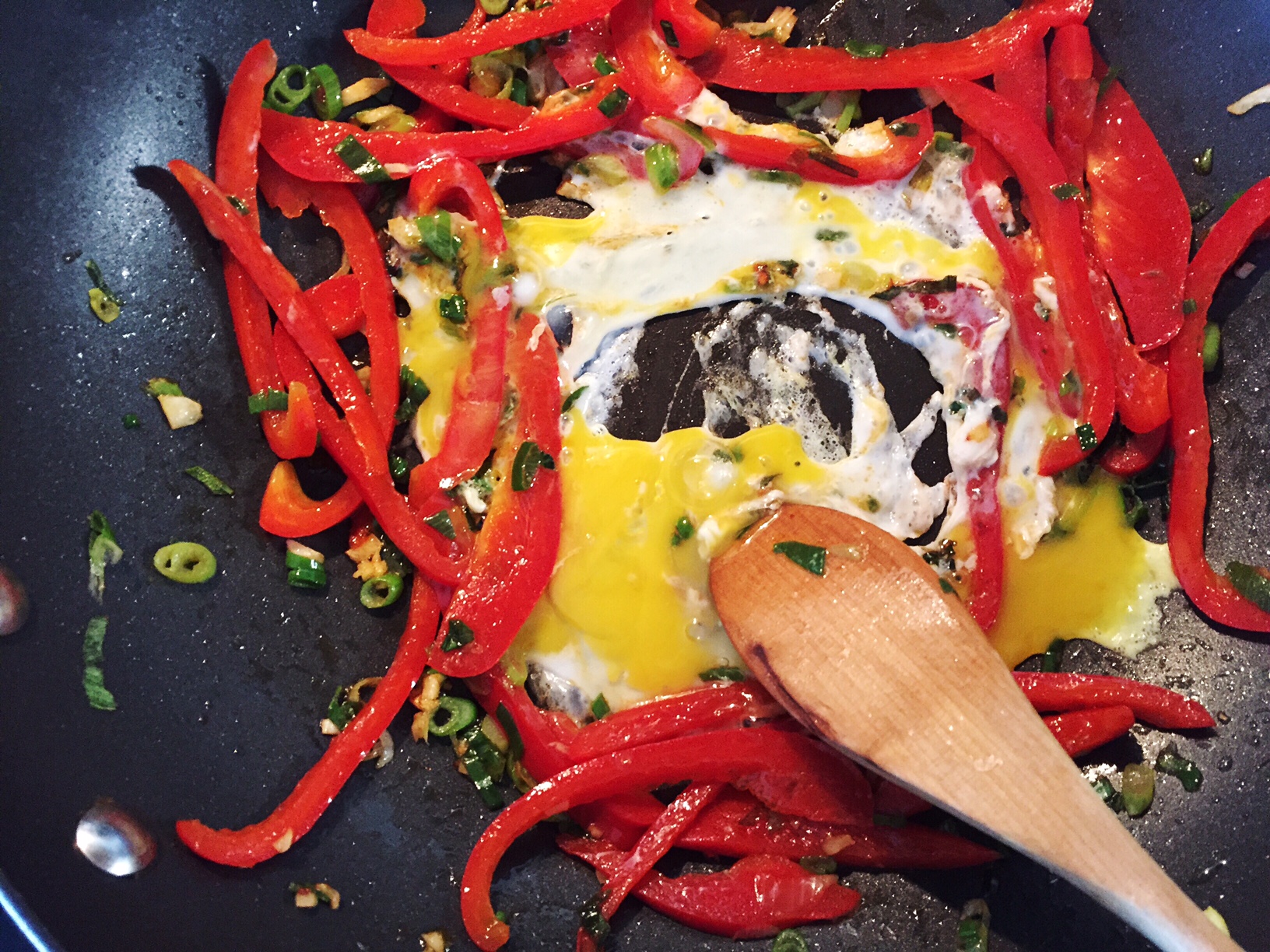 Now we're moving. In that hot pan, add another little drizzle of olive oil and add the sliced red bell pepper and scallions. Spin these around for a few minutes or until the peppers are slightly tender, and then break in one egg. This guy will take only about a minute to stir in and cook through.
Dump in the strained zucchini and give this a stir. Add those shrimp back in. Pour in about half of your sauce, and using a set of tongs, get everybody all mixed and mingled. Beans sprouts? Dump 'em in. Cilantro? That too. Add the rest of the sauce and make sure everyone is coated and happy, it's time to plate. Hit it with a smattering of crunchy chopped peanuts, toss in some limes for squeezing,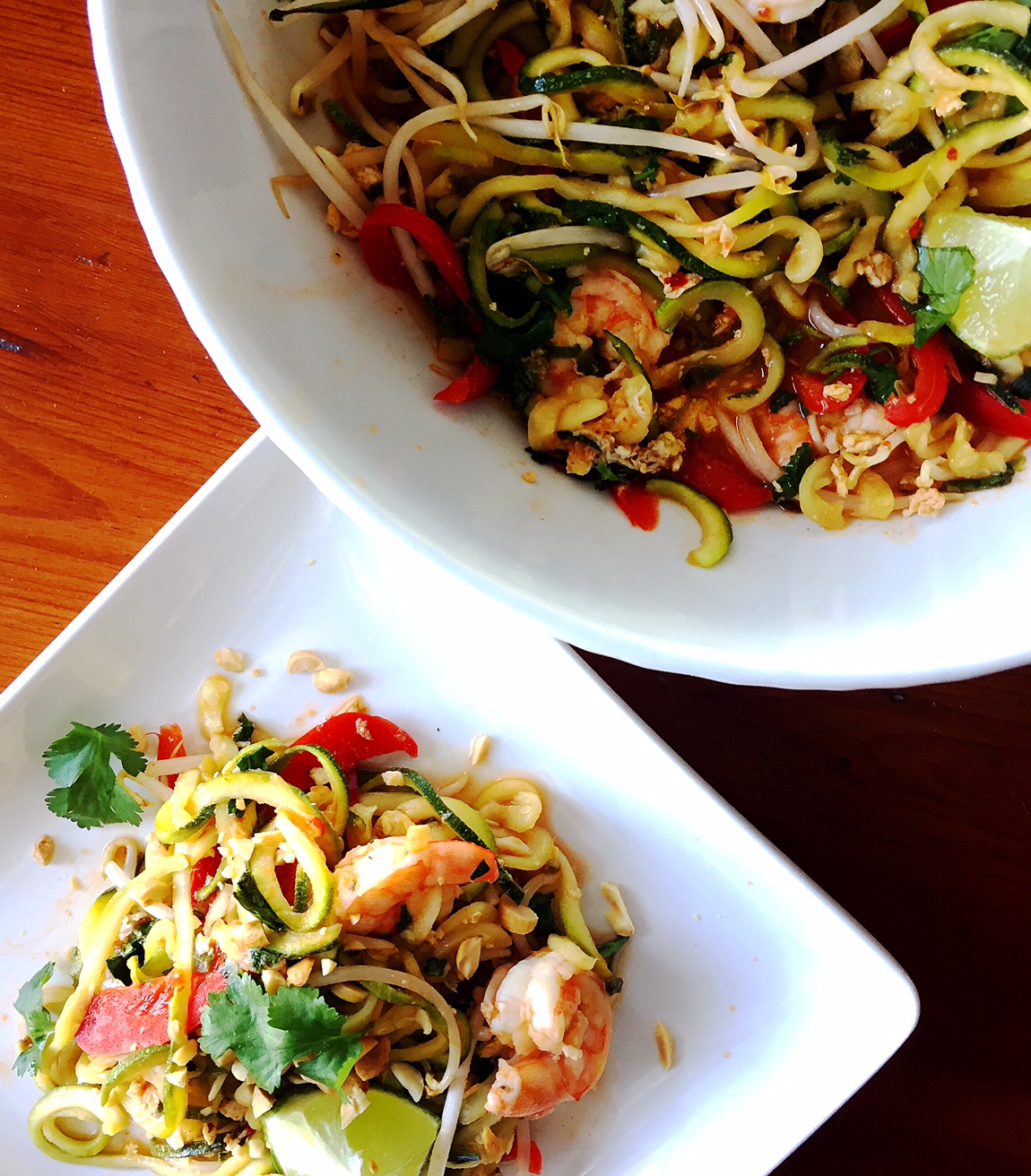 And dig in. Is this an irresistibly gorgeous tangle of victual vibrancy or what? All yours, and in FAR less time then it would take to work off that order of take out.
RECIPE BELOW:
This made enough for two plus some leftovers…….which I ate straight out of the fridge for lunch the next day and it was AMAZING! Like a Thai shrimp salad; really, really surprisingly good (I wasn't actually expecting that). This takes about twenty minutes of prep time, the actual cooking time is speedy quick so have all your ingredients ready to go, and you'll be slurping this up in minutes. Delectable! Many thanks to White on RIce Couple, where a friend (thank you, Danielle) got this recipe in the first place, and made it for me! I was hooked.
Zucchini Noodle Shrimp Pad Thai
2016-12-08 18:31:05
Ingredients
2-3 medium zucchini, run through a spiralizer
2-3 tablespoons olive oil, divided
pinch of kosher salt
1 dozen large, raw, peeled and de-veined shrimp
1 red bell pepper, seeded and thinly sliced
3 green onions, thinly sliced
1 large egg
3 cups fresh bean sprouts
1/4 cup chopped cilantro
1/4 cup dry roasted peanuts, chopped
lime wedges for serving
For The Sauce
3 tablespoons rice vinegar
3 tablespoons fish sauce
4 tablespoons ketchup
2 teaspoons packed brown sugar
1-2 teaspoons chili garlic sauce
1/2 teaspoon cayenne pepper
Instructions
Heat a large pan over medium high, and add about a tablespoon of olive oil to the pan. Add the zucchini noodles with a pinch of salt and cook for 2-3 minutes. Remove the zucchini from the pan and let them drain in a colander to remove some of the water.
Make The Sauce
In a small bowl, whisk together the sauce ingredients (vinegar through cayenne pepper) and set aside.
Now You're Ready to Cook
Wipe out the zucchini pan to remove any excess water, and then re-heat the pan over medium high. Add a tablespoon of olive oil and then add the shrimp in one even layer. Begin to flip the first shrimp over after you've laid down the last. The shrimp should be cooked through and pink after about two minutes. Remove them from the pan and set aside.
Add the red bell peppers and chopped green onion to the same hot pan. Add a little more oil as needed, and stir around and cook for another 2-3 minutes.
Add the egg and stir into the veggies until it is cooked, another minute or so.
Add the zucchini noodles and shrimp back into the pan, then add about half of the sauce. Stir this around until the zoodles and shrimp are coated and heated through, about 1 more minute. Take the pan off of the heat and add the bean sprouts, chopped cilantro, and the rest of the sauce. Using tongs, mix this together gently.
Plate the zucchini pad thai scattered with the chopped roasted peanuts and lime wedges. Serve additional chili garlic sauce on the side or even a nice sploosh of Sriracha, for those who like it extra super spicy.
Adapted from from: White on Rice Couple
Adapted from from: White on Rice Couple
Kick and Dinner http://kickanddinner.com/