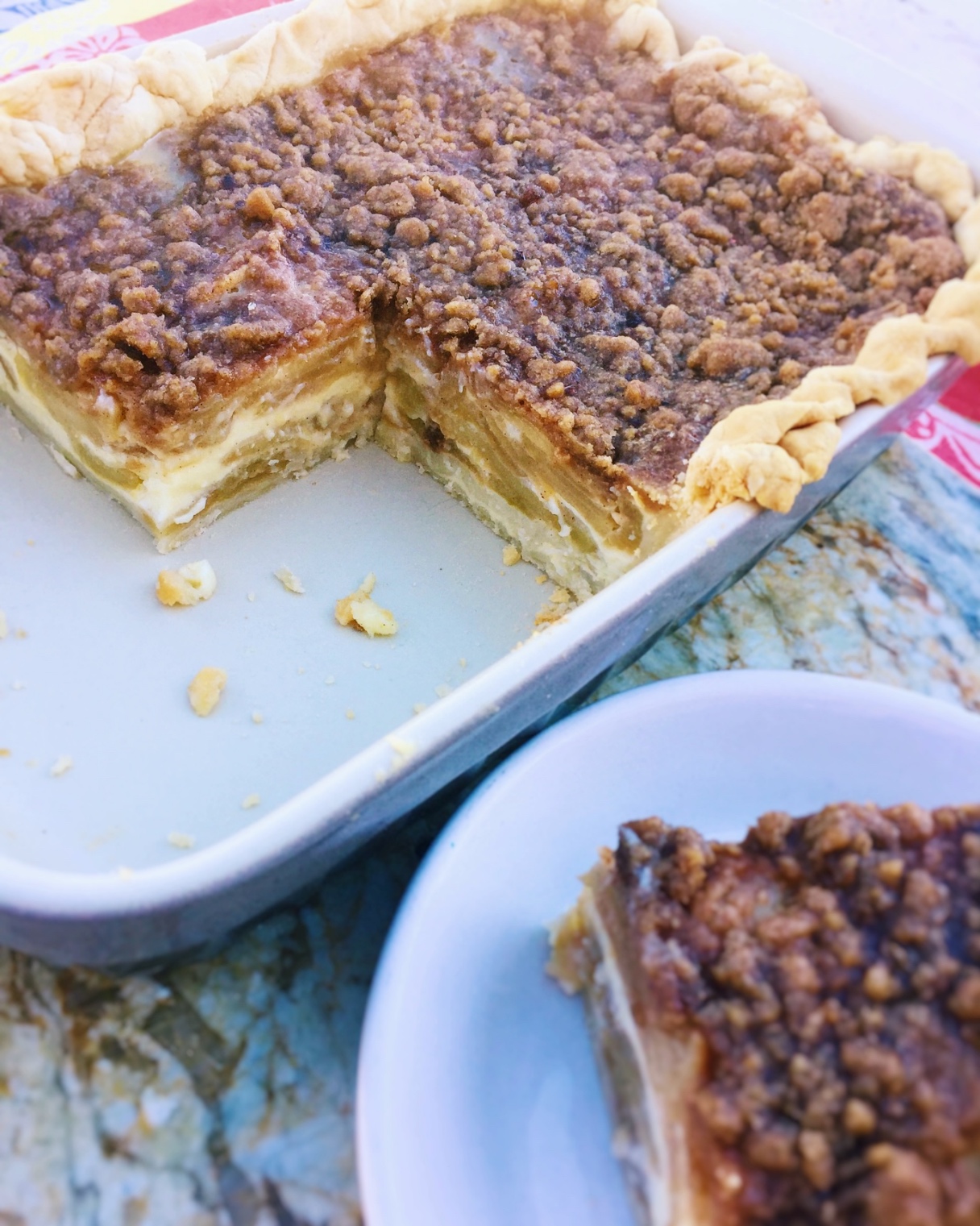 I LOVE November! It's the official beginning of the food, fun and folly season, and if there's one thing I love….it's food! Now fun and folly? Yeah, I'll put up with that in moderation………I can be cranky like that. But a season dedicated to food? What's not to like? I say bring it.
As in…bring this pretty of a pie to any gathering that someone is lucky enough to invite you to. Yes, they will be the lucky ones.
Imagine if a homey apple pie, velvety smooth vanilla custard and juicy apple crisp pulled a ménage a trios and moved in together. Right in your oven! Talk about food porn.
This beauty features thin slices of sautéed apples cloaked in a layer of luscious silky custard, topped with a butter crunchy crumbly topping and all encased in a classic flakey pie crust. Yum and yummer. You can serve it warm (with ice cream, maybe?), you can serve it room temp (some whipped cream on top, perhaps?), you can serve it (the best way, in my opinion) stone cold super chilled right out of the refrigerator. This is my new favorite of a fruit pie.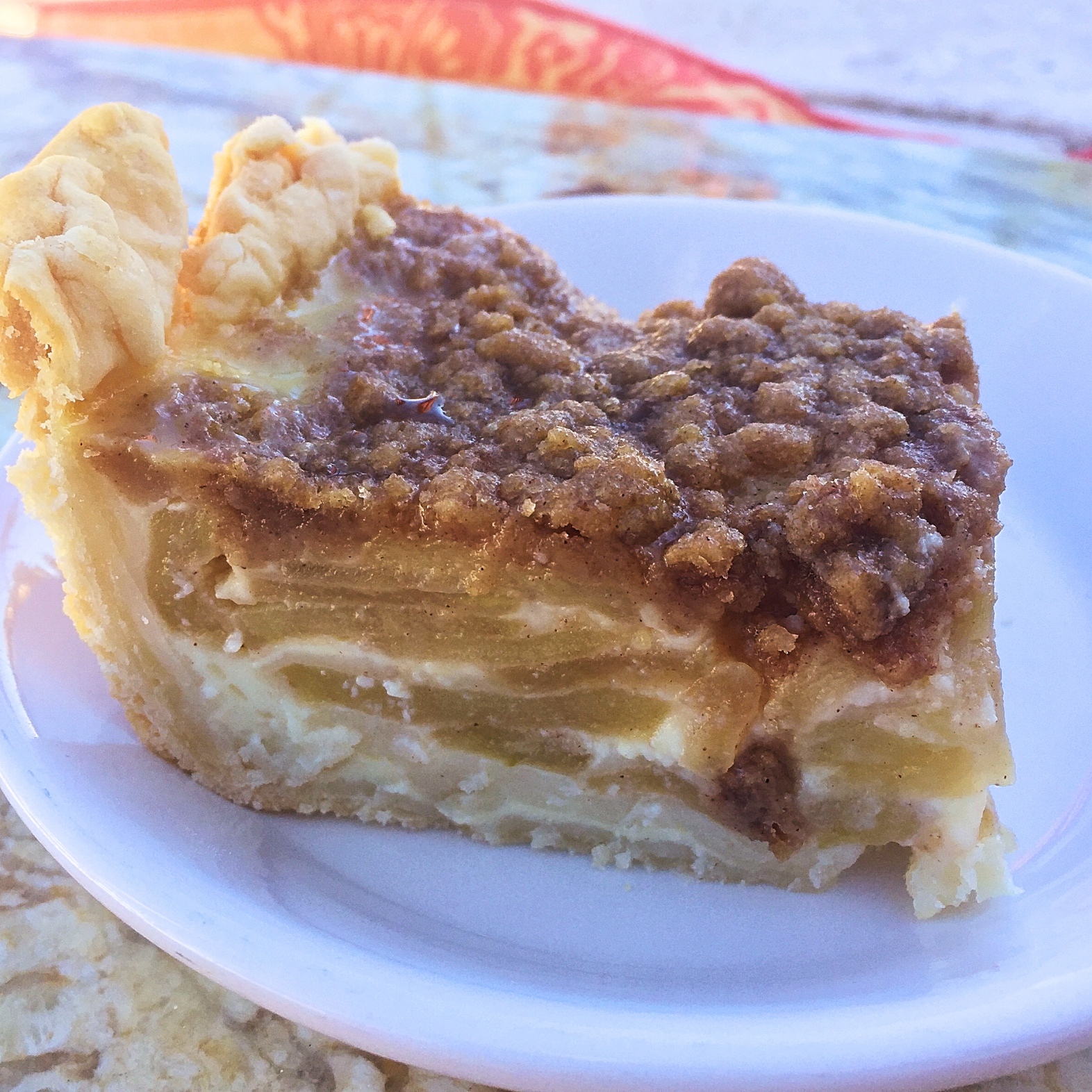 Looks fancy, eh? And because I used a ready-made, refrigerated pie dough, it was easy!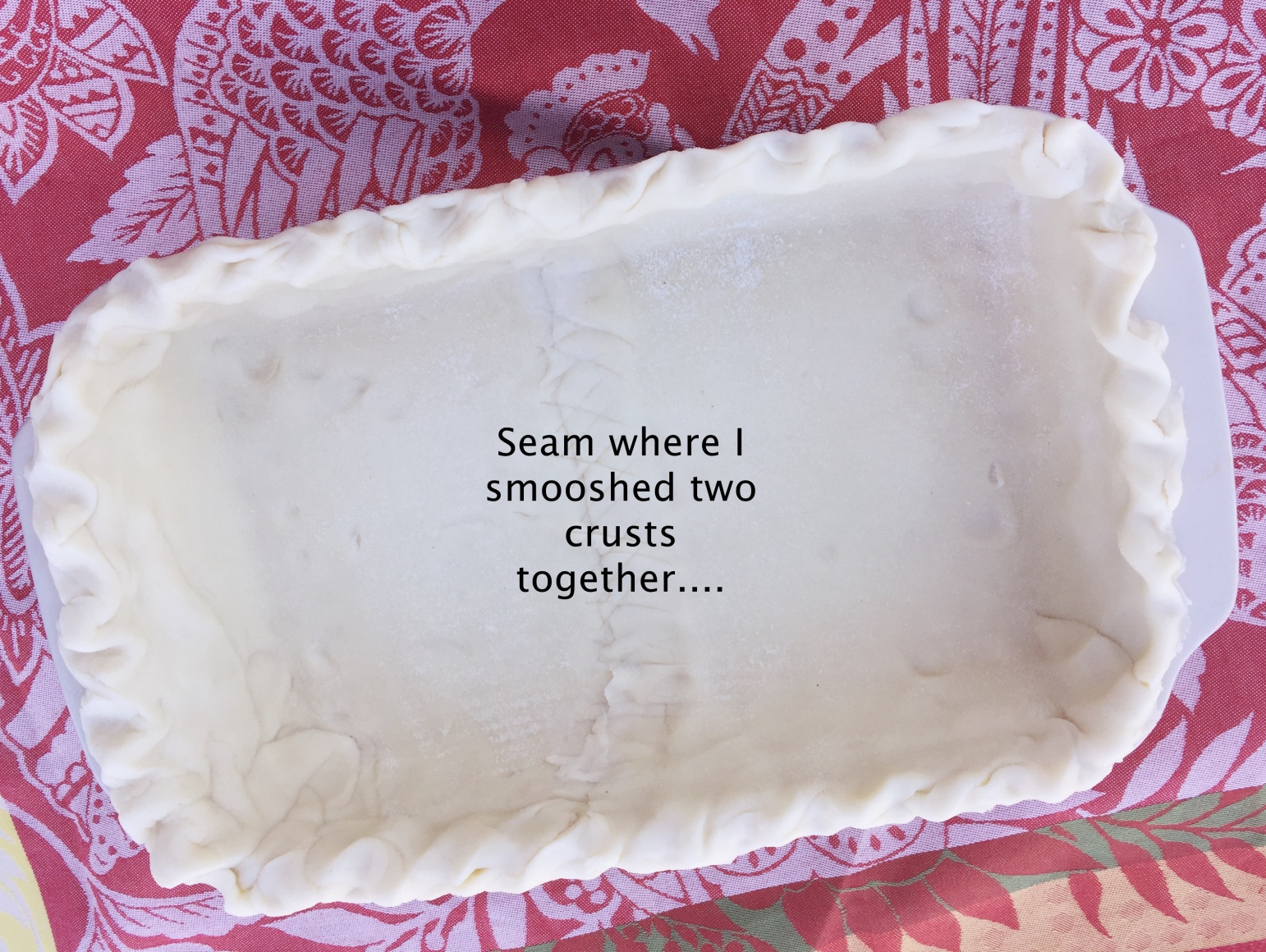 I just rolled out both of the crusts that come in the package, and sort of smooshed them together to make it one piece. Clearly this does not take any sort of skill, just make sure the chill is off the dough (if it's too cold it won't budge for you) and sort of smash them together. Place it down gently into the dish and crimp up the edges (you may need to trim off some overhang). I laid this out in my trusty 2-quart rectangle casserole dish (I don't even own a pie pan!)…….if you want to make things simpler still, go ahead and use a frozen deep dish size pie crust. Marie Callender's makes a good one, you can find 'em in the freezer section of just about any grocery store.
Or, go totally rogue and pound it out home-made style. Not that I would EVER do that but this looked pretty fool-proof…….(thanks, www.browneyedbaker.com!). Into the fridge this goes, while off you go to mess up the rest of your kitchen.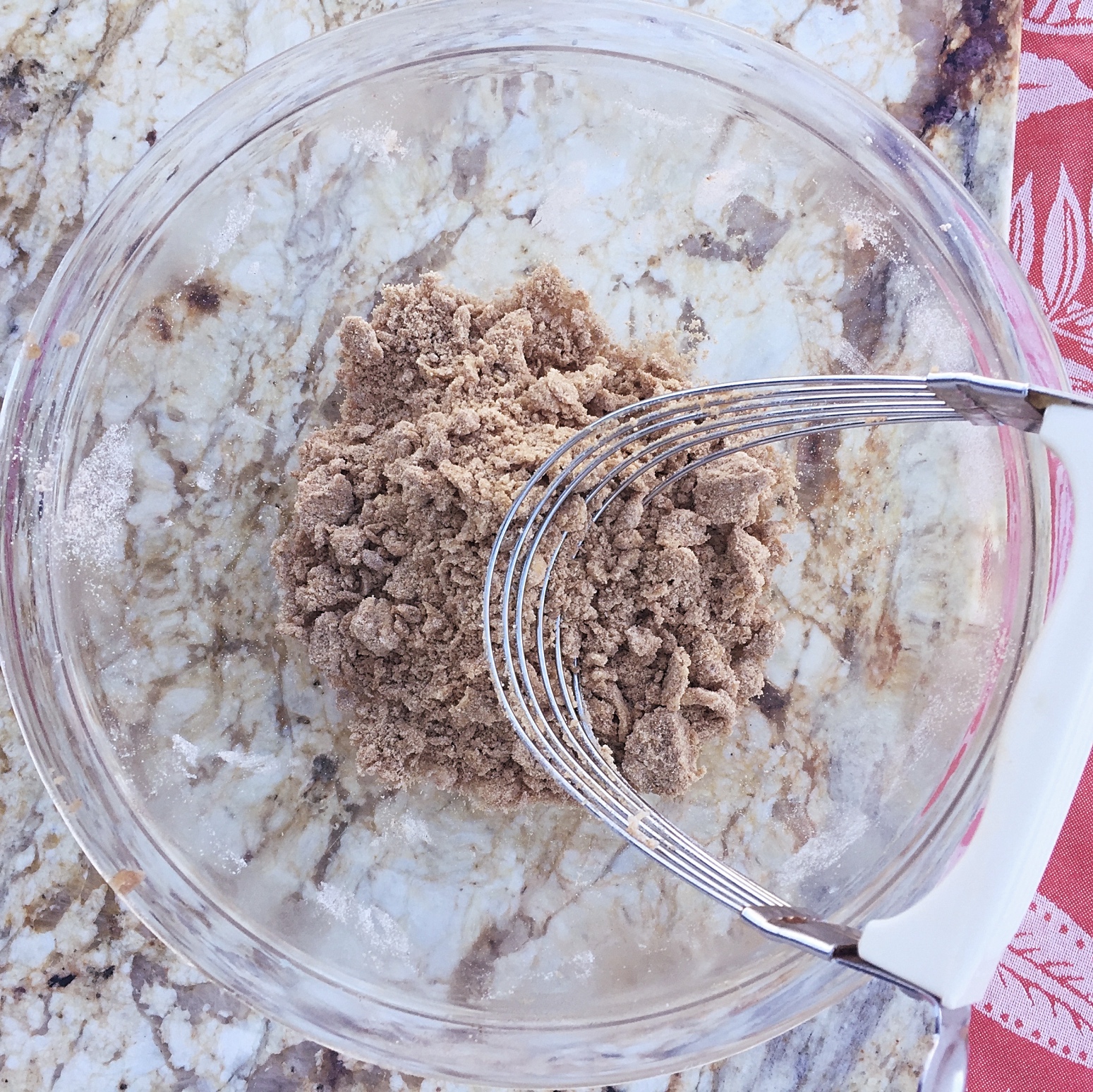 Measure out 2 1/2 tablespoons of cold, cold, cold butter and cut that up into small cubes. Pop those butter bits back into the fridge to stay chilled while you mix together 1/3 cup of flour, 1/3 cup of brown sugar, and 1/2 teaspoon of cinnamon in a medium bowl. Now "cut" those cold butter cubes into the flour mixture with a pastry blender or a fork, chopping away at it until it resembles a course meal. Back in the refrigerator this goes.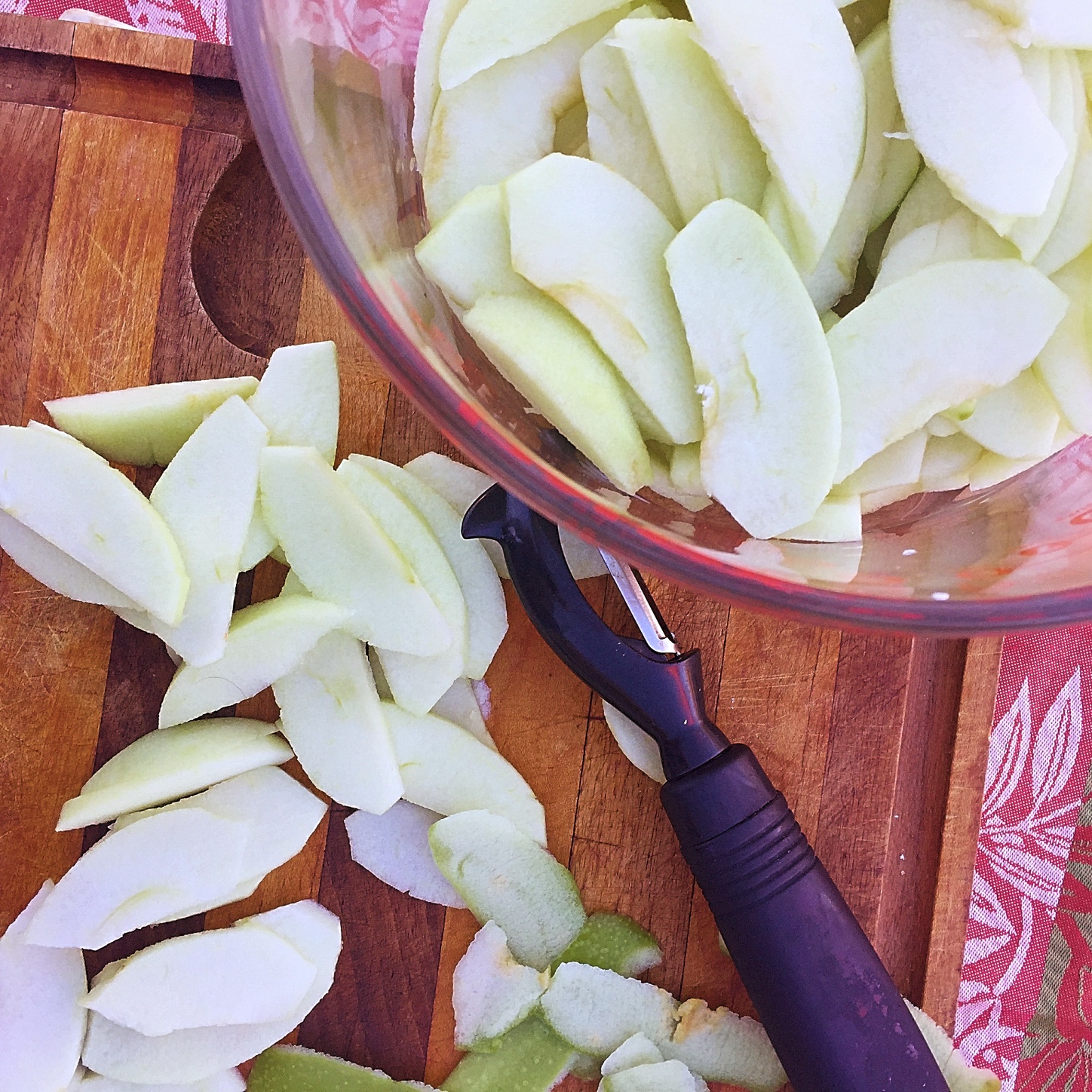 Peel and core your apples (you will need four or five, depending on the size of your fruit. I used four) and slice 'em up. You'll want these slices to be fairly thin.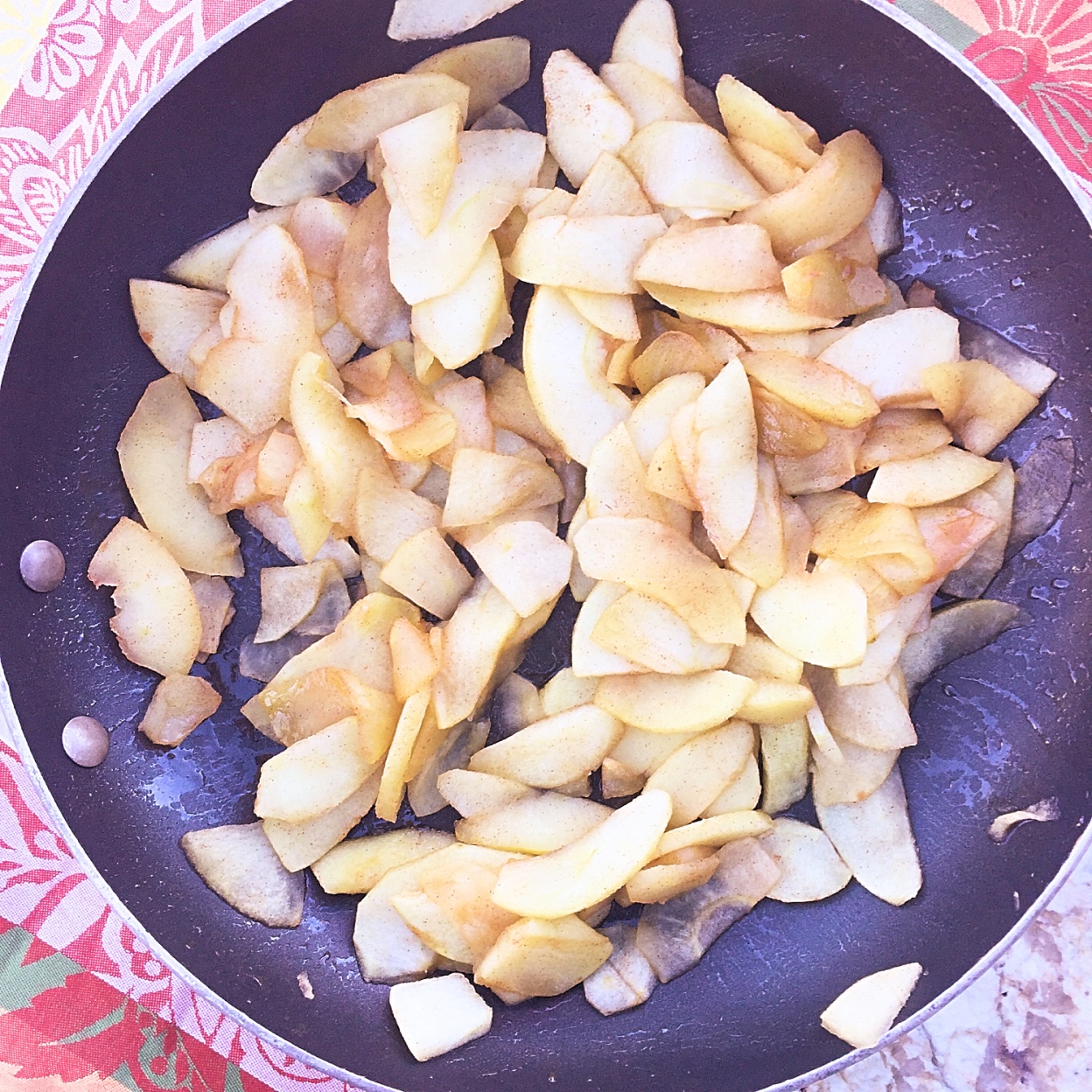 Coat a large non stick skillet with a little cooking spray and get that over a medium heat. Add those sliced apples, 1/4 cup regular white granulated sugar, and 1/2 teaspoon cinnamon. Give this an occasional stir and cook it up for about seven to ten minutes, or until the apples are tender. Oh, the smell of it!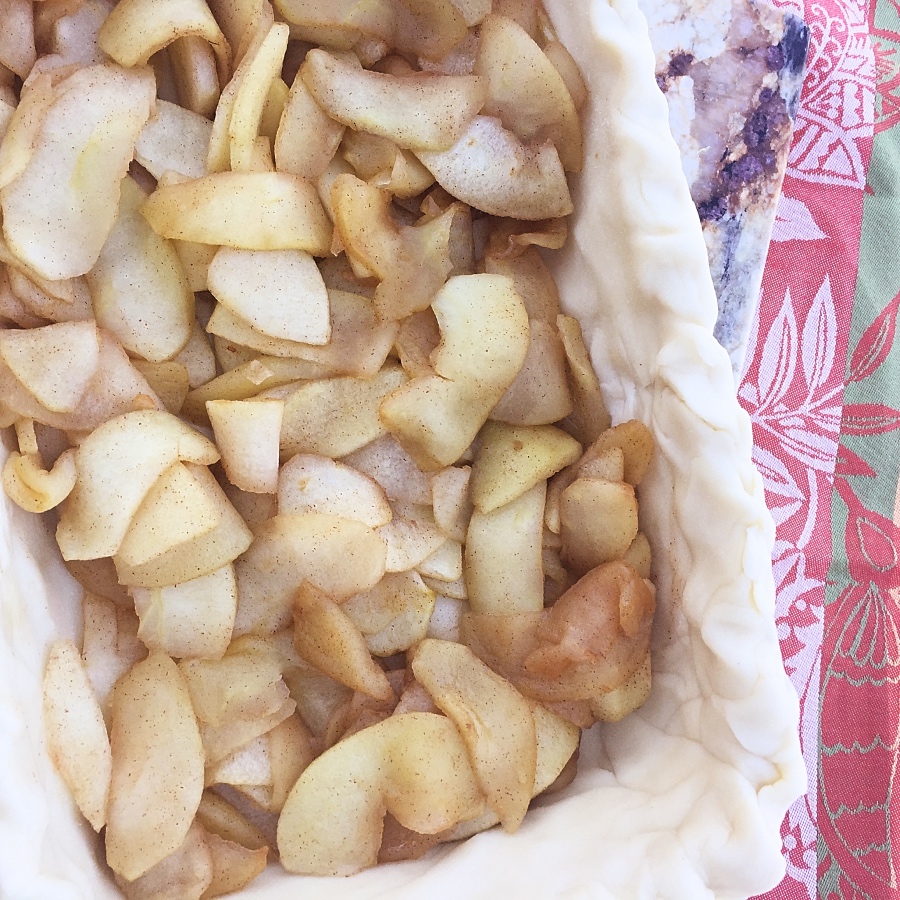 Tip your apple slices into your prepared pie crust………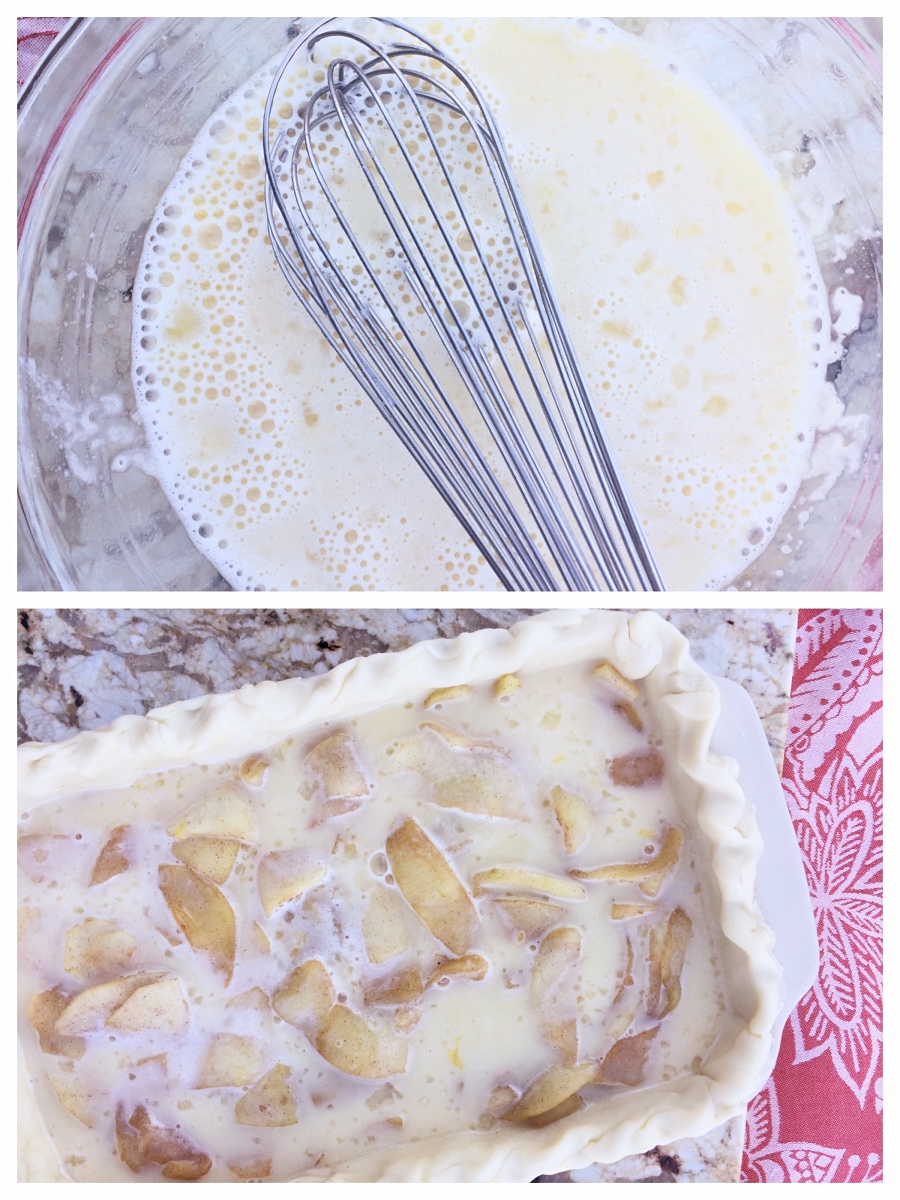 And I promise this is the last bowl you are going to get dirty……(although I sort of warned you). Whisk together 3/4 cup granulated sugar, 2 tablespoons of flour, 3 eggs, 1-3/4 cups milk, 1 teaspoon of vanilla and 1/4 teaspoon salt. This is your beautiful custard. Pour this over the apples. Into a 325° oven this goes for 30 minutes.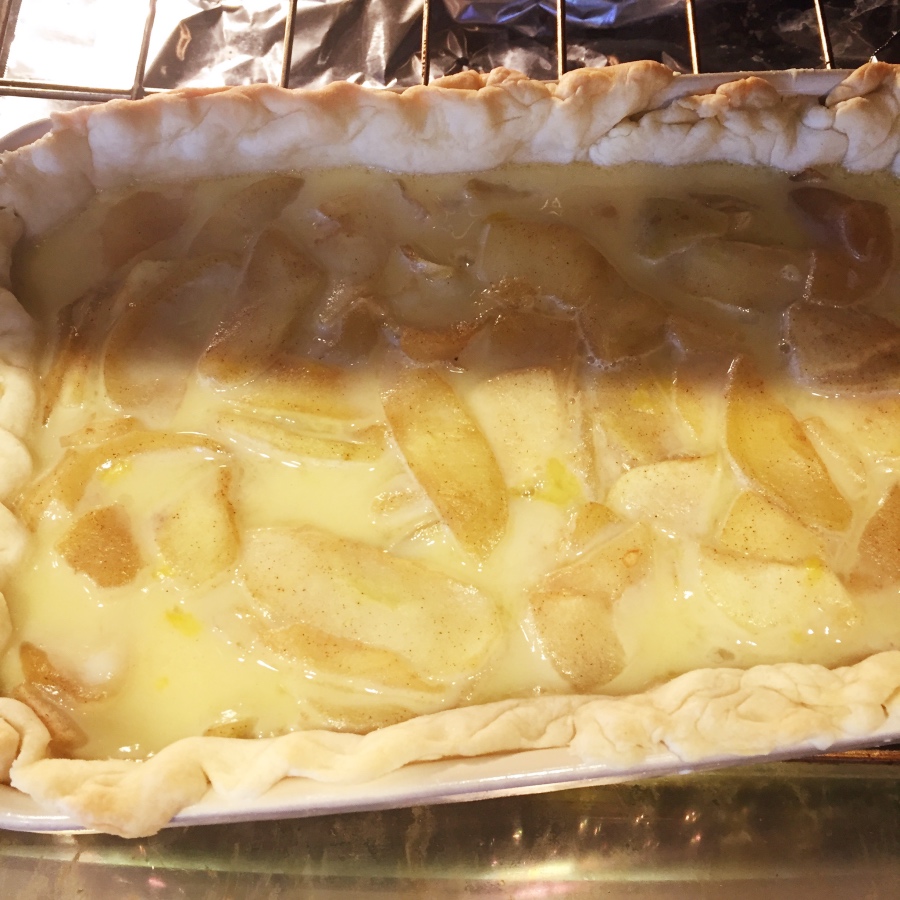 At the 30 minute mark, reduce the oven temp to 300°(VERY IMPORTANT), and carefully pull the pie rack slightly out of the oven (without removing it entirely)…….juuuuuust enough so that you can sprinkle that crumbly cinnamon streusel goodness over your half-cooked pie. I tried to keep the fallout under control with some foil underneath, we don't need bunt sugar in the oven!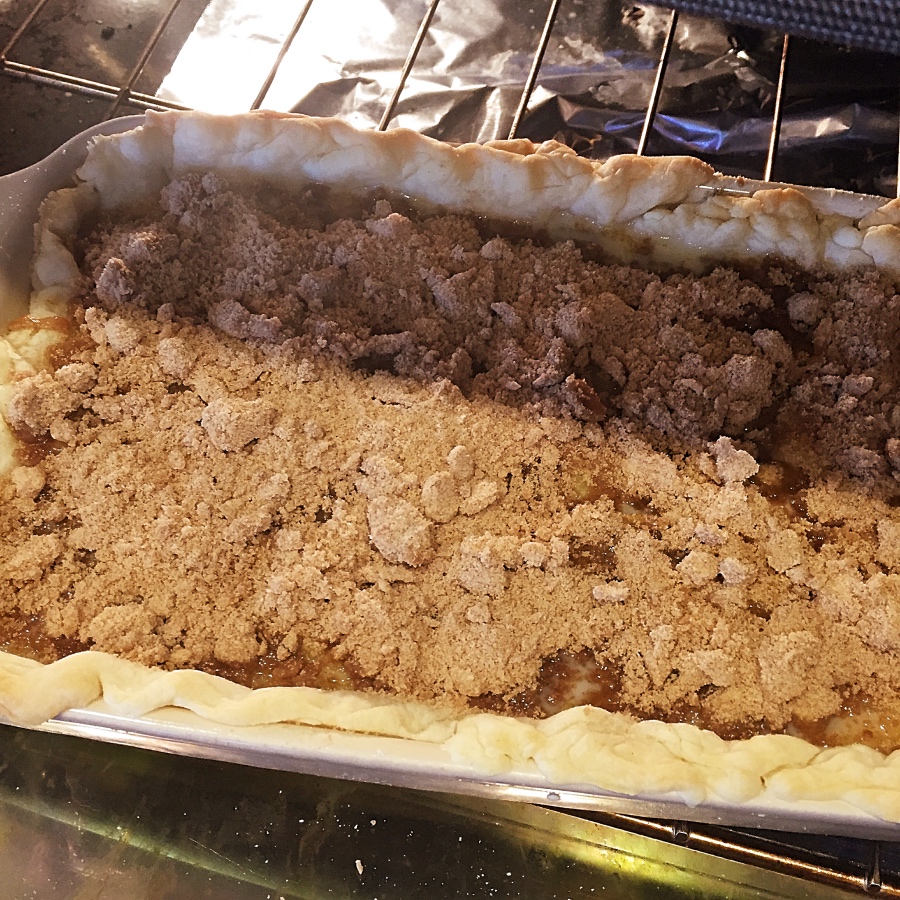 Back in the oven she goes for another 40 minutes…………….and after that, yank her out and let her sit for an hour. I know, it's like punishment.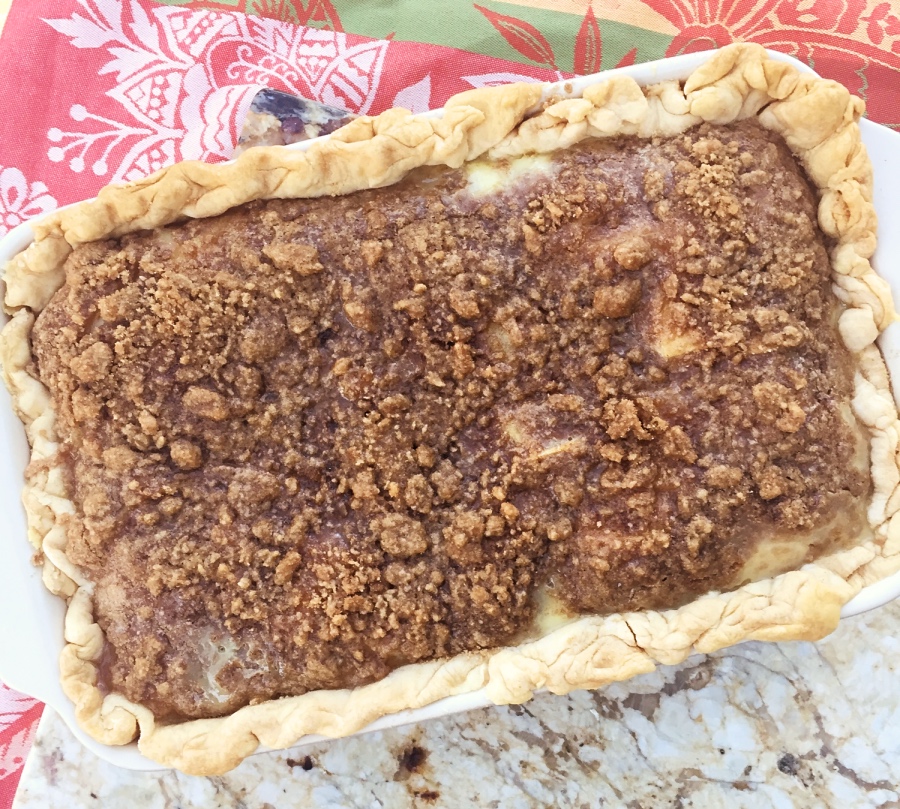 For you. 😜
RECIPE BELOW: This makes enough for six way too generous or nine more normal non-gluttonous sized portions. Hands on prep time is about twenty minutes, the bulk of the work being the peeling and slicing of the apples! Remember you will have it in the oven for over an hour so plan accordingly. Custards take a notoriously long time to bake, but this is worth it, I promise! Make it ahead, it is perfection hot, room temperature or straight out of the fridge. Your holiday dessert table thanks you.
Apple Crumble Custard Pie
2016-11-04 13:24:40
Ingredients
1 package refrigerated pie dough (you will use both of the rounds)
OR 1 frozen DEEP DISH ready made pie crust
STREUSEL TOPPING
1/3 cup (all-purpose) flour
1/3 cup brown sugar
1/2 teaspoon ground cinnamon
2 1/2 tablespoons chilled butter, cut into small pieces
FOR THE FILLING
5 cups thinly sliced peeled Granny Smith apples (you will need 4 or 5 apples)
1 cup granulated sugar, divided
1/2 teaspoon ground cinnamon
2 tablespoons flour
1/4 teaspoon salt
3 large eggs
1 3/4 cups milk
1 teaspoon vanilla extract
Cooking spray
Instructions
Preheat your oven to 325°
To prepare crust, roll out the two dough circles, overlapping to "stick" them together. This is to get a large enough (rough) rectangle to fit into a 2 quart baking dish, coated with cooking spray. Cut off any obvious extra, fold edges under and flute. Place in the refrigerator until ready to use. OR.....skip this step altogether and just use a ready made deep dish frozen pie crust. Not a bad idea!
To make the streusel, spoon 1/3 cup of flour into a dry measuring cup and level with a knife. Combine the flour, 1/3 cup of brown sugar, and 1/2 teaspoon of cinnamon in a medium bowl, and then cut in the chilled butter cubes with a pastry bender or fork until the mixture resembles coarse meal. Place this back into the refrigerator.
For the filling, heat a large skillet coated with cooking spray over medium heat. Add the sliced apples, 1/4 cup granulated sugar, and 1/2 teaspoon cinnamon. Cook this for about 7 to 10 minutes, stirring occasionally, until the apples are tender. Spoon the cooked apples into the prepared crust.
Combine the remaining 3/4 cup of granulated sugar, 2 tablespoons of flour, salt, eggs, milk and vanilla. Whisk this until smooth. Pour this over the apples.
Bake at 325° for 30 minutes. Then, reduce the oven temperature to 300°, and without completely removing the pie from the oven, carefully sprinkle the streusel evenly over the pie. Bake an additional 40 minutes at 300°. Let stand for 1 hour before serving.
Kick and Dinner http://kickanddinner.com/