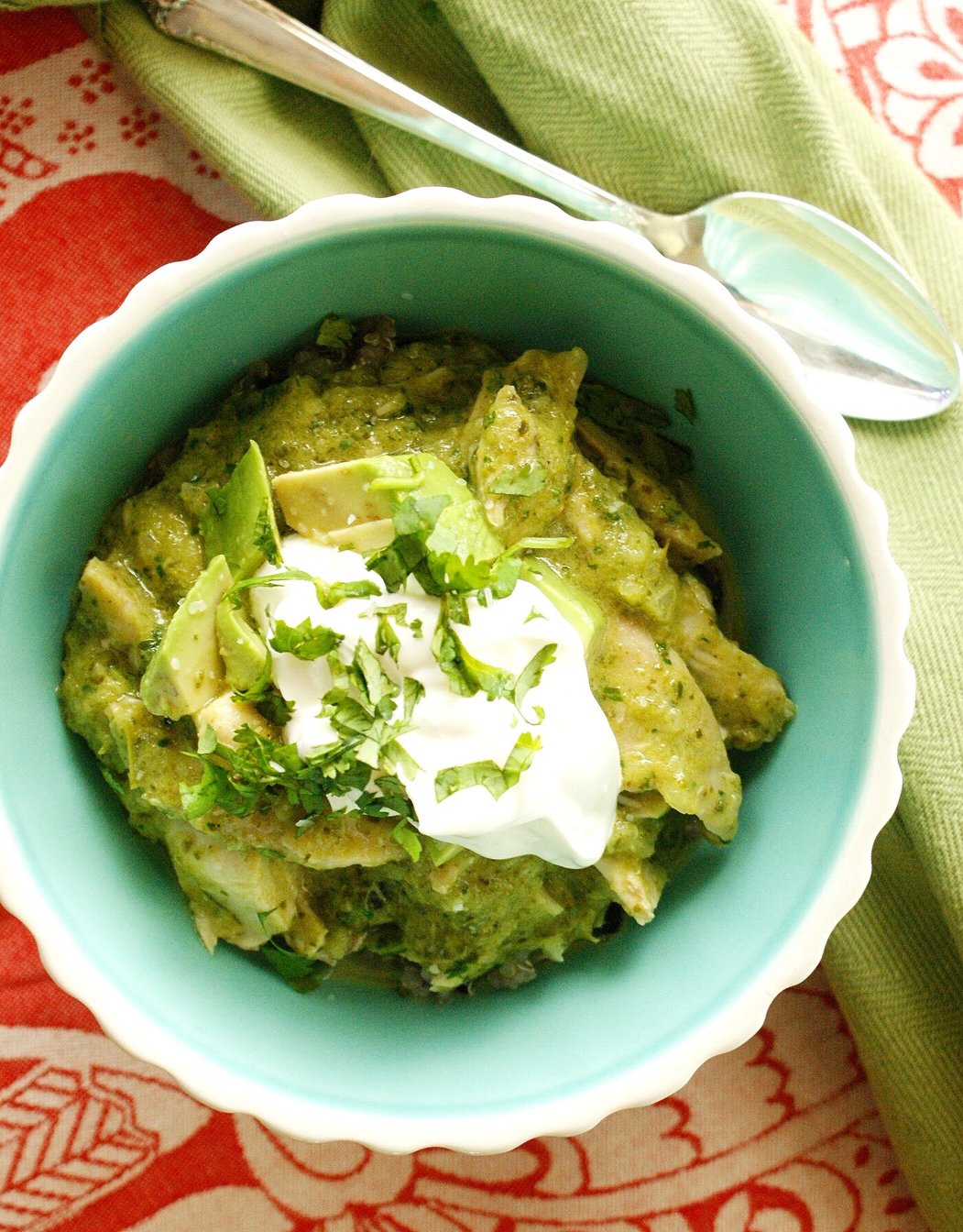 Not to be confused with a Thai Chicken bowl, this vessel of yum gets it's title from the spicy jalapeño pepper sauce that is lovin' itself up all over some perfectly roasted, cheap and easy chicken thigh goodness. Spoon this over a protein packin' helping of quinoa, black beans (or both!), plop a dollop of silky sour cream and avocado cubes on top, hit it with a smattering of fresh cilantro and you have got yourself some serious eats. It's kinda pretty too…..especially if you like the color green.
Absolutely, without a doubt, It is ALL ABOUT THIS SAUCE.
Spicy, for sure, this capsicum concoction has an almost ethereal kick that starts very delicately in the back of your throat and spreads out until your taste buds say….yes! More, please!
That's what chile peppers do, addictive little buggers that they are.
Nothing to be afraid of, this is a sublime earthy heat, with a deeply roasty undertone, so it's mellow and lovely, and just really, truly delicious.
Trust me. I like it spicy, but I want to be able to rely on my taste receptor cells forever. None of that burning yourself a new one shiz for this girl…….
The old one I am currently using works just fine, thank you very much.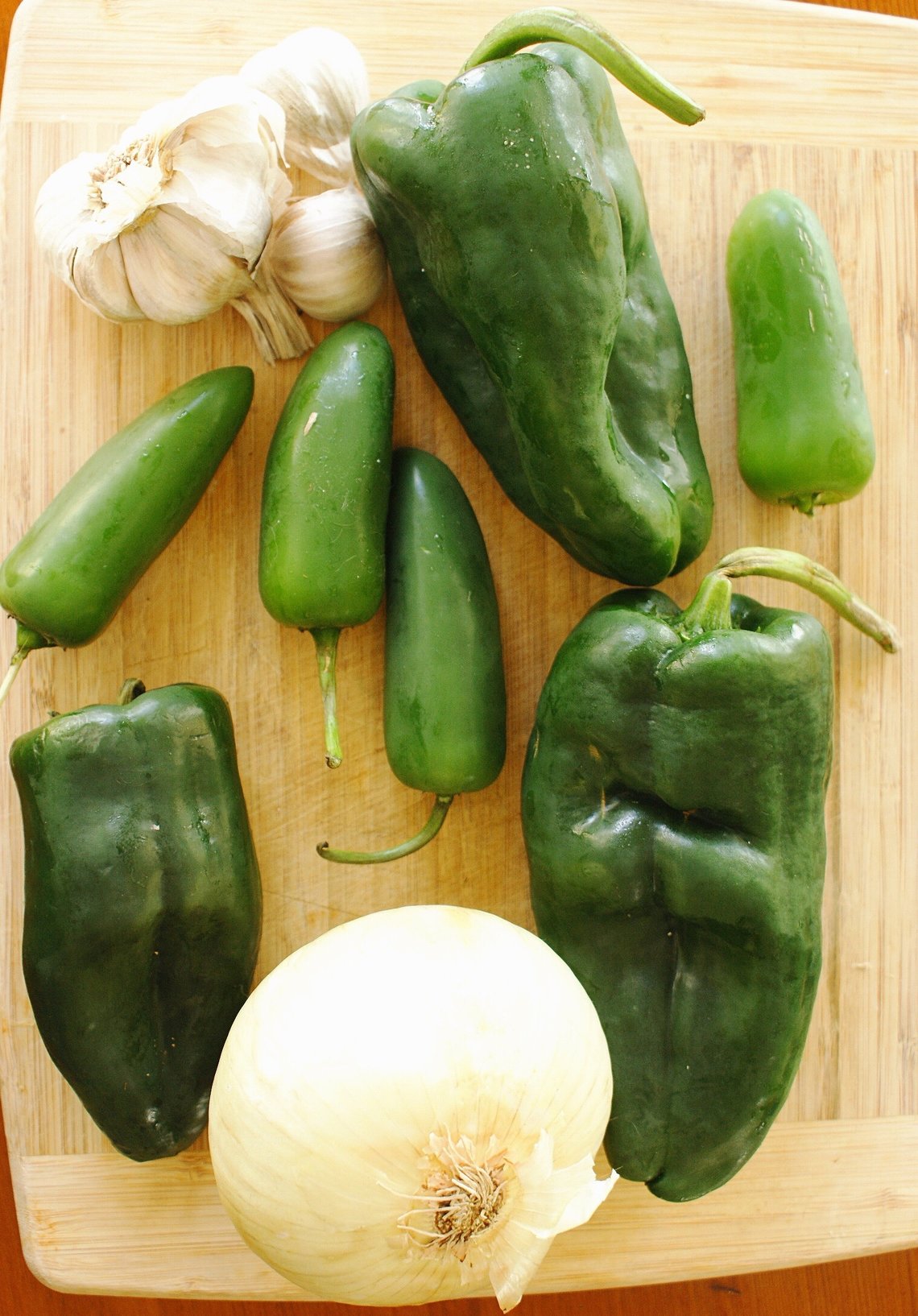 Start with 3 poblano peppers, and 3 or 4 jalapeños. You will only require half of that big ol' onion, and 3 or 4 cloves (not heads, YIKES!) of garlic. Now if simply looking at this gives you heartburn, stick with me here, and don't get nervous. Be brave! This is going to really surprise you.
Slice each pepper down the middle and scrape out the seeds and membranes. Slather everybody up with some olive oil and then lay 'em all out cut side down on a rimmed sheet pan. Don't even bother peeling the onion or garlic.
I promise you that the roasting of these mean green fire-breathing machines will chill them way out, but at this stage in the game, when they are raw, be very, very careful.
Do not, and I mean, DO NOT handle these guys and then go handle any (a'hem) sensitive body parts…..yours or anyone else's! Wear gloves if you can, or just wash your hands really well immediately after. I KNOW YOU KNOW I KNOW YOU KNOW WHAT I MEAN.
Safety first. Dinner later.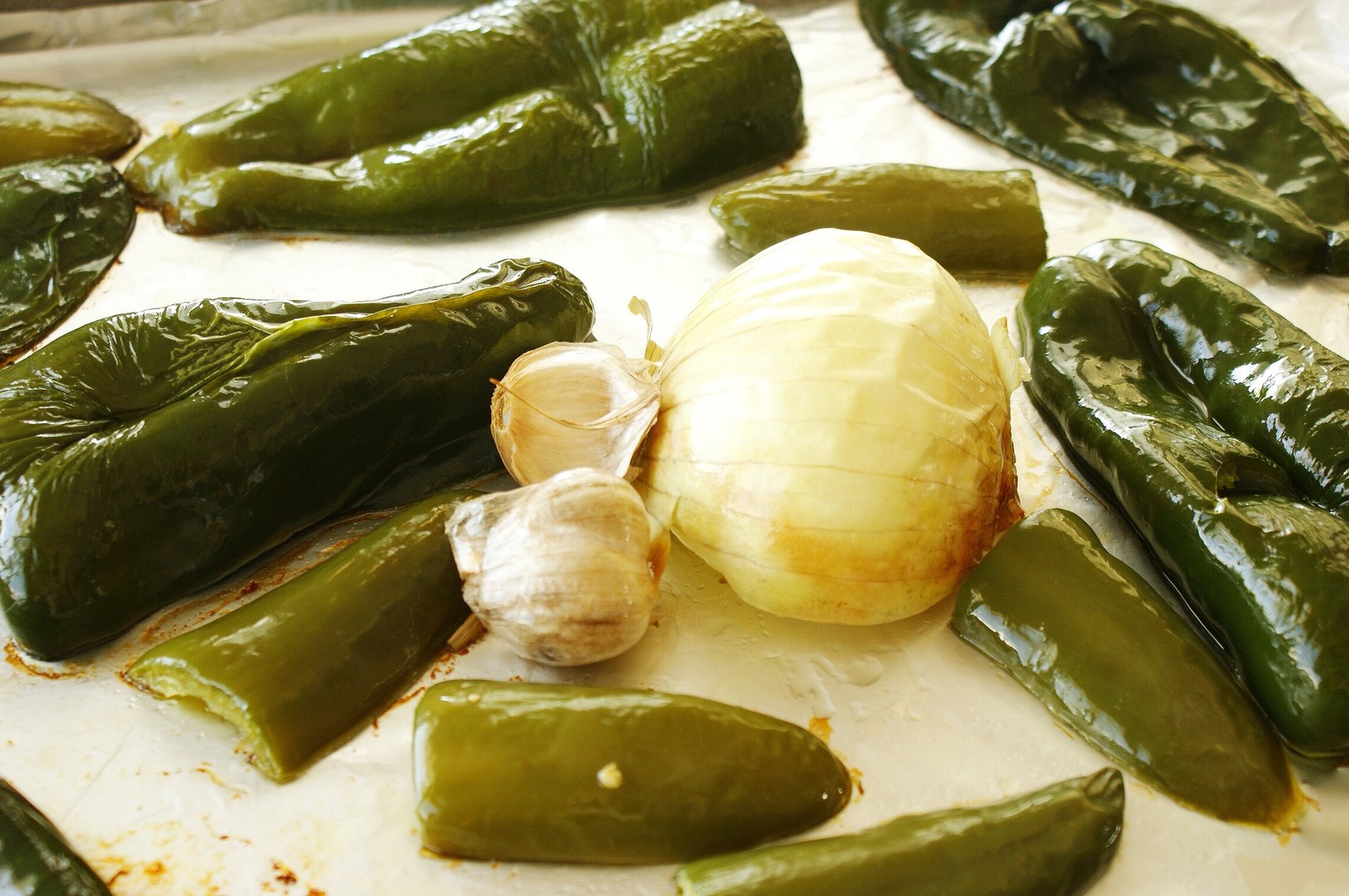 Once they come out of the oven, they will all look like they took a bit of a beat down and the color of the peppers will change from that vibrant emerald-green to a kinda dull olive bletch. This is normal.
All is well.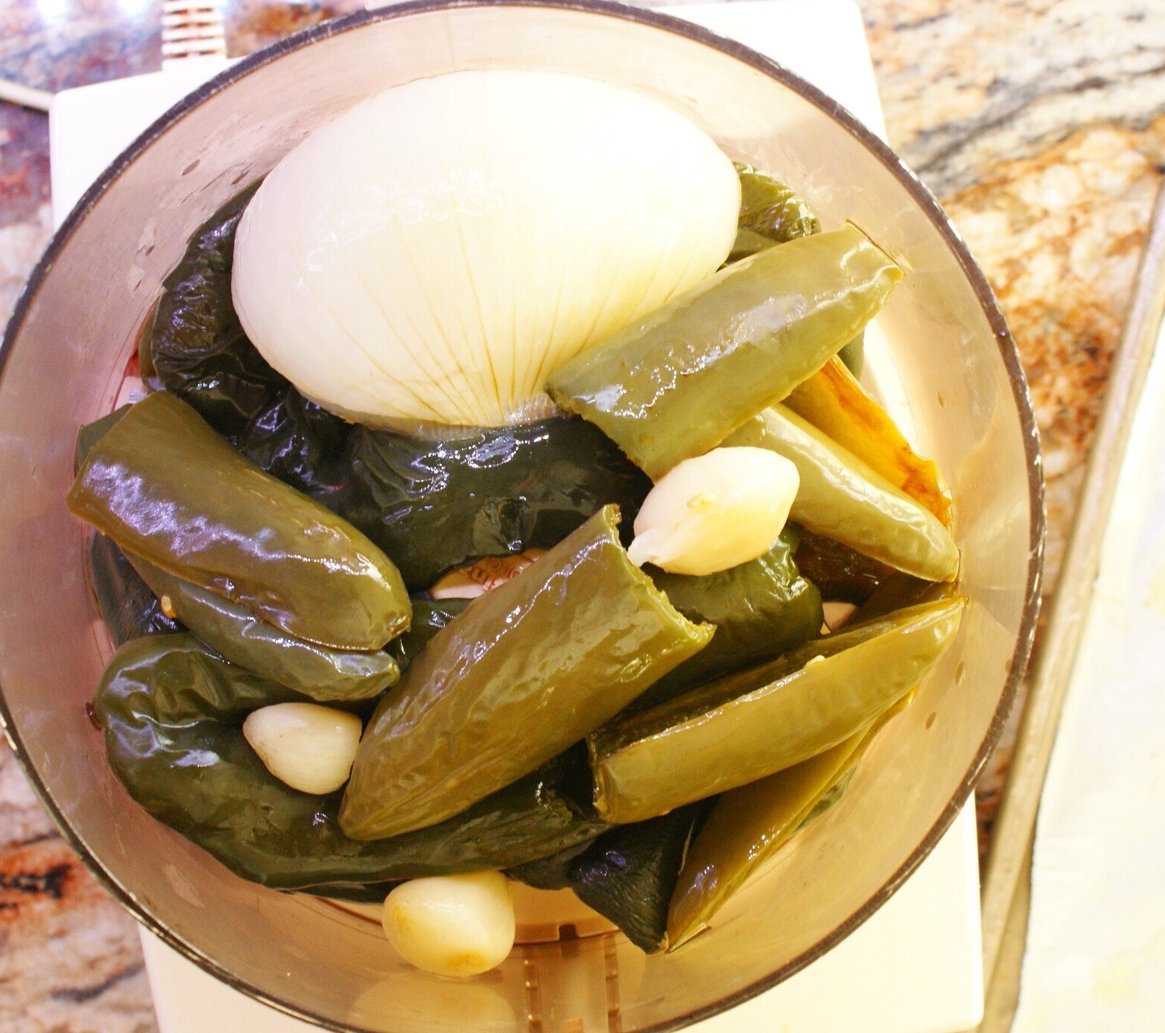 Once things cool down a tad, slice open those garlic cloves. The softened innards will squeeze right out, which is pretty neat. Make sure to get rid of the peel of that onion, and then toss everyone into your trusty food processor. Pulse, pulse, pulse a few times…..and then let her rip! You will end up with a slightly coarse paste. If you want this completely smoooooth….use a blender or a Vitamix, no problemo.
I just happen to like the texture.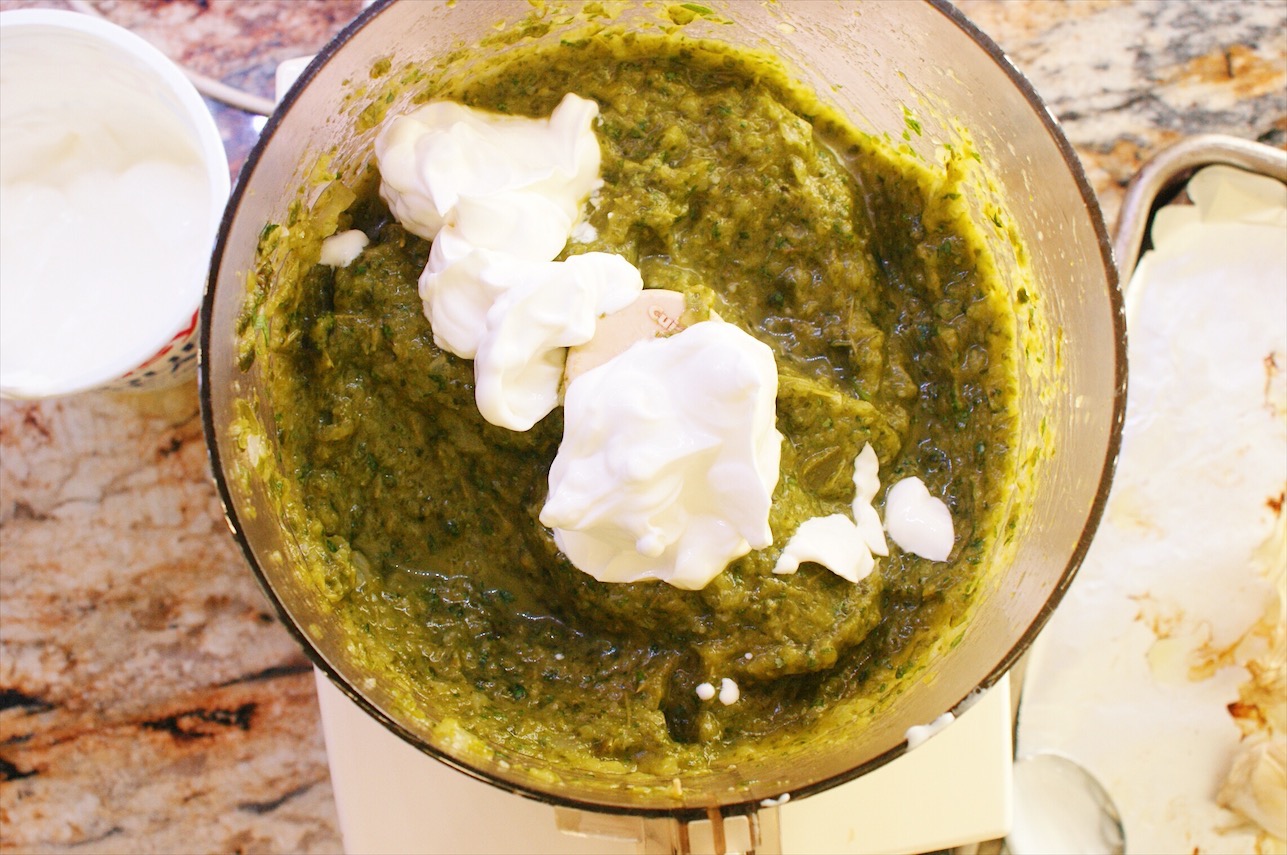 Speaking of texture, a few tablespoons of sour cream will go a long way to add a bit of a silky, creamy, tangy uuumphhhmmmm. Now, we're talking.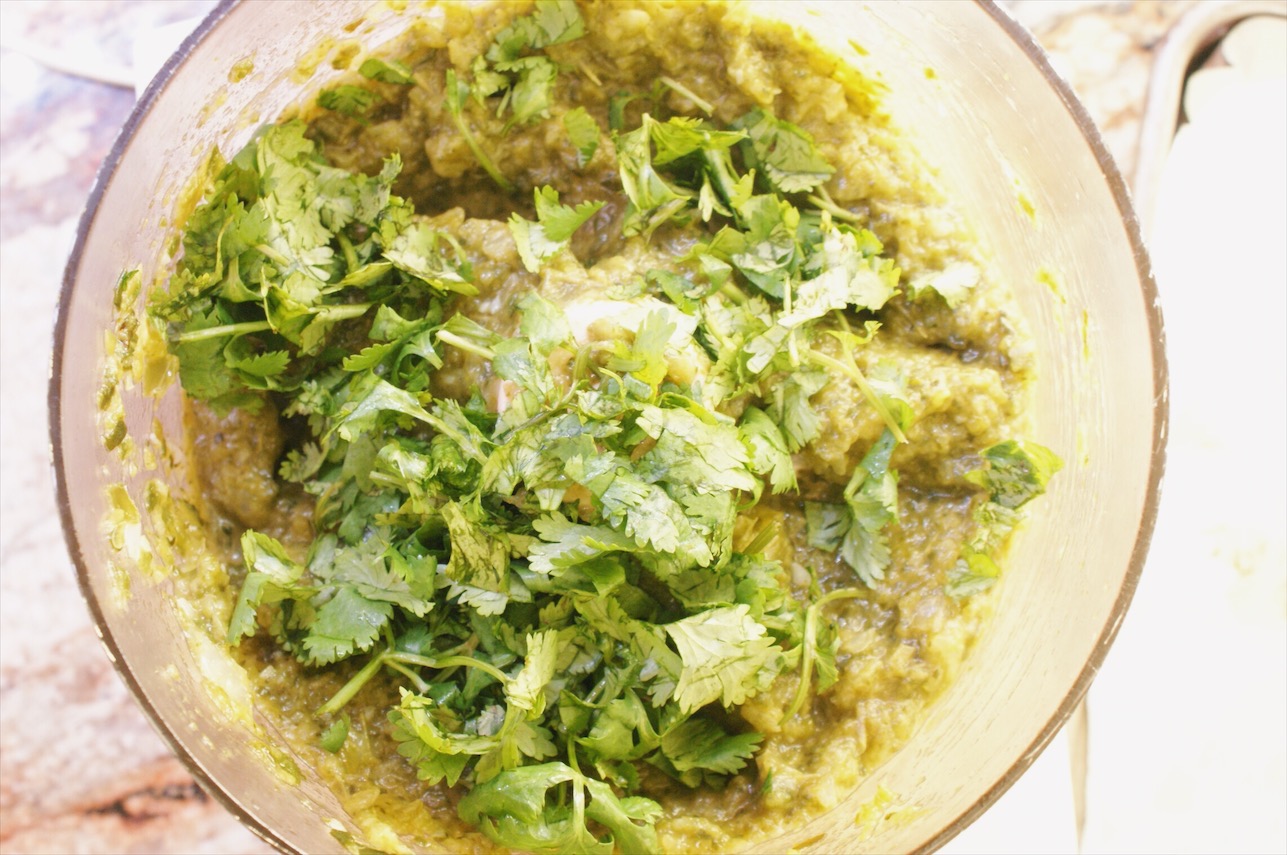 Don't forget the cilantro! (see how I just did that?I almost forgot it myself)….and chop up a little extra for garnishing, later.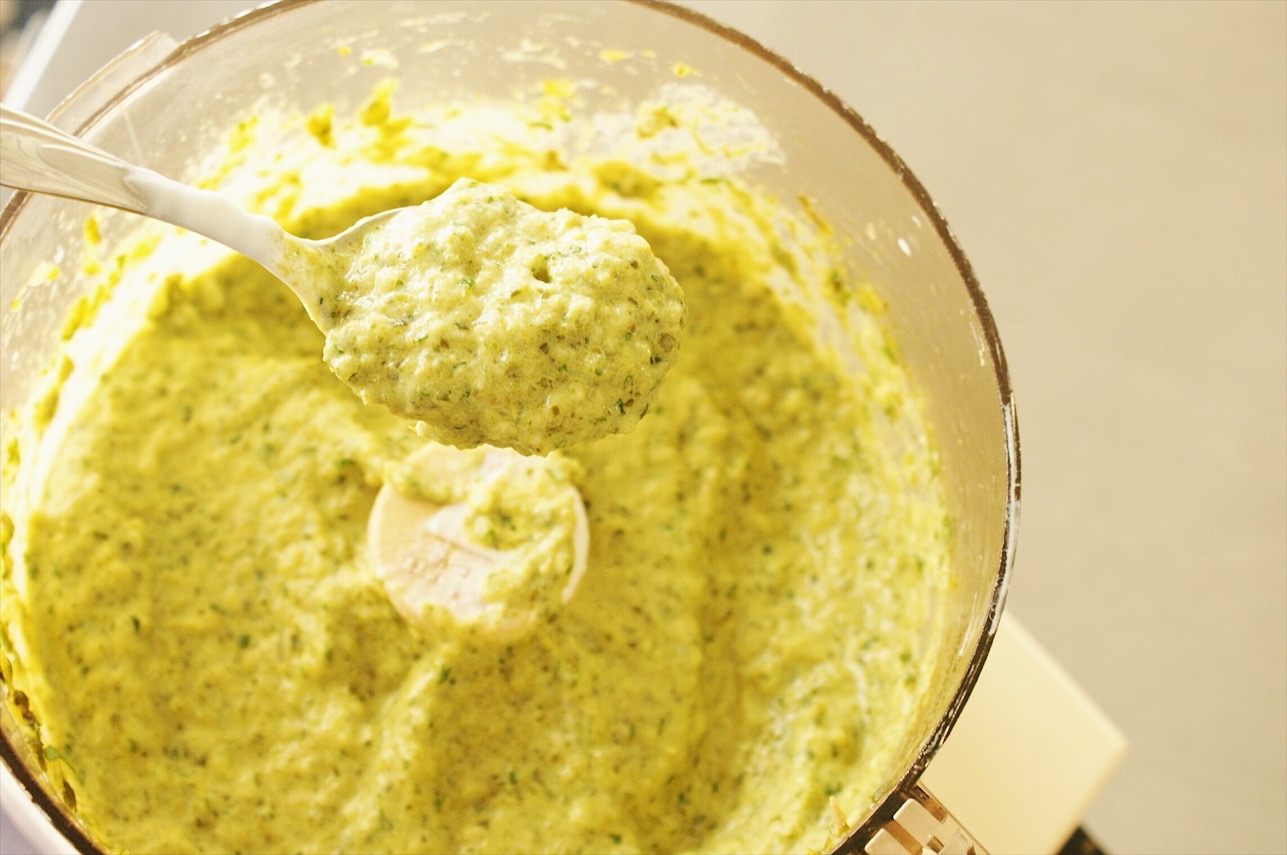 Beautiful! Taste this for seasoning (salt is your friend) and set this aside for now.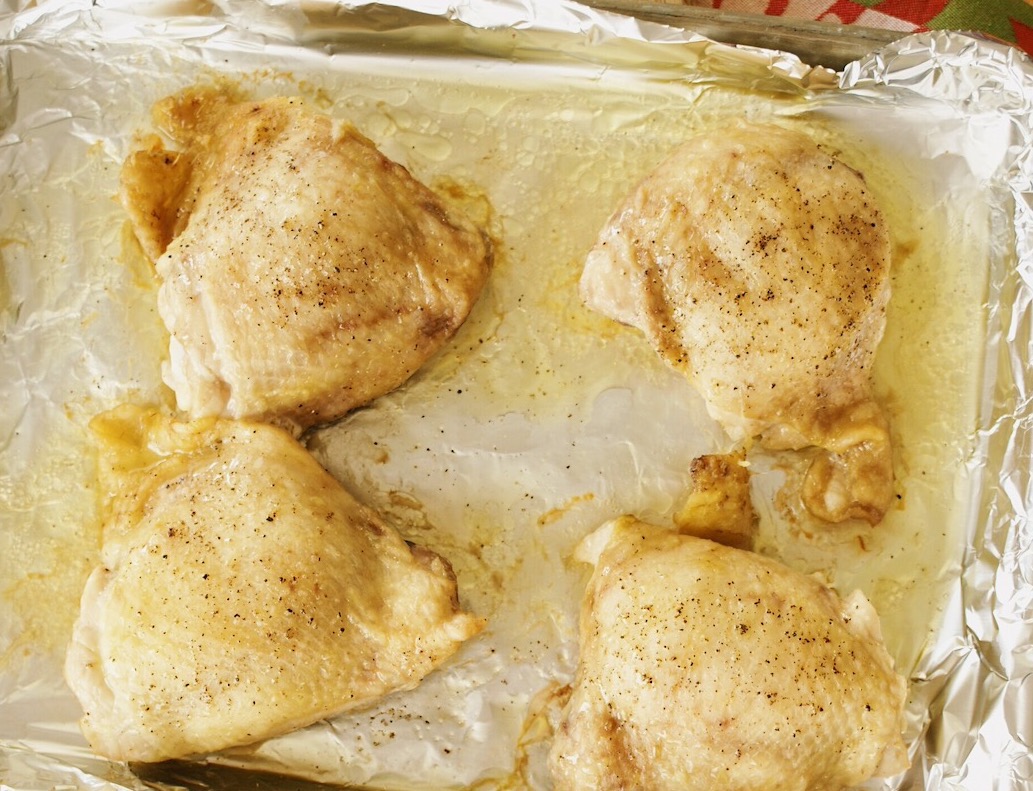 Chicken, stage left! To back track just a little, after I pulled my pack of peppers out of the oven I traded them in for a pan of chicken thighs, which I smeared with olive oil and liberally seasoned (both sides) with salt and pepper. After 40 minutes, out they came and I gave them some time to settle in and cool waaaay down. Once my hands could stand it, I discarded the skin/fat and bones and cut/partially tore those juicy thighs into bite sized chunks. Not sah fun……but worth it. Roasting the chicken with the skin keeps it moist and perfect, and that's what you want, so DO it.
Into a medium-sized sauce pan goes your chicken chunks. Make sure to tip in all of the wonderful juices that accumulated on the baking sheet, for the love of ya motha!!!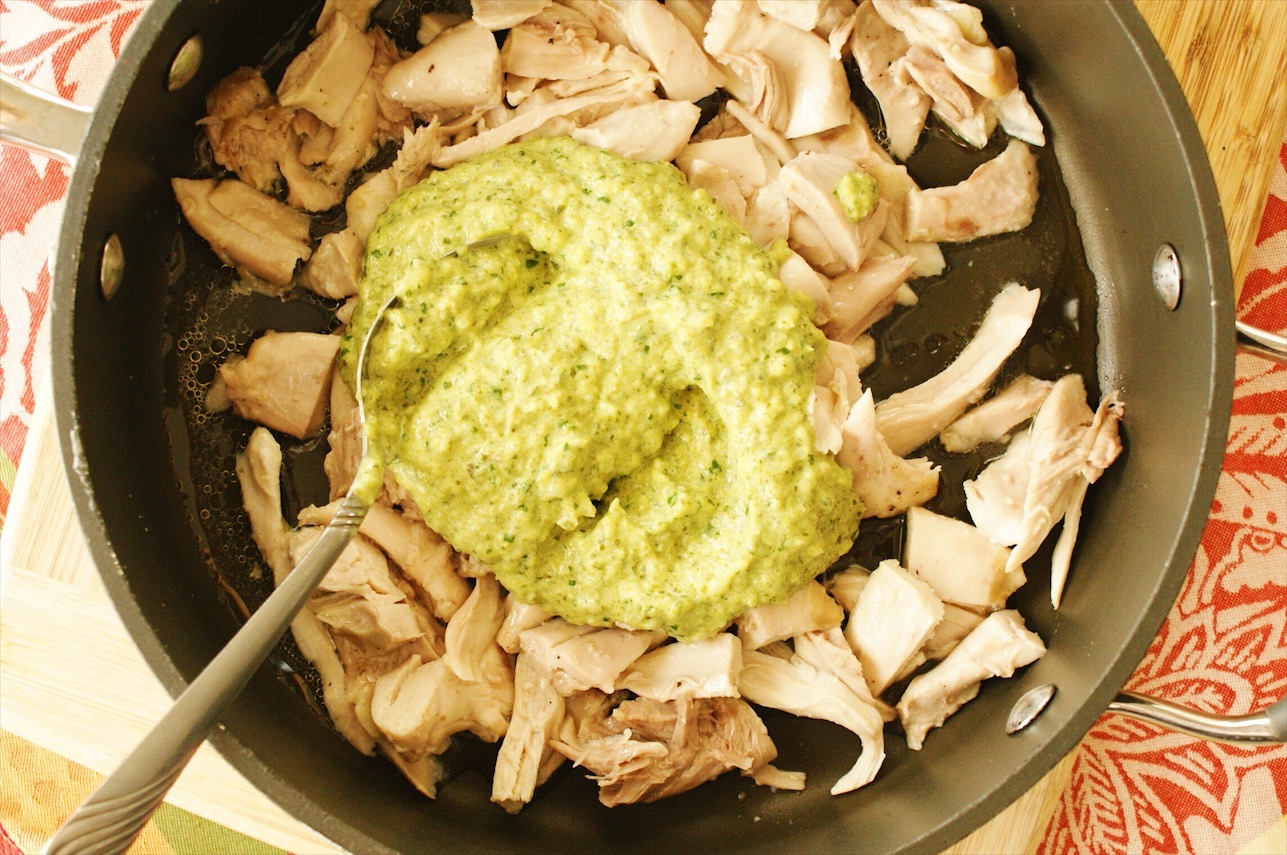 Now stir in some of that sauce. Add a bit of broth if you think it may need a little thinning out. Heat this gently to warm through. I made some quinoa and smashed in a can of black beans, which worked perfectly as a blandly starchy foil to all of this piquant peppery perfection that I plopped on top!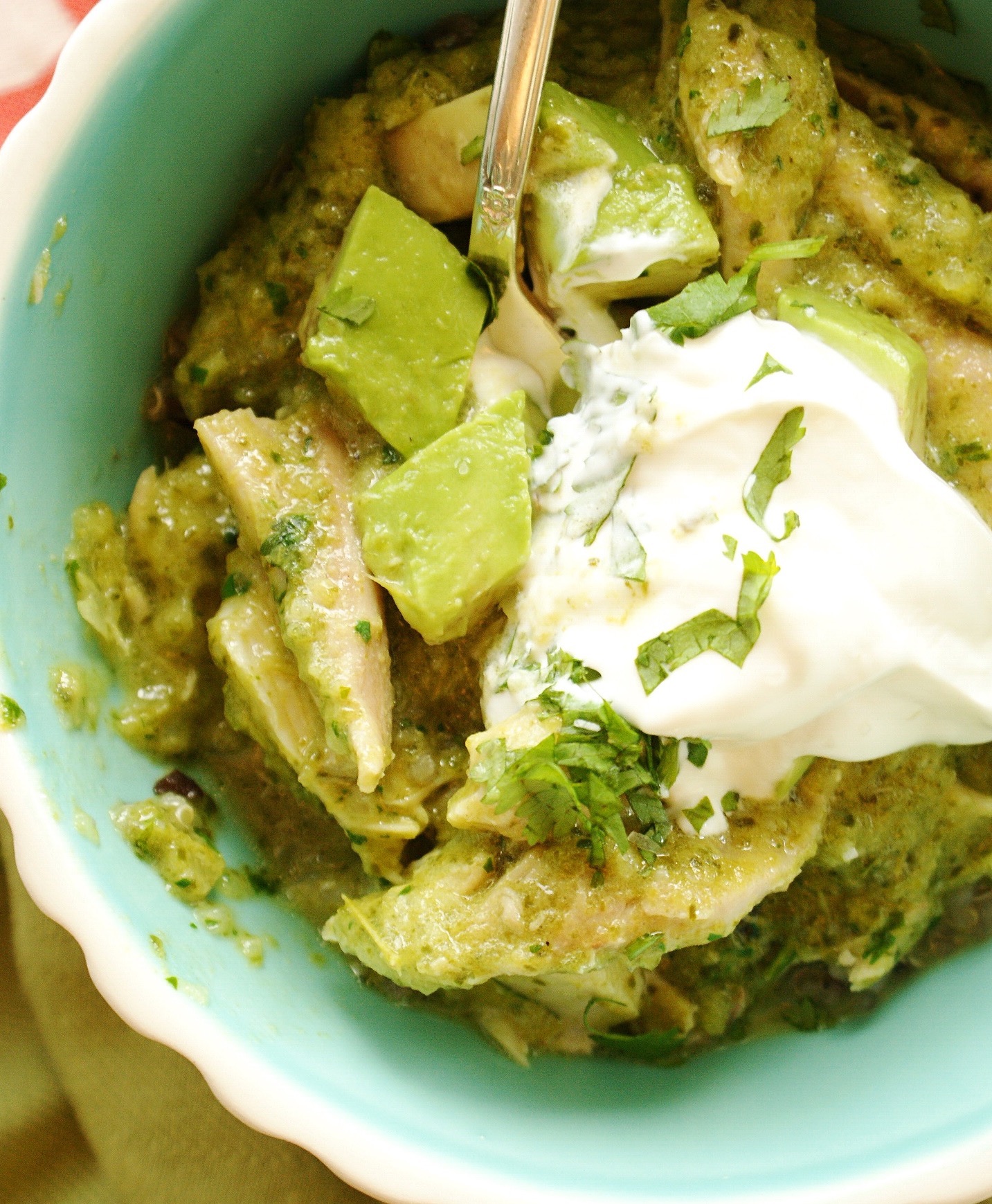 With a crowning touch of sour cream and avocado………ummmm, can we talk later?
RECIPE BELOW: Between roasting the peppers for 20 minutes and the chicken for 40, you're looking at an hour of oven work. The rest of the prep will take you 30 minutes, TOPS. This recipe serves 2 generously, but if you want to make some extra chicken go right ahead, since you will have PLENTY of the sauce. This stuff is so good on so many things! On eggs, inside wraps, over any protein, or any legume, over roasted cauliflower, or use it like you would a salsa. Cold, warm, this stuff is golden. Even if it's green.
Jalapeño Sauced Chicken Thigh Bowl
2017-03-15 19:07:15
Ingredients
FOR THE SAUCE
3 Poblano Peppers, sliced lengthwise, seeds and ribs removed
3-4 Jalapeño Peppers, sliced lengthwise, ribs and seeds removed
1/2 of a large onion, leave it unpeeled
3-4 large garlic cloves, unpeeled
olive oil
1/4 cup chicken (or veggie) broth
2 tablespoons sour cream (plus more for garnish)
1/4 cup roughly chopped fresh cilantro
Kosher Salt
Avocado, cubed
FOR THE CHICKEN
4 - 6 bone-in skin on chicken thighs
olive oil
Kosher salt and black pepper to taste
Instructions
Preheat oven to 350°.
FOR THE SAUCE
On a large rimmed foil covered sheet pan, spread out the poblanos, jalapeños, 1/2 onion and garlic cloves. Drizzle with approximately two teaspoons (or more, don't be stingy) olive oil and use your hands to smear it all over everybody, making sure all sides are coated. Arrange the peppers and onion so they are all cut side down on the sheet, make sure the garlic cloves are in the center of the pan. Place in the oven for 20 minutes, and in the meantime...
GET THE CHICKEN READY
Lay the chicken thighs out on another sheet pan, and drizzle with another teaspoon or so of olive oil. Make sure the chicken is coated with the oil on both sides, and then season liberally with salt and pepper, once again on both sides. Make sure to wash your chickeny hands!
Once you remove the roasted peppers from the oven, in goes the chicken, for 40 minutes.
ONCE THE PEPPERS ARE COOL ENOUGH TO HANDLE
Squeeze the garlic out of their papery shells and make sure to remove the onion peel. Place the roasted peppers, garlic and onion, half of the chicken broth and 1/4 teaspoon salt into a food processor and pulse a few times to get started, and then let it blitz, until you end up with a coarse paste. Add two generous tablespoons of sour cream and pulse to combine. Add cilantro to taste, leaving some out for garnish. Give this another blitz to incorporate the cilantro. Taste for seasoning. If you feel it is too thick at this point, feel free to add a touch more of broth. You should end up with just about two cups of sauce. Set this aside.
ONCE THE CHICKEN IS COOL ENOUGH TO HANDLE
Remove the meat and discard the skin and bones. Cut the chicken into bite sized pieces. Place the chicken (and the accumulated juices) into a medium sized saucepan and add a cup of the sauce, stir to combine. Add more of the sauce if you like, and if you need to, use some chicken broth to thin this out. Warm this gently over a medium heat. Refrigerate any remaining sauce that you may have, it is so delish on so many things!
TO SERVE
Combine 1 cup of cooked quinoa with one can of rinsed and drained black beans in a small saucepan. I like to use a hand held potato masher to smash up the beans just a little. Heat this through. Place approximately 1/2 cup of this into a shallow bowl, top with a generous portion of saucy chicken. Garnish with an extra dollop of sour cream, cubed avocados and a sprinkle of the reserved chopped cilantro.
Kick and Dinner http://kickanddinner.com/