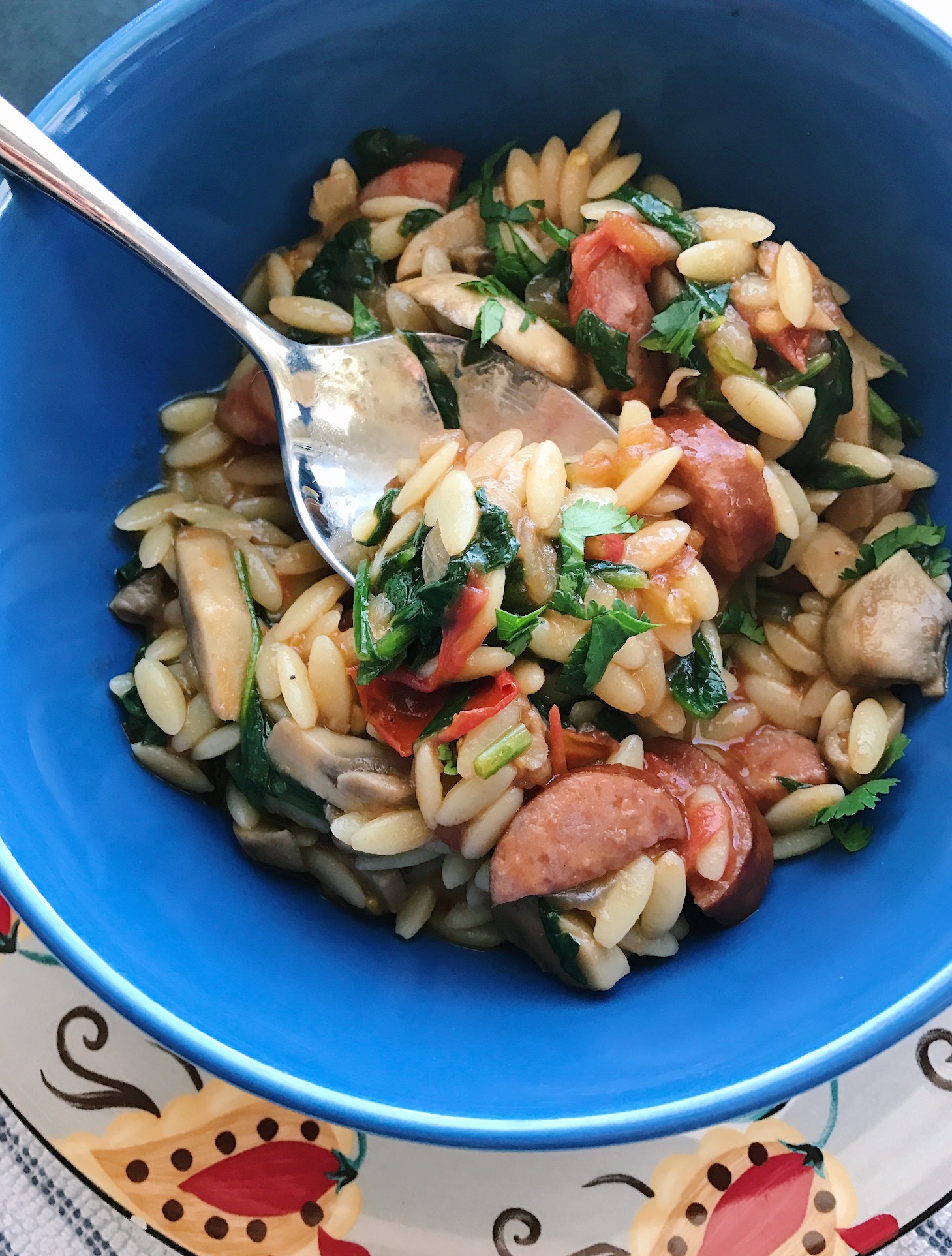 As most anyone who knows me knows, I broke up with pasta a while ago. It was ugly. There were accusations; probably some tears. And although it has been an overall positive decision (semolina flour, you know you're just no good for me) I have to admit that even after all this time…we still get together in that sneaky, culpable way.
And man, is it ever good when it happens. So easy and familiar, just like old times.
Is that so terrible?
How bad can it be when you end up hunkering down with this beautific bowl of captivatingly cozy comfort? With just a couple of kitchen staples and whatever else you may have on hand, you can go from hungry to happy with very little effort, in under thirty minutes. This is one super easy week night throw together dinner.
And there's nothing to feel guilty about there.
So. That is it.
I'm having some pasta. And don't even look at me like that.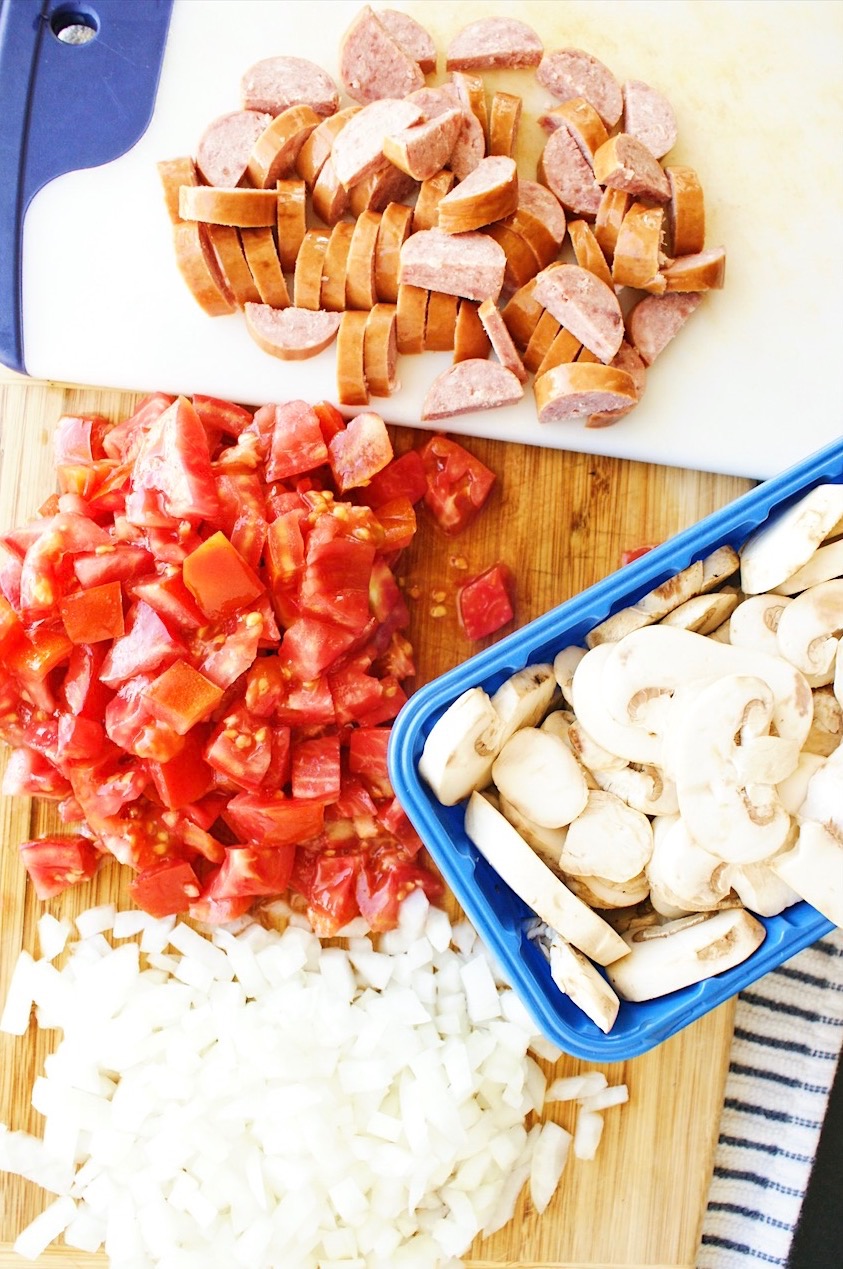 What we have here are the flavor components that will make up the majority of this big bad bowl of bounty (we want more tasty stuff, less pasta, proportionately speaking). Now you definitely MUST have the aromatics and texture provided by the onion and tomato…but wait!
Fresh out of fresh tomatoes? Use 'em fresh out of a can, why don't you?
Don't like mushrooms? Well, this is YOUR dish, so pretend I never mentioned them…..
Not really into the whole Hillshire Farm smoked sausage action? (yes, I realize the stuff is no-where close to being trendy, unless SPAM is making a come-back but it is garlicky and salty and adds a bit of smokey goodness that just does the trick for me – what can I tell you?) Use Italian sausage. Or Chorizo. Or a few slices of bacon. Double the mushrooms and leave it out entirely. It all works.
We like options here.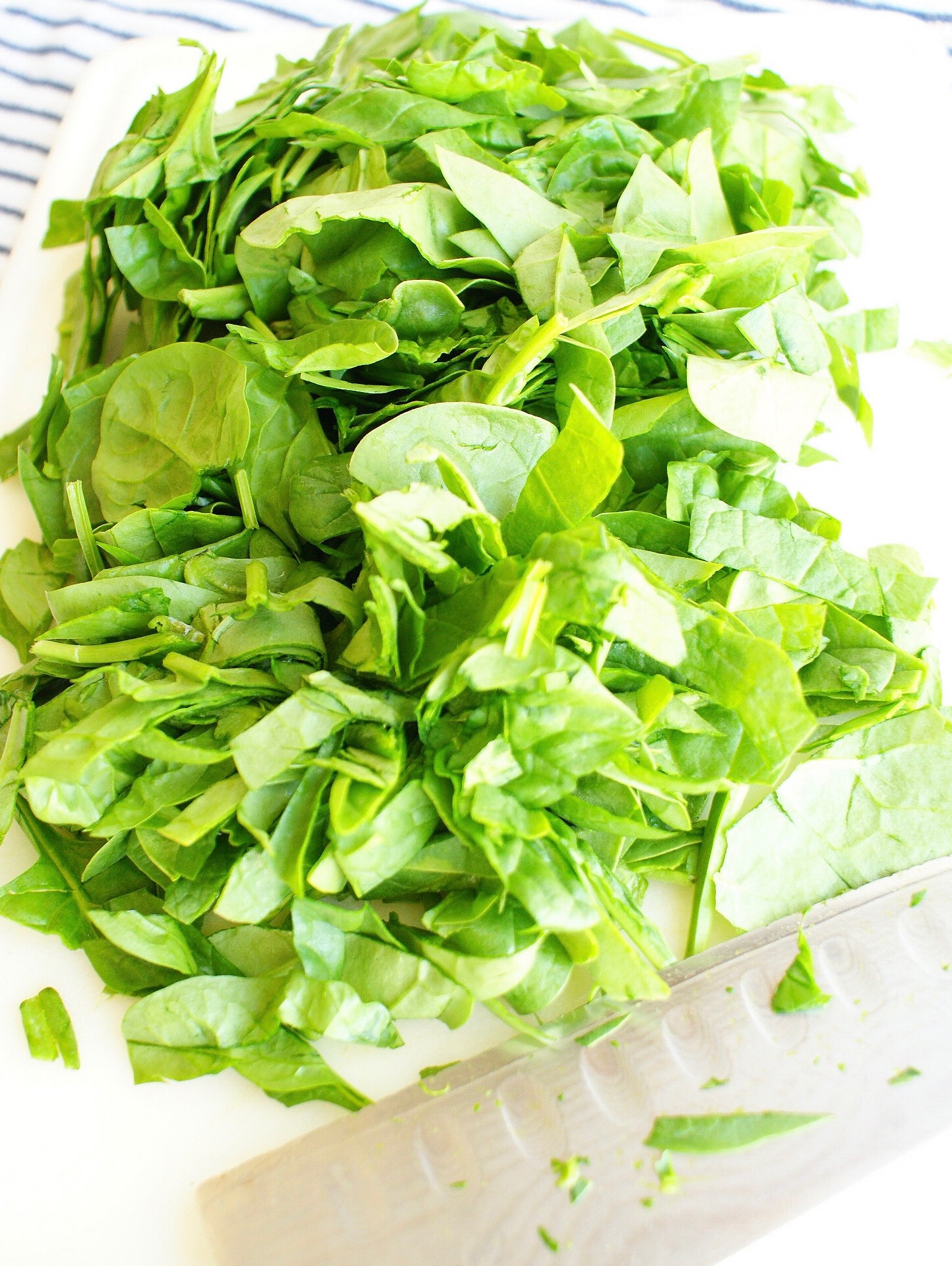 I used spinach to bulk everything up because I happen to love it. You can use kale, collard greens, even arugula or romaine lettuce. Keep in mind that more is always better when it comes to cooking greens of any sort. What looks like way too much in the beginning always wilts down to way too little in the end.
Hmmm, I could probably come up with a good metaphor for that but I think I'll just let that one pass…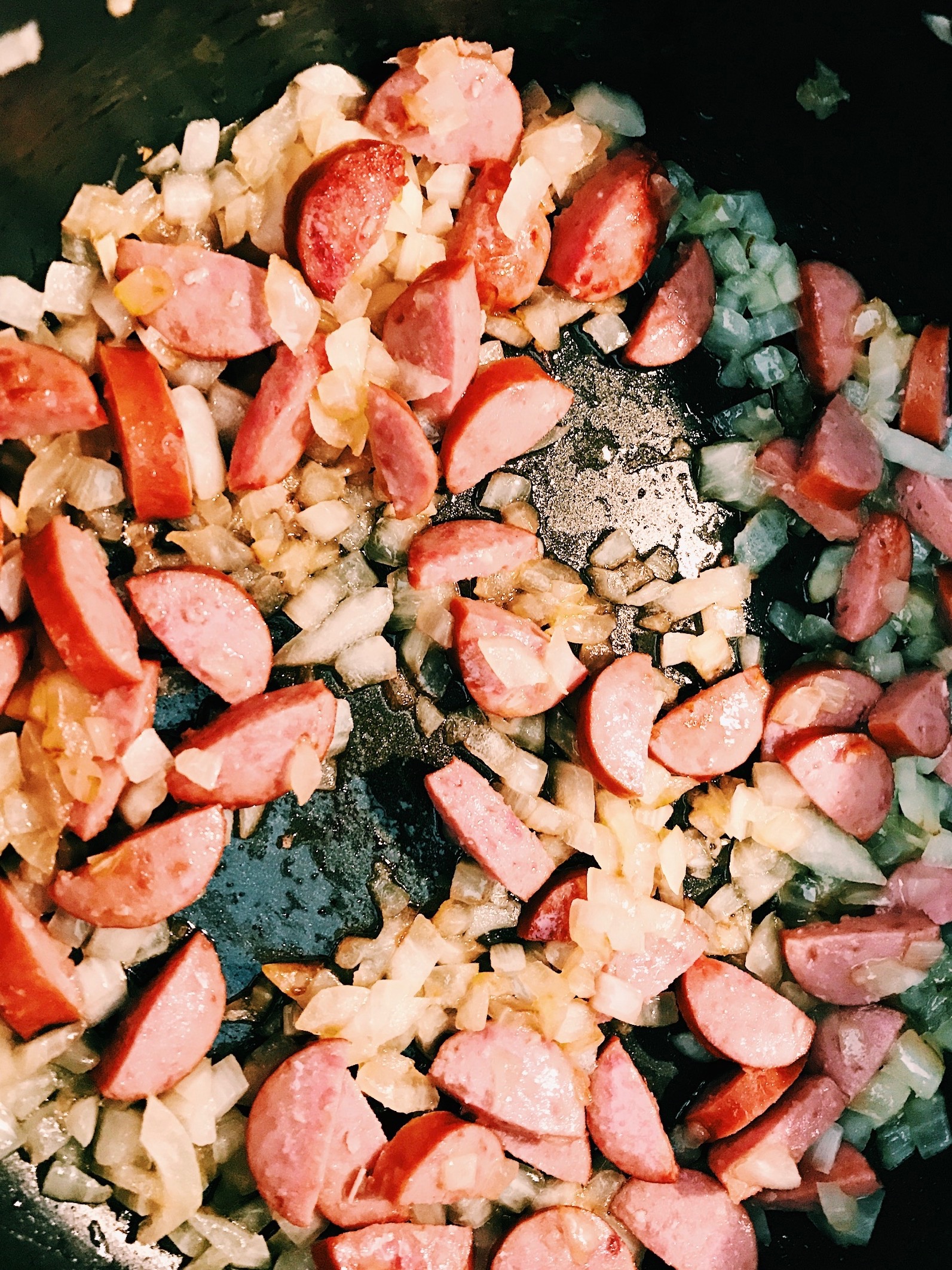 Heat a mere tablespoon of olive oil in a fairly large pot and add that diced onion and a pinch of salt over a medium high heat. Let this cook away for about five minutes and once it begins to soften up, add the sausage. This will release its own sometimes copious amounts of fat as it renders down, depending on what kind of sausage you choose. You may want to remove some of that fat by either straining everything (too much trouble but effective) or dabbing away at it with a paper towel.
I say that method gets my lazy vote!
Just don't burn yourself.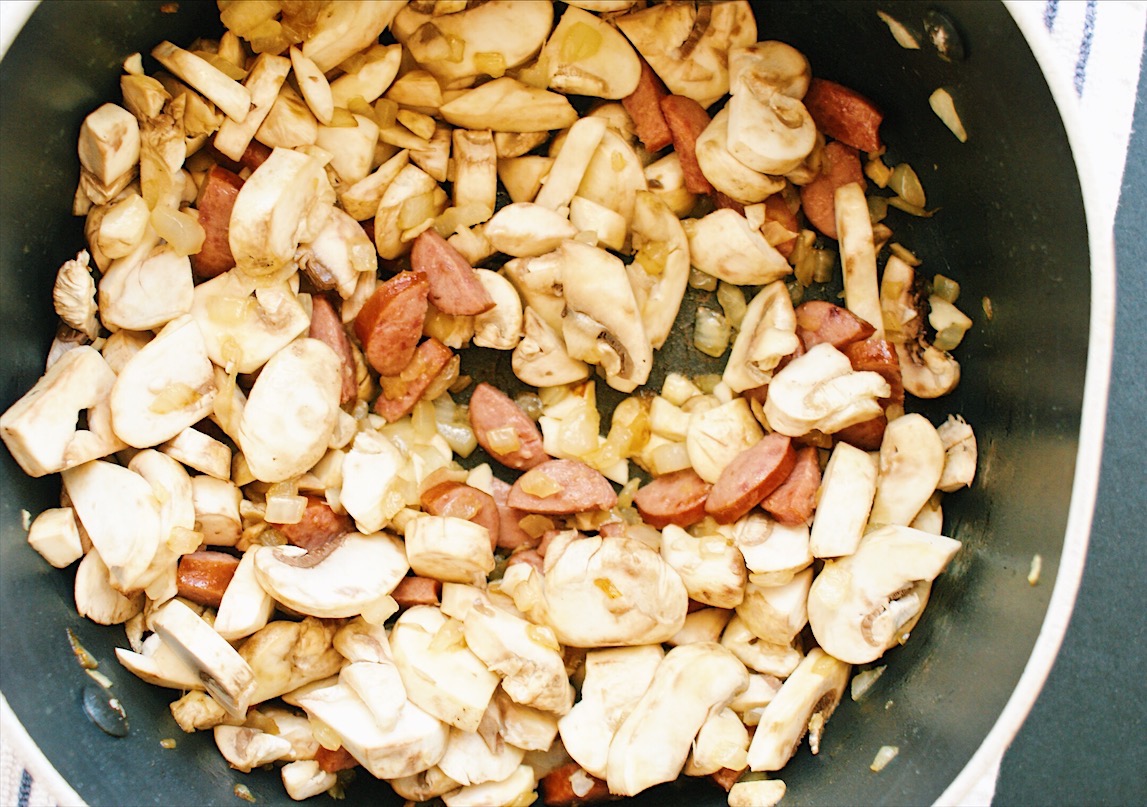 Add the mushrooms, a dash of salt and a pinch of red pepper flake for a little bit of heat. Give it a stir and let these guys do their thing, about 5-7 minutes……….next in goes the tomatoes, and spin those around another minute or so.
Now hopefully during this time, you got a medium-sized pot of water boiling. You did, right? Of course you did. Make sure to salt that water and then add 3/4 cup orzo (an itty bitty rice shaped pasta). It should take about 10 minutes to cook, just give it a stir every so often and maybe even pull one out to test. You don't want to let it get too mushy.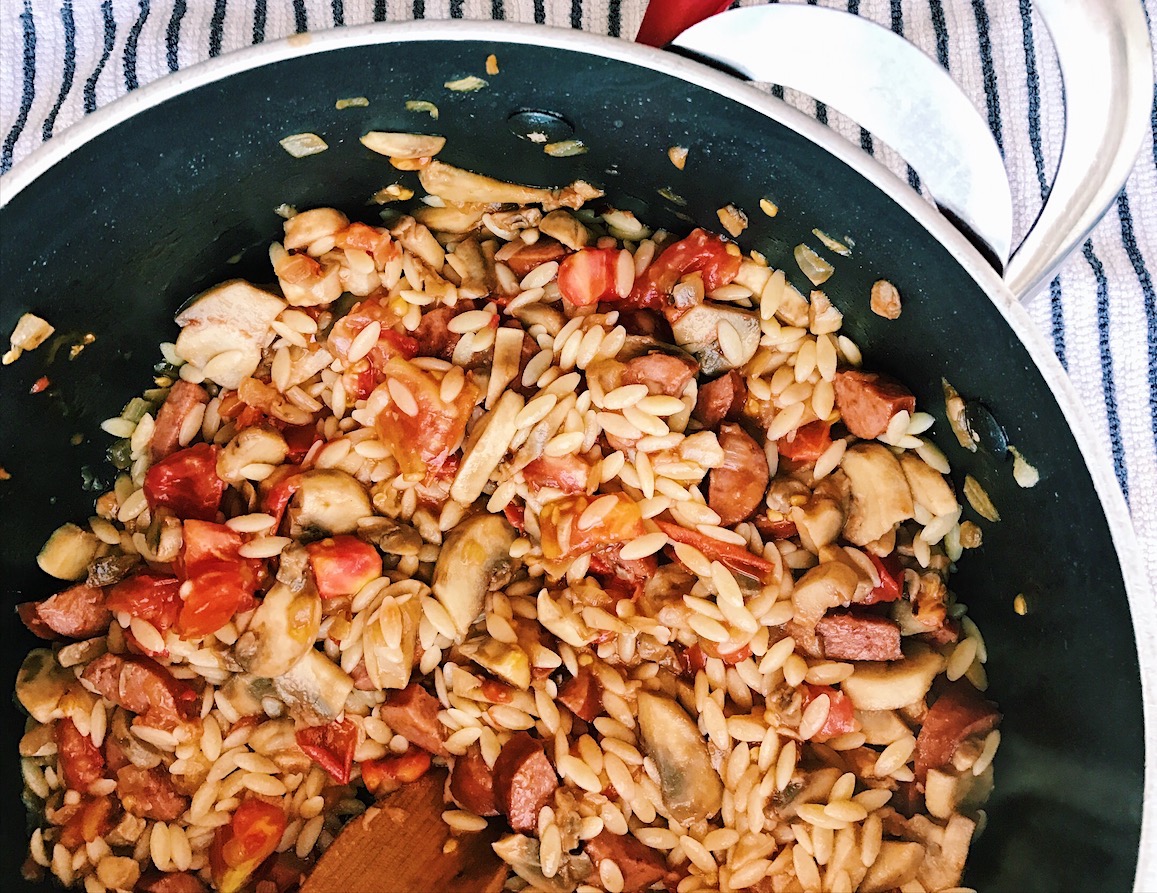 Into the pot of mushroom sausage scrumptious-ness goes the cooked orzo.
Odd but useful tip: Before you drain off your pasta, scoop out 1/2 cup or so of the starchy water it was boiling in and keep it close by. You may need to add a touch of this to the finished product to loosen up your sauce. Works like a charm.
Take the pot off the heat and dump in your greens, and give this a good stir. Delicate greens like spinach take but a minute to wilt down. If you find that everybody is still a little "stiff", add some of that cooking water you saved from the pasta. Told you it would come in handy.
Add another pinch of salt if it needs it and some fresh cracked pepper and you are ready to dish it up!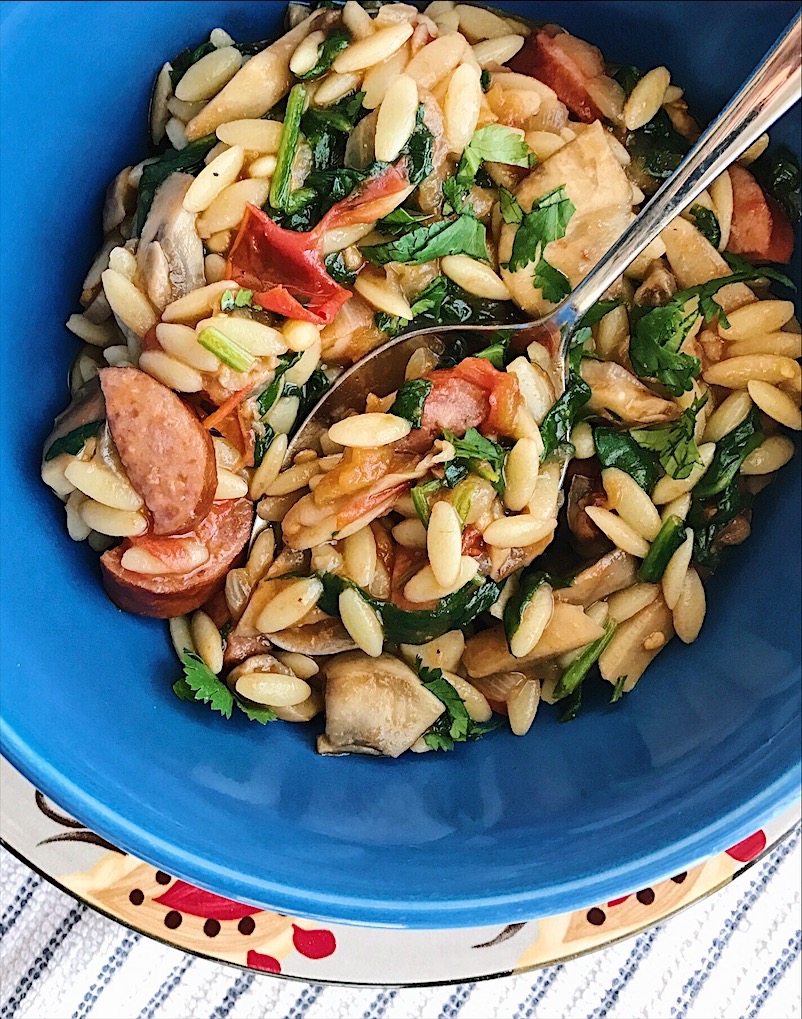 And tuck on in……..
RECIPE BELOW: This makes enough for 4 servings. If you want to go vegetarian leave out the sausage and add more mushrooms. Let them brown away along with the onions, and you will get a beautifically meaty Unami thing going on. You can get this into a bowl with your butt in front of the TV in less than thirty minutes, how's that? This is comfort style, go big or go home.
Mushroom Sausage and Orzo Comfort Bowl
2017-04-05 13:03:08
Ingredients
1 medium white or yellow onion, diced
1 12-ounce package sliced mushrooms
6 ounces (approximately half of a pre-packaged sausage) smoked sausage, like Hillshire Farms*, sliced
2-3 medium to large fresh tomatoes, chopped (or use canned tomatoes)
3-4 cups of fresh spinach leaves, roughly chopped
3/4 cup Orzo
1/2 cup leftover starchy pasta water
Olive oil
Red pepper flake to taste
Kosher salt and fresh cracked pepper to taste
Instructions
Add 1 tablespoon of olive oil to a large pot over medium high heat. Add the onions and cook for 5 minutes, or until they start to become tender and translucent.
Add the sausage, and cook another five minutes or so, until it becomes browned and begins to render its fat. If there is too much oil in the pan at this point, just tilt the pan and dip in a paper towel to help blot it up. You want some fat left.
Add the mushrooms, a pinch of salt and a pinch of red pepper flake (or more if you like it!) stir well and let the mushrooms brown up, another 5-7 minutes.
Add the chopped tomatoes, stir and cook another minute.
IN THE MEANTIME
Boil 3/4 cup of orzo in salted water until al dente, approximately ten minutes. Before draining off the pasta, scoop out about 1/2 cup of the starchy pasta water and set aside.
To Continue
Add the drained orzo into the mushroom, sausage, tomato mixture. Mix well. Remove from the heat and add the chopped spinach, stir well to allow the spinach to wilt.
If it seems too stiff, add a little of the leftover pasta water to loosen things up.
SERVE IT UP!
All you need now is a bowl and a spoon!
And your couch.
Notes
* Use two or three slices of cut up bacon if you like. Or Italian sausage, out of its casing. But not too much, you don't need a lot in this.
ROASTED GREEN CHILE IS AMAZING IN THIS TOO..........if you happen to have some on hand. Just pop it in anytime during the whole cooking process.
Kick and Dinner http://kickanddinner.com/