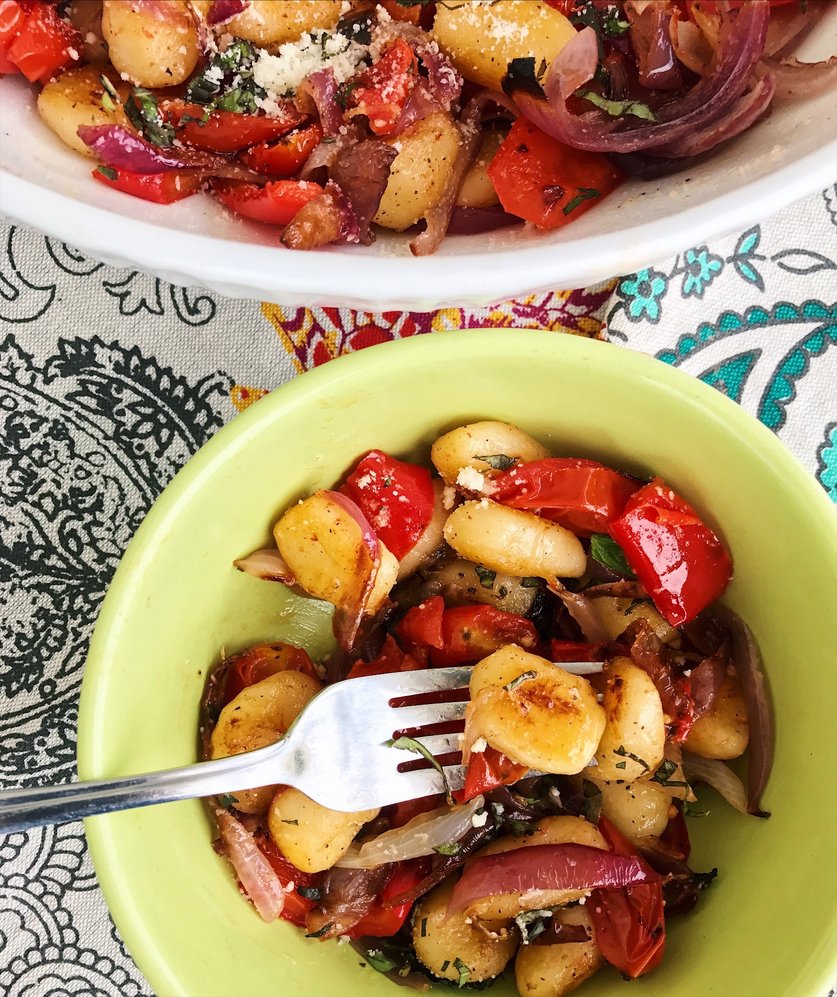 I really can't decide what is the better point to make about this one pan wonder.
That it is SO stinkin' good (and I am talking, so good you'll make a plan to serve it to company good),
or SO excruciatingly easy (in that it actually pains me to share the beauty of this genius dish).
But seriously, before you label me a drama queen, you have to know the details.
I am talking ONE bowl. Yeah, you mix it up in one bowl, roast it all on ONE pan, and then serve it up in the SAME bowl you already used that you didn't even have to wash in between! I know, right??????
Complete madness.
But there's more.
It is basically composed of five ingredients – (okay, I am leaving out salt, pepper, basil and olive oil because if I said nine ingredients it would not sound half as impressive but really? Salt? You have to give this one to me here).

It requires only the amount of prep-time YOU take to chop up a few vegetables and some herbs (what's that, five minutes? Unless you are drunk or blind or perhaps like me on any given day….a little of both. I'm just kidding…………. sorta).

All twenty-five minutes of total cook time is done IN THE OVEN. This means that with the exception of two "check and stirs" (clocking in at around a minute per), you do, quite frankly, absolutely NOTHING.

It is super fantastically delicious, and beautiful to look at, no less!
Whathewhaaaha? How does this magical mystery manifest itself into a meal?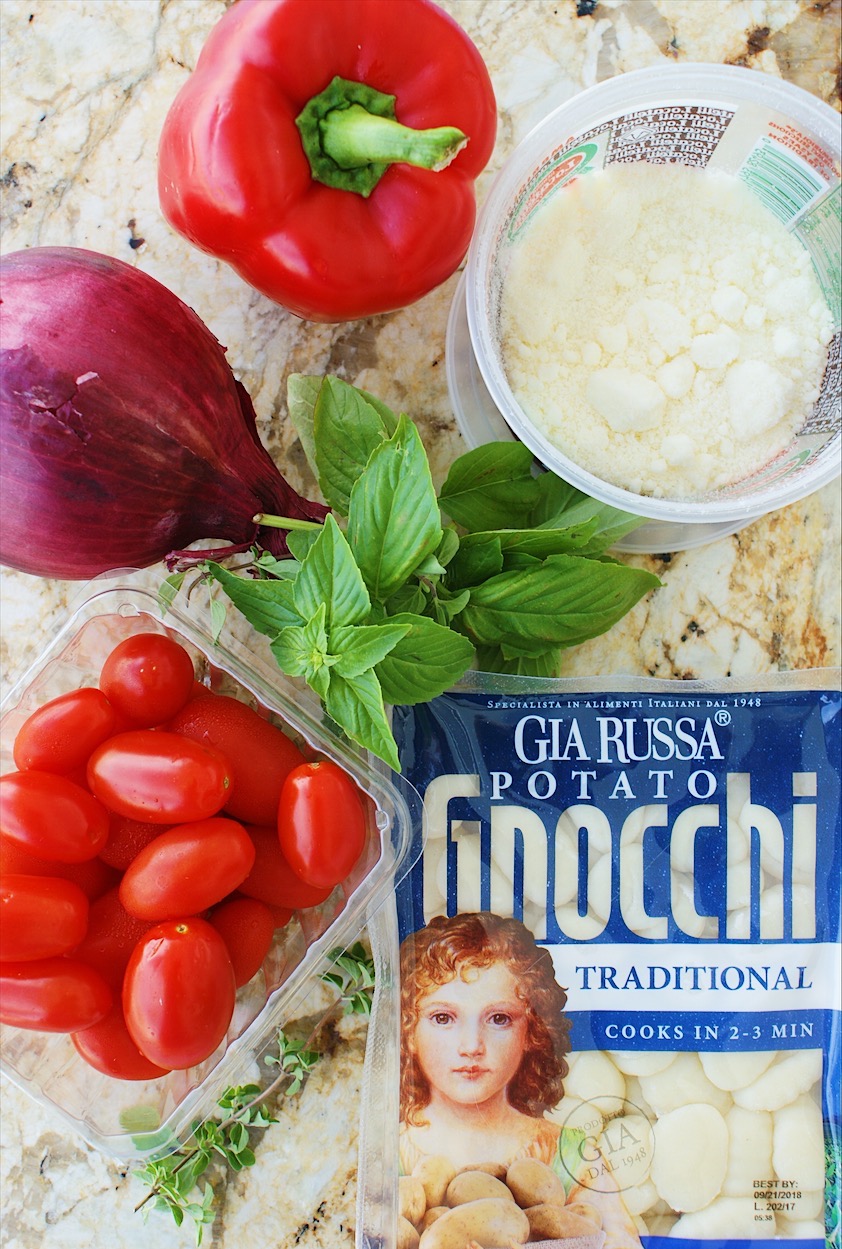 If you are not familiar, gnocchi (silent G just to confuse us, pronounced ñyoh-kee) are small, thick, soft little dumplings that are usually (not always) made from baked potato, flour and eggs. Easily procured in the pasta section of any grocery store (I hear the frozen ones at Trader Joes are NOT to be overlooked) these guys are typically boiled, drained and then sauced up in any myriad of ways. Kinda like pasta.
But not today. Today we are going to roast our gnocchi on a sheet pan in a really hot oven, liberally lubed with olive oil in the company of a bevy of beatific veggies. Everyone will get all caramelized and super concentrated in flavor, and those gnocchi will become a little crispy and almost sticky on the outside while remaining chewy and tender on the inside. So, so good.
And so crazy easy that you will be adding this to your week-night dinner rotation, STAT.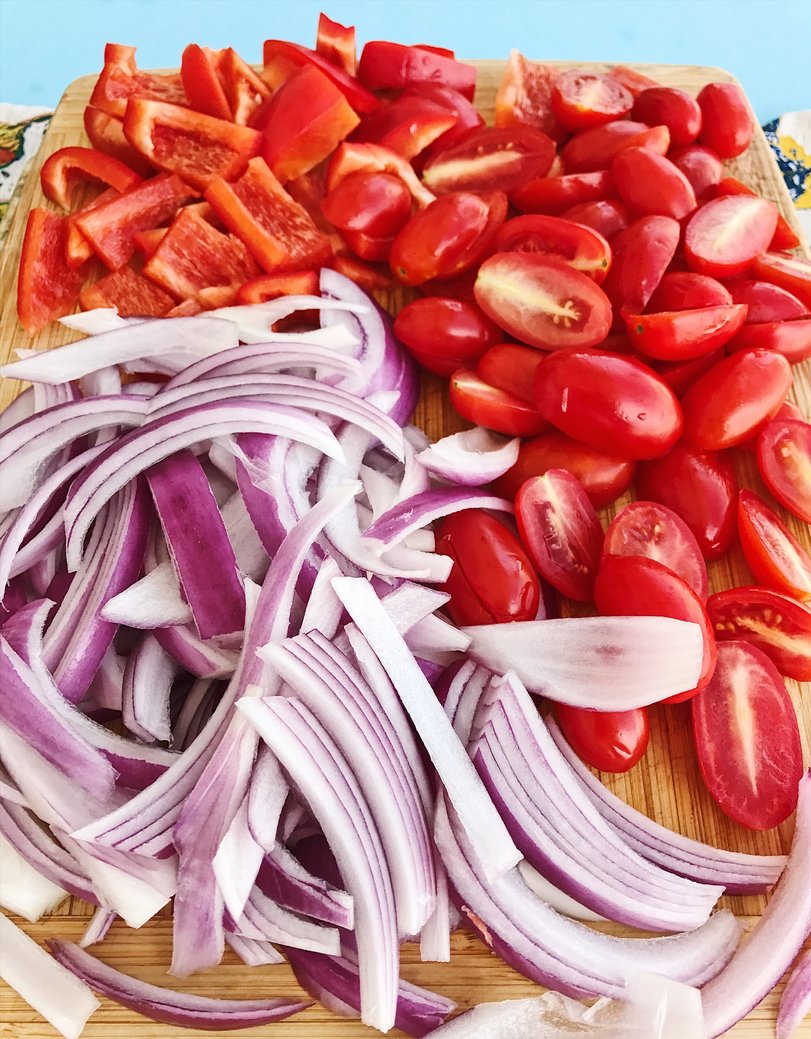 Your mission, should you choose to accept it – is to chop up one red bell pepper, and half, then quarter and slice one medium red onion. You'll need a pint of grape tomatoes….mine were pretty gargantuan so I sliced most of those in half as well….but I'll leave that up to you, keep them whole if you want to.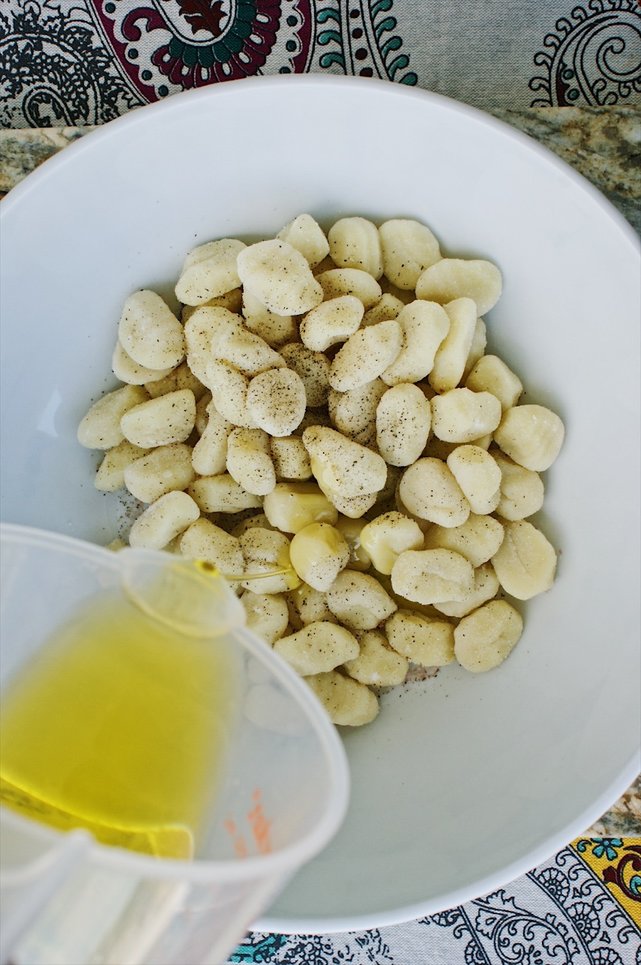 Pop open your package of gnocchi and throw them into a bowl. Scatter over a pinch of salt and some ground black pepper, drizzle over some of your olive oil, and then get in there with your hands and love it all up. I have made this dish enough times to know that the key to these guys getting all crispy (and NOT sticking to the pan) is a liberal lube of oil, so that means getting them into a bowl and giving everybody a good rub down.
They will thank you for it later. In their own way.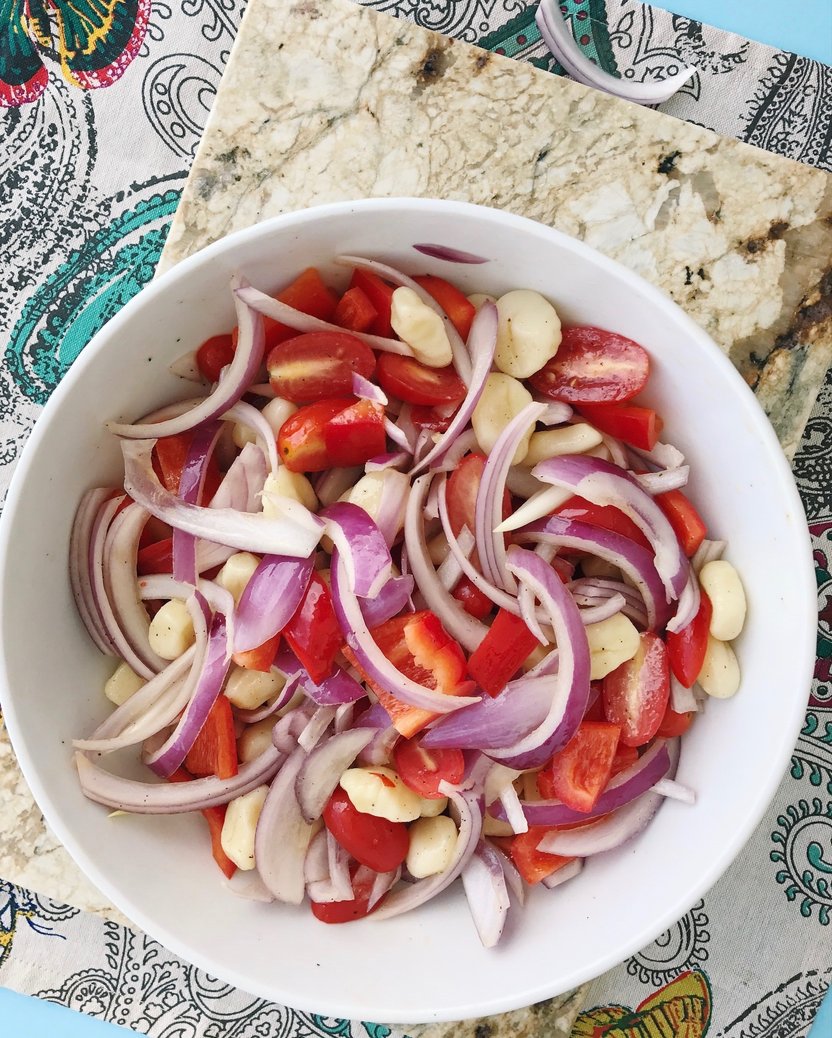 Keep the party going by adding the onion, tomatoes and peppers to the bowl, maybe in batches to make your life easier (prevents fallout messiness), and get all the veggies nice and slick as well.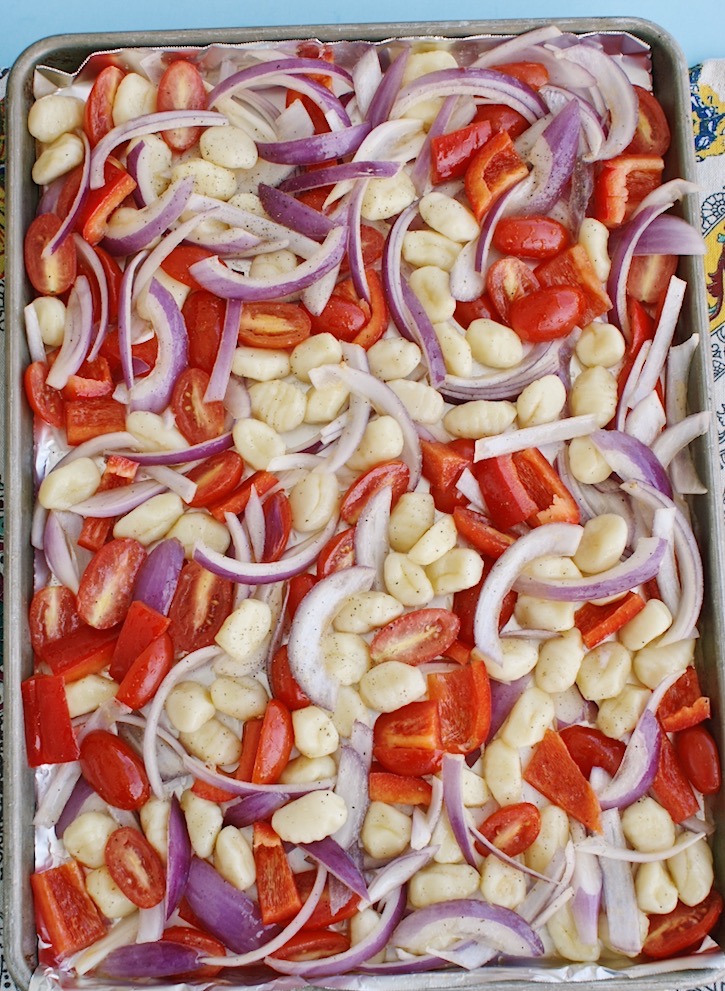 Dump it all out onto a large sheet pan that you have lined with foil, preferably the non-stick variety. Make sure everyone is in as much of an even layer as you can get this arranged and then into a pre-heated 450° oven she goes.
Let this roast for 10 minutes, and once your timer goes off get on in there and give everyone a toss-around flip.
BUT BE CAREFUL. This is one hot oven you'll be dealing with and you DO NOT want to sear off your eyelashes in the process, so watch that pretty face of yours.
Back into the oven for another 10 minutes. Once more, give 'em a cautious stir and back into that oven, this time for just 5 minutes, or until the tomatoes are slumpy, and everyone else is looking toasty and beautiful and slightly bronzed like this: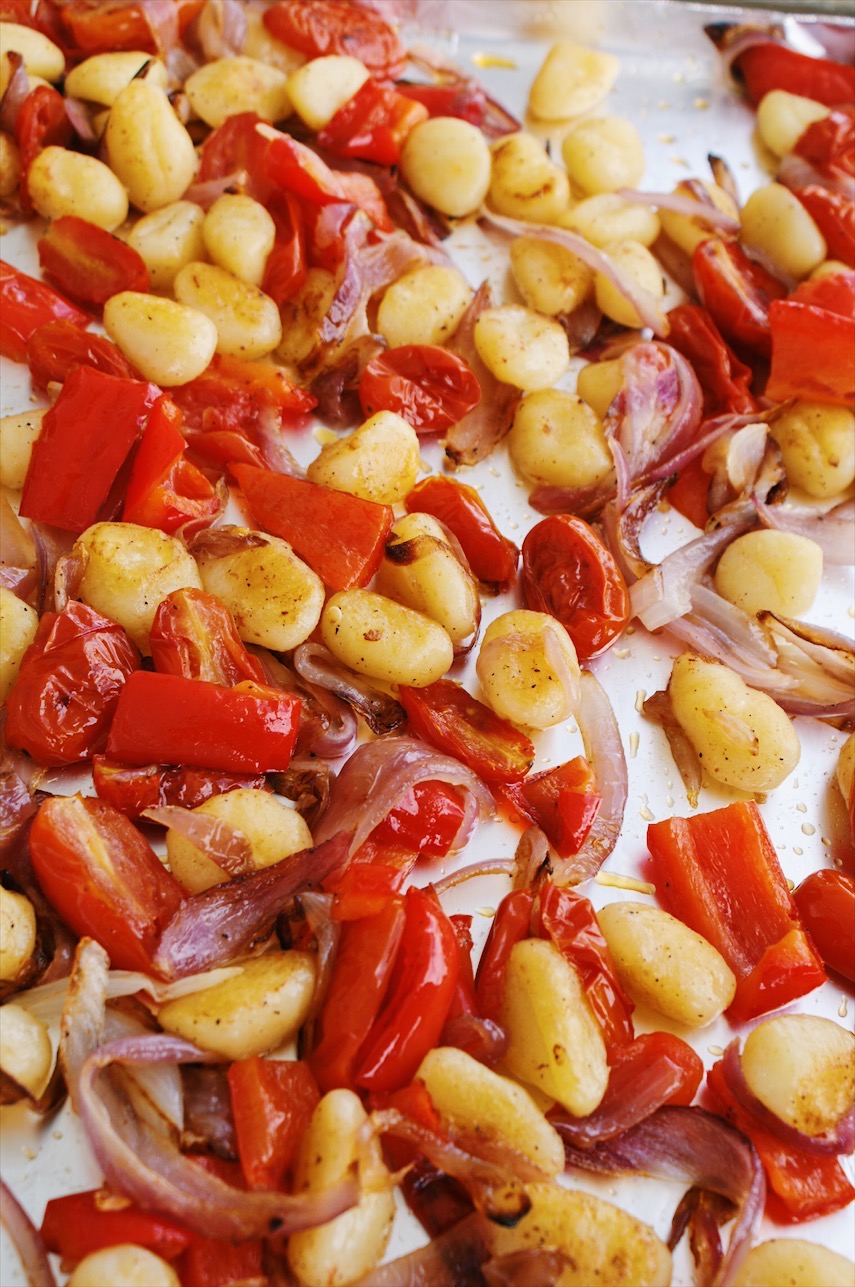 Tah Dah!!!!!!! Now schlep all of this goodness right back into the bowl you used to oil everything up in the first place (what, you think you might catch salmonella from some raw gnocchi? Yeah, no, you won't) and give it all a scattering of chopped fresh basil and a sprinkle of finely grated parmesan or Romano (Asiago works too, whatever you may have on hand) cheese.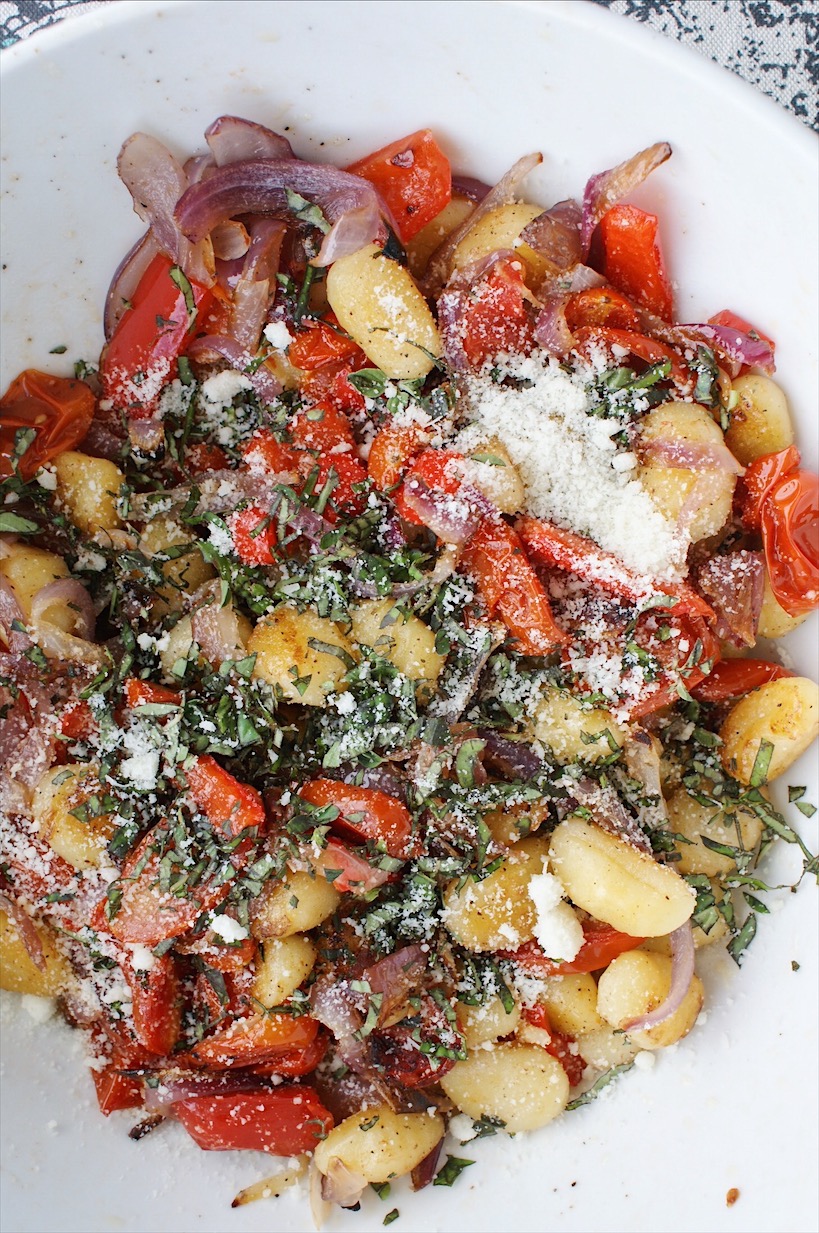 And that's it! You're done! Is this insanely GAH-geous or what?
And Ka-RAZY quick to get on the table. Pretty much delish all out there on its own (no need for bread or salad or any of that fussy stuff), just schloop it up into a bowl and call it dinner magic.
RECIPE BELOW: Oh how I wish I could take credit for the brilliance that is this pan of perfection, but I have to give all the credit to Sheela Prakash at thekitchn.com, where I snagged and very slightly adapted this recipe. This will take you 10 minutes to throw together, and with another 25 of mostly in the oven time, faster than take out!!! Serves two (possibly 3, I think I am just a pig) easily, and can be halved or doubled or messed with all sorts of ways, to suit your taste. Leftovers are awesome…….but only after you apply some heat so if you are a cold food straight out of the fridge type of person (ug, like cold pizza? horrible) I can't take any responsibility!
One Pan Crispy Gnocchi with Onion, Tomatoes and Bell Pepper
2017-10-11 13:59:18
Ingredients
1 pound fresh, shelf-stable gnocchi (frozen is great too)
1 red (or yellow) bell pepper, cut into chunks
1 pint grape (or cherry) tomatoes (sliced in half ONLY if they happen to be HUGE)
1 medium (or half a BIG one) red onion, halved, quartered and sliced
2 tablespoons up to 1/4cup olive oil
Salt and freshly ground black pepper to taste
2 tablespoons (approximate here! don't go measuring out herbage!) chopped fresh basil
Finely grated Romano or Parmesan cheese for serving
Instructions
Preheat your oven to 450° and line a large rimmed sheet pan with foil, preferably non-stick.
Place the gnocchi into a medium sized bowl and drizzle with oil, starting with two tablespoons. Add a pinch of salt and a few grinds of black pepper. Using your hands, gently combine and smear the gnocchi thoroughly with the oil, making sure nothing is sticking together. Add in the onion, pepper and tomatoes, and continue to gently combine, making sure everyone is well coated with oil. You may need to drizzle in a little extra here as you go.
Spread the gnocchi/veggie mixture out evenly onto your prepared pan.
Roast for 10 minutes, and then give everyone a stir. Be careful because the oven will be HOT! Place gnocchi back into the oven and roast for an additional 10 minutes. Give the pan another stir, and then back into the oven for a final 5 minutes, 20 -25 minutes total, depending on your oven. The gnocchi should look crispy and golden on the outside, and the tomatoes will become all slumped and juicy, creating a little bit of "sauce" for the whole she-bang.
Turn the gnocchi into a serving bowl (I used the same one I started with) and sprinkle over the fresh basil and two teaspoons of grated cheese. Serve up in individual bowls, and pass the cheese if you want a little extra!
Adapted from Sheela Prakash at thekitchn.com
Kick and Dinner http://kickanddinner.com/