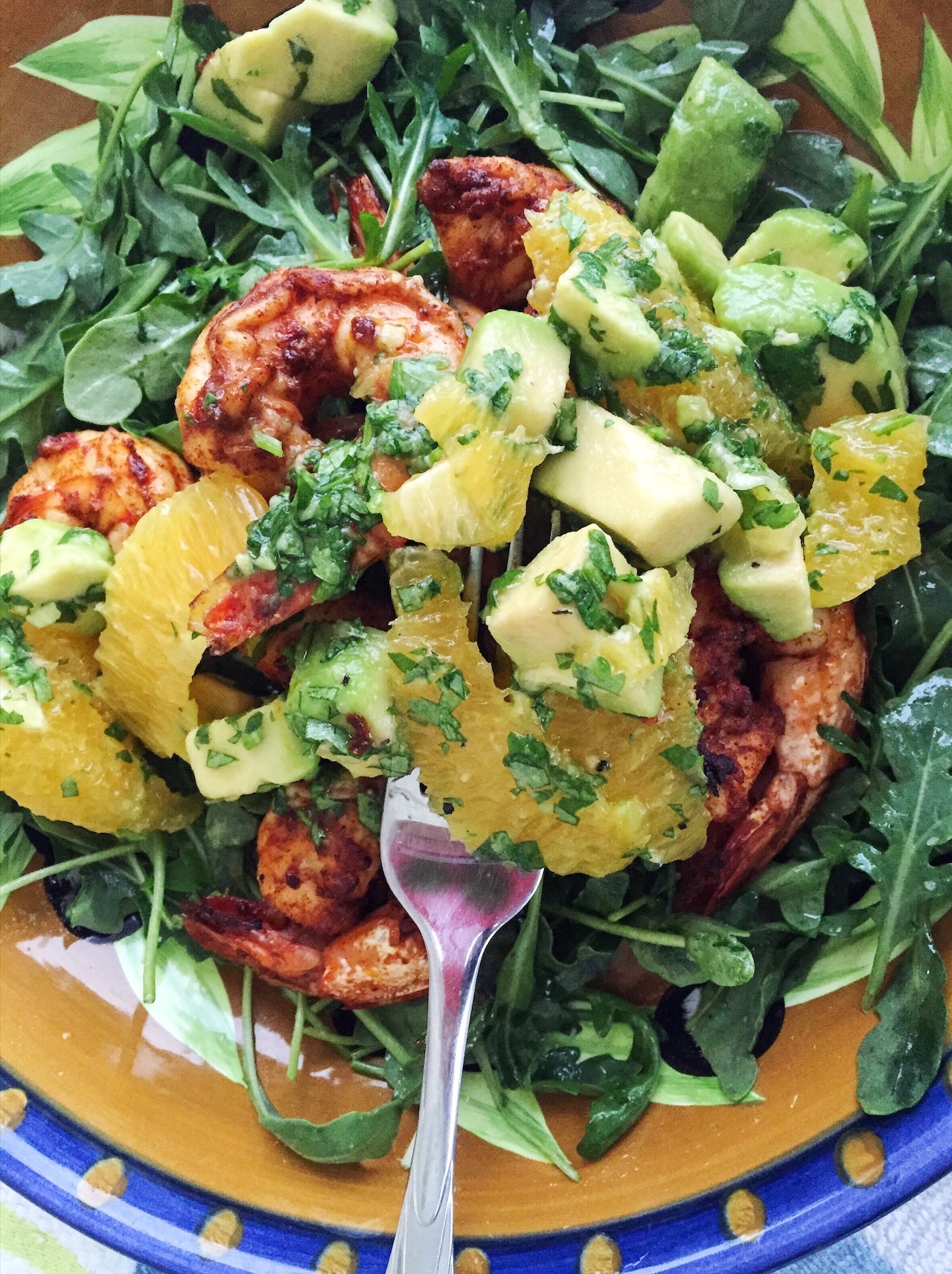 Have you ever pulled out an orange (at work, perhaps?) and asked anyone if they would like a piece? Chances are you won't get much response. Hey, you were just trying to be polite, right? Fine, good, more for you, or so you might think; let me tell you the minute you dig your thumb into that rind and peel it back and that first whiff of sunshine scented diffusion sprays through the air – Oh yeah! Noses perk right up and heads pop over and next thing you know,
you could use another orange. Hmmm.
This salad is so amazing for the very same unexpected reasons. Orange and avocado? I can't tell you how many people look at me funny when I say I am serving/having/bringing an orange avocado salad to the table.
Its like, meh, okay, whatever. No enthusiasm at all. You probably almost passed right over this recipe because, seriously…..ORANGES? How pedestrian can you get? Booooooring. Good thing there's some avocado in the title to keep it semi au courant.
But believe me when I tell you, this salad is such a beauty. Sweet-tart orange segments and silky smooth avocado cubes combine with lime juice and fresh herbage to make a perfectly balanced, tastebud-tingly relish. Plop this citrus centric chutney generously over a pile of peppery baby arugula, snuggle in some sexy, spicy, smoky-sweet broiled shrimp, and you are THERE. So good it will make your pupils dilate.
Who's boring now?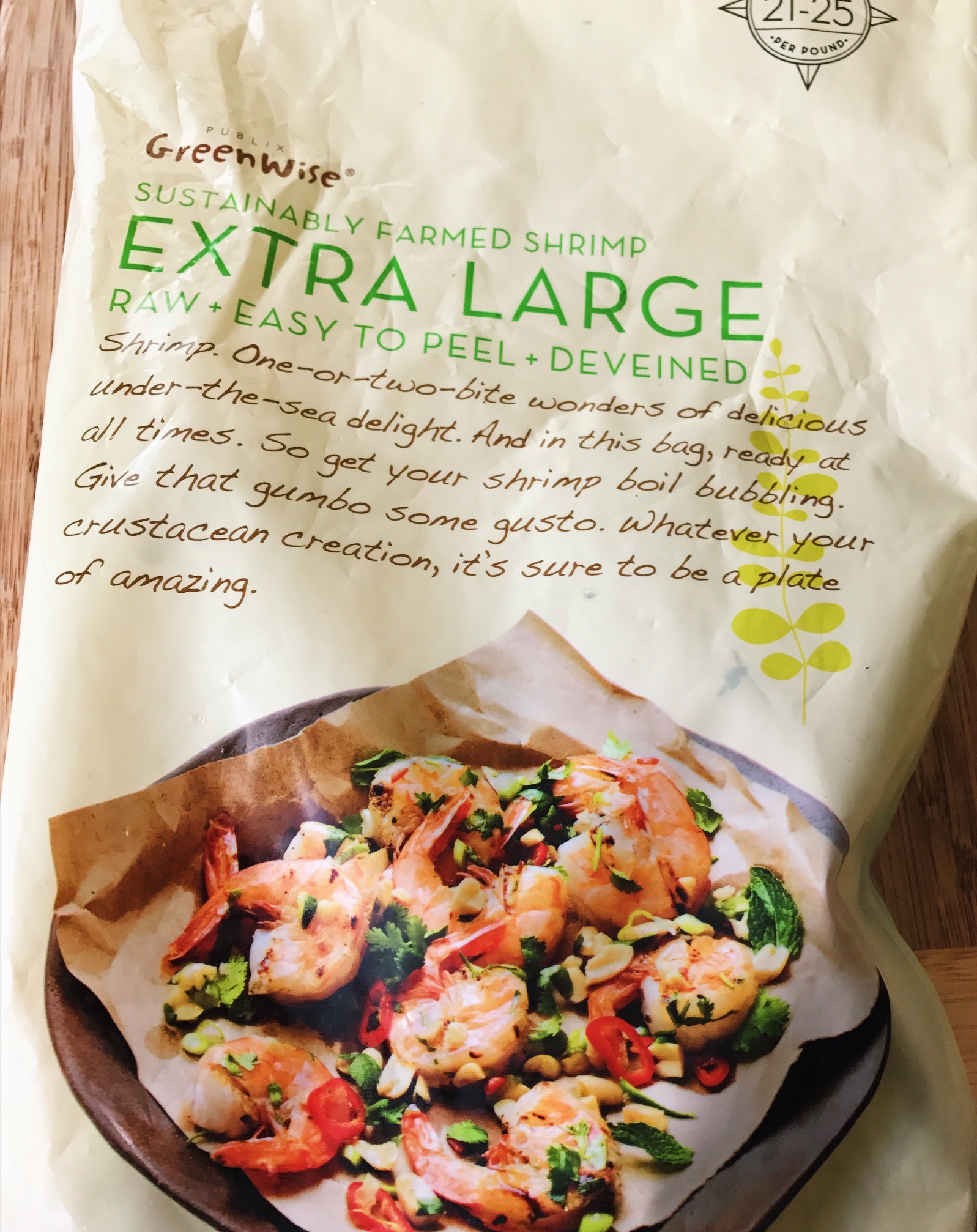 Speaking of boredom I do NOT care for de-veining shrimp. Aarghggrrg. Give me onions to chop, potatoes to peel, chickens to butcher (okay, not really), but please, don't ask me to clean a raw shrimp. Instead…….I run to the freezer and pull out a dozen or so of these beauties. Just seal them into a zip-lock baggie, and let them hang out submerged in a bowl of tepid water. Once you finish up with the rest of your salad prep, they should be semi-thawed enough to whip those peels off. Simple!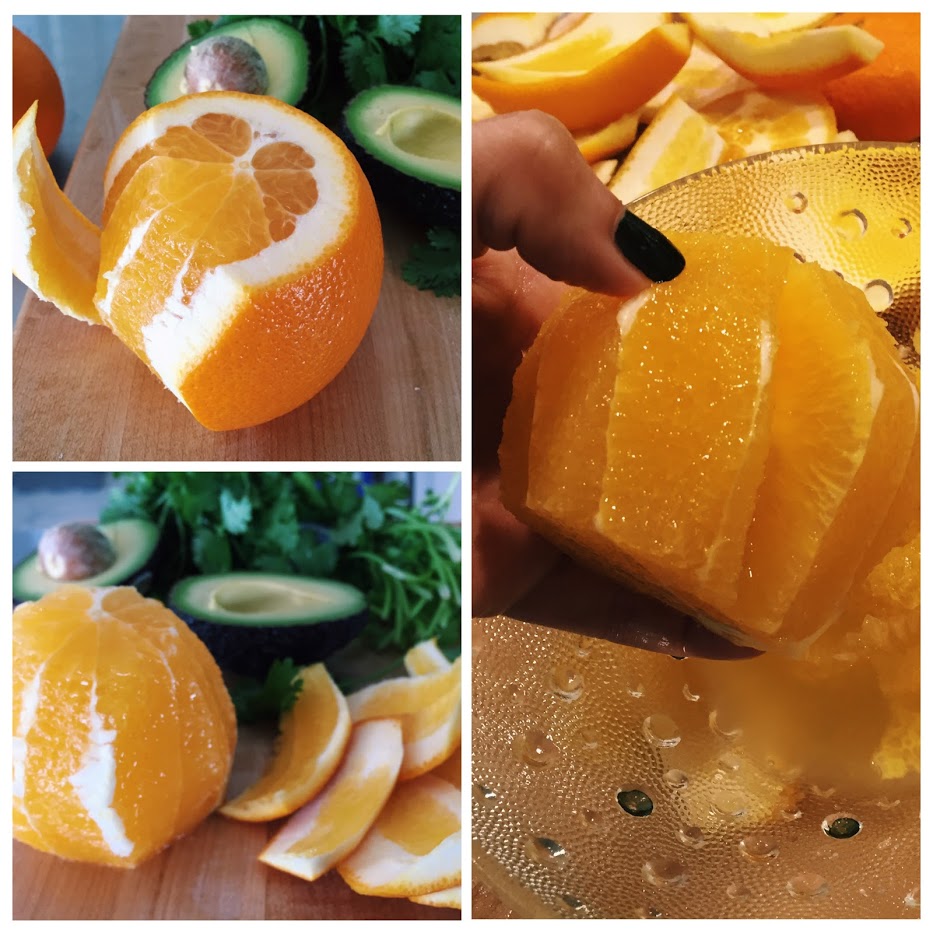 ON to that opulent orange. Rather than simply peeling and slicing, we want our star citrus to be just a leeetle bit fancy, so you want to actually cut it into segments.
Slice the ends off of the opposite pole to give it some feet. Now you can stand your citrus up and with a small, sharp knife, cut away the peel. Then, working over a bowl, carefully sliver the orange sections out in between the membranes (white part).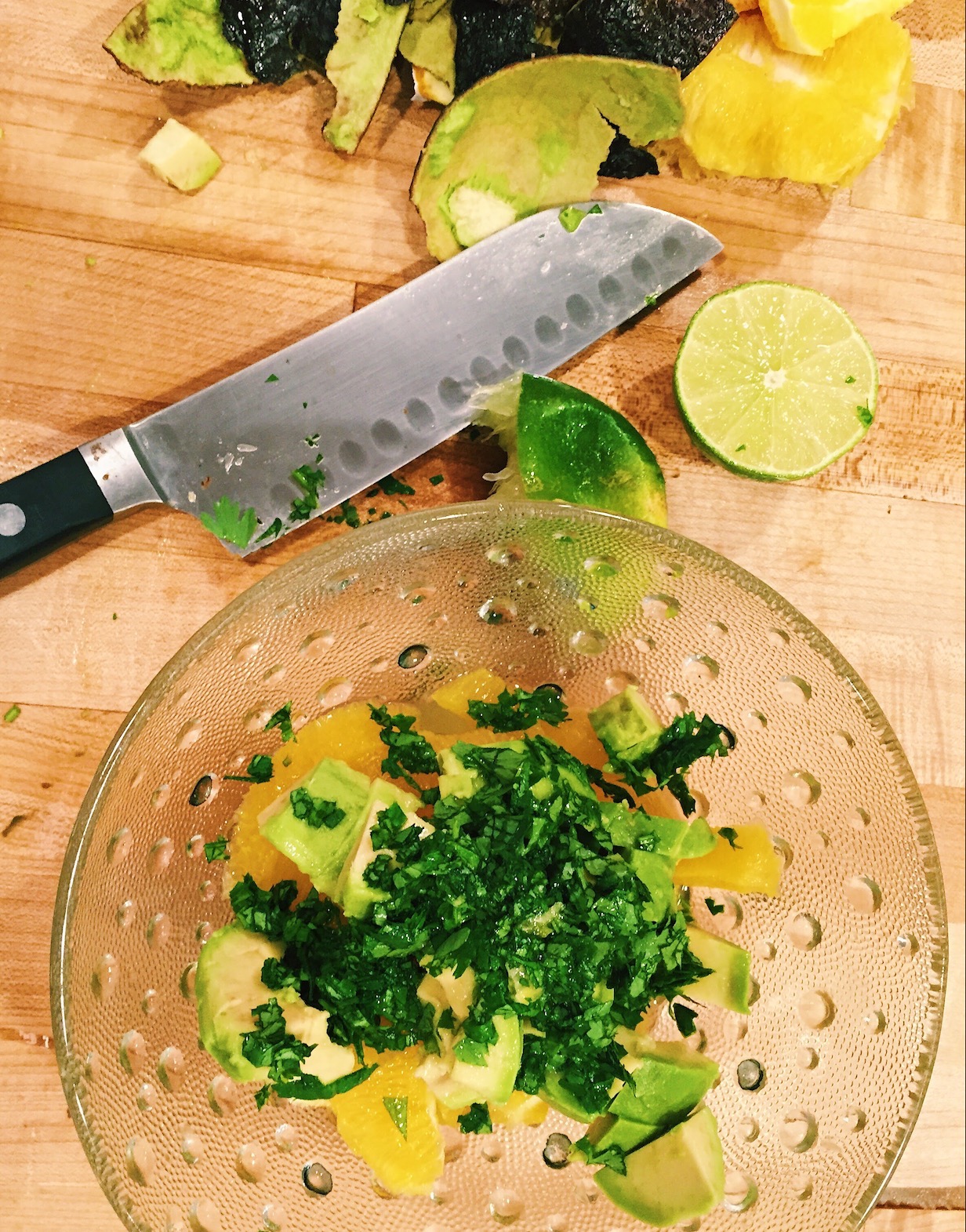 Into the juice pool goes some diced avocado, a generous handful of chopped cilantro, olive oil and the juice of half a lime. Give this a stir and set it off to the side.
Time to coat your crustaceans and cook 'em up!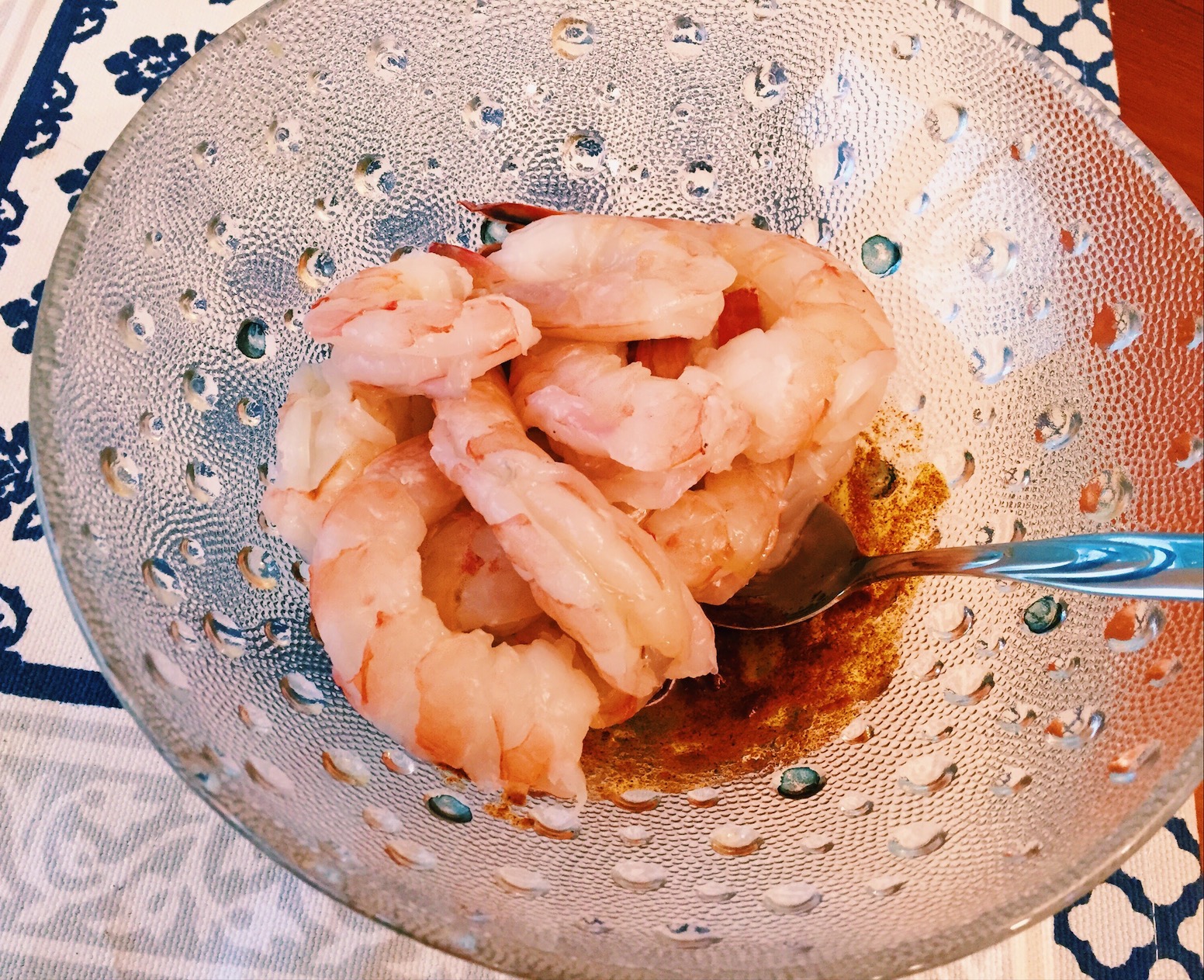 In a small bowl, combine olive oil, honey, cumin, paprika, adobo sauce (from a can of chipotle chiles in adobe sauce) and some salt and give it a stir. Throw in your shelled shrimpies and give this a good toss to get everybody nice and luscious looking.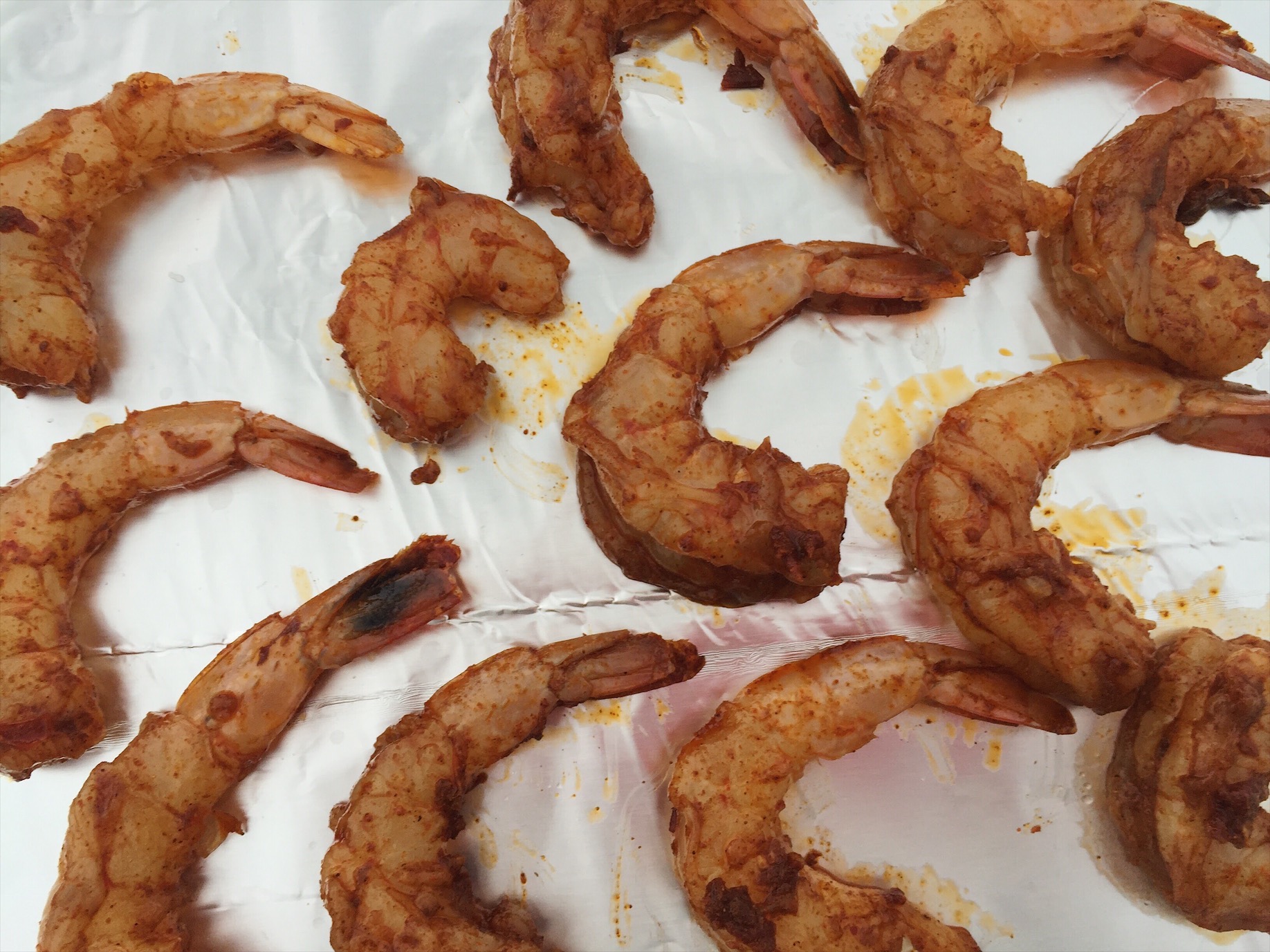 Onto a foil lined sheet pan they go, and then under the broiler for 3 minutes.
Yep, 3 minutes, that is all.
No more. No less. You don't even have to turn 'em over….it is really that simple.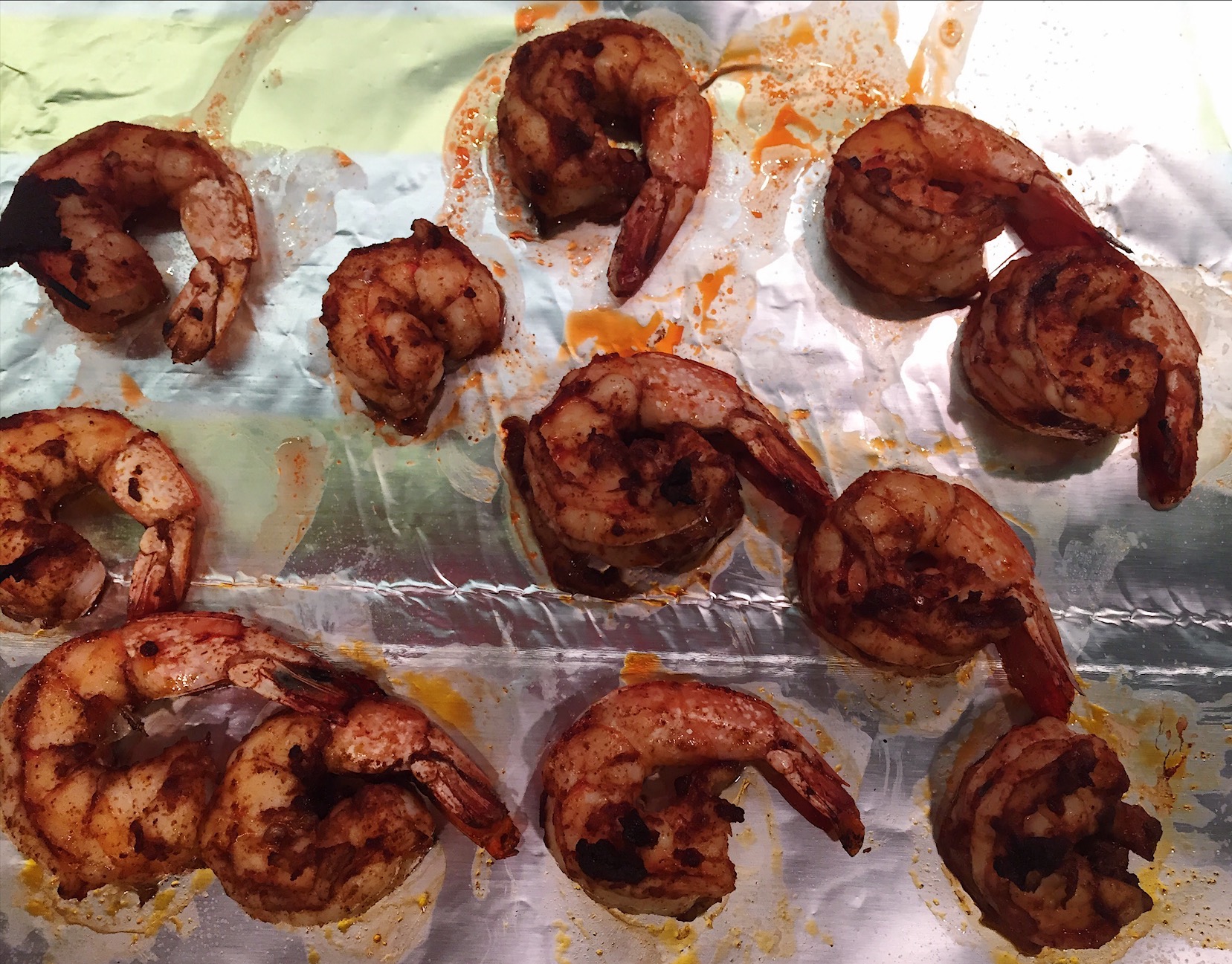 Once you get them out of the oven, remove them from the hot pan (to keep them from over cooking and turning into really tasty rubber bands) and set aside. You are ready for assembly!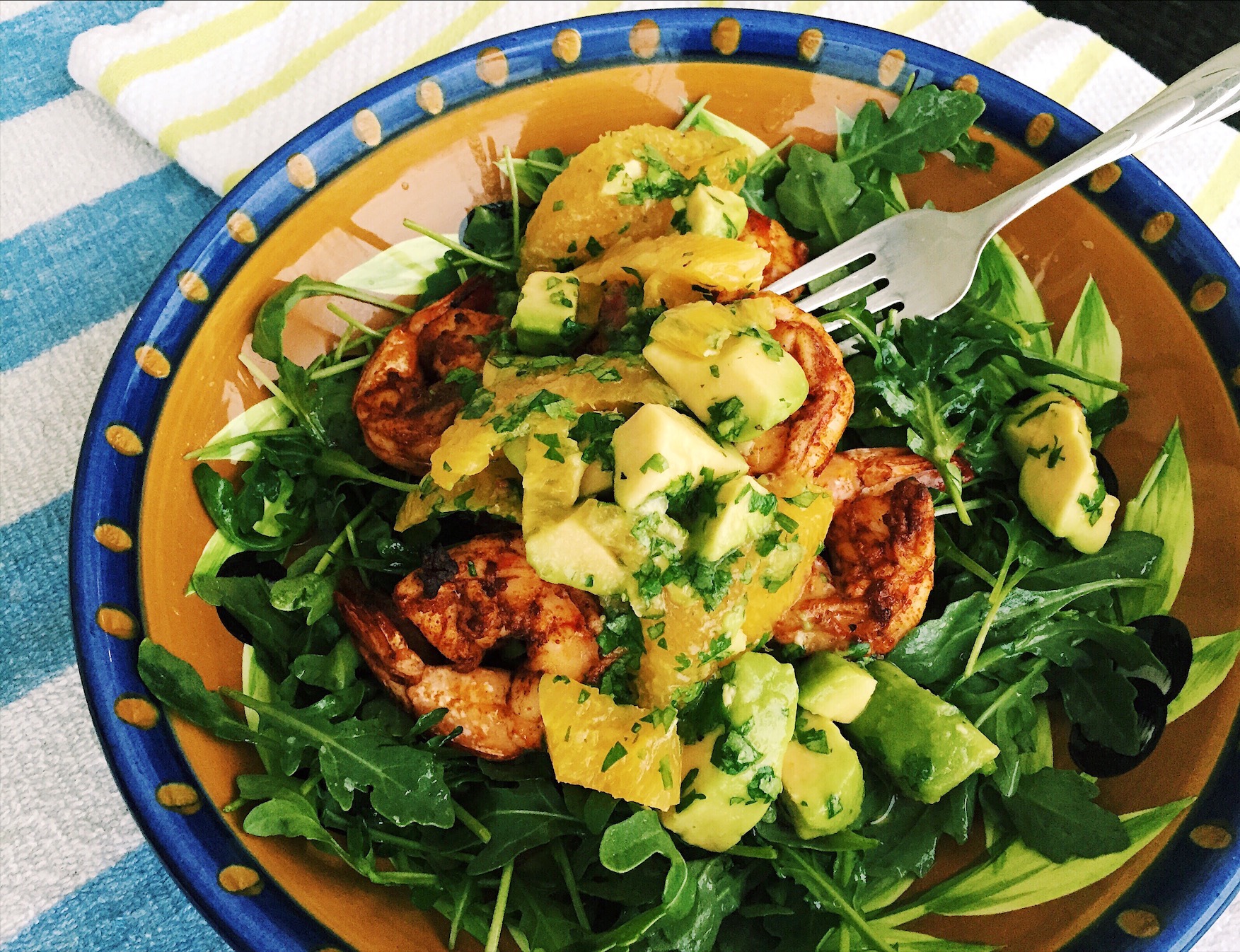 Toss a 5oz package of baby arugula with the juice of the other half of that lime you have left over. A little salt and pepper never hurt anyone. For each serving, lay down half of the arugula, and half of the shrimp over that. Top it all with a pile of that perfectly piquant, tropically tainted tastiness. AND GET A FORK.
NOW.
Poor orange. You don't get any love, do you? Always the last piece of fruit left in the bowl, they just don't understand you.
But I do.
RECIPE BELOW: You can totally get this quickie on the table in less than 20 minutes. Serving 2 very generously, this is so easy to adjust by adding more shrimp, more avocado, etc….you're feelin me, right? Super delicious, super easy, and totally surprising. YUM.
Orange and Avocado Salad with Spicy Honey Broiled Shrimp
2017-04-23 13:16:31
Ingredients
FOR THE SALAD
2 medium oranges (I prefer navel)
1 - 2 ripe avocado, peeled and cut to a medium dice (I just used one)
2 tbs chopped fresh cilantro**
1 tbs fresh lime juice (half a lime)
5 tbs (approx) olive oil, divided
kosher salt (or sea salt) and pepper to taste
FOR THE SHRIMP
2 tsp paprika
1 tsp ground cumin
1 tsp (or more, depending on your taste) sauce from a can of adobo chiles* (freeze the rest for future use)
1 tsp honey (or more depending on your taste)
12- 16 large RAW shrimp, peeled and deveined ***
AND FOR YOUR GREENS
1 Package of baby arugula
the other half of the lime.......see how this works?
Instructions
Position an oven rack about four inches from the broiler and turn on to the broil option.
Segment your oranges
Slice the ends off of orange with a small sharp knife. Stand the orange on one end and slice off the rind in strips, make sure to cut below the white pith. Working over a bowl, cut the orange segments free from the white membrane. Squeeze any juice from the membrane into the bowl with the segments. Repeat with the other orange.
Add avocado, lime juice, cilantro, and two tablespoons of olive oil to the oranges and toss gently. Season with 1/3 teaspoon of salt. Set aside.
Coat the shrimp
In another small bowl, combine 3 tablespoons of the olive oil, 1/2 teaspoon of salt, the honey, cumin, paprika and adobo sauce (or hot sauce) and give it a good stir. Add the shrimp to coat.
Arrange the shrimp on a foil lined rimmed cookie sheet. Broil the shrimp for 3 minutes, or until opaque and cooked through. Don't over broil......over cooked shrimp are like rubber! Remove these from the pan to keep that from happening.
Serve it up
In a large bowl, toss the arugula with the juice from the other half of the lime. Divide half of the arugula onto a serving plate/shallow bowl and top with half of the shrimp. Heap some orange avocado goodness (don't leave out the lovely juices, they will act as your dressing) over all.
Dig in.
Smile.
Notes
* don't have any adobo sauce just laying around? Use your favorite hot sauce, or even a shake of cayenne pepper. Let your tastebuds tell you how much.
** if you don't like cilantro, use flat leaf parsley, no problem.
***I used 12 shrimp for 2 servings..... although more shrimp is NOT a bad thing.
Kick and Dinner http://kickanddinner.com/