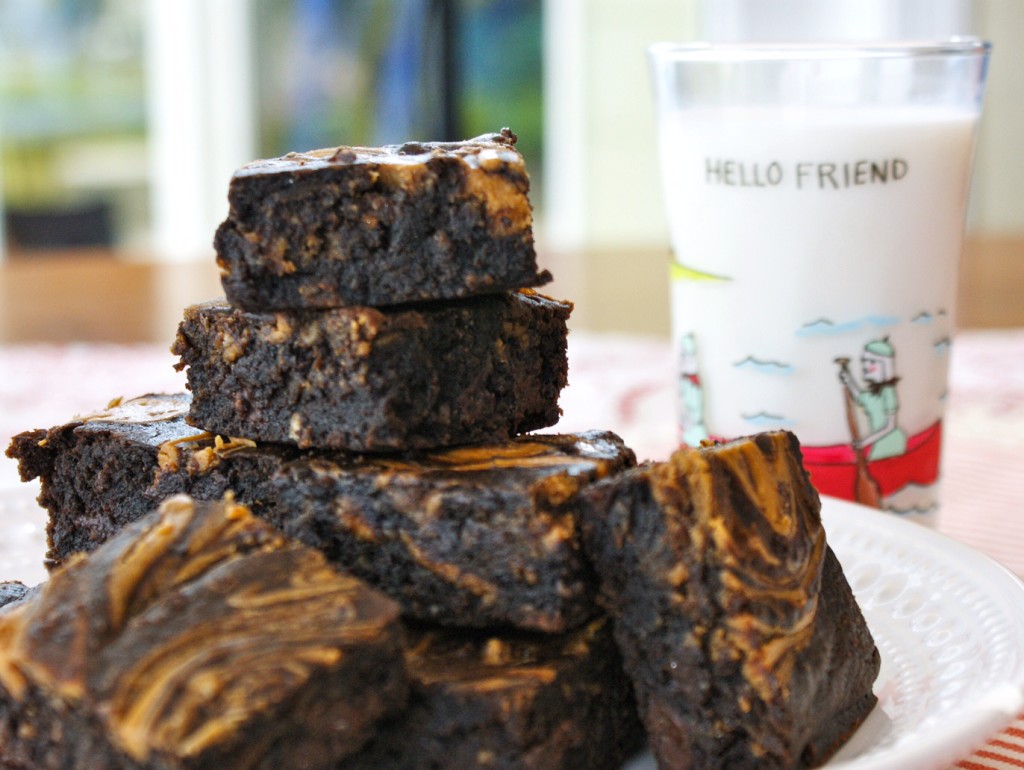 Fudgy, chocolatey, moist and squidgie brownies. How I love them! I love them so much, however, that I rarely make them because I know that if I do, it is ON.
As in, the 3 pounds I'll put ON from eating the entire batch. By myself.
In one day. Okay, in one sitting.
Do you think that's really bad? Well, yes, evidentially gluttony of this caliber is not a particularly good habit to partake in so I try to curb it by biting the bullet and just saying no. Walk away from the brownies, sister, since I just can't seem to control myself. Bring on the kale, and the brussels sprouts, and the tomatoes and lentils and beans and hey, wait a minute…………did someone figure out how to inject a molecule of virtue into an otherwise nutritionally void temptation? Enter the Black Bean Brownie.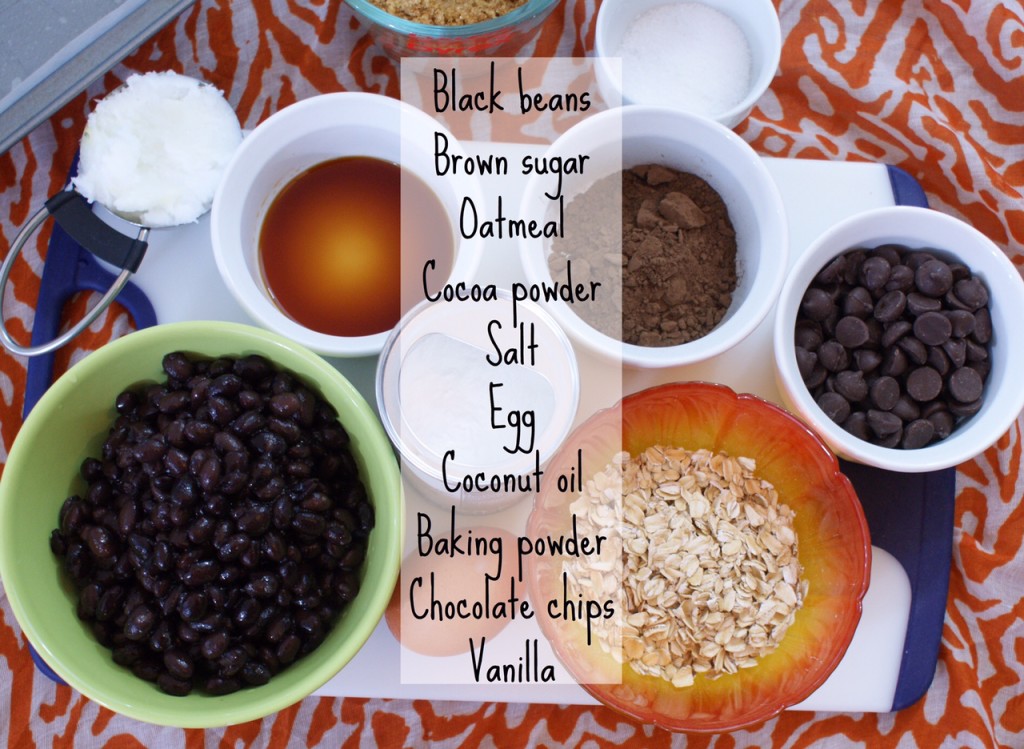 I discovered these logs of lusciousness a while ago and I was instantly hooked! Protein powered, fiber rich, micronutrient packin black beans? Absolutely NO white flour? In a seriously decadent baked goodie? (Thanks to Ambitious Kitchen, who helped me discover my black bean brownie bliss) Are you telling me I can eat my brownies and call that "good" for me? You know, alleviate just a smidgen of the guilt?
Can we just pause for a moment while I wipe the tear from my eye?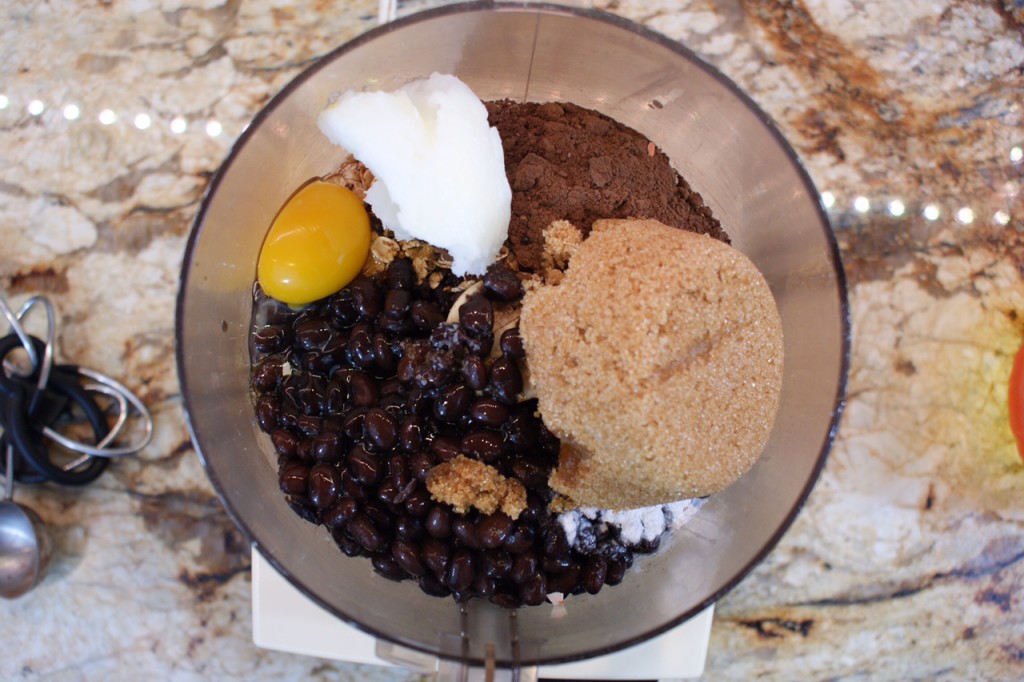 So, so easy peasy! Gather up your ingredients. Turn on your oven. Dump everything into a food processor. Turn food processor on. Turn food processor off. That's basically it.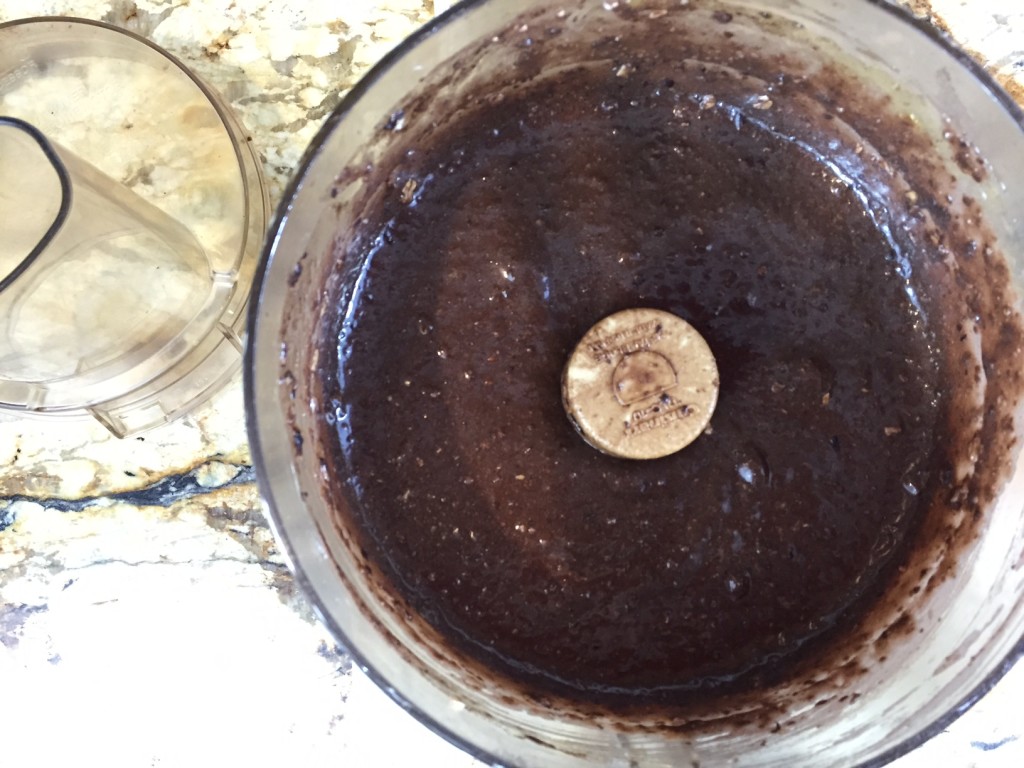 Okay so I may have over-simplified it just a bit but really, not by much. You will have to put a little effort into greasing a 9×9 inch pan. Oh, and then there's the wax paper you have to lay in there. Such a pain, I know. Ha! But really, that is about as simple as it can be! Spread that amazing batter all over yourself into the prepared pan and you know what? You could totally whack this into the oven as is and be in brownie heaven in no time but if ya wanna go nutty, add some peanut butter!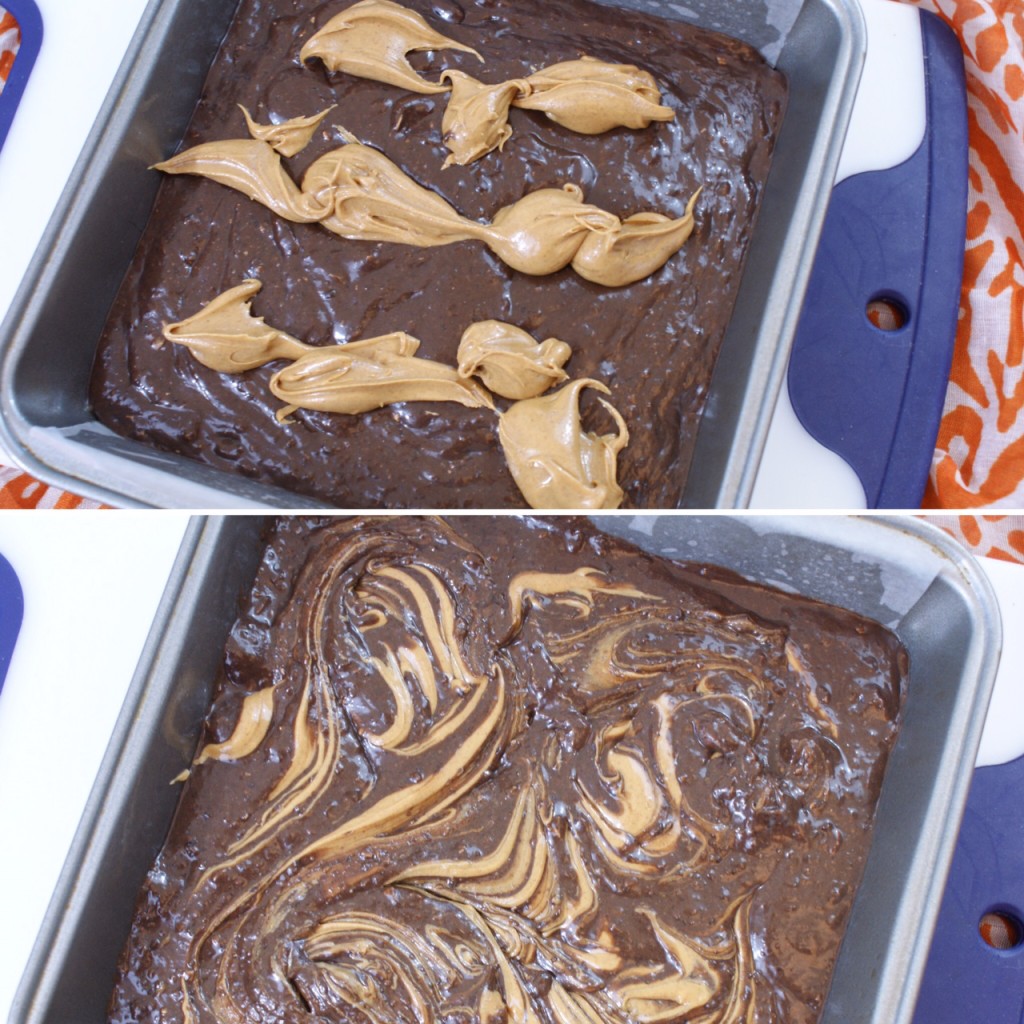 Oh yeah! Just dab in a couple of blobs there on top and swirl it through, you don't have to get too strenuous with this. Just give it a little flair! Into the oven they go for thirty minutes. Then you gotta try and wait until they cool just a little, that will make them easier to cut (I wonder sometimes why I even bother seeing that I don't particularly like to share). The wax paper over the edge comes in very handy for lifting them out. We are so smart, aren't we?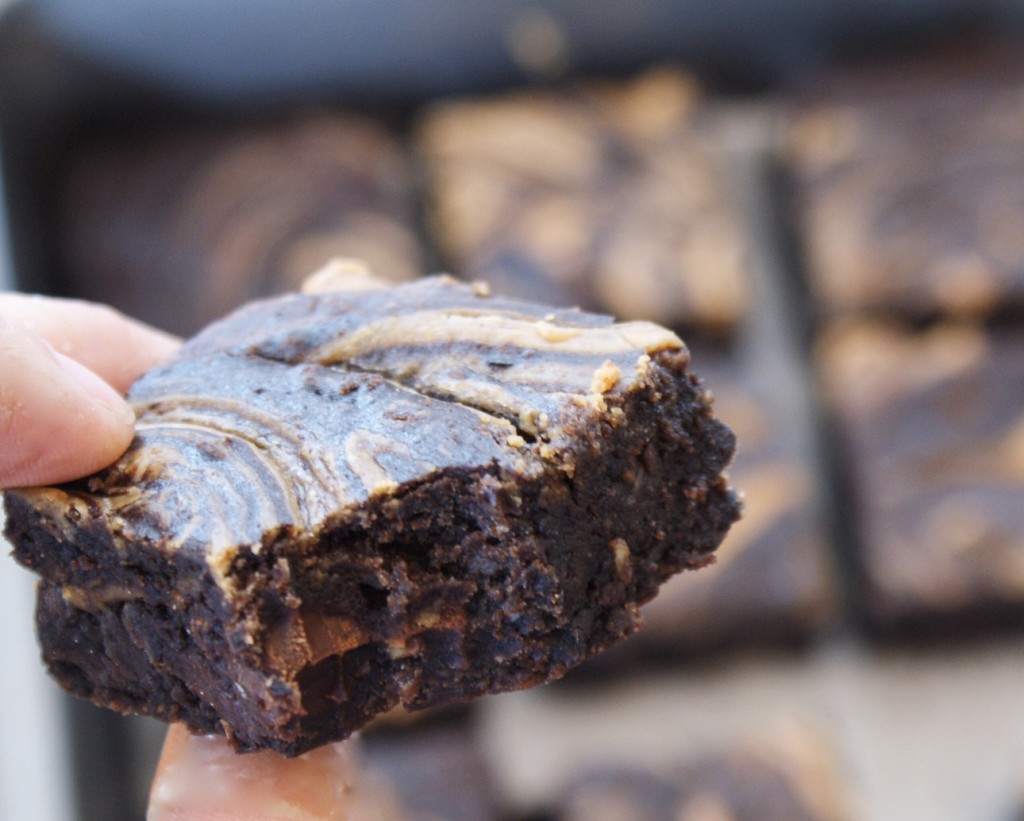 I cannot even describe how yummy these things are….even better the next day. Yes! I actually saved a few this time! I highly recommend them (ya think?) anytime, anywhere. Dinner, even.
If anybody asks just tell em you had some black beans and stuff…………
Recipe below:
Fudgy Peanut Butter Black Bean Brownies
2016-01-19 14:52:59
Ingredients
1 15 oz can of black beans, drained and rinsed
2 tablespoons of cocoa powder
1/2 cup regular oats
1 egg
1/4 teaspoon salt
1/2 teaspoon baking powder
3/4 cup dark brown sugar
1/4 cup coconut oil*
2 teaspoons vanilla extract
2/3 cup chocolate chips
1/2 - 3/4 cup peanut butter
Instructions
Preheat your oven to 350°
Prepare a 9x9 inch baking pan by giving it a spritz of cooking spray (or butter), then lining with a sheet of wax paper. Make sure the wax paper comes out over two opposite sides
Combine all the ingredients (except the chocolate chips and peanut butter) in a food processor (or Vitamix) and blend this up until it is smooth
I like to add the chocolate chips at the end and then pulse once or twice to break them up a little, but if you want to keep yours whole just go ahead and stir in your chips and then transfer the batter to a prepared pan **
Transfer 1/2 a cup or so of smooth peanut butter into a bowl and stir it up so that it is smooth and easy to manage and then plop it by spoonfuls over the batter. Take a knife and swirl the peanut butter through the batter gently, you don't want to completely combine the two.
Pop this in the oven for 30 minutes, then cool
Remove with the help of the wax paper handles and transfer to a cutting board.
Cut them up into 16 pieces
Push them into your face!
Notes
* Okay the coconut oil gives these brownies a decidedly coco-nutty nuance...which I personally LOVE, however, I am well aware that coconut is like cilantro - you love it or you hate it - so feel free to replace the coconut oil for equal parts unsalted butter (1/2 a stick). But use a really good butter, like Kerrygold, so that you get those magnificent omega -3's.....okay?
**At this point you can go ahead and bake these up, sans peanut butter if you like your brownies naked! Delish!
THESE ARE SO GOOD!
Adapted from Ambitious Kitchen
Adapted from Ambitious Kitchen
Kick and Dinner http://kickanddinner.com/