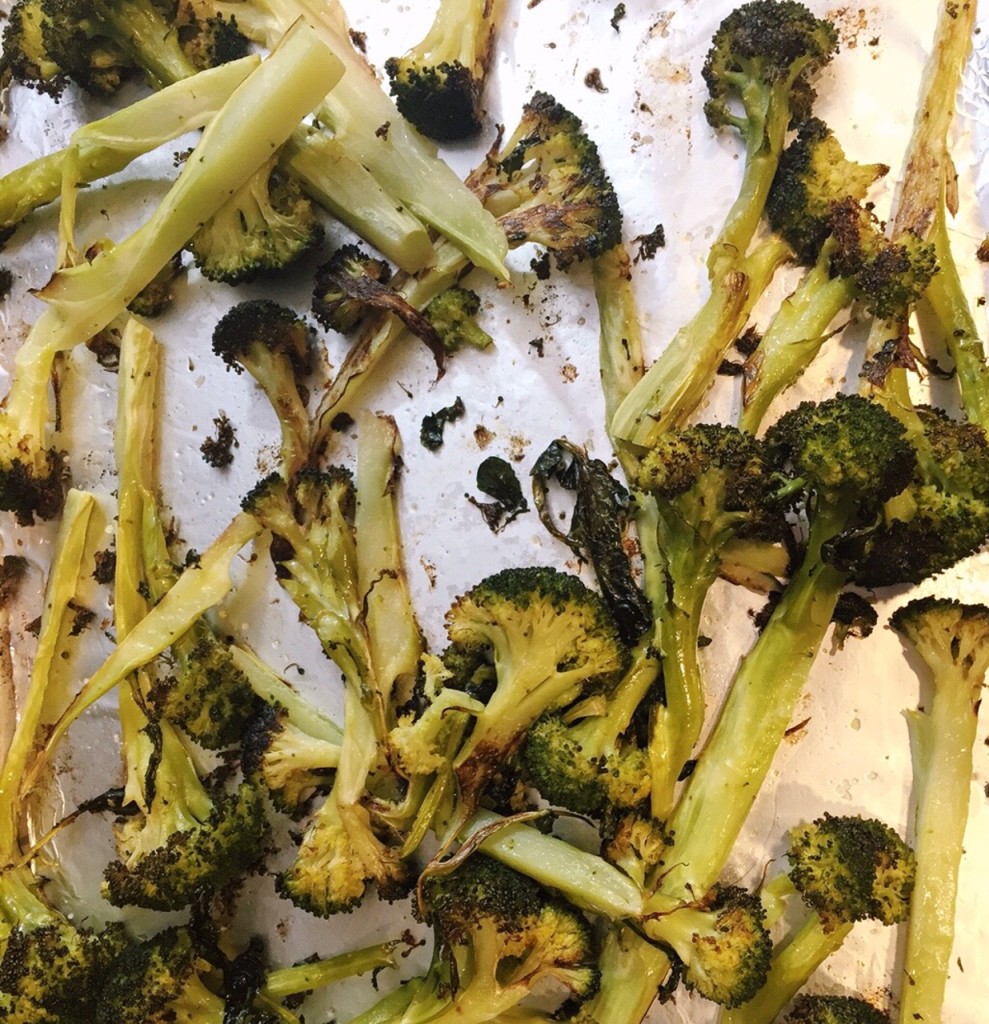 Let me tell you why you want to make this salad. Okay, first and foremost…it is delicious! Charred and delicately crisped roasted broccoli spears serve to just barely wilt down a healthy pile of spinach leaves, all pumped up with cannellini bean powered protein and…if that wasn't enough for you…..sumptuously draped in a creamy, briny, lemony-dill infused Dijon dabbled dressing! Secondly; it only takes about twenty-five minutes to get this on the table, and third; you can do the meatless Monday thing any day of the week here and be totally fat and happy.
Well. Happy, yes; fat, no.
A generous serving of this is going to give you around 14 grams of protein! Don't even mention the vitamins A, C, potassium, lutein, iron and all of the heart healthy anti inflammatory benefits c/o that monounsaturated Mediterranean masterpiece, olive oil. And even though counting calories is NOT something we do much of around here, for those of you who are interested………you're looking at around 420 of 'em staring up at you from this pretty plate of pure pleasure. THAT is ALL.
I will happily eat like this so I can have more stuff like this – and this.
Oh, and definitely this. Don't get me started now……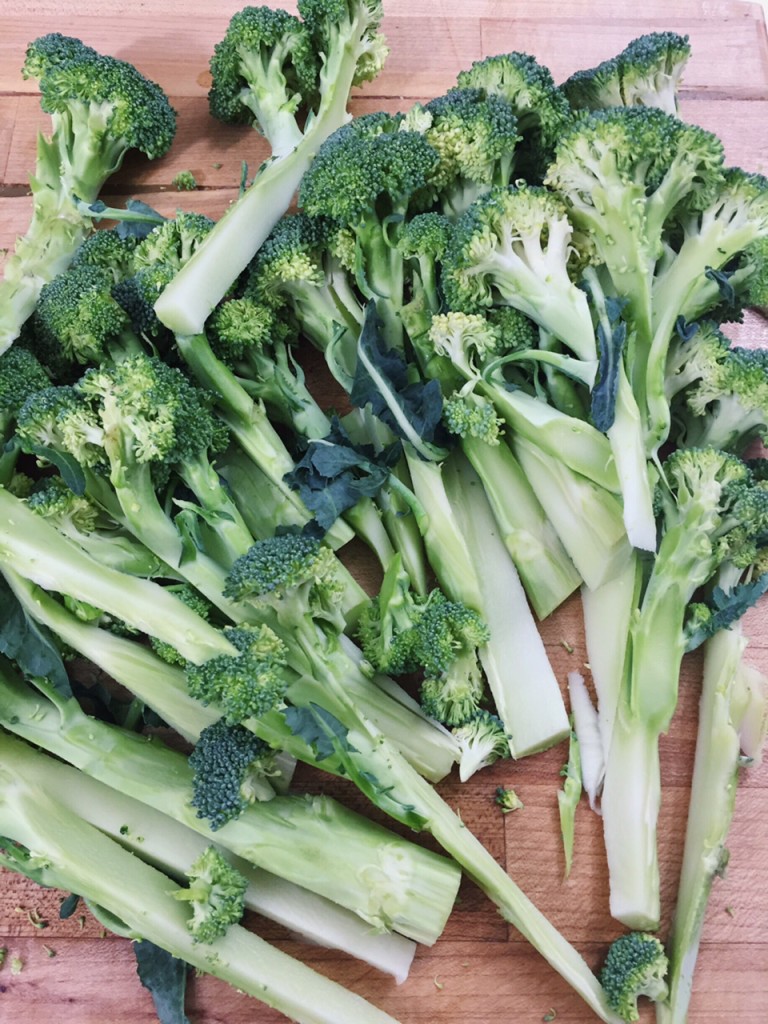 Get yourself a big bundle of broccoli and make sure it's nice and clean. Trim off the dry "cut" ends of the stalks, and maybe even give them a light scrape down with a vegetable peeler, just enough to get rid of any woody parts. Then roughly cut them lengthwise, so you have kind of a forest of skinny little trees, leaves and all. Lay them out on a foil lined cookie sheet, and try to point the floret heads out, stems pointing inward, you know…for the MOST part. You'll see how I did it below. Now drizzle a couple of tablespoons of olive oil over these guys, and use your hands to make sure everyone gets coated evenly. This will ensure that awesome bit of crispy somethin somethin happens for you. Hit this with a smattering of salt and pepper and into a 400° they go. You now have twenty minutes or so to finish the rest of this up. Pleeeeenty of time!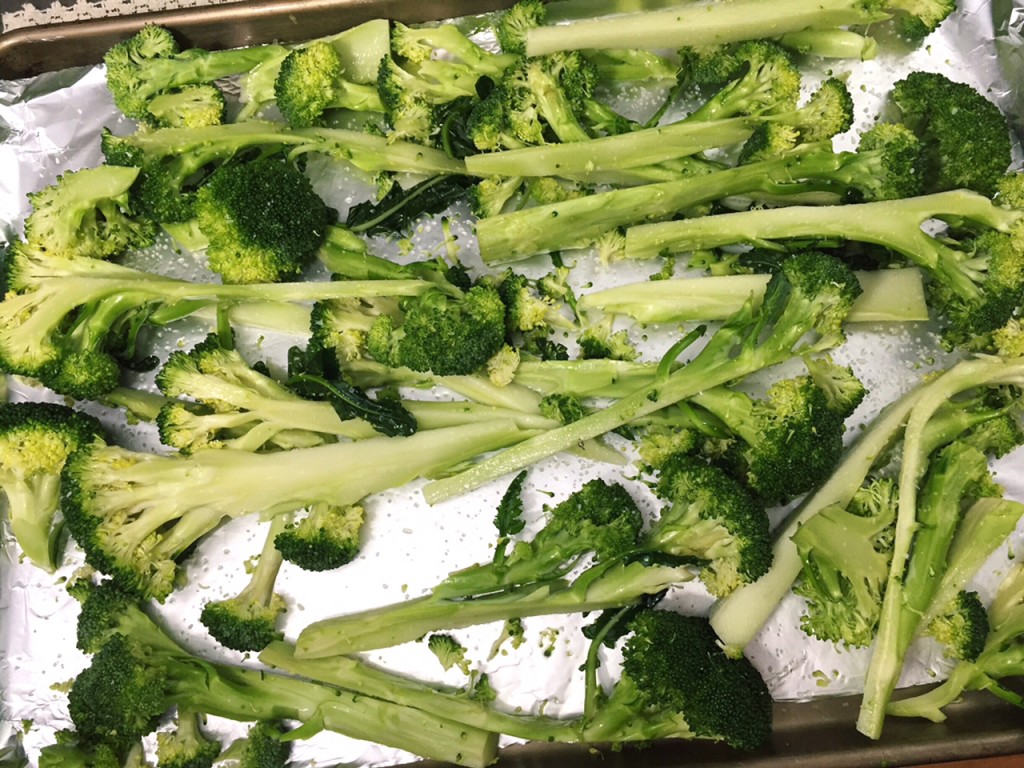 There is a secret ingredient involved here. DId I forget to mention that part? Oddly enough the most amazing dressing you are about to whiz together requires the procurement of two hard-cooked eggs. Now some people actually keep them around in the fridge but if you do not happen to be one of those folks do not sweat it! You can knock out two perfectly boiled eggs in about 14 minutes, and the best way I know how is this:
Place two eggs in a small saucepan and cover with water. Bring the pot up to a rolling boil over a high heat, this should take one to two minutes. Once the water is rolling along furiously remove the pan from the heat, cover, and set a timer for 13 minutes. After the timer goes off, run the eggs under cold water until they are cool enough to handle. At this point you can pop them into the fridge for future use or peel em up and proceed with the dressing.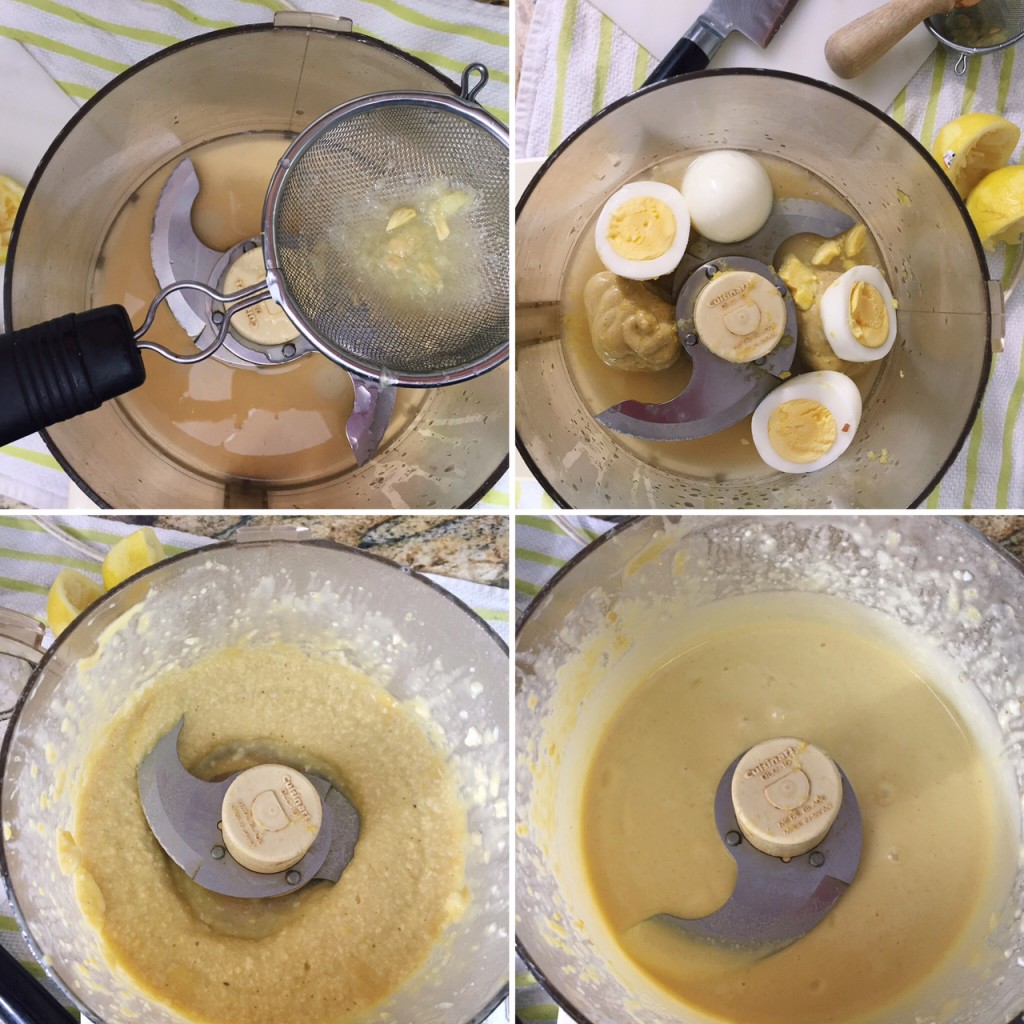 But in the meantime, you have already squeezed a lemon into a food processor and added a couple of dollops of Dijon mustard. This is also a great time to measure out 3 tablespoons of capers (drain em!) and two tablespoons (approx, no need to get fussy) of chopped fresh dill. Set this aside. Measure out 1/4 cup of olive oil and have it ready to go as well.
Now adding to the juice and the Dijon, pop in those boiled eggs, a dab of water, and get to pulsing! Once you have a sort of a paste, go ahead and let her rip while you slowly drizzle in the olive oil.
SIdenote: Did you notice the awesome Cuinsinart food processor in use? Older than even the mere concept of blogging…..this work horse has certainly withstood the test of time and just goes to show the value of a great brand. lol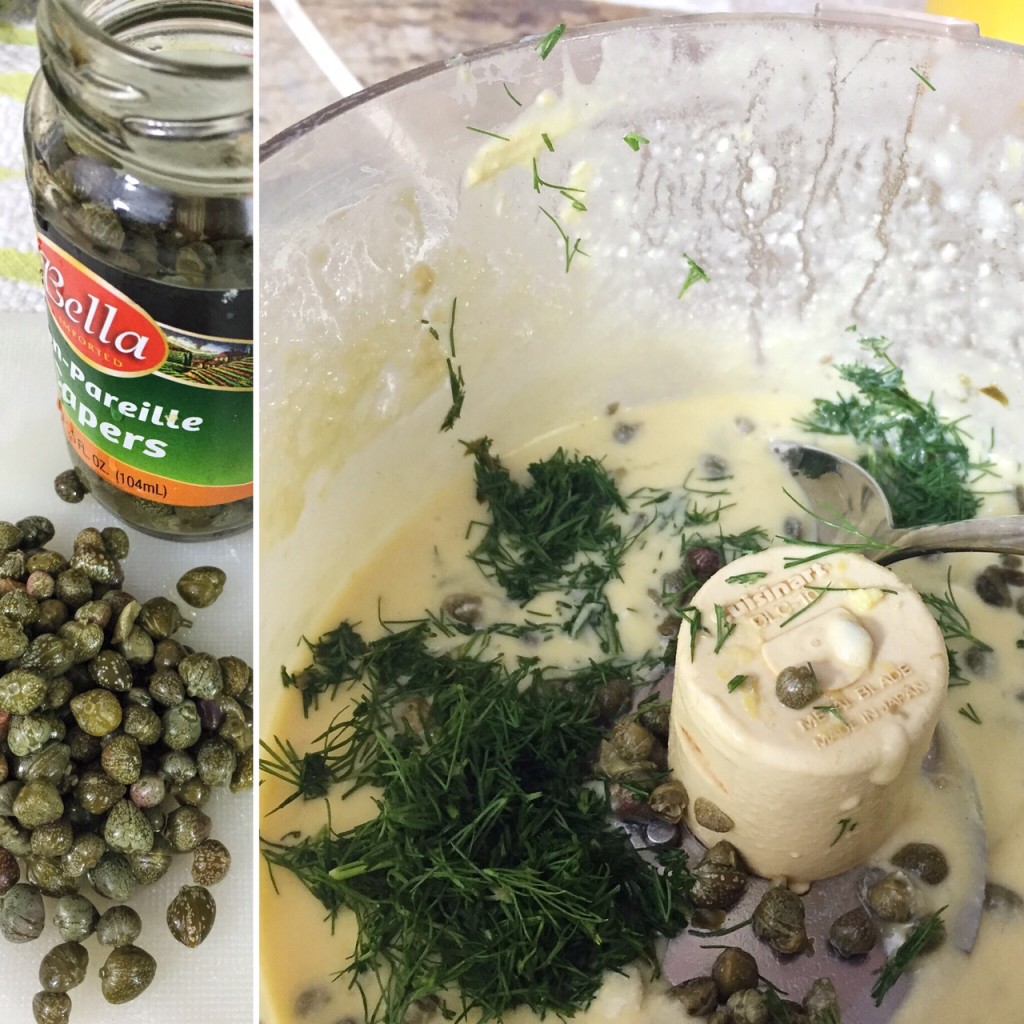 Into this creamy concoction go the capers and dill. Just slosh them around a little with a spoon, no need to process them in. Pour this into a small bowl. Give it a taste! Soooo lush! If you are a fan of hollandaise sauce you will be really happy with this. You should not need any salt at this point since those capers are plenty salty on their own, however a grind or two of fresh cracked pepper could never hurt. Now get out a big salad bowl……I'll bet your broccoli is ready by now.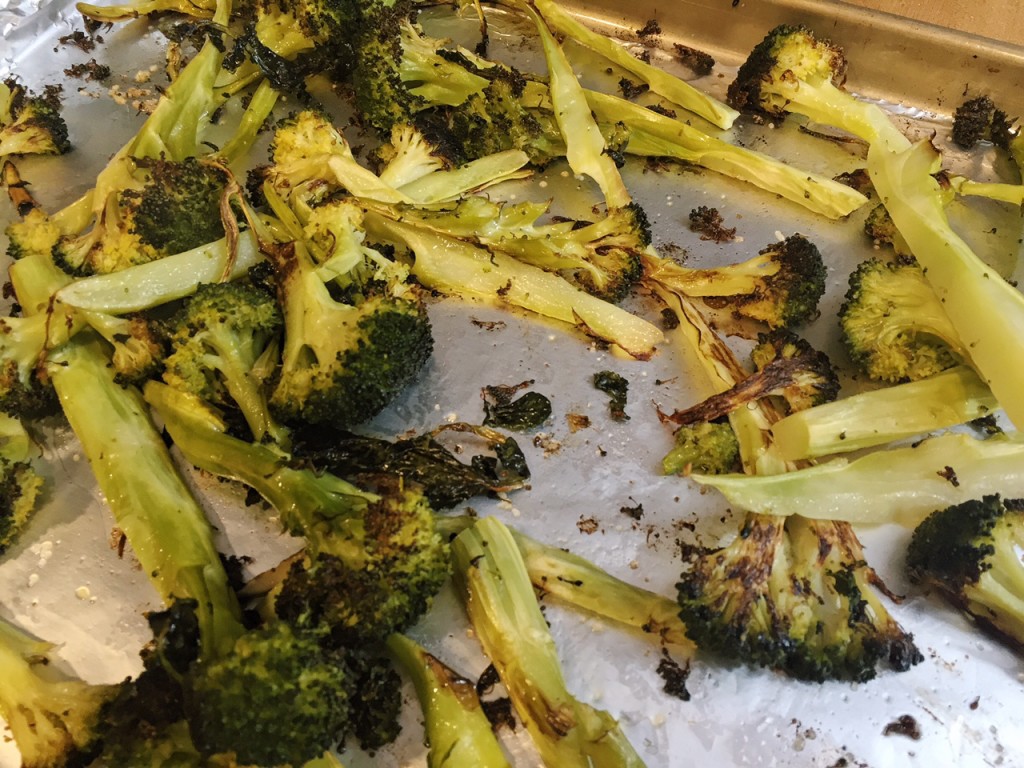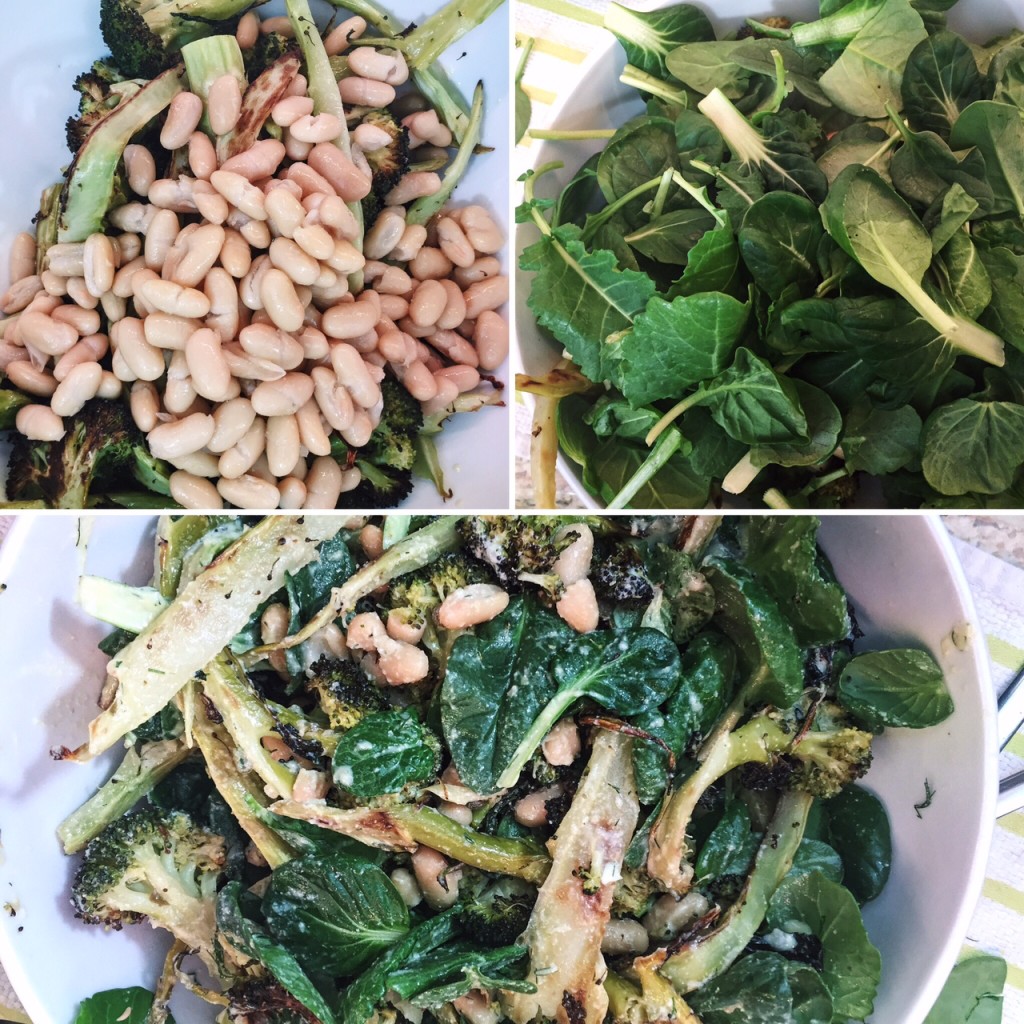 At this point, it's just a matter of assembly. Take half of the dressing and splash that down into your bowl. Over the dressing goes your browned and crispy broccoli spears, followed by a can of drained and rinsed cannellini beans. Top that with approximately 4 – 5 cups (almost the entire 5 oz container) of baby greens of your choice (make sure they come triple washed!) and get on in there and toss this all gently together. The heat from the broccoli will wilt the greens, and cause that luxurious dressing to loosen and love up all over everybody! Add a little more of the dressing to this as you like. Now it's time to go have your way with this………….
As in: on it's own as a light (but completely satisfying) vegetarian meal…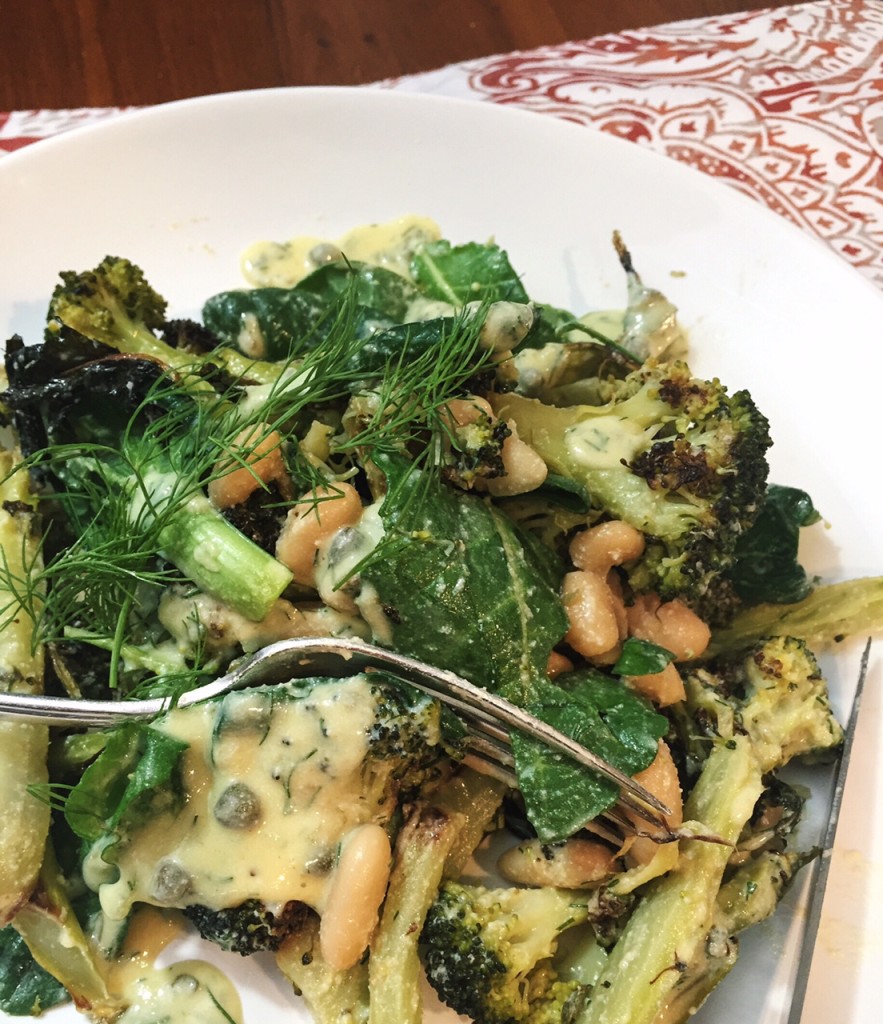 Or as an amazing side dish to any protein of your choice……..what else would I mean?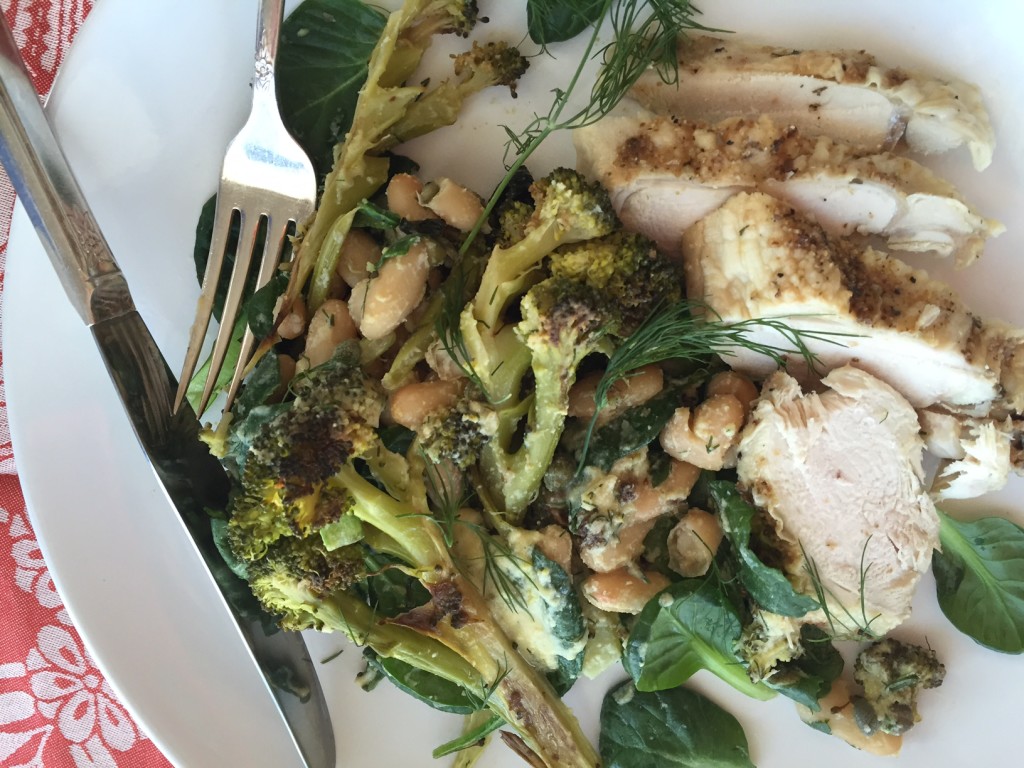 This will easily serve four. Amazingly enough the leftovers were really, really good, which was a huge surprise because I figured it would just be sort of soggy and none too appealing. The broccoli spears did lose their freshly charred charm due to the overnight stay in the refrigerator but other than that this would make a perfectly acceptable, pretty darn tasty quickie lunch!
So go boil up some eggs………
Recipe below: Thanks to Real Simple for this one!
Roasted Broccoli and White Bean Salad
2016-02-29 09:52:21
Ingredients
1 large head broccoli, trimmed and cut into skinny spears
1/4 cup plus a few tablespoons olive oil, divided
3 tablespoons lemon juice (1 large lemon should get you there)
2 tablespoons Dijon mustard
2 hard boiled eggs
3 tablespoons capers, roughly chopped (or not! up to you)
1 tablespoon of water
2 tablespoons (roughly) chopped fresh dill, plus more to garnish
1 (15 oz )can of cannellini beans, drained and rinsed
6-8 cups of spinach or any baby green of your choice (usually about a 5 oz package)
Kosher salt and freshly cracked black pepper to taste
Instructions
Preheat your oven to 400°.
On a foil lined cookie sheet, place the broccoli spears (stem pointing in) and drizzle with 2 (or more) tablespoons of olive oil. Toss with your hands to coat. Sprinkle with salt and pepper, and place in the oven until the edges are crispy and golden, about twenty minutes.
Meanwhile, combine lemon juice, Dijon mustard, eggs, and water in a food processor and pulse to combine.
With the machine on, slowly drizzle in 1/4 cup of olive oil until smooth.
Stir in the capers and dill. Scrape into a small bowl.
In a large salad bowl add half of the dressing. Add the broccoli, beans and spinach and toss gently to coat. Add more dressing as you like.
Serve on its own or as a perfect side dish, sprinkled with a little extra dill.
Pretty!!!!!
Adapted from Real Simple
Adapted from Real Simple
Kick and Dinner http://kickanddinner.com/