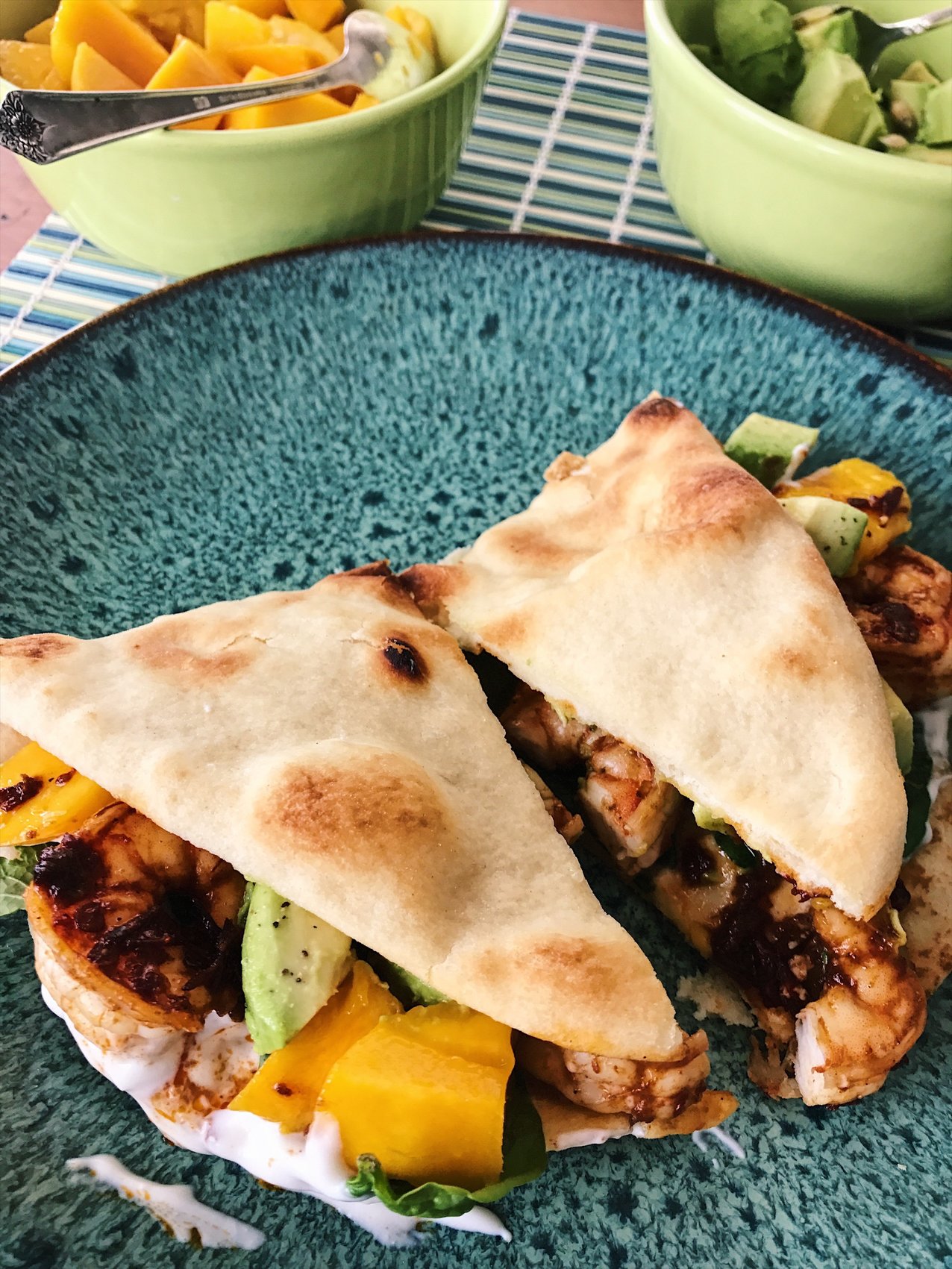 I live in south Florida, where we get to live with the obnoxious oppression of sauna-like weather conditions for the better part of half of any given year. Consistently over 90 soggy degrees Every. Single. Day, it's humid, it's sticky, and you can pretty much forget about perfect eyeliner or cute hair. Stepping outside in the summer here is only slightly better than stepping into a giant, warm, wet, slightly moldy kitchen sponge.
But probably not by much.
So we grouse and we complain and without fail the first thing anyone says around here is, "It is SO hot, isn't it? It is just so hot", like this is the FIRST TIME EVER, and of course everyone nods and agrees and it's just one big fat complaint fest. Because, well, you know, it IS really so freaking hot. And as with anything in life…..along with the good comes the bad and the bad with the good; so in the midst of all this torrid smarmy heat ("bad"), if you are paying attention, and if you are really, really lucky……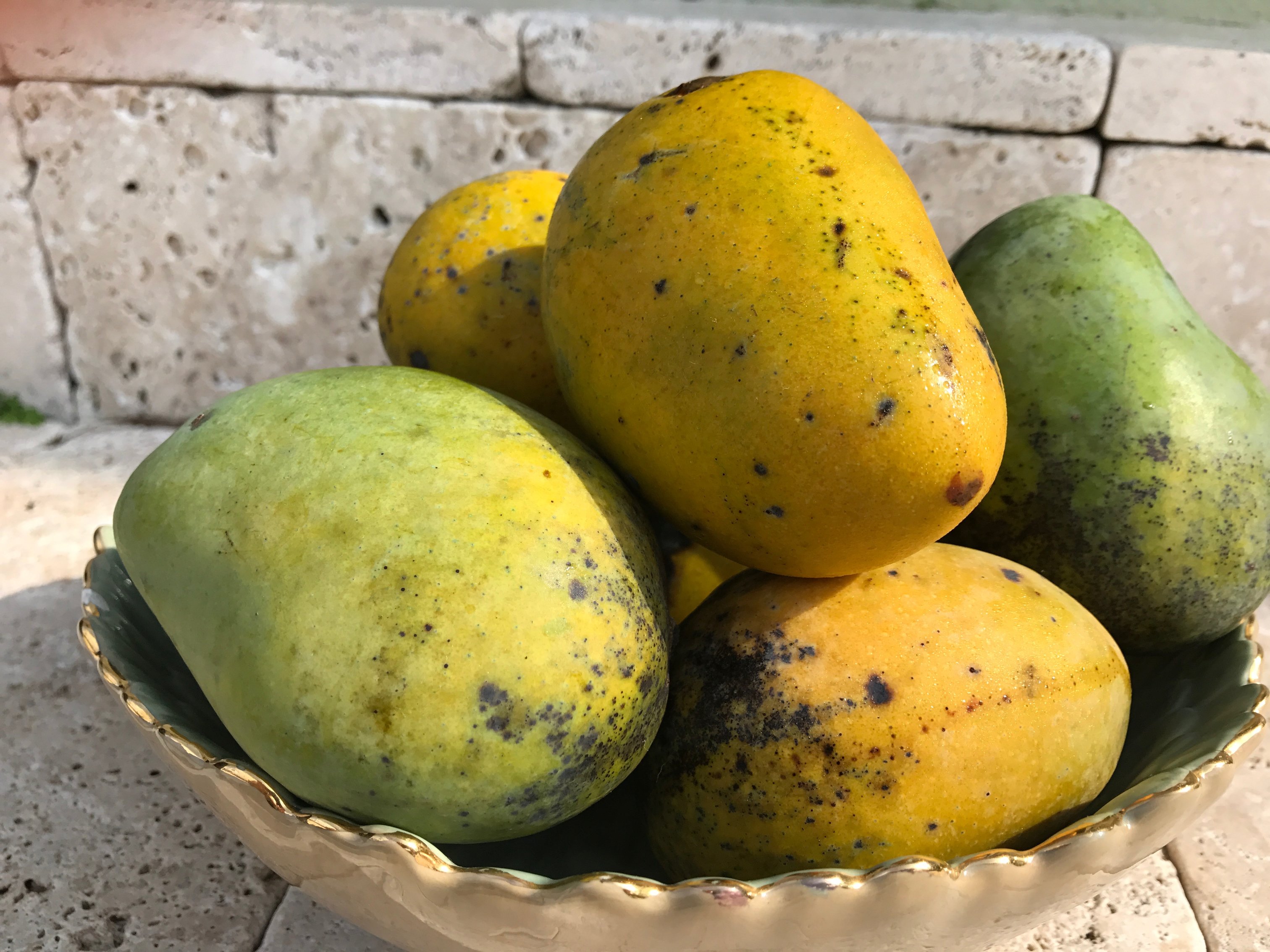 You get: Mangoes! (good)
How I love, love, love me some mangoes. A culinary cross between a pineapple and an orange – with a hint of peach and banana for good measure – this juicy fruit is a dense, sweet and silky, totally tropical treat for the taste buds. The sweltering summer season has arrived in full swing and brought with it these delectable drupes! Pop 'em into a smoothie, freeze 'em up with some yogurt, slap 'em into a salsa, or just do what I do best when it's this stinkin' hot out……and that is:
AS LITTLE AS POSSIBLE.
Chunks of mango, chunks of avocado, spinach, sour cream, some broiled shrimp and a package of flat breads are all you need for this super quick, seriously spectacular, bite down and your eyes roll back into your head it's so good, ridiculously easy meal.
You got this, right? Nothing to it, unless of course you consider how annoying it is to peel and cut up a mango. Yikes. Yeah, sorry, once again, bad with the good and all……….but speaking of good, how about those shrimp? Couldn't be simpler.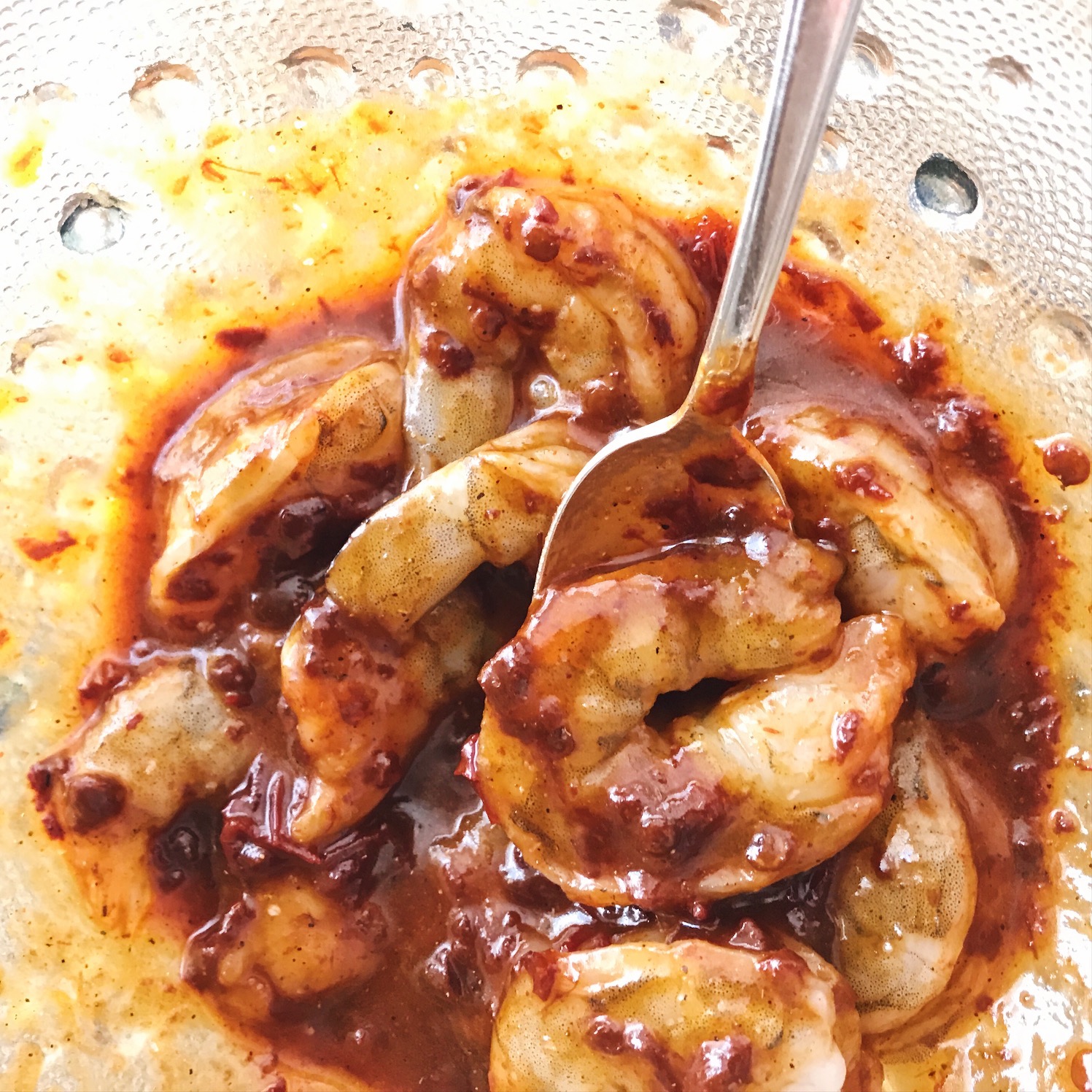 Whisk together some olive oil with one or two smoked adobo chiles (or use Sriracha, or some other hotsy-spicy sauce), some cumin, smoked paprika, and a squeeze of honey. Plop in some large, raw, deveined shrimp (I buy 'em frozen in a big bag, and just use what I need when I need 'em!), and get everybody all coated and looking good. Onto a sheet pan they go….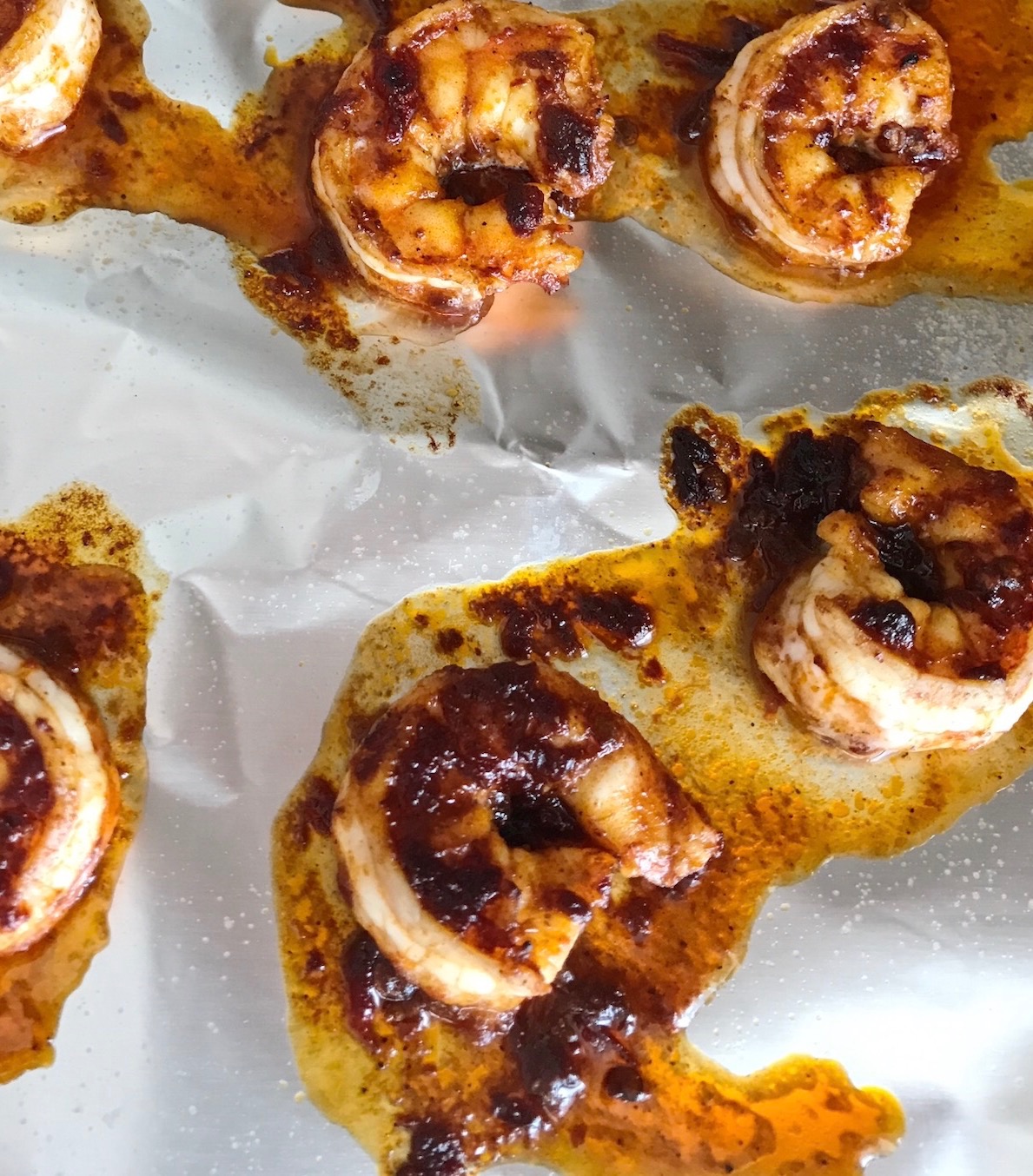 and under the broiler for 3 minutes. That's it. Three minutes. Don't even turn them over. Really, I promise, 3 minutes. Now pop these into a bowl, and turn off the oven, but before you walk away……..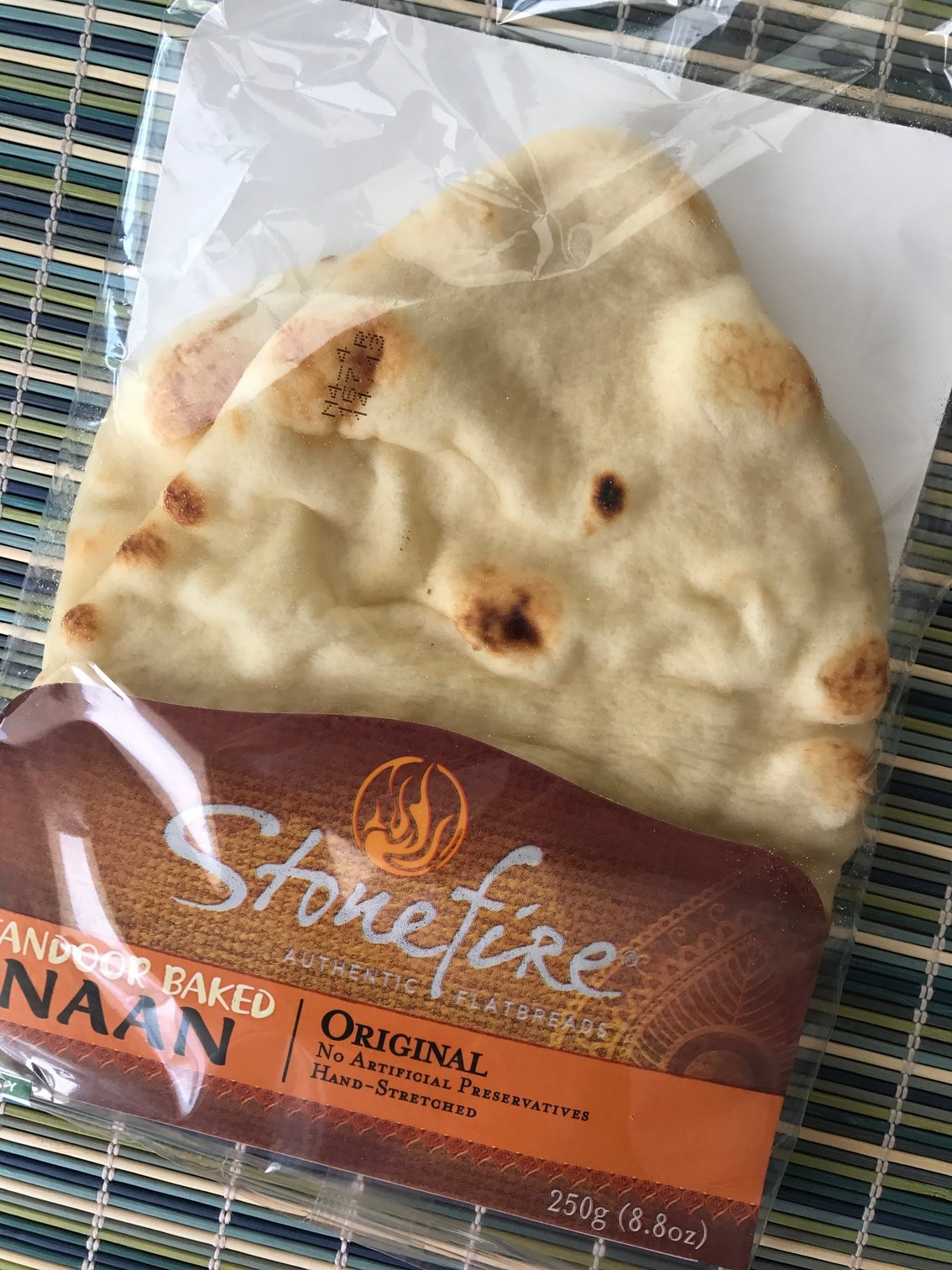 Slap a couple of naan flat breads in there to warm up for a minute or two. The residual heat will do the trick in record time….so keep an eye on them, you want them soft and pliable, not hard and crusty. Now if you are really ambitious and want to make your own naan…..okay fine. (Just show me up why don't you?) definitely check out how, here.
And after that please invite me over.
Now it's just a matter of assembly. Start with a smudge of sour cream, and then pile on the rest of your goodies! A dash of salt and pepper, and you are ready to fold it on over.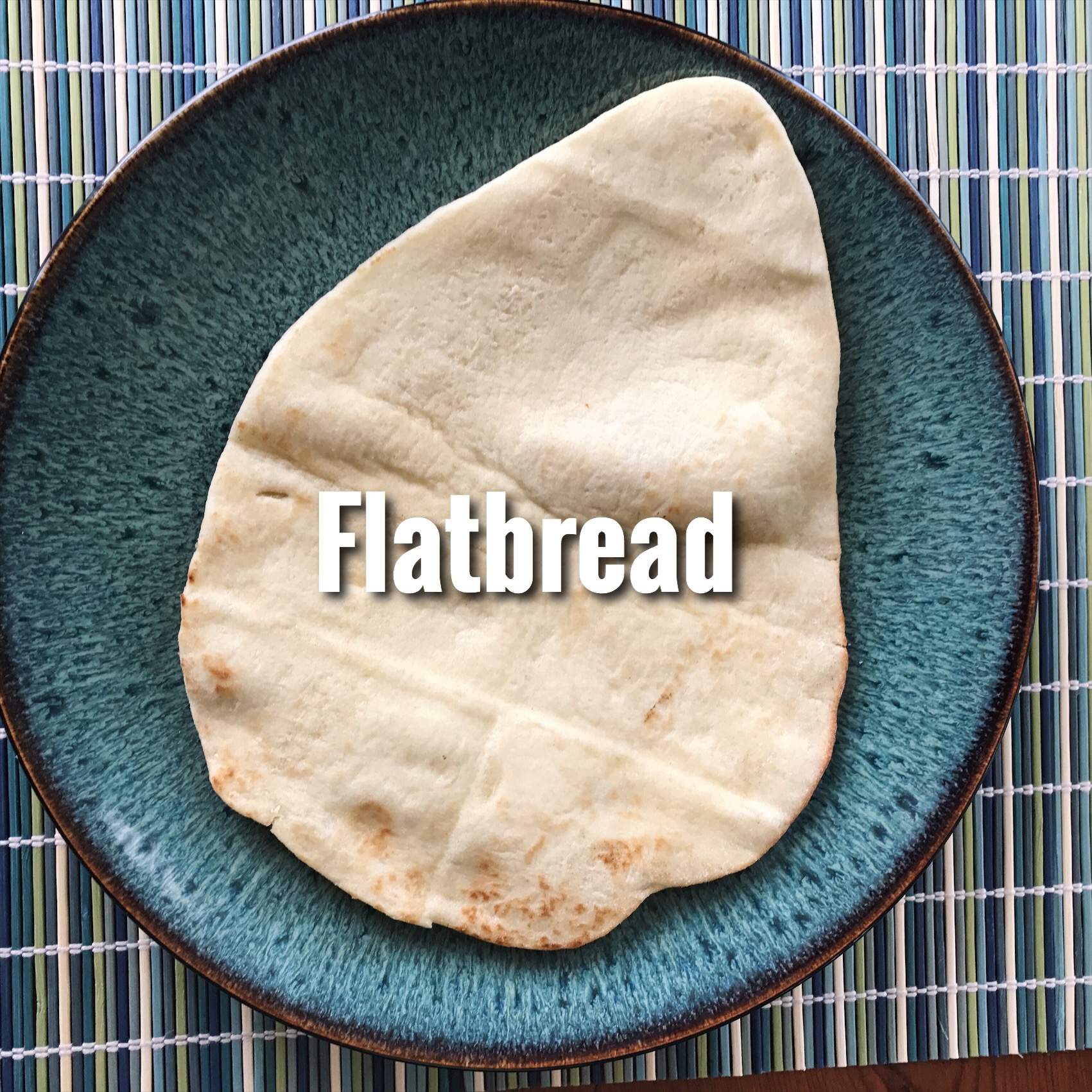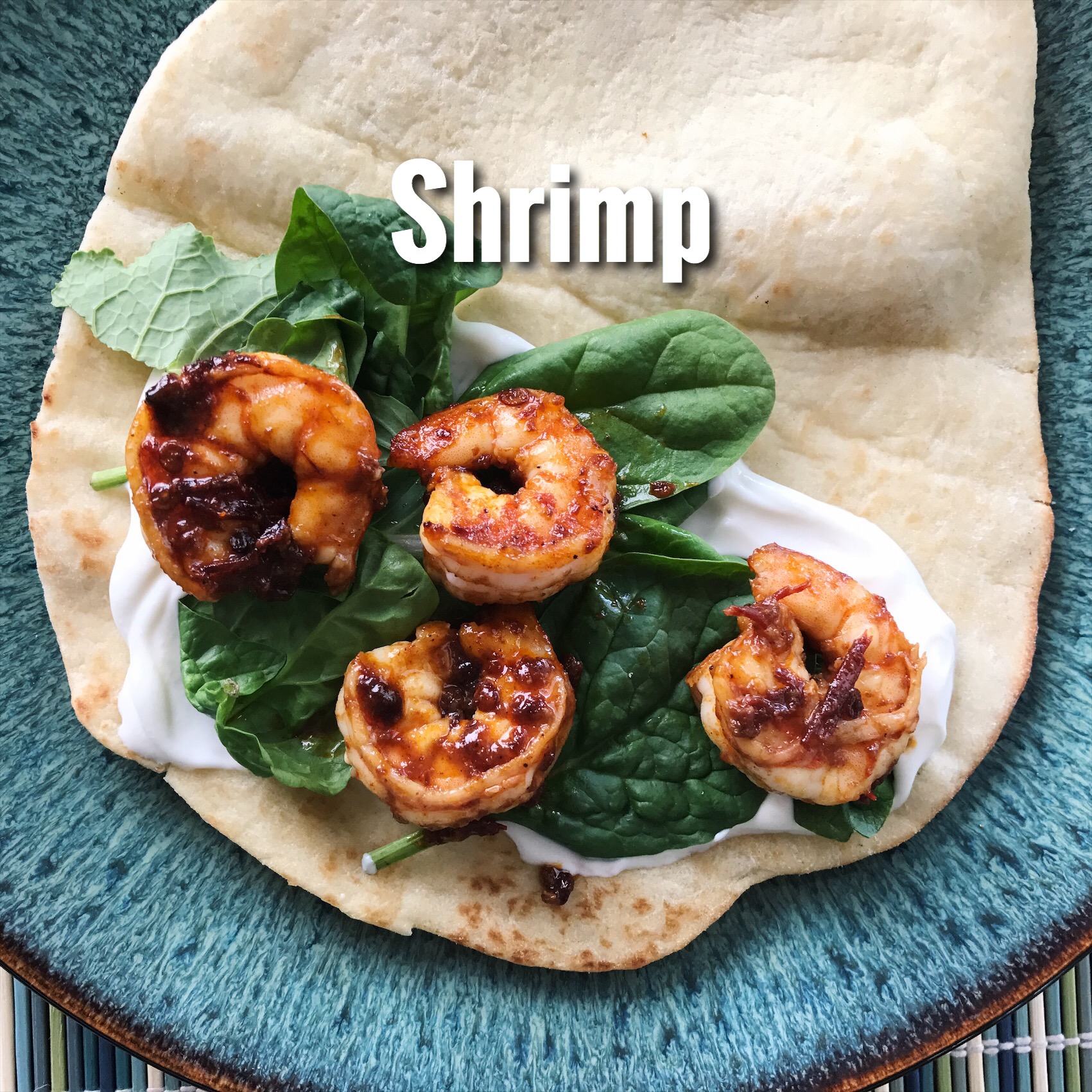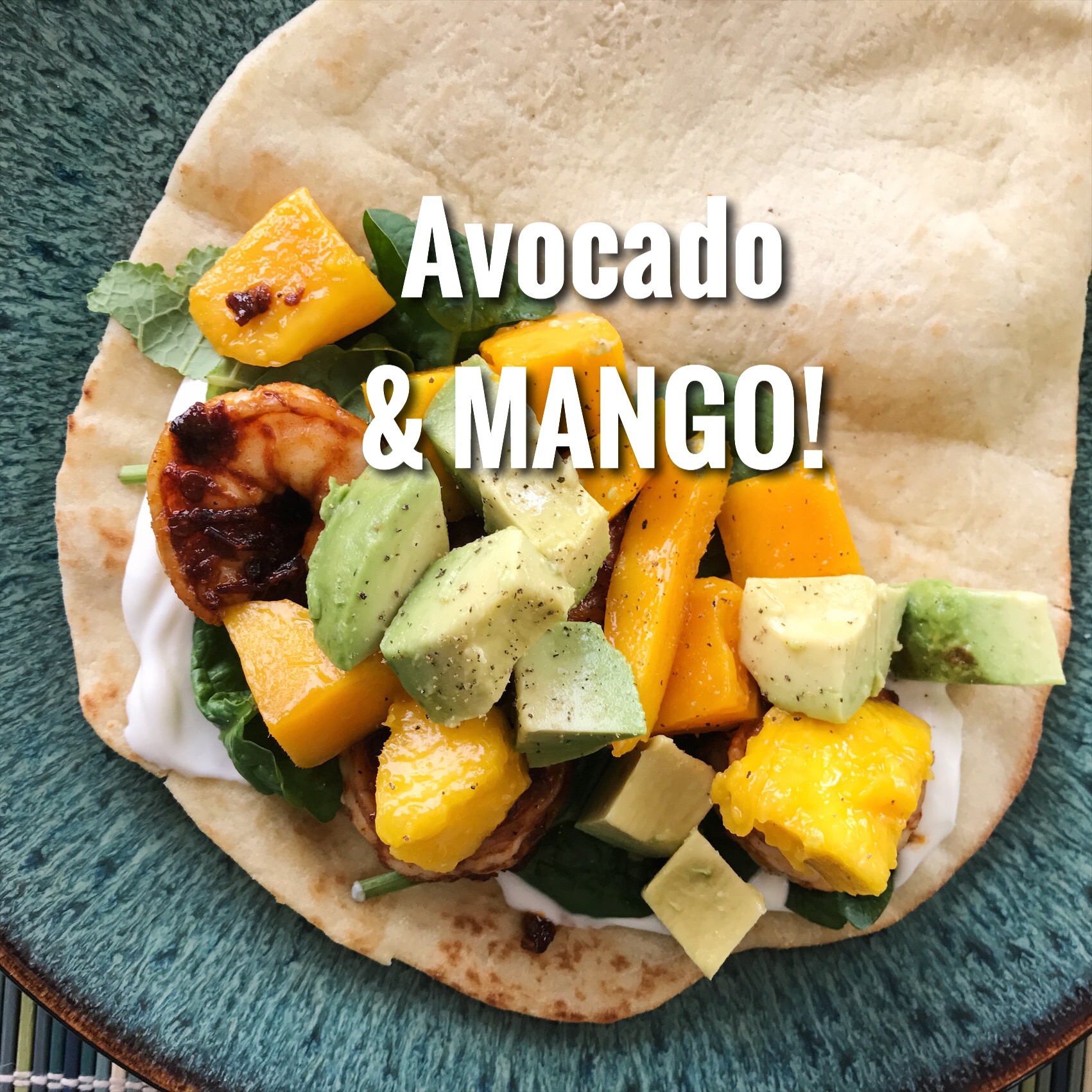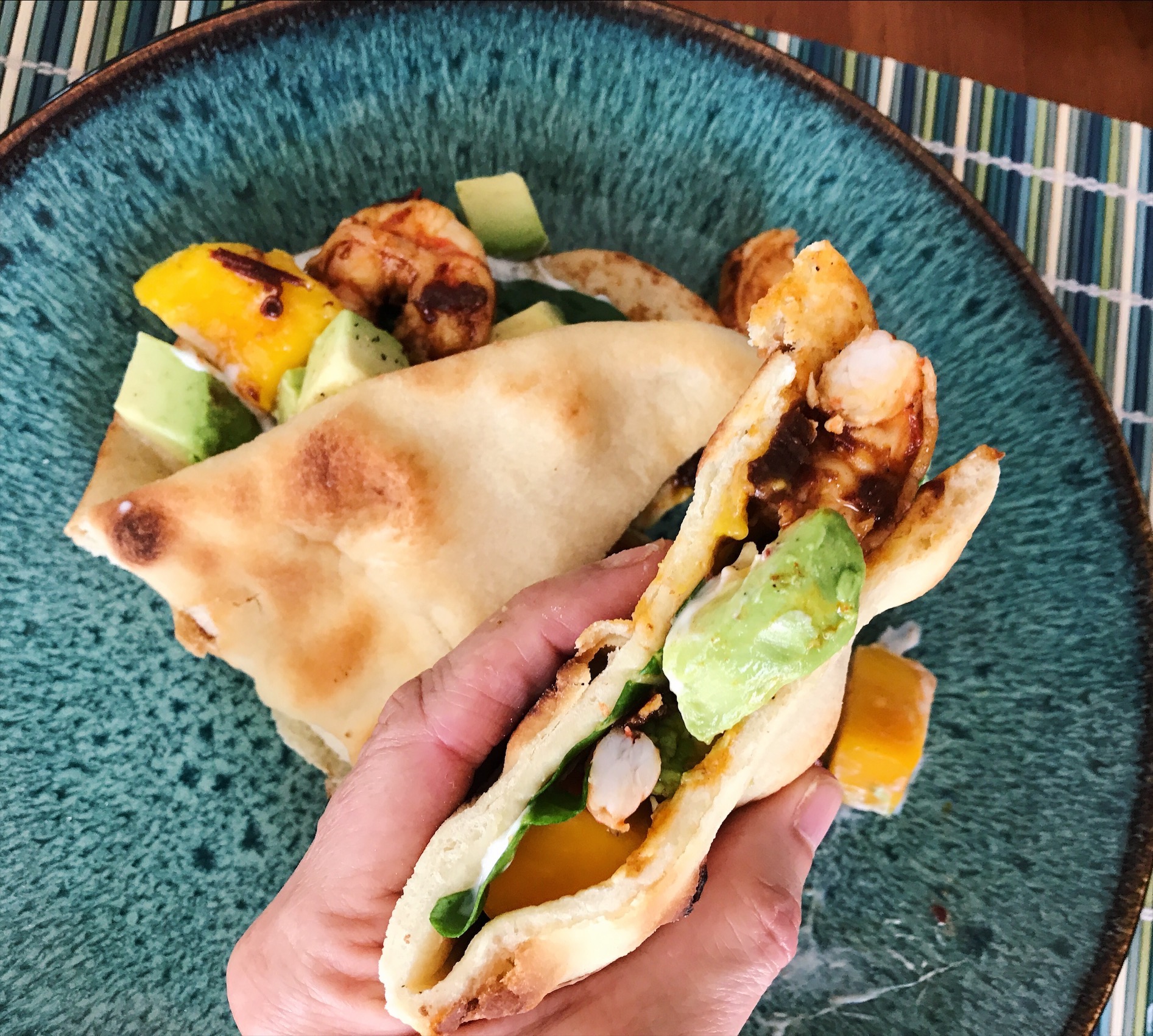 And shove it in your FACE! A little messy….but so good. When it's too hot to even consider eating……. consider a plateful of this! YUM!
RECIPE BELOW: This will take less than 20 minutes to get on the table and the bulk of that time will be spent cutting up that dang mango!!!! Sooo worth it, though, and extremely flexible, servings-wise. Just figure on 1 naan bread per person, 4 shrimp per naan bread, and as much or little mango/avocado/spinach as you want, have on hand, or prefer. Simplicity at it's finest, these beautiful ingredients don't need a whole lotta fuss to make you look good.
Shrimp and Mango Flat-bread Foldovers
2017-07-21 14:07:54
Ingredients
FOR THE SHRIMP
2 tablespoons olive oil
1/2 tsp smoked paprika
1/2 tsp ground cumin
1 (or more, depending on your taste) smoked peppers from a can of adobo chiles* (freeze the rest for future use)
a generous squeeze of honey (depending on your taste)
9-12 (about 4-5 per serving or so) large RAW shrimp, peeled and deveined
Salt and pepper to taste
AND FOR THE REST OF THE ASSEMBLY LINE
Avocado, peeled and cubed
Mango, peeled and cut into chunks
Big bunch of raw spinach leaves
Sour cream
Flat bread of your choosing. I choose naan!
Instructions
Set your oven to broil.
In a small bowl, combine the olive oil, smoked paprika, cumin, honey and one or two adobo chiles and whisk away. You will need to smash up those chiles a bit to incorporate and the whisk will help you with that.
Plop in your shrimp, and gently mix to coat everybody up.
Place the shrimp down in an even layer on a shallow baking pan (lined with foil for easy clean-up) and into the oven on the highest rack they go for 3 minutes. ONLY.
At the three minute mark, remove the pan from the oven and the shrimp from the pan into a bowl. Turn off the oven.
Place the naan bread on a sheet pan and pop them into the hot oven, on the middle rack. Let them warm for a minute or two. Keep an eye on these, you just want them warmed, not toasted.
Put it all together
Place a warm naan bread down on a plate so that the flatter, paler side is facing you. Spread a teaspoon of sour cream over roughly half the surface, and then layer over some spinach leaves, some shrimp, and some mango and avocado (in no particular order, really). Dust with salt and pepper, fold over and cut into halves. Serve it up!
This is so easy, and everything about it is super flexible.
Not crazy about spicy? Use your favorite BBQ sauce for the shrimp.
Can't get your hands on mangoes? Cut up a big juicy orange and you will have similar results.
Spinach not your favorite thing? Use whatever you like!
Not into naan? Try a flour tortilla (although I can't vouch with a clear conscience, seeing that I love naan bread almost as much as I love mangoes!).
Notes
* or just use a nice healthy dollop of hot sauce
Kick and Dinner http://kickanddinner.com/