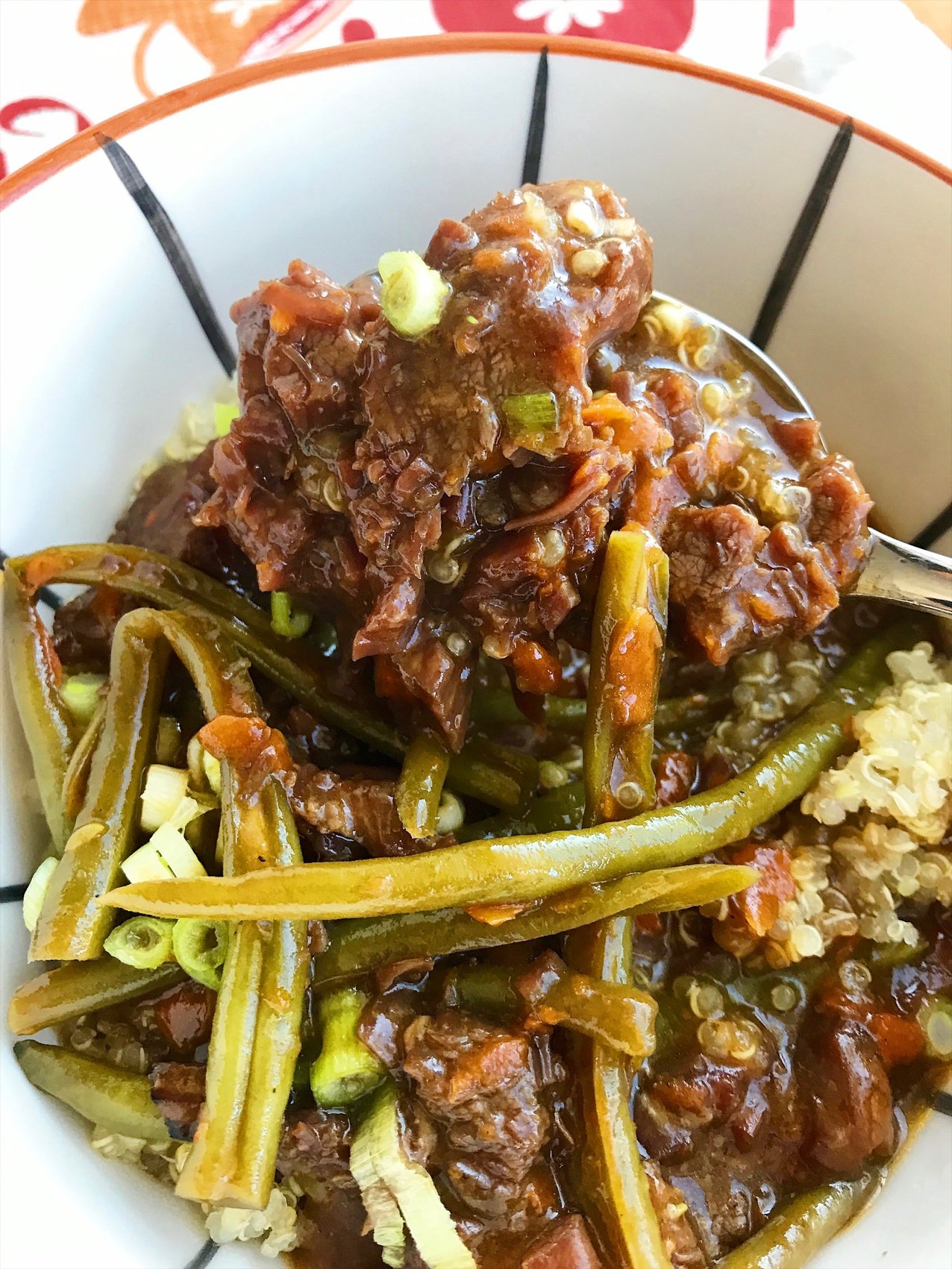 If you love love love your slow cooker, and you love love love gorgeous sweet and savory Asian flavors; you are in for one easy does it, super-delish, make everybody happy food-fest here today. Look at me, playing Cupid, but seriously I loved this recipe so much that it re-ignited my relationship with my OWN slow cooker!
Does that mean it's time to change my FB status? 😜
Now I could be wrong but I'm just going to go out on a limb here and make the general assumption that Mongolian Beef was originated not in the actual country of MONGOLIA, but much more likely the test kitchens of that casual dining chain we all have grown to know and maybe even love (or love to hate); P.F. Chang's China Bistro. And yeah, whether you're into the whole corporate restaurant thing or not…if you've ever been you gotta admit the food there is pretty consistently tasty. Arg, how annoying, right?, but here's the good news:
Slow cookery can be even easier than going out to eat.
But you already knew that.
I took this P.F. Chang copycat recipe, modified it for the slow cooker, added some green beans (a nice addition that eased my veggie-centric conscience) and…BOOM! Toss everyone into the hot tub, get on with your day, come back when you're ready……….and chow down! Man, is this ever good. Mongolian – modified.
Life in general should be this easy.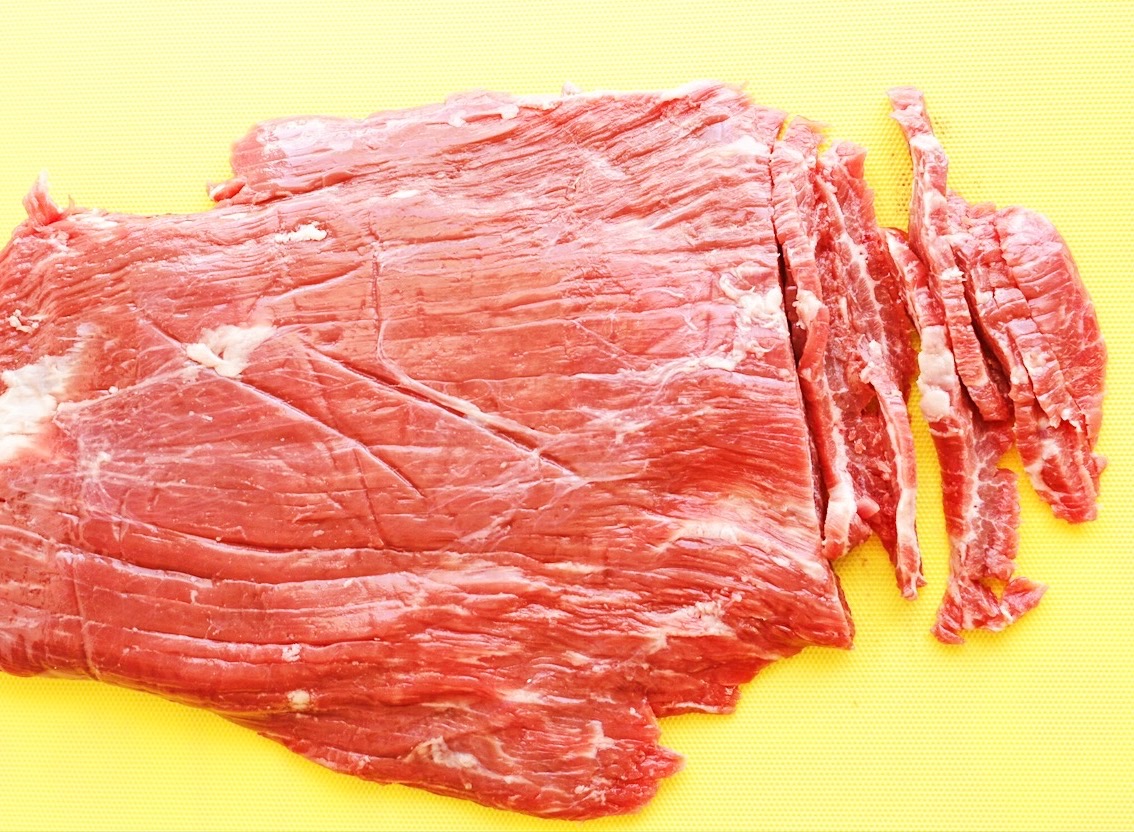 Start with your flank steak, and thinly slice this baby up across the grain. Now if you can't find a flank steak at your local grocery store (as common of a cut as it has come to be, sometimes they're out) a skirt steak or chuck roast would do in a pinch.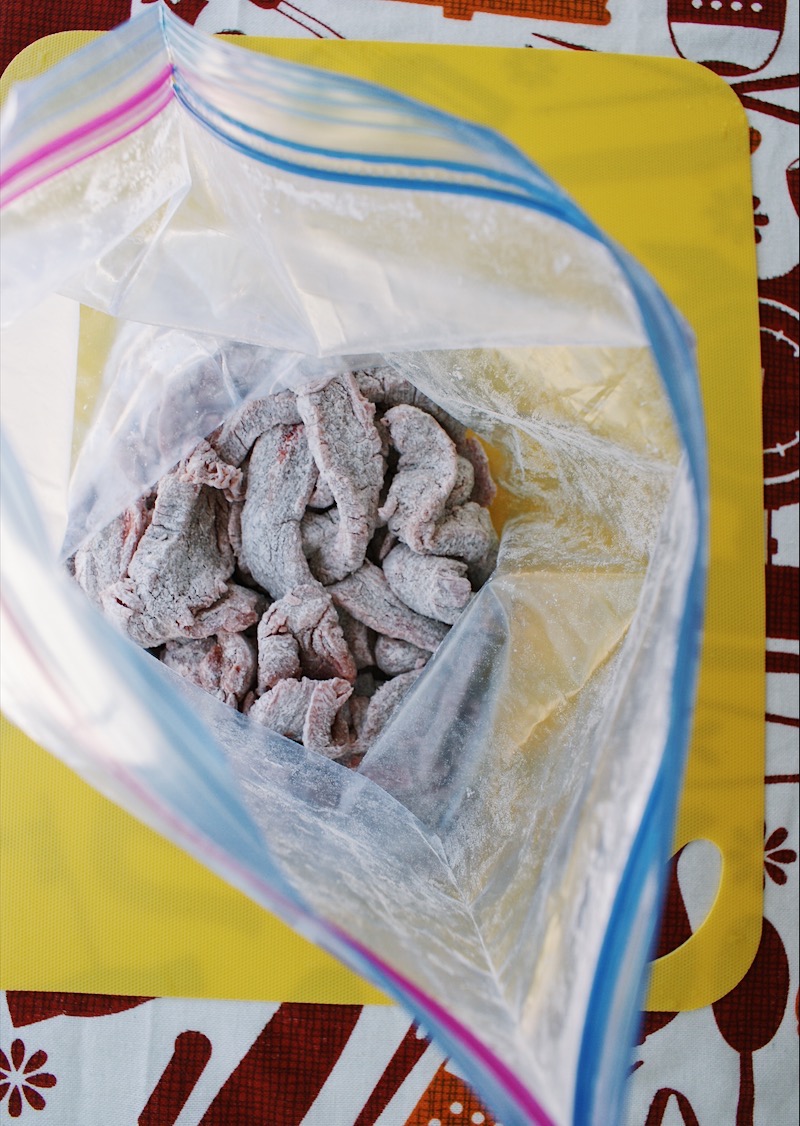 Pop your pretty pink slices into a big zip lock bag, and sprinkle over about 1/4 cup of cornstarch. Close this up (securely, please…… you DO NOT want this to go flying all over the place) and give it a shake until everyone gets a thorough dust-up. You'll get back to this in just a minute……..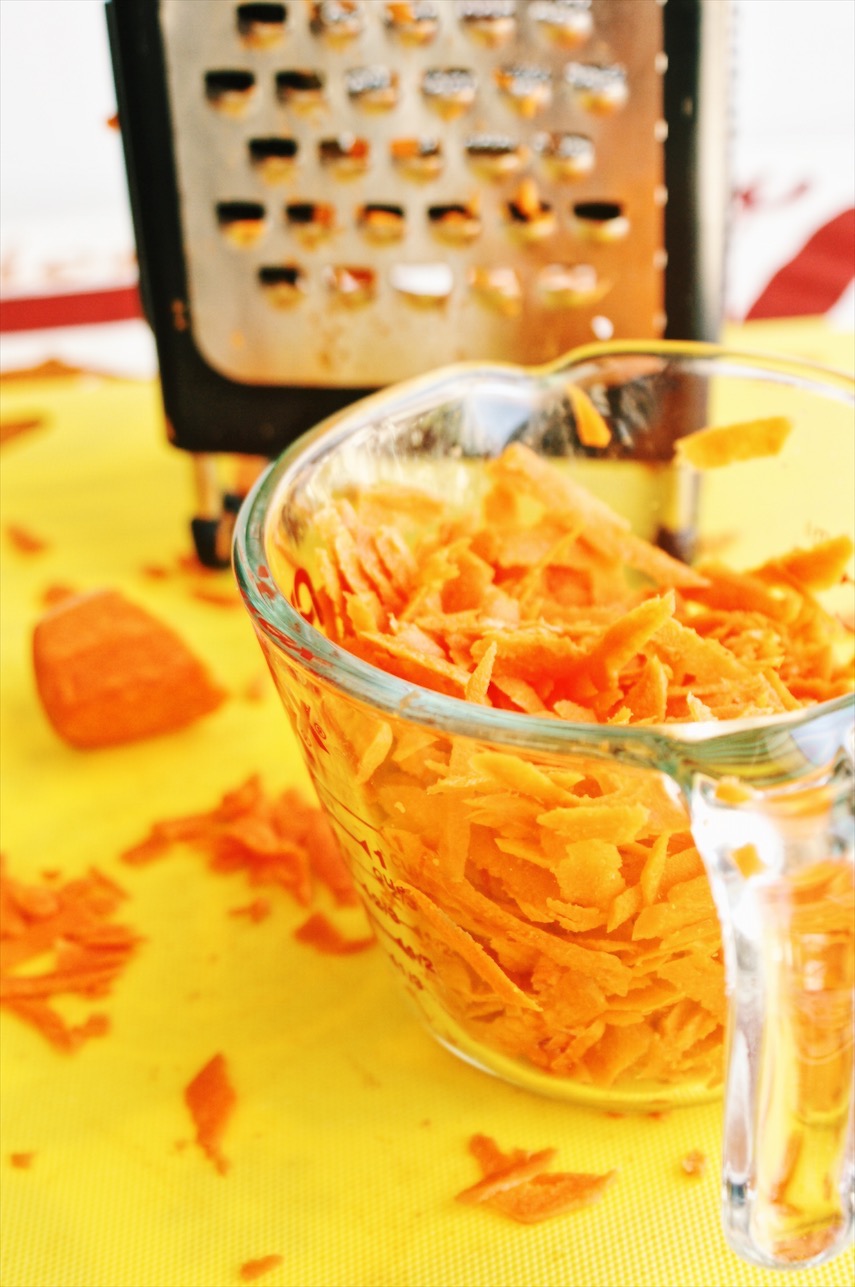 Go ahead and smash a couple of carrots through a grater until you have about a cup……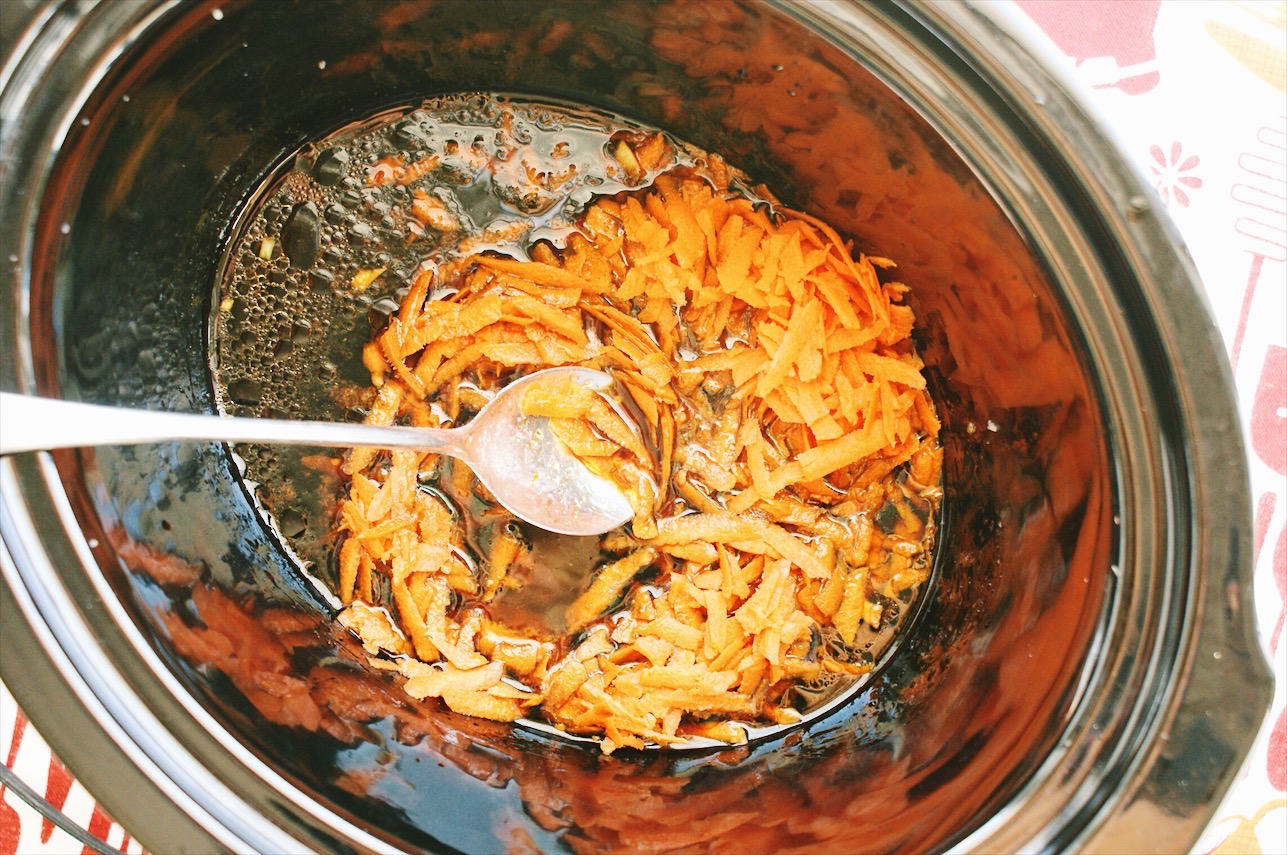 and into your slow cooker they go, along with some olive oil, garlic, tamari sauce (or soy sauce), brown sugar, a squeeze of honey, and some water.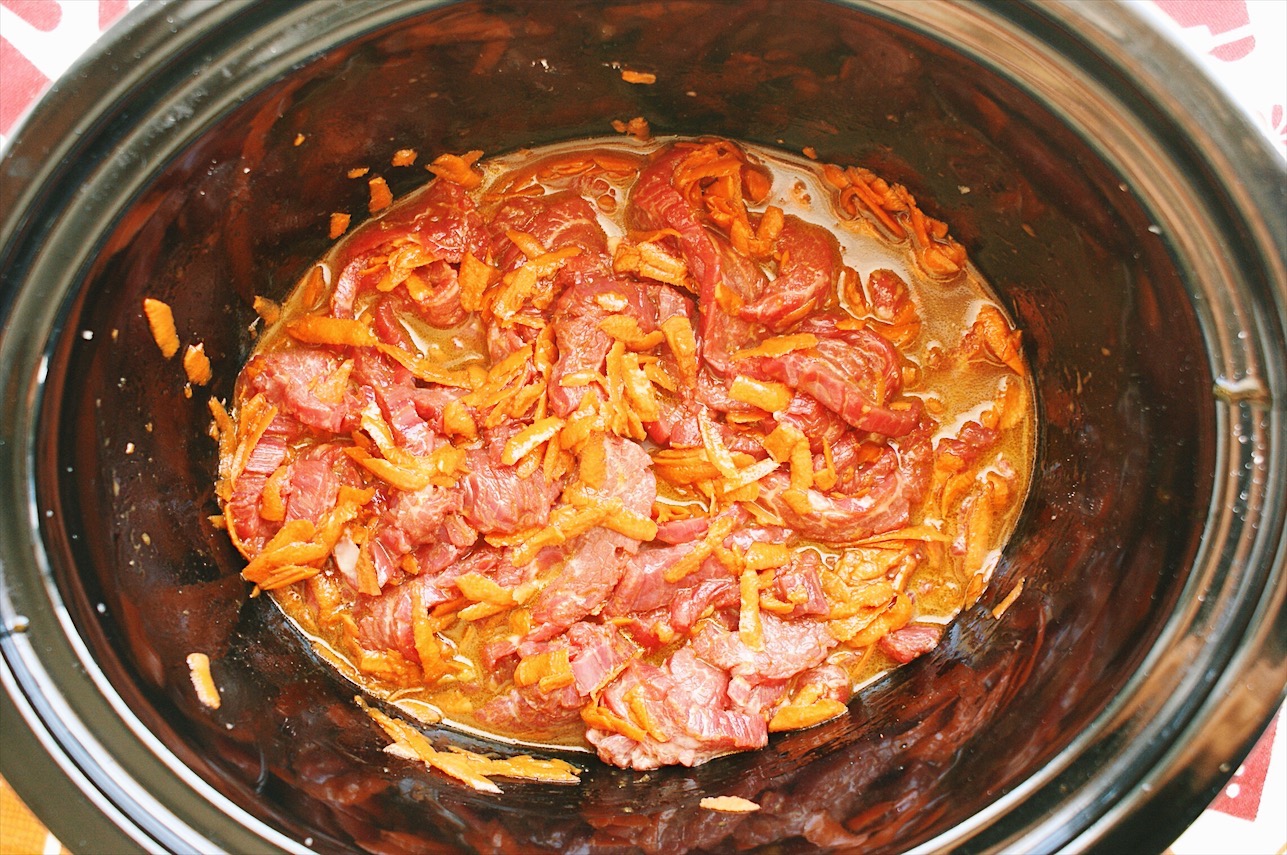 Dump those powdered planks of flank into that piquant pool and give it a stir. Turn it to high, put a lid on it, do the happy dance; the bulk of your work here is done! WooHoo!
But don't take off for the gym just yet……….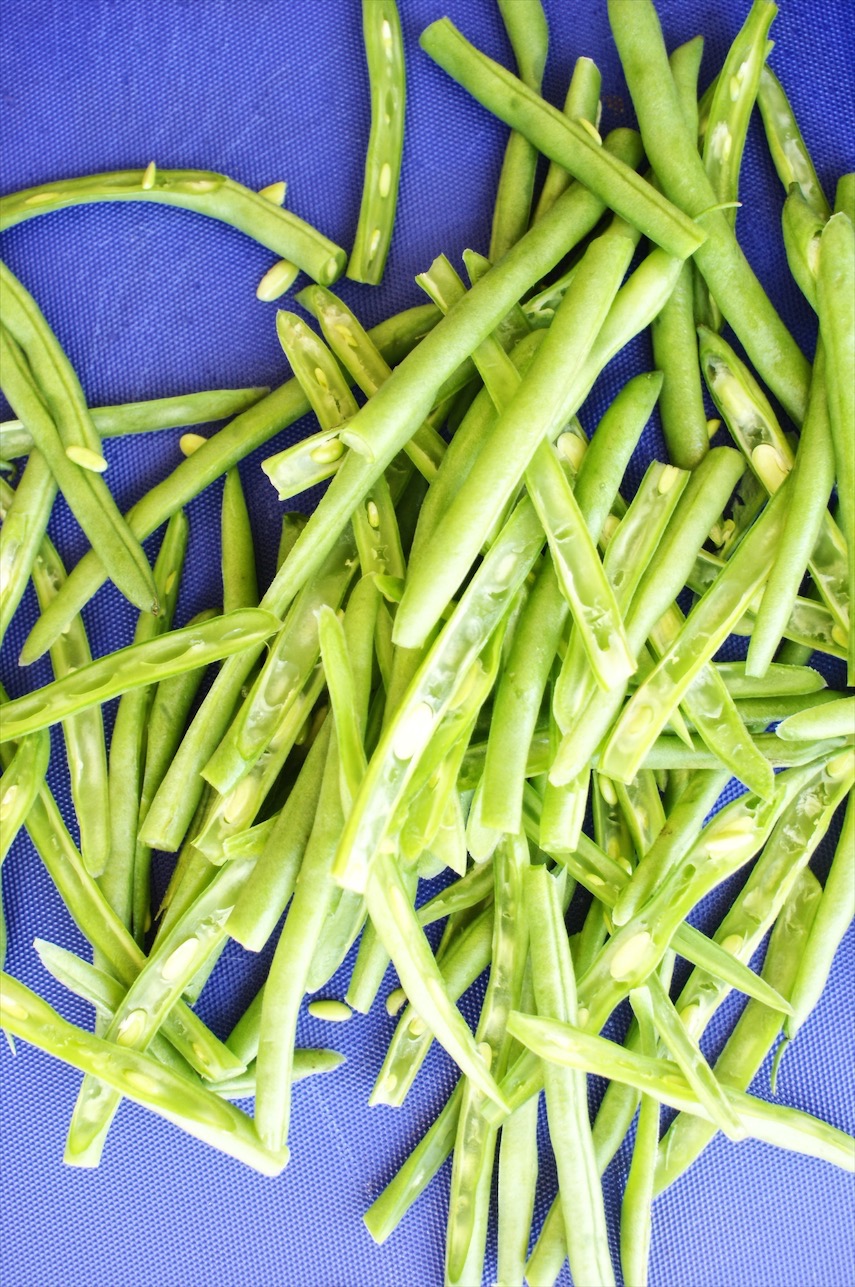 Rinse and trim about a pound of fresh green beans. I went ahead and "frenched" my vert haricots; simply a fancy way of saying: "sliced down the middle" with a sharp knife. This renders them super quick cooking and, in my opinion…..just really pretty.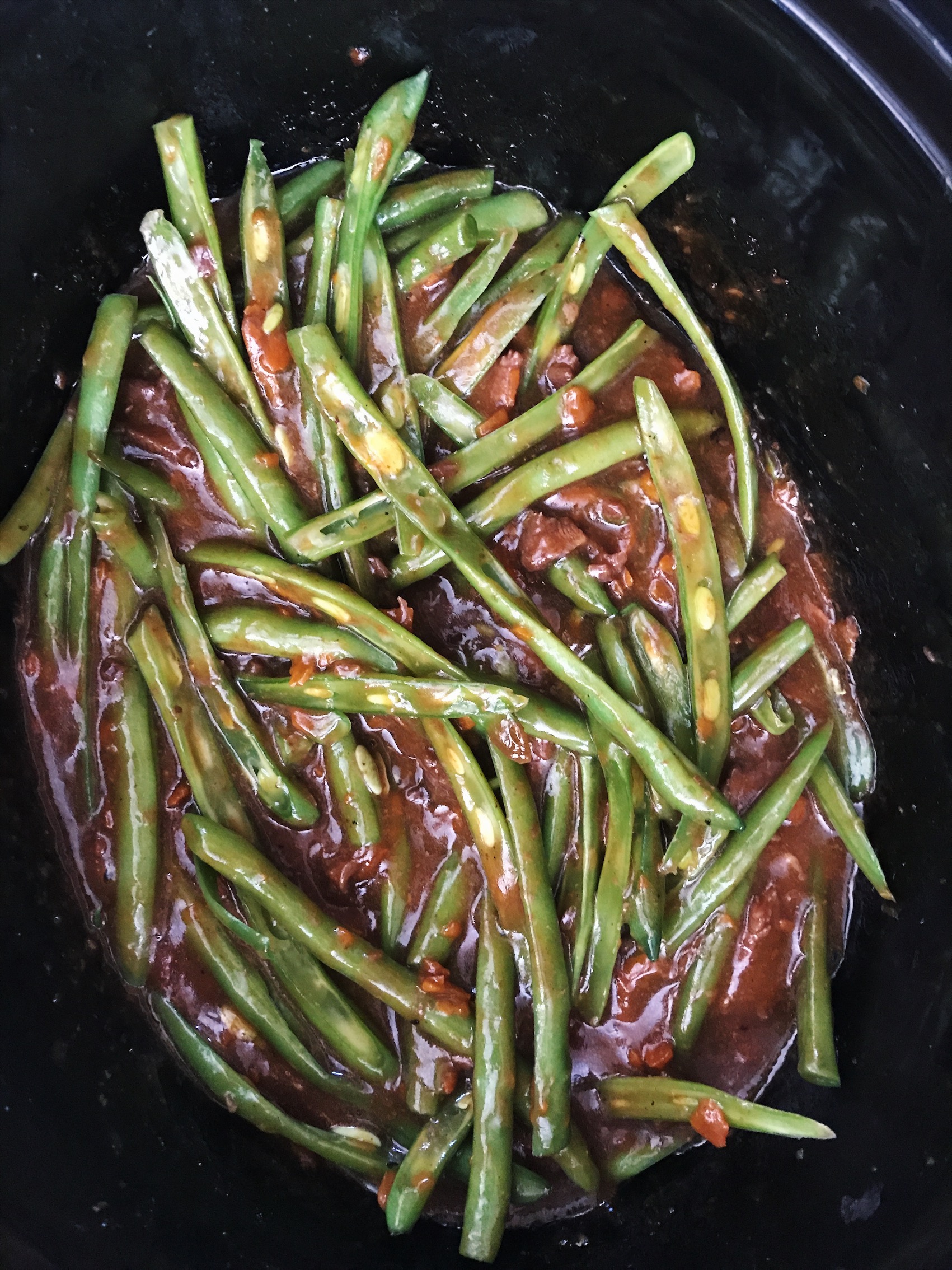 Your haute cuisine green beans will get to the party fashionably late, and that's okay. Pop them in about halfway through, and let the slow cooker continue to do its thaaang, while you go do yours.
Cos when it's ready, ………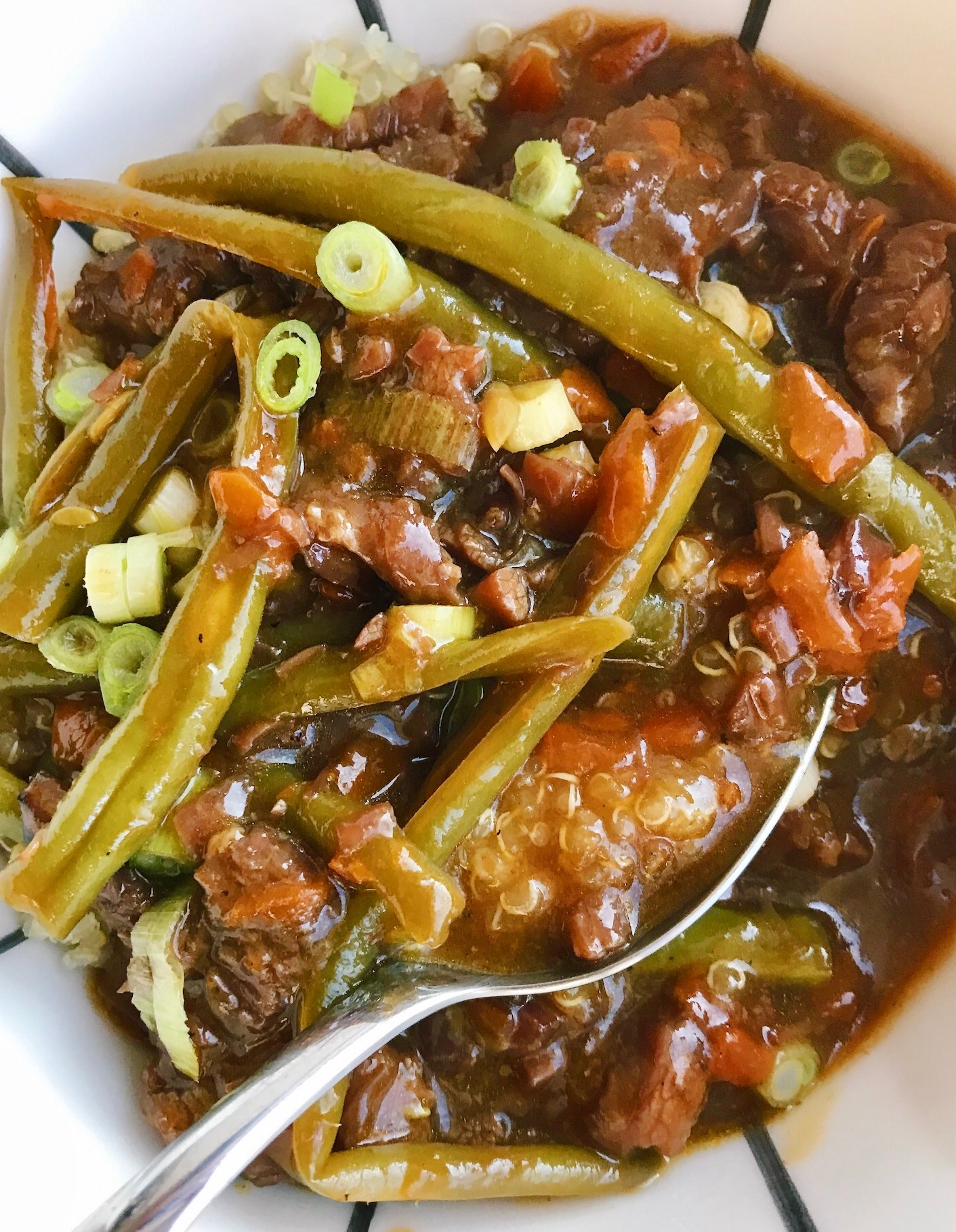 You will end up with a crowd pleasing pot of pure pleasure. Serve this over quinoa (as I did), some cauliflower rice (hey, you can even get this stuff pre made for you…thanks, Green Giant!) or regular white rice, scatter some sliced green onions over the top and get after it!
RECIPE BELOW: This is really so quick that what will take the most time is the prepping of those green beans, no lie. If the thought of THAT makes you crazy then use frozen green beans if you like, just pop them in at the very end, or leave the beans out altogether…….its okay, I won't tell anyone. This makes four servings; leftovers, as you can only imagine……are AMAZING (if you're into the whole leftover thing). Such a great reason to give that old slow cooker some new love.
Slow Cooker Mod Mongolian Beef
2017-06-09 10:55:05
Ingredients
1 1/2 lb. flank steak, thinly sliced against the grain
1/4 cup cornstarch
1 cup grated carrots (2 or 3 medium carrots should do the trick, more if you like em!)
2 tablespoons olive oil
2 garlic cloves, smashed and minced
3/4 cup tamari sauce*
3/4 cup water
1/4 cup brown sugar (light or dark)
generous squeeze of honey (1 or 2 tablespoons)
Add ons
1 lb fresh green beans, trimmed and sliced down the center
2-3 green onions, sliced
Instructions
Place your flank steak slices into a large plastic zip lock bag, sprinkle over the corn starch and shake the bag (sealed.....um, ya think? lol) until all of the steak is evenly coated.
Get out your crock pot/slow cooker, and dump in the carrots, olive oil, garlic, tamari sauce, water, brown sugar and honey. Give this a mix.
Add the dusted flank steak, and give this another stir.
Cook it up!
Cook on high for 2-3 hours or on low for 4-5 hours. Depending on your speed of choice, at the halfway mark, slide in your sliced green beans and mix them in as best as you can. Allow this to continue doing its thing for the remainder of the time you have set.
SERVE IT UP
Serve this deliciousness up over some quinoa, maybe some cauliflower rice, or regular white rice, if that's your brand of preference. Give each serving a liberal scattering of those sliced green onions and you are on your way!
Notes
* you can use soy sauce if you like..........I prefer tamari, it is gluten free and I just find it to be yummier
I did not add anything spicy to this recipe but you could TOTALLY give it some zip with some red pepper flakes, a pinch of cayenne pepper, some chile paste, or even a squeeze of Sriracha.....yum
Kick and Dinner http://kickanddinner.com/