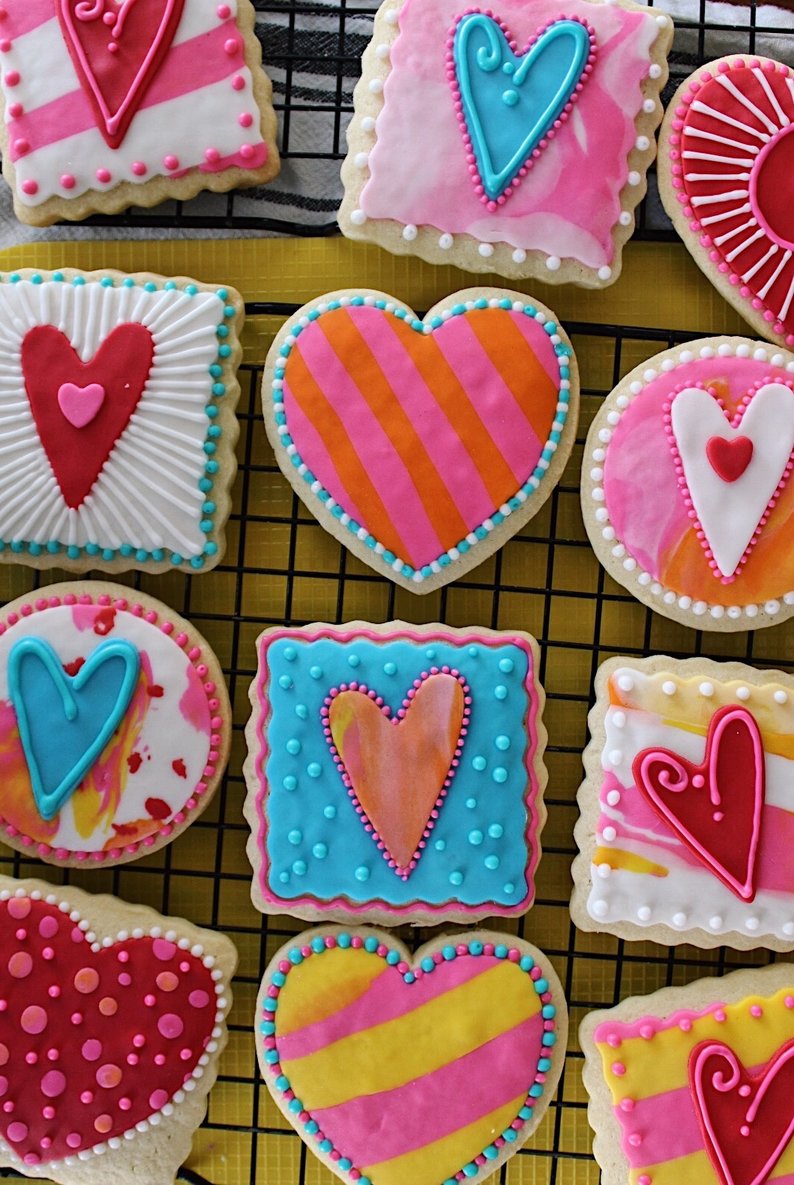 The highly anticipated sequel to the wildly popular

Sorta Fancy Decorated Sugar Cookies

post that went out in December is coming back at cha right now: and as per usual…..
This one is all about making roll-out sugar cookies pretty (and yummy) enough to be gift-worthy (be my Valentine, would ya?) without having to be particularly artistic or even super crafty in order to make that happen.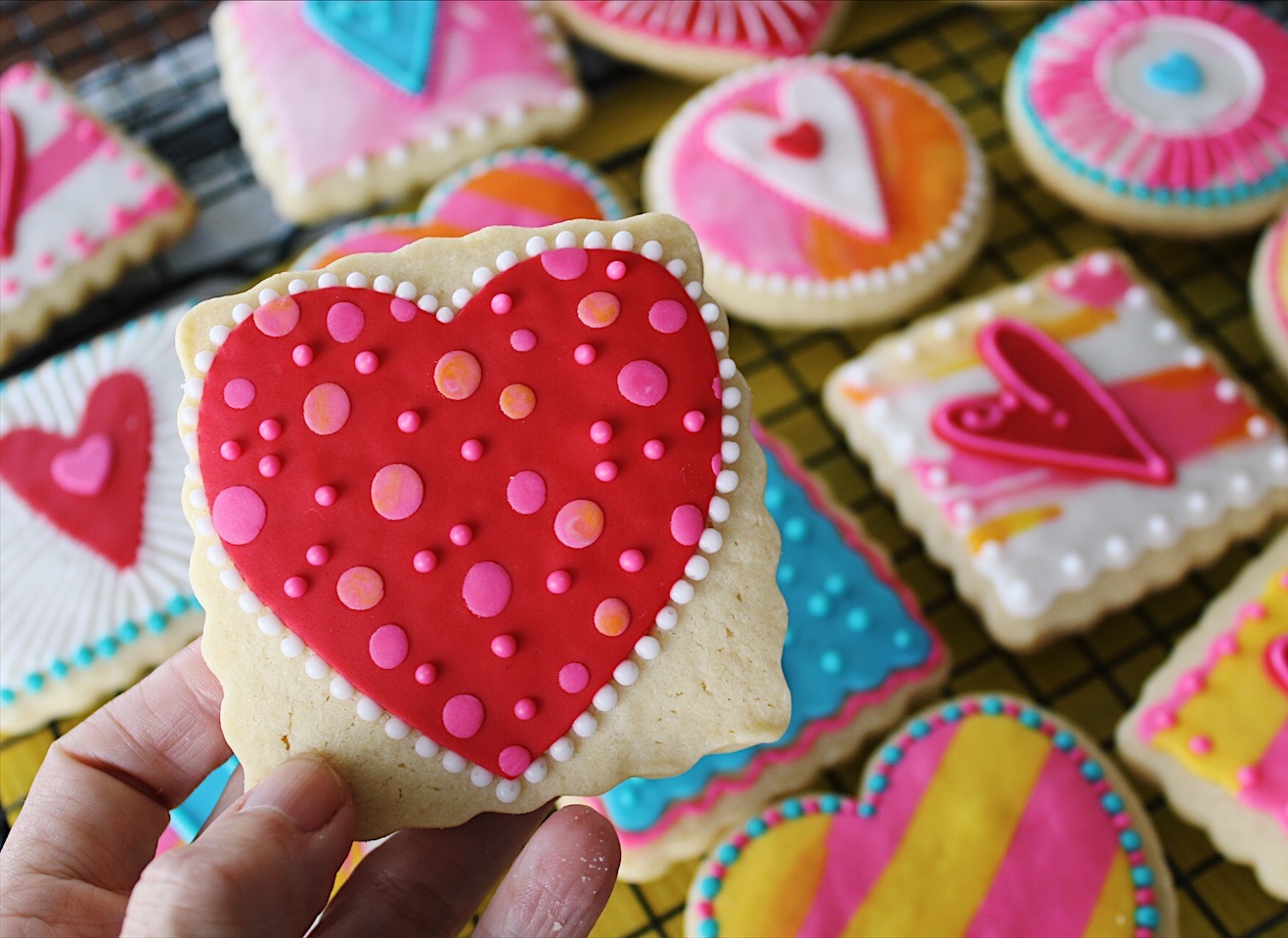 So what's the trick? Well, you can get some really impressive looking results with some very rudimentary piping skills (can you push out a dot? maybe a line? that's about it? yeah, me too) when you're messin' with the magic that is FONDANT.
Now if you checked out my Christmas cookie post explaining all things fondant to you, I won't bore you with that all over again……….and if you didn't, just head back over there and check it out.
I'll wait.
Did you go look? Good! Now that you have a handle on this fondant business and you are ready to step up your technique…..get out your cutters, bake some cookies (once again, recipe and instructions are all back there where we left them) and let's get fancy with it.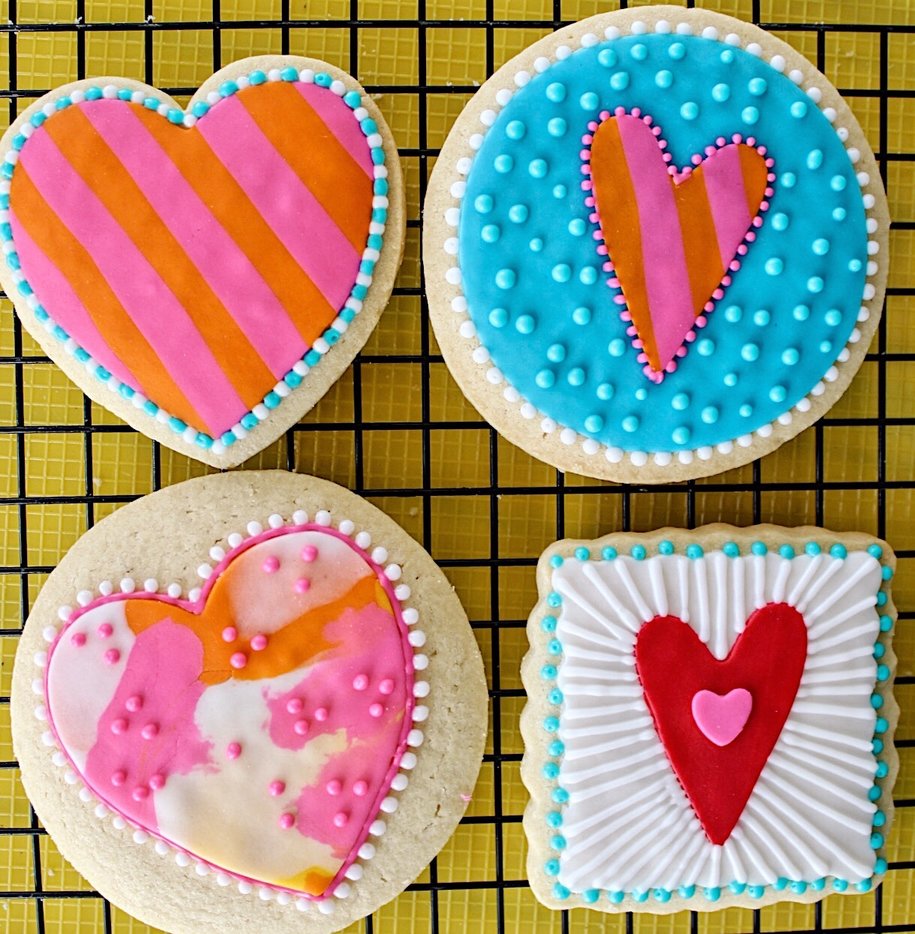 Think of this post/tutorial as your sophomore year of Fondant 201!
Specifically I am going to show you how to create these super simple stripes, marbling and color-block effects.
Are you Ready?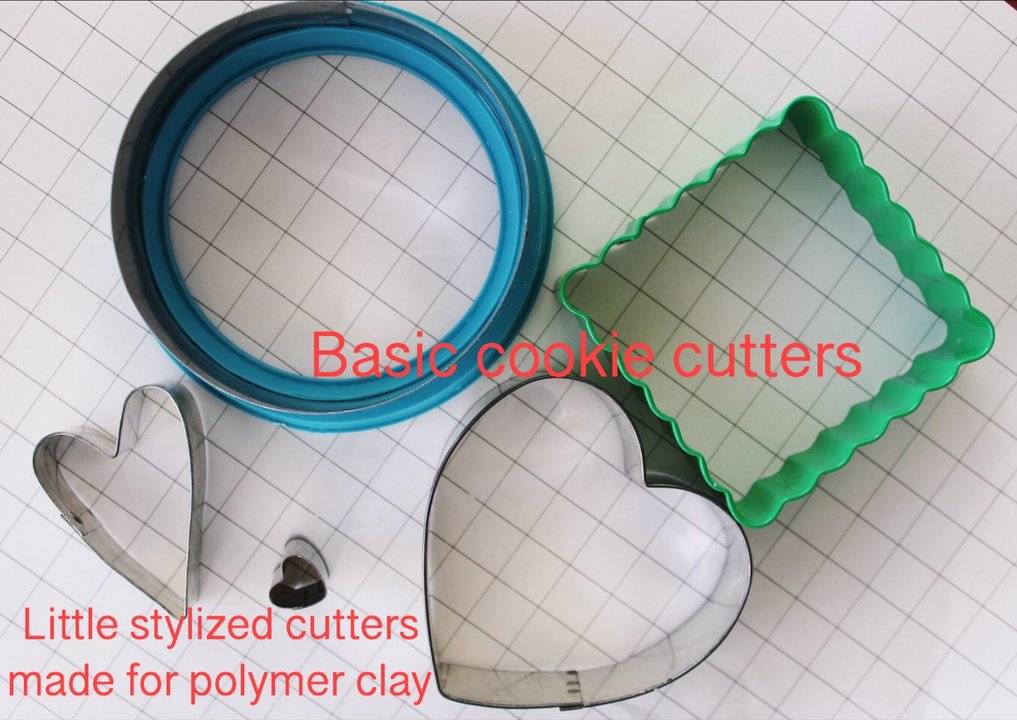 I used some uncomplicated shapes to bake the actual cookie. A large circle, scalloped square and your basic heart, all very easy to procure. The little heart shapes on the bottom (left) are not actual cookie cutters at all, but are made for use with polymer clay arts, so check out that section of any Michael's' or Hobby Lobby store….you can find some really cute ideas for fondant embellishments (fondant behaves like clay, it just happens to be edible) there.
So let's start with the color block design. I'll use the square cookie for this one.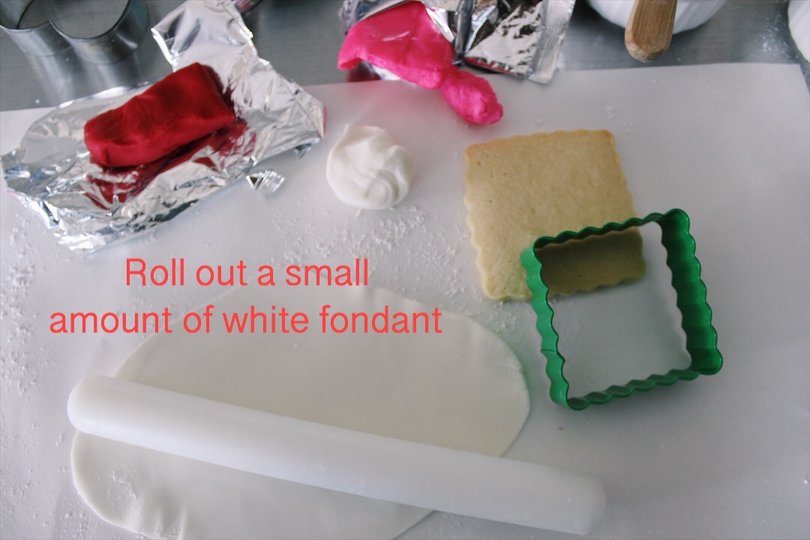 See how the fondant looks and works just like play-doh? Roll it out nice and thin, being sure to use a smattering of powdered sugar as you go to keep it from sticking to your surface (rolling it out on tin foil or wax paper really helps). Using the very same cookie cutter as the actual cookie, punch out the shape. You will need to squiggle it a bit back and forth to make sure it cuts completely through the fondant.
With a small flat paintbrush or pastry brush, "paint" a thin layer of sugar-water (two or three tablespoons of sugar or honey dissolved into 1/8 cup of water or so should do it) over the surface of the cookie, then carefully place the fondant down onto the cookie, making sure to smooth the edges with a dry finger.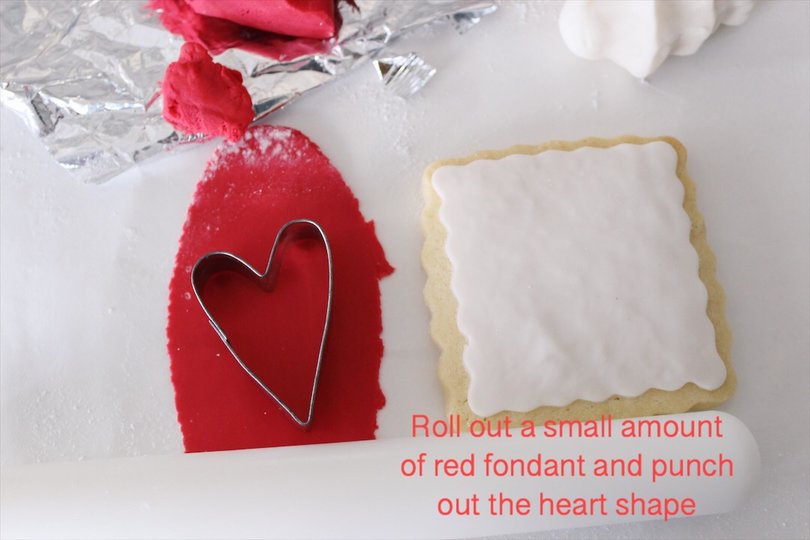 Next roll out another color of fondant… obviously I used red here, and punch out the decorative heart shape. Now this time carefully dab a small amount of sugar-water onto the back of the heart, and then lay it down onto the white fondant. Be sure not to go crazy with the sugar-water when you are attaching fondant to fondant, it is essentially made of marshmallow and will go soft and slimy on you – so take it easy with your "glue".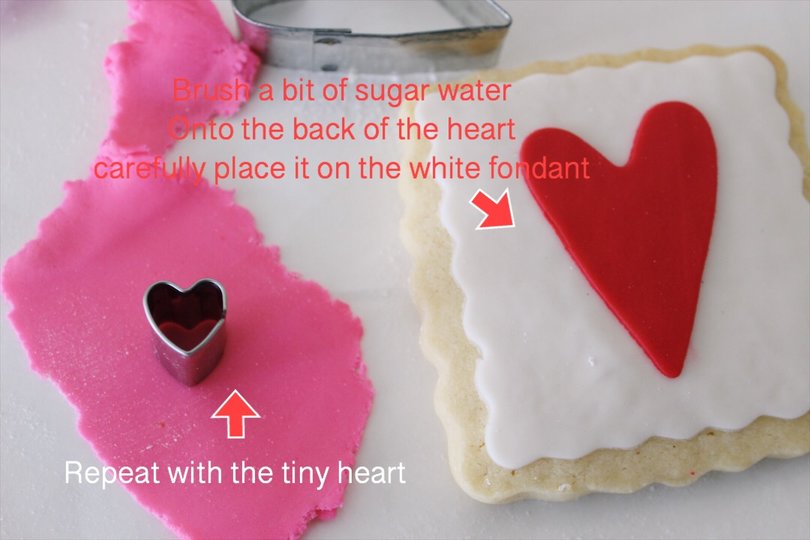 Now do the very same thing with the teeny weenie little heart. Roll out some fondant, punch out the shape…..add a dab of sugar-water to the back of that itty bitty whittle ting…..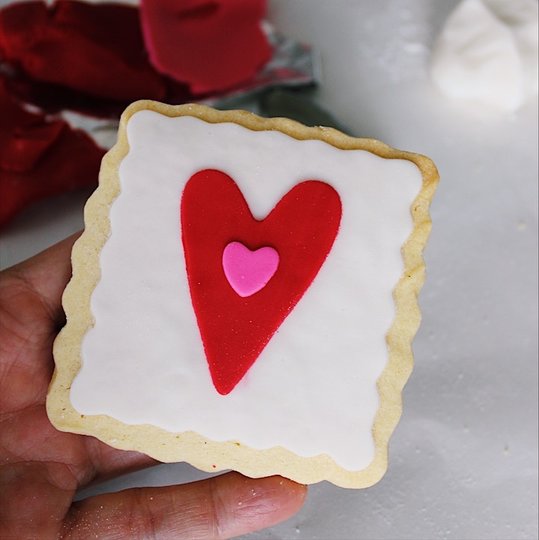 And there you have it. Cute as can be even before you add a few squirts of icing! I KNOW!
Now that you've got the hang of this let's work in some stripes: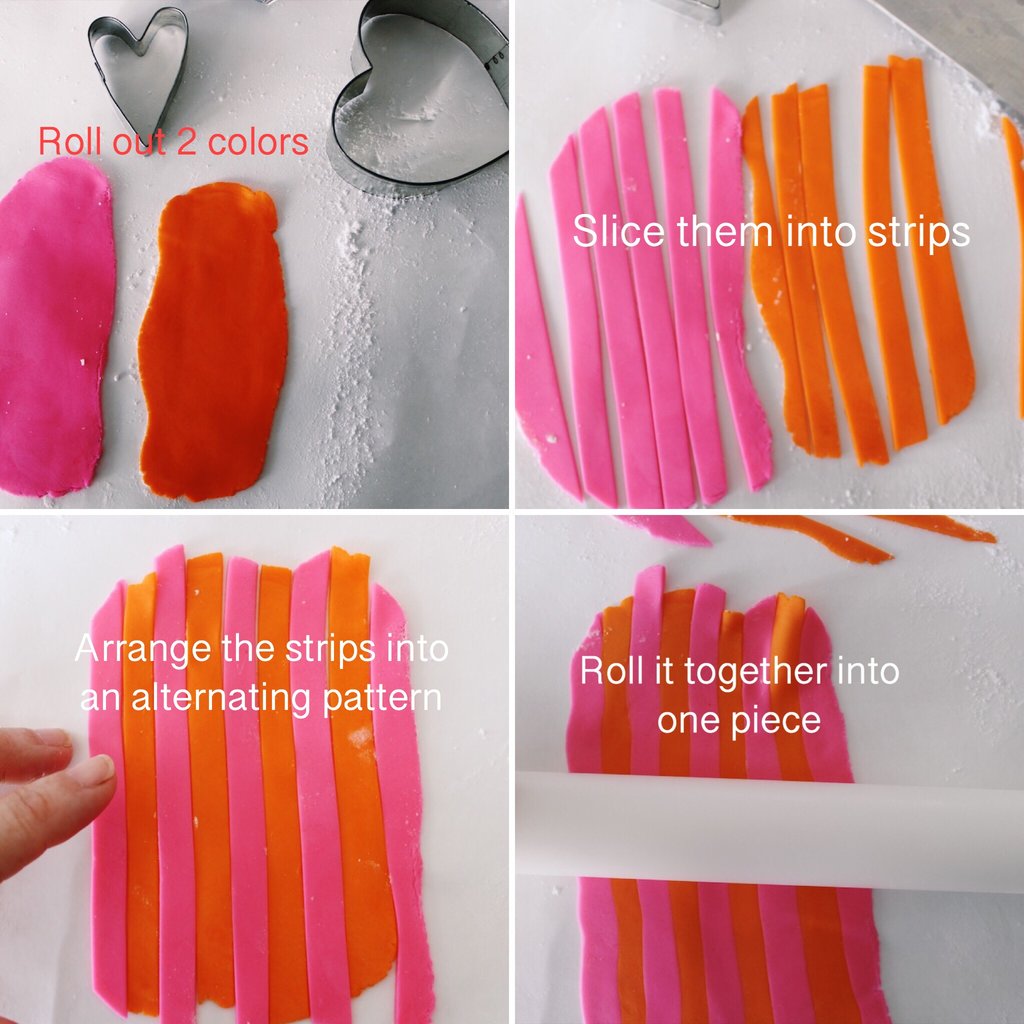 Choose two colors and take a small amount of each, rolling them into similar sized rectangles. Slice them up with a sharp knife, and then rearrange them into alternating stripes. SMaSh them together with your rolling-pin until you have one cohesive piece of fondant………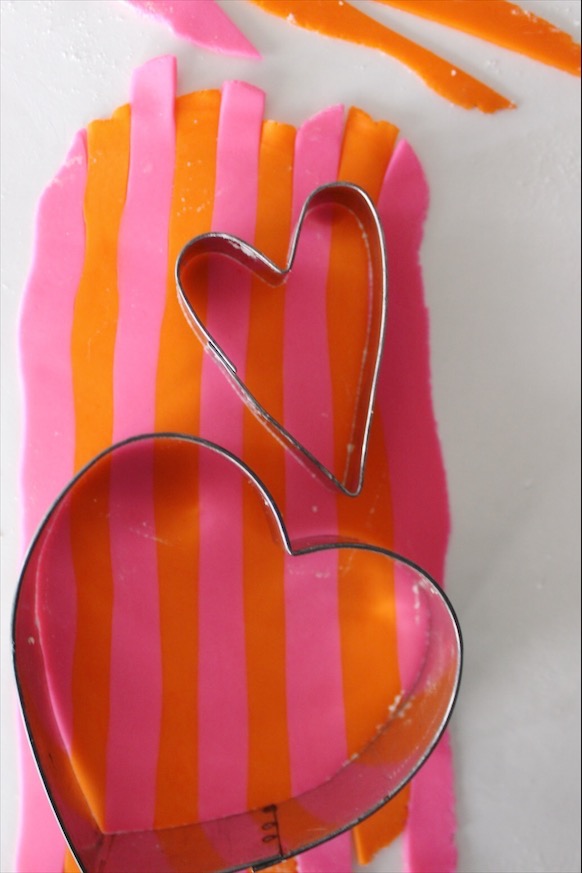 and yep, you got it, punch 'em out,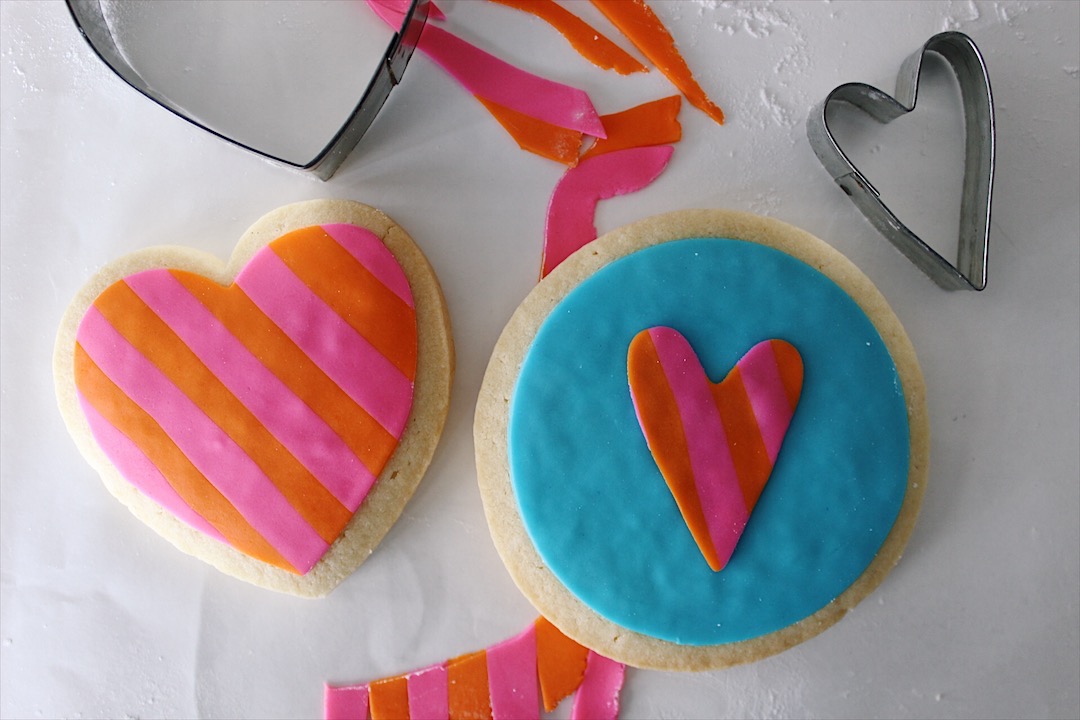 and I'll let you take it from here. Remember if you are attaching fondant > cookie then brush the cookie's surface with sugar-water, and carefully attach the fondant. If you are glueing fondant > fondant, gently dab some sugar-water onto the back of the appliqué (the little heart, in this case) and then onto the fondant covered cookie. Smooth everything down with a dry finger.
How about that? Totally adorable. But now you have all these fondant scraps……and you hate to throw them out……what to do with those?
This one is too easy.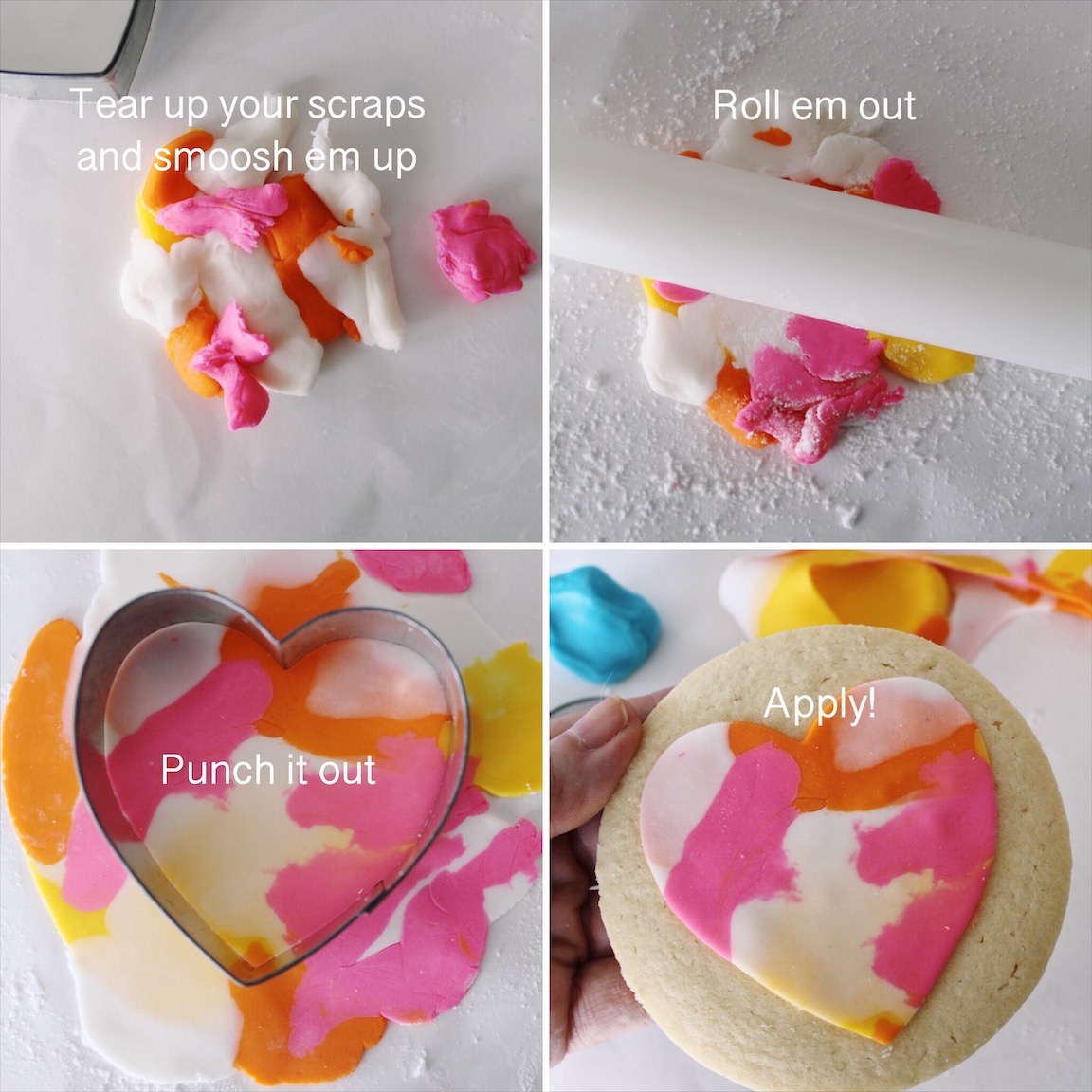 Create a beautiful marbleized effect by simply tearing up pieces of fondant and smooshing them together. Be really haphazard with this technique, the messier, the more organic it will look. Pretty neat, huh? You can leave these cuties exactly as they are and call it done but if you want to take it one step further (I mean, the kitchen is already a mess, right?)…..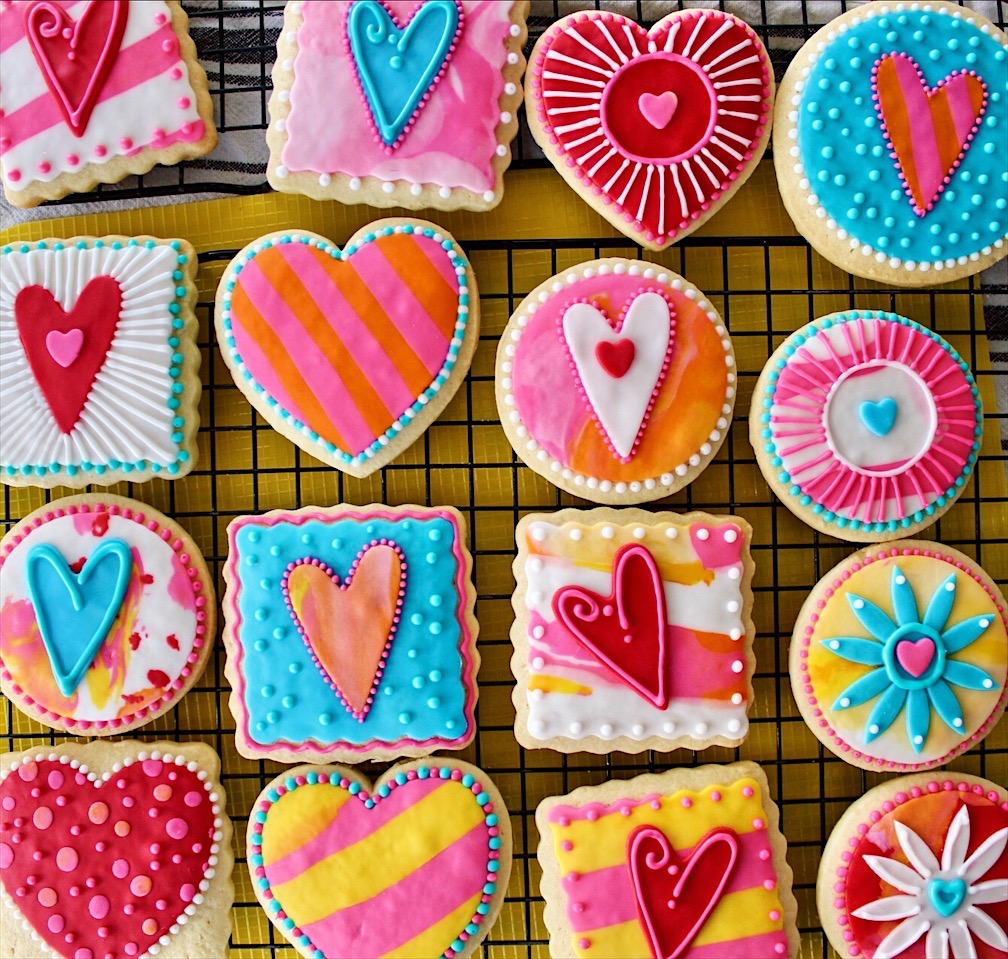 Add some royal icing dots and dashes (for some really great instructions on how to make a batch of that go HERE), and you have got yourself some gorgeously edible art, or at the very least……COOKIES!!!!!!!
RECIPE BELOW: This recipe makes approximately 18 cookies, which of course will vary depending on the size of the cutters you choose. Besides the actual recipe for the cookies and the icing, you will need fondant, icing bags and tips, a rolling-pin, (and lots of patience)! This can really be a project, so be prepared for the time it takes. But besides that….there are no negatives. I mean really, is there such a thing as a BAD decorated cookie?
I think not.
Sorta Fancy Decorated Cookies
2018-02-11 10:05:54
For the Cookies
3 cups all purpose flour (spooned into measuring cup and leveled off)
1 teaspoon baking powder
1 teaspoon salt
2 sticks unsalted butter (at room temp)
1 cup granulated sugar
1 egg
2 teaspoons pure vanilla extract
wax or parchment paper
For the Icing
3 cups powdered sugar
1/8 cup (plus some, a few drops at a time) water
Make the Cookies
Preheat the oven to 350°
In a medium bowl mix together the flour, baking powder and salt, set aside
In a large bowl cream together the butter and sugar until light and fluffy. This should take two to three minutes. Add the egg and vanilla and beat together another minute or so. Make sure to scrape the sides of the bowl as you go.
Add the flour/baking powder/salt to the wet mixture, in thirds, and mix in together.
Once the dough comes together, remove it from the bowl, knead it together briefly with your hands, and the divide it into two separate balls.
Roll each ball out between two sheets of wax or parchment paper to 1/4 inch thick slabs. Place the slabs in the refrigerator to chill until hardened, at least 15 minutes.
Cut the cookie shapes out of the hardened dough, place on a wax (or parchment...you get it) lined cookie sheets. Pop back into the refrigerator to re-chill, another 10 minutes or so.
Bake the cookies for 20 minutes, making sure not to let them get brown. Remove from the oven and allow them to cool on the cookie sheet. Then remove them from the sheet to cool completely before decorating.
For the Piping Icing
Mix together 3 cups of powdered sugar with 1/8 cup of water. You want to use electric beaters for this. If the icing seems too thick, you can add water, but just a drop at a time, until you get it to a piping consistency.*
Notes
*IF you checked out the royal icing recipe link you may have noticed they used meringue powder (essentially powdered egg whites) in the recipe and that I omitted this ingredient. Aren't you observant! Well, I use meringue powder when I have it and it's great, but I have found you can make due without it.....so if you have it, use it, if not, no worries.
To make the sugar GLUE to brush on the cookie to get the fondant cut-out to stick; mix a couple of tablespoons of sugar or honey with 1/8 of a cup of water until dissolved. Use a paint brush or pastry brush to dab it onto the cookie.
Sprinkles! Icing! Jimmies! Sparkly stuff! You can go crazy with these.........or just spread on a little icing and call it done. These cookies are THE BEST.
Kick and Dinner http://kickanddinner.com/