This is a re-post from last March. But it was cold out. It was late. I was hungry. I made this soup…and now I need to remind you how good it is………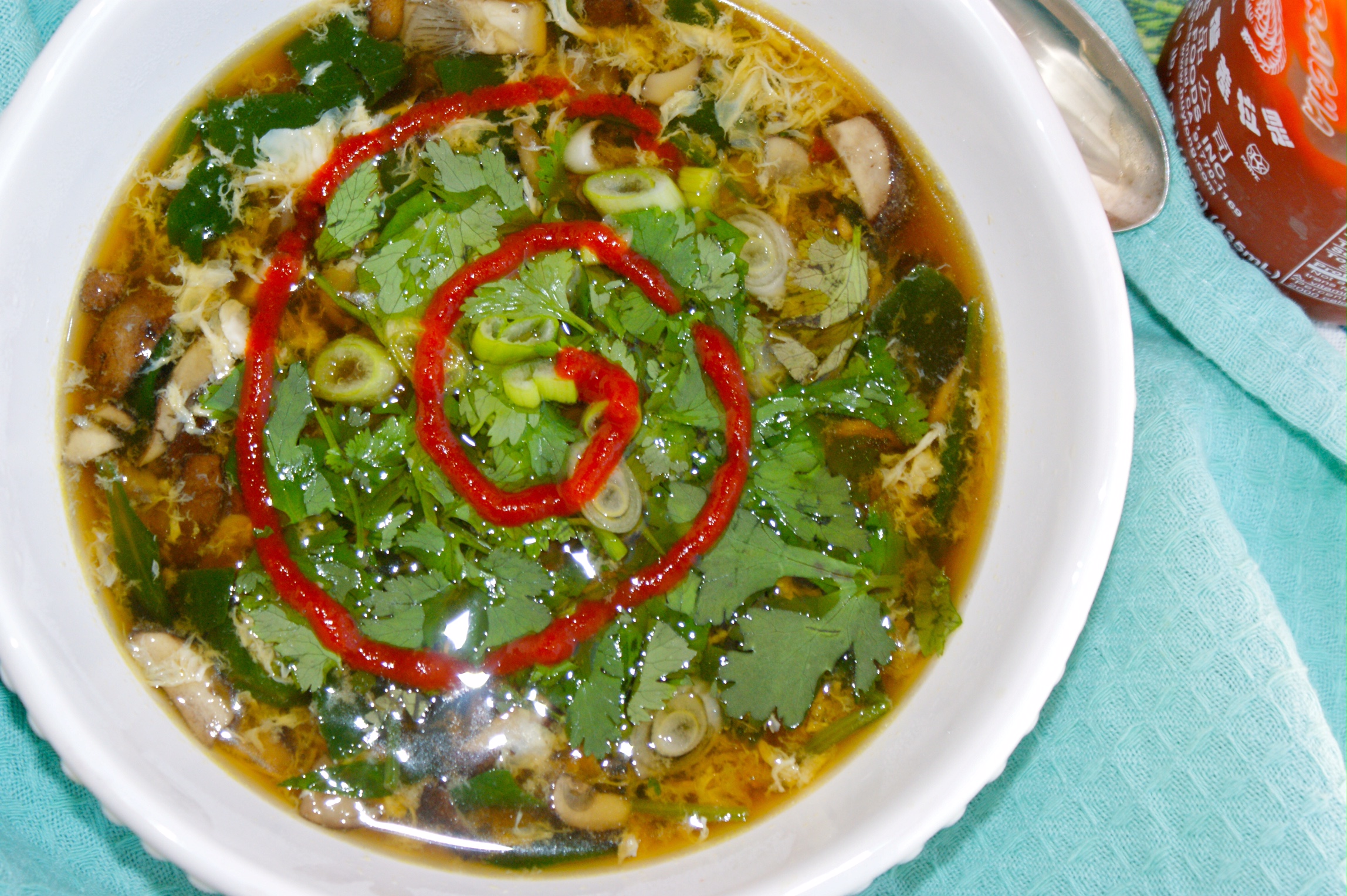 What's a matter, baby pie? Not feeling too great today? Got yourself a wittle cold? Maybe a touch of the flu?
Feeling blue? Maybe a little green? (seeing red?) Maybe you're just run down…
MAYBE you've been having too much fun lately. 😜 (I say we vote for that)
Whatever the reason, let's not waste another inhalation of oxygen complaining about it. In under ten minutes, you can be sitting in front of a steaming, fragrant, body and soul replenishing bowl of THIS……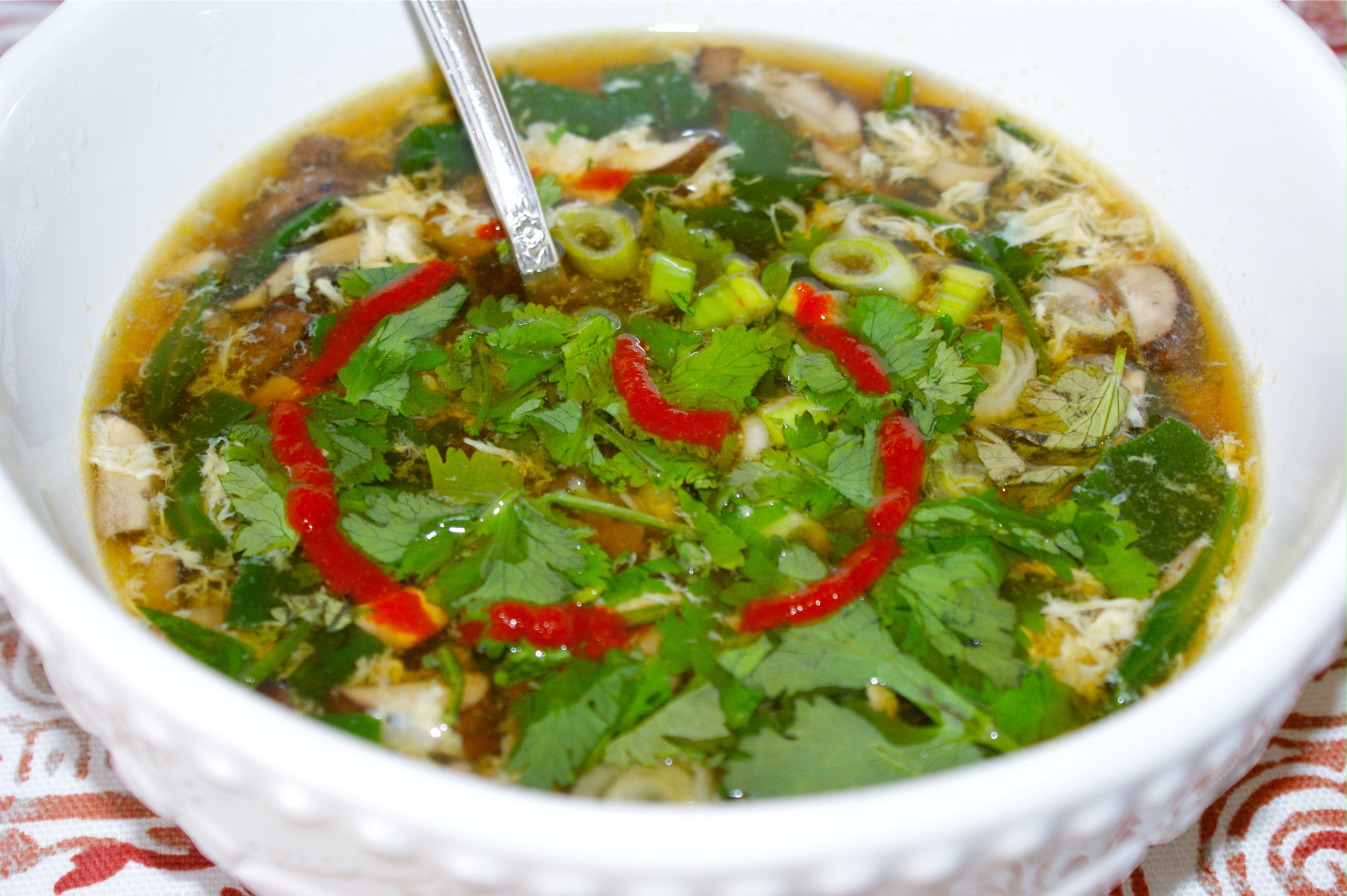 Really. Under ten minutes. I am not even kidding.
Start the timer.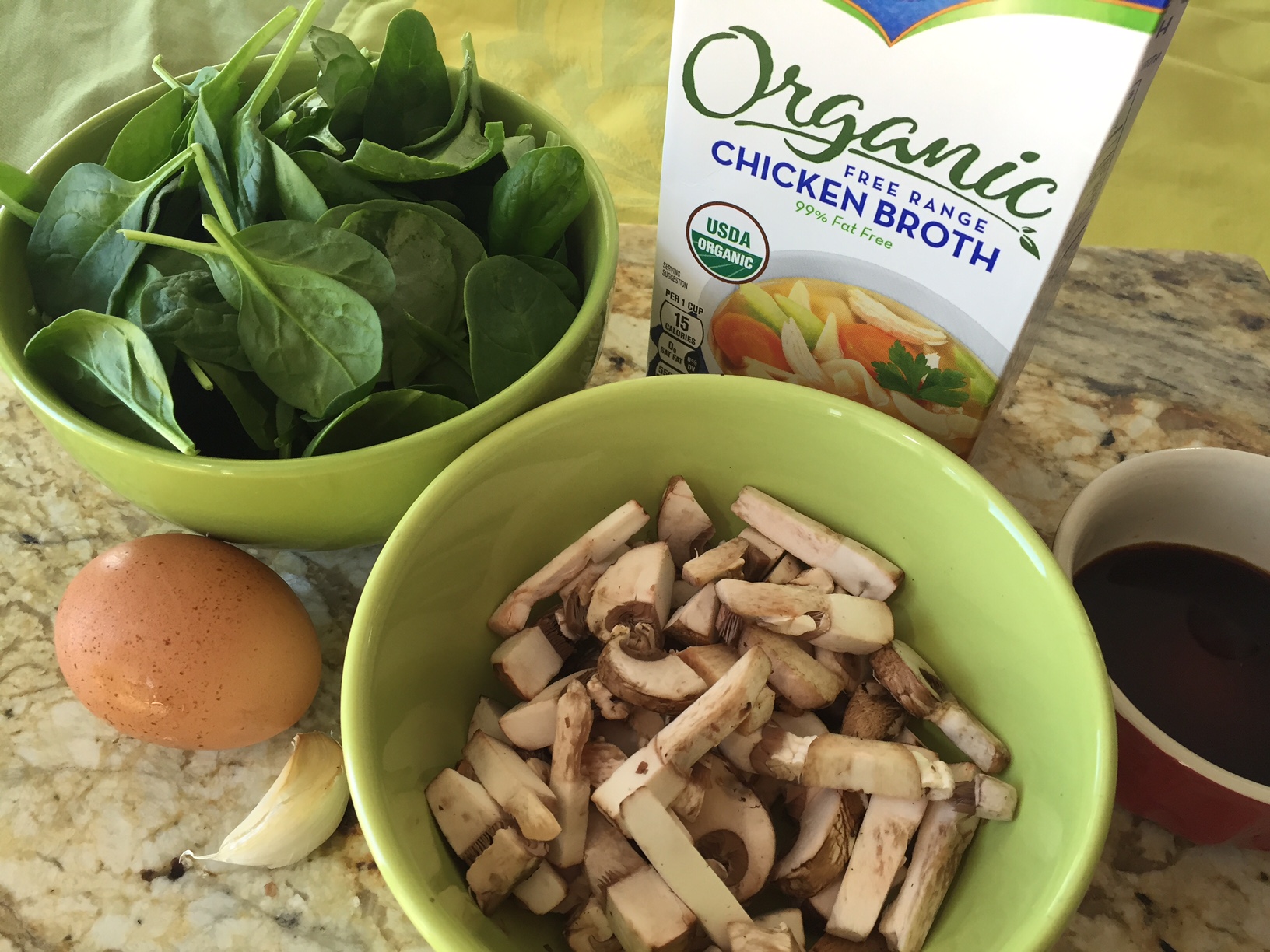 First and foremost you will require some sort of liquid. I like chicken broth, but obviously if you want this to be one hundred percent completely vegetarian, by all means, use a vegetable stock.
Egg; check. (who doesn't have an egg?) Garlic, check. Soy sauce, check (although I prefer Tamari sauce, which tastes exactly if not better than soy and is gluten free…..not that I have issues with gluten I just really like it much more – so there). Fresh spinach is generally down there in the veg bin…..gotta use it up sometime, right? Same with those mushrooms. If you have some old cilantro and green onion lying around (and you will see what I mean soon) get that out too…..score!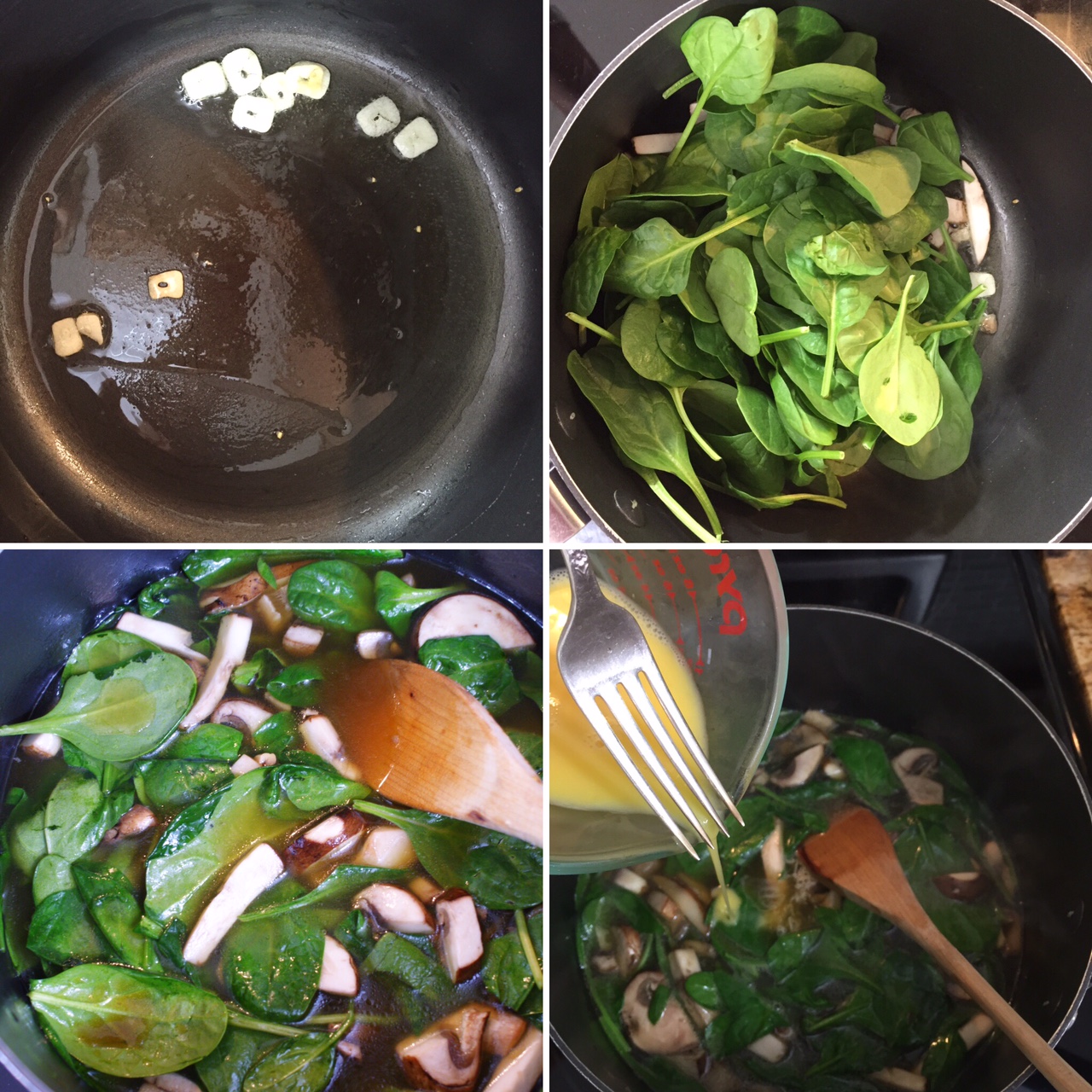 Slice up that garlic clove super thin and pop it into a medium saucepan with just a dab of olive oil. Always start garlic in cold oil and then bring on the heat, baby. Stir it around for about a minute then dump in your mushrooms and spinach and Tamari sauce (or soy). Spin that around for another minute or two. Next, slosh in 2 1/2 cups of the broth. Let this come up to a simmer and give it about five minutes to wilt down the veggies a bit. While that is happening, crack your egg into a measuring cup (not imperative but the spout on it is sorta helpful) and give it a good beating (yeah! take that!). With your soup at a simmer (NOT boiling) set the tines of a fork over the spout of your cup and while vigorously stirring with one hand, gently stream the egg in with the other.
Hey, if I can do it, you can too.
You'll end up with thin ribbons of egg swimming enticingly through your garlic-y, veggie-full broth.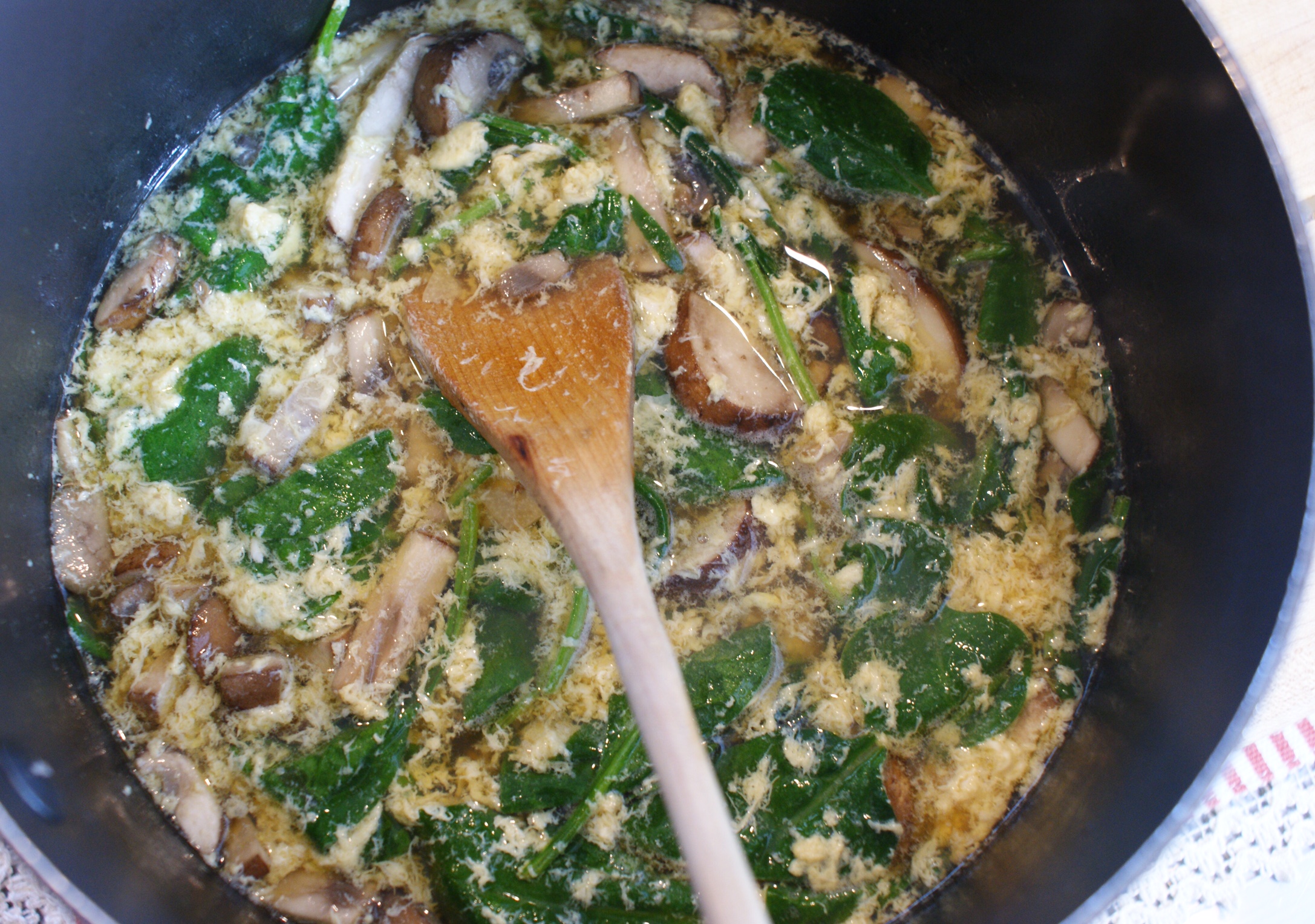 This thickens the soup, and gives it a luxurious silky texture. Yum! Remove this from the heat. Add a generous splash of dark sesame oil. Taste it, you might want to add a little more Tamari, too. You are done. In less than ten.
I never lie about things like this.
Just other stuff.
But hey! Best part right now! I fetched some old scraggly green onion and semi-wilted cilantro out of the refrigerator and by gawd, I made good use out of them.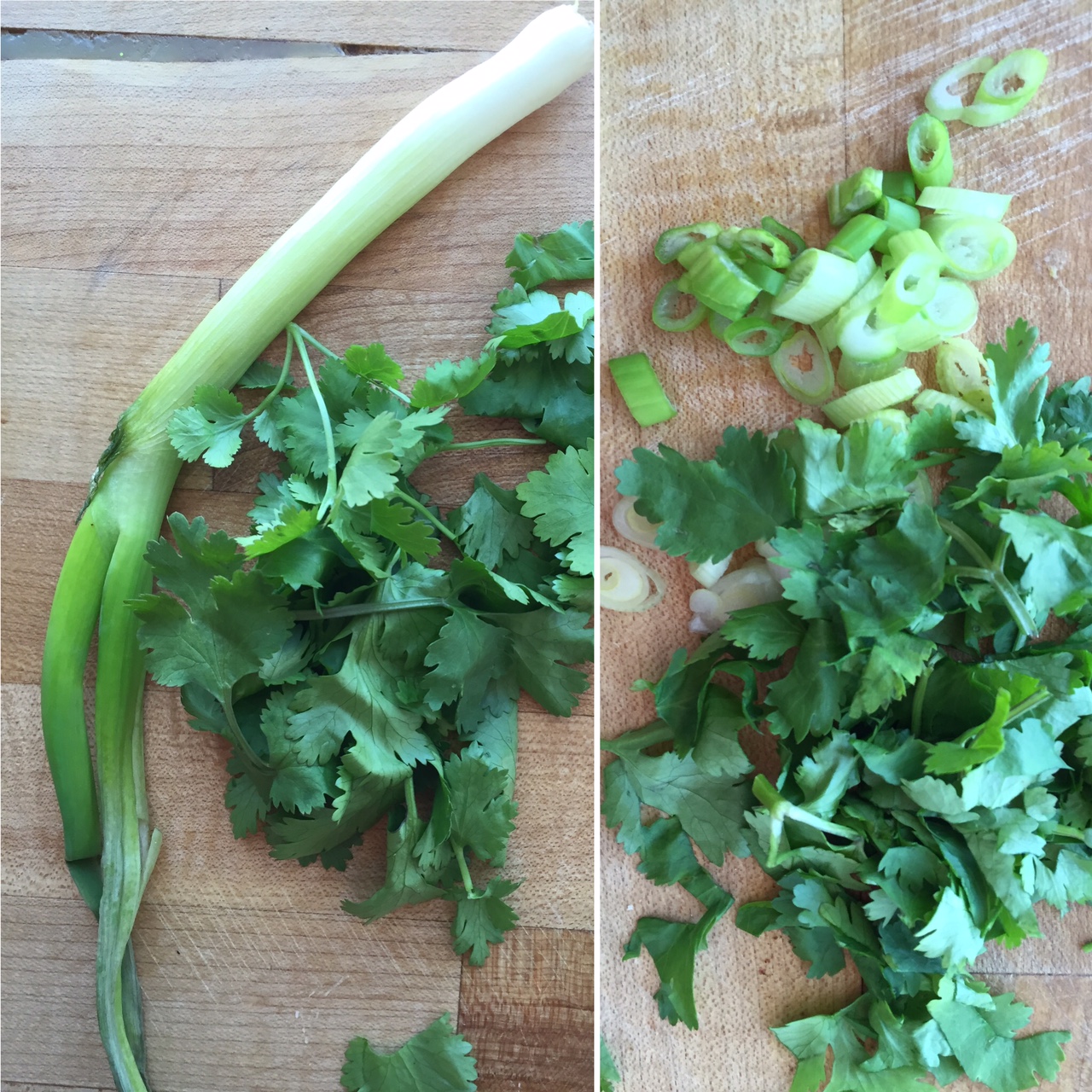 As long as your herbage isn't slimy they are absolutely useable, so don't be put off by non-perfect produce….use em up! I thinly sliced the onion (yes, I discarded the really weird ends) and gave the cilantro a super rough chop. I topped off the soup with a liberal smattering of both….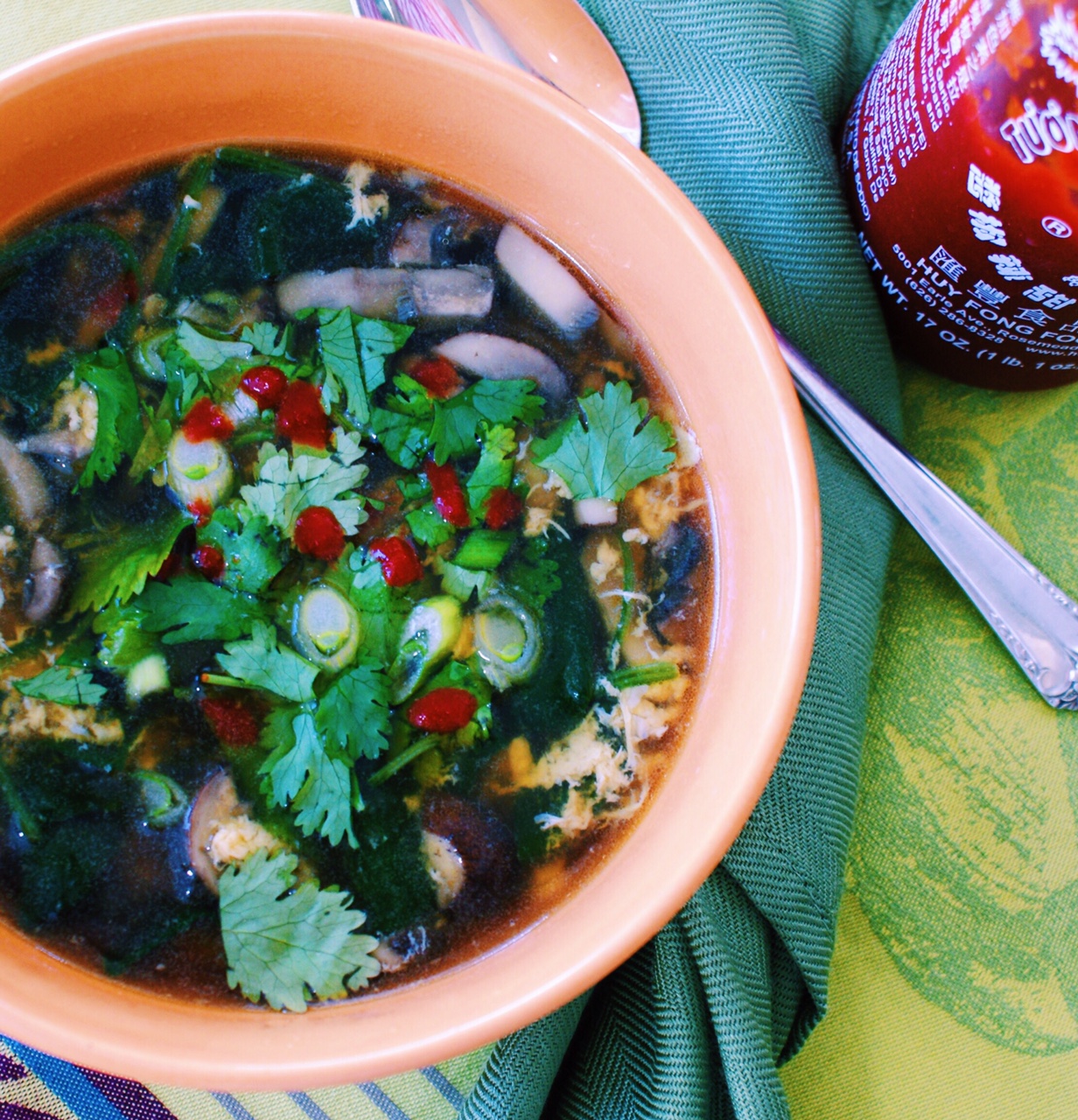 …and of course a dollop or two or three or four of Sriracha!
And I slurped the entire pot of it down by myself. It was that good.
And you know I don't lie.
Recipe Below:
This makes about 3 cups, which as afore mentioned, I completely snarfed down all by my little lonesome. You can be nice and share….but I would double the ingredients because I am greedy like that. I hope you are too.
Totally Non-Traditional Super Quick Egg Drop Soup
2017-01-11 14:17:30
Ingredients
2 1/2 cups of broth (your choice, Chicken, Veggie, even Beef if that's your thing)
1 egg, well beaten
1 small to medium fresh garlic clove, peeled and thinly sliced
2 handfuls (approx 5 ounces or 2 cups, don't worry too much about quantities, here) baby spinach, or baby kale, or a mixture of both (make sure it is well washed)
4 ounces (about a cup, or a small container: once again this is all approximate) mushrooms, sliced (I used pre-sliced ones; they are always really clean and just the way to go)
2 tablespoons (or more) Tamari Sauce (or Soy Sauce)
1 Tablespoon (you may want more as you taste, so this is just a guide) DARK sesame oil
Olive Oil
AND TO TOP IT ALL OFF
Chopped fresh green onion or chives
Chopped fresh cilantro
Sriracha sauce
OPTIONAL BUT AWESOME
1cubed avocado*
Instructions
In a cold medium size sauce pan add the sliced garlic to a splash of olive oil (make sure you coat the bottom of the pot). Turn the heat on to medium high and stir the garlic around, making sure not to let it burn, about a minute or two.
Stir in the mushrooms and the spinach and give this a stir. Add the tamari sauce (or soy, der) and let the veggies wilt down a bit, another minute or two.
Pour in the broth, and bring this to a simmer, about five minutes.
Once the soup is very hot but not at a boil, gently pour the beaten egg in a thin stream into the soup, as you whisk smoothly (or attempt to whisk smoothly) with the other hand. Once all of the egg is incorporated, remove the pot from the heat.
Stir in the dark sesame oil.
Ladle the soup into a bowl and top with chopped green onion, cilantro, and as much Sriracha as your little heart can stand.
Slurp it up and feel all warm and toasty!
Notes
I have since learned since the first posting of this recipe that adding chunks of avocado to the bowl along with the cilantro and green onion takes this soup right over the top.
Perfection in ten minutes.
YUM
Kick and Dinner http://kickanddinner.com/