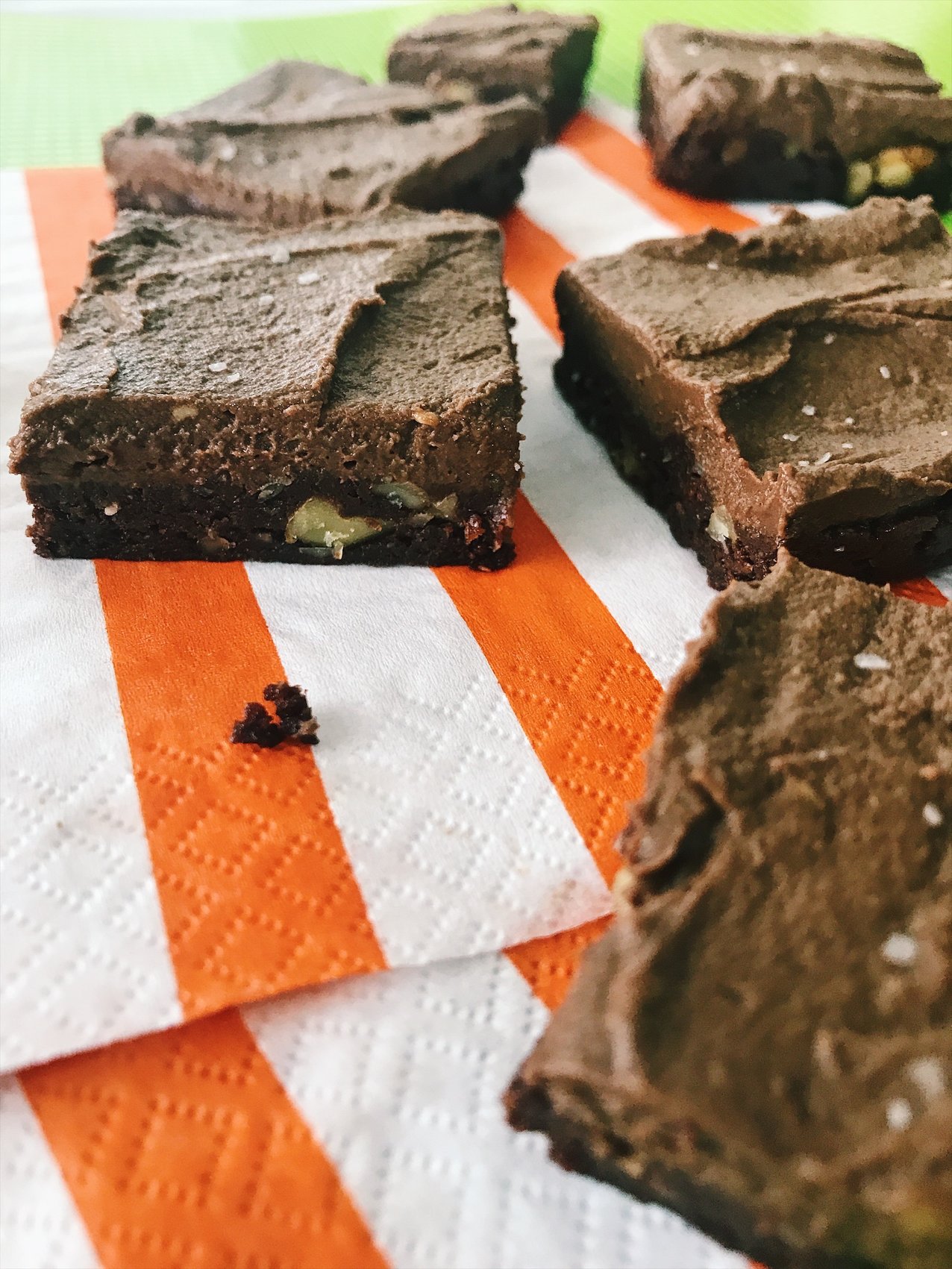 First, the good news.
Raw brownies, people! As in no-bake, chewy chocolate goodness, chock full of protein, fiber, vitamins and minerals galore, all decked out in a bombastic blanket of chocolatey ganache decadent enough to mimic a classic butter-cream (no lie).
Now, for the bad news.
Raw brownies, people. As in no-bake, chewy chocolate goodness, but with NO white flour. NO eggs. NO butter. Very, very little sugar. So really…..nothing anywhere close to what you might be used to if the brownies in your world equal perhaps ….. Betty Crocker's. Or your mom's. Or these beauties (which look AMAZING, btw).
What I guess I'm trying to say here, is that these might not be for everyone.
But I LOVE LOVE LOVE 'em, and if you're trying to cut back on your sugar, while keeping the goodies…you just might too.
Dense, dark and sticky, loaded with crunchy nuts and slathered in a luscious fudgie frosting, these are the perfect nibble if you want to wrangle your sweet tooth and treat yourself to something with some serious nutritional sway. We've got omega 3 fatty acids, We've got manganese and copper, We've got antioxidants, We've got soluble fibers….We've even got my personal favorite polyphenol, lignans (doesn't everyone have their own favorite plant-based chemical compound?), among other things.
What we don't have is any need to turn on the oven. Let's make some brownies!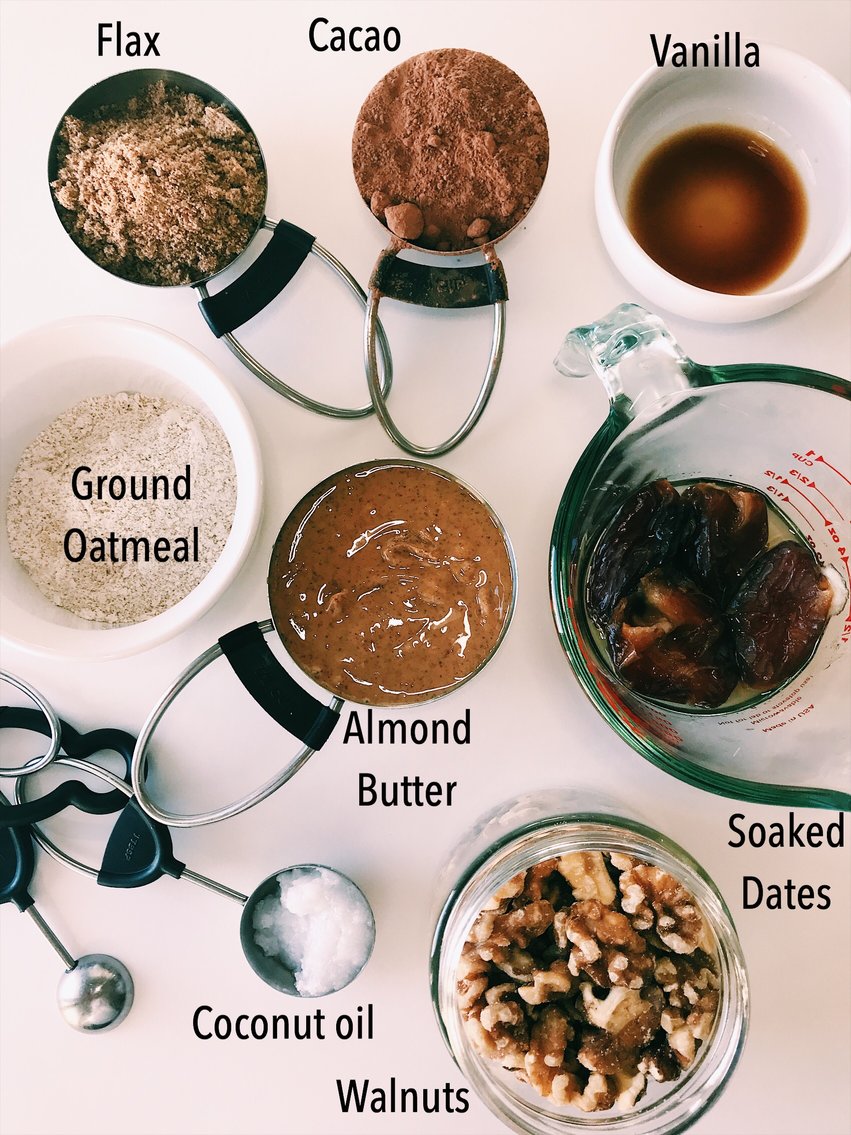 Begin by pitting 4 large medjool dates, and squishing them down into a measuring cup. You'll add water up to the 1/2 cup mark, and let those soak for at least 15 minutes, up to overnight if you'd like. Gather up the remainder of your ingredients. You'll need some cacao powder, almond butter, vanilla extract, coconut oil, walnuts, ground flaxseed and ground oatmeal.
Get out your Nutribullet or blender (a Vitamix is great for this) to pulverize your (flax)seeds and oatmeal into powders………….then put it away! You'll be needing your food processor for the heavy lifting.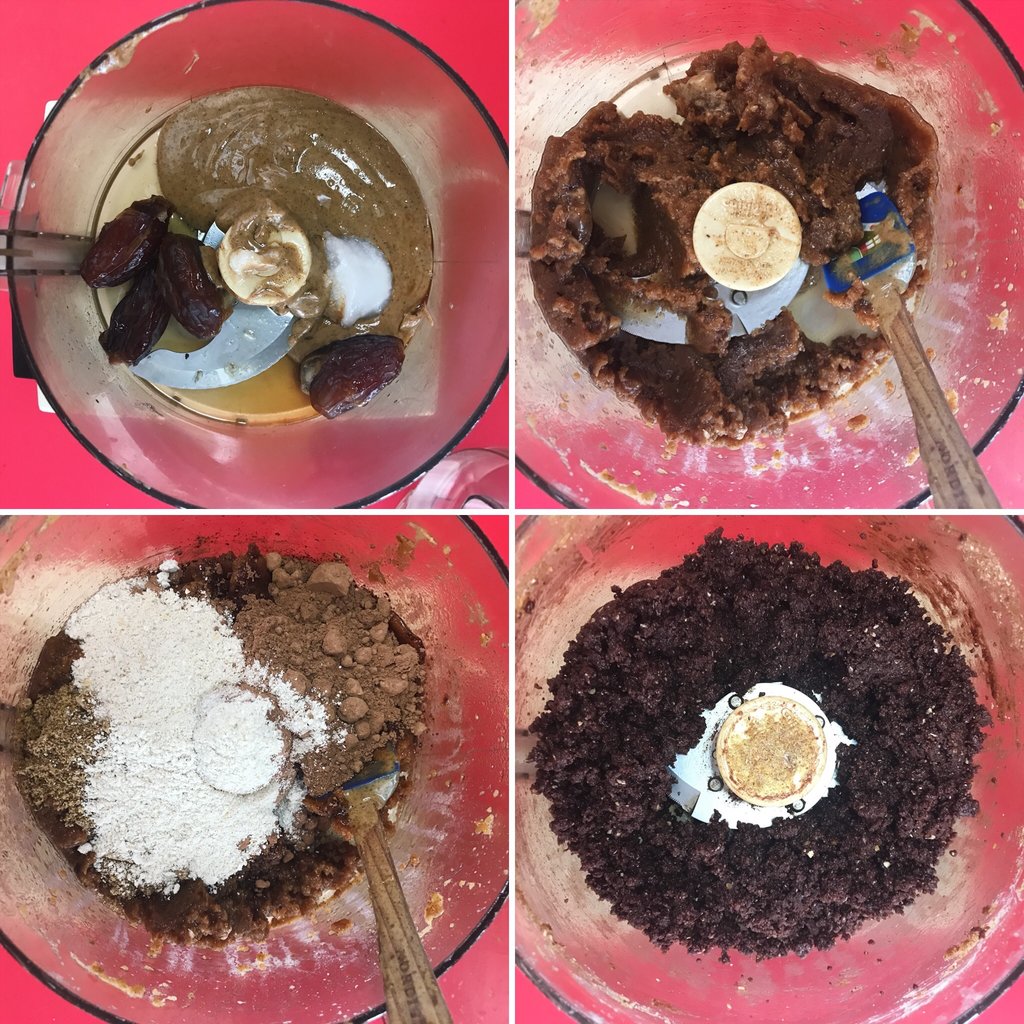 Everybody into the pool! Except leave the walnuts out for now……..and give it all a good pulse, pulse, pulse, and then let her roll. Your "batter" may end up crumbly or super sticky; this can depend on the size of the dates, the texture of your nut butter brand….even the humidity, but don't you worry…….it will all turn out either way. I promise!
Now's the time to toss in those walnuts. Just give this a couple of pulses to coarsely chop them in….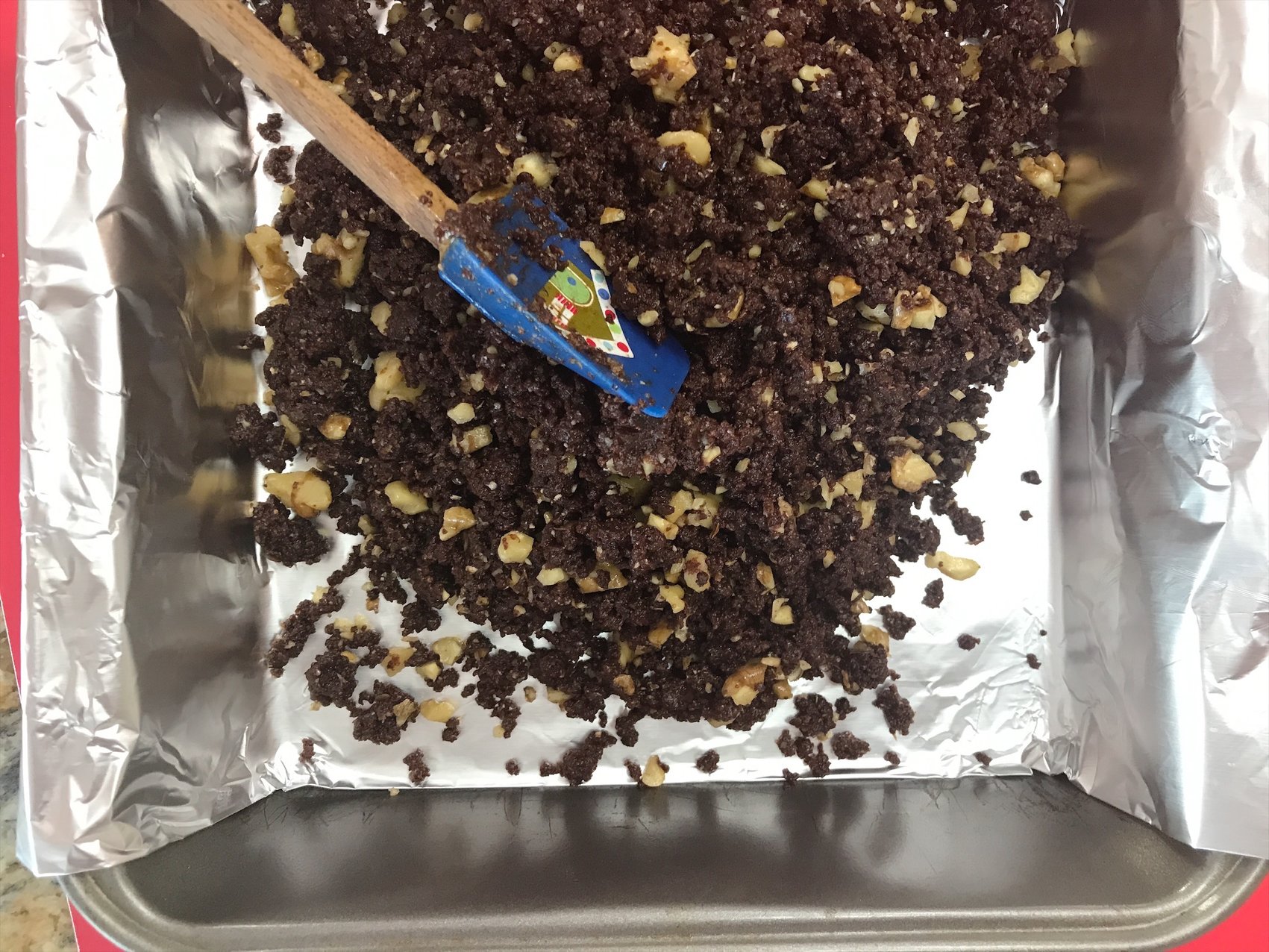 then tip the lot of it all into a 9×9 inch baking pan that you've lined with foil. Make sure to let that hang over the sides while you're at it, for easy lift out later.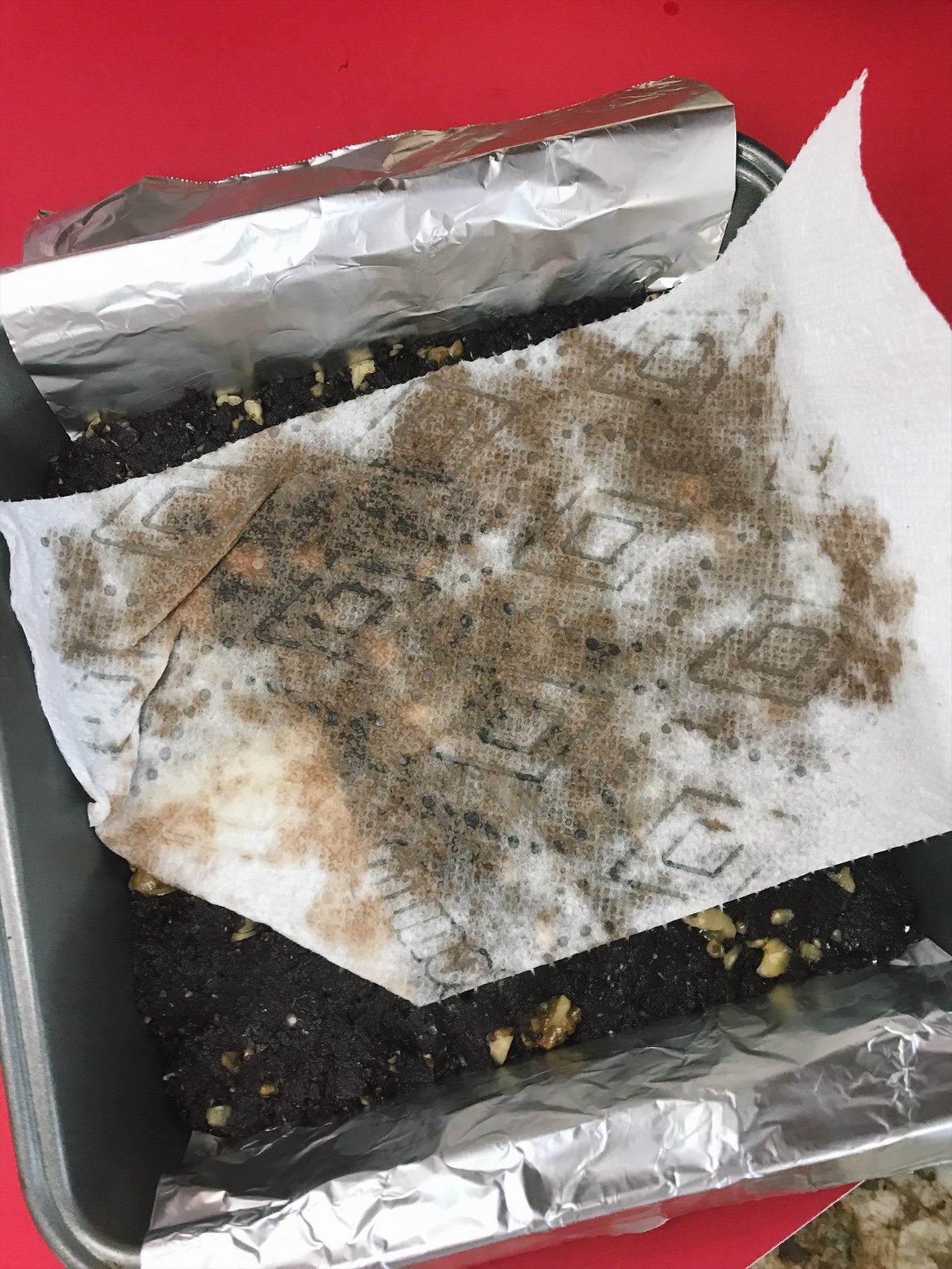 Press everything down into a nice even layer. I actually used a paper towel to help me with that. No sticking at all and it picked up some excess coconut oil so I thought that was a plus. Set this off for now……because it's time to make that amazing topping.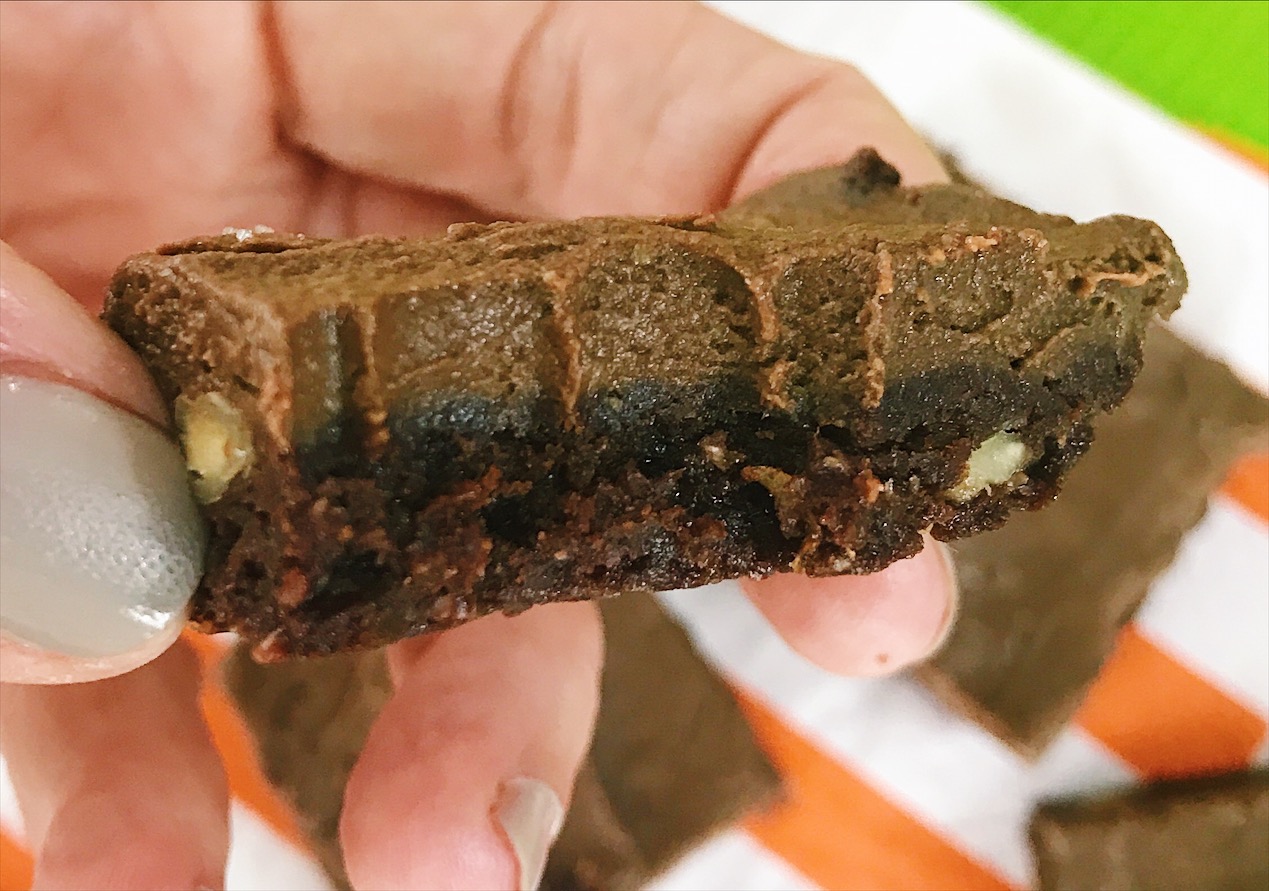 Yes I cheated a little here because not only is there no butter in what I am calling a buttercream, there is a little bit of actual sugar. Yeah, sorry about that.
But not too sorry! Melt 1/2 cup of dark chocolate chips in a small glass bowl…..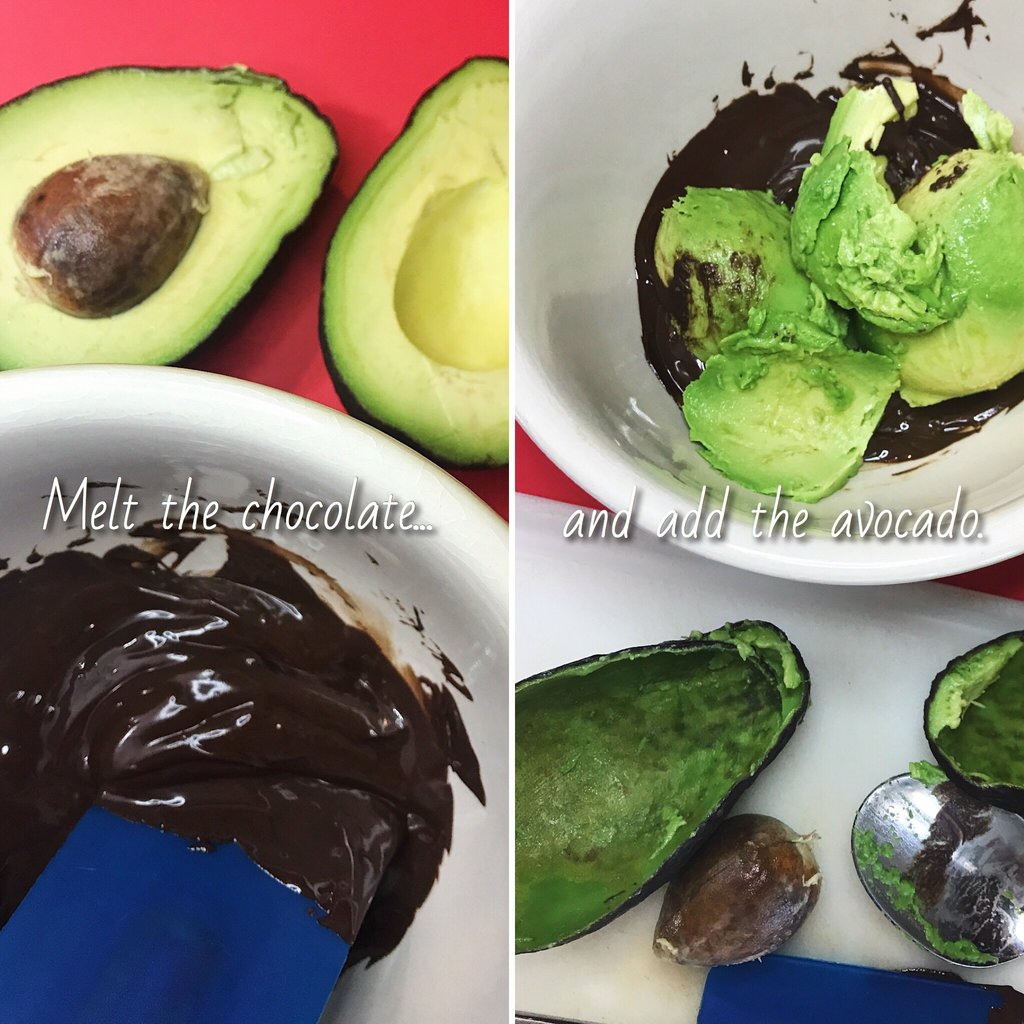 then add one ripe avocado, along with 1/2 teaspoon vanilla. Don't even TRY to manhandle this, get out your hand-held beaters and whiz this together until the avocado is super smooth and incorporated into that lovely brown pool. Beat this until it is light and fluffy and you just want to do a face plant into it.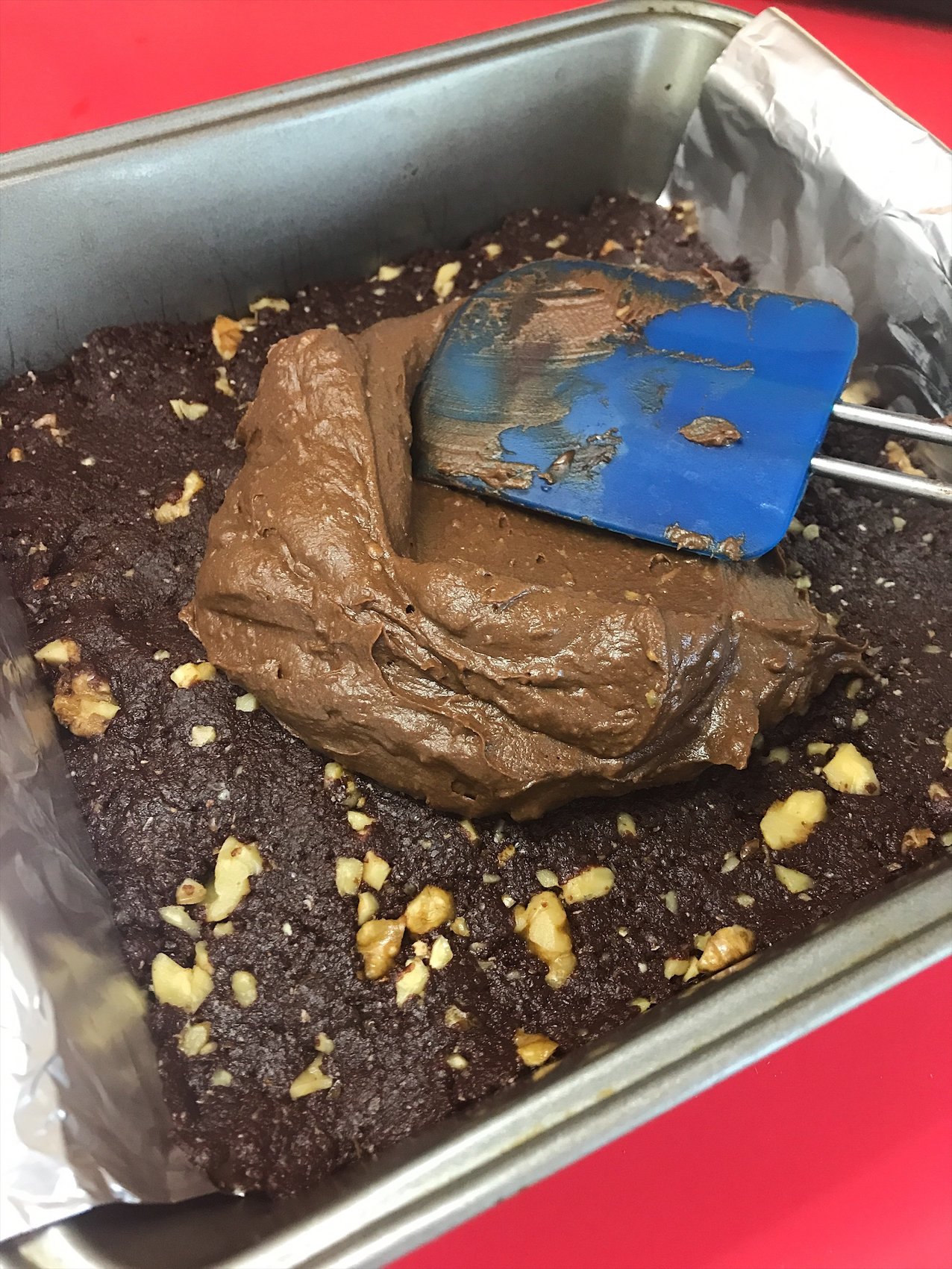 Smooth that luscious luxuriousness evenly onto the brownie layer. You'll still see a few tiny green flecks of avocado here and there, but not to worry……we will cover those up soon enough.
Whip this into the freezer for an hour of chill down time,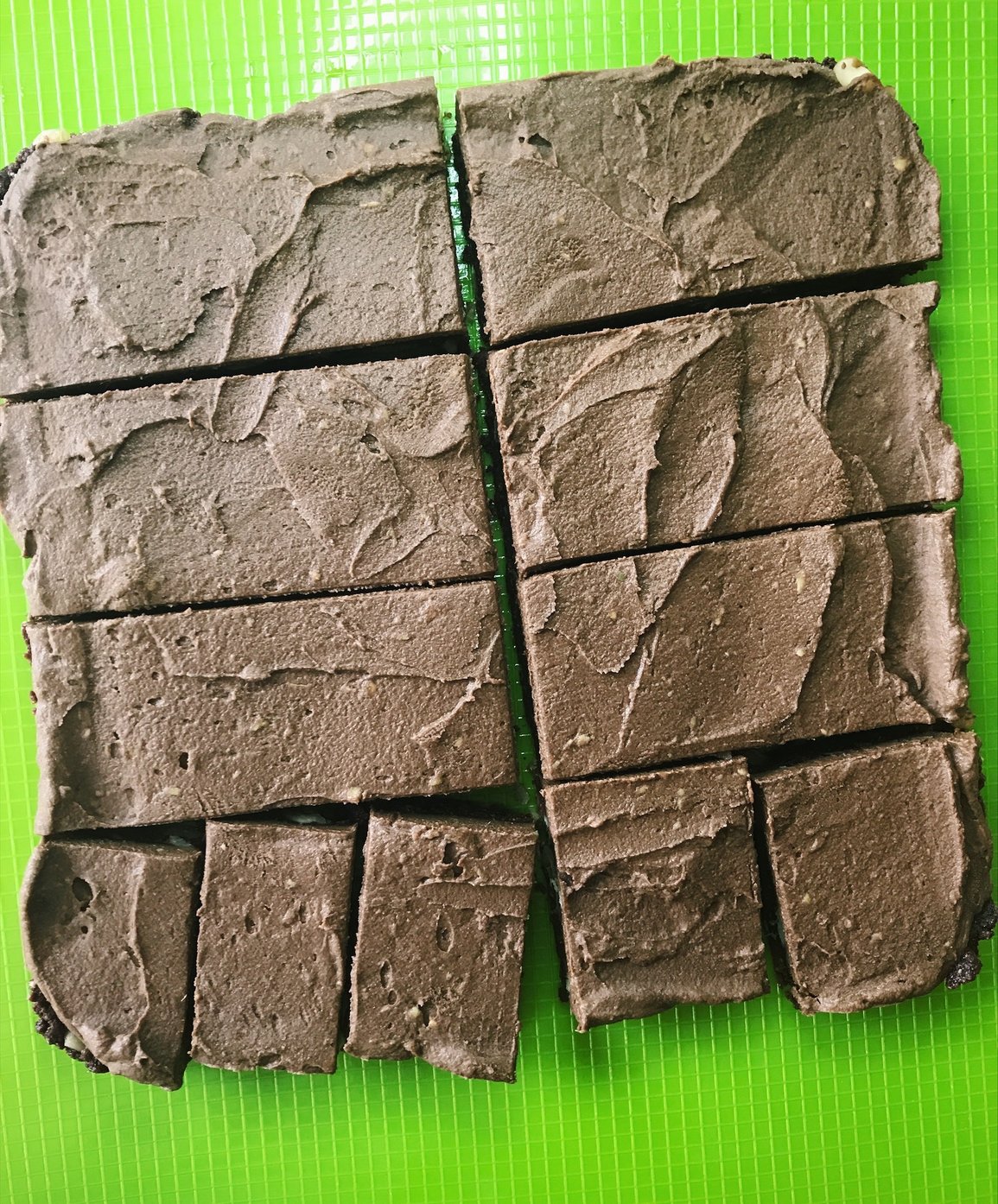 and once everything is nicely firmed up, use the tin foil to very easily pull the whole thing out of the pan, and out onto a cutting board.
You can hack these babies up any way you like…..into 16 squares…..or a more petite 24 squares. I like to cut it down the middle and then 12 on one side and 8 on the other.
You know…..portion control. HA!
Give these brown beauties a dusting of course salt to A/accentuate the subtle sweetness and B/sorta camouflage the specks of avocado. Win win win.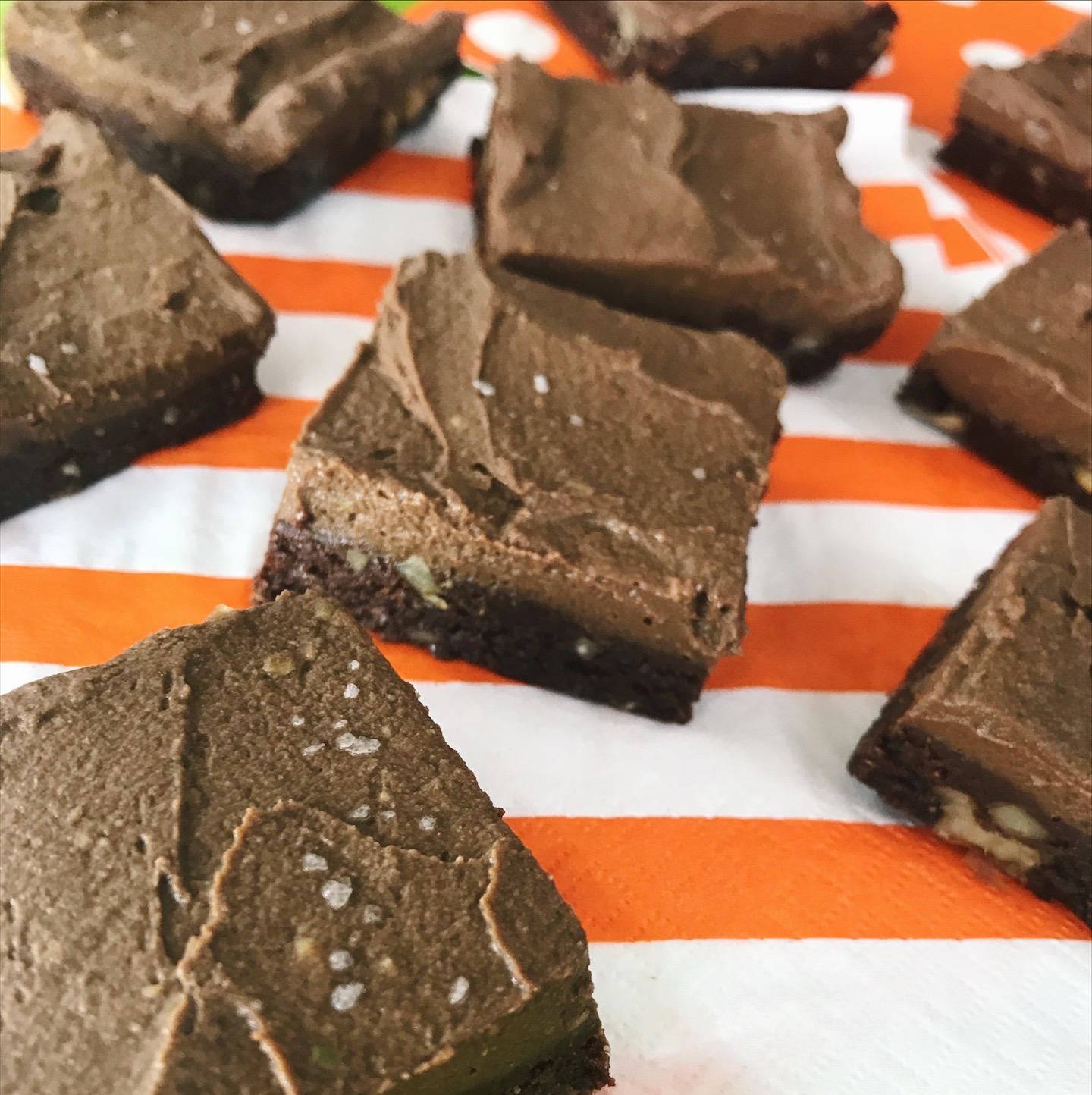 Oh great gawd these are so good. Store 'em in the fridge, but they are at their best out of the chill for a few minutes, to aaaaallmost room temp (that way your taste buds have a chance to catch the subtle sweetness, and the texture is perfect). Hardworking nutrition all dressed up like a frosted brownie? What a great time to be alive. Super yum.
RECIPE BELOW: These truly take minutes to mix together…..the sticky food processor will take you longer to clean and I am not even joking. Makes as many as 24 or as few as 4 (if you're me) depending on how you slice 'em. After the initial freeze time, keep them stored covered in the refrigerator, they get even better the next day. For real! These may be an acquired taste if you are generally a super gummy bear loving sweet tooth… BUT – if you like dark chocolate and consider yourself a "super taster", these just might be for you.
Raw Super Food Brownies with Avocado Buttercream
2018-01-20 10:14:04
For the brownies
4 medjool dates, pitted, then pushed down into a measuring cup filled up to the 1/2 mark with water (not 1/2 cup of water, but the total water + dates to equal 1/2 cup)
1/2 cup almond butter (non-sweetened of course)
1 teaspoon vanilla extract
1 scant tablespoon coconut oil (don't scoop out a big glob, you know?)
1/4 cup cacao powder
2 tablespoons flax seed (which once ground will "fluff" up to approx 1/4 cup)
2 tablespoons old fashioned oats (ground up will equal just less than 1/4 cup)
1/4 cup walnuts (or whatever nuts you prefer!)
For the avocado "buttercream"
1/2 cup dark chocolate chips*
1 perfectly ripe avocado
1/2 teaspoon vanilla extract
Kosher salt or flaky sea salt to flourish over the top
Tiny bit of prep
Line a 9x9 inch baking pan with foil, allowing a little overhang on either of two sides. This will allow you to pull the brownie right out. boom.
For the brownies
Start by making sure you give the dates enough time to soak. They will need at least 15 minutes underwater, at the minimum. The longer, the better, up to overnight in the fridge. But once you've got that figured out...
IN A FOOD PROCESSOR
(DO NOT, and I mean really, don't try to mix this up in the Vitamix or blender or whatever it was that you pulverized your flax seed and oatmeal in.... you'll never get it out!)
Pulse together the dates (along with the soaking water), almond butter, coconut oil, and vanilla. Once that is mashed together add the cacao powder, ground flax and ground oatmeal. Continue mixing and pulsing (giving the sides a scrape down) until you end up with a fairly homogenous mixture. It will be sticky and quite possibly crumbly. Add the walnuts and pulse a few times just to break the nuts up a bit and disperse throughout the batter.
Press the batter down evenly into the prepared baking pan, using a paper towel to assist you without getting all sticky. It will soak up some of the oil as well as help you flatten the brownie layer out. Set this aside.
For the avocado "buttercream"
Place the chocolate chips into a small glass bowl and give them a spin in the microwave for 55 seconds. Allow the residual heat to permeate all the chips for another minute or so and then stir until smooth and glossy. Peel and pit the avocado and plop that into the chocolate. Add the vanilla and with hand held beaters, (or a stand mixer) whip this together until well incorporated and fluffy. Be patient, as it may take a few minutes to break down that avocado completely.
Once you have a creamy, beautiful ganache happening, spread it evenly over your brownie layer, right up to the edges. Place in the freezer to set for at least 45 minutes.
Once set, remove the brownies from the pan with the tin foil "handles" you created. Remove the tin foil, and cut the brownies into squares. Store in the refrigerator.
When getting ready to serve, let the brownies soften up out of the refrigerator for a few moments, then give them a fine dusting of kosher or sea salt. (if you salt them too soon it just pools into the buttercream layer and you can of course taste it but you can't see it and that's part of the charm!)
Eat as many as you like and FEEL NO GUILT.
Notes
*Okay, so not giving up ENOUGH here? You think that using chocolate chips is cheating? Meh, you could be right........so do this instead: in place of the chocolate chips melt 1/4 cup coconut oil and mix that up with 1/4 cup cacao powder and two tablespoons (real) maple syrup. Proceed with the addition of the avocado and vanilla. Man, you're good. I am not worthy.
Kick and Dinner http://kickanddinner.com/