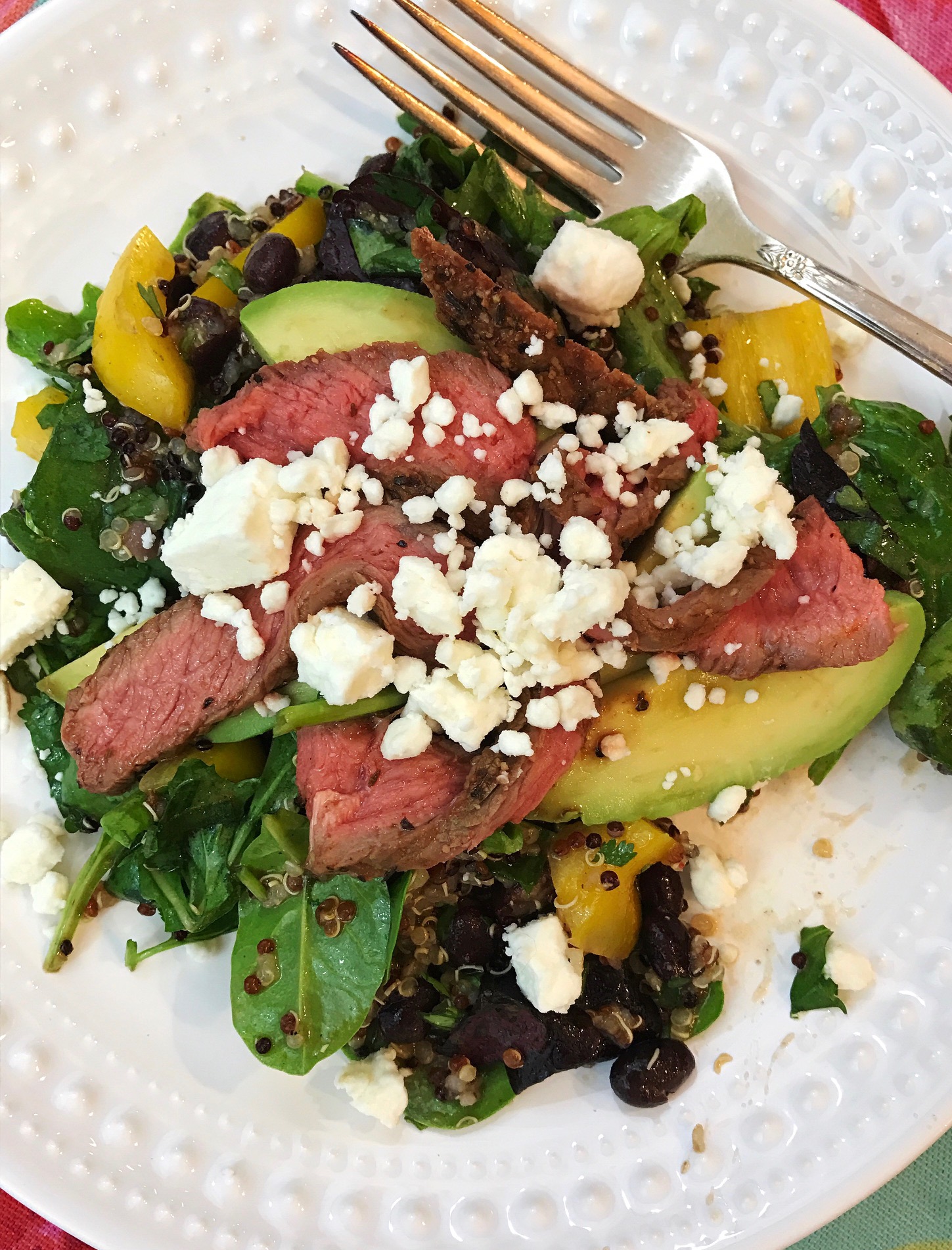 I love a dinner salad. I mean, not the actual salad that you sometimes get when you go out to dinner (brown edged ice-burg lettuce, lifeless tomatoes, dried up cucumber slices…no no no – where are we getting this anyway? Let's not come here again) … what I am talking about is salad for DINNER.
This is such a good one, to be sure.
Black beans and quinoa give it body, spinach provides the leafy greenie-ality, while a spicy, slightly sweet citrus vinaigrette gives it some kick. Yellow bell pepper contributes amazing crunch and color, avocado and feta cheese round it all out with silky-smooth, salty scrumptious-ness.
Sounds good, huh?
Well it gets even better, because there's that steak; sooooo over the top ….. to top it all off. Ya gotta have the steak.
Now, I'm just sayin…..this salad is so tasty that it can stand alone perfectly well without any carnivorous accoutrement, thank you very much. But seriously? You gotta do the steak.
So.
Vegetarians, look away.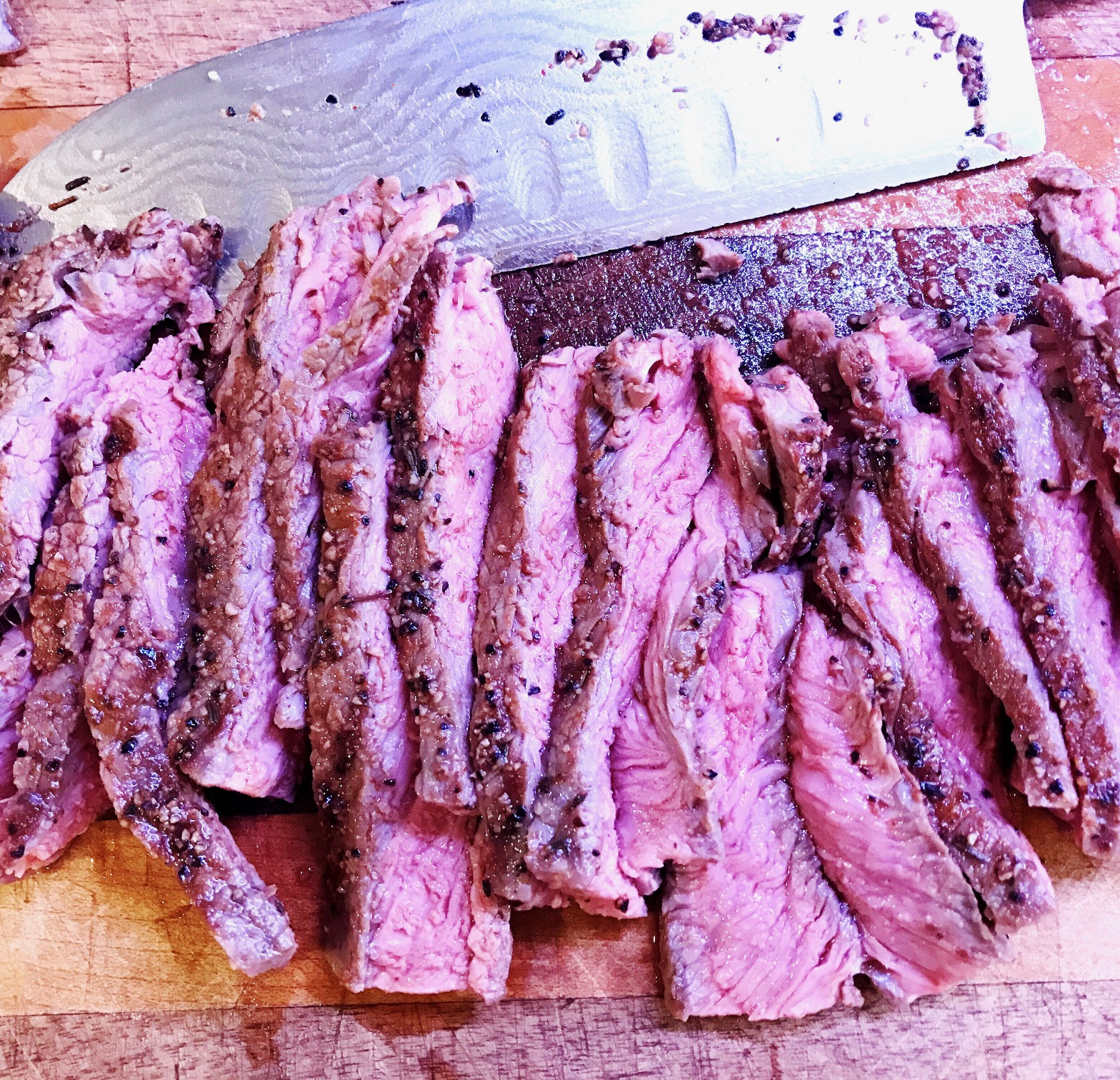 This is a just barely over 1/2 lb. rib eye steak, about 1 inch in thickness, which I liberally doused with spicy steak seasoning (get the recipe right here, or use whatever you like) and then drizzled with a little olive oil. Onto a medium-high grill this went for 4 minutes on the first side, 2 minutes the other. TIME THIS SHIZ, okay? Remove from the grill and onto a plate and cover with foil to rest at least ten minutes or longer, before you even think about slicing it.
Resting the protein gives it time to relax and allow the juices to re-distribute throughout. It also slightly continues the cooking process, resulting in the pretty pink plate of perfection you see above! Don't skip this step.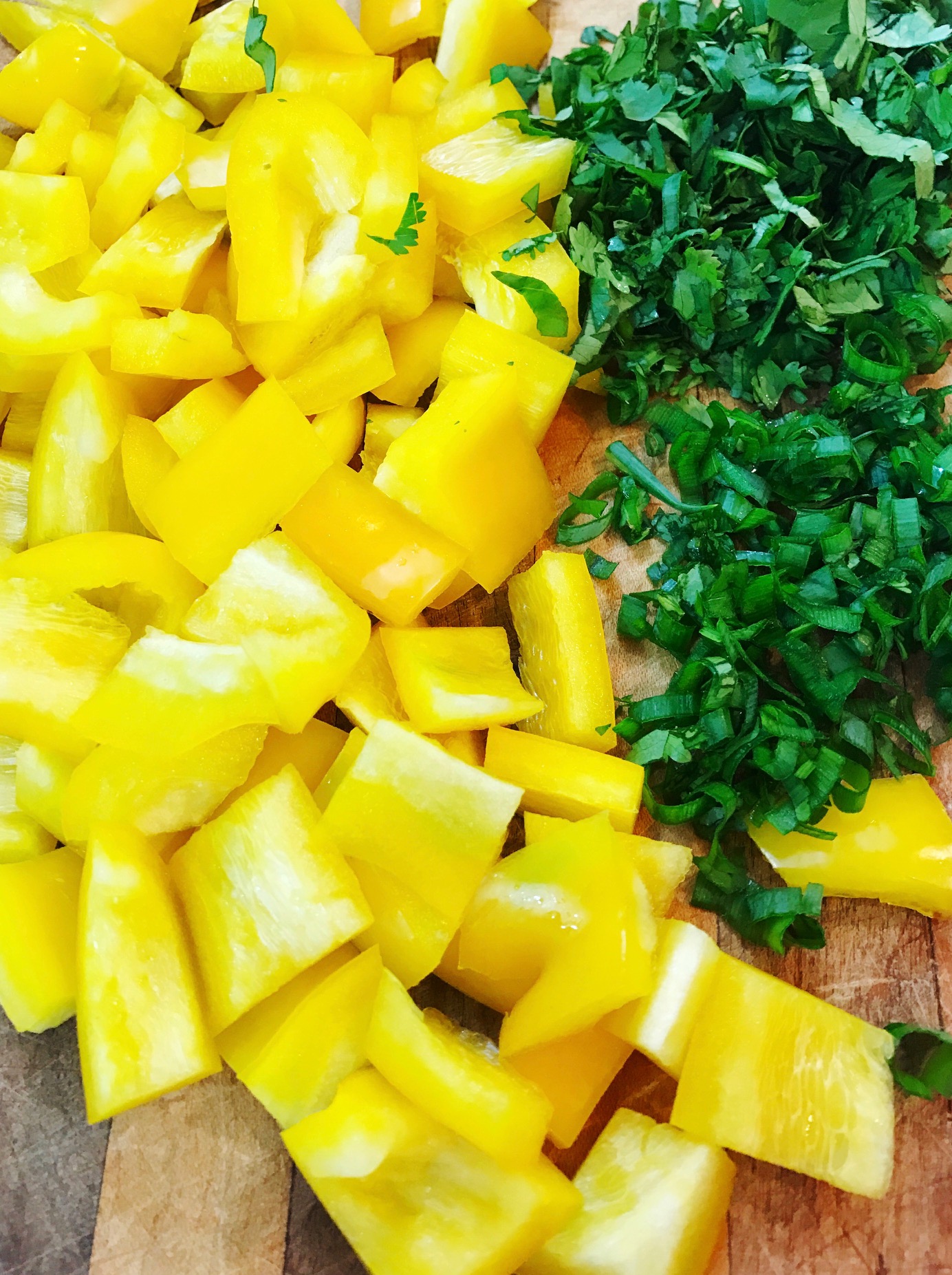 Chop a yellow bell pepper, a nice sized amount of fresh cilantro and some green onion. I used my green onions that I actually cultivated out of old ones….(check it out if you are interested).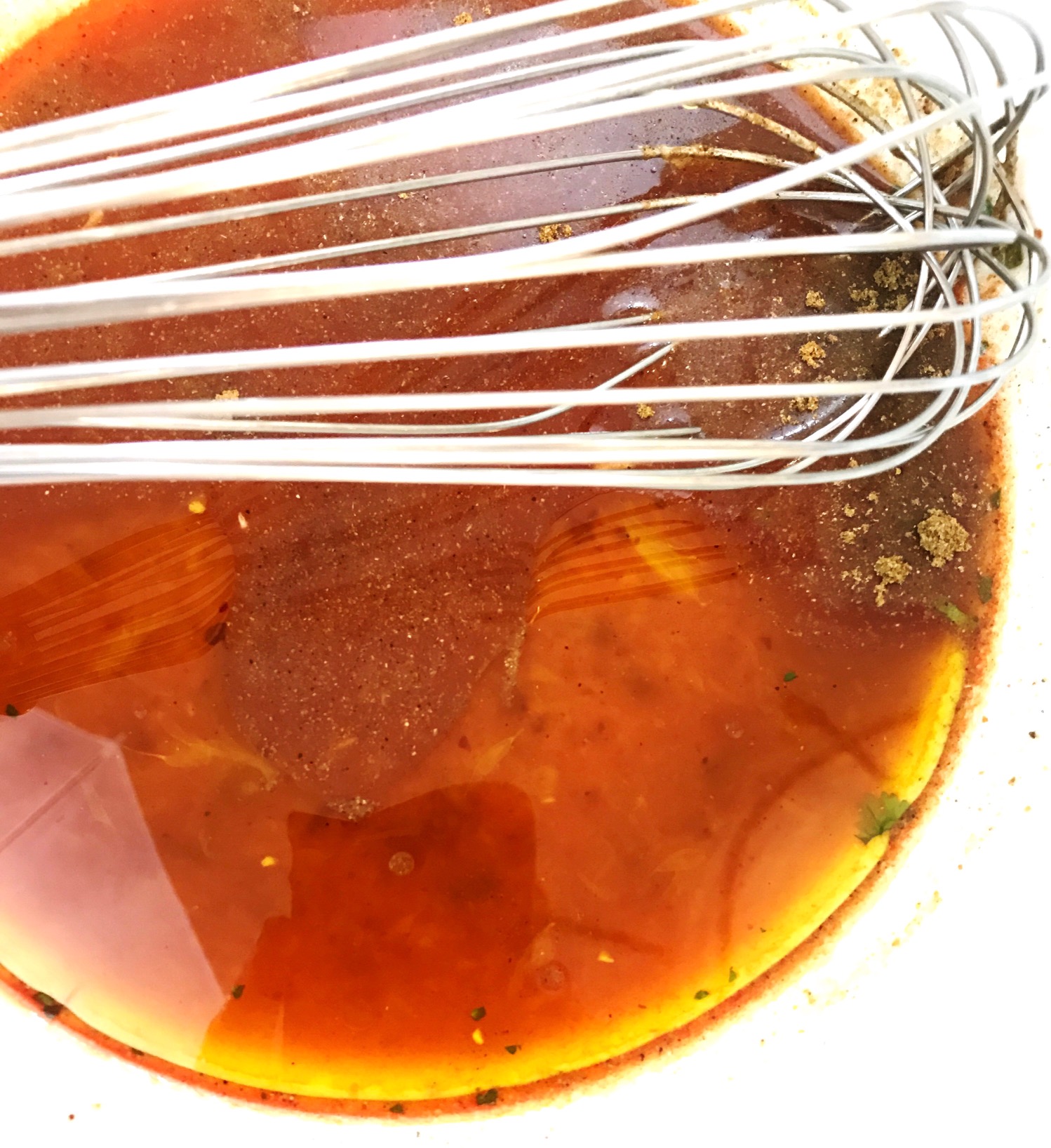 Then, in a fairly large bowl (cos you're going to dump everybody into this shortly), whisk together the dressing. Squeeze in the juice of one orange, some red wine vinegar, olive oil, honey, cumin, salt and pepper and the not so secret ingredient…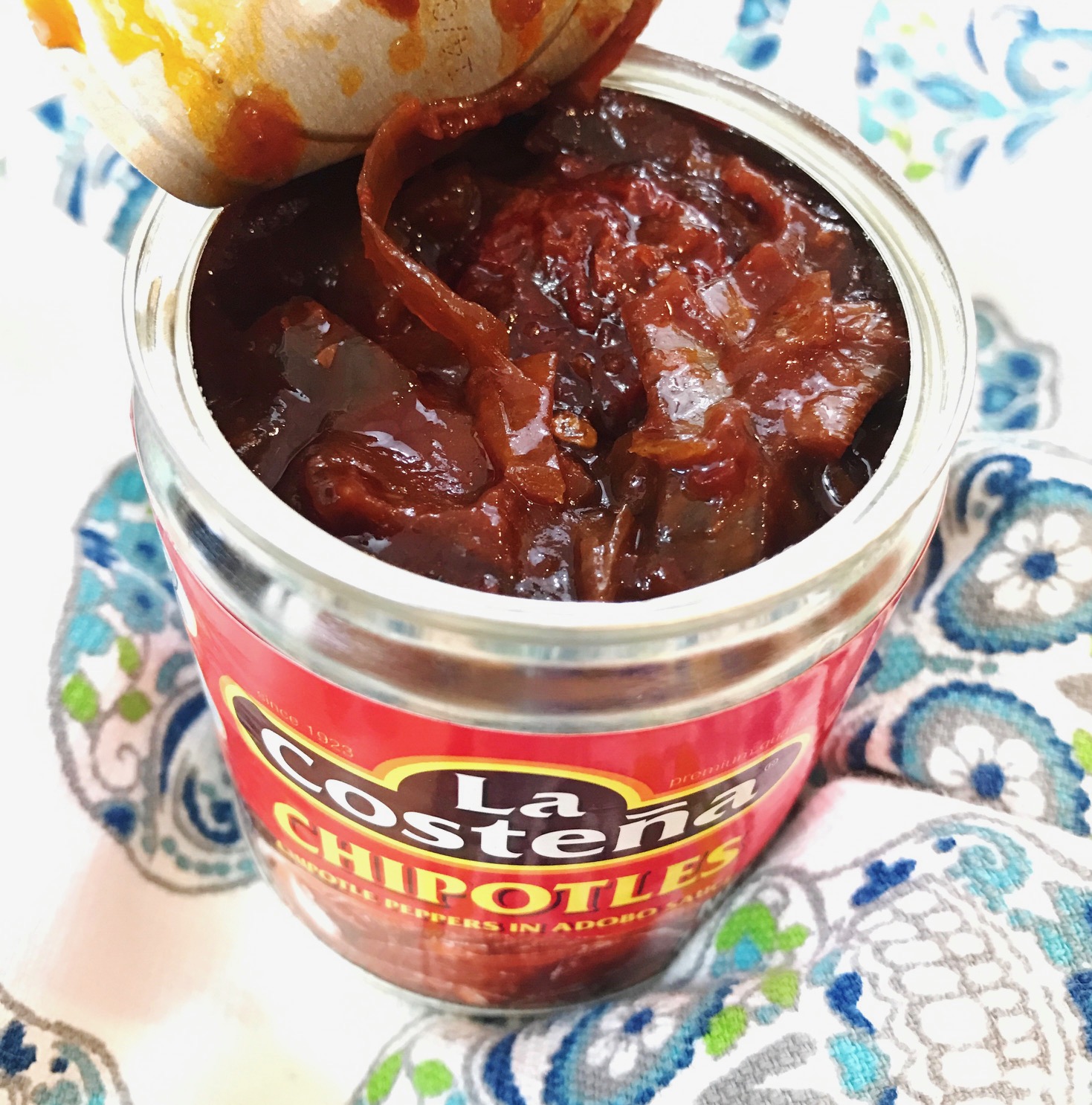 …a tablespoon of the sauce that you get in a can of chipotle chiles in adobo sauce. Smokey, spicy goodness right there, let me tell you. Dump the rest of the can into a ziplock bag and whack that in the deep freeze to save for another time…….no waste!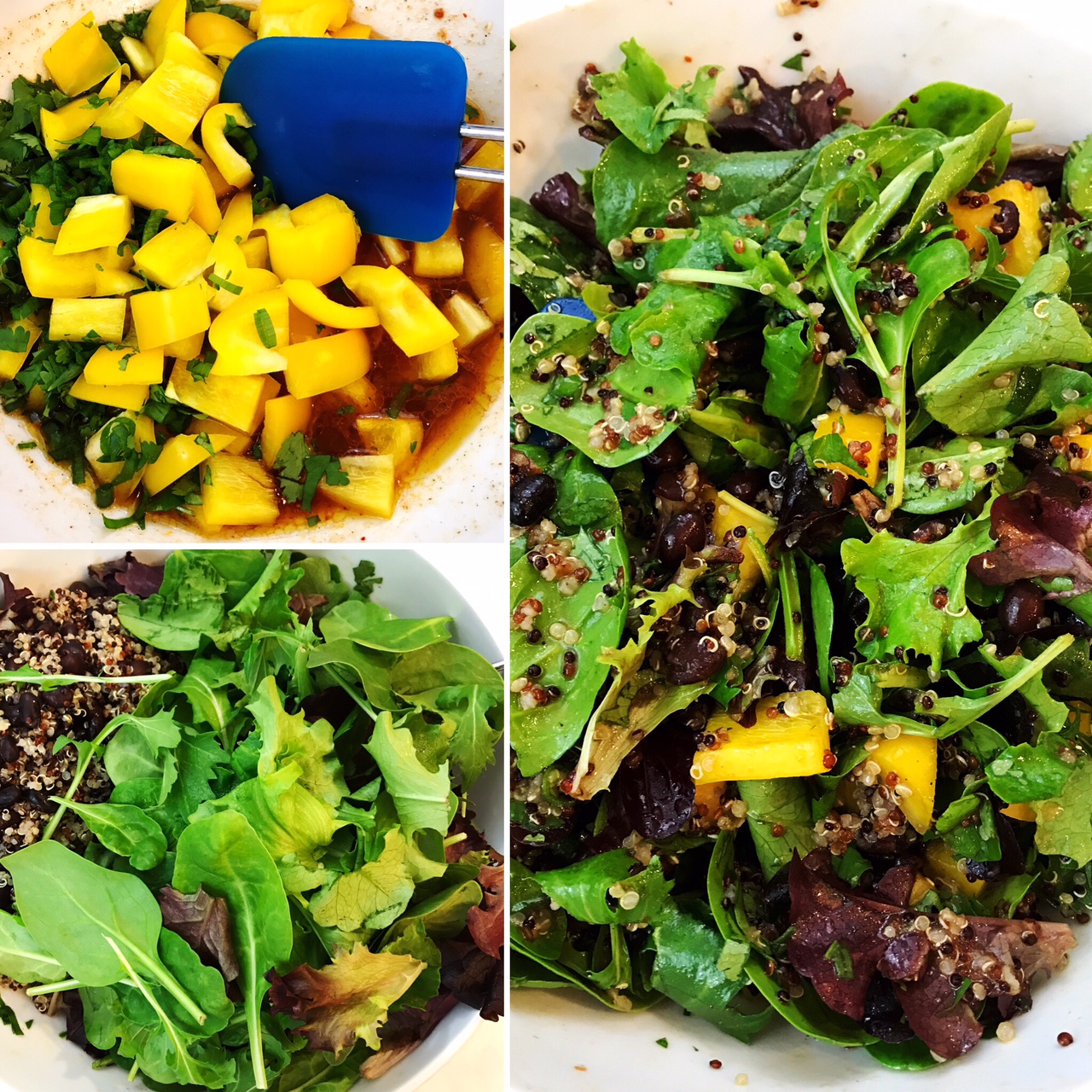 Now it's just a matter of assembly. Into the dressing goes your chopped pepper, cilantro and green onion. On top of that goes one cup of cooked, cooled quinoa* and a can of black beans, rinsed and drained. On top of THAT goes 3-4 cups of spinach or a mixture of spinach and any other greens you may have on hand.
Toss away, but be gentle, that part is kind of messy. I placed my bowl in the sink.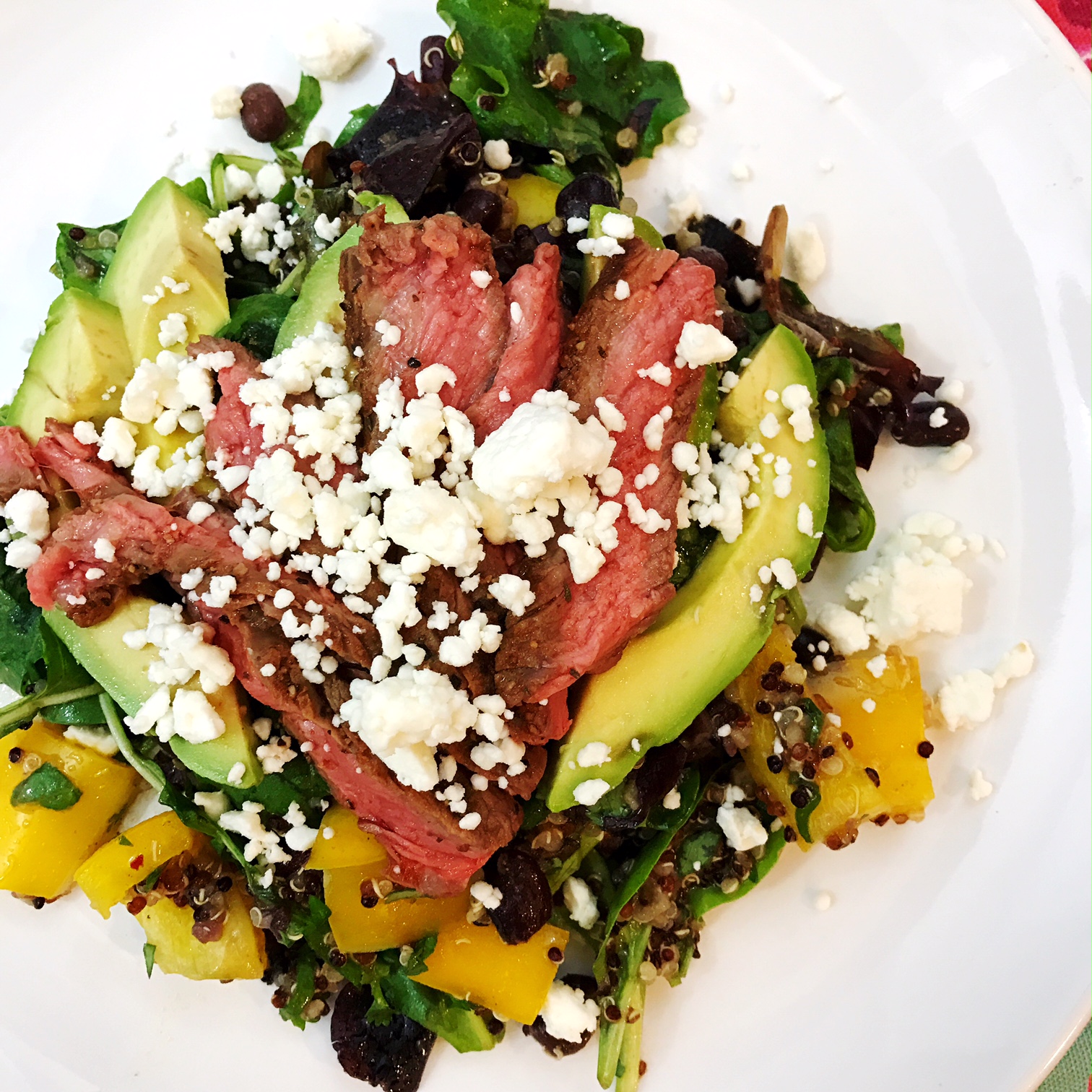 Plop a nice healthy portion of that super salad down onto your plate. Slip in some avocado and top with your stunning steak slices (or not, hey, some of my best friends are vegetarian) and a salty scatter of crumbled feta cheese.
OH, PLEASE.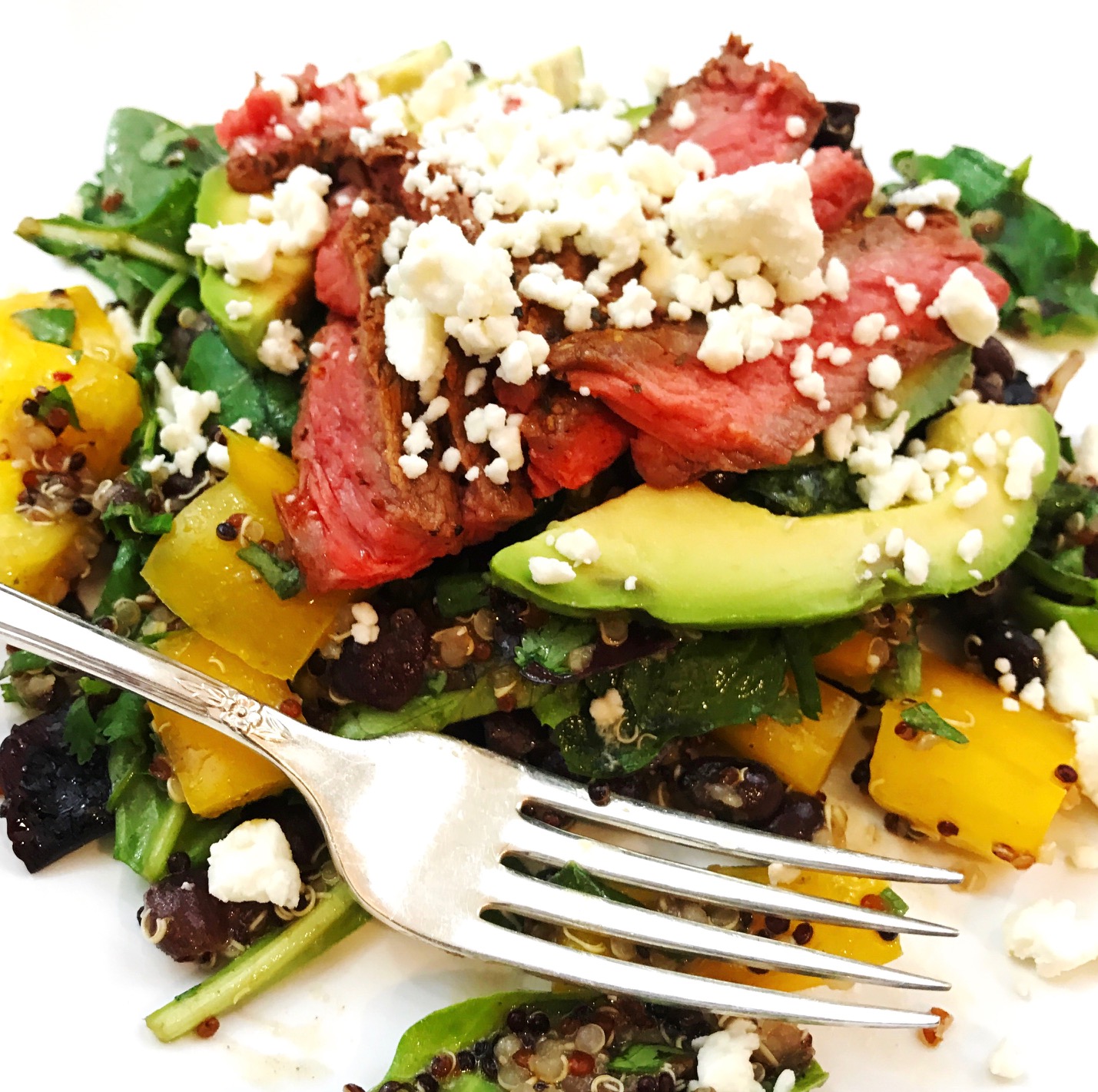 RECIPE BELOW: This makes enough for 4 servings, and you can pull this all together in under 20 minutes, EASY. What takes the longest? *Cooking that quinoa, that's what! You'll need 1/2 cup of dry quinoa to make 1 cup cooked, and it will take all of 15 minutes of your day. Leftover quinoa works great for this. Got some leftover steak you don't quite know what to do with? I just solved THAT problem for you. As always…. I'm here to help. What a gal.
Spicy Steak Salad with Quinoa and Black Beans
2017-02-10 12:42:21
For the Steak
1 Rib Eye Steak*, approx 1 inch thick
steak seasoning of your choice, or just salt and pepper if you like
olive oil to drizzle
For The Salad
1 cup cooked quinoa (plain or tri-colored, I like em both)
1 16 oz can of black beans, rinsed and well drained
3-4 cups raw spinach or leafy greens of your choice
1 medium yellow bell pepper, chopped
1/4 cup (approx 2) green onions, thinly sliced
1/4 cup roughly chopped fresh cilantro
1 oz (approx) crumbled feta cheese (this is about 1/4 cup)
1 or 2 peeled avocados, sliced
For The Dressing
Juice of 1 orange
2 tablespoons red wine vinegar
1 tablespoon adobo sauce from canned chipotle chiles in adobo sauce
1/2 teaspoon cumin
1 teaspoon honey
2 tablespoons olive oil
salt and pepper to taste
Instructions
Get your grill up to a medium high heat.
Pat your steak dry with a paper towel and then liberally spice it up with any steak seasoning of your choice, both sides, please. Press that into the steak and then drizzle a tiny bit of olive oil over both sides.
Place your steak onto the hot grill and cook for 4 minutes on the one side. Turn it over and let it cook an additional 2 minutes (this is for medium rare, add more time if you like it more on the medium side or your steak is super thick). Remove from the heat and onto a plate. Cover with foil and then a kitchen towel over that to let the steak rest, at least ten minutes.
Once that has rested (maybe after you make the salad?), thinly slice the steak diagonally against the grain with a sharp knife.
Now make the dressing
In a large bowl, combine the orange juice, red wine vinegar, adobo sauce, cumin, honey and 2 tablespoons of olive oil and whisk until combined. Add a pinch of salt and some pepper if you like.
Now make the salad
Add the chopped yellow pepper, chopped cilantro and sliced green onion to the dressing and stir to coat.
Tip in the cooked quinoa, drained black beans and most of your greens. Place the bowl in your sink and gently toss (keeps it super clean-up-able). Add more of the greens as the salad combines and the leaves wilt down a little.
Now plate her up!
Plate some of the salad onto a plate and snuggle in some avocado slices. Top with a portion of your sliced steak and liberally scatter over a healthy portion of feta cheese.
DEVOUR.
Notes
* You can use a flank steak, tri-tip, or skirt steak if that's your preference. Really, whatever you like.
Kick and Dinner http://kickanddinner.com/